Eight great day trips from Fort William in the Scottish Highlands – from historic castles and canals to scenic trains and seaside towns – with details of how to get there by car or public transport.
* This site contains affiliate links, where I get a small commission from purchases at no extra cost to you.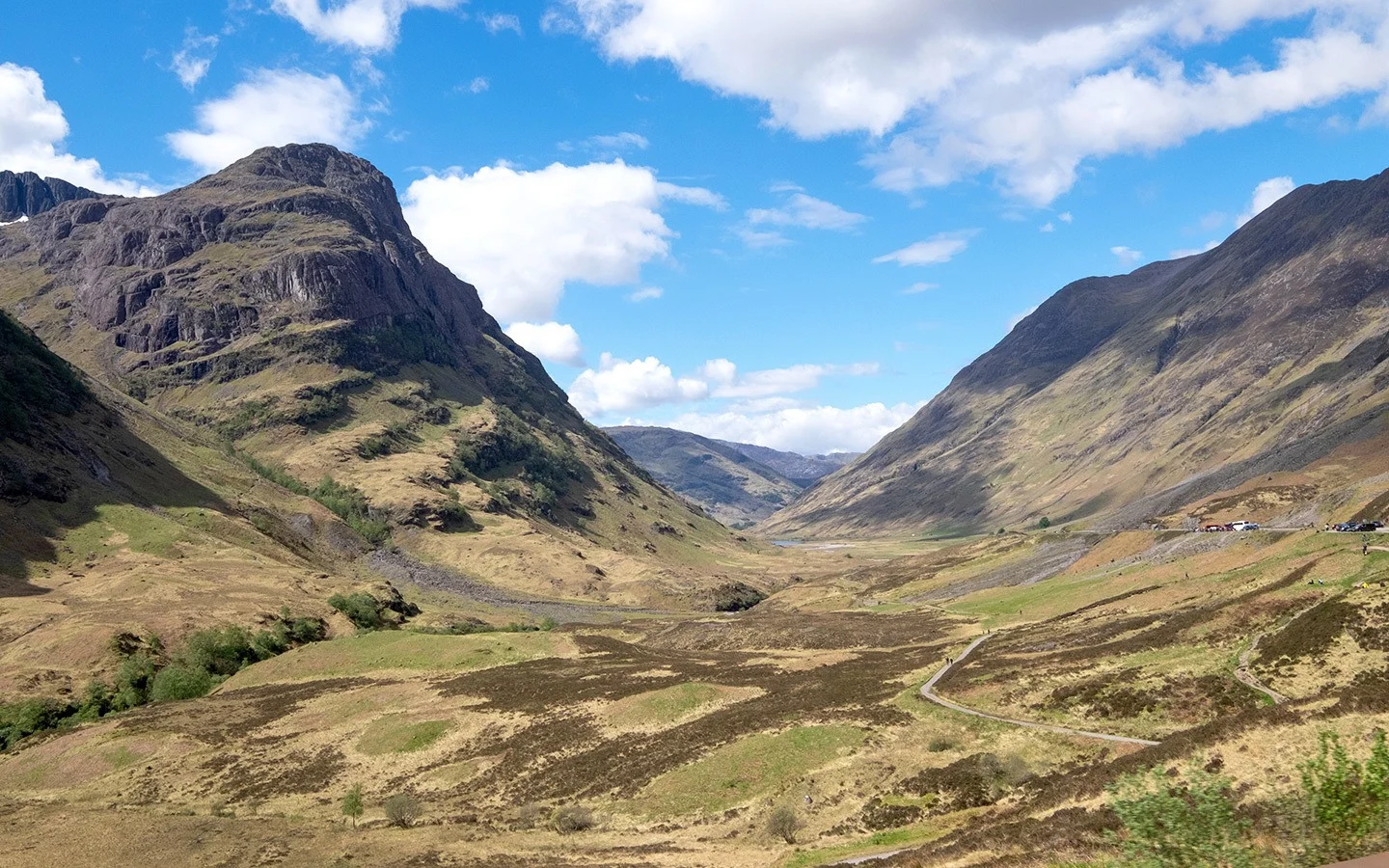 The town of Fort William is known as the adventure capital of the Scottish Highlands. You can climb Ben Nevis, hike the West Highland Way or take a boat trip on Loch Linnhe. But as well as exploring the town itself, Fort William's transport links and selection of places to stay and eat also make it a good base for exploring the Scottish Highlands.
You can easily base yourself in Fort William and take trips out to places like Glencoe, Loch Ness or even the Isle of Skye. So here are eight of the top day trips from Fort William, with details of how to visit each place by car, by public transport or on a tour.
Map of day trips from Fort William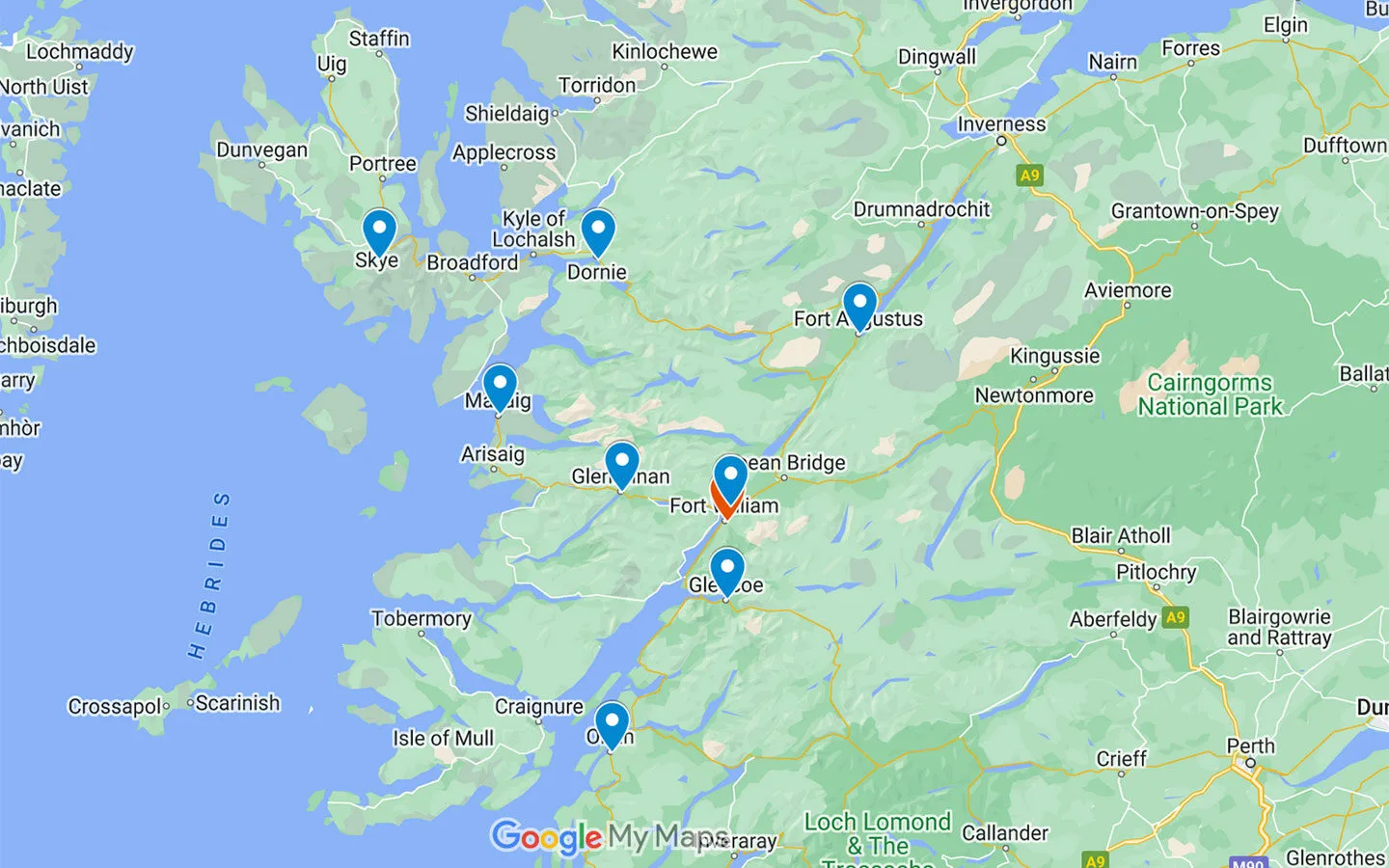 How to get around
The easiest way to explore the area around Fort William is by car, as it gives you the most flexibility to adjust your itinerary or stop off on the way if you see something interesting. But if you don't have a car then it is still possible to take day trips from Fort William by public transport, using a combination or trains, buses and tours.
You can pick up a hire car from the nearest airports, which are Inverness (75 miles) or Glasgow (99 miles). Or you can hire a car when you get to Fort William, though supplies are limited (particularly if you want an automatic) so book well in advance.
Travelling by public transport takes a bit more planning, as although buses or trains link the main towns and villages, they don't always run very frequently – and sometimes not at all on Sundays. Details of how to do each day trip are listed below. And you can double check timetables with Scotrail (trains) or CityLink and Shiel Buses (buses).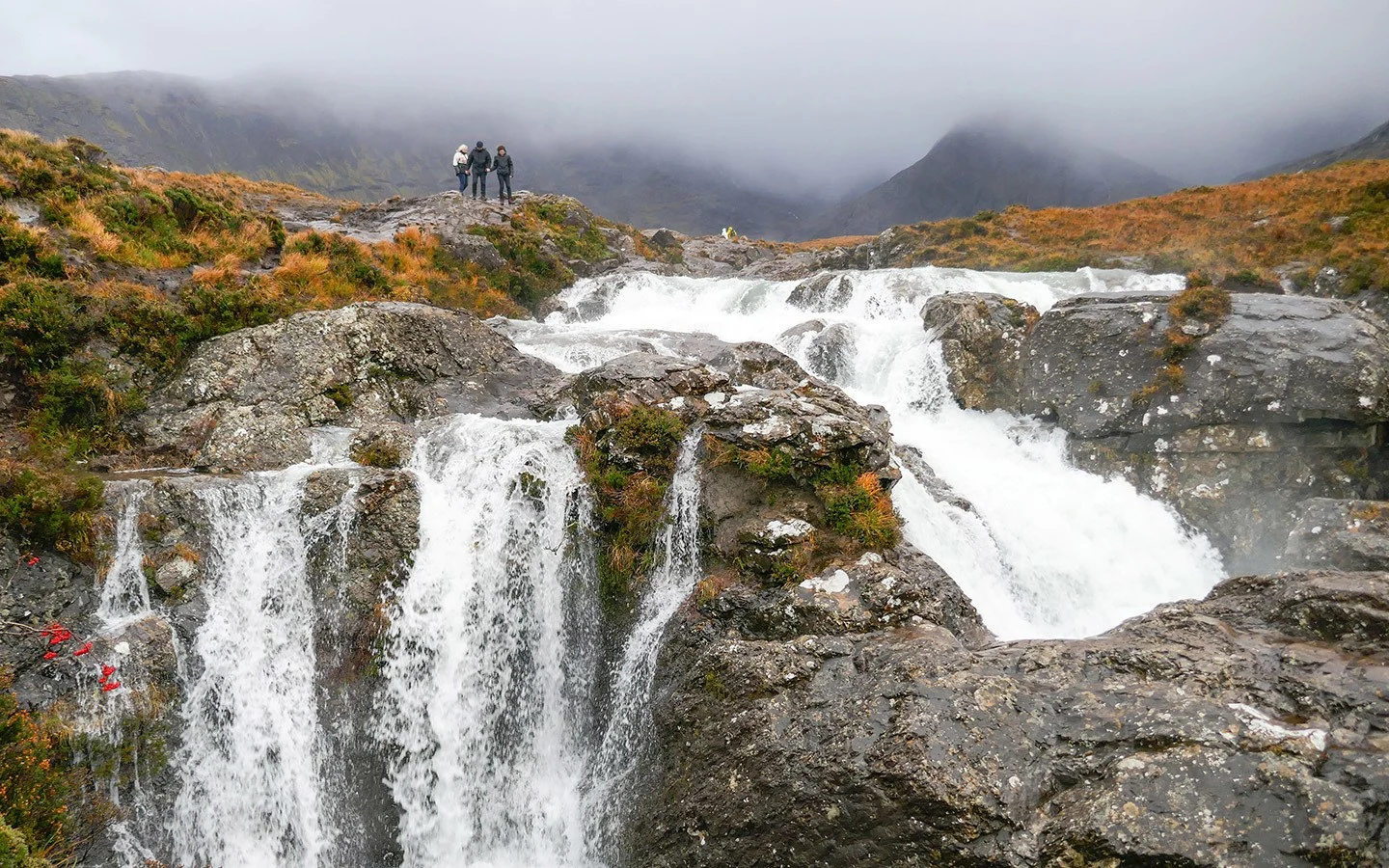 1. Glencoe
Glencoe's dramatic landscapes are a favourite with film-makers and photographers. But the glen was also the site of one of Scottish history's darker moments – the Glencoe Massacre. On 13 February 1692, 30 men, women and children from the MacDonald clan were murdered by government soldiers who they'd let stay in their homes.
You can find out about the Jacobites and the massacre at Glencoe Visitor Centre, where they've recreated a traditional house to show how the MacDonalds would've lived. There's also a monument to the massacre in Glencoe village and the Glencoe Folk Museum.
If you have a car don't miss the drive down the Glen Etive Road, as seen in James Bond film Skyfall. And Glencoe is great for walking, with plenty of short scenic routes like the 1.5-mile An Torr walk to Signal Rock, where it's said the signal was sounded to start the massacre, and the 5-mile climb to the top of the Pap of Glencoe for panoramic views.
Read more: 13 things to do in Fort William and Glencoe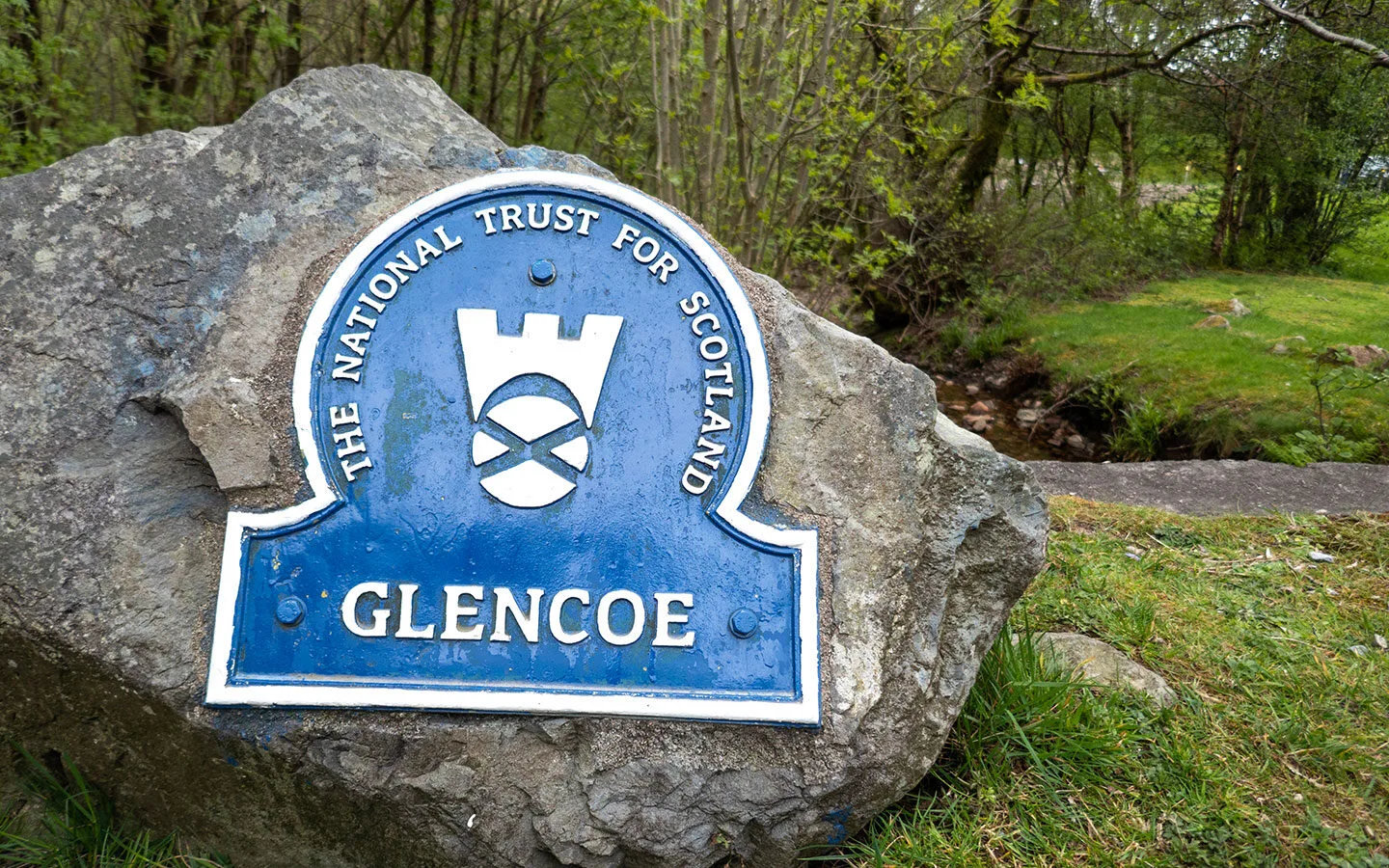 How to get there
By car: Glencoe village is 16 miles (25 minutes' drive) south of Fort William along the A82, with views of Loch Linnhe and Loch Leven. The visitor centre is about another mile down the road from the village, and has a pay and display car park.
By public transport: Two bus routes link Fort William with Glencoe. CityLink 914/915/916 and Shiel Buses N44 services both stop at Glencoe Junction (for the village) and take 30 minutes. The CityLink service also stops at Glencoe Visitor Centre.
2. The Jacobite steam train
One of the most popular day trips from Fort William is the rail journey along the West Highland Line to Mallaig on board the Jacobite steam train – which Harry Potter fans might know better as the Hogwarts Express after it featured in the films.
The train uses vintage carriages, with a choice of First or Standard Class seats, and is hauled by an original steam locomotive. The journey is only 42 miles each way but takes its time to soak up the beautiful views along the way. From Fort William the train crosses the Caledonian Canal and curves around the arches of the Glenfinnan Viaduct.
It then runs past lochs, mountain and forests, passing Arisaig – the most westerly railway station in Britain – and along the coast with views of the Isles of Rum, Eigg, Muck and Skye. You then have a couple of hours to explore the port town of Mallaig, where you can take a wildlife-spotting boat tour, before heading back to Fort William.
Read more: A guide to Scotland's Jacobite steam train
How to get there
The Jacobite does a round trip from Fort William train station to Mallaig every day from April to October. There's a morning service which departs at 10.15am, and an additional afternoon service between May and September which departs at 12.50 (14.40 on Saturdays). Both take around six hours, with 1 hour 45 minutes in Mallaig.
If you're visiting in winter when the Jacobite isn't running, you can also take a not-so-glamorous but just as scenic regular Scotrail train. It runs along the same stretch of the West Highland Line three to four times a day and takes 90 minutes.
3. Glenfinnan
The most famous view of the Jacobite steaming around the Glenfinnan Viaduct isn't from the train but from the hillside above it. The viaduct was built at the end of the 20th century and has 21 arches stretching for 1000 feet above the River Finnan.
The train crosses over the viaduct around 11.00 and 15.15 for the morning service and 13.25 and 18.00 (15.15 and 19.45 on Saturdays) for the afternoon. Get there at least half an hour early to bag a spot on the hillside. Afterwards you can visit the Highland Railway Museum at Glenfinnan station or have a cup of tea in their dining carriage café.
Glenfinnan is also where you'll find the Glenfinnan Monument, which was built in 1815 as a tribute to Bonnie Prince Charlie and those who died fighting for the Jacobite cause. You can climb up to the top of the monument where a statue of a lone Highlander looks out over Loch Shiel. Or visit the pretty waterside Church of St Mary and St Finnan.
How to get there
By car: Glenfinnan is 17 miles (30 minutes' drive) west of Fort William along the A830. Paid car parking is available at the Glenfinnan Viaduct and Monument Car Park (PH37 4LT), which is a short walk to the viaduct and monument.
By public transport: Trains from Fort William run to Glenfinnan in around 35 minutes. Or you can catch the Shiel Buses 500 service from Fort William, which stops at the end of the road to Glenfinnan train station, a 20-minute walk to the monument.
4. The Caledonian Canal
The Caledonian Canal runs for 60 miles between Fort William and Inverness. It follows a natural fault line and combines lochs with stretches of man-made canal, and was created by Scottish engineer Thomas Telford in 1822 as a trade route across the country.
Just outside Fort William, Neptune's Staircase is canal's most impressive landmark. It's the longest staircase lock in the UK, with eight interconnected locks which allow ships to travel 19.5 metres up or down in just 450 metres. It's all operated by hydraulics and is fascinating to watch, with each ship taking 90 minutes to travel through.
A boat trip along the canal takes longer than one day, but you can get a taste of the scenery by walking or cycling along the towpath while you watch the boats pass by.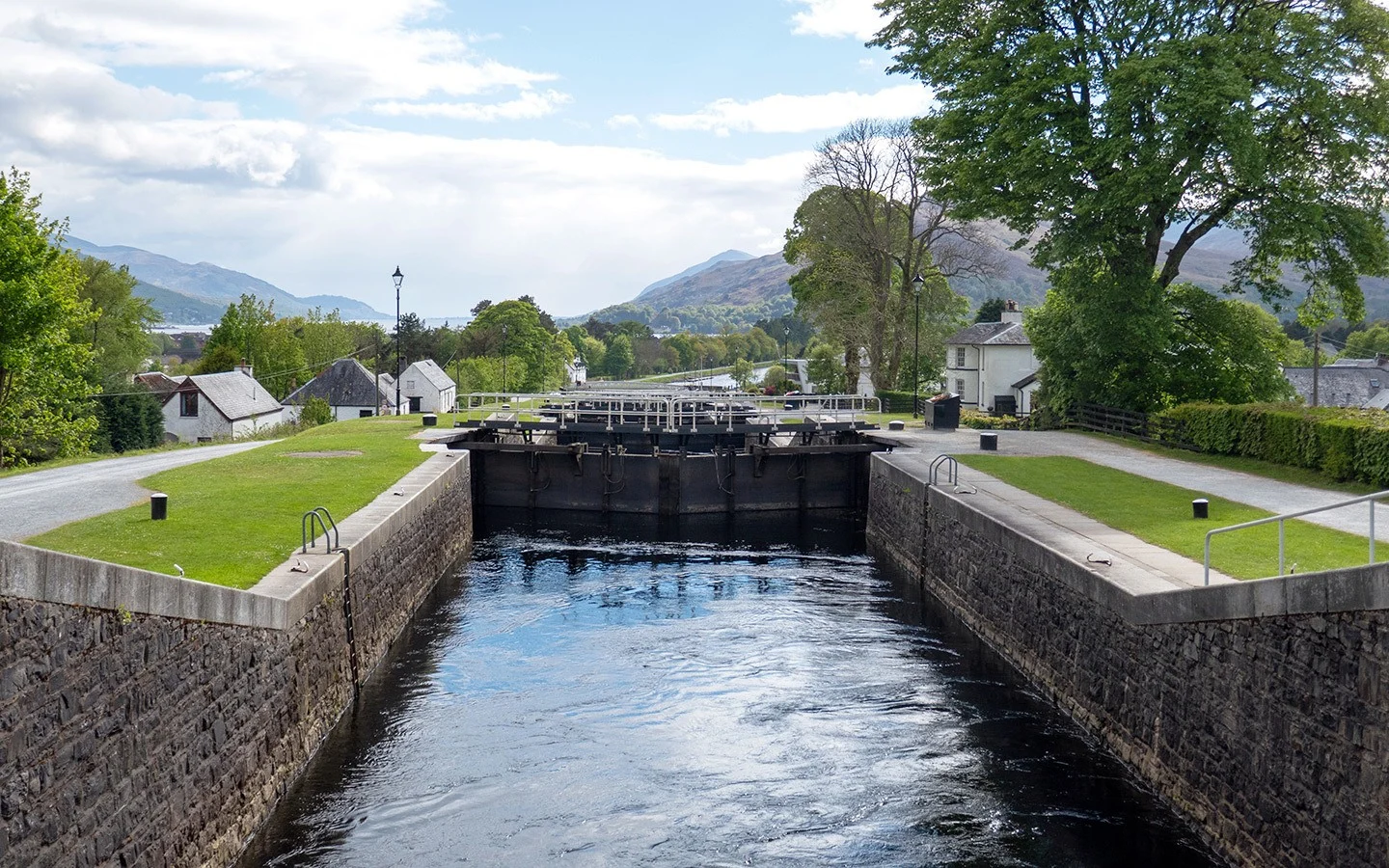 How to get there
By car: Neptune's Staircase is in the village of Banavie, 3 miles (10 minutes' drive) north of Fort William along the A830. Free parking is available at Banavie Locks Car Park.
By public transport: Banavie is 7 minutes by train from Fort William, or it's on the route of Shiel Buses 500 service. You can also walk between the two along a 4-mile stretch of the Great Glen Way, a long-distance walk between Fort William and Inverness.
5. Loch Ness
At 22.5 miles long, a mile wide and 240 metres deep, Scotland's best-known loch contains more water than all other lakes in England and Wales combined – and who knows what else lurks in the deep? A 1933 sighting started a monster obsession, but despite over 1000 sightings and a series of expeditions, the Loch Ness Monster is still a mystery.
The road to Loch Ness passes through Spean Bridge, where you can see the Commando Monument. Then once you reach Fort Augustus at the southern end of the loch you can take a boat trip with Cruise Loch Ness. You can also learn about clan life and weaponry at the Clansman Centre or visit the Caledonian Canal Heritage Centre.
Or travel further up the west side of the loch to Drumnadrochit where you'll find the Loch Ness Centre and Exhibition, with everything you could want to know about the loch and its resident monster, as well as the picturesque ruins of Urquhart Castle.
Read more: 12 great things to do in Loch Ness, Scotland
How to get there
By car: Fort Augustus at the south end of Loch Ness is 32 miles (45 minutes' drive) from Fort William. Or it's around 50 miles to Drumnadrochit.
By public transport: The CityLink 919 bus service runs from Fort William to Fort Augustus (1 hour), Urquhart Castle and Drumnadrochit (1.5 hours).
6. Oban
The seaside town of Oban sits on a horseshoe bay on the Firth of Lorn, to the south of Fort William. It's known as the 'seafood capital of Scotland' and is a great place to come for a feast of scallops, mussels, oysters, lobster, crab and langoustines.
Check out the view from McCaig's Tower, built by wealthy banker John Stuart McCaig as a memorial to his family and to give work to local stonemasons. The planned tower and museum were never finished, leaving only the outer walls which look like a mini Scottish version of the Colosseum. But there are some lovely views from the gardens.
Oban is also home to the Oban Distillery, one of Scotland's oldest and smallest whisky distilleries, where you can do tours and tastings. Or if you have more than a day, you could use Oban as a jumping-off point to the Isles of Kerrera, Staffa, Iona and Mull.
How to get there
By car: Oban is 44 miles (1 hour 10 minutes' drive) south of Fort William via the A828, which runs along the shores of Loch Linnhe almost all the way.
By public transport: Oban is a bit of a challenge to reach by public transport from Fort William. The train takes 3.5 hours (with a change at Crianlarich).
The West Coast Motors 918 bus is quicker at just 90 minutes. But there are only two services a day, which are awkwardly timed so you'd get to Oban at 2pm and have to leave at 4pm – meaning you'd spend more time on the bus than you would in Oban! So it might be better suited to an overnight visit rather than a day trip from Fort William.
7. Eilean Donan Castle
A real Scottish icon, Eilean Donan Castle is said to be the most photographed castle in the country, and has featured on many postcards (and shortbread tins). It's a popular stop-off on the way to the Isle of Skye but you can also visit on a day trip from Fort William.
Eilean Donan is located on a tiny island in a strategic position where three sea lochs come together. The first castle was built in the 13th century on the site of a Pictish fort. After years of damage and rebuilding, it was left in ruins by government forces after the Jacobite uprising. But in 1912 John MacRae-Gilstrap bought and spent 20 years restoring it.
The family still use the castle but part of it is open to the public. The stone bridge makes an imposing entrance, and inside you can visit rooms like the grand Banqueting Hall and see period furniture and artworks, Jacobite artefacts and weapons.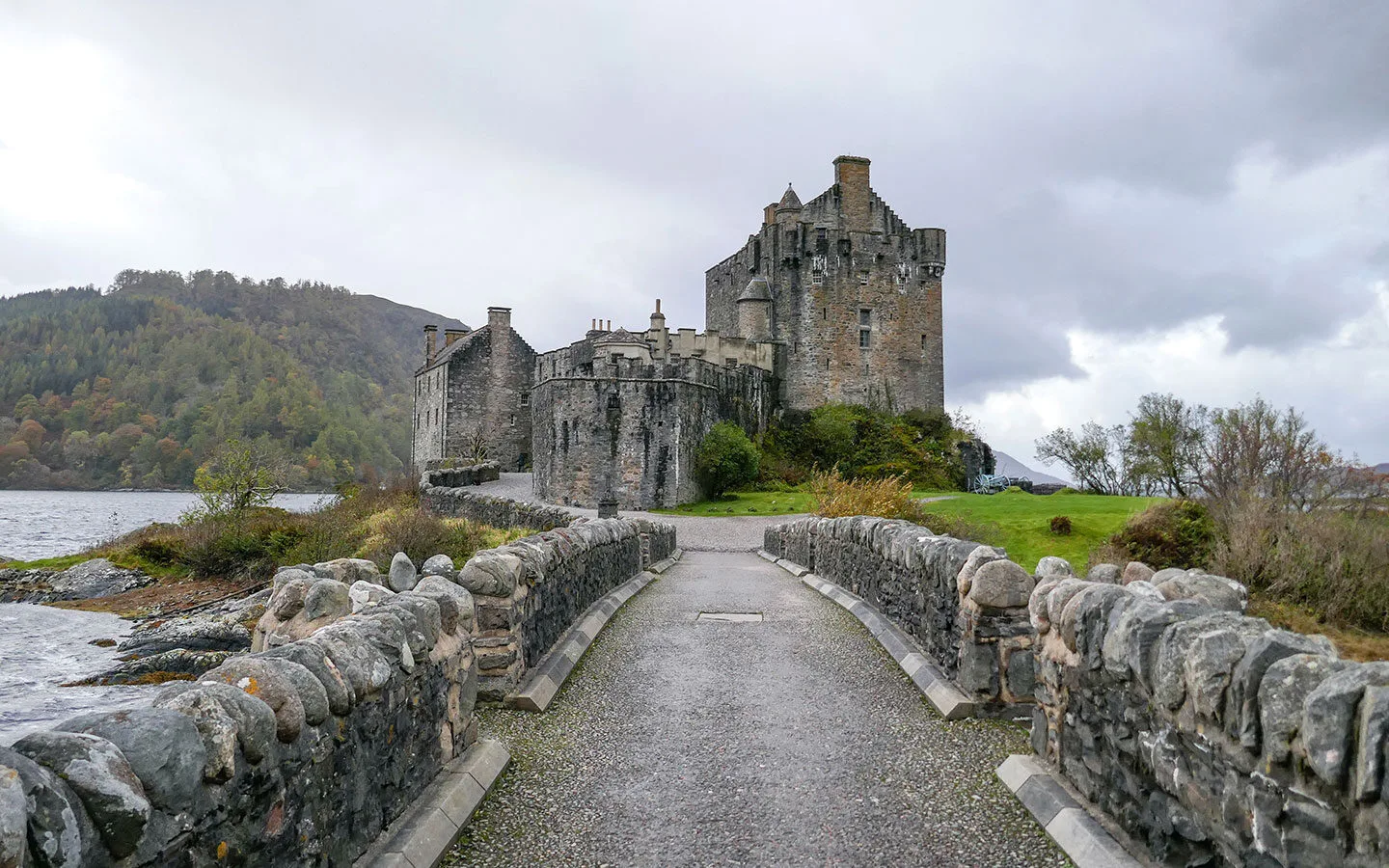 How to get there
By car: Eilean Donan is 65 miles (1.5 hours' drive) north of Fort William along the A82 and A87. There's plenty of free parking around the visitor centre.
By public transport: CityLink 915/916 buses run from Fort William to Dornie, a few minutes' walk from the castle, and take around 1 hour 45 minutes.
8. The Isle of Skye
Our final day trip is to the Isle of Skye. It's the furthest away from Fort William and there's a lot to see on the island. So you'll only get a taste of it on a day trip and would ideally have a few days to spend exploring. But even a short trip to Skye is worth it to soak up some of its spectacular scenery of mountains, cliffs, waterfalls and moorland.
At the heart of the island is Skye's compact capital Portree, a pastel-painted harbour town. From there you can take a popular 50-mile circular road trip to the north around the Trotternish Loop. Along the way you pass some of Skye's major landmarks like the Old Man of Storr, Kilt Rock, the Quiraing mountain range and magical Fairy Glen.
You could also explore the centre of the island where you'll find the Fairy Pools waterfalls, Cuillin Mountains and Talisker Distillery. Or head south to visit Armadale Castle Gardens and the Museum of the Isles, which tells the story of Clan Donald.
Read more: Isle of Skye itinerary: The best of the island in 3 days
How to get there
By car: You can reach Skye from Fort William either by ferry or across the Skye Bridge. The ferry runs from Mallaig, which is a 42-mile (1-hour) drive west of Fort William. The crossing to Armadale takes 30 minutes then it's another hour's drive to Portree.
Or you can drive north and across the bridge at Kyle of Lochalsh. It's 108 miles to Portree from Fort William (2.5 hours' drive). The bridge is slightly quicker as you don't have to wait for the ferry. Or you could do one in each direction to get different views.
By public transport: CityLink 915/916 buses connect Fort William with Portree and take around 3 hours. But you wouldn't be able to see much of the island from Portree if you only had one day as the local bus services are pretty limited.
A better option is to take a guided tour, which lets you see Skye's main sights in a short time. There's a day tour available from Invermoriston and another from Kyle of Lochalsh, both of which you can get to using buses from Fort William.
Save for later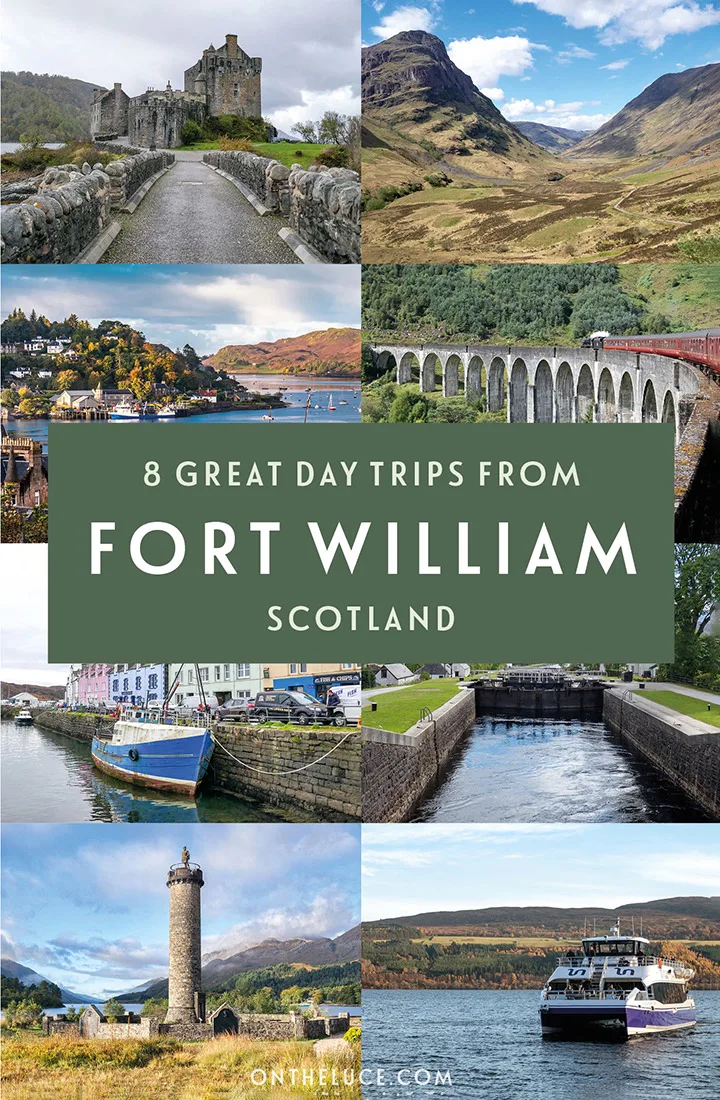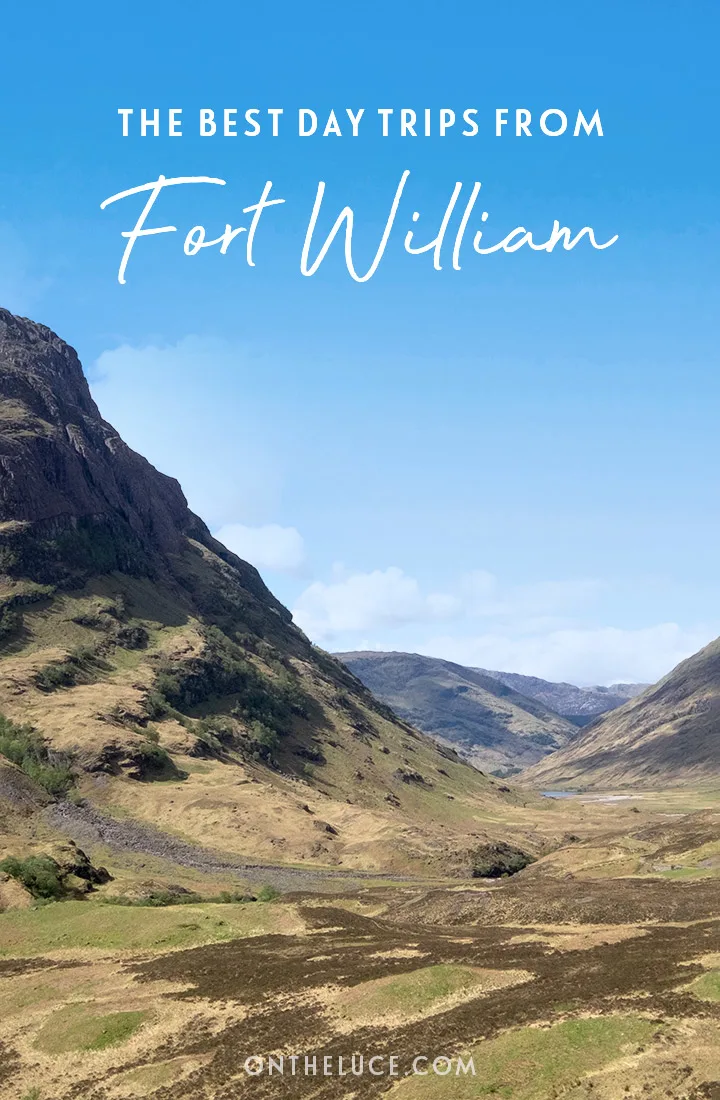 You might also like