How to spend one day in Santa Fe, New Mexico – discover the art, culture, history, food and drink in the USA's 'city different' with this guide to things to do in Santa Fe if you only have 24 hours.
* This site contains affiliate links, where I get a small commission from purchases at no extra cost to you.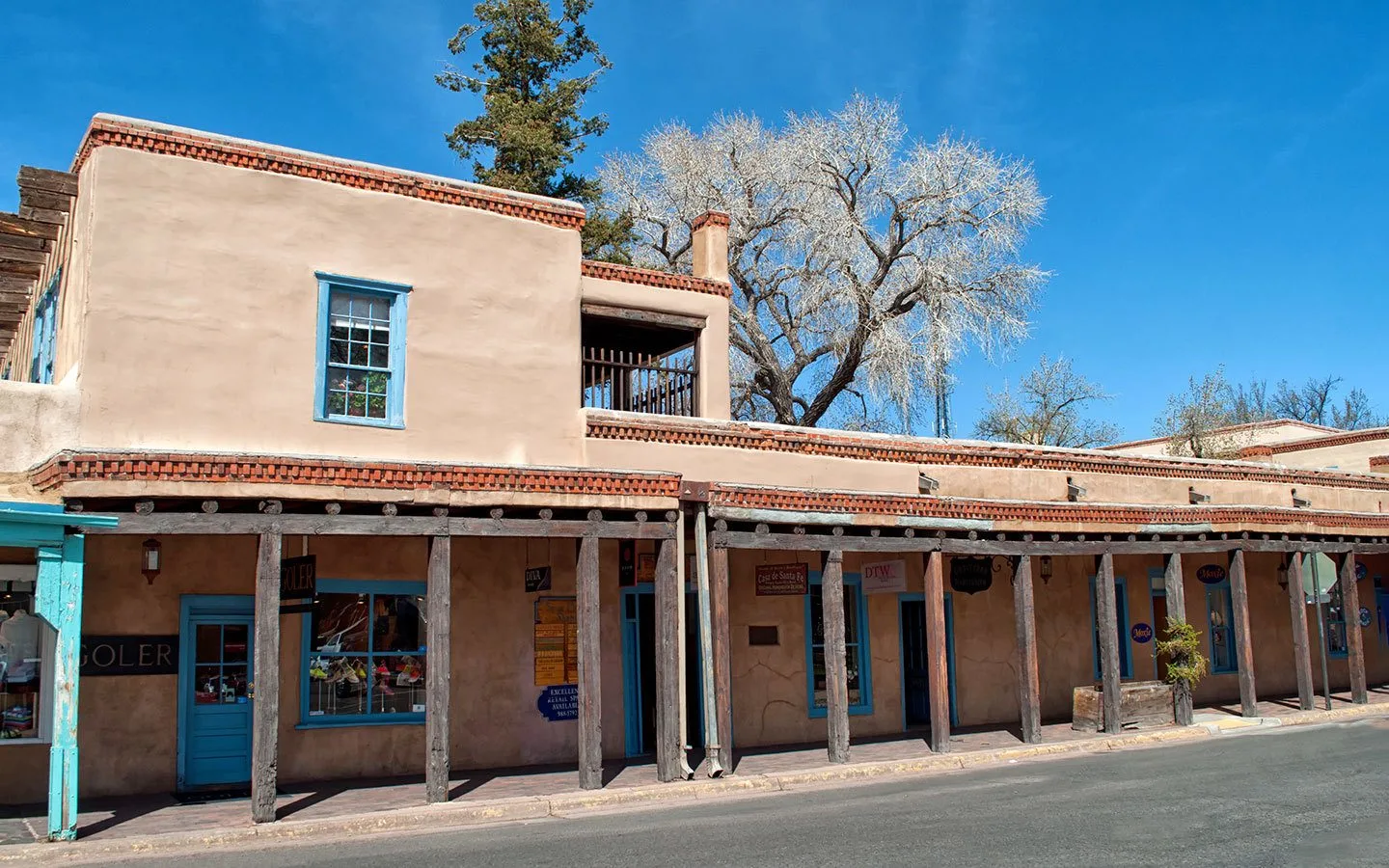 Set in the shadow of the Sangre de Cristo Mountains, Santa Fe is one of the oldest cities in the USA, with a distinctive southwestern look thanks to a mix of Native American, Spanish and Mexican influences though its history. Santa Fe's creative, artistic community, delicious food and drink and laid-back feel have seen it christened the 'city different'.
Santa Fe is a great city break destination – with skiing in winter and art markets in summer. Ideally you'd have a few days to explore its museums, galleries and dining. But you can still see the city's highlights in one day in Santa Fe with this 24-hour itinerary.
How to spend one day in Santa Fe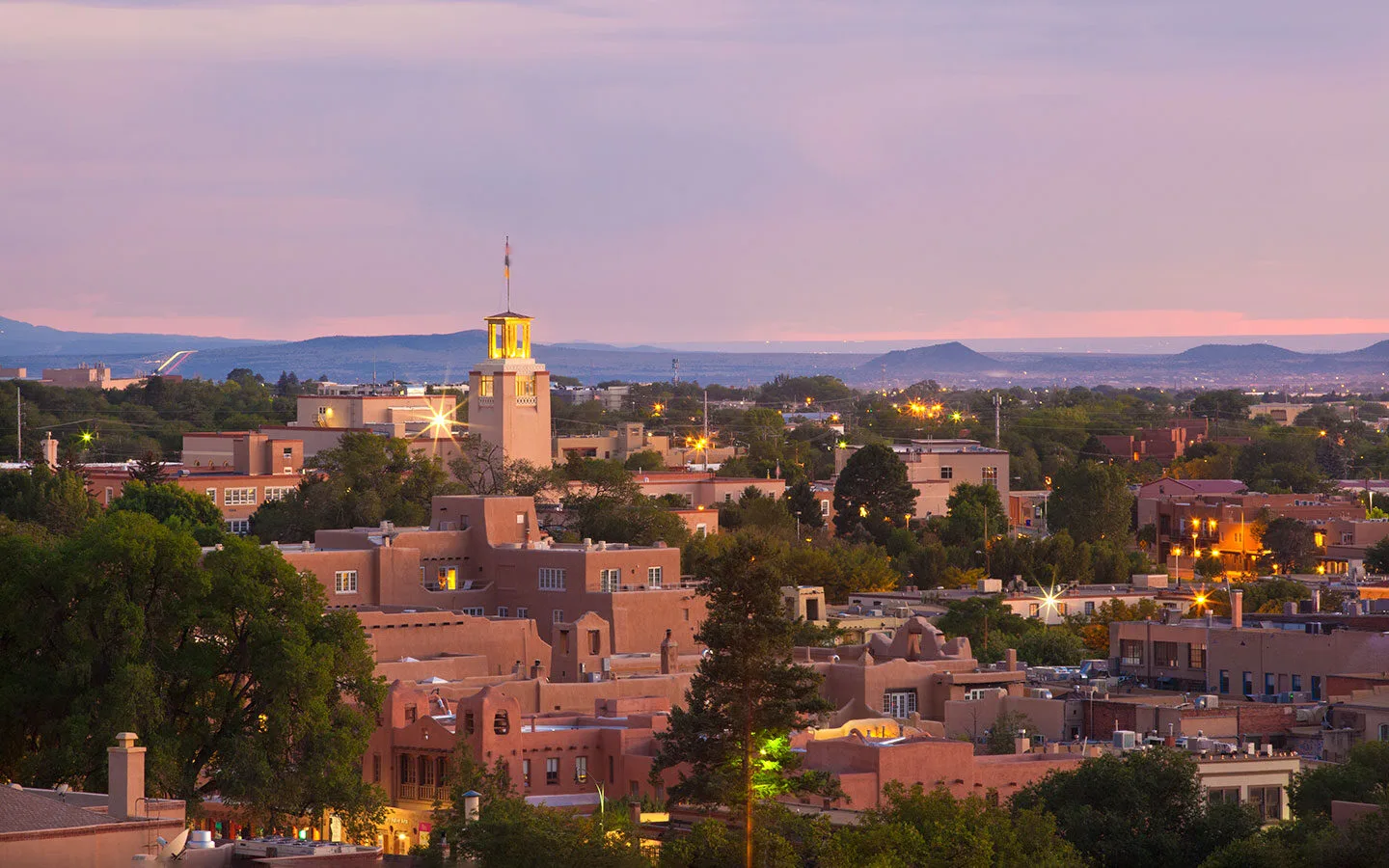 Morning
Stroll around the Plaza
Start your day in Santa Fe in the Plaza, the historic heart of the city. The Plaza has been a place for people to meet, stroll and soak up the sunshine for hundreds of years. It dates from the early 17th century when Santa Fe was settled by Spanish conquistadors, and is on the site of an older village built by Tewa Pueblo Native American people.
The Plaza is surrounded by the city's distinctive terracotta abobe buldings, made from a mix of sun-dried earth and straw. It was originally surrounded by walls with government buildings and a prison inside. But today the Plaza has been designated a National Historic Landmark and its buildings house museums, galleries, shops and restaurants.
Learn about New Mexico's history
Among the buildings around the Plaza is the Palace of the Governors – the USA's oldest public building in continuous use. It was built for the first Spanish governor of the colony of Nuevo México (which also incorporated what is now Texas, Arizona, Utah, Colorado and Nevada) in 1610, and was the seat of the state government for centuries.
Eventually the government moved out into a larger, more modern building and the palace was used for the New Mexico History Museum. But its size meant they could only display a fraction of their collection, so a larger building was added next door.
The museum (closed on Mondays) is well worth a visit to find out more about New Mexico's eventful past. There are over 20,000 artefacts on display which cover everything from the Ancestral Puebloans to Spanish colonisation, the Wild West era to 1960s hippies.
Shop for handmade crafts
Beneath a shady portal next to the Palace of the Governors, Native American vendors set up stalls on rows of blankets. They sell a selection of different crafts, like handmade leather goods, textiles, art and jewellery made with turquoise, coral and silver.
The market is run by the New Mexico History Museum who vet the vendors so you know what's on sale is authentic and high quality. It's a chance to pick up some unique gifts and know your money is going straight to the people who make them. And you can meet the artists and hear the stories of the culture and history behind their works.
See the city's churches
Santa Fe isn't all about the adobe, it also has some grand churches which have a much more European style. Saint Francis Cathedral (or the Cathedral Basilica of Saint Francis of Assisi to give it its full name) was built in 1869 in Romanesque style thanks to Santa Fe's French-born Archbishop Lamy, who brought a taste of his home country to the southwest.
Its limestone frontage stands out from the neighbouring red adobe buildings. The original plan was that it would have two 160-foot-tall steeples, but the church ran out of money. They did manage to import the rose window at the front all the way from France though, and inside are more stained glass windows as well as bronze cast doors.
The cathedral was built on top of an old adobe church which had been there since 1717. You can see some of the original building inside the La Conquistadora Chapel in the cathedral's north transept, along with paintings and carvings which were salvaged.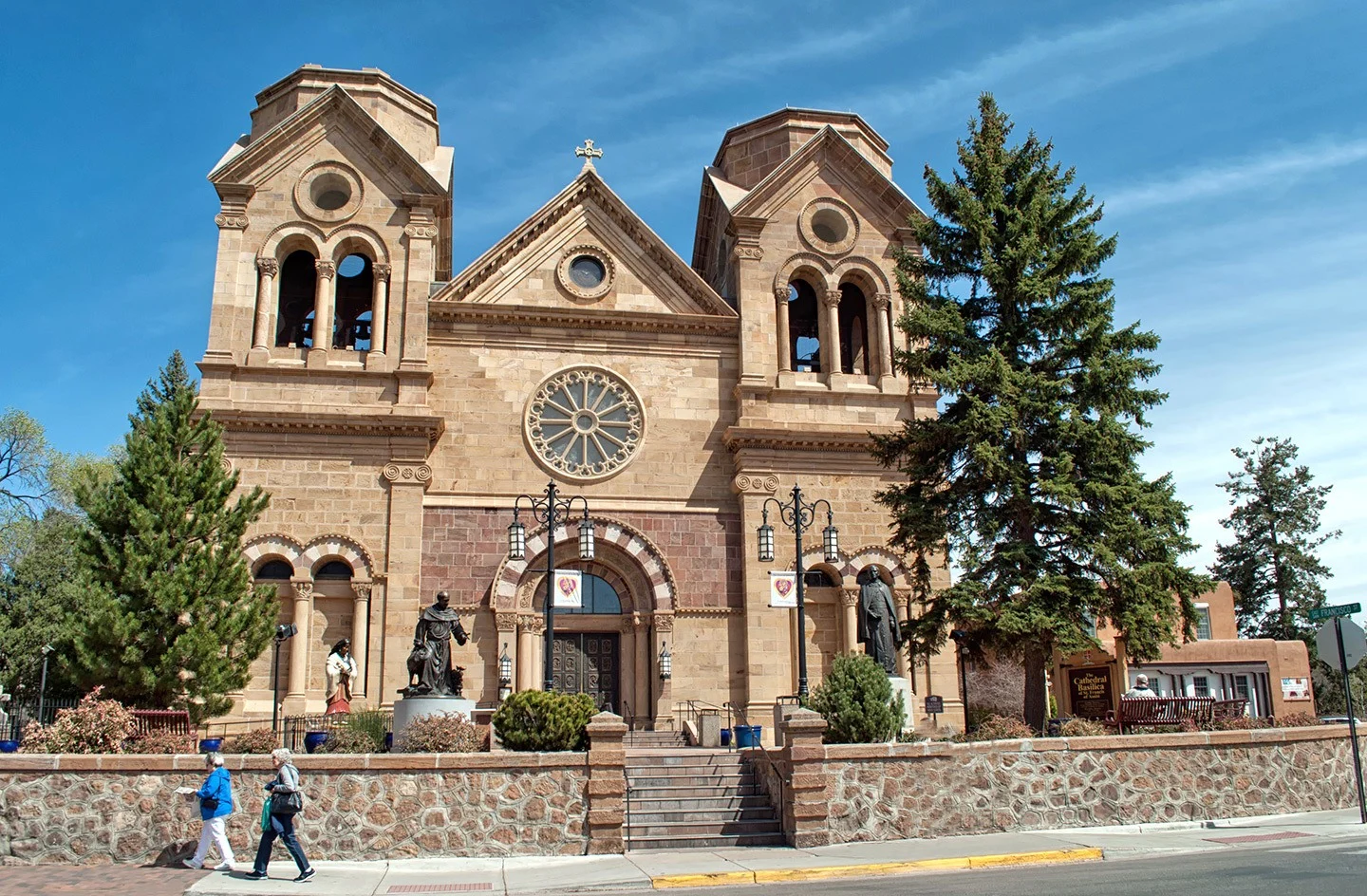 Or there's the Gothic-style Loretto Chapel – which was apparently inspired by Sainte-Chapelle in Paris. It was built in 1878 and is famous for it's 'miraculous staircase'. The story goes that when the chapel was being built, there wasn't space for a normal staircase and none of the local stonemasons knew how to build a spiral staircase.
So the nuns prayed to St Joseph for help. And nine days later, a mysterious travelling carpenter arrived, built the staircase and disappeared before anyone could thank him. The staircase is still there today, and with no visible supports it's a mystery how it stays up. The chapel's now a museum so you can go and take a look to work it out yourself.
Afternoon
Explore the Railyard District
Next head south of the Plaza to Santa Fe's redeveloped railyard district, a 20-minute walk away. This part of the city had fallen into disrepair after the train services stopped running. But instead of just knocking down the old warehouses, local residents worked with the city authorities and developers to redevelop it and bring it back to life.
The old warehouses have been renovated and converted to galleries, art and craft stores, restaurants, a brewery and cinema. There's also a big farmers' market selling local produce on Tuesday and Saturday mornings. Trains have even come back to the railyard too, with the Rail Runner commuter service connecting Santa Fe to Albuquerque.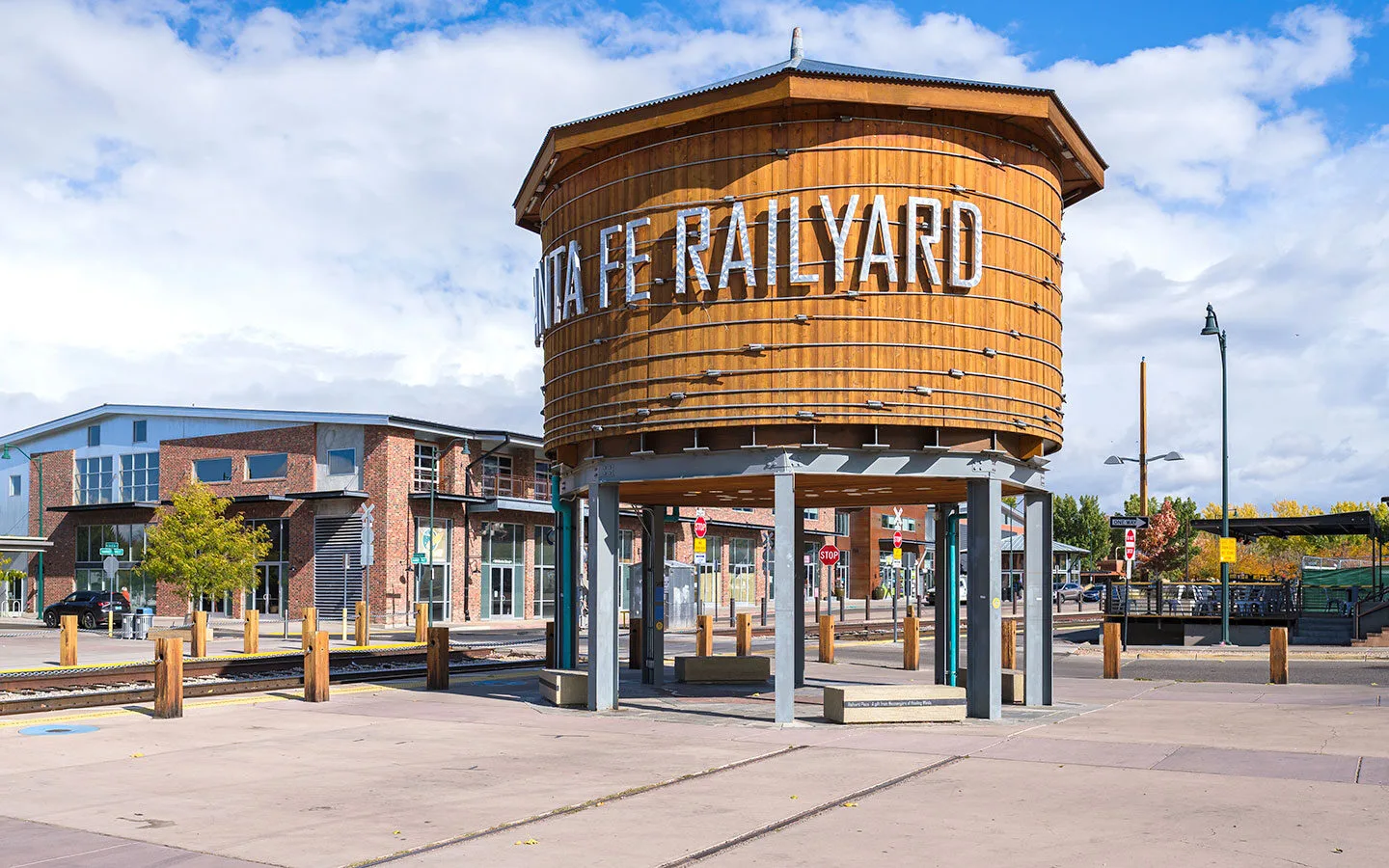 Part of the site has been turned into the 13-acre Railyard Park, which incorporates reminders of its past life from old railway tracks and train wheels along with native plants and trees. There are also public artworks and frequent events.
Then call into Tomasita's for lunch, a locally owned restaurant specialising in Northern New Mexican cuisine, which means plenty of chilies – they're New Mexico's official state vegetable and you can choose whether you'd like yours red, green or 'Christmas' (a mixture of both). Specialities include enchiladas and cheesy stuffed sopaipillas.
Get artistic on Canyon Road
With its mountain scenery and high-altitude clear light, Santa Fe has long been a favourite with artists. You'll find artworks dotted around the city – from mosaics and sculptures to murals. But the city's artistic heart is the half-mile-long Canyon Road.
This tree-lined street has over 100 art galleries and studios, many of them in converted traditional adobe homes. It's a chance to see some world-class art and spot up-and-coming stars, with every type of art you could imagine – and every price point. Visitors are welcome to browse and can often chat to the artists or see the latest work in progress.
Take a stroll to admire the window displays – and look out for tucked-away sculpture gardens and street art. And if you need a break, call into the Teahouse, a popular spot with a huge selection of exotic teas sourced from around the world.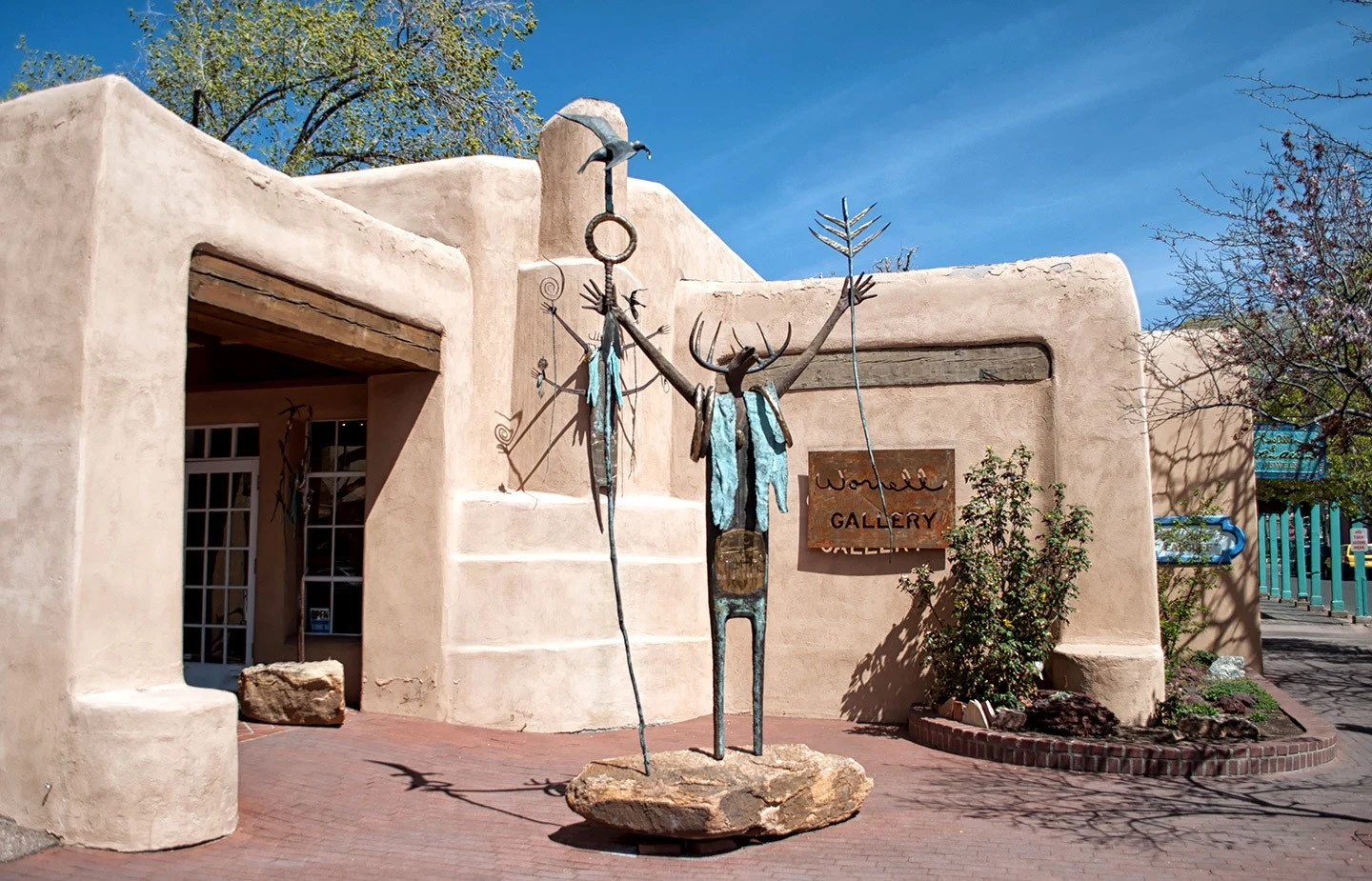 Visit a museum or gallery
End the afternoon with a trip to one of Santa Fe's museums and galleries, with lots to choose from. The Georgia O'Keeffe Museum is one of two sites in New Mexico dedicated to the American modernist artist who was inspired by the state's landscapes.
You can also head to Museum Hill east of downtown where four of the city's top museums are located – the International Folk Art Museum, Museum of Indian Arts and Culture, Museum of Spanish Colonial Art and Wheelwright Museum of the American Indian.
Or for something a bit different, experience the bizarre Meow Wolf, a former bowling alley which has been converted into a immersive art installation-come-interactive game. There are 70 gallery rooms to explore in a slightly trippy riot of colours, sounds and sights that's hard to explain but is definitely one of the more unique things to do in Santa Fe.
Evening
Eat and drink
Finish your day in Santa Fe with a feast of the city's fantastic food and drink. If you're a wine fan, head to the Gruet tasting room at the Hotel St Francis. New Mexico is surprisingly the USA's oldest wine-producing region, and Gruet make some great sparkling wines in their vineyards south of Albuquerque, which you can try with a wine flight.
Or if you're visiting outside of winter and have a clear day (chances are you will in Santa Fe), head to the fifth-floor rooftop Bell Tower Bar at the La Fonda Hotel to watch the sun set. The current hotel was built in 1922, but there's been a hotel on the same site for 400 years. Go for a traditional margarita or cool off with a frozen coconut version.
Then have dinner at the Coyote Cafe & Rooftop Cantina. The food is fine-dining style with a modern take on southwestern cuisine like peppered elk tenderloin or lobster tails, but the atmosphere isn't at all stuffy. There's also a lower-budget option in summer in the colourful rooftop cantina where you can get small plates like tamales and tacos.
Map of things to do in Santa Fe
More time in Santa Fe?
If you've got more than one day in Santa Fe, you could add on visits to more of the city's museums and galleries. Or if you'd rather be outside, Museum Hill is home to the Santa Fe Botanical Garden or you could climb up to the Cross of the Martyrs viewpoint.
You could also head out of the city to explore more of New Mexico. Visit the ancient Taos Pueblo Native American community – the 76-mile-long High Road to Taos is one of the most scenic drives in the southwest USA, running through the Sagre de Cristo mountains past traditional villages, artist studios and the 'Lourdes of America' at Chimayo.
There's also the Rio Grande Gorge Bridge, with views 565 feet down into the canyon, or you can relax at the Ojo Caliente Mineral Springs spa, 50 miles south of Santa Fe.
The details
When to visit Santa Fe
Santa Fe has a semi-arid climate. But its altitude at 7000 feet keeps temperatures down and there's low humidity and an average of 325 sunny days a year.
Summer sees average high temperatures of 29ºC (85ºF) during July and August. It's also the season with the highest rainfall, though that tends to be in short, thundery downpours in the afternoons which soon pass. Don't forget the sun is stronger at high altitude so wear lots of sunscreen, pack a hat and sunglasses, and drink plenty of water.
Spring and autumn are great times to explore Santa Fe, with pleasant temperatures around 18–25ºC (65–78ºF) and bright blue skies. Winter can get quite cold, with average daytime highs of 5ºC (41ºF) and nighttime lows of -7ºC (19ºF). There's a chance of snow from November to April, with the highest snowfall in December and January.
How to get to Santa Fe
Santa Fe is in northern New Mexico, 64 miles/1 hour's drive northeast of Albuquerque. There's a small airport in Santa Fe with regional flights, or a larger international airport in Albuquerque. You can get from Albuquerque to Santa Fe using the New Mexico Rail Runner trains, which take around 1 hour 10 minutes, or there are shuttle services.
The city centre is compact and easy to get around on foot (though you might find the altitude tires you out more quickly than usual). Or if you want to travel further afield, Santa Fe Trails buses run every 15 minutes, with 10 routes around the city.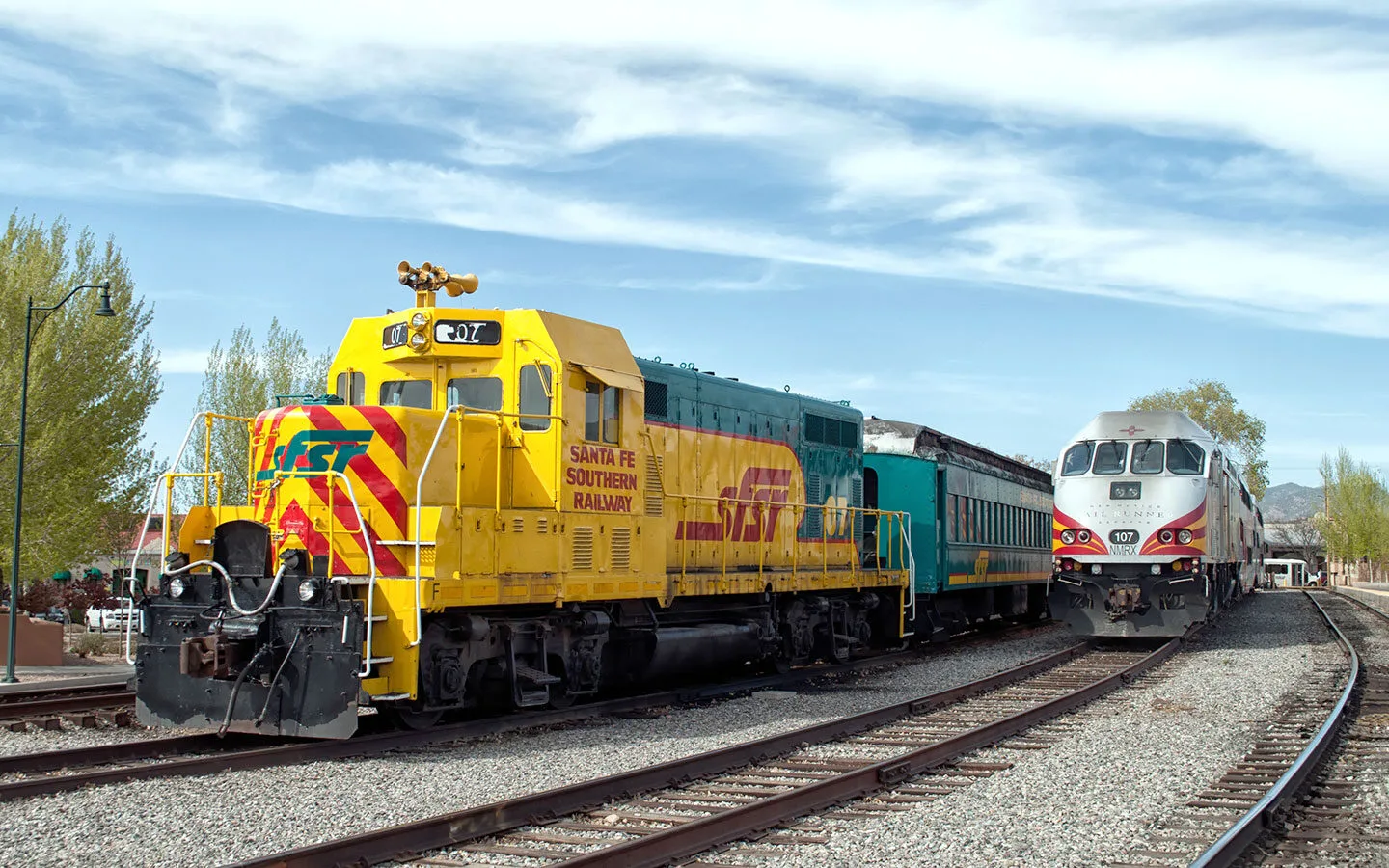 Where to stay in Santa Fe
A short walk from the Plaza, the Old Santa Fe Inn* is a classic New Mexico-style bed and breakfast with handmade dark wood furniture, local artworks and bunches of chilies hanging in the courtyard. Rooms are cosy and some have traditional kiva fireplaces, jacuzzi baths or balconies. There's a free breakfast buffet plus free tea, coffee and afternoon snacks.
Or the gloriously over-the-top Inn of the Five Graces* is a riot of colours and cultures. It was created from a block of historic adobe buildings and has 24 luxury suites. An East-meets-West décor inspired by the Silk Road feature mosaic bathrooms, Afghan rugs and Indian fabrics. There's also a spa, fitness room and peaceful garden.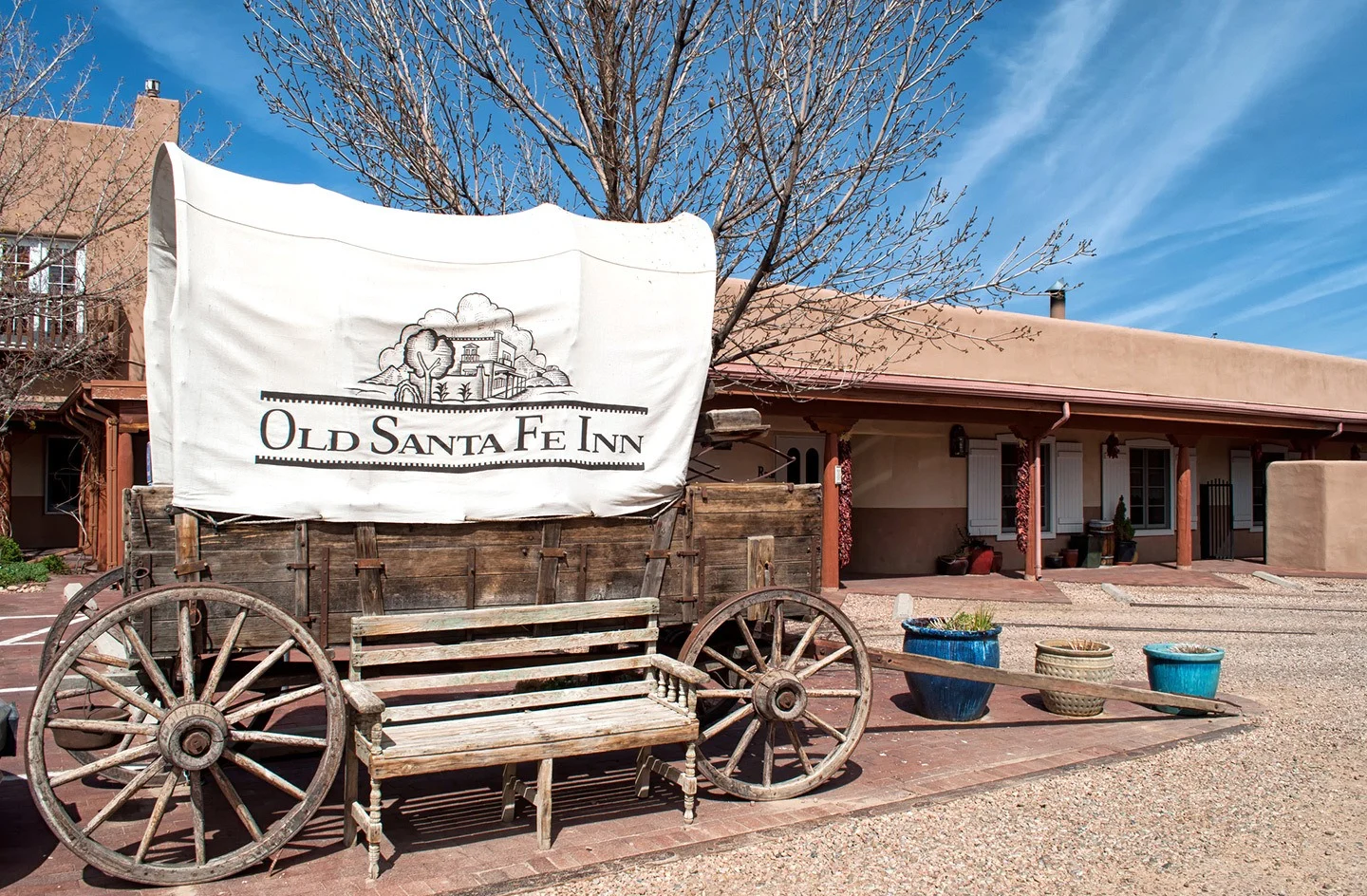 Save for later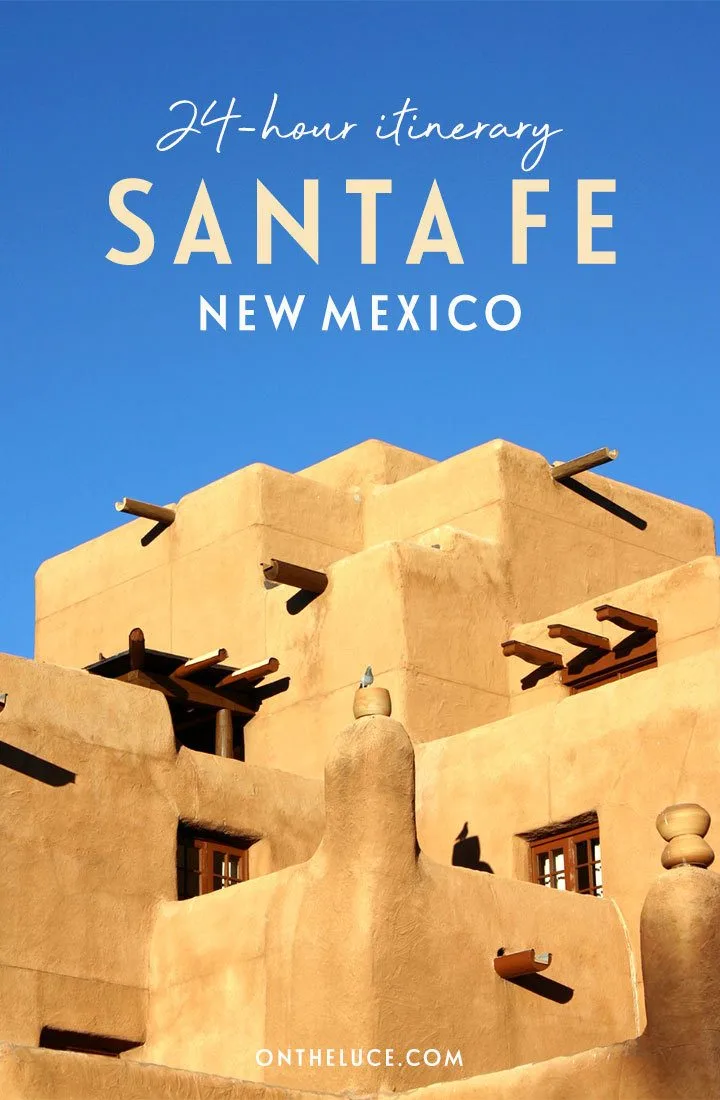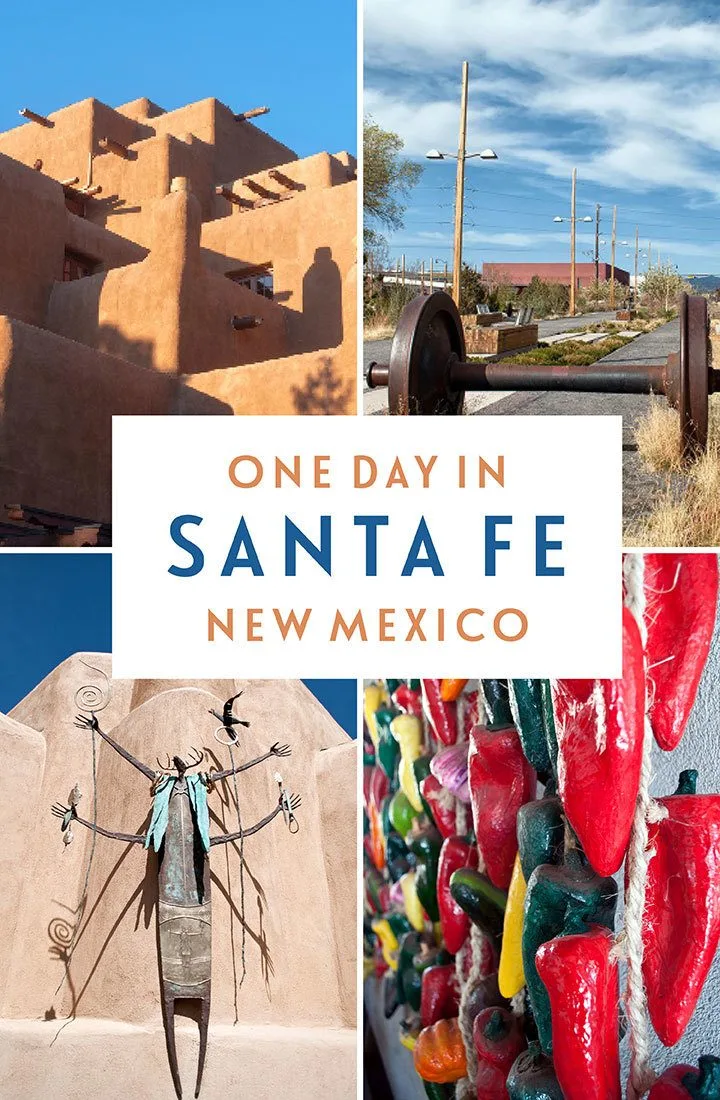 You might also like