Discover everything you need to know before you choose an Alaskan cruise with this complete guide, which covers itineraries and ports of call, the best time to travel and which Alaska cruise line to pick.
* This site contains affiliate links, where I get a small commission from purchases at no extra cost to you.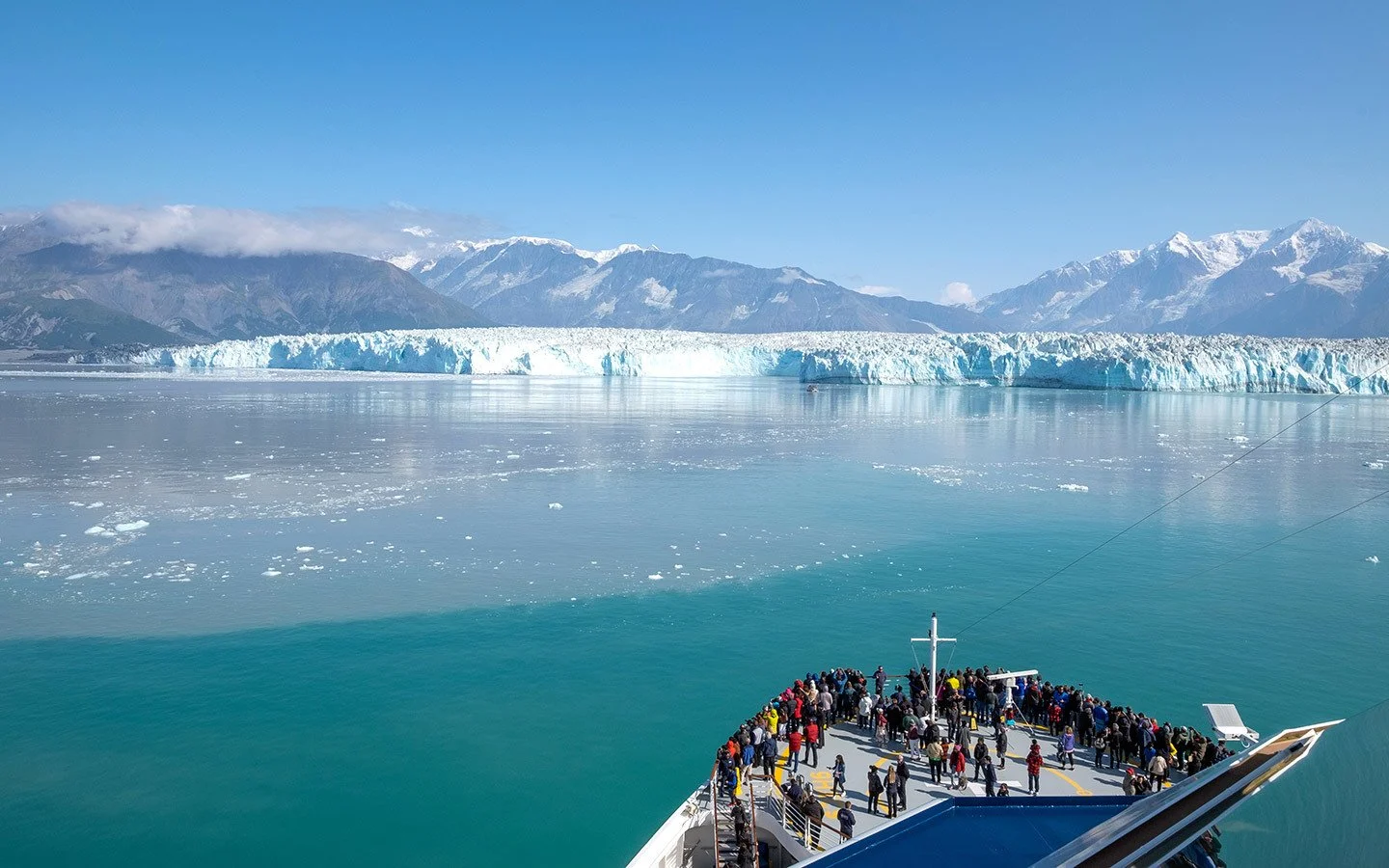 The thunderous crack of a calving glacier, snow-capped mountain peaks, bears fishing for salmon in clear meltwater streams, humpback whales swimming through turquoise waters. Alaska takes natural beauty to another level. This vast wilderness isn't the easiest place to get around though, especially if you only have a week or two to spare.
Alaska's coastal network of islands, fjords and glaciers make a cruise a great way of exploring the state. But if you're planning an Alaskan cruise you'll soon find out there are a baffling array of options – different departure ports, routes, stops and cruise lines.
Cruises can be expensive and you can't exactly change your mind halfway round and get on a different ship if you decide it's not what you wanted. So you want to make sure you pick the right one. But how do you decide which that is? We've broken down the options and show you what questions to ask to help you choose the best Alaska cruise for you.
Things to consider when you choose an Alaskan cruise
Do you want to do a one-way or round trip?
There are two types of Alaskan cruise itineraries – one-way or round trip. Each has pros and cons, so the best choice will depend on what's most important to you. Round trip itineraries tend to be seven days long, starting in Seattle or Vancouver.
These trips focus on Southern Alaska and normally sail up the Inside Passage (a coastal shipping route along the Pacific Northwest Coast) as far as Juneau before heading back.
The advantage of a round trip is that it makes travel planning easier. You can fly in and out of the same airport, with return flights usually cheaper than one-way or open jaw tickets. But having to loop around means you don't cover as much ground, and although the stops are different on the way up and down, you'll be retracing your steps part of the way.
One-way trips usually either start in Anchorage and head south or start in Seattle/ Vancouver and head north. They are often longer (10–14 days) and sail across the Gulf of Alaska as well as through the Inside Passage. So you get to see more of the Alaskan coast.
A longer itinerary means more stops and more chances to see wildlife and glaciers – a bonus if you get stung by Alaska's unpredictable weather. And starting or finishing in Anchorage means it's easy to add on a land-based tour to explore more of the state.
But the disadvantages of a one-way cruise are that travel planning is more complicated and often more expensive. And if you're worried about seasickness, the Gulf of Alaska can be rough compared to the more sheltered waters of the Inside Passage.
Where does the ship depart from?
The three main departure points for Alaskan cruises are Seattle and Vancouver in the south and Anchorage in the north. Though some longer itineraries sail as far as San Francisco.
Seattle is popular with cruisers from the USA as they don't need to go through immigration and can get cheaper internal flights. But you end up travelling through a large section of open sea which can be rough, some short trips miss out the Inside Passage and ships have to make a compulsory stop in Canada so there's less time in Alaska.
Vancouver is the most popular departure point for Alaska cruises so you'll have the biggest choice of cruise lines, itineraries and departures. If you're travelling internationally there are plenty of flights, and routes mostly travel through the scenic Inside Passage.
Most departures from Anchorage actually leave from the ports of Seward or Whittier rather than Anchorage itself. So you need to allow time to get to the ship from the airport.
It's 60 miles to Whittier and 125 miles to Seward, but it's safer to stay overnight before your cruise, especially if you're flying internationally. There's some beautiful scenery along the way though, and one bonus is you can get there via the Alaska Railroad.
When's the best time to cruise Alaska?
The cruise season in Alaska runs from late April/early May until early September, and can be broadly split into three different seasons: spring, summer and autumn. There's not really a best time to cruise Alaska as each season has different advantages and disadvantages – which relate to the weather, the wildlife, the prices and the size of the crowds.
It's important to remember weather in Alaska is unpredictable, so you're never going to be guaranteed blue skies and sunshine, even in the middle of summer.
We travelled in late August and had beautiful weather, but the same cruise a week earlier had thick fog and rain, so there's always a bit of luck involved. Be prepared for changing weather conditions – pack wet weather gear and warm layers at any time of year.
Spring (April–May)
Average daytime high temperatures lie around 8–11°C (45–52°F) at the start of the season. But they can get below freezing at night, and you might still see snow on the ground and mountaintops. Rainfall is fairly low but seas can sometimes be rough.
Spring's a good time to see wildlife, with bears and lynx coming out of hibernation, and seabirds and humpback whales migrating. There are also plenty of wildflowers, and waterfalls are at their most impressive as the snow melts. As it's low season, ships aren't so busy and you'll often find good deals on cruise packages and discounts on excursions.
Summer (June–early August)
Summer is peak Alaska cruise season, with warm temperatures of 13–16°C (55–65°F). Days are long, peaking around 20 hours of daylight at the summer solstice in June – or even longer in the far north. June tends to be fairly dry but rainfall starts to increase from July. And warm days mean glaciers are most active and you see them calving more.
Peak season means both ships and ports can be crowded. Prices rise and you'll need to book earlier – particularly in the July/August school holidays when more families are travelling.
Wildlife tends to move inland in summer, but it's a good time to spot marine wildlife, especially whales but also sea lions and porpoises. Bears also come out for the salmon runs at the end of the summer. Less welcome is an influx of mosquitoes, so pack repellent.
Autumn (late August–September)
Temperatures start to cool down towards the end of August, with autumn average highs around 10–12°C (50–55°F). It does start to get rainier though, with almost half of days each month seeing some precipitation on average. August is still fairly busy on board, but as you get into September ships get quieter, prices fall and more discounts are available.
In the autumn you can see bears fishing for salmon as they head upstream, moose and caribou move back to lower elevations, and you can also see migrating Beluga whales. The colourful autumn leaves make it a great time for photography. And if you're really lucky the Northern Lights are visible in the north of Alaska towards the end of the season.
Which Alaska cruise line suits you best?
A search for Alaskan cruises comes up with a long list of different cruise lines and ships – even if you've narrowed down which route you want to do. The difference in ship sizes, facilities and even other travellers means you can have a completely different experience depending on which you choose. So how do you pick the best Alaska cruise line?
One of the first decisions to make is whether you want to travel on a large ship or a small ship. Do you want a mega-ship with tons of facilities and activities on board? Or something smaller and more low-key, which can reach places the giant ships can't?
Pros and cons of small cruise ships
Smaller 'Expedition' cruise ships are sometimes described as cruises for people who don't like the idea of cruises. They only carry 60–100 passengers and tend to be less formal, with more outdoor activities. Companies include National Geographic, Silversea and UnCruise.
These small ships can access narrow fjords and small islands, get up close to wildlife, glaciers and waterfalls, and are also more flexible in their itineraries in case of bad weather.
But they have much more limited facilities on board. And their smaller size means they can be bumpy in rough seas so aren't so good if you're worried about seasickness. Expedition cruises also tend to be more expensive, and you don't often see discounted fares.
Pros and cons of large cruise ships
The large cruise ship industry is bigger and more competitive. These floating resorts come with tons of facilities, dining, entertainment and excursion options. Advanced stabilisation means a smoother ride and faster speeds mean they can cover a larger area.
But their size limits which ports they can visit, itineraries are fixed and ports can get overwhelmed with 2500 plus people arriving at once, making it hard to escape the crowds. Although they're all pretty large, these ships do vary in size, with mid-size ships tending to be more adult-orientated and huge mega-ships attracting more of a family crowd.
Cruise lines often try to market themselves as being good for everyone, but certain lines tend to be better for certain groups of people. Also check their availability as some lines like Holland America and Princess Cruises run a larger number of cruises in Alaska so there will likely be a wider range of different departure dates and itineraries.
If you're travelling as a family, Carnival, Disney, Princess, Royal Caribbean, Norwegian are good for family-friendly facilities like kids clubs, playrooms and babysitting. Carnival and Norwegian are more budget-friendly options with an unstuffy atmosphere. Or if for luxurious touches, try Celebrity Cruises, Holland America, Cunard or Silversea.
With Alaska being known for its natural beauty, one thing to bear in mind is the environmental impact of the cruise you choose. The cruise industry doesn't have the best reputation for sustainability, but not all cruise lines and ships are equal.
The Cruise Ship Report Card ranks ships based on how they deal with sewage, air and water pollution – the methodology is a bit controversial but it does give some guidance.
What are the stops on an Alaska cruise itinerary? (And what can you do there?)
Each cruise line – and often individual itineraries within the same cruise line – makes different stops as they travel through Alaska. So one important thing to consider when you choose an Alaskan cruise is where you want to visit and what you want to do. Here's what you can expect in the main Alaskan cruise ports of call (from south to north).
Victoria
Normally a stop on itineraries from Seattle, Vancouver Island's capital is a pretty, European style city. Victoria is popular for whale-watching but there's lots to do on land too – take a walk around Beacon Hill Park, learn about local history at the Royal BC Museum, visit colourful Fisherman's Wharf and have afternoon tea at the Fairmont Empress.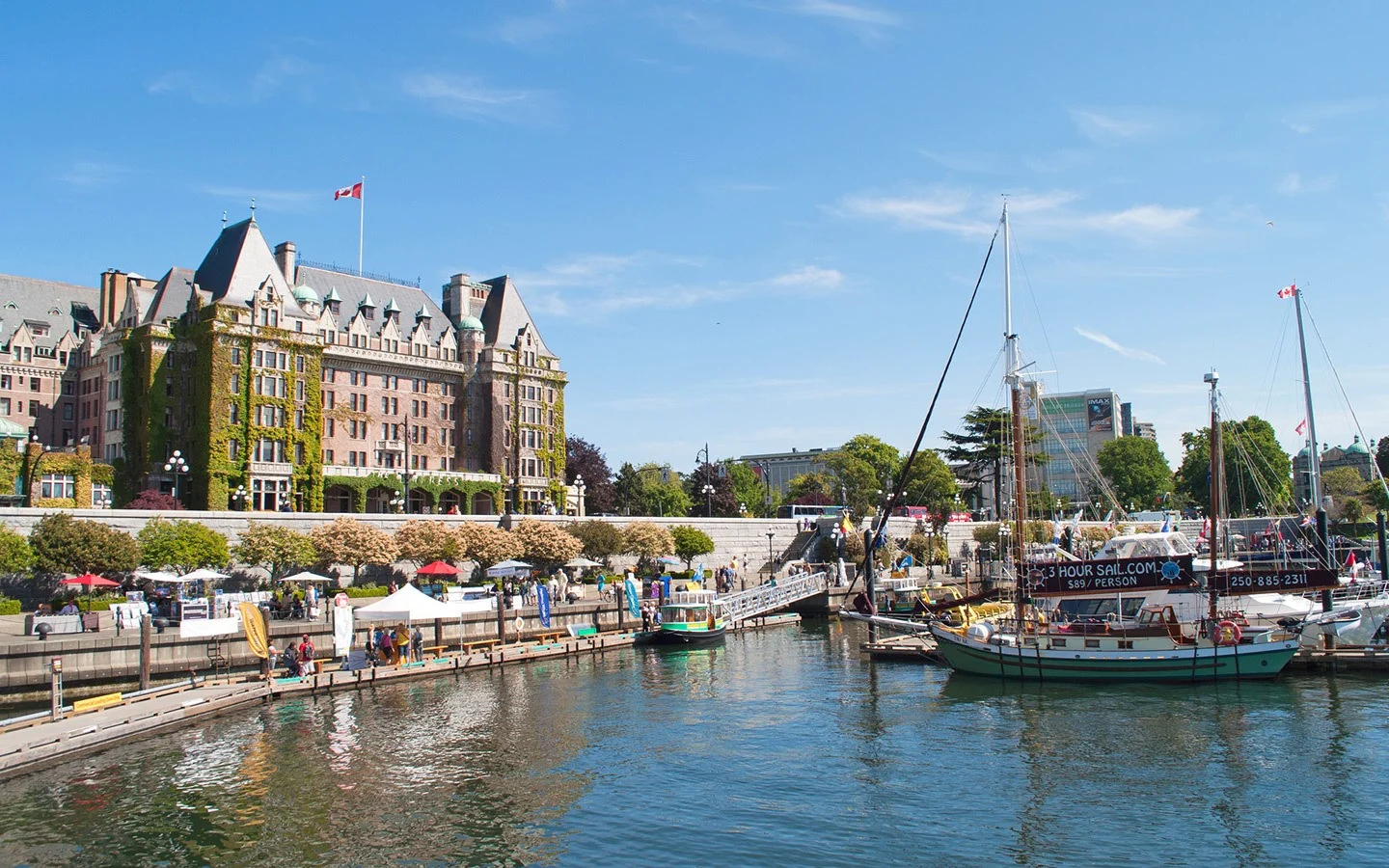 Ketchikan
Quirky Ketchikan is known as the 'salmon capital of the world' and you can buy it, eat it, catch it and watch it migrating upstream here. There's also historic Creek Street district to explore and more totem poles than anywhere else in the world. Or you can head out to nearby Misty Fjords for floatplane, kayaking and even snorkelling trips.
Sitka
Sitka's unique Russian influence make it a bit different from other Alaskan cruise ports. The former capital of Russian America still has its onion-domed cathedral and other remnants of its Russian history. Sitka National Historical Park marks the site of a battle between the Russians and native Tlingit people and has a totem pole walking tour.
Icy Strait Point
Small Icy Strait Point lies on the edge of Glacier Bay – only one ship can dock at a time so it doesn't get too busy. Icy Strait Point is home to the Tlingit people and you can learn about their culture and tour a 1930s salmon cannery. It's a good place for wildlife-watching, with whales and porpoises offshore and bears in the surrounding rainforest.
Juneau
Alaska's state capital is the smallest in the US, and features on most Alaskan cruise itineraries. It's surrounded by mountains and the Tongass National Forest, with some great hiking routes. You can also explore its Gold Rush history, take a trip on the Mount Roberts Tramway for panoramic views, or visit the nearby Mendenhall Glacier.
There are tons of excursions* available from Juneau too, including floatplane and helicopter sightseeing tours, husky dog sledding rides and whitewater rafting.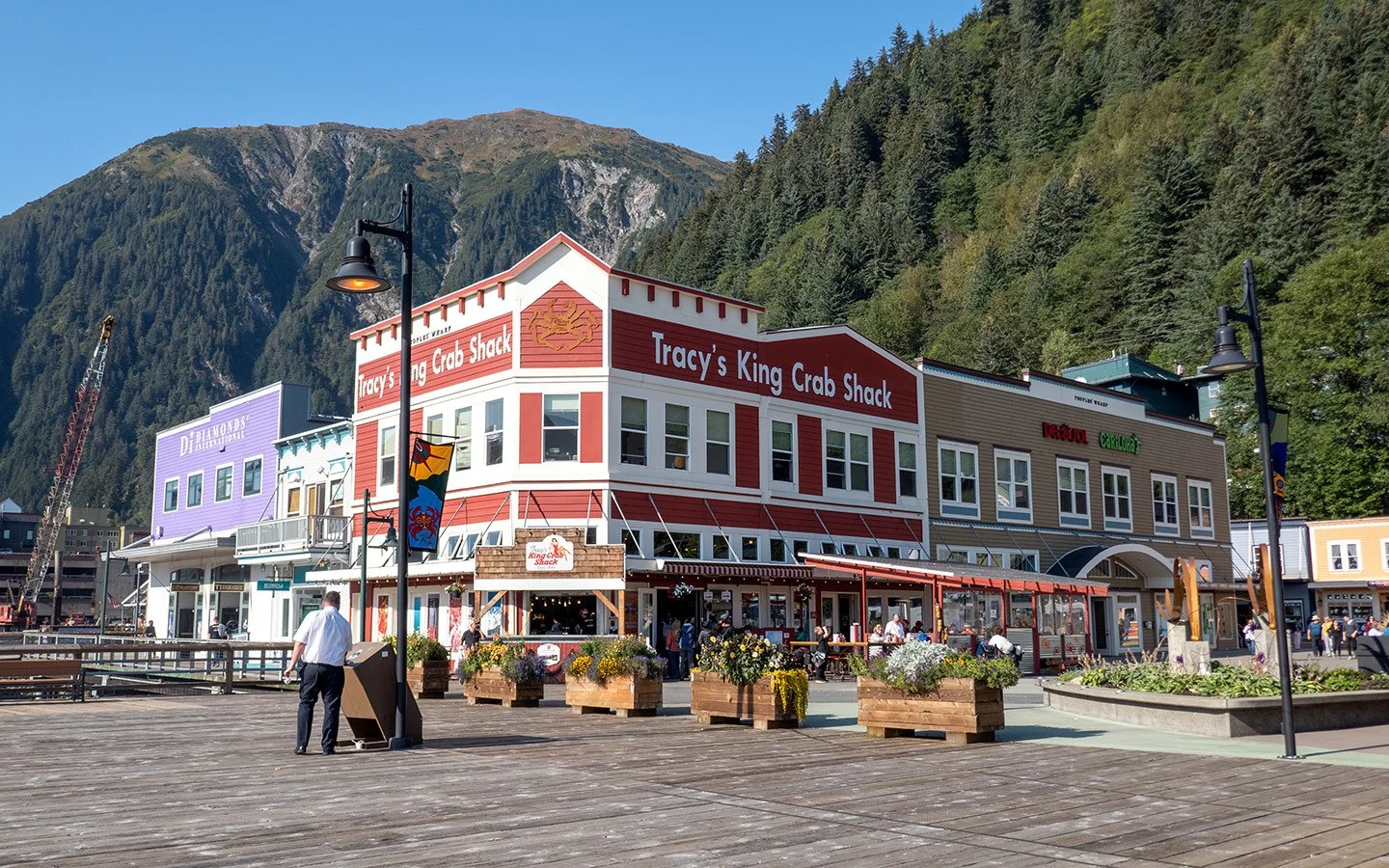 Haines
Surrounded by snowy mountains, Haines is one of the most beautiful Alaskan cruise ports – with the bonus that it's one of the sunniest too. With less ships visiting than many of the other ports it's kept its small-town charm, with a former army base and museums dedicated to both local history and hammers. It's also a good place to see bald eagles in autumn.
Skagway
The small city of Skagway is one of the most popular Alaskan cruise ports, which does mean it can get a bit overwhelmed in peak season. It's home to the Klondike Gold Rush Historical Park with costumed guides, period buildings and exhibits. There's also the ghost town of Dyea nearby and train trips on the scenic White Pass and Yukon Railroad.
Where do you see glaciers on an Alaskan cruise?
There's usually at least one day of scenic cruising in an Alaska cruise itinerary, when you get up close to a glacier – or maybe two or more on one-way cruises. Normally the ship will spend half a day at the glacier, with a commentary from an on-board naturalist to explain what you're seeing. The three main glaciers visited on Alaskan cruises are:
Hubbard Glacier
At six miles wide and 400 feet tall, the Hubbard Glacier is the biggest glacier visited by cruise ships. Ships can normally get to around half a mile away – though we had perfect conditions so got a bit closer. The glacier is fast moving (comparatively) so you can often see it calving. But sea ice can restrict access at the start and end of the season.
Glacier Bay
Glacier Bay is a remote US National Park which you can only reach by ship or plane. Cruise ships travel up through inlets along the coast so you get the chance to see a variety of different scenery and multiple glaciers. The park is known for its wildlife, with whales, seals and sea otters spotted ioffshore as well as brown bears and mountain goats on land.
Tracy Arm Fjord
Tracy Arm Fjord, south of Juneau, is home to the twin Sawyer glaciers. It has the most spectacular setting, with a 30-mile-long narrow fjord surrounded by 3000-foot cliffs. The glaciers aren't as big as the others but are a stunning bright blue as they extend deep underwater, and the area is home to humpback whales and harbour seals.
What excursions do you want to do?
Each cruise port has a range of different excursions available – at an extra cost. Some activities like floatplane sightseeing, bear-watching, whale-watching and dog sledding you can do in multiple location, but others like glacier boat trips are only available in one place.
It's worth doing a bit of research in advance to work out what you want to do as the most popular excursions book up fast, especially in peak season. If there's something you really want to do then it's a good idea to reserve a spot when booking your cruise.
The pros of official cruise line excursions is that you're usually allowed off the ship first and it'll wait if there are delays, but they can be pricey and sometimes have big group sizes.
You can also book excursions independently, either through places like Get Your Guide* or Viator* who work with lots of different companies, or directly with local operators.
There are also often tour desks at cruise ports where you can book excursions at the last minute if you don't want to book ahead – we did a last-minute trip to the Mendenhall Glacier from Juneau when we saw it was going to be a sunny day. Though make sure you allow plenty of time as the ship won't wait for you if you're late back.
Which cabin should you book?
Cruisers tend to be split into two camps – those who don't spend much time in their cabins and are happy to go without a window to save money, and those who'll pay a bit extra to have a balcony to soak up the views from. As Alaska is such a scenic area, particularly when sailing the Inside Passage, we decided it was worth the cost to have a balcony.
Turns out we had fog on the way up and didn't see a lot, but the balcony came into its own at the glacier. It can help to be able to see the horizon and get some fresh air if you're worried about seasickness. You can also choose a cabin on as low a deck as possible, and one in the middle of the ship rather than forward or aft as they move less.
It can cost more to reserve a specific cabin rather than a generic category but we managed to bag a room with a bigger balcony by choosing a cabin where the ship widened out.
Ready to choose an Alaskan cruise?
So what makes up your ideal Alaska cruise? Would you prefer a small expedition ship with lots of adventurous activities included? Or would you prefer a larger ship with more facilities and to do a longer trip to see more of the Alaskan scenery?
I travelled with my parents in late August, wanted a round trip from Vancouver on a mid-size ship with a bit of luxury, and didn't mind what stops we made. We chose a Celebrity Cruises seven-night Hubbard Glacier cruise (£1200/$1500 per person in a balcony cabin) and really enjoyed it, but there are tons of options to create your perfect Alaska cruise.
Save for later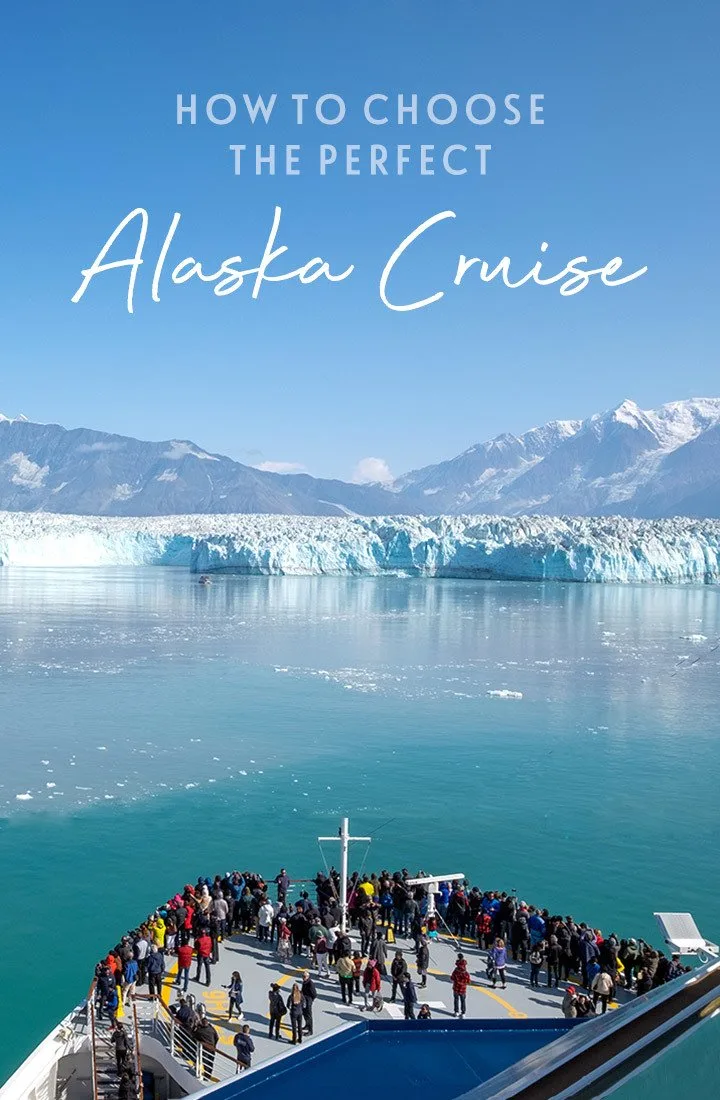 You might also like