How to spend the perfect weekend in Sedona, Arizona – a guide to this beautiful town in the southwest USA featuring two days of hikes, food and wine, sunsets and spirituality among the red rocks.
* This site contains affiliate links, where I get a small commission from purchases at no extra cost to you.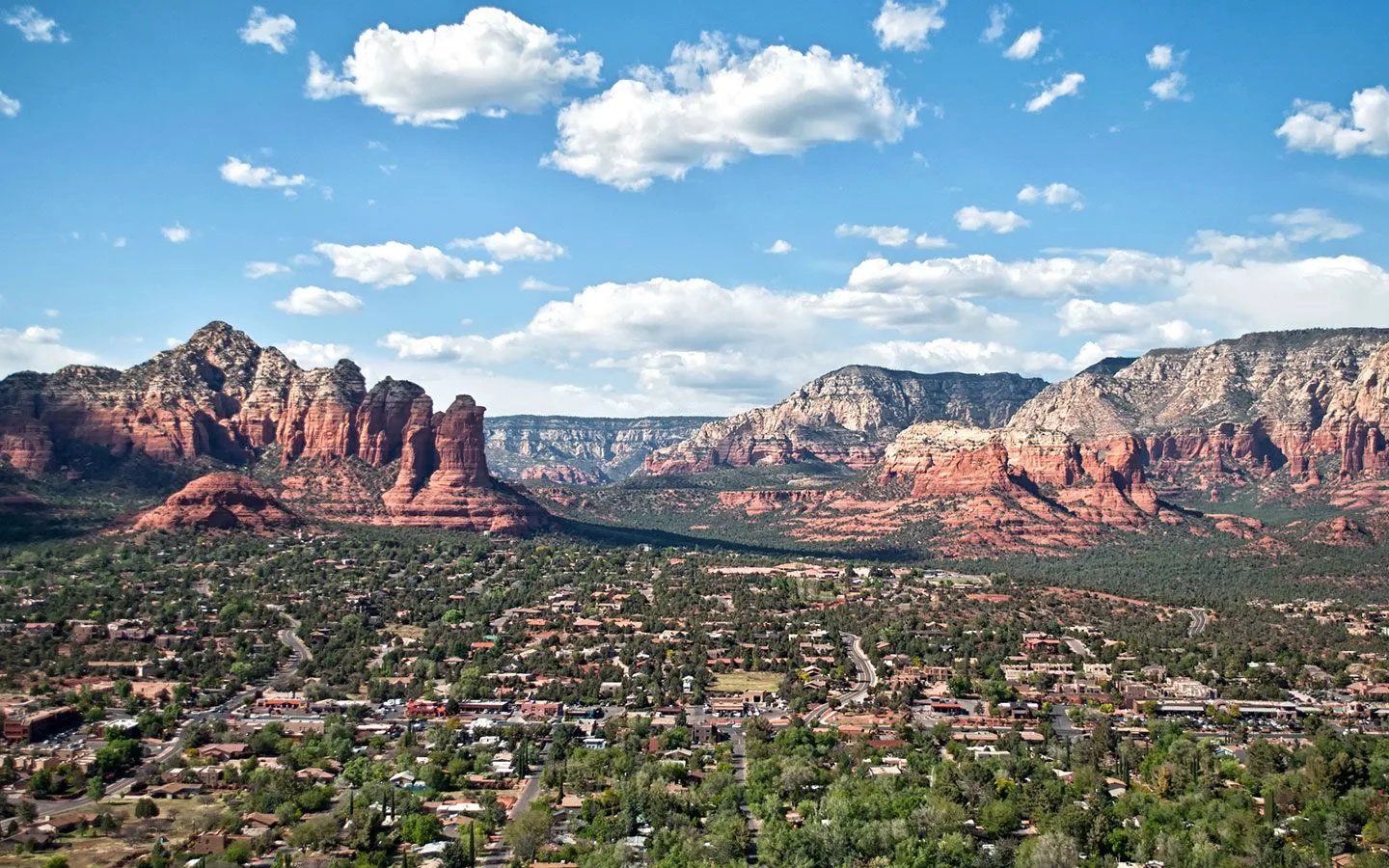 Surrounded by a dramatic landscape of vivid red rock formations, Sedona in northern Arizona is one of the most beautiful places in the southwest USA. It's a great place to enjoy the outdoors, with miles of hiking and biking routes, but has a spiritual side too.
Add in fantastic places to eat, local wines and plenty of sunshine and you have the ingredients for a perfect weekend in Sedona – and being close to Flagstaff and the Grand Canyon makes it an easy add-on to a US road trip. So here's my 2-day Sedona itinerary.
How to spend a weekend in Sedona
Friday evening
Start your weekend in Sedona with one of the town's famous vortex sunsets. Vortexes are a kind of spiritual hotspot, where energy flows radiate the Earth's power. They're said to promote healing and spiritual awareness, and many were sacred to local Native Americans. Whether you're a believer or not, Sedona's vortex sites are also some of the most scenic spots in town, so make sure you add them to your Sedona itinerary.
Airport Mesa is one of the closest vortexes to the centre of town, accessed via a parking lot near Sedona's tiny airport. The full Airport Mesa hike is 3.3 miles, but you can get great views even if you just follow part of the trail, with red rocks glowing as the sun sets.
Then head to 89Agave Cantina for dinner and one of their signature margaritas, featuring prickly pear or jalapeno-infused tequila. On the menu are Mexican favourites like enchiladas, tamales and chicken mole, with a streetside patio and art-filled dining room.
Saturday morning
Start the day with a hike through Sedona's gorgeous landscapes. There are over 100 hiking trails so you can choose a length and difficulty to suit you. For many trails you need a Red Rock Pass (unless you have a US National Parks Pass). A one-day pass costs $5 and you can get them from visitor centres or vending machines at the main trailheads.
Head north-west of Sedona for the 4.2-mile Devil's Bridge Trail, which takes you to a natural sandstone arch that's one of Sedona's most popular photo spots. The first section's on a dirt road so if you have a 4WD you can drive along it and cut a couple of miles off.
The rest of the route is fairly easy other than a bit of scrambling at the end. It's a popular hike, so be prepared to queue if you want to get a photo standing on the bridge.
Or follow the Red Rock Scenic Byway south of town to reach a selection of hiking trails. The Cathedral Rock Trail is one of the most popular hikes, a steep, rocky climb to reach a vortex site. It involves a bit of clambering so isn't great if you don't like heights, but the views are spectacular. The trail is just over a mile round trip and starts along the evocatively named Back O' Beyond Road between Sedona and the village of Oak Creek.
You can also get a close up view of Sedona's most famous rock formations on the Bell Rock Pathway Trail. This easy 3.6-mile trail runs around the base of Bell Rock and Courthouse Butte. It starts just north of Oak Creek, so call in to the nearby Creekside Bistro afterwards for lunch, serving home-cooked American favourites with view from the deck.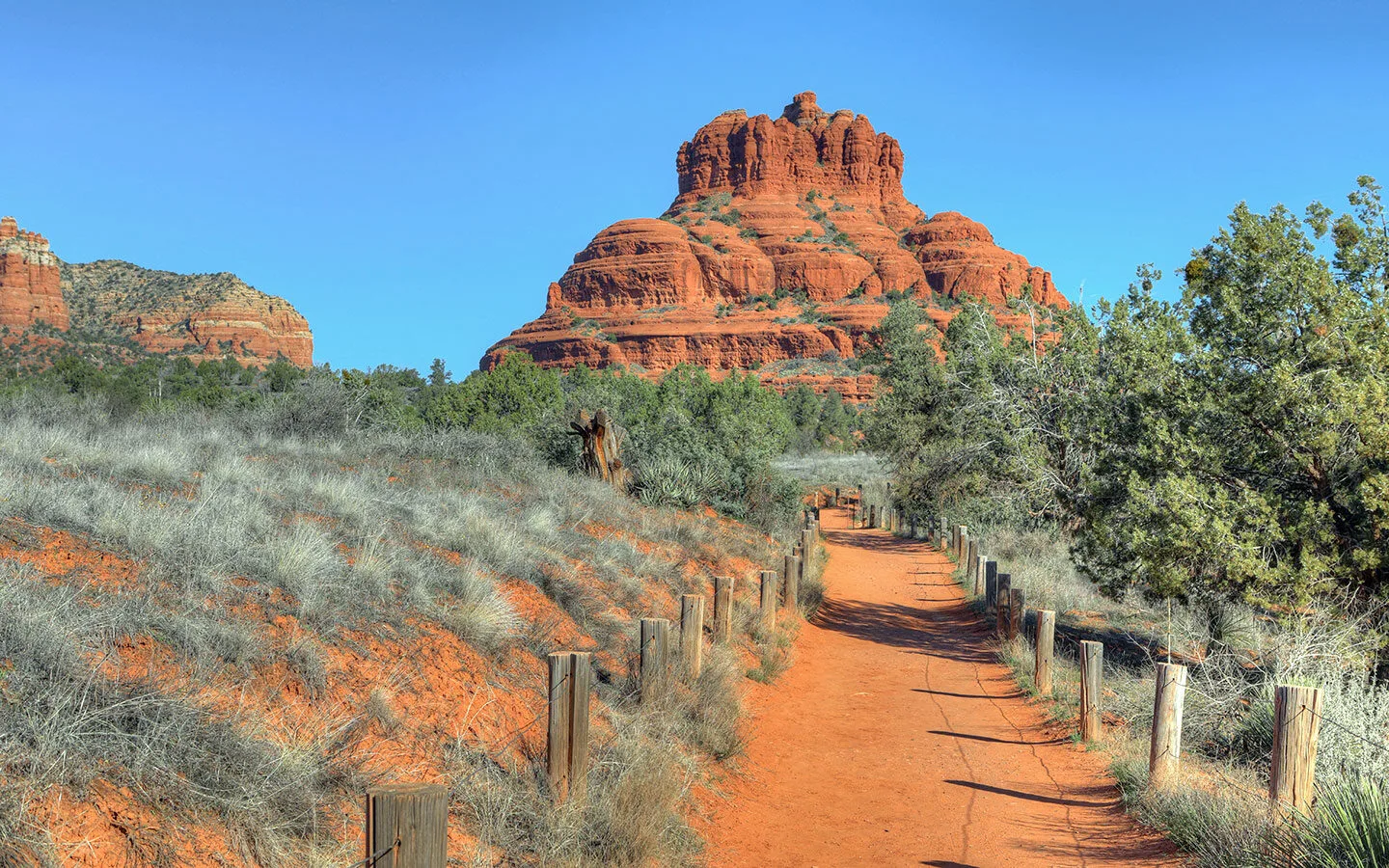 Saturday afternoon
If it's a hot day, head to Slide Rock State Park to cool off (entry $10–30 per vehicle). The park is home to a unique 80-foot-long natural waterslide. The chute has been worn into the sandstone and a combination of the gradient, the current and a layer of algae make it extra slippery. And there's also a series of pools for swimming where the creek widens out.
Or if you'd prefer a bit more luxury, Sedona has a selection of high-end spas where you can spend the afternoon being pampered. The Amara Sedona Spa* is only a short walk from downtown Sedona and offers a range of massages, scrubs and facials, including their signature Rain Dance Massage using lavender, rosemary and sage oils. There's also a heated saltwater pool and hot tub where you can soak up the scenery.
Finish the day with a pre-dinner stroll along Sedona's main street, where you'll find galleries, artists' studios and boutique shops mixed with New Age crystal shops and spiritual healers. Don't miss Tlaquepaque Arts and Crafts Village for southwest art, pottery, jewellery and photography. There's also a brewery on site if you fancy a drink.
Then have dinner at Mariposa, an upscale South American-inspired restaurant run by local celebrity chef Lisa Dahl. Grab a spot on the patio for a sunset drink with a panoramic view over Sedona before trying their steaks and seafood grilled over a wood fire.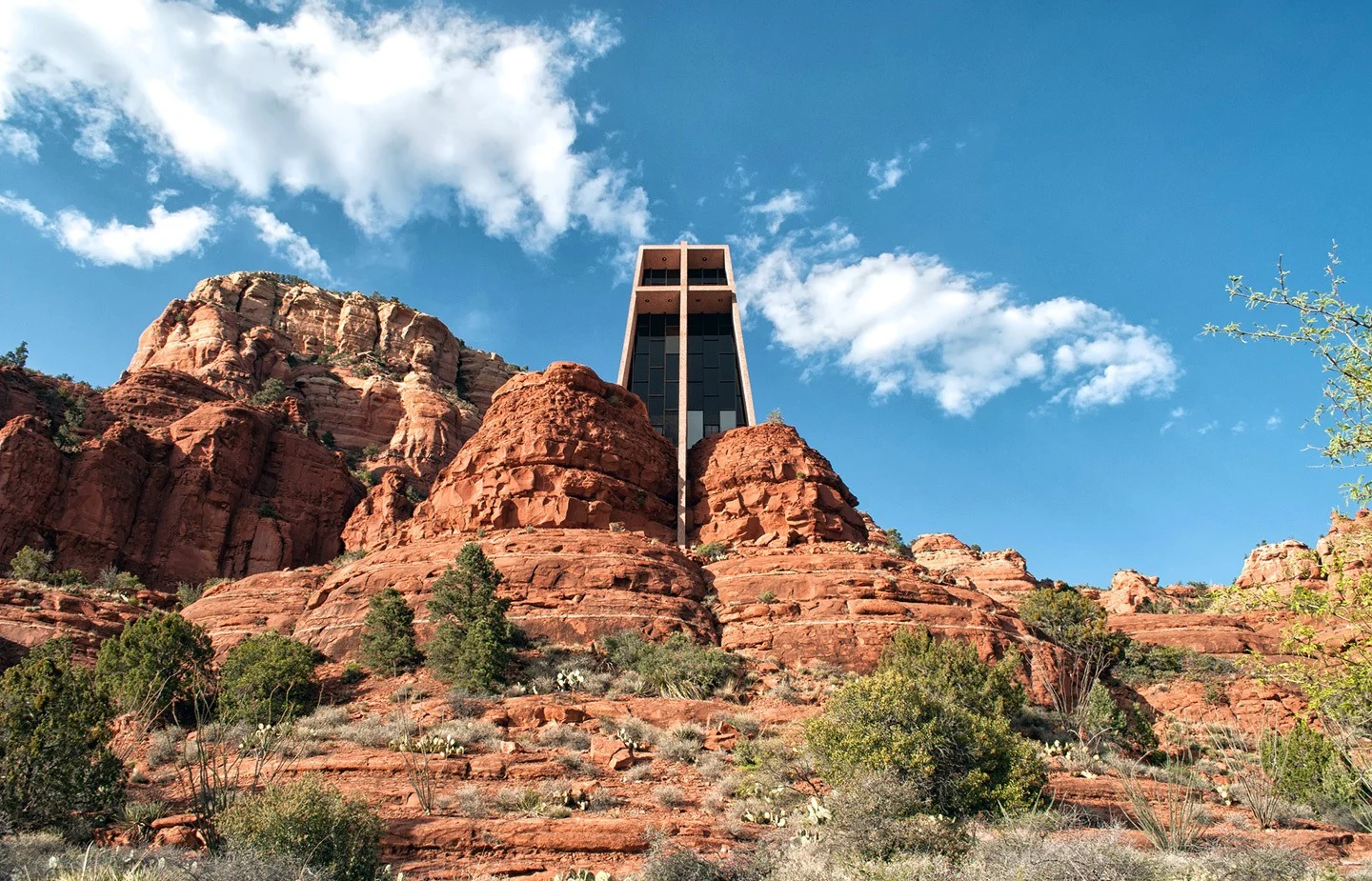 Sunday morning
The next morning, start the day by checking out the view from the Chapel of the Holy Cross – if you don't mind an early start it's extra beautiful at sunrise. This unusual-looking structure perched among the red rocks looks a bit like a James Bond film villain's lair.
In reality it's a Catholic chapel built in the 1950s. It was designed by sculptor Marguerite Brunswig Staude, who'd been a pupil of Frank Lloyd Wright and was inspired by the Empire State Building, with two central beams forming the shape of a cross.
Then take a short road trip along the Red Rock Loop. This 8.5-mile route connects to Highway 89A west of town and is paved so you don't need a 4WD. It winds its way through terracotta hills with views of Cathedral Rock, Bell Rock and Courthouse Butte.
Or if want to try something more adventurous, Pink Jeep Tours run off-road tours into Sedona's backcountry in their distinctive bright pink open-top jeeps. Their two-hour Scenic Rim* tour runs through bumpy, rocky backcountry terrain and climbs over rock formations past filming locations for classic Westerns and along the state's first cattle trail.
Then call into the Red Rock Cafe in Oak Creek for lunch. It's known for its friendly service and tasty brunches with a southwest twist, featuring dishes like Huevos Rancheros, Southwest Benedict with black beans and green chilies, and Breakfast Burritos.
Sunday afternoon
Then finish your weekend in Sedona itinerary with a trip just out of town. Arizona isn't the most obvious place you'd expect to find wine being made, but the Verde Valley region south of Sedona has been producing wine since the 17th century. Its climate of warm, dry days and cool nights creates the perfect conditions for grape-growing.
The Verde Valley Wine Trail includes 25 wineries between Sedona and Jerome. Most are small boutique producers with wines you won't see anywhere else – popular grape varieties include Syrah, Zinfandel, Merlot and Chardonnay. Most wineries are open to visitors (though you may need to book in advance) so you can try and buy some to take home.
Then finally stop off at Jerome, at the end of the wine trail. It was once a thriving copper mining town, nicknamed the 'wickedest town in America' for its drinking and gambling. But it was abandoned in the 1950s when the mine closed and left as a ghost town.
Today there are a just a few hundred residents – as well as a few ghosts* – and signs of its past history to explore, including a mining museum and State Historic Park.
The details
When to visit Sedona
Sedona gets an average of 300 days of sunshine a year so there's never too much rain, but temperatures vary a lot through the seasons, and being up at 4500-foot elevation means Sedona is usually cooler than places in the surrounding area like Phoenix.
Spring and autumn are the most popular times to visit Sedona, with average highs of 18–28ºC (65–82ºF) so it's sunny but not too hot, making it good for hiking. It's one of the most popular US holiday spots though so gets busy – making your weekend in Sedona a mid-week getaway instead helps avoid the crowds and premium prices.
In the summer Sedona is seriously hot, with highs around 97ºF/36ºC in August and occasional thundery showers. Winter is low season with cheaper prices and winter events. You might see a dusting of snow on the red rocks and nighttime lows of -1ºC (30ºF), but it's often still pleasantly warm and sunny in the daytime with average highs of 14ºC (57ºF).
How to get to Sedona
Sedona is located in Northern Arizona, between Flagstaff and Phoenix and 114 miles/two hours' drive from the Grand Canyon's South Rim. There's a small airport in Flagstaff but Phoenix Sky Harbor is the nearest international airport, 125 miles/two hours' drive away.
It's easiest to explore Sedona by car – you can pick up a hire car at the airport or there are a couple of car hire offices in Sedona – but there is a shuttle connecting Phoenix airport and Sedona which runs several times a day and costs $55 per person each way.
Where to stay in Sedona
If you're looking to splash out, L'Auberge de Sedona* is the place to do it. This luxurious five-star resort is set in a tranquil location alongside Oak Creek and is super romantic with its pool, spa and candlelit dining on the waterside terrace. L'Auberge has a mix of rooms and cottages, with the Vista Cottages having their own fireplace and whirlpool bath.
For a more budget-friendly weekend in Sedona, Sky Ranch Lodge* is a bit out of town so you do need a car, but it's right next to Airport Mesa and comes with amazing panoramic views of the town's red rock scenery. The rooms are motel-style and most have their own balconies, and there's also a pool and jacuzzi set among the gardens.
Or if you prefer self-catering, this one-bedroom Sedona guest suite* is spacious and smartly decorated inside with a patio outside to make the most of the views. There's also a spa and wellness centre with swimming pool, hammam, hot spring bath and hot tub.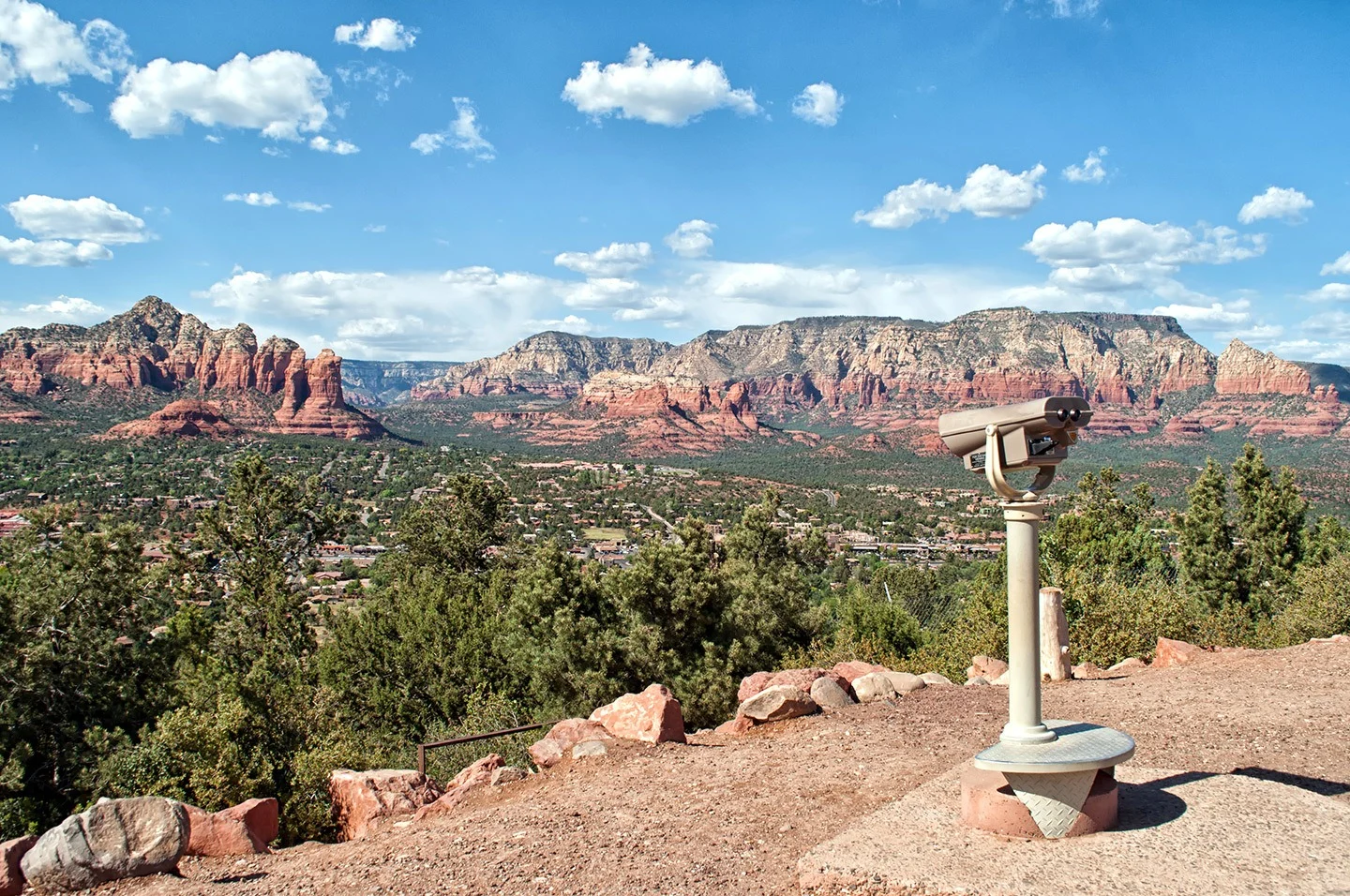 Save for later
You might also like