Plan the perfect US road trip with this guide to 12 of the best southwest USA scenic drives, taking you though National Parks and dramatic landscapes in Arizona, Utah, New Mexico, California and Colorado.
* This site contains affiliate links, where I get a small commission from purchases at no extra cost to you.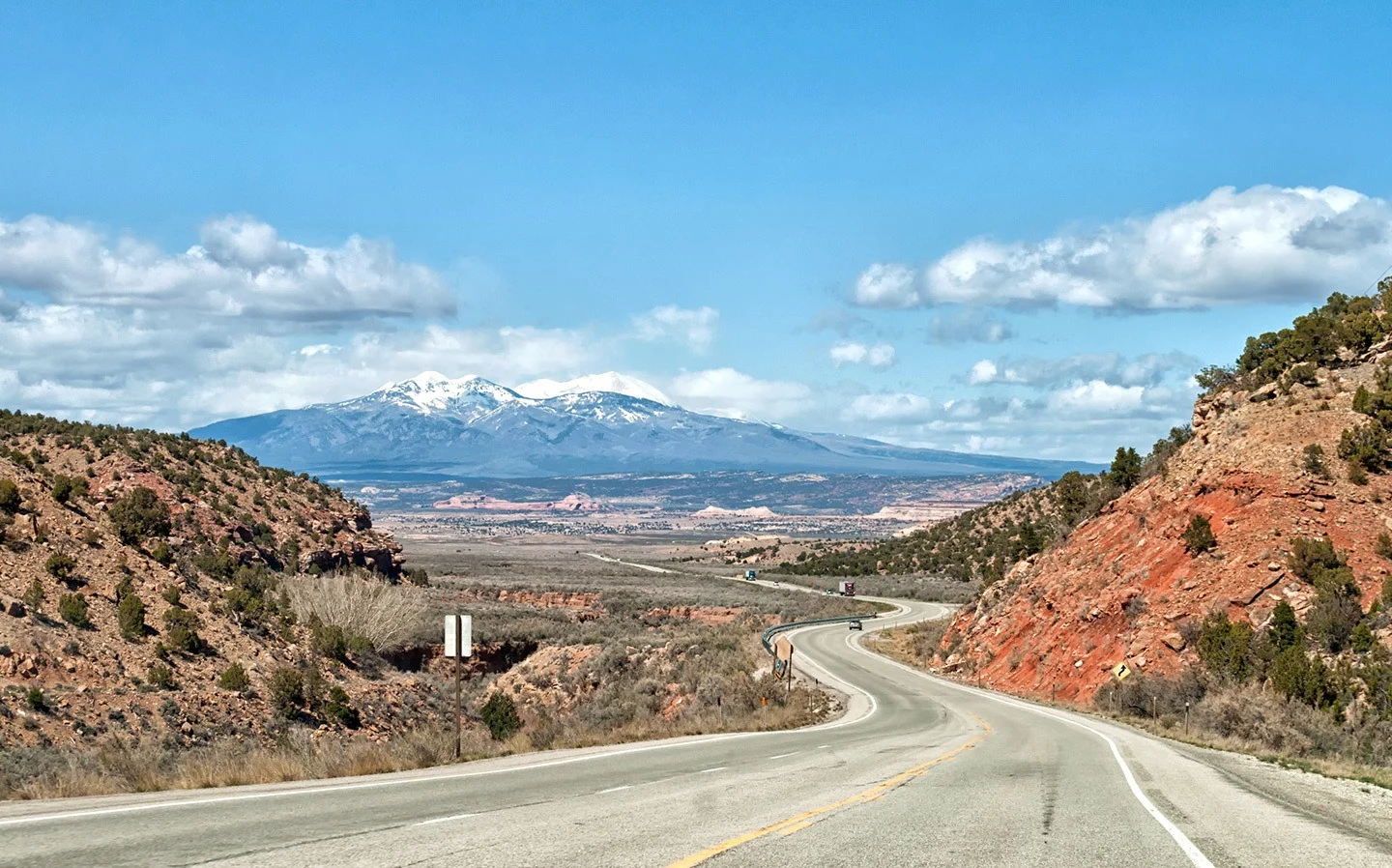 With National Parks, snow-capped mountains, red rocks, canyons and sandy deserts, the landscapes of the southwest USA make it one of the best places in the world for a road trip – it's a place where the journey is just as important as the destination. And you're spoilt for choice when it comes to scenic driving routes in the southwestern USA.
To help you plan your trip we've picked 12 of the best southwest USA scenic drives, with my favourites and those of other road trip-loving bloggers. The routes run from eight to 256 miles across a range of landscapes in Arizona, Utah, New Mexico, California and Colorado. But what they all have in common is plenty of stunning views along the way.
Map of scenic drives in the southwest USA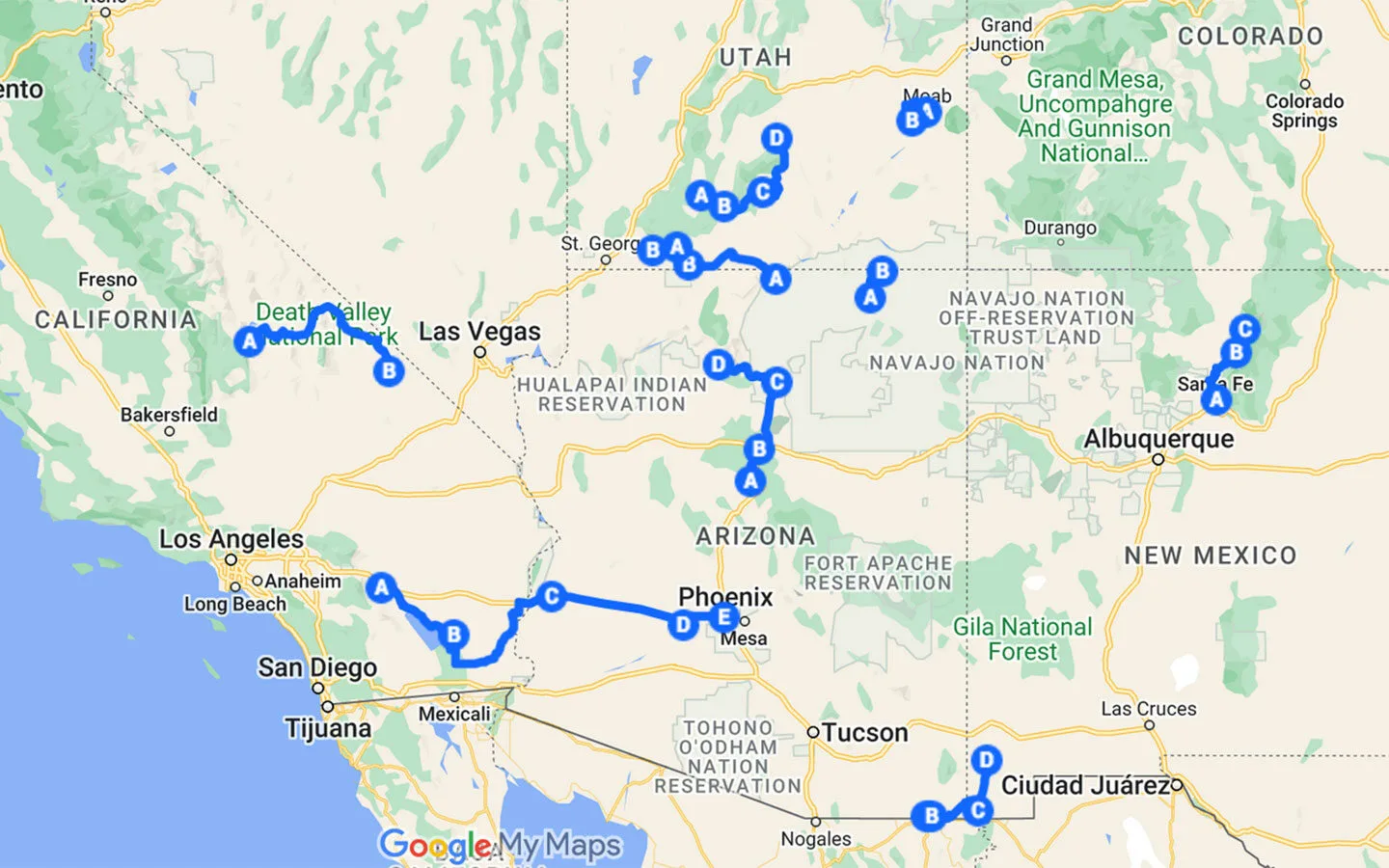 1. Kayenta–Monument Valley Scenic Road, Arizona
The road trip through Monument Valley is one of the classic southwest scenic drives. It's the American West of countless Hollywood films, from John Ford's Westerns to Forrest Gump. The Kayenta–Monument Valley Scenic Road takes you right to the heart of it, stretching 26 miles from the town of Kayenta in Navajo County, Arizona.
As you head north of Kayenta, you first drive through a flat sandy plain, with the road stretching into the distance. But before long shapes start to emerge on the horizon. As the road gets closer to Monument Valley, you get a better idea of the huge scale of these sandstone buttes, their layers of golden red rock contrasting against the blue skies.
The buttes range from 400–1000 feet tall, and erosion has sculpted them into an array of quirky shapes, giving them nicknames like the Mittens, the Totem Pole, Elephant Butte, the Three Sisters and John Ford's Point, named after the film director.
You can get some great views from the highway, but for a closer look head into the Monument Valley Navajo Tribal Park where there's a viewing platform as well as a 17-mile (bumpy) scenic drive which runs right around base of the rock formations.
The route: follow Highway 163 north of Kayenta for 22 miles until you reach the Monument Valley Navajo Tribal Park Welcome Centre, where you turn right. Entrance to the park costs $8 per person, and the scenic drive takes around two hours.
2. Sedona to the Grand Canyon, Arizona
The magnificent Grand Canyon lies 117 miles north of Sedona, and the driving route between the two is a popular route for day-trippers heading to the Grand Canyon, with plenty of spectacular scenery on the way. It starts by heading north out of Sedona towards Flagstaff, passing the red rock buttes and vortex sites Sedona is famous for.
The route follows State Route 89A to Oak Creek Canyon Vista, a viewpoint overlooking the canyon's deep red rock and lush vegetation. As you descend into Flagstaff, the road is lined with the towering Ponderosa Pine trees of Coconino National Forest.
After passing Flagstaff, take Highway 89 towards Cameron. Make a short detour to visit the historic Cameron Trading Post and enjoy the views of the Painted Desert and the Little Colorado River Gorge. Then head west onto Desert View Drive – the most beautiful section of the route with panoramic viewpoints along the Grand Canyon's South Rim.
The route: follow route 89A from Sedona to Flagstaff, and then take Highway 89 towards Cameron. After a detour to Cameron take Highway 64 towards Grand Canyon Village.
Recommended by Elaine from Your Ireland Vacation.
3. Sedona's Red Rock Loop, Arizona
The Red Rock Loop in Sedona is our shortest southwest USA scenic drive, but it packs plenty of beauty into its eight-mile distance. Sedona is surrounded by red sandstone rocks, which are said to be the source of vortexes of spiritual energy from deep in the Earth.
Sedona's vortexes have been attracting visitors to the area for centuries. The Red Rock Loop scenic drive takes you up into the hills around the town, looking out over its red rock scenery, including two of the most famous vortexes – Cathedral Rock and Bell Rock.
If you want to stop off along the way you can picnic or take a dip in Oak Creek from the Crescent Moon Picnic Area, or join one of the hiking routes from Red Rock State Park.
The route: follow Highway 89A four miles west of central Sedona, then take Red Rock Loop Road on the left after the Courtyard Hotel. Follow the road – which is paved apart from one short unpaved section – around in a loop until you rejoin Highway 89A.
4. Coachella Valley to Phoenix, California and Arizona
To experience a vast range of desert landscapes, start in the Coachella Valley in Southern California and make your way 256 miles to Phoenix, Arizona. While Coachella is best-known for the annual Coachella Music Festival, there are also numerous other art festivals and events like Desert X, with massive art installations filling the valley.
The route also takes you past the Salton Sea – a toxic lake in the middle of the desert which is slowly evaporating. The lake is dotted with ghost resort towns along its perimeter and at the very tip is Slab City, an off-grid community coined the 'Last Free City in America'. On your way out of California, make sure to pop into Joshua Tree National Park.
When you reach the state border, you'll hit Quartzsite, home to the World's Largest Belt Buckle and Gum Gallery Museum. After driving east through Arizona you'll come to Buckeye, where a 25-foot statue of Hobo Joe will greet you. And after that there are even more quirky statues at the Yard of Statues and Stuff outside of Phoenix.
The route: from Palm Springs, go 38 miles north on Highway 62 for Joshua Tree National Park. Then head southeast via Highway 10/111 past the Salton Sea and take Highway 78 north to Blythe. From Blythe rejoin Highway 10 for 151 miles to Phoenix.
Recommended by Kay from The Awkward Traveller.
5. Death Valley Scenic Byway, California
Despite its slightly offputting-sounding name, California's Death Valley has an intriguing beauty. This desert landscape of rock formations and badlands is the lowest, driest and hottest place in the USA. Death Valley National Park covers 3.3 million acres, and the 81-mile-long Death Valley Scenic Byway runs right through the heart of it.
The best time to visit is during winter or spring to avoid the hottest weather. It's a good idea to begin the drive at the Furnace Creek Visitor Center to get to know about the area and grab a map of the park. Zabriskie Point is a must-visit, especially at sunrise and sunset when the view of the colourful rock formations makes it magical.
For the best view of the badlands, drive to the Dante's View Peak. And the nine-mile-long Artist's Drive gives you views of nature's colour palette spread across the rocky soil.
The route: From Las Vegas, follow US Route 95 north for 117 miles, then turn left onto Nevada State Route 374 South/Main Street. Drive for 8.9 miles along this road to Death Valley National Park, then follow California State Route 19 through the park.
Recommended by Neha from Travelmelodies.
6. Page to Kanab via Route 89, Utah and Arizona
Route 89 from Page to Kanab runs for 75 miles along the southern end of Grand Staircase Escalante National Monument, with views of the desert landscape and interesting stops along the way. Leaving Page, you cross Glen Canyon Dam, the US' second-highest concrete arch dam, with views of Lake Powell on one side and the Colorado River on the other.
Midway though the trip, the Toadstool Hoodoos are just visible from the road – an easy 1.5-mile out and back trail leads you into the middle of dozens of these mushroom-shaped balancing rocks. Then just a few miles past the hoodoos, the rainbow mountains of the Paria Badlands come into view with their colourful layered stone.
To the south of Paria, a short detour down House Rock Road will take you to the trailhead for Wire Pass and Buckskin Gulch slot canyons and the sinuous sandstone rock formation of The Wave, before you arrive into the small town of Kanab.
The route: from Page, head northeast on Route 89 (not to be confused with Route 89A which is south of Page) for 75 miles leading right into Kanab.
Recommended by Kristin from That Traveling Family.
7. Zion–Mount Carmel Highway, Utah
With its sweeping views of dramatic rock formations and cascading waterfalls, the 10-mile Zion–Mount Carmel Highway is the most scenic way to reach Zion National Park.
The road was built in the 1920s to connect Zion to Bryce Canyon and was a major feat of engineering. Switchback roads were carved into steep hillside on one side and a mile-long tunnel which took three years to build was blasted out of the rock on the other.
Travelling from the north past Mount Carmel Junction, the route runs through the strange rock formations of Checkerboard Mesa. A chessboard pattern of stripes has been formed in the sandstone rock, with cracks caused by centuries of freeze-thaw erosion.
You then go on through the Mount Carmel Tunnel – this is the original 1920s tunnel which is only wide enough for vehicles in single file (anything over 7ft 10″ wide or 11ft 4″ tall needs to arrange an escort in advance). Then finally the road runs down a series of steep, tight switchback turns towards Pine Creek Canyon and the entrance to Zion.
The route: from the north, follow Highway 89 to Mount Carmel Junction, then take State Route 9 for 12 miles to the east park entrance, north of Springdale. You need to pay the Zion National Park entrance fee of $35 per vehicle, which is valid for seven days.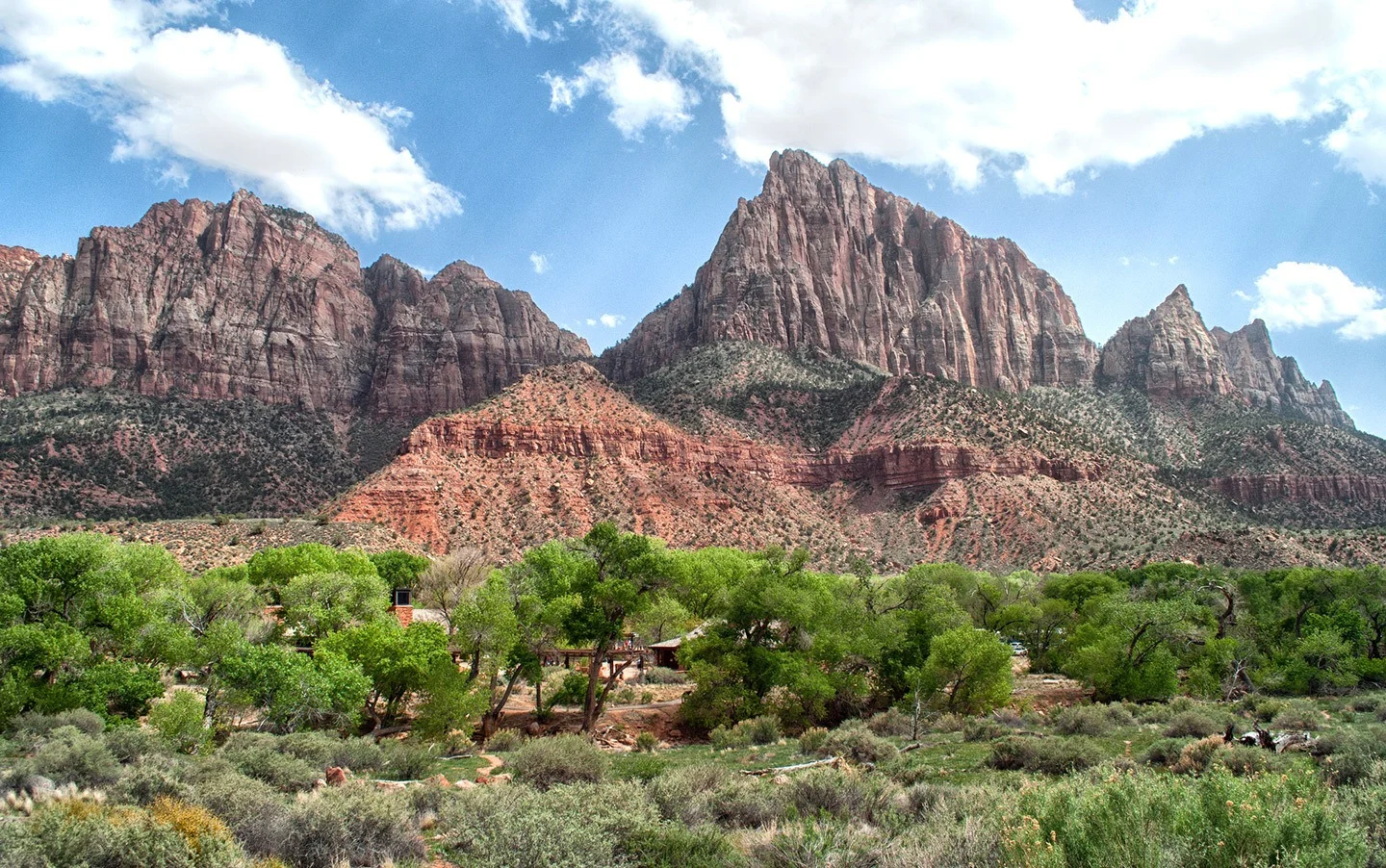 8. Scenic Byway 12, Utah
If you're looking for expansive views filled with colourful red rock canyons, Navajo sandstone cliffs and dense forests all within just 122 miles, look no further than Southern Utah's Scenic Byway 12. While this drive only takes a few hours from one end to the other, you'll want to spend plenty of time stopping along the route to check out the views.
There are the famous hoodoos at Bryce Canyon National Park, narrow slot canyons near Grand Staircase Escalante National Monument, and hikes to the gorgeous Lower Calf Creek Falls. Most people use this route as a way to get from Bryce Canyon to Capitol Reef National Park, but there are plenty of things to explore in the smaller towns like Escalante.
Some words of warning before you head off on this drive – be prepared for steep drop-offs and extremely winding roads. Anyone who gets carsick or has a fear of heights may not be ready for what Scenic Byway 12 has to offer, no matter how beautiful the scenery.
Route: Scenic Byway 12 starts off Route 89 south of Panguich and runs through to Torrey, Utah, which is near Capitol Reef National Park.
Recommended by Danielle from Wanderlust While Working.
9. Dead Horse Mesa Scenic Byway, Utah
Set 2000 feet above the Colorado River, Dead Horse Point is one of Utah's most spectacular state parks – and the road to get there is pretty impressive too. State Road 313 off the main highway takes you through hairpin turns as you travel onto a high plateau known as the Island in the Sky, which forms part of Canyonlands National Park.
On the way to the top you can see a pictograph panel known as Intestine Man, as well as viewpoints over the Monitor and Merrimac Buttes – named after two American Civil War steamships. Once you get to the top the landscape levels out and there are views for miles.
Head to the Dead Horse Point Overlook Trail for some of the best, where a short paved path from the parking lots leads to panoramic views of the Colorado River.
It's hard to get an idea of the scale of what you're looking at from above, but you can sometimes see tiny cars way below. And if you're wondering about the name, legend has it that cowboys used a narrow neck of land 26 metres wide as a natural corral. But once horses were once left corralled and died of thirst within view of the river below them.
The route: head north from Moab on Highway 191 then after around 9 miles take the left turn onto UT-313 and follow it for 15 miles as you ascend to Dead Horse State Park.
10. Geronimo Trail, Arizona and New Mexico
The Geronimo Trail between Douglas in Southern Arizona along the Mexican border into New Mexico is one of the more remote and secluded southwest USA scenic drives. This 95-mile route includes one of the loneliest roads around, with only a handful of passing vehicles and stretches where you'll hardly see any sign of human existence.
Along the Geronimo Trail there are wonderful scenic views (especially at the Arizona–New Mexico state line), ranches like the historic Slaughter Ranch, San Bernardino National Wildlife Refuge, old cemeteries and a Mormon migration memorial marker.
Much of the road is unsealed or dirt tracks. And beware that the side roads from the Geronimo Trail are very treacherous, and will challenge even a 4WD vehicle. Make sure you have a vehicle equipped for unpaved roads with a full fuel tank and emergency water.
The route: from Douglas, drive east on 15th Street which turns into East Geronimo Trail at the Airport Road intersection. Stay on the trail for 43 miles, crossing into New Mexico onto County Road C002. 1.5 miles later, C004 veers to the left and connects with C001. C002 continues south five miles to the ghost town of Cloverdale where you're within two miles of Mexico. Pick up C001 here and drive 40 miles north to Animas.
Recommended by Charles from McCool Travel.
11. High Road to Taos, New Mexico
Whether you're travelling to or from Taos to Santa Fe, the high-altitude views from the High Road to Taos are just as good, passing forest, deserts, farms and traditional adobe villages. This 76-mile scenic drive takes you to 9000 feet high through thick forests among the Sagre de Cristo mountains – high enough to still have deep snow in April.
You can easily spend a day making the drive, with a string of Pueblo Indian and Spanish-American villages to stop at along the way. This region is full of artists and there are studios and galleries dotted among the mountain hamlets – look out for beautiful woodcarvings in Córdova, pottery in Picuris Pueblo and weaving in Chimayo.
Stop off at Truchas to admire the panorama of the Espanola Valley. Find the bench with a view over the Carson National Forest, nine miles from Peñasco. Or visit Chimayo for some of New Mexico's tastiest red chillies and a church known as the 'Lourdes of America', where pilgrims come to rub themselves in holy dirt which is said to have healing properties.
The route: from Santa Fe, drive 16 miles north along Highway 84/285, then head east on Highway 76. Follow this road (which briefly turns into Highway 75 after Chamisal) then turn left onto Highway 518 and follow that all the way into Taos.
12. Durango to Silverton, Colorado
Only an hour's drive (or 50 miles), the journey from Durango to Silverton takes you along Highway 550 on what is known as the Million Dollar Highway and offers stunning views of the San Juan Mountains. If you are an avid hiker, a great place to stop for a trek is the Purgatory Trailhead a little more than halfway between the two towns.
This out and back hike provides fabulous views of the Cascade Canyon and Animas River – depending on how far you go. Another great stop is a little further north of Silverton, but well worth the extra miles. Animas Forks is a well-known ghost town that sits at 11,200 feet elevation and still hosts original buildings from the late 19th century.
No matter where you decide to stop (or if you even want to), the Million Dollar Highway is a destination in and of itself, and you won't find yourself lacking for views on this incredible drive. But beware the Million Dollar Highway is a tricky road with many switchbacks, hairpin turns and mountain passes right on the edge of mountainsides.
Careful driving and a flexible schedule are recommended since bad weather can easily make this a treacherous journey. But when you catch it on the right day, there are plenty of excellent views to enjoy and pullovers for photo opportunities.
The route: from downtown Durango, take Main Street (or Highway 550) north. Follow this road for 48 miles until you reach Silverton.
Recommended by Ashley from Impact Winder.
Save for later
You might also like