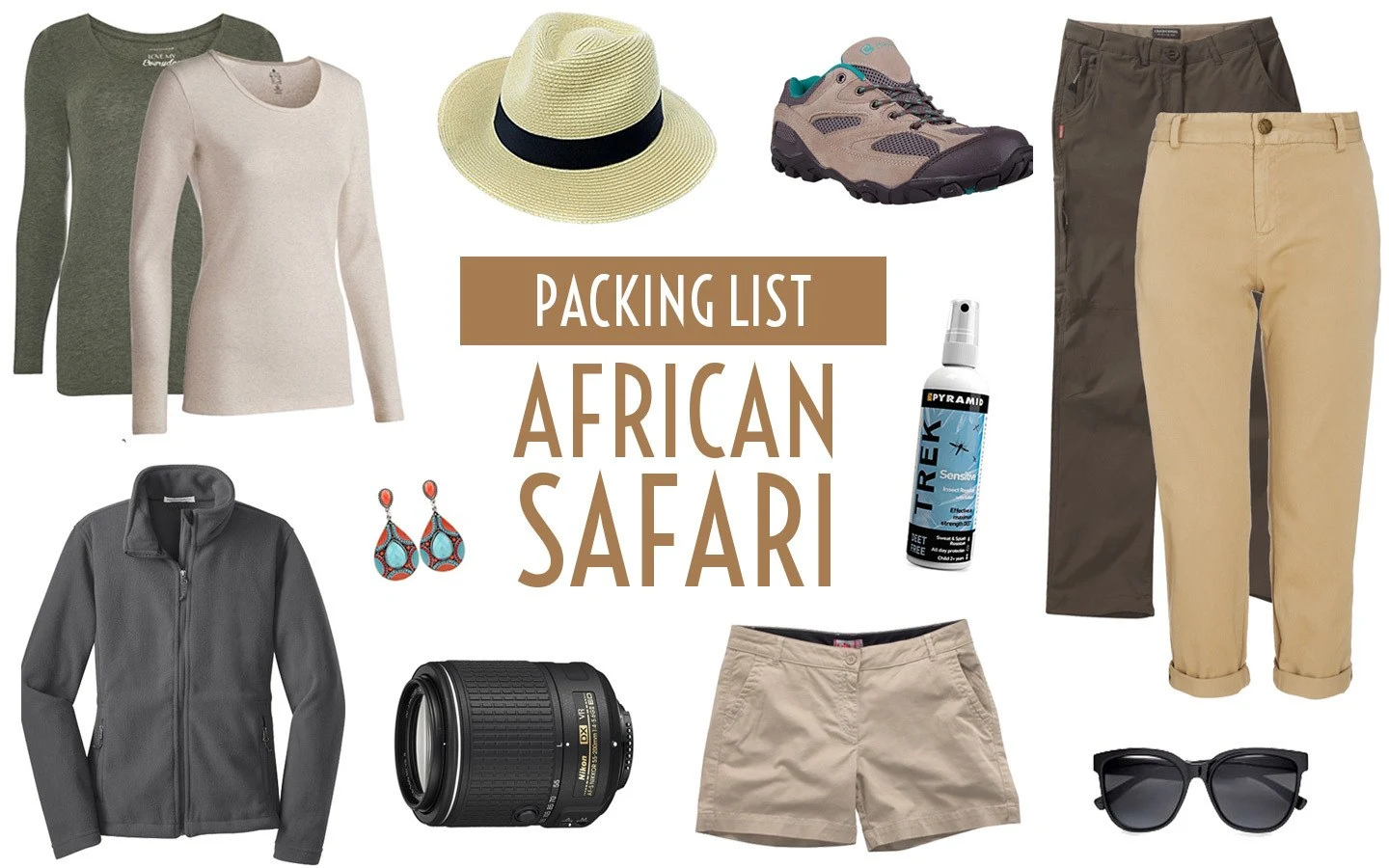 After over 20 years of travelling, I've got my packing technique down pretty well – I can even pack a case in my sleep when there's an early start involved. But there are some trips where your packing list requires a bit more thought, and an African safari is one of them – particularly for fly safaris when there are weight limits on how much baggage you can take with you.
Read more: A day in the life of a safari at Naledi Game Lodge, South Africa
When I was doing my research it seemed like there were two extremes of safari style – either zip-off trousers and head-to-toe khaki, or five-star resorts, maxi dresses and floppy hats – neither of which is exactly my style. But it is possible to pack for the extremes of sun, hot, dust and cold you get in Africa, all in one carry-on size case – and here's how.
This safari packing list would work for a four- or five-day safari, but if you're going for a week or longer then you could either add an extra set of bottoms and a couple more tops – or do laundry while you're away, either through your game lodge or bring hand wash liquid.
An African safari packing list
Clothes
A safari can be a once-in-a-lifetime trip, so you don't want to have to buy a load of special clothing that you'll never wear again. But it's easy enough to use things you already own. You don't even necessarily need to wear the traditional creams, browns and greens we all associate with safaris. If you're driving around, then most animals see the jeep as one big creature rather than individual people, so it's not so important what colours you're wearing.
There are a few things it's best to avoid though. Whites and pale colours can get dirty very quickly in the dust, and blacks and dark blues can attract tsetse flies – evil little buggers that aren't put off by insect repellent and can bite right through your clothes. It's also a good idea to steer clear of camouflage as in some countries it's seen as a military uniform.
If you're going to be doing a walking safari then you do need to wear neutral colours so you blend into the background and don't scare the animals away – think shades of brown, sand, beige, tan, khaki and green. If you don't already have some in your wardrobe, you can pick up cheap tops and chinos from places like Primark, Marks & Spencer or H&M.
Another thing to think about is the mosquitoes. If you're in a malarial area (or just want to avoid spending the whole trip scratching) then it's a good idea to cover up with long-sleeved tops, trousers and closed shoes, which also help protect you from the African sun. You can even buy special clothing that's impregnated with mosquito repellent, like Craghoppers Nosilife range.
In summer go for light cotton trousers and loose shirts, but in winter and in the mornings and evenings during spring and autumn it can get pretty chilly, so instead go for long-sleeved jersey tops and bring a lightweight fleece so you can layer up. Safari lodges tend to be pretty casual – even the luxurious ones – so you don't usually need to pack anything too formal.
Normally you have free time at the lodge or camp in the middle of the day when it's hottest, but there's usually plenty of shade and not so many mosquitoes around so you can wear shorts and t-shirts/vests – and pack your swimming gear if there's a pool. Around dusk you want to avoid mosquitoes so cover up in jeans, trousers or a long skirt, and you might need a cardigan as it gets colder. If you want to look a bit smarter just add some colourful jewellery.
Accessories
Lightweight walking shoes are good for game drives as they keep bugs out and are stable on rocky ground. You don't have to spend a fortune either – I have these £20 breathable ones from Mountain Warehouse. Also pack a pair of sandals to wear around camp – Hotter, Clarks and Merrell have pretty designs that are good for walking but smart enough to wear in the evening.
The African sun can be brutal, so make sure you bring a good pair of sunglasses and a hat, preferably with a brim to keep the sun off your neck. A foldable hat is a good idea so you don't have to worry about squashing it, but make sure it fits well or has a neck cord as it's easy to lose your hat when the jeep speeds off. A scarf is also a good idea – it keeps dust off your face, covers you from the sun and keeps you warm on cool mornings or evenings. And large-boobed ladies might want to bring a sports bra as game reserve roads can be pretty bumpy!
Extras
Many African safaris are in malarial regions, so check before you go whether you'll need anti-malarial medication. If you are in a malarial area you'll also need some strong mosquito repellent – DEET is usually recommended but uses harsh chemicals so there are also natural alternatives available. If you're sensitive to motion sickness it's worth packing travel sickness bands or pills as the jeep ride can get bumpy if you're speeding across the park after an animal sighting.
The air is really dry so as well as drinking lots of water, pack some heavy-duty moisturiser. My recommendations are the same old favourites I use for cold climates – Elizabeth Arden's Eight-Hour Cream and Carmex lip balm. Carry some tissues and hand sanitiser or antibacterial wipes in case you need a toilet stop in the bush. And pack plenty of high-factor sunscreen.
Pack an adaptor plug for your electricals – if you're visiting Kenya, Tanzania, Botswana or Zambia then they use the same plugs as the UK. South Africa has it's own special plug sockets, but you can pick international adaptors up cheaply when you're out there.
And finally don't forget your camera. If you have a DSLR it's worth getting hold of a zoom lens if you can as it makes a real difference to your photos – I picked up a second-hand 55–200mm lens for my Nikon camera for around £100, but you can also hire a zoom lens if you don't want to buy one. Or if you're looking for a good compact camera, the Panasonic Lumix TZ100 has an impressive 25–250mm range but is still lightweight and easy to carry around.
So that's my African safari packing list – what are your safari packing tips?
Pin it
This article contains affiliate links, where I get a small commission at no extra cost to you, thanks.