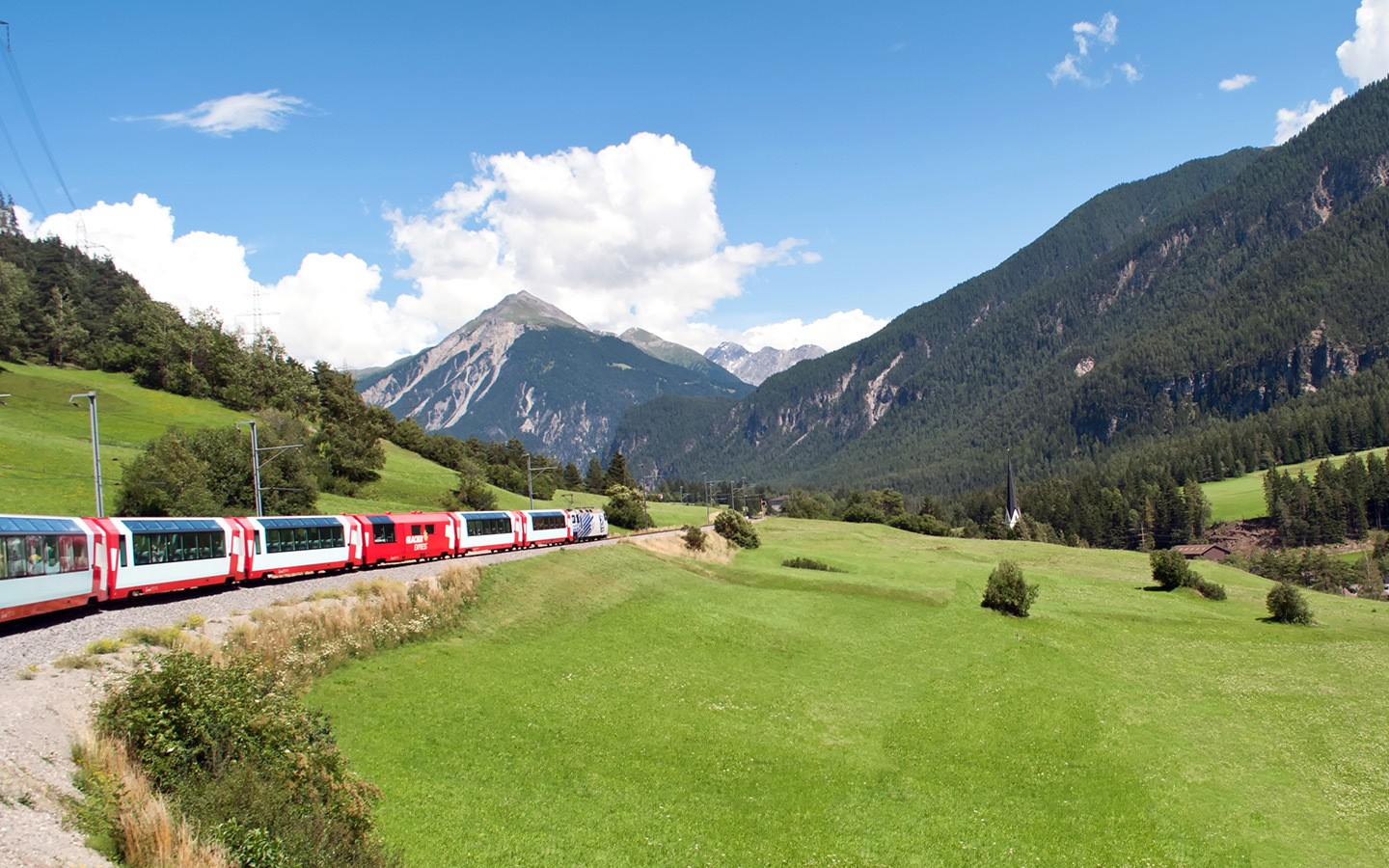 Train travel is one of the best ways to explore Europe – the continent is fairly compact so it's easy to get around, and you can sit back and soak up the views with a picnic. But if you' want to explore Europe by train, most suggested itineraries are geared up for Interrailers with months to spare. But that's not the only option – you can have a mini European rail adventure too. Just choose a region and a few destinations and create your own route. Or if that sounds too much work, here are five of the best one-week European rail trip ideas to get you started.
Read more: Britain by train: Five great one-week UK rail trip routes
Each of the five routes is possible in a week's holiday, but if you've got more time then you can take it slower and spend more time in each place. The idea isn't to wear yourself out trying to see everything in every destination, but to take in the highlights and get a taste for each place (then if you find somewhere you love, you can always come back again and stay longer). From Scandinavia to Spain, there's the perfect rail route for you – and if you're ready to go, check out the Seat 61 and Deutsche Bahn websites for booking information and timetables.
Five itineraries for exploring Europe by train
Northern Europe: Canals and chocolate
Amsterdam > Bruges > Paris > Chur > Milan
This itinerary takes you through some of the highlights of Northern Europe – from cosmopolitan capital cities to storybook towns and one of Europe's most spectacular train journeys through the Alps. Start your trip in Amsterdam and spend a full day exploring some of the city's 50km of canals and 1500 bridges. Take a walk around the UNESCO-listed Canal Ring, visit the city's museums or hire a bike to explore further afield. Then take an early train on to the pretty Belgian city of Bruges (3 hours away) for an afternoon feasting on local beer and chocolate.
The next morning, climb to the top of the Belfort tower or take a boat trip along Bruges canals before catching an afternoon train on to Paris (3 hours). Paris has something for everyone – there are big-name museums like the Louvre and Musée d'Orsay, iconic monuments like the Eiffel Tower and Arc de Triomphe, as well as plenty of parks, pavement cafés and boutique shops. Or why not try out some of the city's more unusual attractions, like the Promenade Plantée railway line turned park or the underground Musée des Égouts.
Next take the train to Chur (5 hours). Switzerland's oldest city is set on the banks of the Rhine. Catch the Bernina Express the next morning – one of Europe's most scenic train journeys. This four-hour train journey runs through spectacular Alpine scenery, across bridges and viaducts past Alpine meadows and pretty traditional Swiss villages. When you reach Tirano in Italy, you change to a local train to connect to Milan (3 hours). Then spend your final morning shopping and sightseeing in the Italian fashion capital before heading home.
Italy: Palaces and pizza
Venice > Florence > Rome > Naples > Sicily
This rail trip is a real feast of Italian culture, history, food and wine, travelling from Venice in the north of the country down to Sicily in the south. Begin your trip with a full day in Venice – cruise the Grand Canal, get lost in the backstreets and brave the crowds at St Mark's Square and the Doges Palace. Then take an early train on to Florence (2 hours) and spend the afternoon soaking up the city's artistic atmosphere, with galleries, museums, churches and palazzi overflowing with Renaissance masterpieces, and try some of the delicious Tuscan food and wine.
The next morning, take the short train journey on to Rome (1.5 hours) and explore some of its historic highlights, from the Colosseum and Pantheon to St Peter's Basilica and the Trevi Fountain, before finding the perfect piazza for a sunset aperitivo. Then travel south to the gritty coastal city of Naples (1 hour 10 mins) where you can either stuff yourself in the home of pizza, or head out and explore some of the nearby sights on board the Circumvesuviana railway.
Eat gelato and soak up the seaside views in Sorrento, go back in time at the ancient buried cities of Herculaneum and Pompeii, or take a boat trip across the Bay of Naples to the glamorous island of Capri. Then finish off your trip with a couple of days on the island of Sicily. Getting there is an adventure in itself – you can take the train all the way as it travels right on to the ferry for the 30-minute boat trip across the Messina Straits, where you can choose between Taormina (6 hours 45 mins), Catania (7.5 hours) or Palermo (9 hours) for your last stop.
Eastern Europe: Concerts and cake
Budapest > Bratislava > Vienna > Ljubljana > Zagreb
Head east to some of Europe's cultural capitals to experience world-class art, architecture and music as you travel to five different countries in just one week. Start your Eastern European rail trip in the Hungarian capital Budapest, where you have a full day to soak up the city's culture, steam in the thermal baths and party the night away in its ruin pubs. Then catch a train on to Bratislava in Slovakia (2.5 hours), a compact city set on the banks of the Danube.
Spend the afternoon and next morning checking out Bratislava's mix of 18th-century and Socialist-era architecture, before travelling on to Vienna in Austria (1 hour by train – or if you fancy a change from rail travel the two cities are also connected by a boat which runs along the Danube). Visit an ornate palace, take an architecture walk around the Ringstrasse, watch the horses at the Spanish Riding School, catch a Mozart concert at the State Opera House and fill up on delicious sachertorte at a traditional Viennese coffee house.
Next travel on to Ljubljana in Slovenia (6 hours) to spend a couple of days exploring the charming old town – or you're also only an hour by train away from beautiful Lake Bled, famous for its island church and creamy custard Bled cakes. Then end your trip in Zagreb, across the border in Croatia (2.5 hours), with a day visiting its museums, galleries and churches.
Spain & Portugal: Paella and port
Barcelona > Valencia > Madrid > Lisbon > Porto
This rail journey crosses Spain and Portugal with some fantastic food and drink along the way. Start your trip in the Spanish coastal city of Barcelona and spend a couple of days checking out Gaudi's handiwork and catching some rays on the beach. Then take an early train down the coast to Valencia (3 hours) where you have the afternoon and next morning to explore the city's mix of ancient and modern architecture, and try a paella in the city where it was first created.
Take a short train ride inland to Spain's capital Madrid in the afternoon (1.5 hours) and spend the evening on a food and drink-filled tour of the city's tapas bars. Then you have the whole of the next day to explore Madrid's parks museums and histroric buildings, including the ornate Palacio Real, Europe's largest palace, before catching the Lusitania overnight train. The train departs from Madrid just before 10pm and arrives into Lisbon at 7.30am the next morning.
Spend a couple of days in Portugal's capital, spotting street art and feasting on seafood and pastel de nata. Or you can take a short day trip to explore the colourful hilltop palaces of Sintra (30 mins each way). Then finally travel north to Porto (3 hours) to end your trip with a boat trip on the Duoro and port tasting at the famous producers across the river in Vila Nova de Gaia.
Scandinavia: Fjords and funiculars
Copenhagen > Stockholm > Oslo > Flåm > Bergen
This final Europe by train itinerary takes in some of the scenic highlights of Scandinavia on a journey through three countries. Begin your route with a full day in the Danish capital Copenhagen – cycle around the cobbled streets, walk along Christianshavn's canals and check out the design shops and Michelin-starred restaurants in Nyhavn. Then take the train over the Öresund Link bridge and tunnel into Sweden and on to Stockholm (5 hours).
Spend a day exploring Stockholm, from the medieval streets of Gamla Stan to the 30,000 plus islands which make up the Stockholm Archipelago. Then catch the train across the border to Oslo in Norway (6.5 hours) for a dose of Scandinavian culture at the city's museums and art galleries. Head west on the scenic rail route towards the coast next – first take the mainline train to Myrdal (4.5 hours) and then the stunning Flåmsbana mountain railway to Flåm (50 mins).
Spend the night on the edge of the fjords in Flåm, and take a boat trip out into the Sognefjord the next morning before travelling on to Bergen (2 hours). Then finish off your trip by exploring the colourful wooden houses of Bryggen, checking out the views from the funicular railway to Mount Fløyen and trying some fresh local seafood at Bergen's fish market.
Pin it