Nine of the best things to do in Paris at Christmas – discover why Paris makes a great festive break with sparkling light displays, Christmas markets, ice skating, church concerts and funfair rides.
* This site contains affiliate links, where I get a small commission from purchases at no extra cost to you.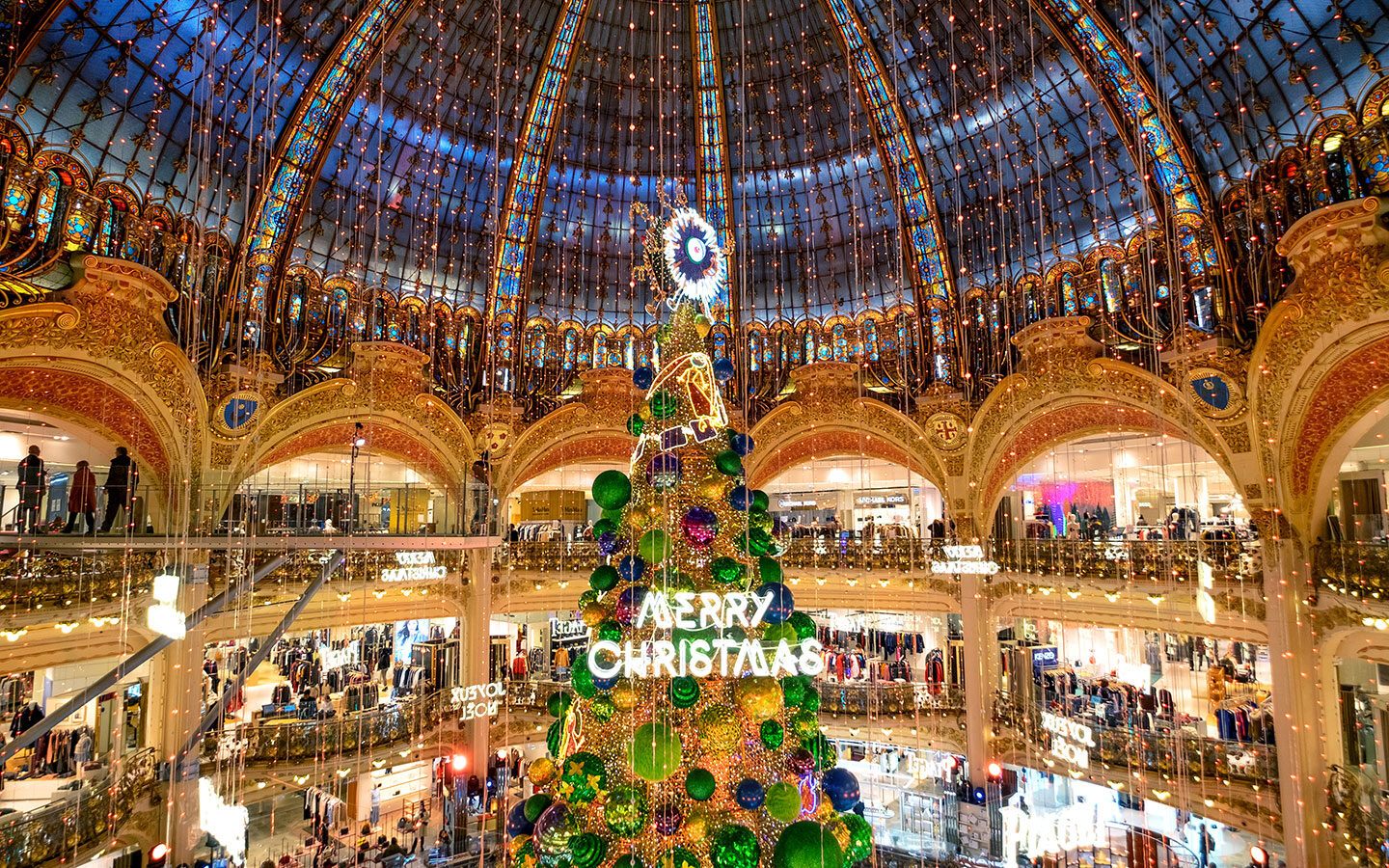 There's an extra dose of magic to a trip to Paris in winter, when the City of Lights is lit even brighter by thousands of twinkling bulbs. Each of Paris' districts has something festive going on, from window shopping at grand magasins and browsing Christmas markets with a glass of vin chaud, to a spin on an outdoor ice rink and riding a vintage funfair. So dig out your scarf and gloves and discover nine of the best things to do at Christmas in Paris.
What's Paris' winter weather like?
The weather in Paris in the winter is usually fairly mild – average temperatures range from highs of 8°C (46°F) to lows of 3°C (37°F). It can get frosty at night though and there are a few rain or sleet showers, so pack a waterproof or umbrella. But the city has plenty of cosy cafés, museums and things to do indoors so you can always find a warm spot to thaw out.
Things to do in Paris at Christmas
1. Admire the Christmas lights
From mid-November, Paris is decked out in her Christmas finery. Trees are draped with twinkling lights and colourful decorations are strung across the streets. Most areas of Paris get an extra dose of sparkle for the festive season, but for the most over-the-top display head to the Champs Elysées. This year's display has been created by top lighting designers Blachère Illuminations and runs from 21 November 2021 to 9 January 2022.
Over a million light bulbs are draped in 400 trees along the Champs Elysées. They're normally illuminated between 5pm and 2am each night, but stay on all night on Christmas Eve and New Year's Eve. As well as the lights decorating the streets, the smart shops of the Champs Elysées also go all out with their elaborate Christmas window displays.
You'll also find plenty of twinkling lights lining Boulevard Hausmann and among the high-end boutiques of Rue Faubourg-St-Honoré and Avenue Montaigne. Place Vendôme is decorated with a forest of over 160 pine trees, and in the shopping and entertainment district of Bercy Village the sky will be filled with a ceiling of 1200 sparkling umbrellas.
If you want an easy way to see the best of Paris' Christmas lights, you can take a guided tour of the highlights on a 90-minute open-top bus tour*.
2. Go window shopping
Paris' big department stores dress for Christmas with impressively festive store window displays. Each year's decorations have a different theme – from Hollywood glamour to Beauty and the Beast. And they feature lights, animations, music, and plenty of snow and sparkle. Planning for next year starts as soon as the previous year's decorations get taken down, and there are big opening nights when the new displays are unveiled.
Windows are normally revealed in early November and are on display until the end of the year. You'll find some of the best Paris Christmas window displays at Galeries Lafayette on Boulevard Haussmann. This year's theme is '1, 2 3, Christmas!', based on toys coming to life, and there's also a stunning giant tree underneath the building's central dome.
Other great spots for window shopping are Le Printemps (Boulevard Haussmann, nearest Metro: Chaussée d'Antin), Le Bon Marché Rive Gauche (24 Rue de Sèvres, nearest Metro: Sèvres-Babylone) and BHV Marais (52 Rue de Rivoli, nearest Metro: Hôtel de Ville).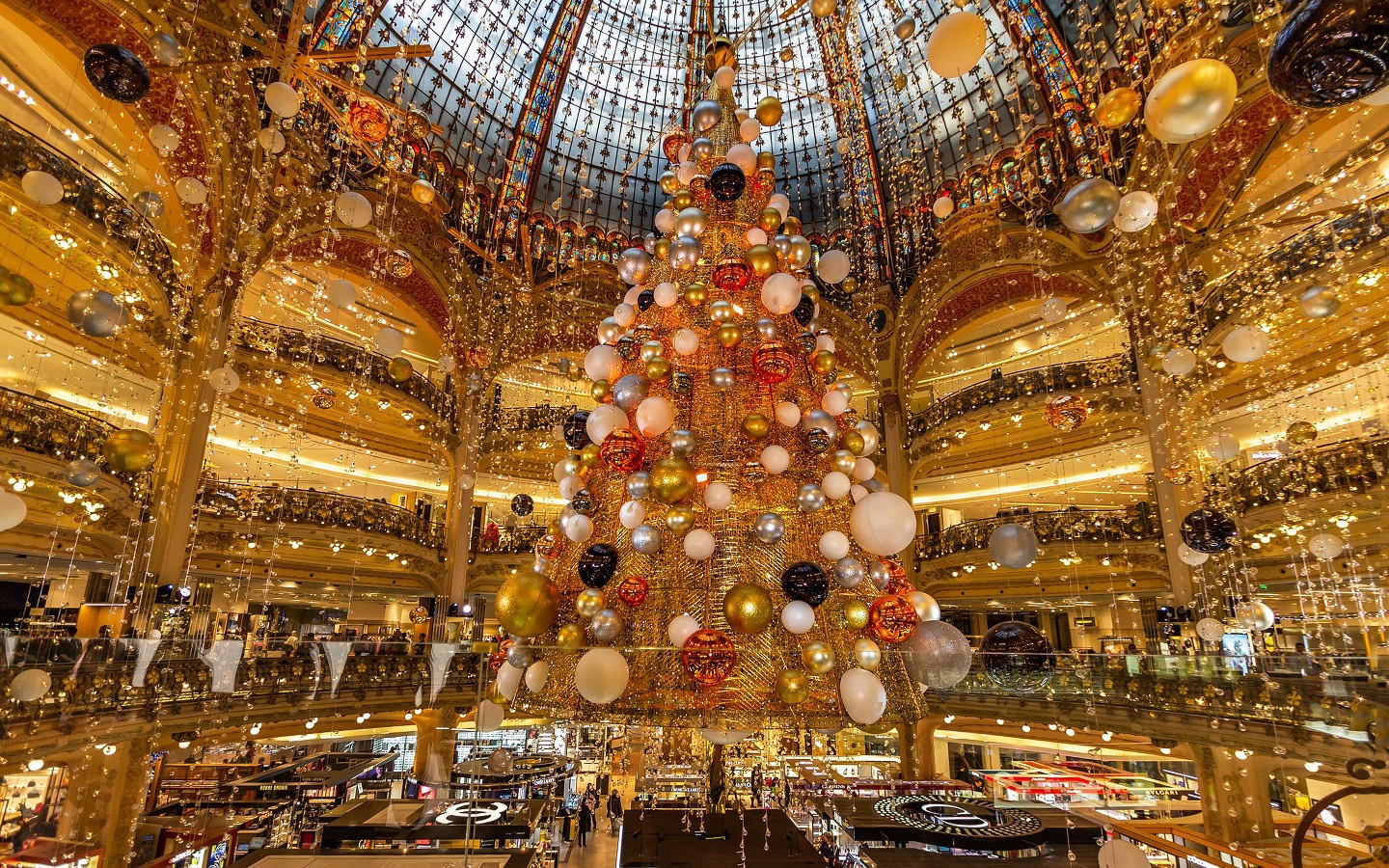 3. Visit the Christmas markets
Since they started in Germany, Christmas markets have spread across Europe and beyond to become an annual festive tradition, and you find them in most cities – Paris included. Fill up on festive treats from wooden chalets, selling everything from handmade tree decorations and wooden gifts to cheeses from across France and Eiffel Tower biscuits.
These 'Marchés de Noël' are held across the city during December. Paris' biggest Christmas market is in La Défense, with over 350 craft and food stalls spread over 13,000 square metres, which takes place from 25 November–29 December 2021.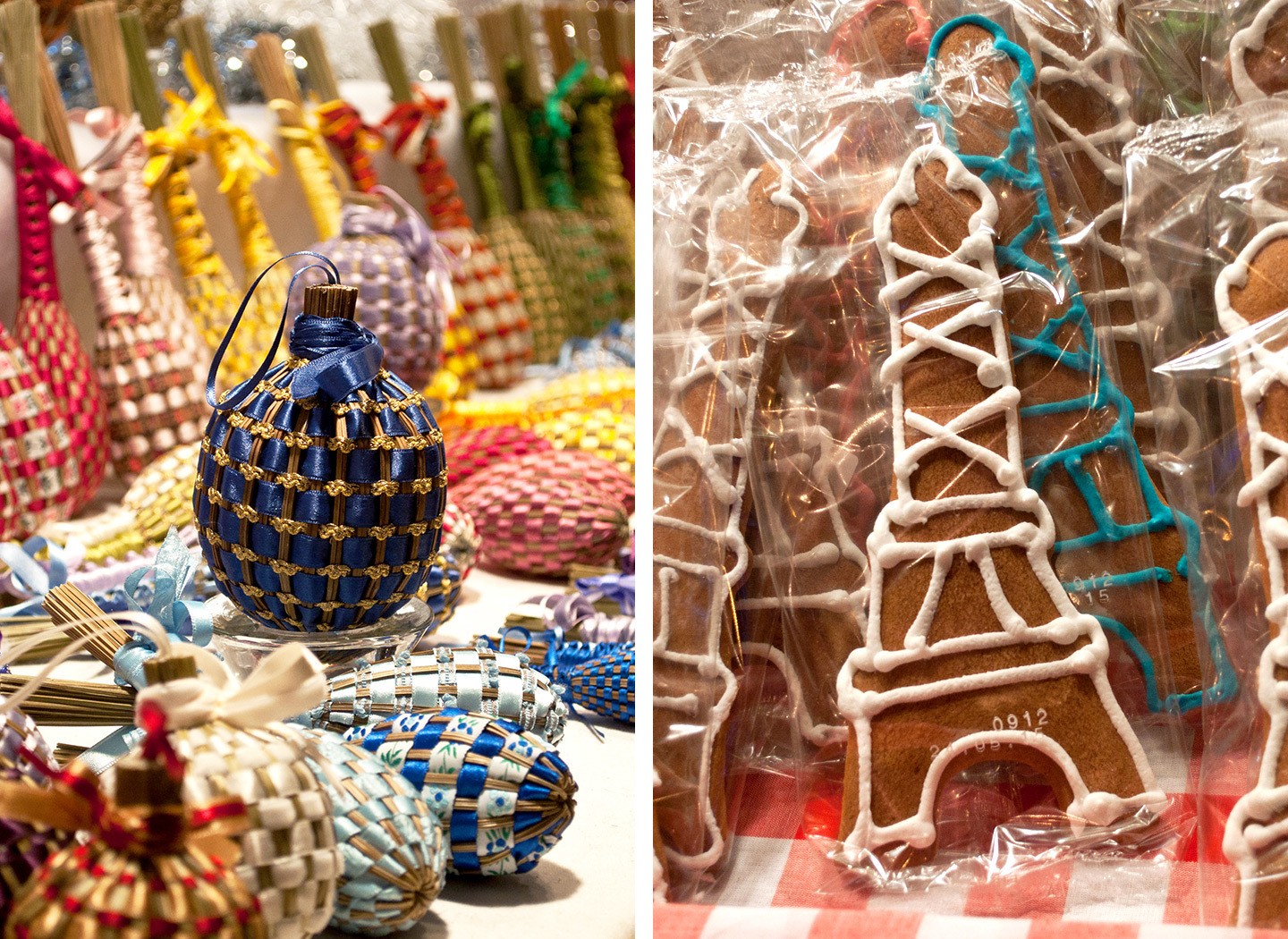 There's also the 'Magic of Christmas' market in the Tuileries gardens, and others at the Hôtel de Ville, in St Germain des Prés, Square René Viviani near Notre Dame Cathedral, the Champ-de-Mars by the Eiffel Tower, and the Place des Abbesses in Montmartre.
There are a few specialist Christmas markets held around Paris – anything from vegan and Nordic to Japanese-themed and the traditional Alsatian market at the Gare de l'Est. Check Paris Info for the latest news on times and locations for this year's markets.
4. Go ice skating
Try out your skating skills with a spin around the ice in the festive surroundings of the Jardin des Tuileries Christmas Market near the Louvre. Their ice rink is open from from 20 November 2021–2 January 2022. Or if you prefer skating without the ice, this year there's also a Disney-themed roller disco at the Galeries Lafayette department store from 1–23 December 2021. Entry's free, you just sign up on the fourth floor.
5. Take a trip to the fair
Go back in time with a vintage fairground at the Musee Des Arts Forains. This private collection of fairground rides and stalls which dates back to 1850 is normally only open to visitors on guided tours. But from 26 December 2021 to 2 January 2022 it hosts the Festival du Merveilleux, with vintage rides and performances by storytellers, magicians, musicians, dancers and puppeteers (entry costs €18 adults/€12 children).
It's also free for children to ride on many of the city's carousels over Christmas. You can find carousels in the Jardin des Tuileries and the Jardins du Trocadéro, outside the Hôtel de Ville, and close to Sacre-Coeur cathedral and the Eiffel Tower.
6. Listen to a Christmas concert
Some of Paris' most atmospheric buildings hold festive concerts around Christmas. There are classical concerts in the churches at Saint-Germain des Prés, Saint‐Eustache and La Madeleine. But most spectacular is Sainte-Chapelle. This Gothic chapel's walls are made up of 16 huge stained glass windows covering over 600 square metres. When musicians are playing and the light hits the windows and makes them glow, it's magical.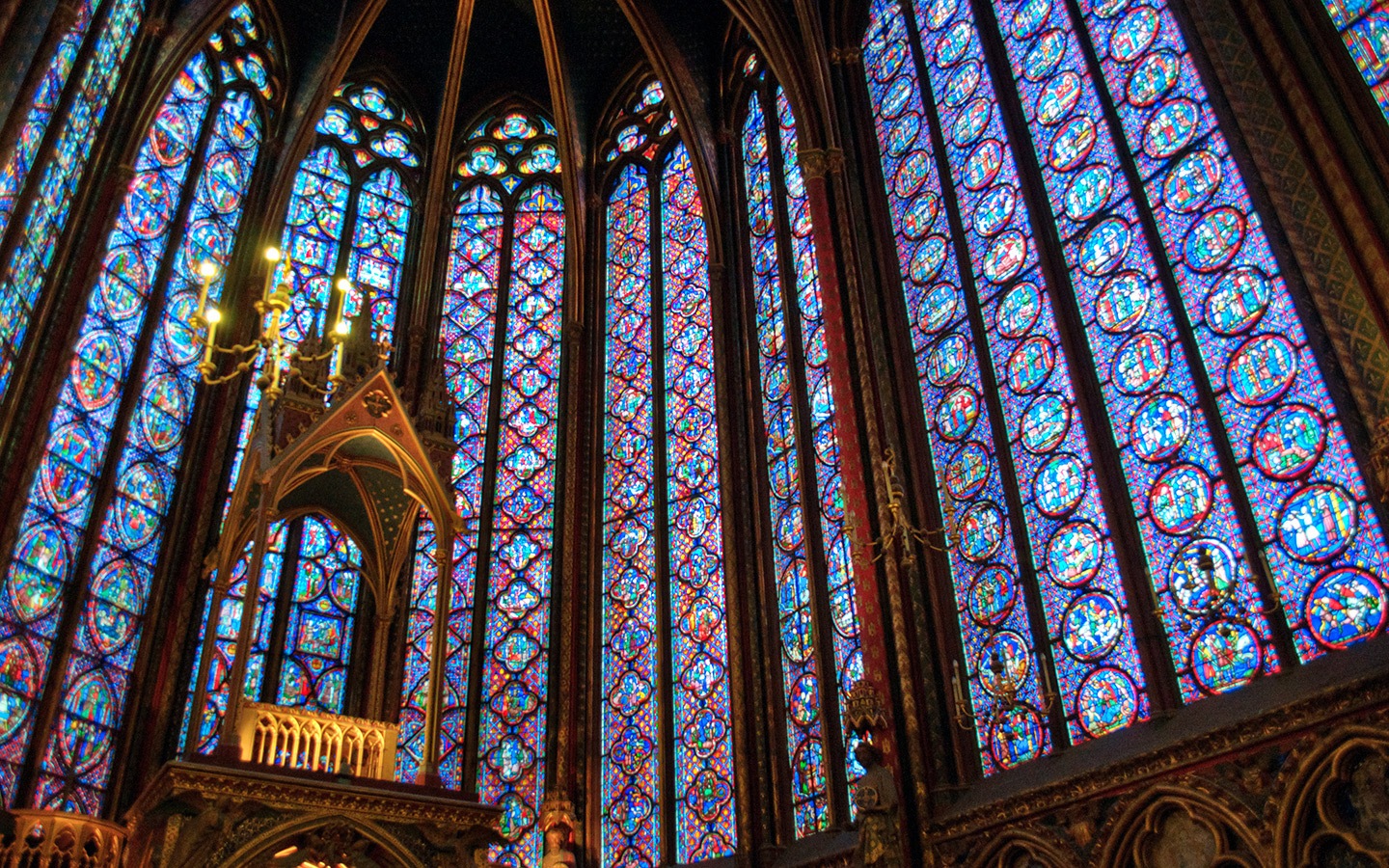 7. Join in a Christmas church service
If you're spending Christmas in Paris, services are held in churches across the city. At Sacre-Couer Basilica there's an organ concert, sung vigil and midnight mass on Christmas Eve as well as several masses on Christmas Day. There are also Christmas Eve and Christmas Day services at the churches of Saint Sulpice, Madeleine and Saint Eustache.
There are also English-language services held at the American Cathedral in Paris, the Scots Kirk and St Michael's Church. Church services in Paris at Christmas do get busy though so arrive early as numbers may be limited. It's also worth calling into the city's churches before Christmas as many have ornately carved nativity scenes on display.
8. Eat, drink and be merry
A steaming cup of vin chaud is a French festive staple. Dry red wine is mixed with sugar, orange and fragrant spices like cinnamon, star anise, cardamon and cloves to make a real winter warmer (sometimes with an extra nip of cognac). You can find it on sale in bars and cafés across Paris as well as in the Christmas markets – it often comes in a commemorative mug which you pay a few euros deposit for and can take home as a souvenir.
Another favourite in Paris at Christmas is the Bûche de Noël. These sponge cakes are covered with chocolate buttercream to look like festive yule logs. You can buy them, whole or by the slice, at the city's patisseries. The French eat their main Christmas meal on 24 December, with delicacies like foie gras, oysters and escargots followed by roast poultry or game. Many restaurants offer a Christmas menu, but book well in advance.
9. Spend an Enchanted Christmas at Disneyland Paris
For an extra dose of festive magic for the family, celebrate an 'Enchanted Christmas' at Disneyland Paris, just outside of the city. From 13 November 2021 to 9 January 2022 Disney puts on a festive show with a brand-new parade, Christmas shows, markets, illuminations, streets dripping in decorations and all your favourite Disney characters.
A day ticket ranges from €59–94 adults/€54–86 children under 12, depending on the date. You can catch the Disneyland Paris Express from the Gare du Nord which gets you to the park for 10am and returns to the city at 8pm for a full day of festivities.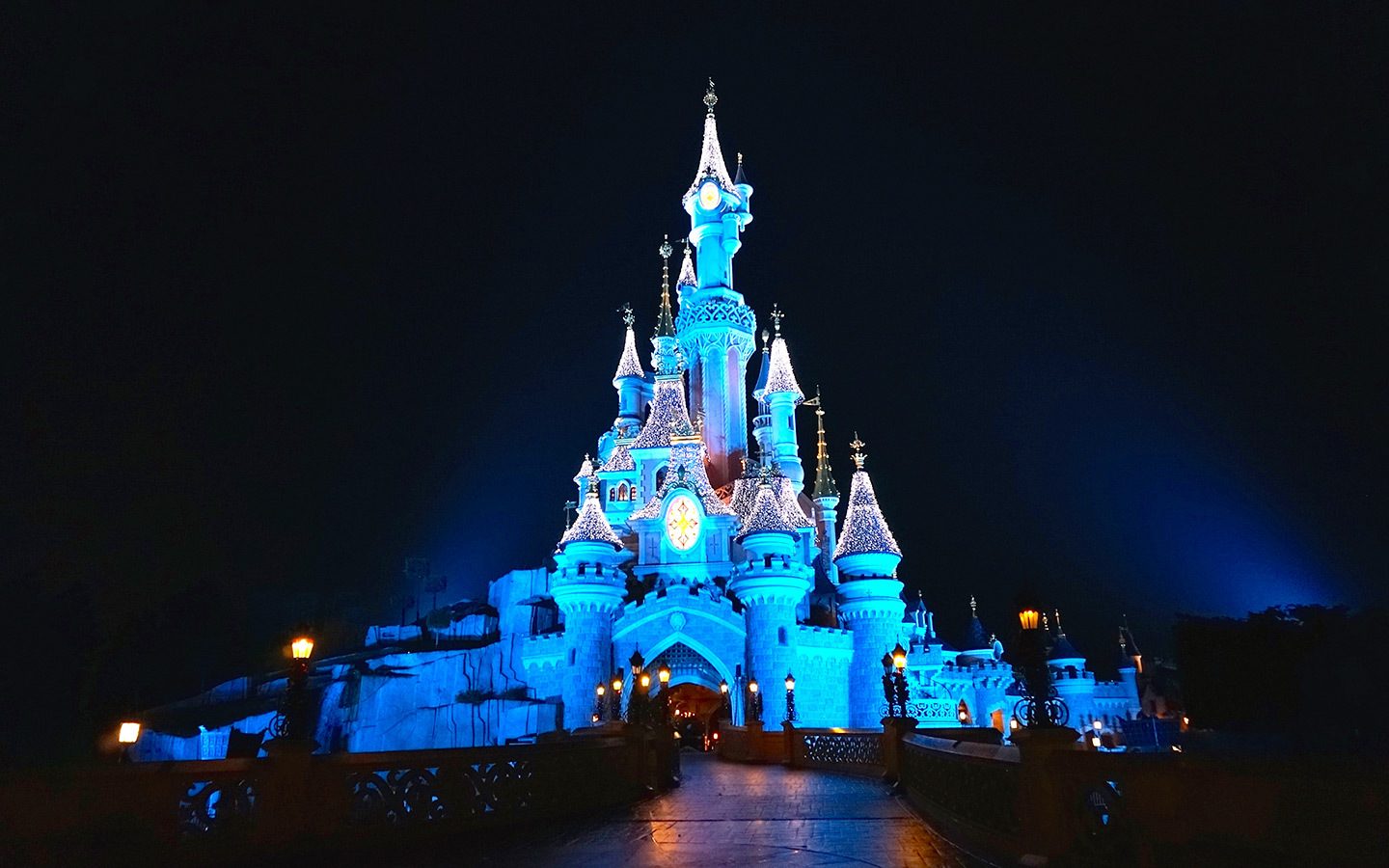 Save for later
You might also like