Explore the best restaurants in Hydra, Greece, the car-free island just two hours from Athens, with this guide to the island's top places to eat and drink, from traditional taverns to fine-dining restaurants.
* This site contains affiliate links, where I get a small commission from purchases at no extra cost to you.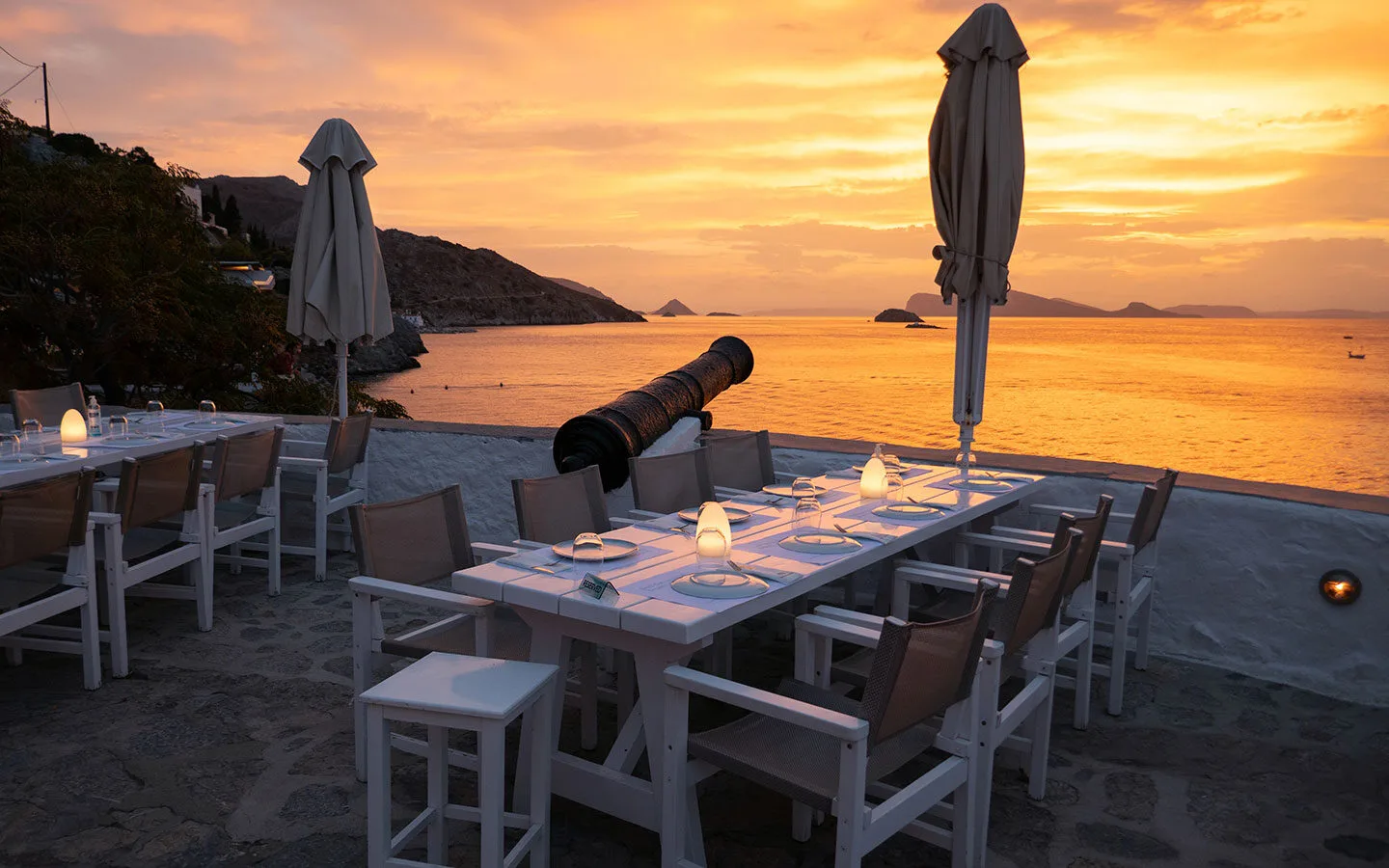 Just a couple of hours by ferry from Athens, the Greek island of Hydra is a popular spot for a day trip or weekend escape. It's known for its car-free streets, pretty old town, bohemian heritage and clear waters. Its popularity also means it has an unexpectedly good selection of places to eat and drink for a small island, with something for all tastes and budgets.
You can splash out on beautifully presented freshly caught fish alongside the water's edge while you watch the sun set. Or head into the backstreets for huge plates of tasty souvlaki and jugs of local wine at an inexpensive traditional Greek taverna.
Over three weeks on the island we've done our best to try out as many different spots as possible, eating and drinking our way around some of the best bars and restaurants in Hydra. And here's the pick of our favourites – divided into categories for Greek and Mediterranean food, stunning views, out-of-the-way locations and drinking spots.
16 great bars and restaurants in Hydra
For traditional Greek food: Xeri Elia Douskos
Bustling Xeri Elia – known as Douskos after the family who've run it for 200 years – is my top spot for traditional Greek food in Hydra and my first stop when I arrive on the island. It was also a regular haunt of singer Leonard Cohen in the 1960s, who was famously pictured playing the guitar against one of the white-painted trees outside the restaurant.
Douskos has a beautiful setting, with tables under a canopy of trees covering the whole square and hung with lights. It's a popular place though so you might have to wait for a table at busy times, with waiters shuttling between tables balancing trays of plates. They specialise in simple, well-cooked Greek classics, like grilled meats, moussaka and fresh fish.
Don't miss the kleftiko – lamb and potatoes wrapped in paper and slow-cooked for hours until it falls apart. You need to get there early to bag one though as only a few are made each day. It's good value with main courses around €12 (or huge portions of kleftiko for €22), and carafes of wine from the barrel at €7 per half-litre.
Other great traditional Greek restaurants in Hydra
PIATO | This family-run taverna has a fantastic location on the waterfront in the port. But the food matches up to it, with authentic Greek specialities like dolmades, roasted aubergine and kebabs on the menu, as well as pasta dishes – all cooked by Mama. It's a place for people- and boat-watching, with friendly service and reasonable prices.
PSINESAI | Psinesai is another traditional taverna, with tables along the street near the port. Its speciality is grilled meat and fish cooked over charcoal, like souvlaki and grilled squid. And I loved their oven-baked mackerel. Local wine is available in 250ml, 500ml and litre jugs, and prices are low at €36 for two mains and a half-litre of wine.
For stunning views: Veranda Restaurant
On a hillside above the harbour, Veranda Restaurant looks out over Hydra's rooftops, which glow orange as the sun sets. With a terrace decked with bougainvillia, fairly lights and that sunset view, it's a romantic spot that's popular with couples. But it's not at all pretentious, with lovely staff who made it one of my favourite restaurants in Hydra.
We called in for sunset drinks one night and came back for dinner as it looked so good. The menu mixes Greek and Italian dishes, with grilled fish, seafood, pasta and risotto. One of the specialities is a shrimp pasta which came piled with juicy shrimp in tomato sauce.
You don't pay too much of a premium for the location either. Prices are good, with sea bass for €20 and pasta dishes around €14, and the staff were happy for us to stay there chatting as long as we liked, and even threw in a free glass of wine.
More Hydra restaurants with amazing locations
SUNSET RESTAURANT | This restaurant on the ramparts which guarded the harbour has one of the best sunset locations around. It's romantically lit with tables along the waterfront – grab one on the edge for the best views – and serves sophisticated seafood dishes like aranchini, seabass ceviche and octopus carpaccio for around €25.
OMILOS | Formerly known as Lagoudera and a haunt of everyone from the Beatles to the Kennedys, this upscale bistro is located in a former fuel depot near the entrance to the port. You can't get much closer to the water, with waves crashing below the terrace, so it's a good place for lunch so you can admire the view. Food is high-end Mediterranean, with small, elegantly crafted portions, at a fairly pricey €30 per main course.
For Mediterranean dishes: Téchnē
Styling itself as a 'restaurant and social', Téchnē is set in a 1870s former boat factory just above Avlaki beach, a 10-minute walk from Hydra's harbour. It's a lovely peaceful setting, with great views out to sea from the terrace, and is a good place for a sunset drink from their inventive cocktail list which includes the Cohen-inspired 'Tribute to Leonard'.
Chef and co-owner Yannis Michalopoulos worked in top-flight London restaurants before setting up Téchnē and it shows in the attention to detail in each of the dishes. The menu changes with the seasons and mixes Greek and Mediterranean influences, with dishes like lamb saddle with a smoked feta croquette and tagliatelle with prawns.
Staff are attentive without being too intrusive, and it's a popular spot for a special meal. Though prices are reasonable, with main courses around €25 and house wine for €23 a bottle. And our friendly waiter threw in a free shot of mastika.
Other recommended Mediterranean restaurants in Hydra
MANNA | Set in a buzzy square surrounded by restaurants and bars, Manna serves tasty, well-presented Mediterranean dishes at decent prices – we paid €62 for two mains and a bottle of wine. Chefs in the open kitchen create a contemporary take on traditional Greek taverna dishes, which are beautifully plated but come in good-sized portions.
MIKRA AGGLIA | Just opposite Manna, Mikra Agglia was a new addition for 2022, with tables on the terrace and stylish dining room inside. The focus is on Greek fine dining, with knowledgeable and helpful staff to help you navigate the menu. Mains like slow-cooked pork or red mullet with celeriac are around €25 and there's a good Greek wine list.
IL CASTA: If you fancy a change from Greek food, Il Casta is an Italian-owned restaurant serving Neopolitan cuisine. It's set down an alleyway inland from the port with a secluded private courtyard. They make their own pasta, with Italian classics like spaghetti with clams and pillowy stuffed ravioli on the menu, and wines imported from Italy. Portions are fairly small but tasty and well presented, with pasta around €21 and wine from €30.
Out of town: Kodylenia's Tavern
Kodylenia's is a popular waterside restaurant overlooking Kamini harbour, a 15-minute walk or short water taxi ride from Hydra harbour. There's a shady terrace wrapped around the building where you can watch the boats coming and going below.
There's a stream of people calling in for food and drinks during the day, and a slightly more formal atmosphere in the evenings when it's a good spot to watch the sun set over dinner.
Owner Dimitris has been running the restaurant for 25 years. Service can sometimes be a bit hit and miss but the location and food more than make up for it. Kodylenia's is best known for its seafood dishes, with locally caught squid served lightly charred, shrimp cooked in a secret recipe tomato sauce and fish straight from the harbour.
They also do one of the best Greek salads I had on the island (and I tried a lot of them) and a fisherman's salad that's packed with seafood. Prices are fair with two main course salads and a half-litre of local white wine at lunchtime costing €33.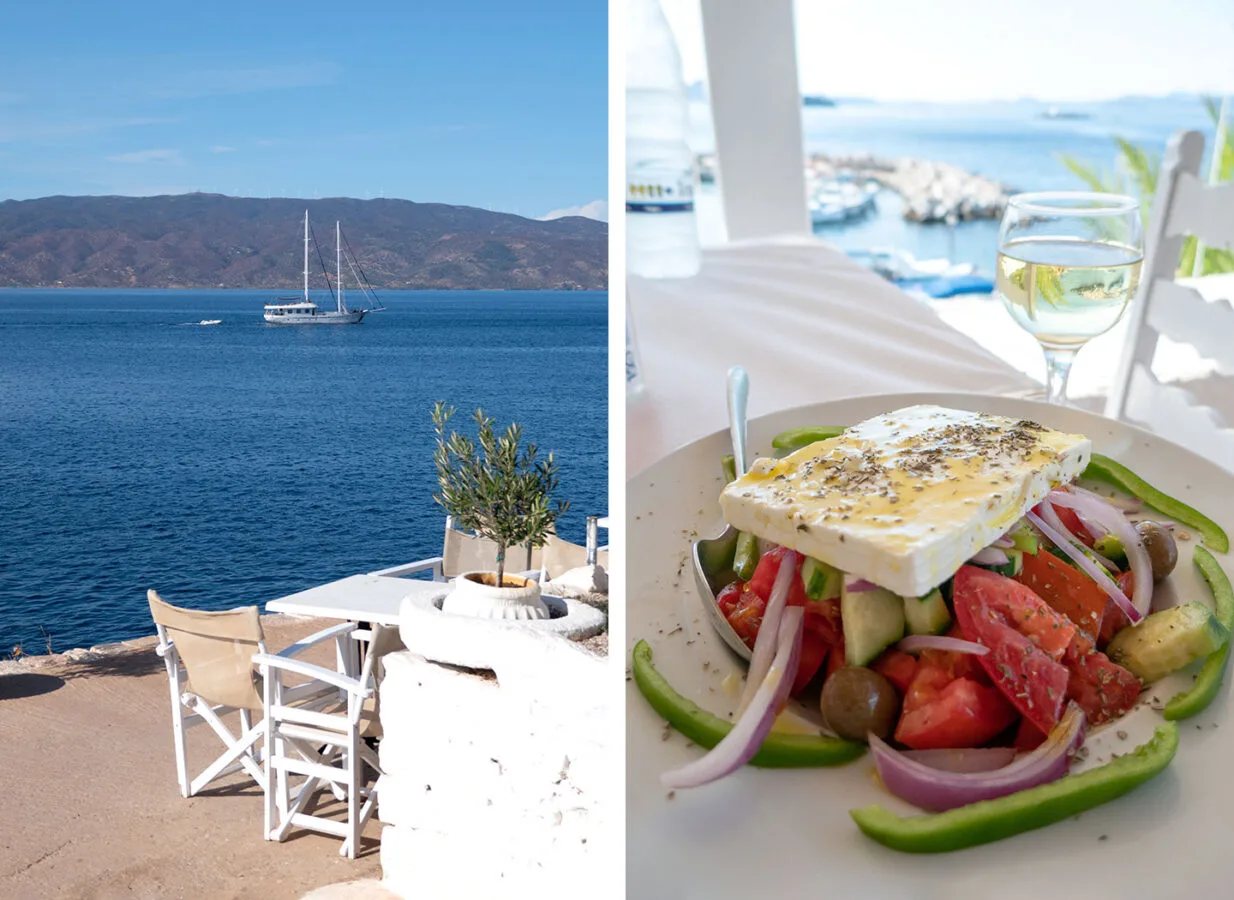 More good restaurants outside Hydra town
CHRISTINA'S | Christina's is a family-run taverna passed down through the generations, located in a whitewashed house in Kamini. It's good value with Greek home-cooking using vegetables grown in their own gardens. Think beetroot salads, stuffed peppers and fried fish. And look out for the friendly cats who gather on the terrace.
FOUR SEASONS | You'll find one of the island's remotest restaurants at the Four Seasons Hydra* on Plakes beach. It's a 45-minute walk from Hydra harbour or the resort runs a shuttle boat for €10 return. The restaurant has a gorgeous setting right on the edge of the beach surrounded by pine trees. It's a stylish take on a traditional taverna with seafood and fish dishes. And there are sunbeds for hire if you fancy a post-lunch nap.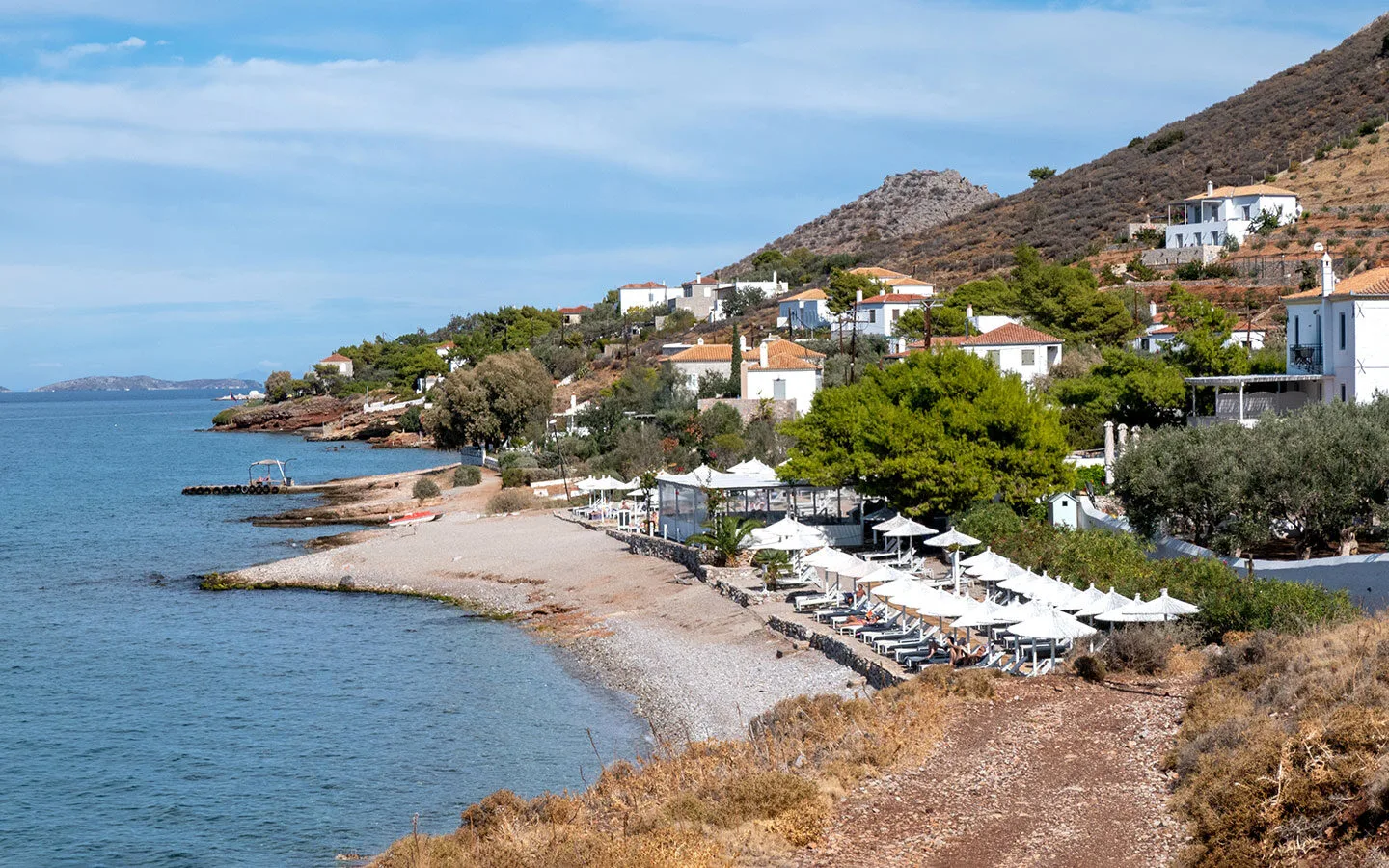 For drinks: Hydronetta Beach Bar
Hydra isn't one of those Greek islands like Mykonos or Ios which is known for its nightclubs. Instead people gather in its bars and cafés in the afternoons and evenings, with DJs and dancing during the summer months and a more low-key nightlife off-season.
The Hydronetta beach bar just above the Hydronetta swimming platform is a good place to spend the afternoon alternating between a drink and a dip, with tables along the cliff edge just below Sunset Restaurant. It's a relaxed place where you can sit around in your swimwear, and they do a good selection of cocktails as well as other drinks and snacks.
It's also one of the best places on the island to watch the sunset, with uninterrupted views of the sun sinking into the sea and the rocks glowing red to the backdrop of chillout music – though get there early if you want to grab a front-row table.
Other fantastic bars in Hydra
AMALOUR | The candlelit tables of Amalour are one of the most sought-after spots for a night out in Hydra. This laid-back bar starts the evening with a stream of people calling in for a pre-or post dinner drink, with Caribbean, Latin and jazz music and a range of tasty cocktails. And summer nights normally end with people packed onto its tiny dancefloor.
PIRATE BAR | Finally, Pirate Bar was our go-to spot to end the evening with a metaxa – and a cat or two. This bar on the corner of the harbour is open all day and is a great spot for people watching. It's been going since 1976 and is one of the island's party hubs with loud music in summer but is quieter off-season. It's an amiable place where staff will know your usual order after a couple of days, and has lots of lovely black cats to stroke.
Map of where to eat and drink in Hydra
Save for later
You might also like