Discovering the peaceful side of Ios, Greece, in spring and autumn. Ios is famous for its summer parties, but discover what happens when the crowds have gone with this guide to visiting Ios off-season.
* This site contains affiliate links, where I get a small commission from purchases at no extra cost to you.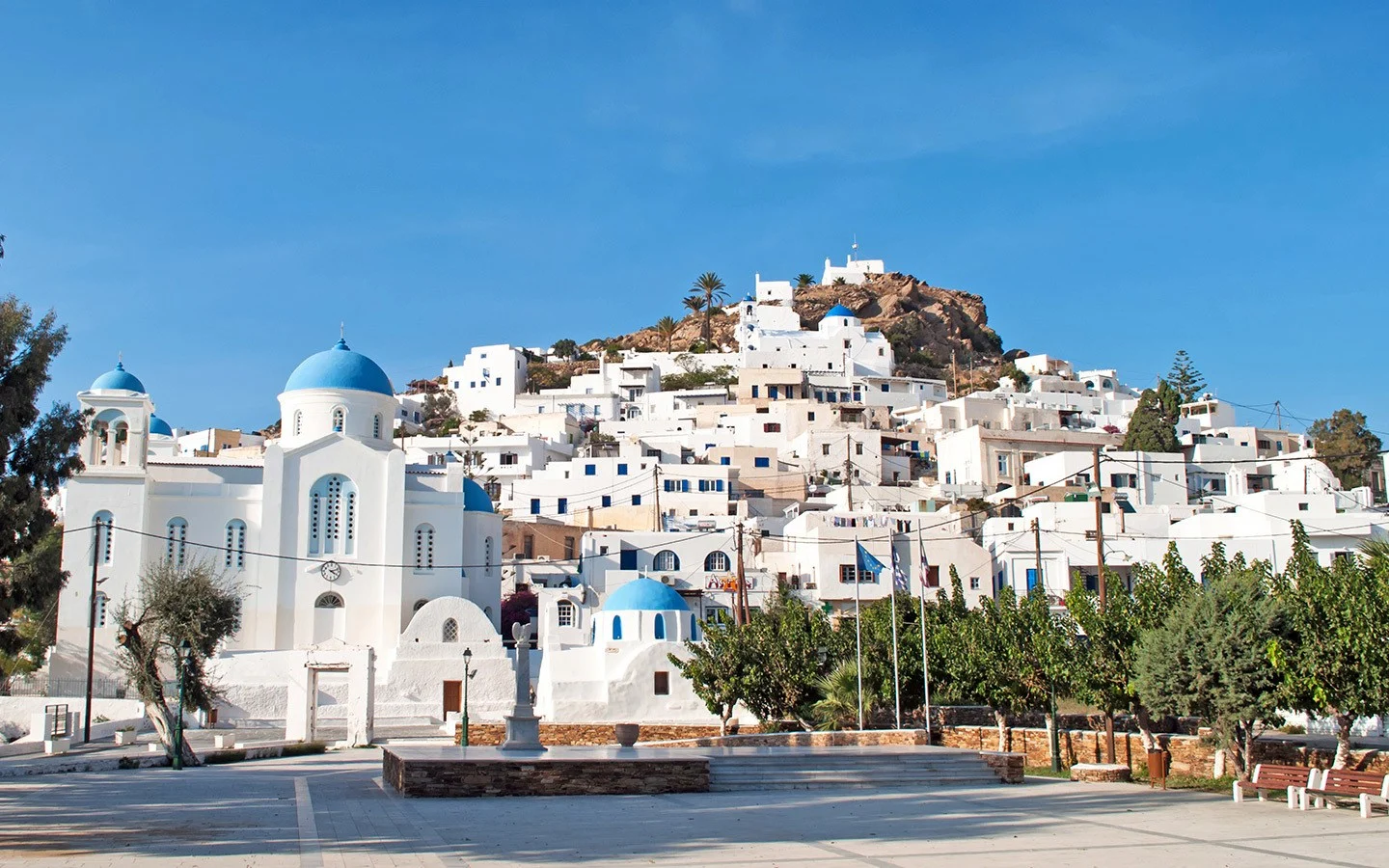 Set in the Aegean Sea, Ios is one of the 220 Greek islands which make up the Cyclades. It's just 40 minutes by ferry from nearby Santorini, but where Santorini is full of cruise ship passengers and honeymooners, Ios attracts a whole different crowd.
Ios' nightlife is legendary and in the summer it's a hedonistic haunt for 18–30s backpackers island-hopping around Greece, partying by night and sleeping it off on the beach by day.
Ios' main town Chora has something like 30 tiny bars and clubs, where you can down shots for a free t-shirt and dance until the sun comes up. But you can have an entirely different type of Ios holiday if you visit outside the busy summer months.
The party season in Ios is actually pretty short, running from mid-June until mid-August. But in the spring and autumn months, the island has a much more peaceful, relaxed feel and makes a great Greek island escape. So here's my guide to visiting Ios off-season.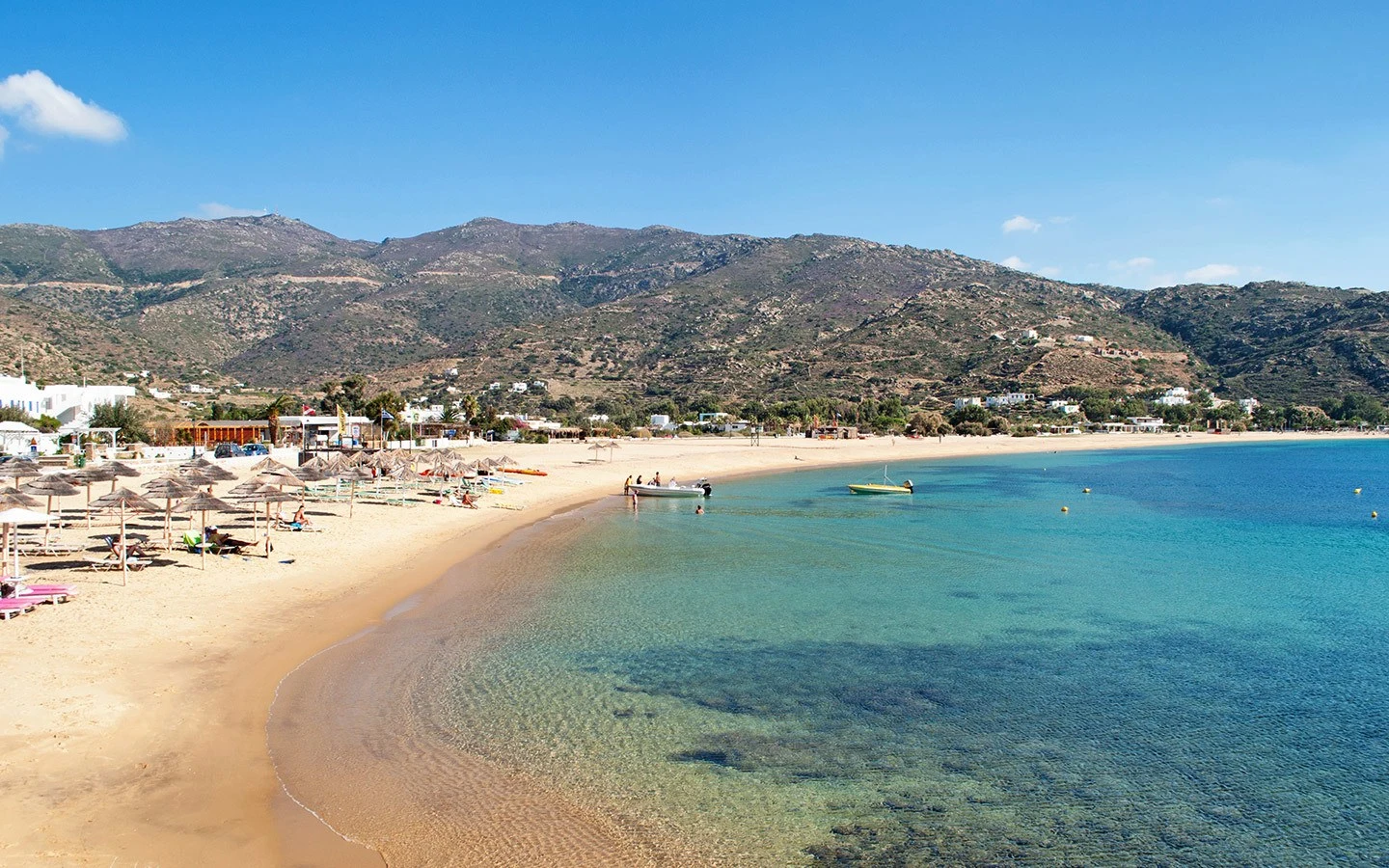 Visiting Ios in low season
By the time we arrived in Ios in October the crowds had long moved on and our ferry from Santorini dropped off just a handful of people before heading on its way north to Athens. Visitors to Ios off-season are a mix of couples, families and groups of friends, with a distinctly older age range than you'd have seen disembarking in the summer.
We spent our week in Ios staying in a villa with a pool, set on the brow of a hill overlooking the port in one direction and across to Santonini in the other. It was an unbelievably peaceful place, where all you could hear was the bells of grazing goats.
Ios is an easy place to relax and spend a week reading, swimming and lazing on a sunlounger. But there are plenty of places to explore, from hilltop churches and historic windmills to sandy beaches and secluded coves – see my picks below. And visiting in low season means you never have to battle crowds and can find your own empty beach.
What's the weather like off-season in Ios?
Ios has a Mediterranean climate, with hot, sunny summers. In July and August maximum temperatures average 30°C (87°F). It can get a lot hotter, but the Meltemi winds make it more comfortable, though it can get blustery in the afternoons and evenings.
Spring and autumn weather in Ios is warm in the daytime, with average highs of 18–24°C (64–76°F). It cools down in the evenings though so you might need a jacket, particularly as it's often still windy. The island sees the most rain from November to March, but on average there are less than five wet days a month in the spring and autumn.
Autumn is great for swimming as sea temperatures stay up around 22°C/72°F into October. Though if you're visiting Ios in spring, the water temperature is only around 16°C/61°F by April so it might be a bit chilly for a dip. The warm days make it a good time for hiking and exploring the island though, with beautiful wildflowers in spring.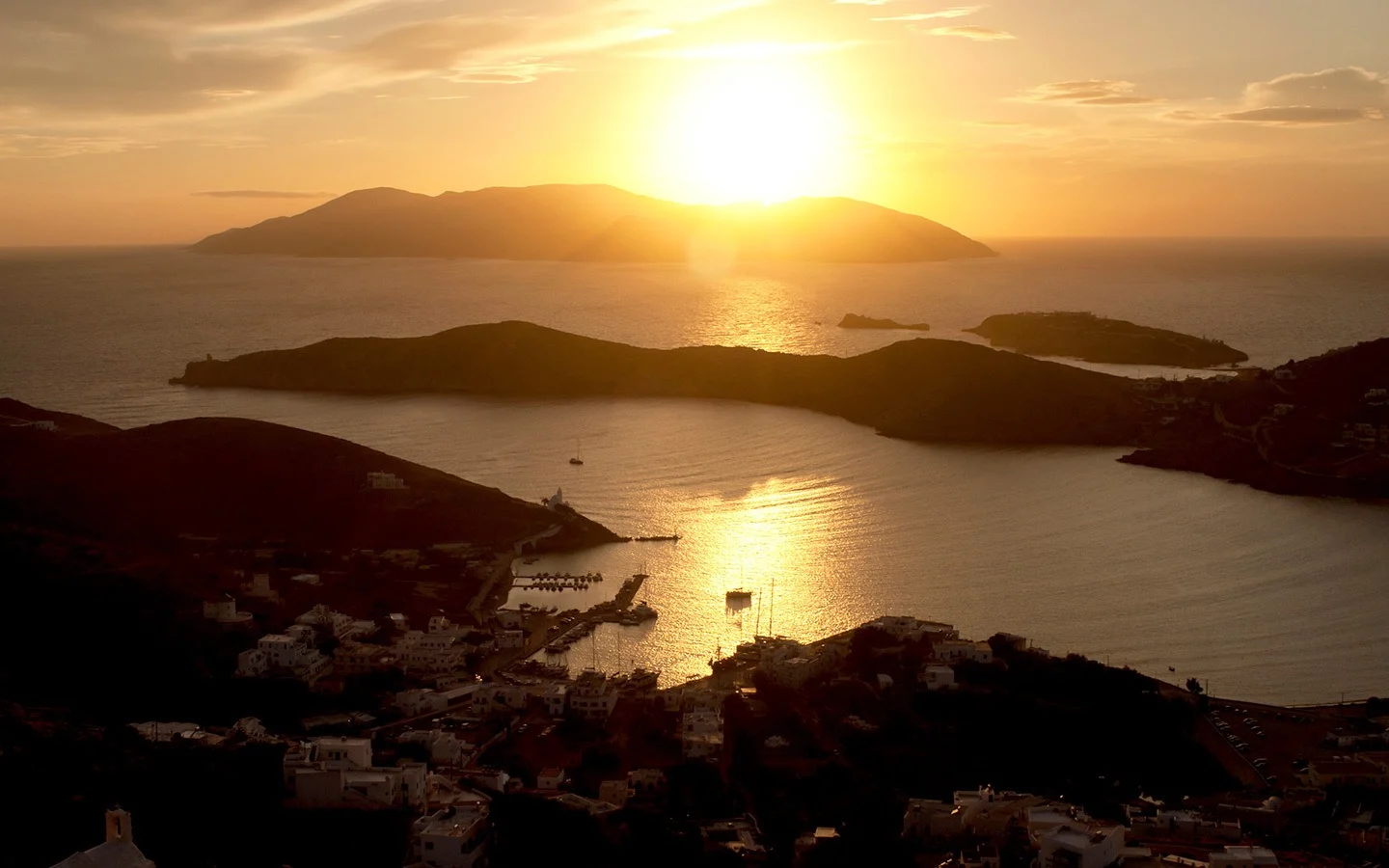 Things to do in Ios off-season
Explore Chora's old town
The biggest town in Ios is Chora, though that's more a description than its name – the word Chora means 'main town' and you'll find them all over the Greek islands. Ios' Chora has a line of shops set along a main road, and behind them the old town stretches up onto the hillside, a mass of whitewashed buildings with blue doors and domes.
Get up close and you can spot the narrow gaps which take you into a twisting and turning maze of cobbled passageways, dotted with shops, bars and restaurants. Everything in Ios closes down from 2pm to 5pm, so as we wandered through the streets of old town the only signs of life were the island's many cats grabbing a siesta in the shade.
At 5pm the town started to wake up again, with shops opening up their shutters and café owners laying out chairs for the evening. Several shops and restaurants stay open in spring and autumn, but you're more likely to see locals than tourists there out of season.
Admire an island church
Ios has 365 churches – one for each day of the year – despite having only 2000 permanent residents. Churches are looked after by local families who make sure they don't fall into disrepair. One of the most impressive is the Cathedral of Ios in Chora. And the waterside church of Agia Irini is one of the first things you see as you arrive into Ios' port.
Take a walk to the top of Chora and you'll find four tiny white churches overlooking the town. The highest church is Ios' top sunset spot, where you can look down onto the town's rooftops and tiny boats in the port. The sunlight makes the churches glow gold before it dips down out of view behind the neighbouring island of Sikinos.
Visit the windmills and amphitheatre
Walk east through Chora onto the hillside and you'll find Ios' 12 windmills. They were built to use the Meltemi winds to grind grain for bread and most have fallen into disrepair, but a couple have been restored and make a good photo opportunity against the blue sea.
Carry on past the windmills and you'll reach the Odysseas Elytis open-air theatre. Looking like a very well-preserved Ancient Greek theatre, it was actually built in 1997 but uses the same stone and marble design as Greece's historic amphitheatres.
In the summer there are concerts and plays at the theatre, but even if there's nothing showing it's still worth a visit for the panoramic views down to Mylopotas Beach.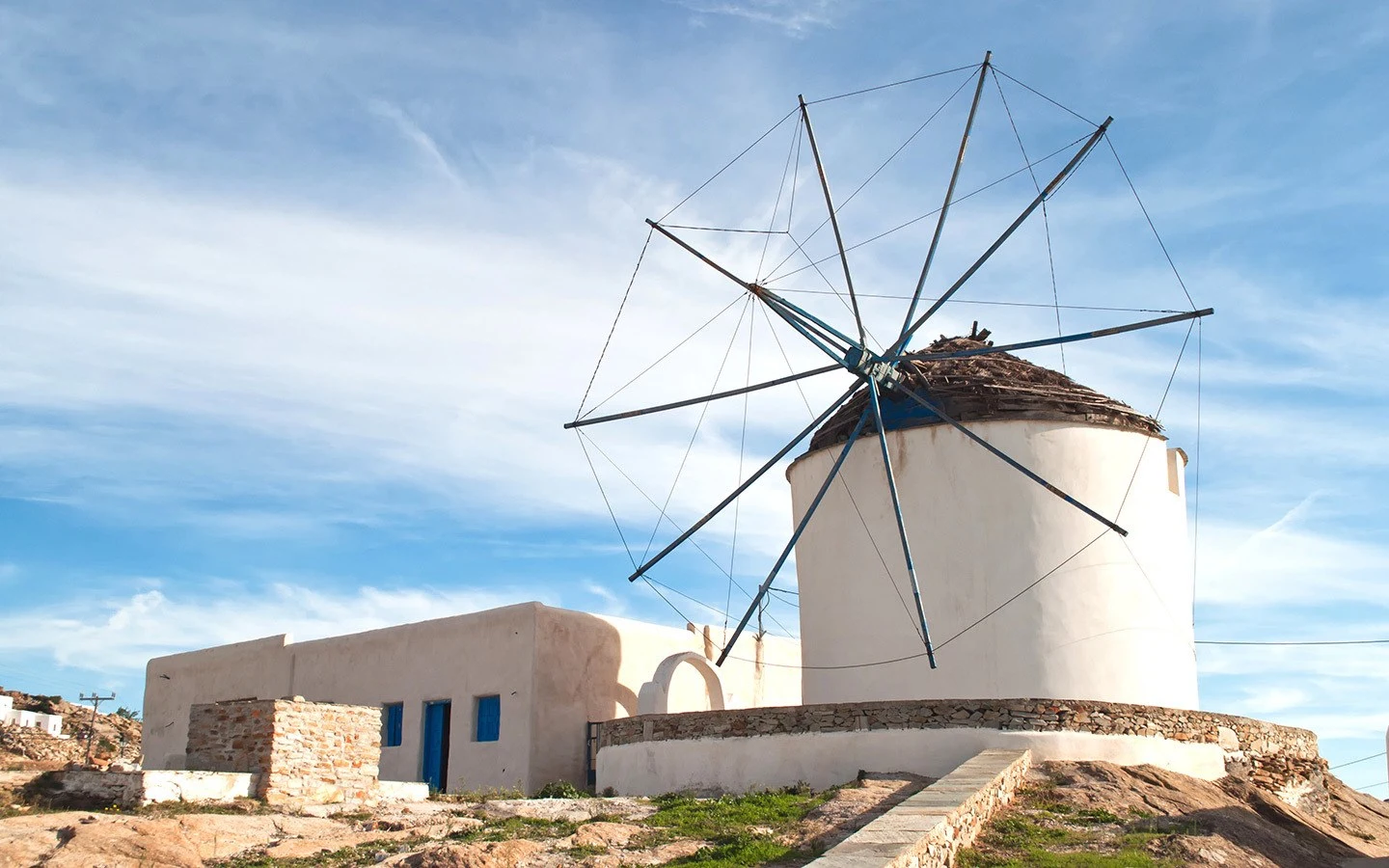 Hit the beach
Around 30 minutes' walk from Chora, Mylopotas Beach is a 1.5km-long stretch of golden sand and clear water that's Ios' most visited beach. During summer, Mylopotas is buzzing with beach clubs and row of sunbeds, but in October the beach was almost empty.
Many of the beach clubs are only open in the summer months but there are a few which stay open where you can get lunch, sunset drinks or hire a sunbed.
The bay is really sheltered so it's great for watersports, and even off season you can hire a paddleboard, kayak or rent a boat and explore the secluded coves along the coast. There's also a half-day speedboat tour* from Mylopotas which visits seven different beaches.
Also within easy reach of Chora are the sandy beaches at Gyalos (next to the port), Valmas, Kolistani and Koumbara. And if you have transport you can also visit beaches further afield like Manganari (17km from Chora) and Agia Theodoti (10km).
Go back in time
If you want to learn more about Ios' history, there are a few interesting sites to visit. Oldest is the early Bronze Age settlement of Skarkos, on the edge of Chora.
This hilltop prehistoric site is over 1000 years older than Akrotiri on Santorini. It's built in a circular shape and had two-storey buildings, paved floors and an early drainage system. You can see some of the finds from the site at the Archaeological Museum of Chora.
Or in the north of the island, 13km from Chora (you'll need a car, ATV or scooter to reach it) is Homer's Tomb. Supposedly the burial place of the famous Greek poet – though no one knows for sure – it has a beautiful setting with marble plaques inscribed with his words.
Should you visit Ios off-season?
After getting used to almost having the island to ourselves, it was hard to picture what Ios would be like in the middle of summer. When the streets of Chora pound to the beat of music pumping out of the bars and streets are packed with a mass of travellers. When the sandy beaches are covered in sunbathers and the water full of boats and windsurfers.
I loved our peaceful version of off-season Ios, but I couldn't help wondering what it would be like to see the other side of the island in summer – with beach bar sunsets and dancing until dawn. So is off-season Ios right for you, or would peak season suit you better?
Visit Ios off-season: if you want a peaceful, relaxing trip and you don't like crowds, you want more interaction with locals, you want to save money on accommodation and travel, you don't mind self-catering or eating out at a limited selection of restaurants.
Don't: if you want to party all night and meet lots of international travellers, you want to eat out for every meal at a variety of places, you want guaranteed sunshine and to spend every day on the beach, or you want a big range of activities to keep you occupied.
The details
How to get to Ios, Greece
There's no airport in Ios, so you'll need to catch a ferry to reach the island. The nearest airport is in Santorini, then it's around 40 minutes by ferry from Santorini's Athinios port to Ios. Or you can fly to Athens where ferries run from Piraeus and Rafina ports to Ios, taking around seven hours on the regular service or four hours on high-speed ferries.
If you're planning a Greek island-hopping trip there are also also ferries from Ios from Naxos (40 minutes), Paros (1 hour), Mykonos (1.5 hours) and Crete (2.5 hours).
How to get around Ios
Local buses connect Ios' port, Chora and Mylopotas Beach. They cost €1.60 to €3.70 one way, depending how far you're going, and you can buy tickets on the bus. Timings vary by season so check timetables. It's also possible to walk between them – the port to Chora is 15 minutes uphill via the donkey path steps, then it's 30 minutes to Mylopotas Beach.
If you want to explore the rest of the island, there are buses to Maganari and Agia Theodoti beaches. You can also hire a car, quad bike or scooter in the port or in Chora.
Where to stay in Ios
On the Rocks have five properties in a peaceful location near Valmos Beach outside Chora – the five-bedroom Main Villa with infinity pool, the Two Rocks Villas with pool (sleeps 12), the two Pebbles (sleeps 4) and the cosy Retreat (sleeps 2). They have self-catering facilities but also daily housekeeping service and have been designed to be eco-friendly.
If you prefer to be right in the heart of things, Lofos Village* hotel is just a few minutes' walk from Chora's central square. It's built in traditional whitewashed Cycladic style, with views across the town and a swimming pool with sunloungers.
Or if you'd rather be right by the beach, the Ios Palace Hotel & Spa* overlooks Mylopotas Beach. It has a mix of rooms and suites, some of which come with sea-view balconies and private pools. There are also three shared pools, a spa, restaurant and pool bar.
Save for later
You might also like