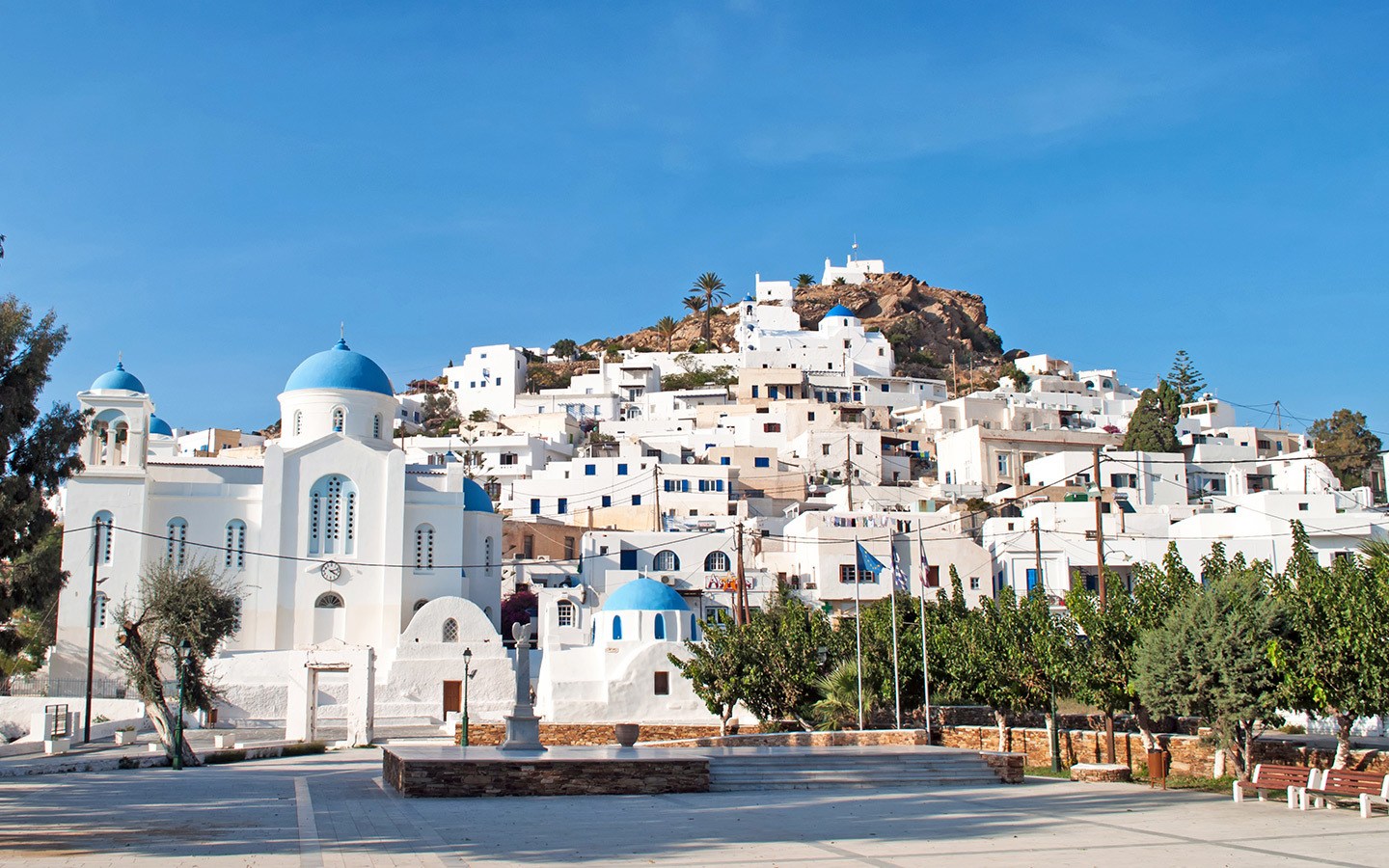 My first trip to Greece was when I was 21 – a week's package holiday in Faliraki in Rhodes to celebrate leaving university, with plenty of fishbowl cocktails and dancing on tables, a bit of sightseeing and a lot of sunbathing by the pool. My travel style has changed a bit since then (along with my alcohol tolerance) and I've discovered Greece has so much more to offer. But when it turned out the Greek villa I'd spontaneously bid on in a travel auction was in one of the country's top party island destinations, I started to get a few worrying fishbowl flashbacks.
Read more: Domes and donkeys: Things to do in Fira, Santorini
Set in the blue waters of the Aegean Sea, Ios is one of the 220 Greek islands which make up the Cyclades and is just a 30-minute hop by ferry from Santorini. But where Santorini is full of cruise ship passengers and honeymooners, Ios attracts a whole different crowd. Ios' nightlife is legendary and in the summer it's a hedonistic haunt for 18–30s backpackers island-hopping around the Mediterranean, partying by night and sleeping it off on the beach by day.
The main town of Chora has something like 30 tiny bars and clubs, where you can down shots for a free t-shirt (or while getting hit over the head) and dance until the sun comes up. Nothing wrong with that, unless you're far closer to 40 than 20 and can't remember the last time you stayed up past 1am. But it turns out there's a whole different type of Ios holidays too.
Visiting Ios in low season
Ios' party season is actually pretty short, running from mid-June until mid-August. But in the spring and autumn months, the island has a much more peaceful, relaxed feel. By the time we arrived in October the crowds had long moved on and our ferry from Santorini dropped off just a few of us before heading on its way north to Athens. We were a mix of couples and families, with a distinctly older age range than you'd have seen disembarking in the summer.
You always take your chances with the weather when you travel off-season, but we had mostly sunny, hot days with just a couple of showers. The spring and autumn weather in Ios, Greece, is warm in the day and cool in the evening, with daytime maximum temperatures around 18–22°C (64–72°F). There's not usually a lot of rain but it can get windy – we had a few gusty days. Autumn's great for swimming as sea temperatures stay up around 22°C into October.
We spent our week in Ios staying at a villa with a pool, set on the brow of a hill overlooking the port in one direction and out across the Aegean to Santonini on the other. It was an unbelievably peaceful place, where all you could hear was the bleating of sheep and the bells of the goats grazing around the villa. It would've been pretty easy to let the whole week pass in a haze of reading, swimming and lazing on a sunlounger, but there were places to explore.
Down a rocky track from the villa we came across Valmas Beach, a small cove with turquoise waters so clear you could see straight down at the sand below. There's a taverna right on the beach, but in October it had closed for the season, with the shutters up and the owners relocated for the winter. You could stand on the taverna's terrace and imagine it packed with people eating and drinking in summer. But for now it was like having our own private beach.
The biggest town in Ios is Chora, which was about 15 minutes' walk from our villa. Though that's more a description of it than its name – the word Chora means 'main town' and you'll find them all over the Greek islands. Ios' Chora has a line of shops set along a main road, and on the opposite side the whitewashed buildings of the old town stretch up into the hillside.
From a distance Chora looks like an impenetrable mass of tightly packed buildings, but get up close and you can spot the narrow gaps which lead into a maze of twisting and turning cobbled passages. Everything in Ios closes down from 2pm to 5pm, so as we wandered through the old town the only signs of life were the island's many cats grabbing a siesta in the shade.
At 5pm the town started to wake up again, with shopkeepers opening up their shutters and café owners laying out chairs ready for the evening. A few shops and restaurants stay open through the spring and autumn months, but you're more likely to see locals than tourists there out of season. We carried on climbing to the top of the hill where there are four tiny white churches.
Ios has 365 churches – one for each day of the year – but only 2000 permanent residents. Churches are looked after by local families who make sure they don't fall into disrepair. Chora's highest church is Ios' top sunset spot, where you can look down onto tiny boats in the port and the town's mass of white dotted with blue domes. The sunlight made the churches glow before it dipped down out of view behind the neighbouring island of Sikinos.
Just outside Chora is Mylopotas Beach, a 1.5km-long stretch of golden sand and crystal clear water that's Ios' most visited beach. During summer, Mylopotas is buzzing with beach clubs and the sand lined with sunbeds, but in October I counted less than 10 people on the whole beach.
The bay is really sheltered so it's great for watersports, and even off season you can hire a paddleboard, kayak or rent a boat and explore hidden the coves along the coast. One café at the far end of the beach had stayed open and we stopped for lunch there, joining a mix of low-season visitors, locals and expats about to leave the island for winter.
After getting used to almost having the island to ourselves, it was hard to picture what Ios would've been like in the middle of summer. When the streets of Chora pound to the beat of music pumping out of the bars and its narrow streets are packed with a mass of travellers. When the sandy beaches are covered in sunbathers and the waters are full of boats and windsurfers.
I loved our peaceful version of off-season Ios, but I can't help wondering what it would be like to see the other side of the island in summer – beach bar sunsets, party nights and maybe even a cocktail fishbowl or two – I guess I'll just have to go back and see for myself someday.
Should you visit Ios off season?
Do if: you want a peaceful and relaxing trip, you don't like crowds, you want to have more interaction with the locals, you want to save money on accommodation and travel costs, you don't mind cooking for yourself or eating out at a limited selection of restaurants.
Don't if: you want to party all night and meet lots of other international travellers, you want to eat out for every meal at a variety of different places, you want guaranteed sunshine and to spend every day on the beach, or you want a big range of activities to keep you occupied.
The details
How to get to Ios, Greece
There's no airport on Ios, so you'll need to catch a ferry to reach the island. The nearest airport is in Santorini, then it's a 35-minute ferry trip to reach Ios. Or you can fly into Athens where ferries run from the Piraeus and Rafina ports to Ios, taking around seven hours on the regular service or four hours on the fast ferries. There are also ferry connections from other Greek islands like Naxos, Paros, Mykonos and Crete if you're planning an island-hopping trip.
How to get around Ios
Bus services connect Ios' port, Chora and Mylopotas Beach around every 20 minutes in low season and cost €1.80 one way. It's also possible to walk between them – the port to Chora town is 15 minutes uphill via the donkey path steps, then it's 30 minutes to Mylopotas Beach. If you want to explore the rest of the island, there are buses to Maganari and Agia Theodoti beaches, or you can hire a car, quad bike or scooter in the port or in Chora.
Where to stay in Ios
We stayed at On the Rocks, who have four properties just outside Chora – two three-bed villas which share a pool, a five-bedroom villa with its own infinity pool and the cosy one-bedroom Retreat. They've been designed to be eco-friendly and have a beautiful peaceful location. In spring or autumn a three-bed villa costs €150 a night (minimum stay four nights). There are also lots of small pensions in Chora and a few larger resorts with pools in Mylopotas Beach.
Pin it
This article contains affiliate links, where I get a small commission at no extra cost to you, thanks.