Explore one of Greece's most important archaeological sites by visiting Delos. This sacred Greek island was once a thriving city but now its well-preserved ruins make it a great day trip from Mykonos.
* This site contains affiliate links, where I get a small commission from purchases at no extra cost to you.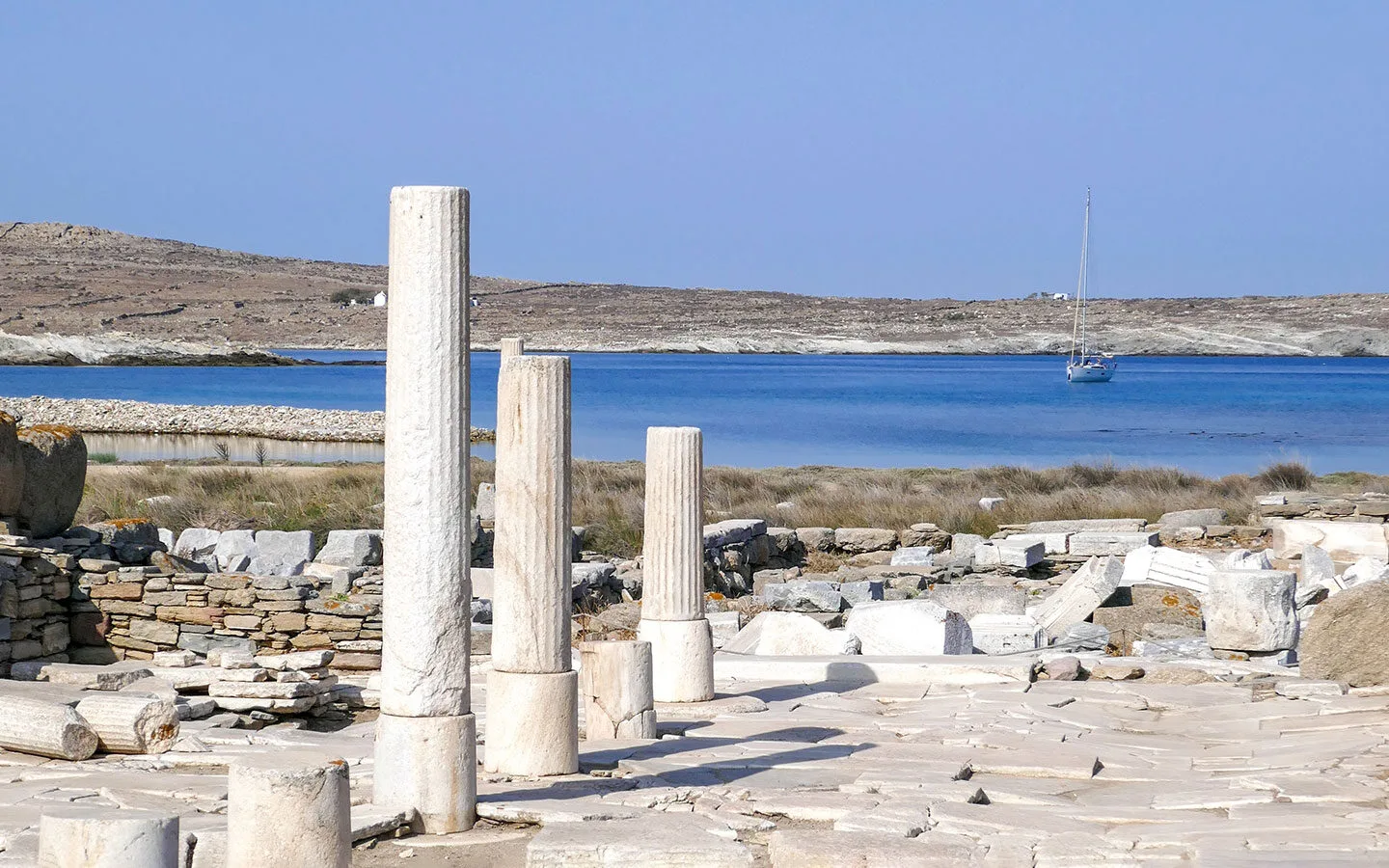 The tiny uninhabited Greek island of Delos lies just a few miles off the coast of Mykonos in the Cyclades, surrounded by the blue waters of the Aegean Sea. Today the only residents are a few cats, but in its heyday just over 2000 years ago, Delos was a thriving city and trade centre which grew up around a sanctuary to the gods Apollo and Artemis.
Today Delos is regarded as one of the most important archaeological sites in Greece and has been named a UNESCO World Heritage Site. The well-preserved ruins give a fascinating insight into ancient Greek civilisation. And its location means it's easy to access on a day trip from Mykonos, whether you're staying on the island or visiting on a cruise.
But how did this unassuming little island become so important – and why did it end up abandoned? This guide to visiting Delos takes you through its history as well as showing you how to get from Mykonos to Delos, either independently or on a tour, with ticket information, the best things to see and useful tips for your visit.
The history of Delos
Delos is one of the Cyclades, a group of islands to the south of Athens made up of over 2000 islands, 33 of which are inhabited, including famous names like Santorini, Ios, Naxos and Mykonos. It was actually Delos which gave the Cyclades their name, which comes from the other islands forming a circle (kyklos) around the sacred island of Delos.
Delos means 'brought to light' in ancient Greek. And according to Greek mythology the island was the birthplace of Apollo and Artemis – twin god and goddess of light and the moon who were born to Zeus and Leto. A sanctuary to the twins was built on Delos and pilgrims came from around the Greek world to worship from the 8th century BC.
At the end of the 6th century the Athenians decided Delos was so sacred that it needed to be 'purified' to allow for proper worship. Firstly they dug up graves and moved bones to a pit on the neighbouring island of Rheneia. Then nobody was allowed to die or be born on Delos, so pregnant women and anyone seriously ill was moved to Rheneia.
Later under Roman rule, Delos became a thriving duty-free port. Its location made it an important trade hub with ships from all over the Mediterranean sending merchandise and slaves through Delos. The city grew quickly, with 30,000 people living on Delos in 90 BC. Building spread up into the hills and wealthy merchants built luxurious mansions.
But its riches didn't go unnoticed, and Delos became a target for pirates and looters. And after the city was destroyed for the second time the last residents moved away and it was eventually completely deserted (save for a few pirates) by the 7th century.
The ruins of Delos were uncovered in 1873 when a team of French archaeologists started excavating the site. And excavations are still carrying on today, with plenty of ruins still below the surface which are just waiting to be discovered.
Visiting Delos
You can only reach Delos by boat, and as you pull up to the island you first notice how rocky and barren it is, with no vegetation so the stone and marble of the ruins really stands out, contrasting with the bright blue of the sea. The island is only 5km long and 1.3km wide, and the archaeological site covers the whole island, with ruins spread across it.
Because the island was largely uninhabited since the 7th century BC, the ruins on Delos are very well preserved. Though there was a lot of looting over the years, as people helped themselves to chunks of marble to use in building projects on other islands.
There's no accommodation on Delos, and the only people allowed to stay on the island are the archaeologists, so you have to visit on a day trip. Boats connect the island to Mykonos as well as other nearby Greek islands like Naxos, Paros, Tinos and Syros.
Although you can visit Delos independently, there's isn't much information around the site so it's not easy to work out what you're seeing. Having a guide gives a much better insight into what the buildings were used for and why Delos was so significant.
Most visitors spend two–three hours on Delos (keep an eye on the boat times so you know how long you have) which gives you time to see the island's highlights. These are some of the main sights not to miss when you're visiting Delos:
Highlights of Delos
Terrace of the Lions: This row of marble lions is one of the most recognisable sights on Delos. There were originally 9–12 lion statues, gifted by the people of Naxos in the 7th century BC to protect the harbour. Like many statues on Delos, the current lions are replicas, with the five original lions inside the museum to protect them from the weather.
The Theatre Quarter: Surrounding a marble theatre which once held over 6500 spectators, the narrow streets of the Theatre Quarter contain some of the most impressive mansions in Delos which were owned by rich merchants.
The House of Dionysus: One of the largest and most lavish houses in Delos is known for its central courtyard with a beautiful mosaic floor featuring Dionysus riding a panther, surrounded by columns and the remains of plaster stucco wall paintings. The House of Trident also has a mosaic floor with a nautical design of dolphins and anchors.
The Sanctuary of Apollo: The sanctuary is made up of three temples dedicated to Apollo. Biggest was the Temple of the Delians, which housed a giant statue of Apollo. Only the torso is left now (probably because it was too heavy for looters to move), but you can see a hand in the island's museum and a foot is now in the British Museum.
The Agora of the Competaliasts: Close to the harbour, this was the main market square on Delos. There's a round marble monument dedicated to Hermes in the centre, and remains of shops including holes in the stone where tent poles would've sat.
The Archaeological Museum: Many of the best finds from Delos have been transferred to the National Archaeological Museum in Athens, but you can still see statues, pottery, mosaics and artefacts recovered from the site which give an insight into island life.
Also if you have time, the 20-minute climb up to the top of Mount Kynthos takes you up to 113 metres and has fantastic views across Delos and over to neighbouring islands.
The details
How to get to Delos
Delos is easy to visit on a day trip from Mykonos. Ferries take around 30 minutes and run from April to October, with multiple sailings a day. During the summer there also ferries to Delos from other Greek islands Naxos, Paros, Tinos and Syros.
Ferries depart from the south end of Mykonos Old Port, and you can buy a ticket from the ticket booth next to where the ferry docks for €22 return. It's a good idea to book in advance* in peak season as availability is limited (although these tickets are slightly more expensive they do include free cancellation up to 24 hours in advance).
The ferries hold around 200 people and have toilets and a small shop selling drinks and snacks. Beware Mykonos can get very windy and boats are sometimes cancelled in bad weather – stock up on sea-sickness pills if you're a sufferer. There are also private boat trips* to Delos which also include swimming and snorkelling at Rhenia island.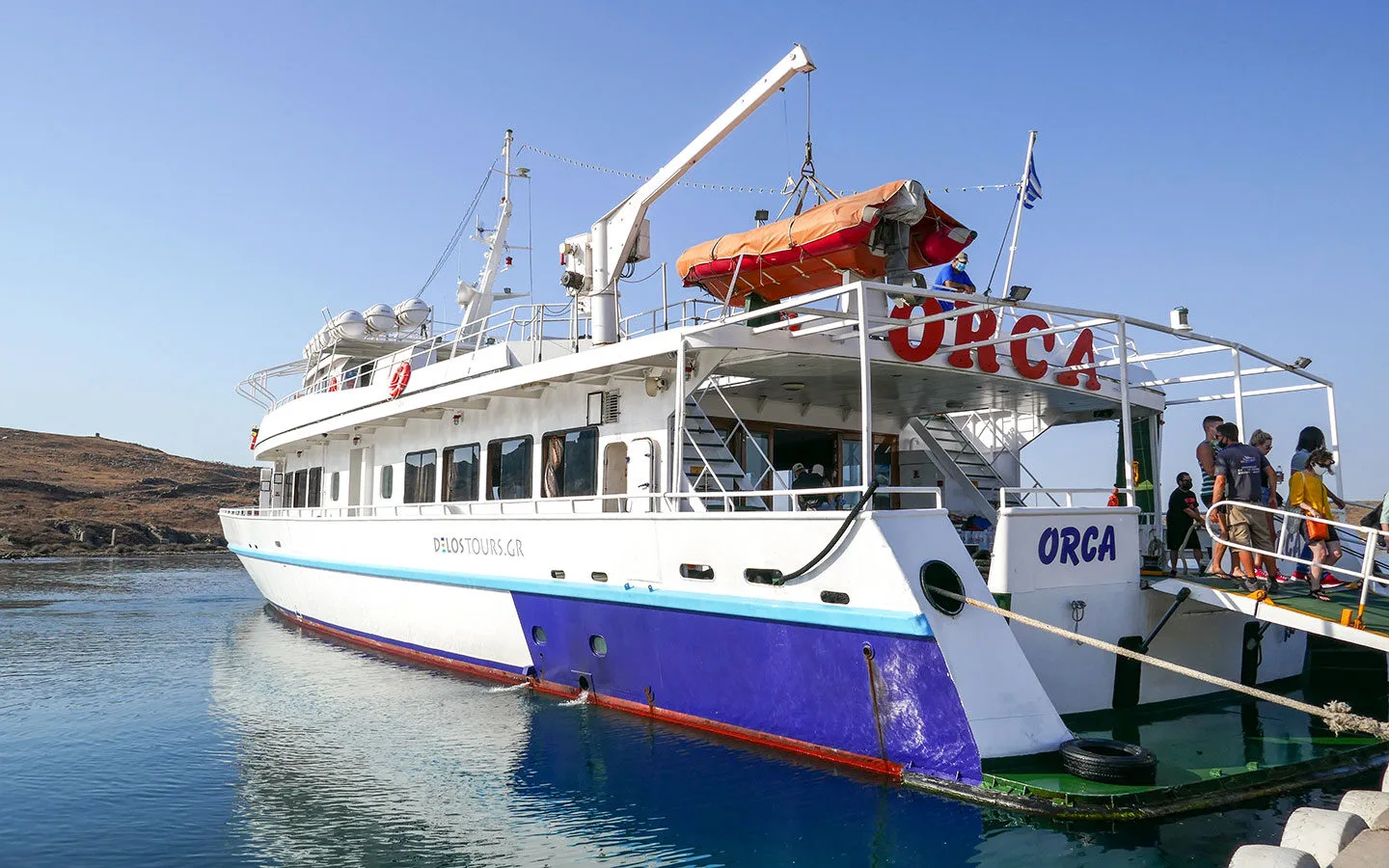 Visiting Delos archaeological site
The ferries are run separately from the Delos archaeological site so if you've booked independently you'll need to buy another ticket to access the ruins. The entrance fee to Delos is €12 per adult and you'll need to queue at the ticket office to buy a ticket – it can get busy so try to get off the ferry quickly so you're near the front of the line.
One advantage of taking a guided tour of Delos* is that you don't have to queue up once you reach the island to buy an entrance ticket because the tours include a return ferry trip from Mykonos, entry to the archaeological site and the guide's fees.
Useful to know
Delos is an open-air archaeological site so there's not much shade and it can get really hot in summer. Cover up with light, cool clothing to keep the sun off, and bring a hat, sunglasses and sunscreen – and pack a jumper as it can get very windy.
Paths around Delos are rocky and unpaved so wear comfortable walking shoes or sandals. And facilities on the island are limited to toilets and a small gift shop at the museum, with no café or place to buy food and drink so bring snacks and plenty of water.
Save for later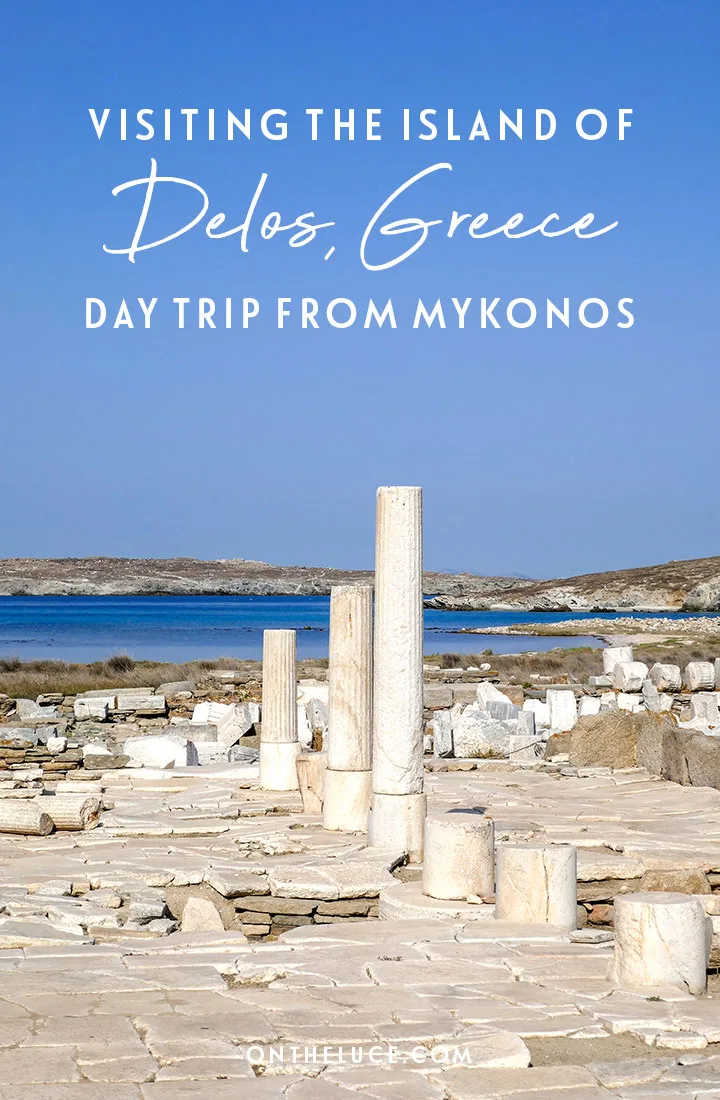 You might also like