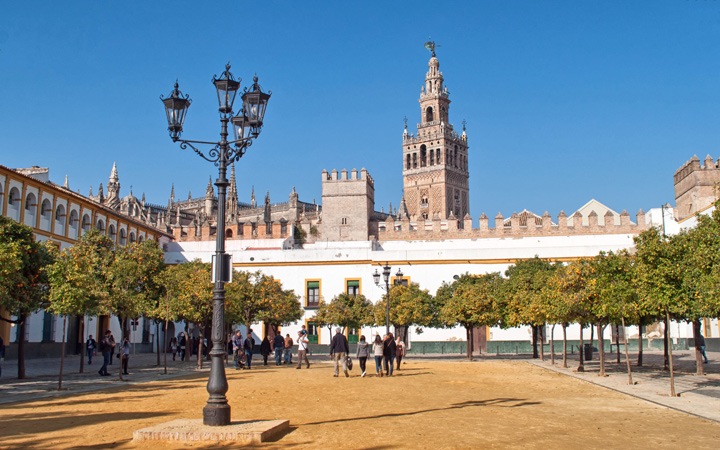 Streets lined with orange trees, tapas bars hung with rows of hams, horse-drawn carriages, flamenco shows and even a bull ring – Seville's got everything you'd expect from Spain, wrapped up in one beautiful package, with a mix of architectural influences from the Romans, Christians and Muslims. In summer we'd be dodging hoards of people and sweltering in 40 degrees. But in winter the queues were short and warm sunny days made it feel a world away from a grey damp English winter. Seville is Spain's fourth largest city, but still has a small-town feel and you can easily get around on foot. But what are the must-sees in Seville on a winter city break?
Read more: Visiting Madrid on a budget
What's Seville's winter weather like?
Seville doesn't really do winter, and even between December and February the average high temperatures are around 16°C (61°F), with lows occasionally dipping down to 7°C (45°F) at night. There's an average of five to six hours of sunshine a day so it makes a great destination for a fix of vitamin D, with low rainfall and around eight days of rain per month.
What to do in Seville in winter
Visit the Cathedral
The third largest church in the world – Seville's cathedral was built in the 15th century to demonstrate the city's wealth. And it certainly shows it off, with 80 chapels, a 42-metre-high nave, lashing of gilt and an altarpiece carving that took one craftsman his entire life to finish. The cathedral's most famous resident is Christopher Columbus, whose remains came to rest here after a posthumous round-the-world trip via the Dominican Republic and Havana.
Impressive as it is, even the huge cathedral is dwarfed by the Giralda, the bell tower which rises up above it. This was our landmark for the weekend – whenever we got lost we just looked around until we spotted the tower. But if you look closely it doesn't quite match the rest of the cathedral. It was originally the minaret from a mosque which was built when the city was under Muslim rule, and is modelled on the Koutoubia Mosque in Marrakech.
The mosque was destroyed in an earthquake after Seville was recaptured by the Christians, but the tower was still standing. So in an inspired bit of recycling, the new cathedral was built around it, the bronze spheres on top were replaced with a cross, and it became a bell tower. You can climb up to the top for a panoramic view across Seville and there are no steps involved – instead there's a ramp with 35 different segments that twist and turn up 90 metres.
It was built like that so that the muezzin could ride up to the top on horseback to make the call to prayer. From the top you get a much better idea of how big Seville really is. Down below you can see the rows of orange trees in the cathedral's Court of Oranges, and look out towards city landmarks like the Real Alcázar palace, Plaza de España and Plaza de Toros (bullfighting ring).
Explore the lavish Real Alcázar
The cathedral might be Seville's most visible landmark, but it's not the most famous – that title has to go to the neighbouring Real Alcázar (that's real as in Spanish for royal, as opposed to not fake). This ornate palace is similar in style to Granada's Alhambra.
It started off as a fort for the governors of Seville in the eighth century, and since then different rulers have added their own bits on to make a unique mix of Moorish, Gothic, Renaissance and Baroque style. Sounds messy but somehow it works beautifully. The royal family still use the upper floors when they're in town, and it's also been a location for Game of Thrones.
You have the Courtyard of the Maidens which could have come straight out of Morocco with its arched doorways and intricate carvings. Or the Gothic Halls of Carlos V with its vaulted hall decorated with tapestries and painted tiles. And the underground Baths of Lady María de Padilla – rainwater tanks where the water is so still you get a mirror-like reflection.
But my favourite part of the palace was its gardens, scattered with towering palm trees. Close to the palace are the formal gardens with pools and fountains, then they stretch out into a series of terraces at different levels, mixed in with sculptures, hidden grottoes and even a maze.
Be dazzled by the Plaza de España
In a city that's overflowing with spectacular architecture, the Plaza de España takes things to another level. It's located in the middle of the green oasis of María Luisa Park, which stretches over 50,000 square metres. The Plaza is made up of a grand sweeping semi-circle of rose-gold stone buildings surrounding a canal with arching bridges and a central fountain.
It's impressive from a distance, but when you get up close you can see that everything from the benches to the balconies is covered in intricately painted blue and yellow. Although it looks like a historic palace it was actually only built in the 1920s for the Ibero-American Exposition World's Fair. So there are Art Deco touches in among the Renaissance and Moorish Revival styles.
The Plaza has featured in Lawrence of Arabia and Star Wars' Attack of the Clones. But inside things are a bit less glamorous and it's mainly used for government offices. You're as likely to see Spaniards in the Plaza as tourists, especially in the Alcoves of the Provinces. Each of Spain's 48 provinces has its own alcove, decorated with maps and paintings of the area.
When Spanish visitors come to Seville it's traditional to get a photo taken in their province's alcove – and in summer there are queues for most popular regions. But if the Plaza gets too busy by day, just come back when the sun goes down. At night it's practically deserted and the illuminated buildings are perfectly reflected in the water.
Go modern at the Metropol Parasol
If you were starting to think Seville is all historic architecture, north of the Alcázar is a building from a whole different time period (or dimension) – the Metropol Parasol. Over 26 metres high and 150 metres long, this giant undulating shape is made from a criss-crossing lattice forming six parasols. It's nicknamed the setas – or mushrooms – but to me it's more a giant waffle (architect Jurgen Mayer-Hermann claims his inspiration actually came from a ficus tree).
The building was commissioned in 2005 to revitalise rundown Encarnación Square. The plan was that it would take two years to build, but it ended up taking more like six and cost a huge 80 million euros. The terrace is used for concerts and events, and underneath are bars, restaurants and an archaeological museum, as well as a Christmas market during December.
But it's the building that's the main attraction. Although the Metropol Parasol looks like it's made of painted metal, it's actually built of wood and is the world's largest wooden structure. You can get a closer look from the walkway that runs around the top. There are no straight lines, just sinuous paths which curve their way around up and down. The strange angles mean you can rarely see straight down, so it's easy to forget how high up you are.
That's until you look out over the rooftops, where you can see back across to the cathedral and Giralda. Late-night opening means you can stay up there until sunset too and watch the city lights come on – the perfect pre-tapas appetiser to end a day in Seville.
The details
We stayed at: The Hotel Alminar, right in the historic centre of Seville, tucked down a narrow pedestrianised street just a few minutes' walk from the cathedral. There are only 11 rooms, a couple of which have their own balcony overlooking the Giralda, and a central shared patio. A continental breakfast is included and there's free tea and coffee in the breakfast room all day. Double rooms from £105 a night.
We ate at: A lot of tapas bars! There are tons in the streets around the cathedral so we tended to eat and drink our way around a few different ones each evening. Some of our favourites were Ovejas Negras and La Cava Bar on Calle Hernando Colón, and Bar Antiguedades on Calle Argote de Molina.
Pin it
This article contains affiliate links, where I'll get a small commission at no extra cost to you – thanks.