Swap snow for sunshine on a Spanish city break this winter – discover the best things to do in Seville in winter, from spectacular architecture and festive celebrations to flamenco shows and delicious tapas.
* This site contains affiliate links, where I get a small commission from purchases at no extra cost to you.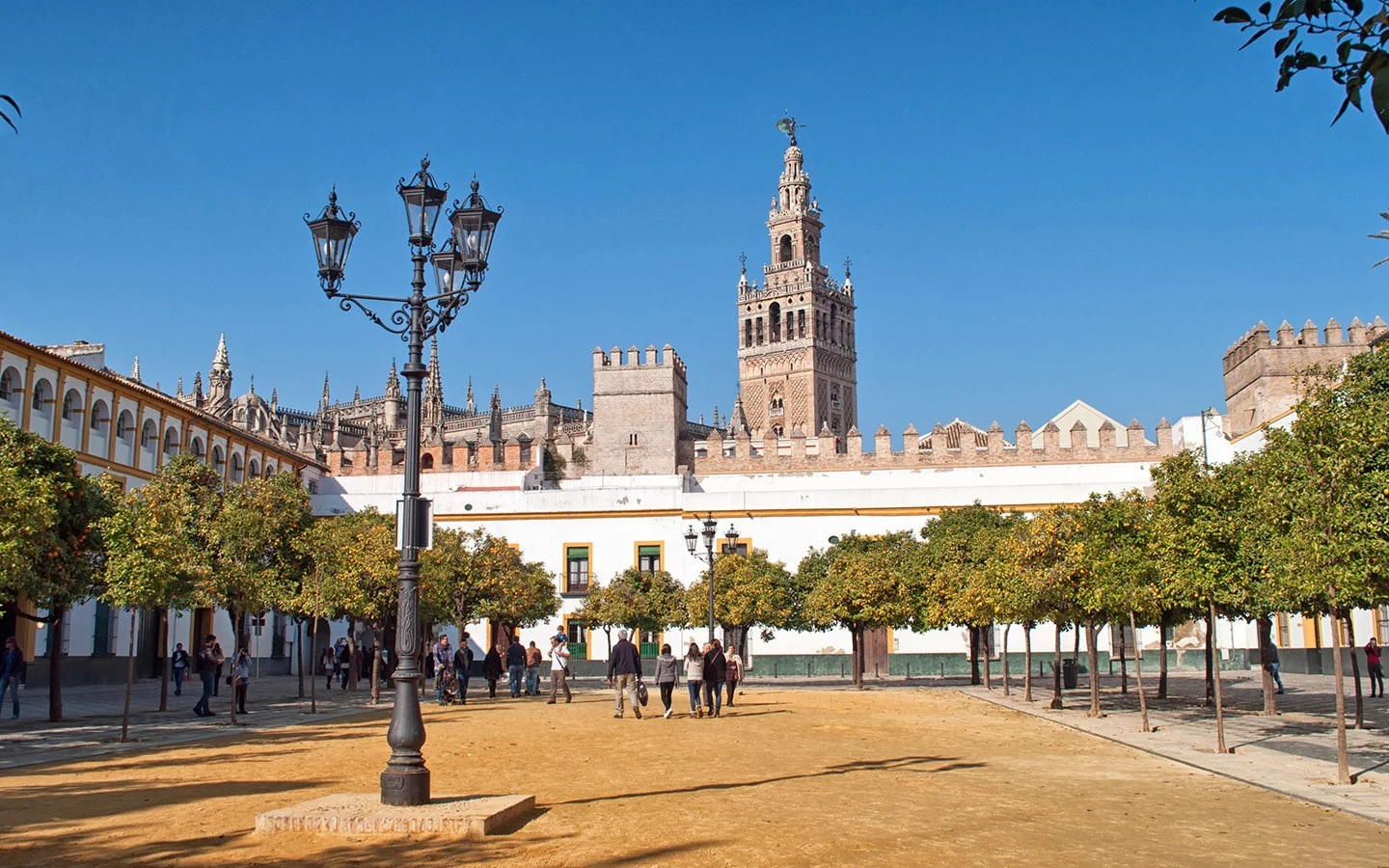 Streets lined with orange trees, tapas bars hung with hams, horse-drawn carriages, flamenco dancers and a bull ring – Seville's got everything you'd expect from Spain, wrapped up in a beautiful package. The city's mix of Roman, Christian and Muslim architectural influences make it a joy to explore, and winter is one of the best times to visit.
In summer you'd be dodging crowds and sweltering in 40-degree heat. But in winter you avoid the queues at the city sights and the warm sunny days are perfect for exploring. You can also get good deals on travel and accommodation, making it budget-friendly.
Unlike much of Europe, you can still sit outside a pavement café in Seville at Christmas, making it a great winter city break if you're looking for somewhere to visit off-season between November and February. So here are the best things to do in winter in Seville.
What's the Seville weather like in winter?
Seville has a Mediterranean climate, and doesn't really do winter as such – even between December and February the average high temperatures range from 16–20°C (61–68°F), with lows between 6–10°C (42–50°F) at night. The lower temperatures make it an ideal time to get out and explore the city without wilting in the summer heat.
There's an average of five or six hours of sunshine a day in Seville in winter, so it makes a great destination for a fix of vitamin D. Rainfall is at its highest in November and December, but there are usually only around six to eight days of rain a month.
So what should you wear for visiting Seville in winter? When the sun's out in the daytime I was fine in jeans and a jumper and didn't need a coat. Mornings and evenings can be cool though, so it's a good idea to pack a scarf, gloves and hat, and take an umbrella.
The best things to do in winter in Seville
Visit the Cathedral
Seville's cathedral is the third largest church in the world, and was built in the 15th century to demonstrate the city's wealth with 80 chapels, a 42-metre-high nave, lashing of gilt and an altarpiece carving that took one craftsman his entire life to finish.
The cathedral's most famous resident is Christopher Columbus, whose remains came to rest here after a posthumous round-the-world trip via the Dominican Republic and Havana. You can find out more about the cathedral's 800 years of art history with an audio tour*, which takes you through the highlights of its interior and exterior.
Impressive as it is, even the huge cathedral is dwarfed by the Giralda, the bell tower which rises up above it. But if you look closely it doesn't quite match the rest of the cathedral. It was originally the minaret from a mosque which was built when the city was under Muslim rule, and it was modelled on the Koutoubia Mosque in Marrakech.
The mosque was destroyed in an earthquake after Seville was recaptured by the Christians, but the tower was still standing so the new cathedral was built around it. You can climb to the top for panoramic views over Seville – with no steps involved. Instead there's a ramp which twists and turns up 90 metres, built so the muezzin could ride up on horseback.
From the top of the Giralda you can look down on the rows of orange trees in the cathedral's Court of Oranges below, and out towards Seville landmarks like the Real Alcázar palace, the Plaza de España and the Plaza de Toros (bullring).
Explore the lavish Real Alcázar
Next to the cathedral, the Real Alcázar* is Seville's most famous building and the city's answer to Granada's Alhambra. It started as a fort for the 8th-century governors of Seville and different rulers have added to it since to create a unique combination of Moorish, Gothic, Renaissance and Baroque styles that comes together beautifully.
Among the highlights are the Moroccan-style Courtyard of the Maidens with its arched doorways and intricate carvings, the Gothic Halls of Carlos V which are decorated with tapestries and painted tiles, and the underground Baths of Lady María de Padilla – rainwater tanks where the water is so still you get a mirror-like reflection.
But my favourite part of the palace was its gardens with their towering palm trees. Close to the palace are formal gardens with pools and fountains stretching out into a series of terraces at different levels, with sculptures, hidden grottoes and a maze.
Enjoy the festivities
If you're visiting Seville over Christmas period, the city puts on festive events until King's Day on 6 January. The city centre and main shopping streets are decorated with sparkling lights and there are Christmas concerts, street musicians and parades.
There are also several Christmas markets around the city where you can pick up local gifts. There's the Feria de Artesanía Creativa by the town hall which sells handicrafts from around Andalusia. And the Feria del Belén outside the cathedral, selling figurines and decorations for traditional the Spanish nativity scenes which you can see around the city.
And if you're spending New Year's Eve in Seville, make sure to join the crowds in Plaza Nueva just before midnight to eat grapes. It's a Spanish tradition to try to eat 12 grapes, one at each stroke of midnight, to give you good luck for the next year.
Feast on tapas
Eating and drinking is a social event in Seville, based around tapas bars where you can graze your way around the city. In winter in Seville the city's tapas bars are cosy spots to spend the evening, with warming local favourites like pork with whiskey, spinach and chickpeas, braised beef cheeks and fried dogfish, all served with crisp, dry sherry.
Some of my favourites spots for tapas in Seville were Ovejas Negras and La Cava Bar on Calle Hernando Colón, and Bar Antiguedades on Calle Argote de Molina. Or you can take a guided tapas tour* of the city, featuring tastings at five tapas bars along the way.
Watch a flamenco show
The passionate art of flamenco originated in Andalusia among the gitano gypsies, and it's become one of the region's best-loved art forms. Flamenco is made up of three separate parts – the guitar (guitarra), song (cante) and dance (baile), which come together in an intense emotional performance. Watching a live flamenco show is a must in Seville, and there are usually more performances in winter when the weather's not so hot.
If you're looking for a traditional flamenco show in a small, intimate venue where you can see the performers up close, Casa de la Memoria* is a cultural centre which dates back to the 15th century and hosts exhibitions and nightly performances.
Be dazzled by the Plaza de España
Even in a city overflowing with spectacular architecture, the Plaza de España is something special. Located in María Luisa Park, it's made up of a grand sweeping semi-circle of rose-gold stone buildings surrounding a canal with arching bridges and a central fountain.
Although it looks like a historic palace it was actually built in the 1920s for the Ibero-American Exposition World's Fair. So there are Art Deco touches among the Renaissance and Moorish Revival styles.. And when you get up close you can see that everything from benches to balconies is covered in intricately painted blue and yellow tiles.
The Plaza has featured in Lawrence of Arabia and Star Wars' Attack of the Clones. But inside things are a bit less glamorous and it's mainly used for government offices. Many Spaniards come to visit the Plaza to see the Alcoves of the Provinces, where each of Spain's 48 provinces has its own alcove, decorated with maps and paintings of the area.
It's traditional for Spanish visitors to Seville to get a photo taken in their province's alcove, and in summer there can be long queues. But in winter it's much quieter, and at night it's almost deserted, with the illuminated building beautifully reflected in the water.
Go modern at the Metropol Parasol
If you thought Seville was all historic architecture, there's something very different north of the Alcázar. The Metropol Parasol is 26 metres high and 150 metres long, an undulating shape made from criss-crossing lattice forming six parasols. It's nicknamed the setas – or mushrooms – and was commissioned in 2005 to revitalise Encarnación Square.
Although the Metropol Parasol looks like it's made of painted metal, it's actually the world's largest wooden structure. You can get a closer look from the walkway running around the top. There are no straight lines, just sinuous paths curving up and down. The strange angles mean you can rarely see straight down, so it's easy to forget how high up you are.
The terrace below is used for concerts and events, and underneath are bars, restaurants and an archaeological museum, as well as a Christmas market in December.
The details
How to get to Seville
Seville's San Pablo international airport has flights to destinations around Spain as well as a few other European cities. The airport is 10km out of the city and is connected by bus EA which takes 35 minutes to reach the Plaza de Armas and costs €4 single/€6 return. Or you can pre-book a transfer with Welcome Pickups* to take you directly to your hotel.
Or if you're travelling on through Spain by train, Seville's Santa Justa railway station has high-speed connections to destinations including Cordoba (50 mins), Malaga (2 hours), Madrid (2.5 hours), Valencia (4 hours) and Barcelona (5.5 hours).
Where to stay in Seville
La Bella Sevilla* is a good-value hotel tucked down a narrow pedestrianised street just a few minutes' walk from the cathedral. There are only 11 rooms, with the two superior rooms on the top floor sharing a terrace overlooking the Giralda. Continental breakfast is available for €8 and there are free tea, coffee and pastries in the breakfast room.
The Hotel Casa 1800* is a converted mansion on the edge of the Jewish quarter with a mix of historic features and luxury touches like chandeliers and gold headboards. The roof terrace has views of the Alcazar and cathedral and a pool for warm days, and some rooms have private terraces with hot tubs. There's also a free daily afternoon tea buffet.
Or the Sacristía de Santa Ana* is a good value option on the edge of the Alameda district, north of the setas. There are 23 rooms in a converted 18th-century former vestry, set around a central patio. Colourful tiles and vintage furniture add character, with communal areas to relax in. Breakfast is available for €12, or there are lots of places to eat nearby.
Save for later
You might also like