Travelling from Vancouver to Jasper by train past mountain peaks, forests and crystal clear lakes, the Rocky Mountaineer is quite rightly ranked as one of the most epic – and luxurious – rail journeys in the world. It's been top of my train travel wishlist for years, but this is a bucket list tick that will cost you. With prices from $1830 CAD (£1403/US$1430) for a two-day/one-night rail trip from Vancouver to Jasper it's out of reach for many of us.
But the Rocky Mountaineer isn't the only way to see the Canadian Rockies by rail – you can also experience the same scenery for under $150 CAD on an overnight train trip from Vancouver to Jasper on board VIA Rail's The Canadian. But how does it compare?
Read more: Columbia Icefields tour: A glacier walk in the Canadian Rockies
Vancouver to Jasper on the VIA Rail overnight train
How long does it take to travel from Vancouver to Jasper by train?
The Canadian train service runs right across Canada from Vancouver to Toronto, and takes five days to do the whole journey. The stretch from Vancouver to Jasper is around 19 hours, and you gain an hour along the way as the clocks go forward when you cross into Alberta. The train normally leaves Vancouver's Pacific Central Station at 3pm and arrives into Jasper at 11am the next day, though the timetable can change depending on the season.
That's the theory, but in reality the route is prone to delays. The Canadian shares the line with freight trains, and they take priority so it often has to wait – they can be up to a whopping three miles long so one train can take 20 to 40 minutes to pass.
VIA Rail advise you not to book onward travel or activities the day your train arrives in case there are any delays. Though having prepared ourselves to be late we actually arrived into Jasper almost an hour ahead of schedule, so you never know.
What's the difference between the Rocky Mountaineer and the VIA Rail train?
Both The Canadian and the Rocky Mountaineer's 'Journey through the Clouds' route take one night to travel from Vancouver to Jasper, but the Rocky Mountaineer doesn't travel during the night so the trip takes longer – instead guests stay the night in a hotel.
The Rocky Mountaineer leaves Vancouver at 7.30am and arrives into Kamloops around 6.30pm where you disembark for the night. Then the following morning the train leaves Kamloops at 7.30am and arrives into Jasper around 8pm. So although you don't get to sleep on board the Rocky Mountaineer, it does mean you get to see all the scenery in daylight.
The Rocky Mountaineer has two different classes – Silver Leaf and Gold Leaf – but both are pretty luxurious. Breakfast and lunch are served on board the train with snacks and drinks also included. There are guest hosts to tell you about the history and scenery along the way, a glass dome observation lounge and an outdoor viewing area.
There is a premium cost though, with the standard Vancouver to Jasper overnight package starting from $1830 CAD (£1043/US$1430) in Silver Leaf and $2500 CAD (£1428/US$1968) in Gold Leaf. The Rocky Mountaineer is most popular with international visitors whereas The Canadian has more of a mix of Canadian and overseas travellers.
What are the classes of travel on VIA Rail trains from Vancouver to Jasper?
There are three main classes of travel on board The Canadian. The most basic is economy where you just get a reclining seat to sleep in. There are toilets at the end of the carriages but no showers, and you can buy meals and drinks from the dining car.
A step up is Sleeper Plus class, which has meals included. This is the most popular and makes up the bulk of the train. There are three different sleeper options – cheapest are upper/ lower berths (aka sections). Pairs of seats face each other by day and turn into bunks at night.
The sections aren't closed off so people can walk past but there's a thick curtain which gives some privacy, and you pay less for the upper bunk because they don't have a window. There are toilets and showers at the end of the carriage, with towels, soap and shampoo provided, but no plug sockets so you need to go to the lounge to top up.
The other two options are more secure, lockable compartments. Cabins for one have an armchair with a toilet hidden under the leg rest and a washbasin. The bed folds down at night on top of the toilet though so you'll probably want to use the bathrooms at the end of the carriage. Or cabins for two have two armchairs which fold down at night so bunks can be set up, a sink and small en-suite toilet. Families can also book two connecting cabins.
Then the most luxurious option on board The Canadian is Prestige Class. These cabins have soundproofed bedrooms with a double bed, en-suite toilet and shower, flat-screen TV and mini-bar. Meals are included for Sleeper Plus and Prestige Class passengers, with a restaurant car and skyline dome car where there are talks and wine tastings.
Sleeper Plus passengers also get limited access to the Park car at the back of the train with views back along the tracks from the bullet lounge, dome seating area and bar – though in peak season it's available to Prestige Class passengers only from 6am to 4pm.
How much does it cost to travel from Vancouver to Jasper by train?
Prices vary slightly depending on the season – June to October is peak season so tickets are more expensive then. A basic economy seat on The Canadian from Vancouver to Jasper starts from $148 CAD (£84/US$116) – we paid $160 CAD (£91/US$126) per person in late August.
Then it's a big jump in price to Sleeper Plus class, where you get meals included. Cheapest are the sections, where an upper bunk starts from $498 CAD (£284/US$390) or a lower bunk from $585 CAD (£33/US$459). The cabins are more expensive, with a cabin for one starting at $799 CAD (£455/US$627) and a cabin for two people from $1598 CAD (£910/US$1254).
Then the luxurious Prestige Class cabins are well into Rocky Mountaineer price territory, with prices from $3776 CAD (£2150/US$2962) for two people. The cost clearly doesn't put people off though as the Prestige Class cabins book up way in advance, and I was only able to find availability for them on a handful of dates right up until next summer.
What are VIA Rail economy sleeper seats like?
With three of us travelling to the Canadian Rockies by rail in peak season, it was a choice between spending £1180 on the cheapest bed or roughing it on a seat for £285. As it was just one night we went for the budget option – I probably would've chosen differently if I was doing the whole five-day trip from Vancouver to Toronto though.
The economy carriages are at the front of the train, and have seats which recline to around 40 degrees, plenty of legroom and a footrest which folds out. Each seat has a fold-down table and power socket, and you don't get pillows or blankets provided but can buy them in the on-board shop. Most seats are in pairs with a few sets of four seats facing each other.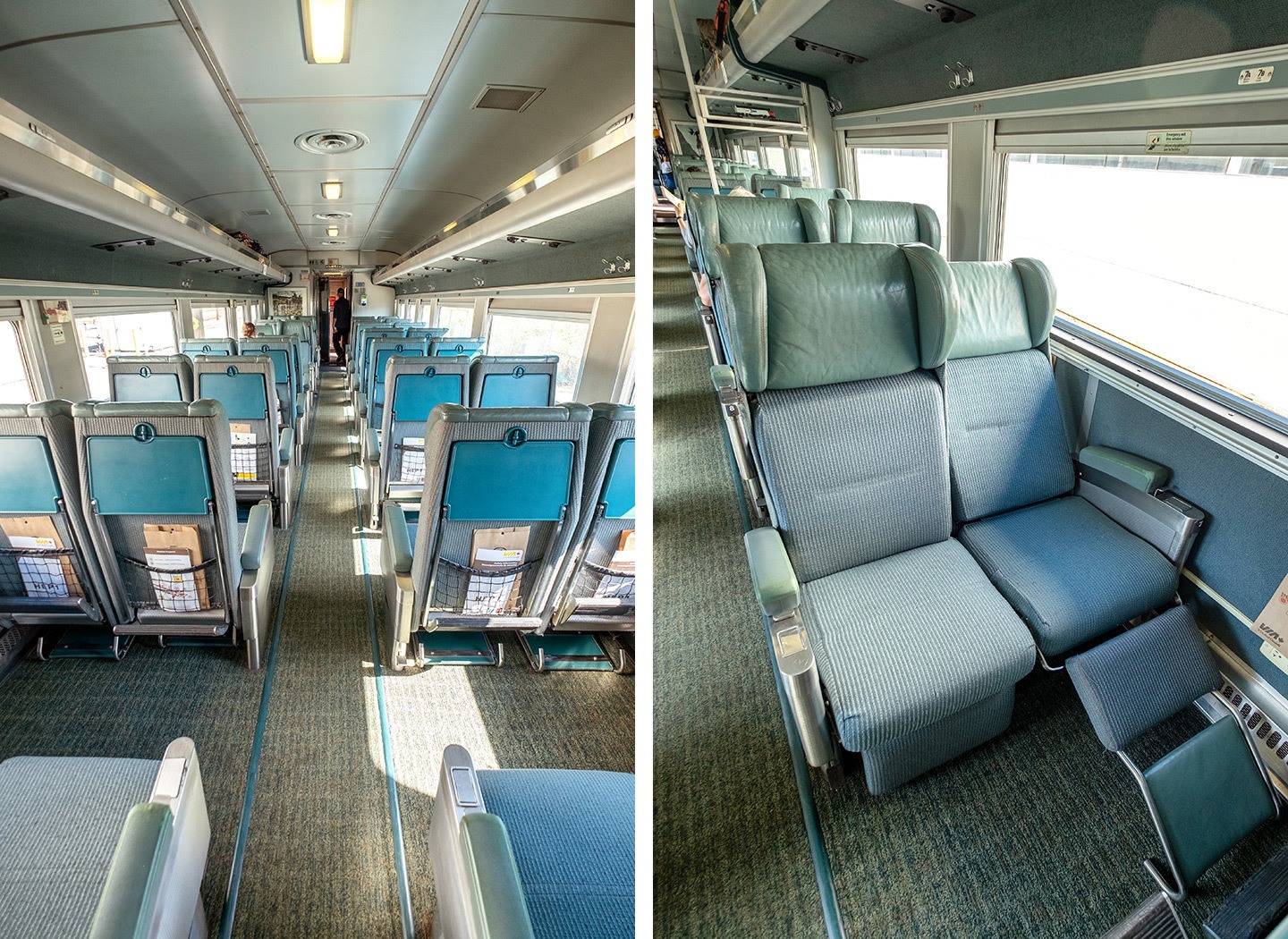 Groups of three or more were invited to board the train first and we were encouraged to sit in the four seats, and although they'd be good for families with kids, there's much more limited leg room for adults so we went for two pairs of seats instead.
The economy section has a dining car with tables at one end and a lounge the other and a skyline dome set up above the kitchen. So even the budget seats get an observation dome where you can soak up the views, and it wasn't too hard to get a seat up there.
But how easy was it to sleep on board the Canadian? Well the lights don't go off in the carriage totally so it's a good idea to pack a sleep mask and ear plugs to cut out the train noise, and seats are a bit solid so it was more a case of dozing than a full night's sleep.
What do you do with your luggage?
Economy passengers are allowed to take a carry on bag (max size 43cm x 15cm x 33cm) and either one large suitcase or two small ones on board with them, and there are luggage racks in the carriages. Sleeper Plus/Prestige passengers are more limited because of the size of the cabins, with one carry on bag per person and up to two small bags (max size 54.5cm x 39.5cm x 23cm) per cabin. Passengers can also check in up to two bags per person.
Our bags were taken off us at Vancouver's Pacific Central Station , tagged to Jasper and unloaded the other end. We kept our hand luggage with any valuables on us as well as basic toiletries (toothbrush, toothpaste, face wipes and deodorant), books, snacks and water.
There's no wifi on board but you do get mobile signal some of the way. And it's not easy to get changed in the economy bathrooms so we wore something comfy we could sleep in.
Can you get food on board VIA Rail trains?
For guests in Sleeper Plus and Prestige Class cabins, all your food is included on board. Breakfast is served on a first come, first served basis but you choose a time slot for dinner in advance when you check in (either early, normal or late). You often have to share a table so it's a good way to get to know your fellow passengers.
Meals are cooked in the on board kitchen with a soup or salad starter, choice of main course and dessert. Alcohol isn't included except in Prestige Class. Down in economy the food is a bit less gourmet, though there's a choice of snacks and meals you can buy. I'm gluten-free which cut my options down, but my salmon dish with rice and vegetables was pretty tasty.
You can also buy mini bottles of local red and white wine and beer from the dining car, though it's not like European trains where you can bring your own, and you're only supposed to drink them in the lounge car and not at your seat (though they let us off.)
What's the scenery like on the Canadian Rockies train?
I loaded up my Kindle with books and my laptop with films for the journey but ended up spending most of my time staring out of the window instead. Travelling from Vancouver to Jasper by train is a procession of stunning views, especially on the last morning in the Rockies, so it's worth waking up early to make the most of it.
Look out for the cascading Pyramid Falls, the Rockies' tallest peak Mount Robson, and the Yellowhead Pass, a Continental Divide where the rivers change direction. You might see some wildlife along the way too – I saw a family of deer alongside the tracks at sunrise. The best views are from the observation carriage as it's up a bit higher with a curved glass roof.
Though all that glass does mean a lot of reflections so taking photos is a bit of a challenge. There are tons of trees too, so if you're serious about your photos it's probably best to travel in winter when there are less leaves – with the bonus of it being cheaper too.
Pin it
* This site contains affiliate links, where I get a small commission from purchases at no extra cost to you.