How to spend a weekend in Toronto, Ontario: Discover the best things to see, do, eat and drink in Toronto in a two-day itinerary featuring city views, museums, sports, world food and an island escape.
* This site contains affiliate links, where I get a small commission from purchases at no extra cost to you.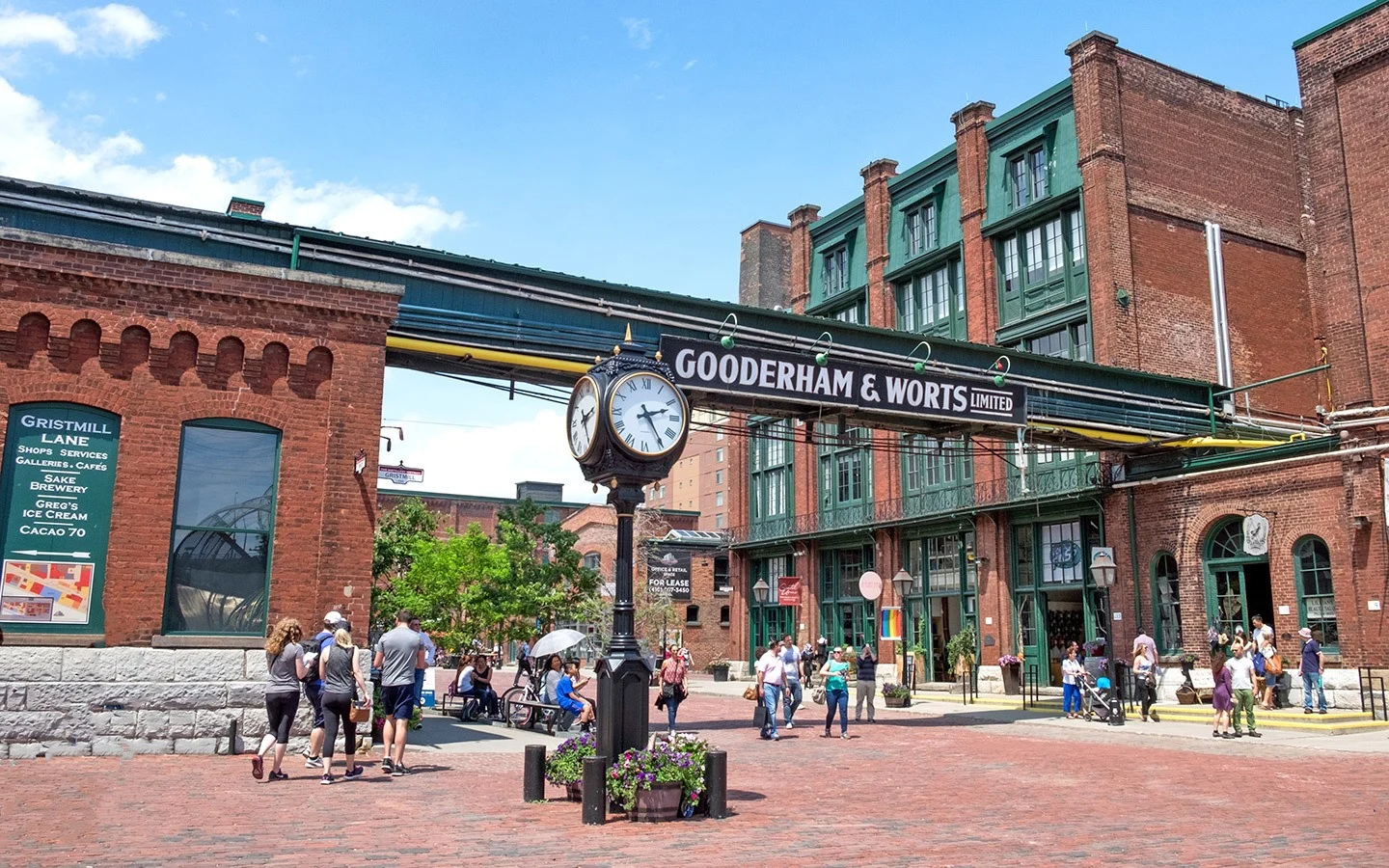 Modern and multicultural, Toronto is eastern Canada's powerhouse city. It's a huge, sprawling place, made up of smaller, individual neighbourhoods which you could easily spend weeks exploring. But a weekend in Toronto is just enough for a taste of the city.
So here's my two-day Toronto itinerary to help you plan the perfect trip. It's a weekend packed with different experiences – you'll get a view from up high, feast on food from around the world, experience Canada's sport obsession and even fit in an island escape.
How to spend a weekend in Toronto
Friday evening
Once you've checked in to your hotel, start your weekend in Toronto in the Distillery District in the east of the city. This pedestrianised area is made up of beautiful restored Victorian, red-brick buildings. It gets the name from its days as the base of Gooderham & Worts whisky distillery, which was the world's largest distillery in the 1860s.
Today the the Distillery District is a dining, drinking and shopping hub, with mainly independent businesses spread across 40 different buildings and 10 streets. And in a nod to its heritage there are still local brewers and distillers making beer, whisky, vodka and gin. Take a stroll around its brick-paved streets and see what catches your eye.
Some of our favourite spots for dinner or drinks are El Catrin Destileria for Mexican dishes and a huge collection of tequila and mezcal, Cluny Brasserie for French bistro food and a European feel, and Mill Street Brewery for microbrewery beers and pub food.
Saturday morning
The following morning, start the day with a trip to the Royal Ontario Museum.* Canada's largest museum was originally five separate museums so it covers a real mix of subjects, featuring everything from world cultures to art, archaeology to natural history.
The building entrance is an eye-catching modern design, created by architect Daniel Libeskind and inspired by the minerals in the museum's collections. Inside there are over 13 million artworks, artifacts and specimens spread across 40 galleries, so you're never going to see it all, so choose a few sections which interest you the most.
My picks are the dinosaurs, bat cave and First Nations totem poles. But some of the museum's other highlights include its Asian art and ceramics, Egyptian mummies, meteorites and fossils. There's also an interactive learning centre for kids.
Next head towards the waterfront for lunch at St Lawrence Market. This Toronto icon has been running since 1803 and was named the 'best food market in the world' by National Geographic magazine. It's made up of three buildings, which were used as a post office and city hall before returning to their original use as a food market.
The North Market houses the Saturday Farmers' Market, where locals come to stock up on fresh produce from around Southern Ontario. There are fruit, vegetables, meat, fish, dairy and bread available, some from producers who've been selling here for generations.
And the South Market has over 120 food stalls which sell everything from French macarons and Portuguese grilled chicken to sushi and Montreal-style bagels. Make sure you go hungry – the smells are guaranteed to get your mouth watering. The South Market also has the Market Gallery and Museum on the second floor with local history exhibits.
One of the classic market dishes is a peameal bacon sandwich. Unsmoked bacon is cured and rolled in cornmeal to keep it moist, then served in a bun with honey mustard sauce. Or there's crispy battered Boston Blue fish and chips from Buster's Sea Cove.
Saturday afternoon
Toronto loves its sports, and ice hockey is almost a religion in Canada. You can join the worshippers at the Hockey Hall of Fame – a museum dedicated to the sport in a former Bank of Montreal building a few minutes' walk from St Lawrence Market.
It has the world's largest collection of hockey memorabilia on display. Fans can check out their favourite players' kits and see the Stanley Cup. And hockey novices (like me) can find out more about how it's become so huge in Canada. You can also test your own hockey skills with interactive games and visit a recreation of an NHL dressing room.
Then head across the city to Kensington Market. This National Historic Site is less a traditional market and more a cool, colourful, multicultural neighbourhood which is well worth a wander around. There are vintage shops, record stores and boutiques to browse. Or you can go street art spotting and check out the street performers.
There's a good selection of places to eat and drink too, with a mix of cultures and cuisines. Stalls and eateries sell diverse dishes including Tijuana-style tacos, German doner kebabs and Japanese crêpes. Some of the most famous spots are Rasta Pasta with its Jamaican-Italian fusion pasta dishes and Wanda's Pie in the Sky for home-baked fruit pies.
Then finish off the night with drinks at a rooftop bar – the Drake, 1 Hotel Toronto and Broadview hotels all have cocktail spots with knockout city panoramas.
Sunday morning
The CN Tower dominates the Toronto skyline. It was the world's tallest tower for over 30 years, and although it's been overtaken since, you can see right across the city from the top – and as far as the US on a clear day. The main observation deck is at 346 metres high, and there's a glass-floored section just below and the Sky Pod up at 447 metres.
If just checking out the view sounds too tame, there's also the Edge Walk. This knee-trembling, hands-free walk takes you around the top of the tower on a five-foot-wide ledge.
It will set you back C$199 though – so if either the price or the heights are too scary you can watch people in action from the viewing platform instead. The Tower gets really busy, so get there soon after it opens at 9am to avoid the worst of the queues.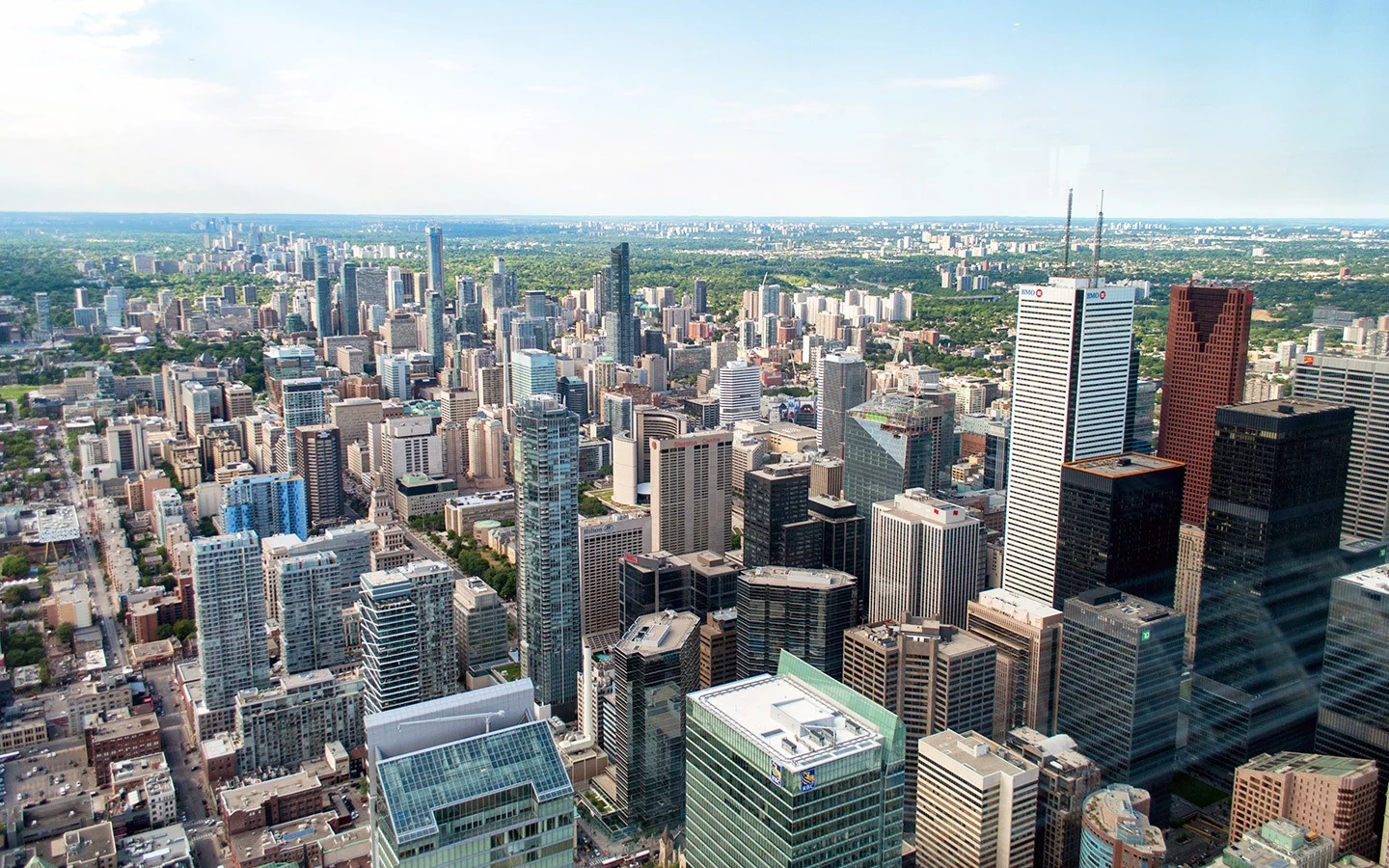 Next door to the CN Tower is the Rogers Centre – home of the famous Toronto Blue Jays baseball team. If you can pick up tickets for a game during your trip it's a fantastic taste of Canadian culture. Otherwise you can get a peek behind-the-scenes with a stadium tour, which generally run from October to May (check their website for latest dates).
Next walk down to Toronto's waterfront. This area along the banks of Lake Ontario used to be an industrial harbour, but was transformed into a waterfront park in the 1970s. Now it has a mix of event spaces, apartments and even a few city beaches.
Check out what's on at the Harbourfront Centre – you'll often find free music events. Then call in to Amsterdam Brewhouse for lunch. This brew pub serves burgers, pizzas and salads in a prime lakeside location with plenty of outdoor space for sunny days.
Sunday afternoon
After lunch, escape the city on a boat trip to the Toronto Islands. This group of 15 islands is only 100 metres offshore at its closest point, but makes for a relaxed waterside escape from the city. They're a mix of nature reserves, beaches, boat clubs and residential islands which together make up the largest car-free urban community in North America.
If you're pushed for time you can take a one-hour sightseeing cruise* through the waterways. Or if you've got longer you can catch the ferry and stop off on one of the islands.
Either way make sure to look back as you sail out into Lake Ontario for that perfect Toronto skyline view. The islands are a great place to hire a bike or canoe. Or you can visit the amusement park on Centre Island and relax on the beach with an ice cream.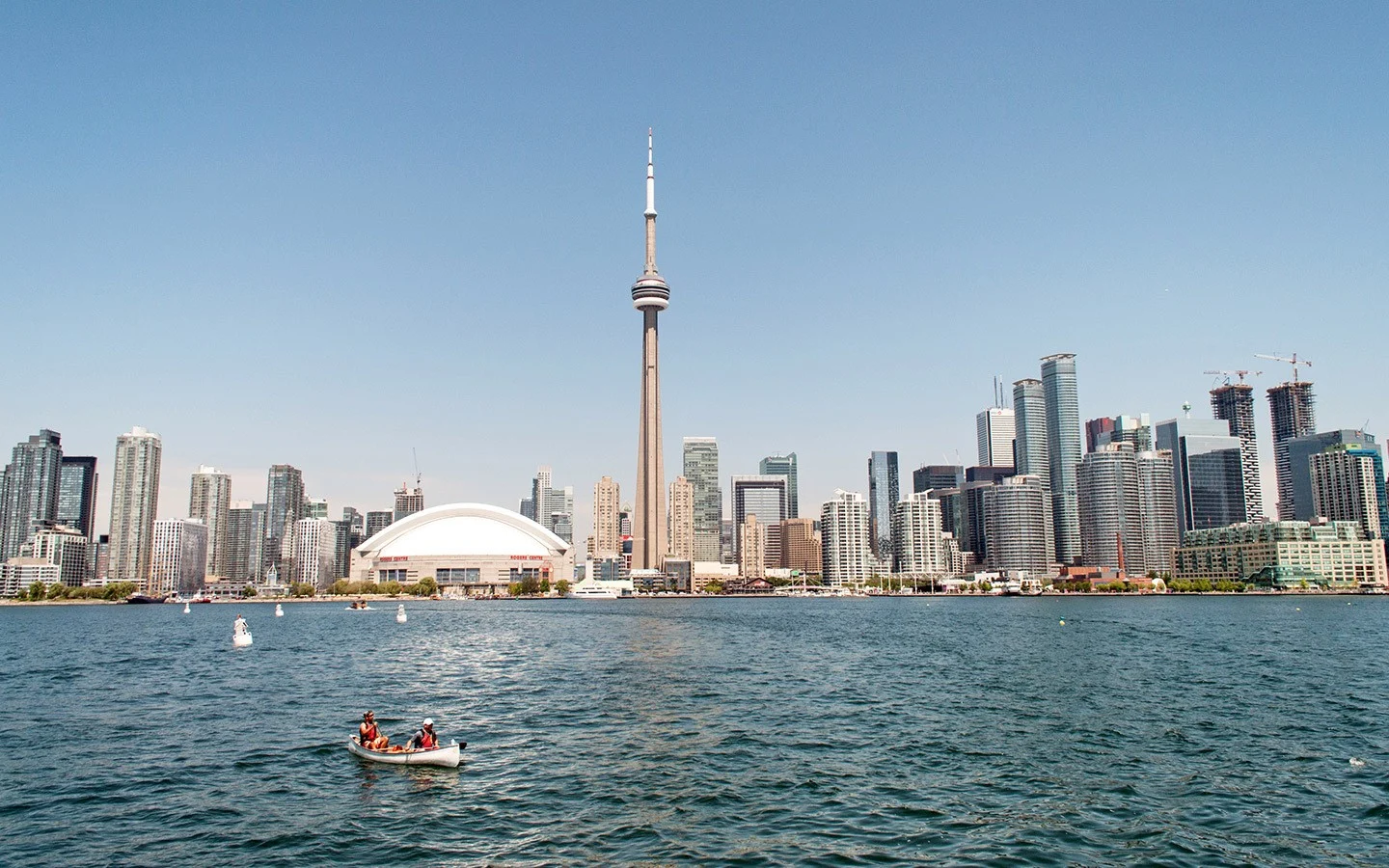 Back on the mainland, finish off your weekend in Toronto at Steam Whistle Brewing. This microbrewery in a historic brick roundhouse is part of the Roundhouse Park, surrounded by the Toronto Railway Museum's collection of vintage trains. There's an original 120-foot-long locomotive turntable as well as a miniature train you can ride on.
Steam Whistle's award-winning pilsner is made from four simple ingredients – hops, malted barley, yeast and spring water. You can learn about their history and how it's made with a half-hour brewery tour (book in advance though as they're popular).
Map of things to do in Toronto, Ontario
The details
When to visit Toronto
Toronto has a continental climate, with hot summers and cold, snowy winters. Lake Ontario helps moderate any extreme temperatures, but it does also make it humid in summer. July and August are peak season in Toronto, with highest prices and average high temperatures around 25ºC (77ºF), with occasional days over 30ºC (86ºF).
September and October are also a popular time to visit Toronto, with crowds coming to Ontario to see the fall foliage and average highs temperatures of 12–19°C (54–66ºF). Spring is a bit cooler and quieter. Rainfall is fairly evenly distributed through the year, with 10–15 days of rain (or snow between November and April) each month.
If you don't mind the cold, winter is the cheapest time to visit Toronto, with festive events and ice skating. Toronto's winters are cold, with daytime high temperatures of 0ºC (45ºF) and nighttime lows of -7ºC (19ºF) plus windchill in January, so wrap up warm.
How to get to Toronto
Toronto Pearson international airport is 27km northwest of the city centre. Union Pearson Express trains run between the airport and Union Station in downtown Toronto every 15 minutes, and the journey takes 25 minutes. Or a taxi costs around C$60.
You can also get to Toronto by train. Services run between Toronto's Union Station and Montréal (5 hours), where you can change for Québec. There's also the VIA Rail Canadian, an epic four-night journey all the way across the country from Toronto to Vancouver. And the Amtrak Maple Leaf between New York and Toronto via Niagara (12.5 hours).
How to get around Toronto
Although central Toronto is easy to get around on foot, it's a big city so you may need to use public transport to maximise your time if you only have a weekend in Toronto. The Toronto Transit Commission (TTC) runs a network of subways, buses and streetcars.
Buses and streetcars (which are powered by overhead electric cables) cover more routes, but traffic means they can be very slow at peak times. The subway system is a more limited, with only four lines, but is quicker. You can pay in cash on buses/streetcars, or use a Presto card on any TTC transport, which you load with money or a travel pass.
Where to stay in Toronto
The Fairmont Royal York* is an old-school luxury Art Deco hotel built in 1929, with past guests including the British Royal Family. It has a huge 1329 rooms and suites, and tons of facilities – ballrooms, lounges, gym and swimming pool, a shopping mall and several bars and restaurants. And it's linked to Union Station so it's easy to get around.
The 1 Hotel Toronto* is a sustainable boutique hotel in King West Village – Toronto's version of New York's Soho. It's decorated with plants and reclaimed wood, with light, bright rooms with floor-to-ceiling windows. There's a gym with free guest workouts, three restaurants and a wow-factor rooftop pool terrace and bar with panoramic views.
Or the Courtyard by Marriott Toronto Downtown* is a good-value, centrally located option, close to Yonge Street subway. Rooms are modern and minimalist, decorated in greys and blues, and there's a bistro, bar, fitness centre, small indoor pool and guest laundry.
Save for later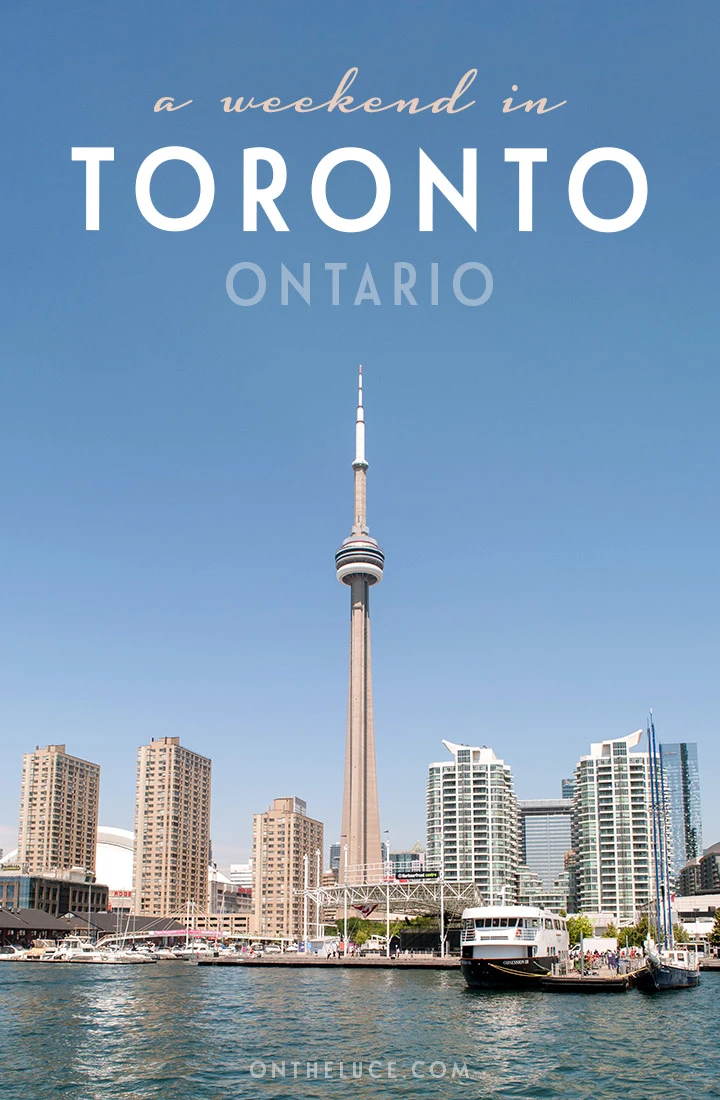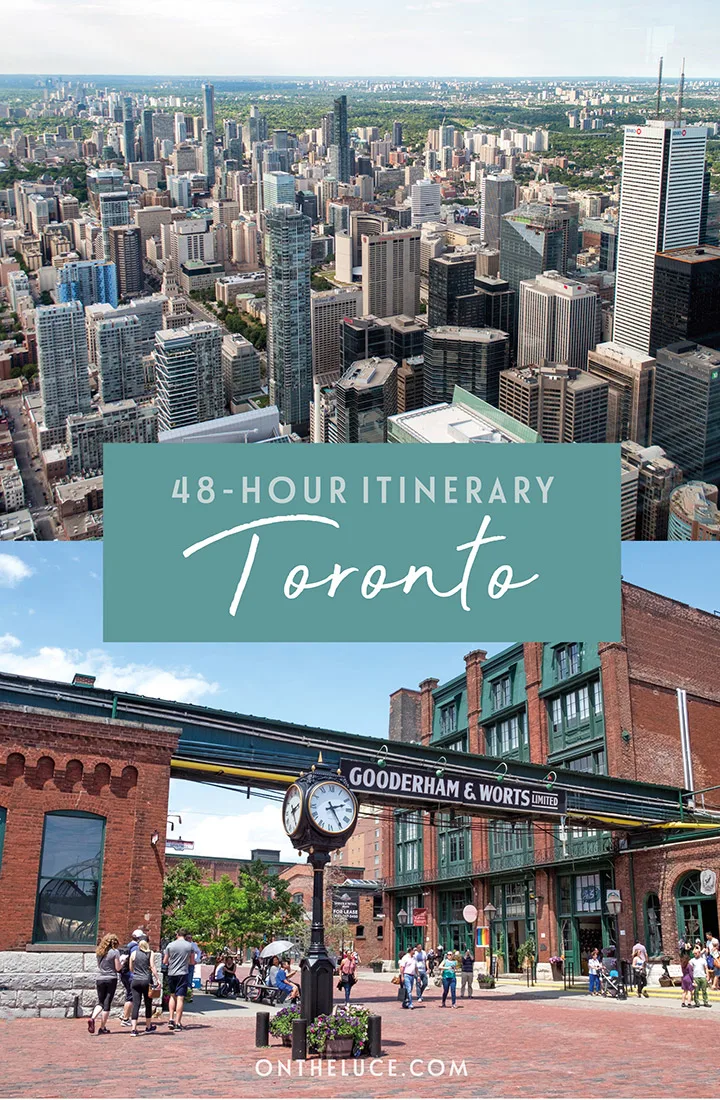 You might also like