Discover the perfect 14-day/two-week Calgary to Toronto road trip itinerary across the heart of Canada – featuring Provincial Parks, scenic drives, stunning views, great hiking and canoeing.
* This site contains affiliate links, where I get a small commission from purchases at no extra cost to you.
AD: This post is brought to you in association with Explore Canada
Of all the countries I've visited, the one that really captured my heart is Canada. I've been lucky enough to explore the country from Vancouver Island in the west to Prince Edward Island in the east. But with the east and west coasts tending to get most of the attention, I was keen to see what central Canada – the heart of the country – had to offer.
So my sister and I took on an epic Canadian adventure, travelling on a Calgary to Toronto road trip by RV. Along the way we found everything we expected from Canada – spectacular landscapes, wildlife, great hiking and kayaking routes, First Nations history and delicious food and drink – but there were a few unexpected twists in there too.
We discovered Prohibition-era secret underground tunnels, learnt about local heroes, swam in clear turquoise waters and fell in love with life on the road. Travelling from the prairies to the lakes with their contrasting landscapes it felt like two different trips in one, and gave us just a taste of the diversity that this beautiful country has to offer.
So if you want to hit the road across the heart of Canada, here's my itinerary for a two-week Calgary to Toronto road trip, taking in four provinces, three time zones, five Ontario Provincial Parks and 2800 miles – with what to see and where to stay along the way.
Calgary to Toronto road trip map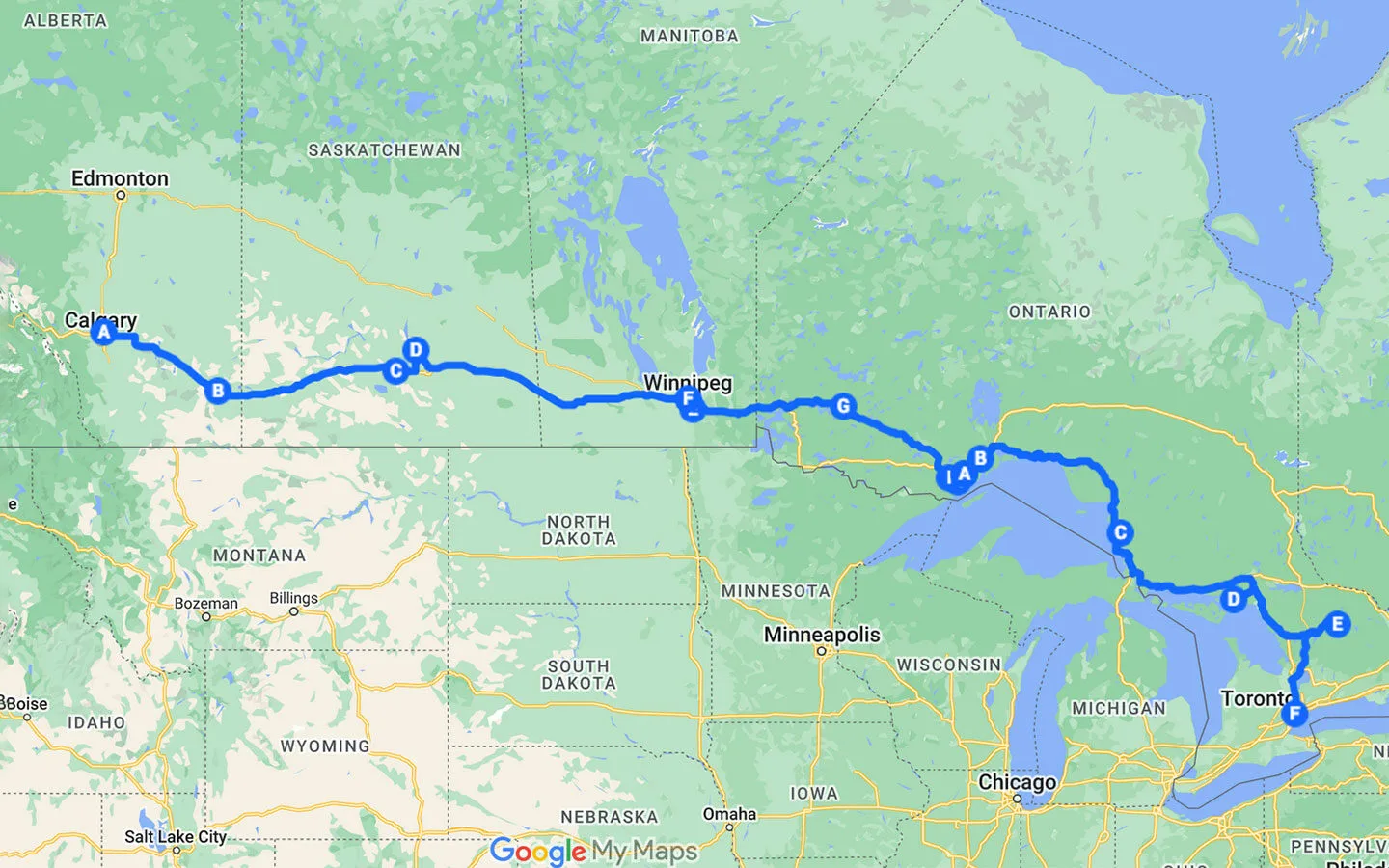 Tips for planning your Canadian road trip
Driving times and distances
The driving times listed are based on Google Maps estimates and don't include stops along the way. Road conditions can vary, so the same mileage can take different amounts of time in different areas. Daily driving distance/time figures cover getting from place to place and don't include any extra driving within towns or Provincial Parks.
You also need to factor in time zone changes along the route of this Calgary to Toronto road trip. Alberta uses Mountain Time (GMT -7 hours), Saskatchewan and Manitoba use Central Time (GMT -6 hours), and Ontario uses Eastern Time (GMT -5 hours).
And to make it more complicated, between March and November you need to add an hour on for Daylight Savings – except in Saskatchewan which stays the same.
Accommodation
We did our Calgary to Toronto road trip in an RV, so have listed the campsites where we stayed on the route. Many campsites are only open from May until October, so double check if you're travelling out of season. And it can get very busy during the peak July/August summer period, so it's a good idea to book pitches in advance.
You could also do this road trip route by car and stay in hotels, motels and apartments along the way. But in some areas – such as inside the Ontario Provincial Parks – you may need to travel to the nearest town to find accommodation for the night.
eTA requirements
Visitors to Canada need to purchase an Electronic Travel Authorization (eTA) before buying their tickets to Canada. An eTA costs $7 via the official Canadian government site.
Day 1: Arrive into Calgary
Arrive into Calgary Airport and check into your hotel before heading into the city for the evening – the Route 300 Airport-City Centre bus takes around 30 minutes.
Climb to the top of the Calgary Tower to watch sunset across the city, with views out as far as the Rocky Mountains on a clear day. Then head to Kensington Village for dinner, a historic village-style neighbourhood with lots of bars and restaurants to choose from.
Where to stay in Calgary: As we only had one night in Calgary we stayed out close to the airport to make things as easy as possible (especially with the jetlag). There are a good selection of airport hotels to choose from – we chose the Marriott In-Terminal Hotel* right on the airport's doorstep, which has a pool, gym café-bar and restaurant on site.
Day 2: Calgary to Medicine Hat
Spend the next morning seeing more of Calgary. You can take a walk along the Bow River, visit Fort Calgary to find out about the city's history, or the National Music Centre for an insight into Canadian music., or take a trip to Calgary's famous zoo.
Then after lunch, pick up your RV or hire car. Most of the hire offices are close to the airport, and there are Real Canadian Superstore and Safeway supermarkets nearby where you can stock up on essentials before hitting the road. Then start your Calgary to Toronto road trip by heading south-east on Highway 1 towards Medicine Hat.
Total driving: 185 miles/297 kilometres – approx 3 hours
Where to stay near Medicine Hat: The Cottonwood Coulee Golf Course and Campground is a couple of miles south of central Medicine Hat. Their RV site lies on the edge of the golf course on a grassy lawn which is surrounded by trees. There are 30-amp power and water hookups, as well as bathrooms with free showers.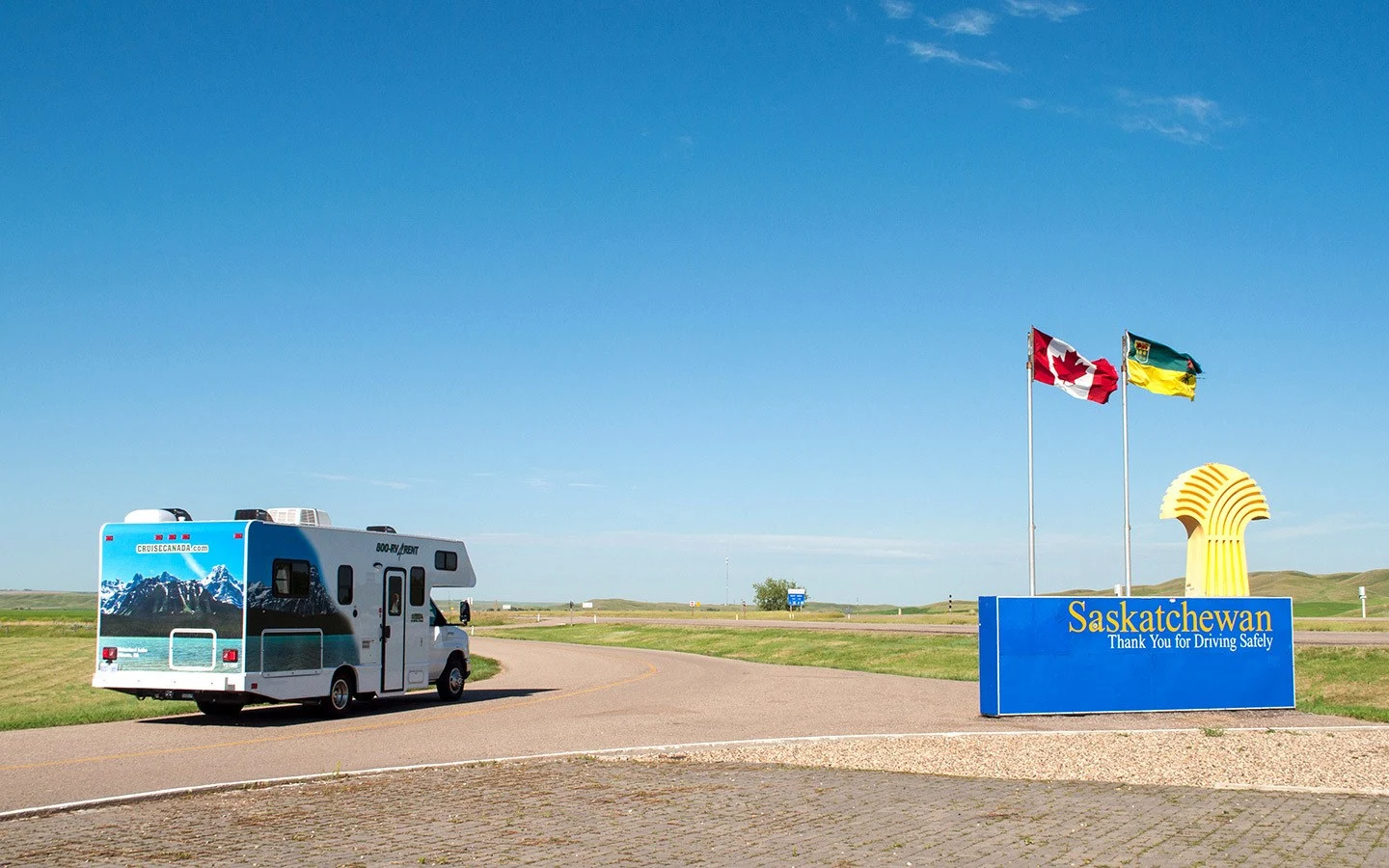 Day 3: Medicine Hat to Regina Beach
Leave Alberta behind and cross into Saskatchewan (don't forget to put your clocks forward after passing the town of Walsh). This stretch of road features the classic prairie landscapes – long straight roads disappearing into the horizon, vast fields of yellow canola flowers, wide open skies. It's something uniquely Canadian with its own special beauty.
Make a stop off in the town of Moose Jaw (245 miles). This was definitely not what I expected from a prairie town – it was nicknamed 'Little Chicago' during Prohibition and was a favourite haunt of gamblers, bootleggers and gangsters like Al Capone in the 1920s.
Today it's still got lots of historic charm, and was one of my favourite stops along the route. Call in to the Deja Vu Café for chicken wings and one of their creamy milkshakes.
Then go back to the 1920s at the Tunnels of Moose Jaw. The tunnels were used during Prohibition to produce and supply alcohol across the border, but are now an interactive museum. Gangster's moll Miss Fanny guided us through the 'Chicago Connection' tour, where we posed as bootleggers, climbed through a fireplace and were chased by police.
Moose Jaw also has its own geothermal pools enriched with minerals at the Temple Gardens Hotel and Spa. So allow time for a relaxing soak and steam before driving another hour onwards to Regina Beach, turning off Highway 1 onto the 641.
Total driving: 300 miles/480 kilometres – approx 4 hours 40 mins
Where to stay in Regina Beach: The Happy Camper campground is 25 minutes from Regina and five minutes from Regina Beach, which is one of the area's most popular beaches during the summer with its sandy beach and clear waters for swimming. The site has 30-amp power hookups, washrooms and coin-operated showers.
Don't miss nearby Sweet Pea's Homemade Pies and Jams – their tasty Saskatoon berry jam was one of my top souvenirs of the trip and they also sell pies, fruit and vegetables.
Day 4: Regina Beach to Winnipeg
Make an early start so you've got time to stop in Regina. Our trip coincided with Canada Day so we joined in the city's celebrations, watching First Nations dancers and homemade plywood boats race across Wascanal Lake, and stuffing ourselves with poutine.
Regina is Saskatchewan's capital, and popular things to do in Regina include a tour of the Provincial Legislative Building, the the Royal Saskatchewan natural history museum and the RCMP Heritage Centre – home to Canada's famous Mounties.
Carry on east and around halfway you cross into Manitoba (the province welcome signs are a good time to stop and stretch your legs), where you may need to put your clocks forward for Daylight Savings from the second Sunday in March to first Sunday in November.
This stretch of road follows the Canadian Pacific train tracks, and I lost count of the number of carriages on the trains running alongside us. Then turn off onto Highway 100 just before you reach Winnipeg and take the 59 to Ile-des-Chênes.
Total driving: 408 miles/657 kilometres – approx 6.5 hours
Where to stay near Winnipeg: Arrowhead RV Park is 10 minutes south-east of Winnipeg. It's a popular spot, especially at weekends, so do book in advance. There are 30- and 50-amp powered sites, which are mostly pull-through, with full hookup for water, drainage and power. There's also wireless internet, a laundry, bathrooms and showers.
Day 5: Winnipeg to Aaron Provincial Park
Head into Winnipeg (16 miles) to get a brief taste of the Manitoban capital. You can visit the impressive Canadian Museum for Human Rights to find out more about human rights in Canada and around the world, explore the area's past at Forks National Historic Site, or see the polar bears in the Journey to Churchill exhibit at Assiniboine Park Zoo.
Then it's time to get back on the road, following Highway 1 across into Ontario, where clocks go forward another hour. The landscape changed at this point, swapping the wide, flat open spaces and long straight roads of the prairies for twists and turns, ups and downs as we navigated our way past lakes and forests to Aaron Provincial Park.
Just before reaching the park you pass through Dryden where you can stock up on food and fuel. The park is a spot on the banks of Thunder Lake, which was formed by ancient glaciers which once covered Ontario, with two sandy beaches where you can take a dip.
Total driving: 218 miles/350 kilometres – approx 3 hours 45 mins

Where to stay in Aaron Provincial Park: Aaron has just one campsite, located alongside Thunder Lake. Around a third of its 100 pitches have electrical hookups and there are bathrooms, showers, a laundry and a small park shop on site, where we stocked up on firewood for our nightly campfire and marshmallow toasting sessions.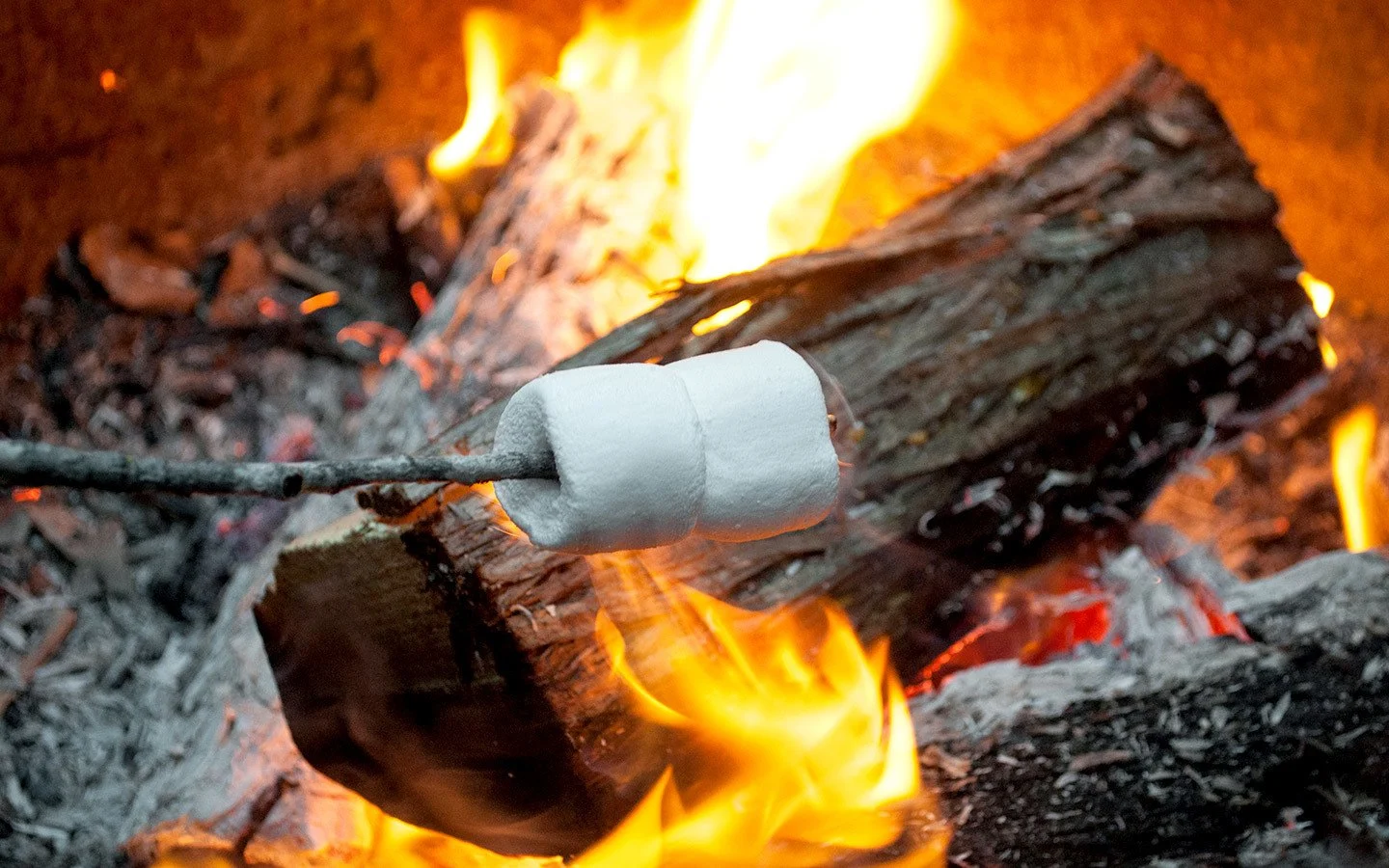 Day 6: Aaron to Kakabeka Falls Provincial Park
Continue south-east on the Trans-Canada Highway, driving 16 miles past your final destination at Kakabeka Falls first off to take a journey into the past at Fort William Historical Park – a living history recreation of an 1815 fur trading post.
It's a fun, interactive way to learn about the area's history, with recreated historic buildings and actors playing a diverse cast of local characters, from trappers to native Cree elders.
Then head back to Kakabeka Falls for the night (15 miles). At 40 metres high they're Ontario's second largest falls. And although they might not have quite the height of Niagara, they've got a much more peaceful, laid-back feel without the high rises.
The Kaministiquia River thunders over the edge of the falls, and has uncovered some of the world's oldest fossils in the rocks below. Boardwalk pathways lead us around the edge of the falls, with clouds of spray creating rainbows everywhere we looked.
Total driving: 192 miles/308 kilometres – approx 3 hours 15 mins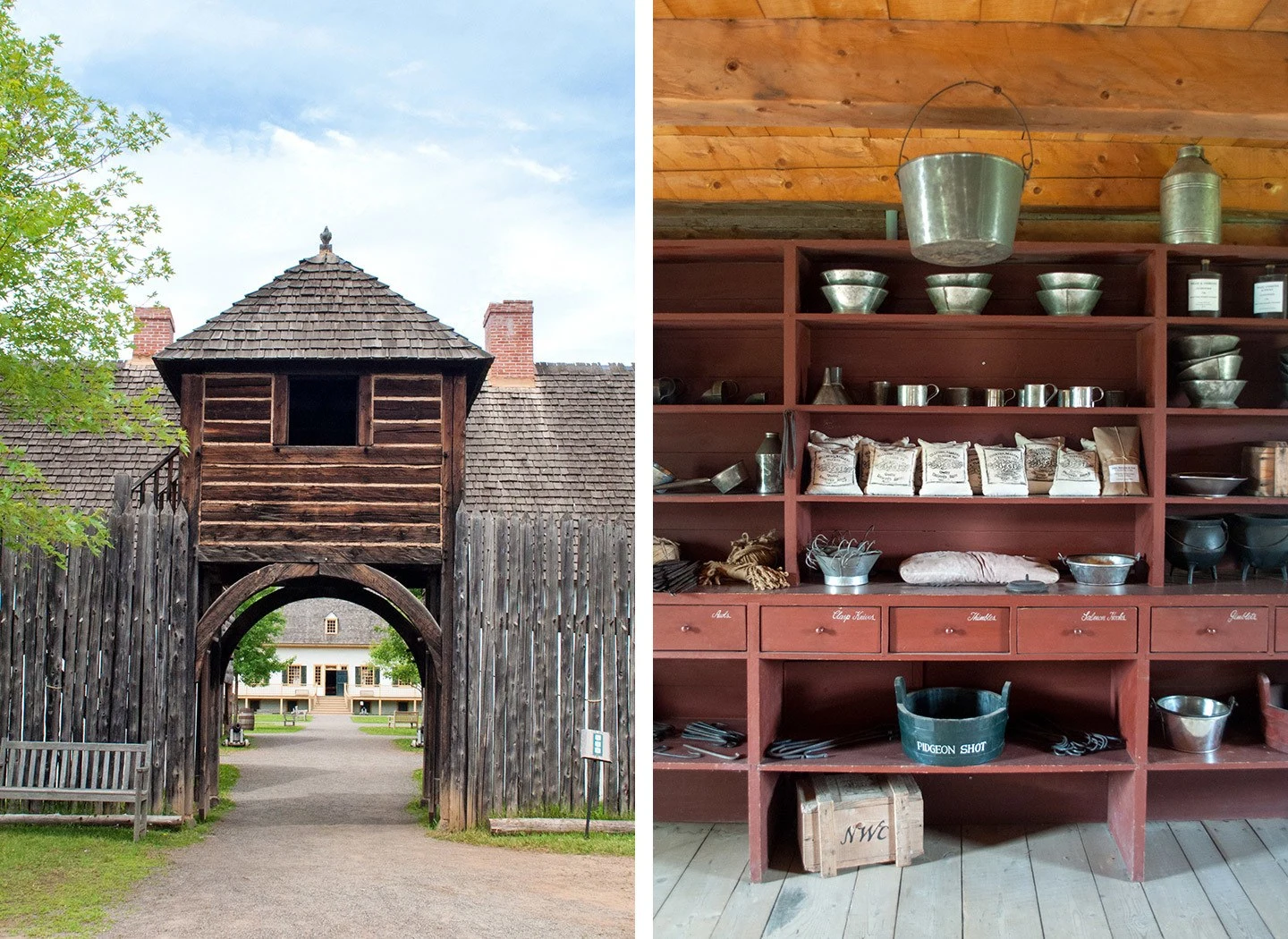 Where to stay in Kakabeka Falls Provincial Park: Kakabeka Falls has three campgrounds, all a short walk from the falls. Riverside and Fern's Edge are both non-electrical but Whispering Hills has electrical hookups for almost all pitches, with some pull-through sites. There's a park store, bathrooms, showers and laundry facilities.
Day 7: Kakabeka Falls to Lake Superior
Drive on through Thunder Bay – where there are a few supermarkets if you need to stock up on supplies – making a brief stop at the Terry Fox Memorial (26 miles).
With a panoramic view of Lake Superior, the statue commemorates Terry Fox, who lost his leg to cancer and planned to run across Canada on a 'Marathon of Hope' in the 1980s to raise money for cancer research. After 143 days he had to stop in Thunder Bay when his cancer reached his lungs, but annual runs in his memory have raised millions of dollars.
Carry on to Ouimet Canyon (44 miles), which is a good stop for lunch. The canyon cuts a dramatic slice through the landscape, 150 metres wide and 100 metres deep.
A kilometre-long boardwalk path leads right onto the canyon edge where you can peer down into the depths. It's so deep it has a separate microclimate, with alpine flowers growing at the bottom which are usually found 600 miles to the north.
Then follow the Trans-Canada Highway as it hugs the shoreline of Lake Superior. Ontario has around 250,000 lakes, but this is a lake on a serious scale – it straddles the US/Canadian border and covers around the same area as Austria.
It's the world's largest freshwater lake and even has its own tidal system. On a sunny day it's like being by the ocean, with sandy beaches and blue waters stretching into the distance – a peaceful spot to spend a couple of nights on a Calgary to Toronto road trip.
Total driving: 365 miles/588 kilometres – approx 6.5 hours
Where to stay in Lake Superior Provincial Park: Lake Superior has two campgrounds – Rabbit Blanket Lake and Agawa Bay. We stayed at Agawa Bay, adjacent to Highway 17, which has pitches are set among towering pine trees, stretching out along two miles of lake shorefront. It's only a few minutes from the beach so is perfect for a sunset G&T. There are electrical hookups, bathrooms, a laundry and visitors' centre.
Day 8: Lake Superior Provincial Park
Start the morning with a dip in the lake if you're feeling brave – with temperatures averaging 17°C (63°F) even in summer it'll definitely wake you up. Then spend the day exploring the park. There's a mix of things to do at Lake Superior Provincial Park, with a hikes at different levels of difficulty, canoeing, fishing and boat trips.
There are 11 different marked walking routes. We decided on the peaceful, easy 2-mile Crescent Lake hiking route, which runs through a Yellow Birch forest over 80 years old. But the park isn't just known for its natural beauty, it's also a site of cultural importance.
The Agawa Rock Pictographs are Canada's best-preserved rock paintings, painted by the Ojibwe people to record their dreams and stories. You'll see snakes, people and mythological creatures like the spiny-horned Misshepezhieu painted on the rockface.
Though the pictographs are right on the water's edge, so getting there's an adventure involving clambering along rock ledges holding onto a chain.
Day 9: Lake Superior to Killarney
Follow the road south towards Sault Ste. Marie on the border with the US – said to the most scenic stretch of the whole Trans-Canada Highway (I'll have to take their word for it as it was blanketed in thick fog) so factor in extra time for photo stops if the weather's good.
Then the route heads inland, passing Espanola and Sudbury, where you can refuel, before looping around back towards the coast. Unlike the other Provincial Parks on the route, Killarney has a town nearby (7 miles), which started as a 1820s trading post.
There is now has a LCBO (off licence), general store and a couple of places to eat – Killarney Mountain Lodge Resort and Herbert's Fisheries. So if you don't fancy cooking you can head out for dinner. We had fantastic fish and chips at Herbert's Fisheries, freshly cooked and eaten on the dockside so you can sit and watch the boats come in.
Total driving: 330 miles/530 kilometres – approx 6 hours
Where to stay in Killarney Provincial Park: Killarney's campground is close to Lake George, and was the only site we visited without electrical hookups, so make sure your RV power is charged up. The site has bathrooms, showers and a laundry. The campground does have bears, so be aware if you're hiking, and don't leave any food out or drop litter.
Day 10: Killarney Provincial Park
Killarney's beautiful landscapes were made famous by the Group of Seven artists, a group of 1920s Canadian landscape painters inspired by the pink and white colours of Georgian Bay and the La Cloche Mountains. When one of the artists, AY Jackson, heard the area was going to be logged, he petitioned the Ontario government to make it into a park.
The park's really popular with canoeists, with a network of 50 lakes. We headed out for a morning paddle on George Lake, exploring the shoreline and learning about the park with our guide from Killarney Outfitters. The water's an amazing clear green (and another good spot for a dip), contrasting with the pink granite rocks and white mountains.
There are also five marked hiking routes in the park, including the Granite Ridge Trail (1.5 miles) for views out over the La Cloche Mountains, and the Chikanishing Trail (2 miles) which leads down to Georgian Bay on the shore of Lake Huron.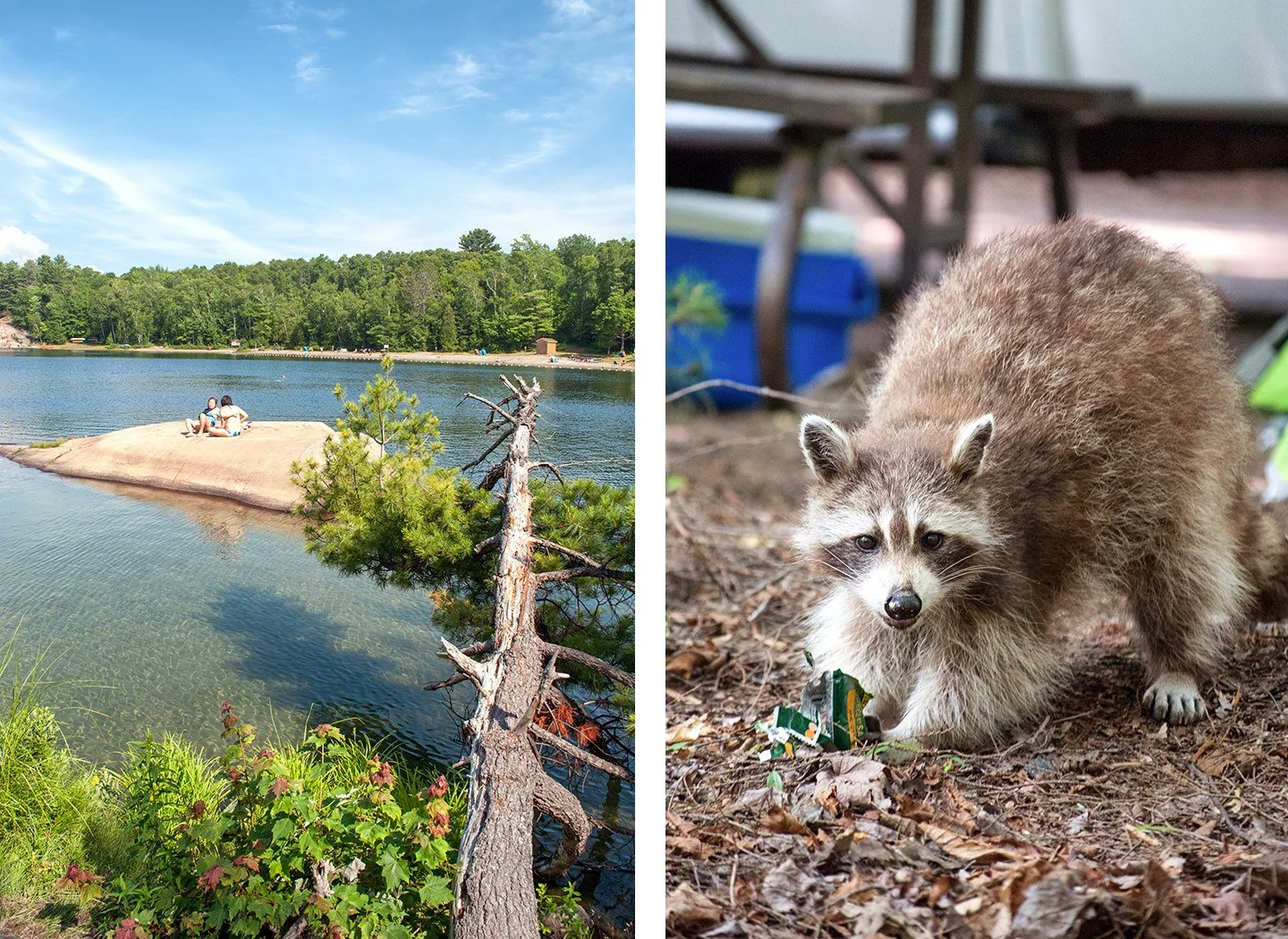 Day 11: Killarney to Algonquin
The last big journey of our Calgary to Toronto road trip leaves the Great Lakes behind and heads inland. Stop off along the way at the French River Trading Post's Hungry Bear restaurant (53 miles) to try one of their famous butter tarts – a Canadian speciality with a gooey filling made of butter, sugar, syrup and eggs in a crispy pastry case.
Then turn off the Trans-Canada onto Highway 141 just after Parry Sound, passing Huntsville where you can stock up on fuel or supplies if you need them.
Algonquin is Ontario's oldest and largest Provincial Park, with maple-covered hills, rocky ridges and 1500 lakes to explore. Highway 60 runs through the park so it's easy to get in and around, and there's a visitor's centre, restaurant, logging museum and art centre.
Algonquin's proximity to Toronto made it the busiest park on our route, especially at weekends, but as it covers a huge 2950 square miles it's not to hard to find your own space.
Total driving: 215 miles/346 kilometres – approx 4 hours
Where to stay in Algonquin Provincial Park: Algonquin has 12 campsites, mostly set along Highway 60, eight of which are suitable for RVs. We stayed at Rock Lake, which is 5 miles south of the highway via a bone-shakingly bumpy unsealed road (make sure your RV is well-packed as half our food bounced out of our cupboards as we drove).
Rock Lake has electrical hook ups for over half its 100 pitches as well as bathrooms, showers, laundry, a visitors' centre and two lakefront beaches.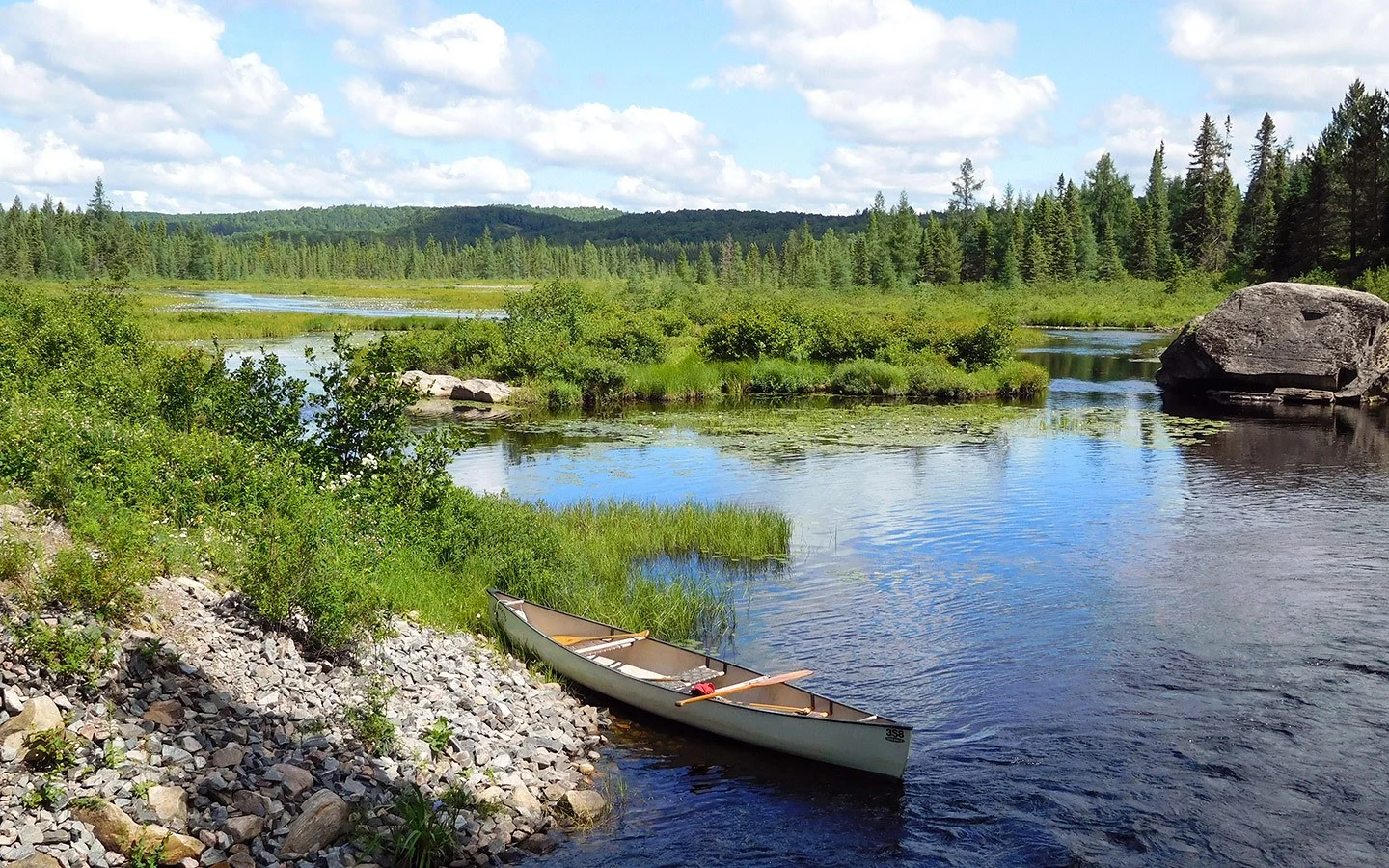 Day 12: Algonquin Provincial Park
Algonquin is another popular spot for canoeists, with 1200 miles of canoe routes. We took a peaceful paddle through Costello Creek'lily pads with a guide from Algonquin Outfitters, who'd just come back from seven weeks canoe touring without seeing another person!
Along the way we bird-watched and kept our eyes out for wildlife like bears, beavers and moose. Though when I finally saw my first Canadian moose, it wasn't from a canoe or on a hike, but from the window of our RV on the way back to the campground. We stopped to watch her munching on greenery, totally unphased by having an audience.
Algonquin has so much to do it's hard to narrow down just a day's worth. We walked the Lookout Trail (1 mile) with views out over the treetops, but there's a long list of hiking routes as well as mountain bike trails, trout fishing and a Discovery Program.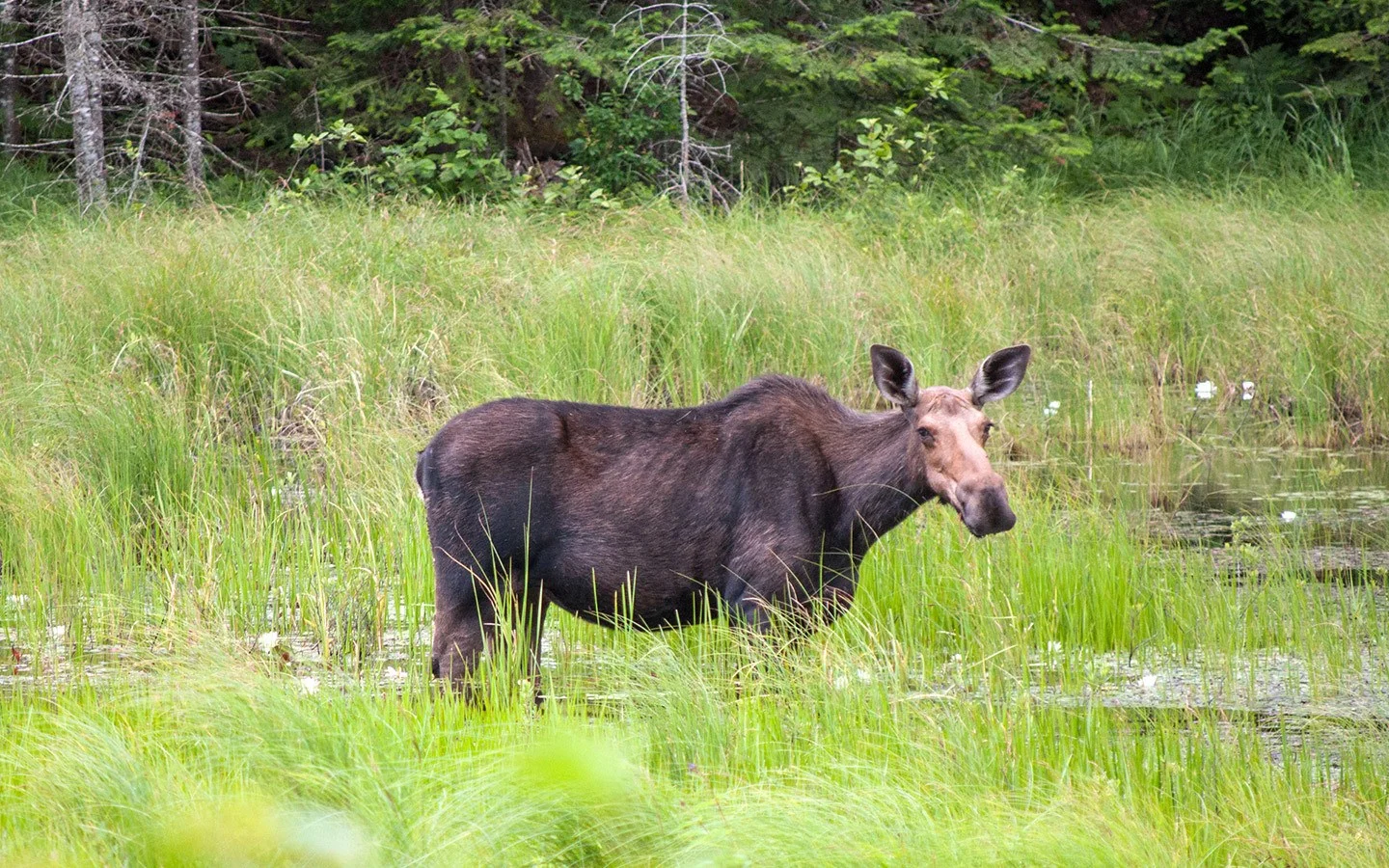 Day 13: Algonquin to Toronto
Leave Algonquin behind for the last drive of the trip, following Highway 11 south past Lake Simcoe to Toronto. We dropped our RV off at Cruise Canada's offices in Bolton outside the city and took a taxi into Toronto. Or if you have a hire car you can drop it off at the airport and take the Union Pearson Express train to downtown in 25 minutes.
Swap park life for Toronto's city streets and spend your last afternoon exploring. There's a wide range of different things to do depending on your interests – culture lovers can try the Royal Ontario Museum and Art Gallery of Ontario, foodies the St Lawrence Market and Steam Whistle Brewery, or sports fans the Rogers Centre and Hockey Hall of Fame.
Total driving: 180 miles/289 kilometres – approx 3 hours 15 mins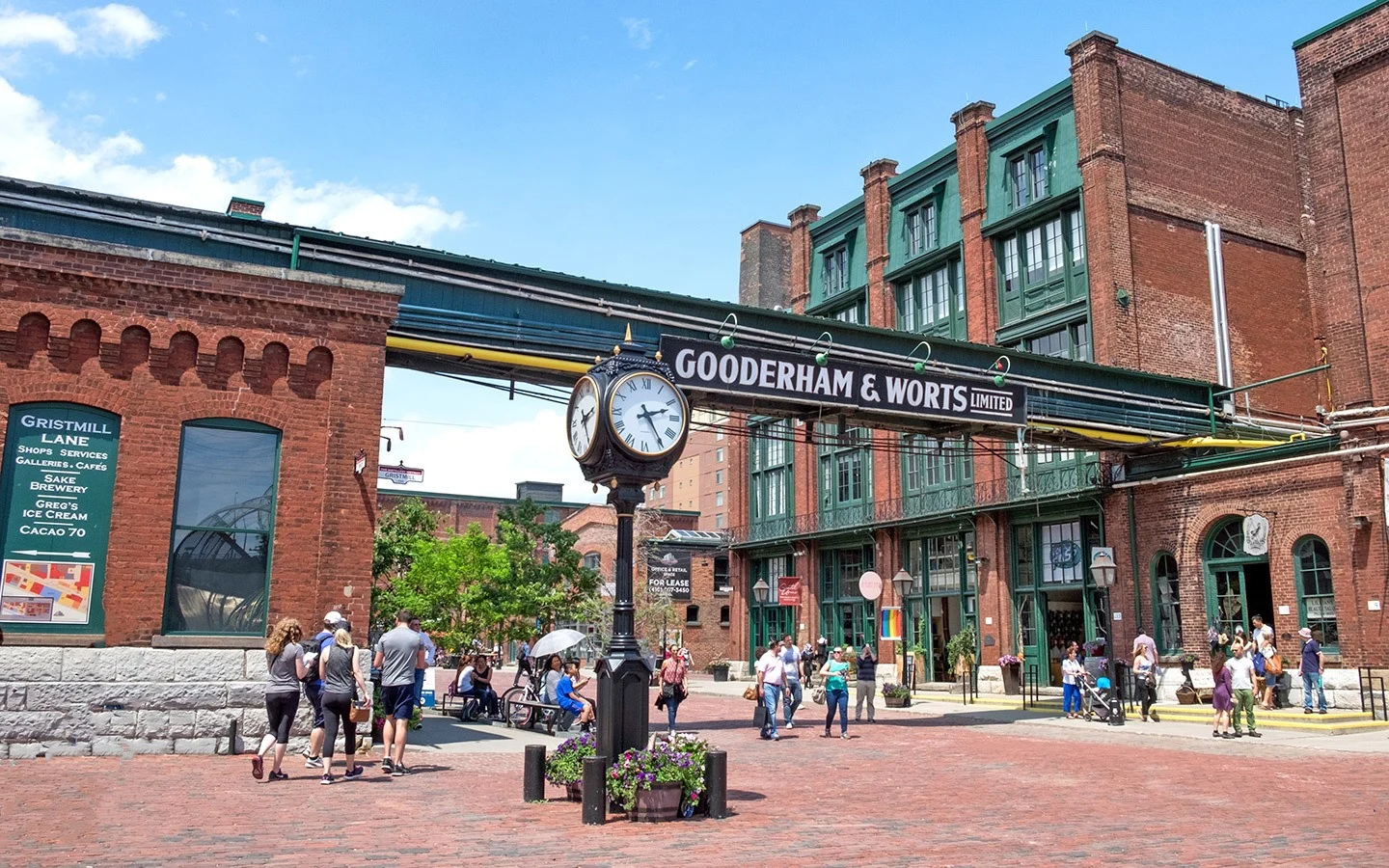 Where to stay in Toronto: The 1 Hotel Toronto* is a boutique hotel in smart King West Village, with a sustainable ethos and interiors using reclaimed materials and driftwood. Rooms and light and bright, and there's a rooftop bar and pool with panoramic city views.
After a cocktail on the roof, head to the Distillery District for dinner, an area of restored Victorian red-brick warehouses that's now a hub for independent bars and restaurants.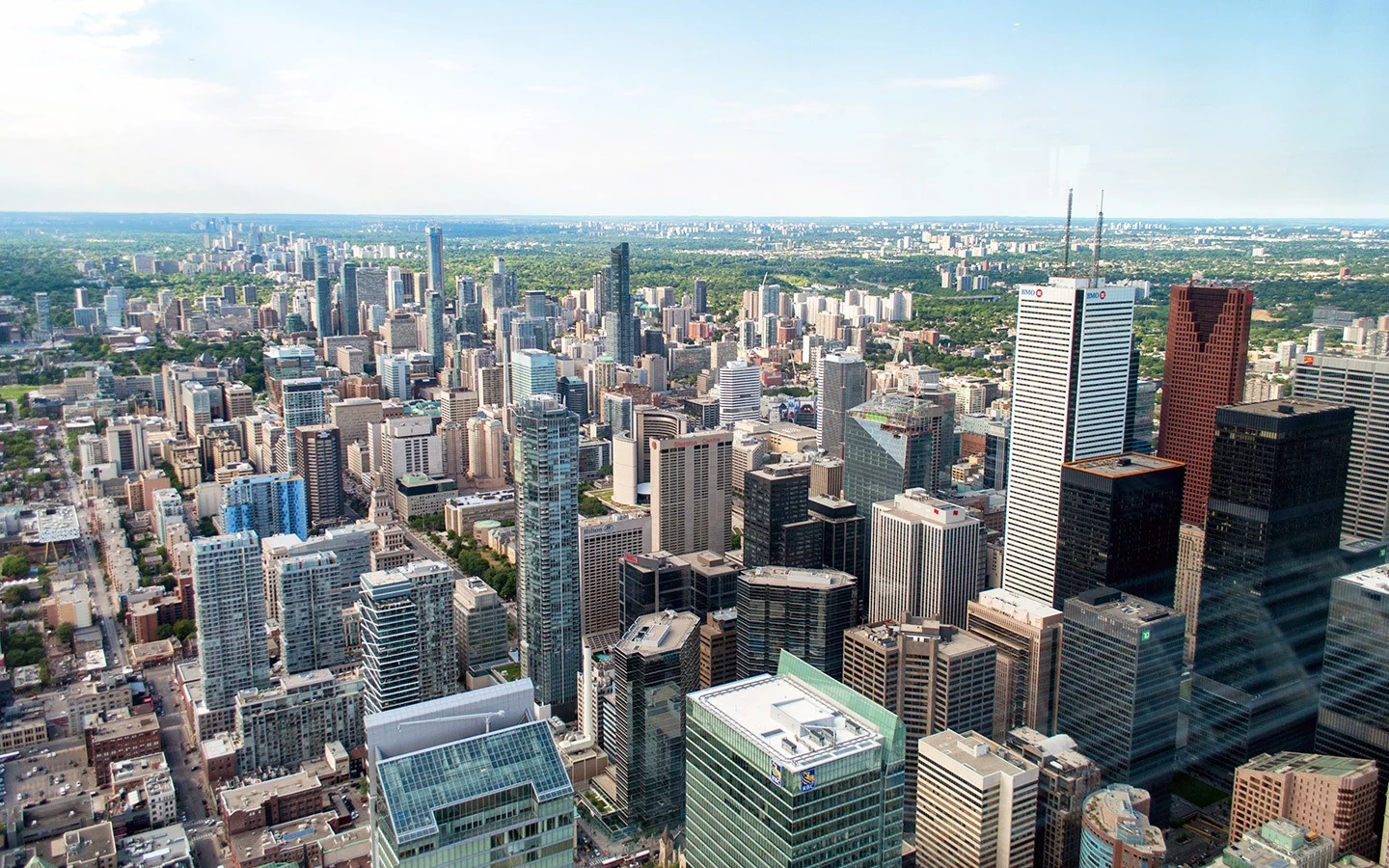 Day 14: Toronto
Spend the morning seeing more of Toronto. One of the city's must-dos is the climb to the top of the CN Tower where you see can as far as the US on a clear day – and hang off the edge on the Edge Walk if you're feeling brave. We decided on a slightly less adrenaline-fuelled boat trip* to the pretty Toronto Islands, a group of 15 islands just offshore.
Then it's only 25 minutes by train to the airport and the end of your Calgary to Toronto road trip – where I hope you'll have fallen just as much in love with Canada as I did.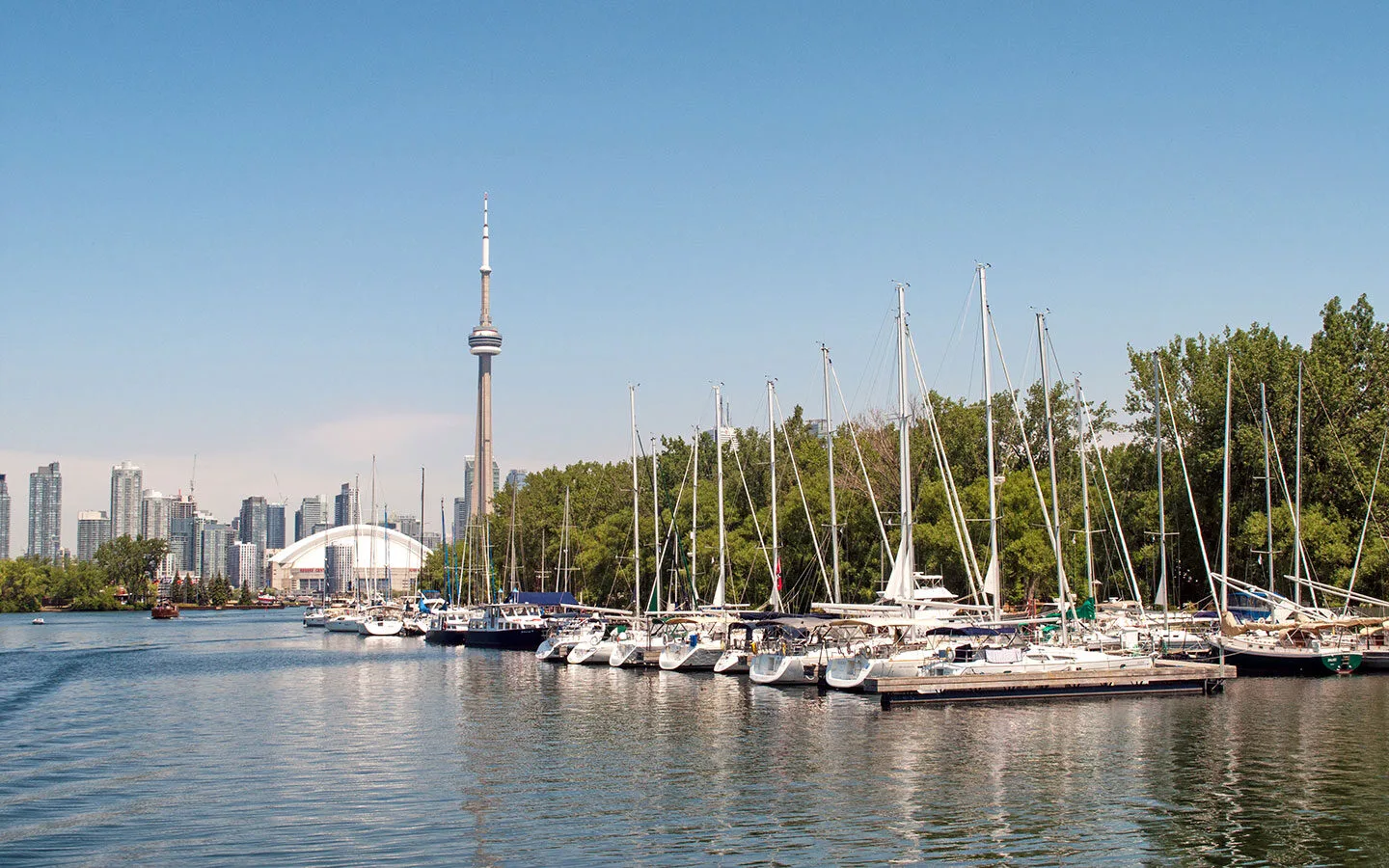 Save for later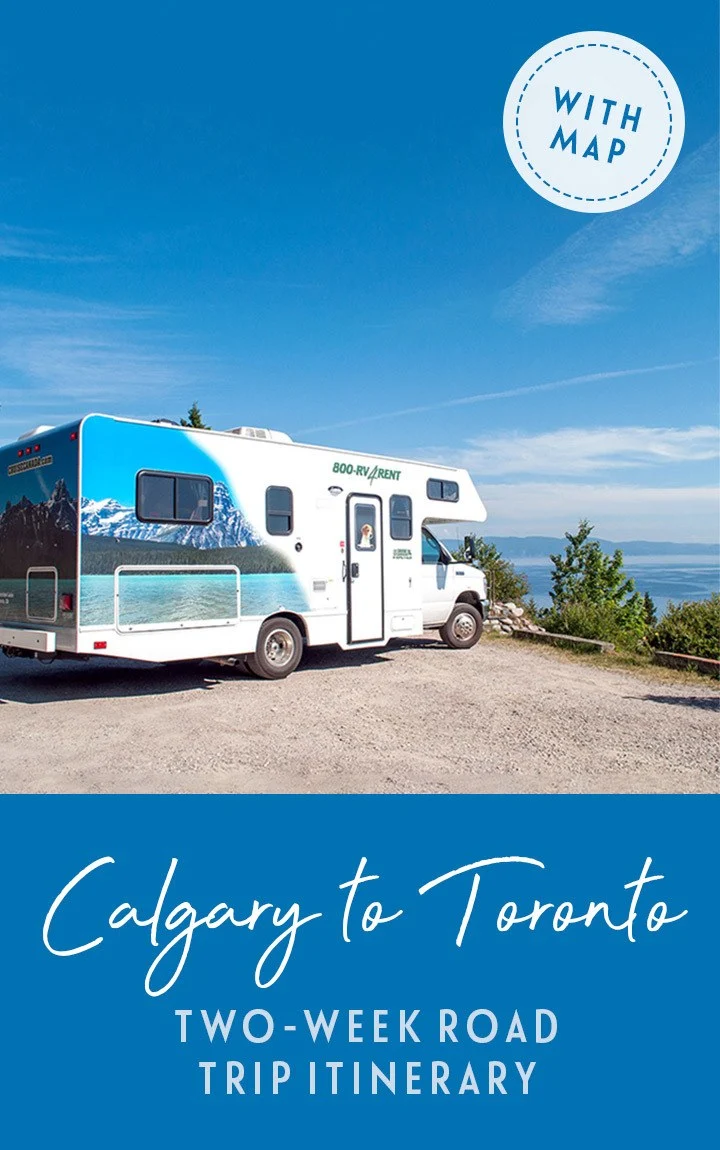 You might also like