All you need to know before visiting the picturesque Amalfi Coast in Southern Italy – the first-time visitor's guide to when to go, where to stay, what to do and how to get around the Amalfi Coast.
* This site contains affiliate links, where I get a small commission from purchases at no extra cost to you.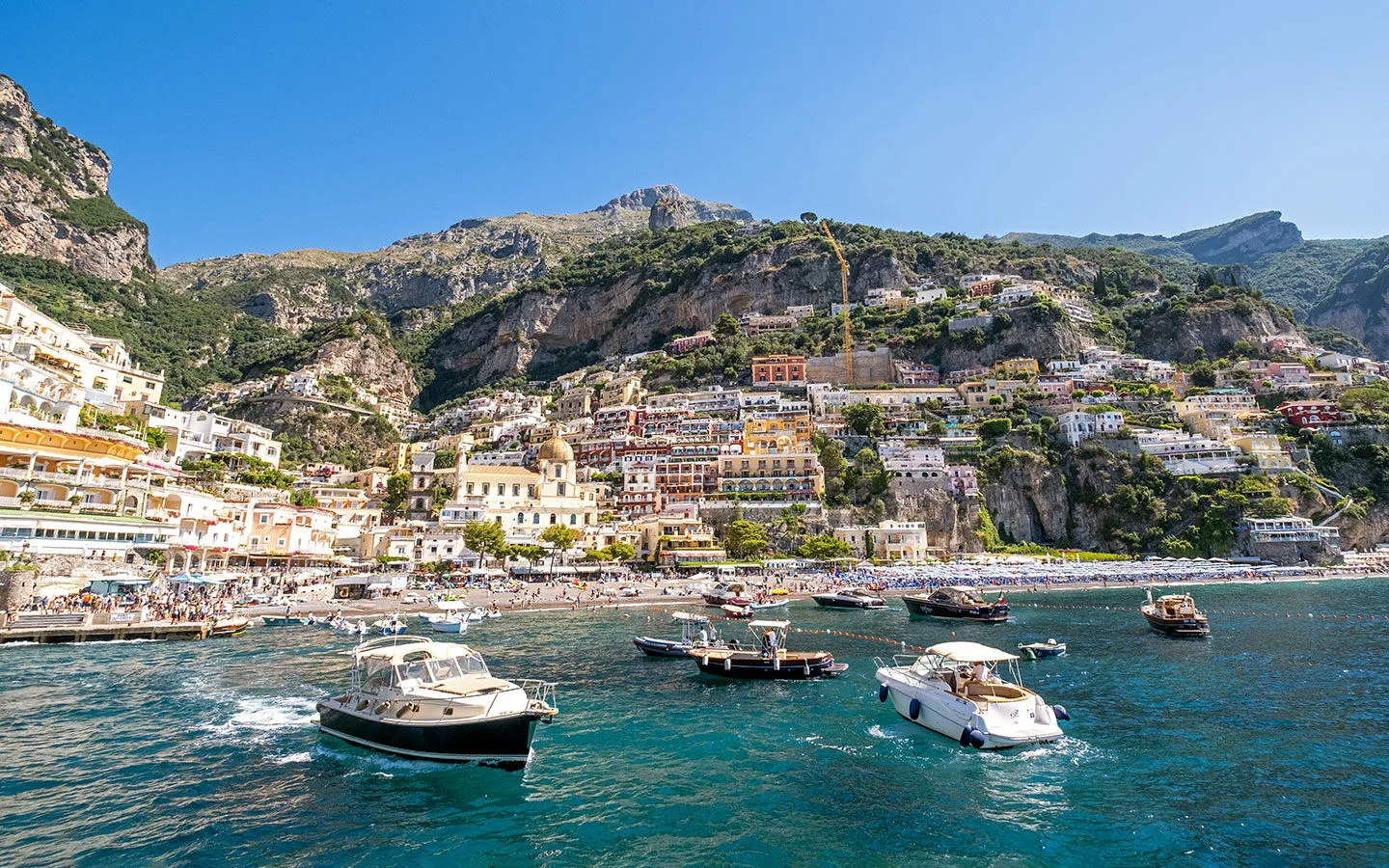 Built on steep cliffs with villages cascading down towards the turquoise Tyrrhenian Sea, the Amalfi Coast is one of the most scenic stretches of coastline in Italy. Its ornate villas, domed churches, lemon groves and terraced vineyards have been attracting visitors since the Romans, and the Amalfi Coast is still a popular place to visit whether you want to hike, swim and sail, or would rather shop, sunbathe and watch the sun set with a Spritz.
So if visiting the Amalfi Coast is on your travel wishlist, what do you need to plan the perfect trip? This Amalfi Coast travel guide has all the details you need to make the most of your time on this stunning stretch of Southern Italian coastline.
What you need to know about visiting the Amalfi Coast
What and where is the Amalfi Coast?
The Amalfi Coast is a UNESCO World Heritage-listed stretch of coastline in Southern Italy's Campania region, 60km south of Naples and 20km from Sorrento. It stretches for around 50km, with 13 towns and villages connected by the SS163 highway, a cliff-hugging serpentine road that's one of the most breathtaking driving routes in Europe.
A string of waterfront towns runs along the coast – starting with Positano in the west and heading east to Praiano, Conca dei Marini, Amalfi, Atrani, Minori, Maiori, Cetara and Vietri sul Mare. And up in the hills behind them are Ravello, Tramonti, Furore and Agerola.
Although the Amalfi Coast is often talked about like one place, it is actually pretty diverse. Each town has a different character, from glamorous Positano with its beach clubs and boutique shops to the quiet hillside village of Furore. Some are well-known and some are still fairly undiscovered, but all have plenty of charm and natural beauty.
Map of the Amalfi Coast
How long should I spend there?
The Amalfi Coast is a popular day trip destination, and one day is just enough time to visit Positano and Amalfi (don't miss the 25-minute boat trip between them for great coastal views). You could also add on Ravello if you make an early start, though your time in each place would be limited and you'd end up spending a lot of the day on the move.
There are many day trip packages available if you don't want to organise it yourself, which include transportation to and around the Amalfi Coast by bus, boat or a combination of the two – including tours from Sorrento*, Naples* and Rome.*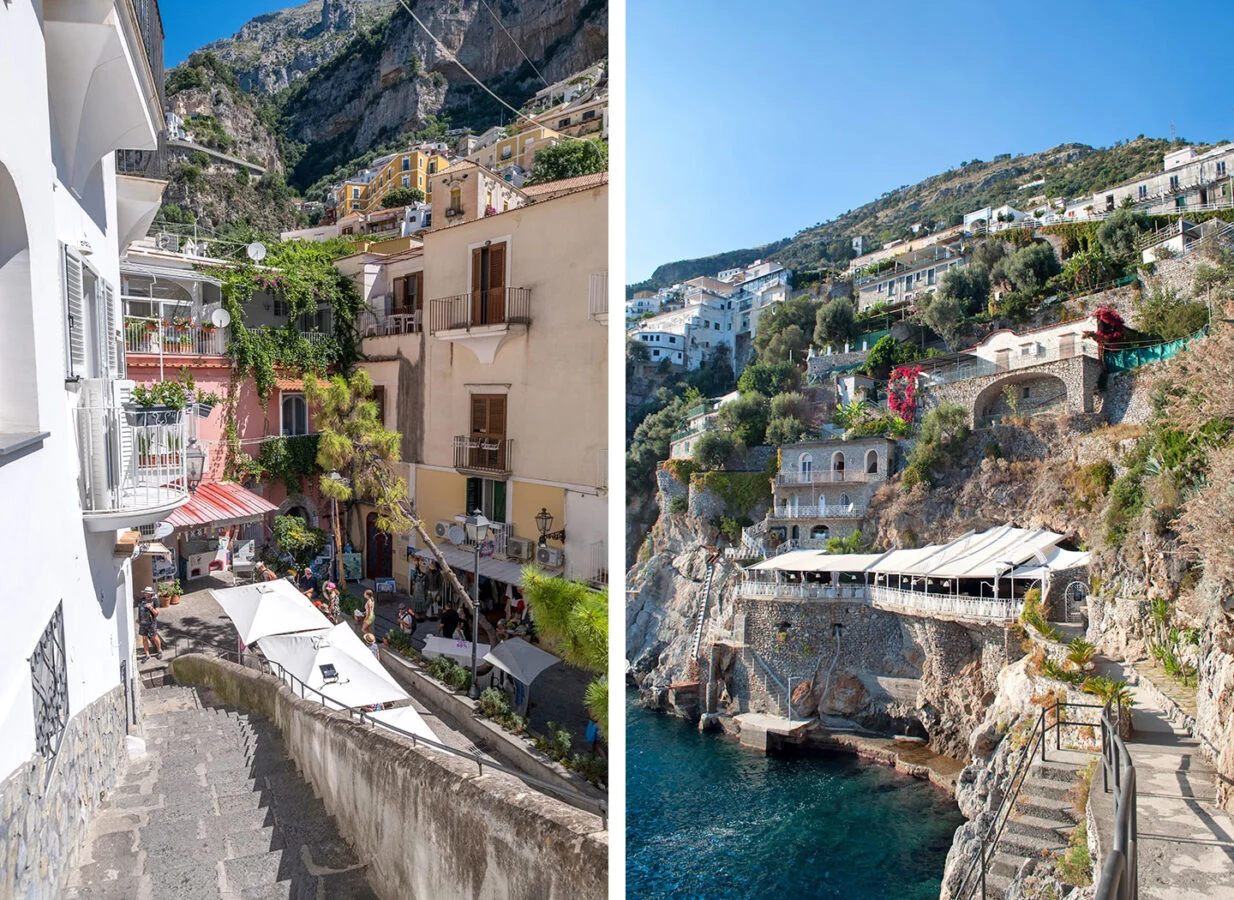 But ideally you'd need at least two or three days to see the Amalfi Coast's highlights, giving you time to visit a couple of different villages each day, do some of the scenic walks around the area or spend time on the beach. Staying overnight also means you get to see the coast in the quieter evenings and enjoy the gorgeous sunsets over the Bay of Naples.
With four days or more you could split your time between a couple of different towns and explore some of the smaller and less-well-known spots. Or you could add on day trips around the region to places like Sorrento, Capri, Pompeii and Vesuvius.
When's the best time to visit the Amalfi Coast?
The Amalfi Coast has a Mediterranean climate, with hot dry summers. Average high temperatures in July and August peak around 29ºC/84ºF so it can be uncomfortable walking around, especially in the middle of the day. It's also peak season so you'll find big crowds and need to book accommodation and restaurants in advance.
To avoid the worst of the crowds, head to the Amalfi Coast in spring (May and June) or autumn (September and October). Both see average high temperatures around 22–26ºC/68–79ºF and are fairly dry. April has a few more showers but is still warm with highs of 18ºC/64ºF – though the sea can be a bit chilly for swimming.
From November to March the Amalfi Coast winds down – ferries stop running and restaurants and hotels close, particularly in the smaller towns. It never gets too cold with daytime highs of 12ºC/54ºF and nighttime lows of 4ºC/39ºF, but rainfall peaks in November and December with an average of 11–13 rainy days a month.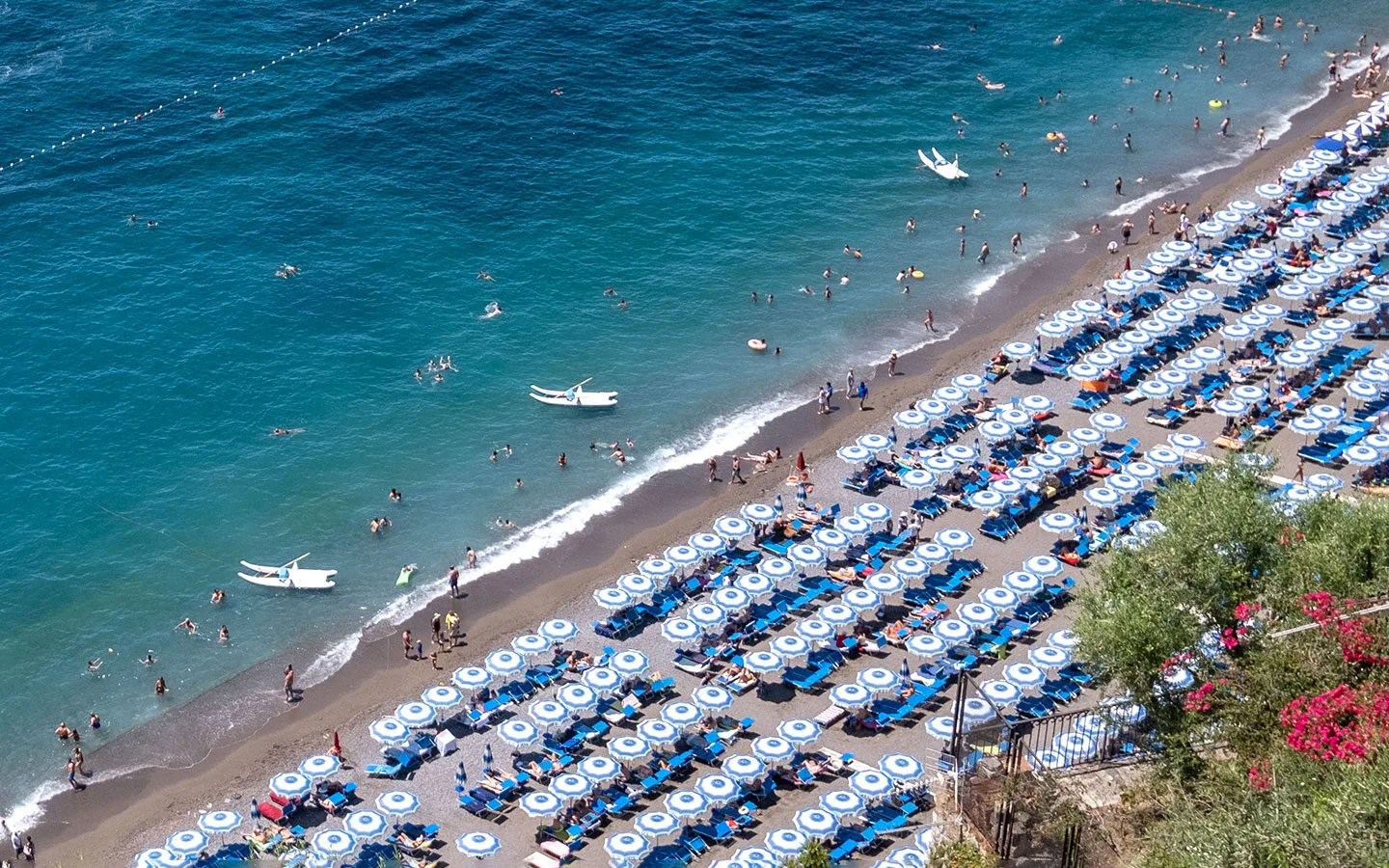 Where should I stay on the Amalfi Coast?
The Amalfi Coast has a diverse mix of places to stay, from luxurious hotels and villas to simple guesthouses and apartment rentals. But accommodation supplies are limited and it's a popular place so book early, especially in summer and at weekends.
The best place to stay will depend on what you're looking for – nightlife or peace and quiet, luxury or budget, romantic or family-friendly. It'll also depend on how you're planning to get around the Amalfi Coast. If you're travelling by public transport the larger towns have better connections but if you have a car you've got more flexibility.
As the Amalfi Coast is so varied, if you're staying for four nights or more it might be worth splitting your time between two different locations to experience its different sides.
Amalfi is the biggest town, with a wide selection of places to stay and a buzzing restaurant and bar scene. It's also one of the best-connected towns with good transport links by bus and ferry to the rest of the coast and beyond. Or if you're looking for lots of amenities but fancy something a bit quieter, Atrani is just a 10-minute walk along the coast.
Positano is the Amalfi Coast's most fashionable spot, with a spectacular setting, smart beach clubs, high-end restaurants and the coast's best nightlife. It's a romantic place that's popular with couples and has good transport links. But it's pricey and very hilly, so pick your accommodation carefully, especially if you'll be carrying heavy bags.
Ravello is another favourite for a romantic break with luxurious hotels like Villa Cimbrone.* It's quieter than Amalfi or Positano, particularly in the evenings when the day-trippers leave. It's not on the coast, but its hilltop location makes for fantastic views.
Then there are the smaller and lesser-known Amalfi Coast towns which tend to have lower prices and fewer tourists, like Vietri sul Mare, Cetara, Minori and Conca dei Marini. Praiano is another good choice – we spent a week there and it has beautiful sunsets and good beaches nearby, but has kept a fairly laid-back, low-key atmosphere.
If you're travelling with kids or don't fancy climbing a lot of hills, Maiori is a good base as it's one of the flattest towns on the Amalfi Coast. It's more resort-like and not quite as pretty as the other choices but it does have the area's largest sandy beach.
Or another option would be to stay just outside the Amalfi Coast in Sorrento. It's bigger so has more accommodation options and its train, bus and ferry services make it a good gateway to the region, particularly if you're also planning to visit places like Pompeii, Capri and Ischia, which are more fiddly to get to from the Amalfi Coast.
What is there to do in the Amalfi Coast?
The main reason most people have for visiting the Amalfi Coast is its beautiful views, and it's a great place to wander around rather than having lots of must-see attractions. Though the ones not to miss are Amalfi's cathedral and cloisters, the gardens at Villa Rufolo and Villa Cimbrone in Ravello, and the Emerald Grotto near Conca dei Marini.
But each of the towns and villages has something to see – like the Baroque Duomo in Vietri sul Mare, the ruined Roman villa in Minori, the Marisa Cuomo winery in Furore, the Norman Tower in Maiori and the anchovy fishing boats in Cetara.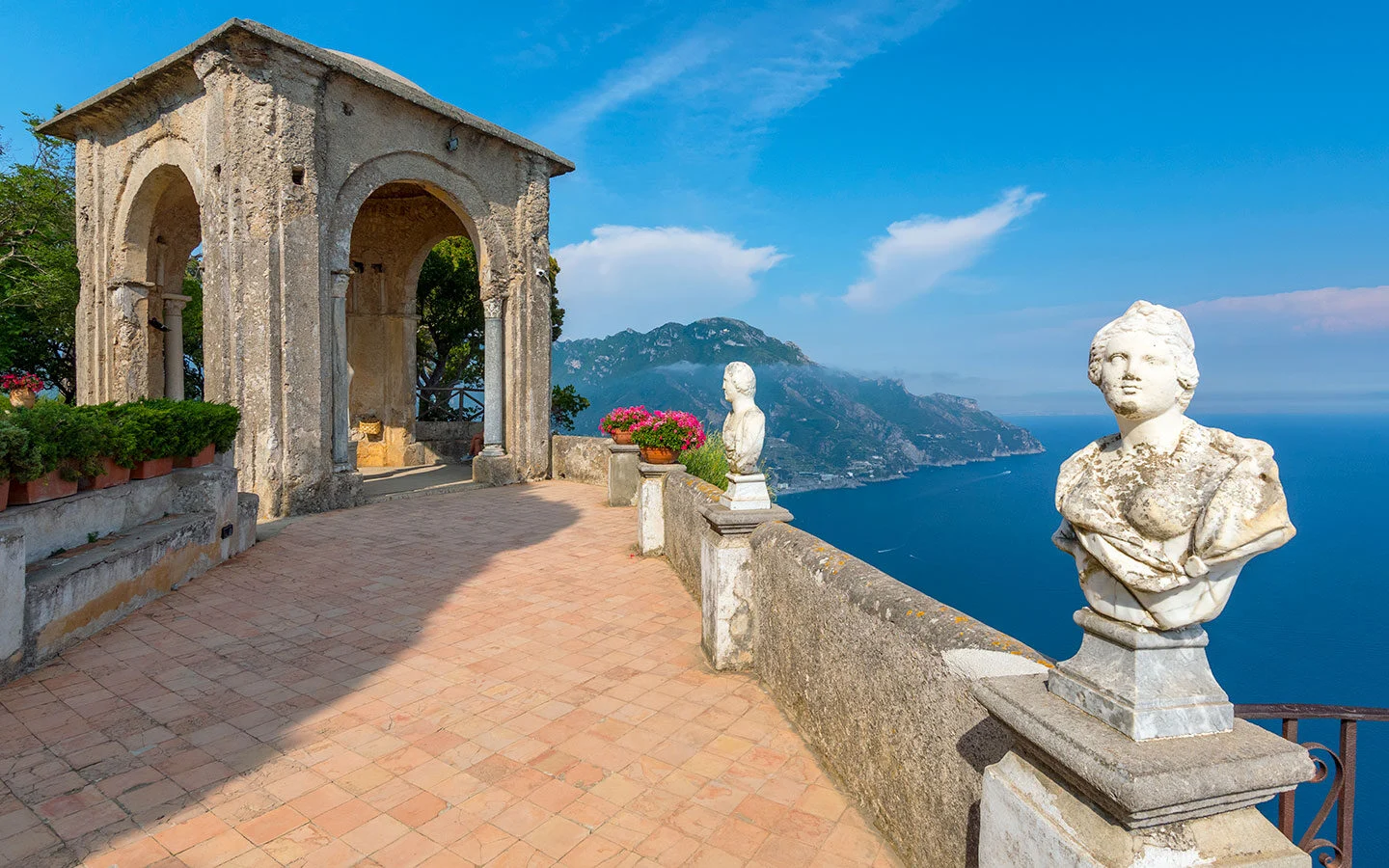 A good way to explore the Amalfi Coast is on foot. The area's best-known walk is the Sentiero degli Dei (Path of the Gods). This moderately difficult 7.8km route runs along the cliffs from Bomerano to Nocello, just above Positano (you can also start in Praiano if you don't mind climbing a lot of stairs) with wide-reaching views of the coast and Capri.
There's also the easy 3km Sentiero dei Limoni (Path of the Lemons) through lemon groves between Maiori and Minori. Or the 3.2km Valle delle Ferriere walk from Amalfi to Pontone which runs through a nature reserve and past historic paper mills and waterfalls.
As well as walking you can also explore the Amalfi Coast by sea – take a sea kayaking* trip, hire a boat* and sail along the coast, or go diving and snorkelling.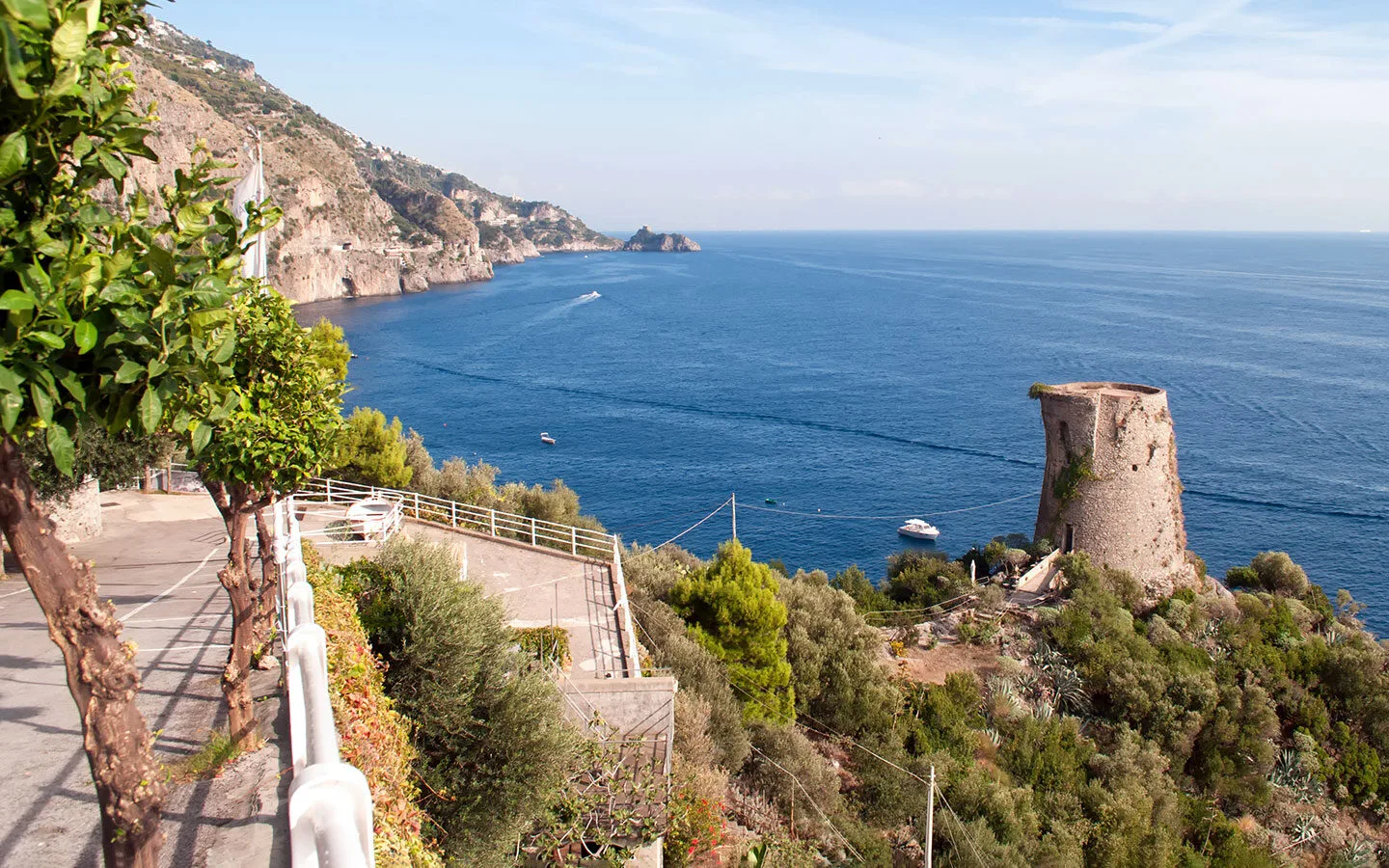 How about the Amalfi Coast beaches?
There are a string of beaches along the Amalfi Coast, but they're more pebbly than sandy, with more small rocky coves than long golden stretches.
Like a lot of places in Italy, many of the beaches in the Amalfi Coast town are privately run by stabilimento balneare, so you need to pay to use them, with sunbeds, umbrellas and towels for hire and kiosks or cafés selling food and drinks. They normally cost €10–€20 a day, but a front-row spot on Positano's Marina Grande will set you back €35.
If you just fancy a quick dip and don't want to pay, there are some sections of free public beach, though space is limited and they get very busy. In Positano there's a free area on Fornillo Beach and in Amalfi there's the Spiaggia del Porto just past the port.
For a classic beach day, head to Maiori, which has the Amalfi Coast's longest and sandiest beach with sunshine into the afternoon. Furore Fjord is a picturesque narrow gorge accessed by sea or a flight of stairs. Cetara has a pretty beach with colourful fishing boats. Or the secluded cove of Marina di Praia in Praiano was one of our favourites.
How do I get to the Amalfi Coast?
The closest airport to the Amalfi Coast is Naples Capodichino, which is 60km (37 miles) to the north. From Naples you can either hire a car and drive down to the Amalfi Coast, take a private transfer* from the airport or use public transport.
You can travel directly to the Amalfi Coast from Naples by public transport using either a ferry or bus. But both of them only run a couple of times a day, so you may find it easier to travel via Sorrento or Salerno where there are more options.
By public transport direct from Naples
From Naples airport, take the Alibus into the city centre to connect on to the Amalfi Coast – the bus makes stops at Piazza Garibaldi (which is close to Napoli Centrale/Naples Garibaldi train stations) and Molo Beverello and Porta di Massa ports.
During the summer, NGL and Alilauro ferries run from Molo Beverello port to Positano (1 hour 15 minutes) and Amalfi (1 hour 50 minutes). Or SITA local buses connect Naples with Amalfi in around 2 hours, with stops in Minori, Maiori, Cetara and Vietri sul Mare.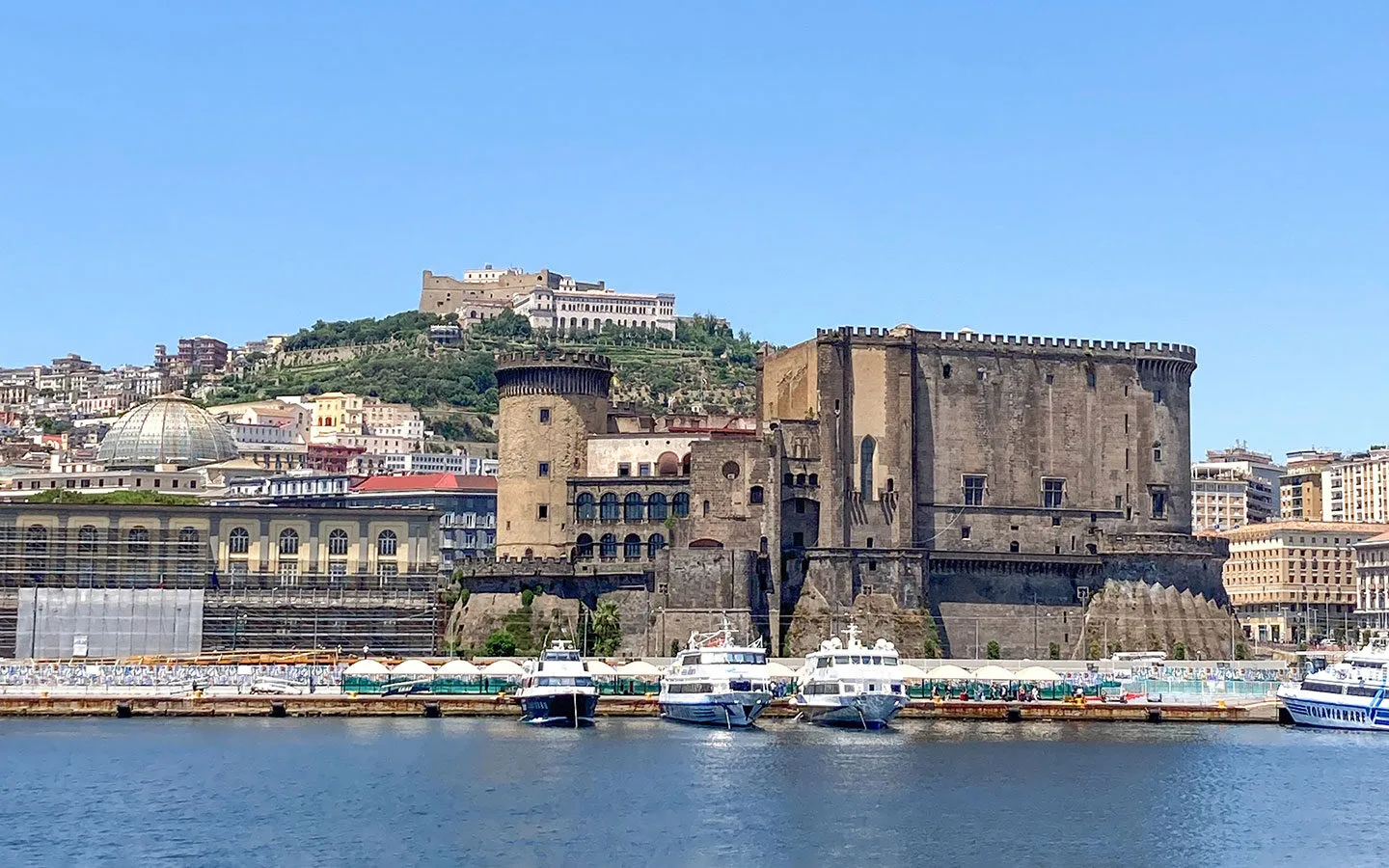 By public transport via Sorrento
To travel from Naples to Sorrento there's a choice of train, bus or ferry:
Train: Circumvesuviana (year-round) and Campania Express (April–October only) trains depart from Naples Garibaldi station and take 75 minutes to reach Sorrento.
Bus: Curreri Viaggi buses from Naples airport to Sorrento take 75 minutes.
Ferry: High-speed ferries* run from Molo Beverello port to Sorrento in 40 minutes.
Then from Sorrento you can travel onto the Amalfi Coast by bus or ferry. Frequent ferries connect Sorrento with Positano and Amalfi. Or there's a SITA bus from Sorrento to Amalfi which also calls at Positano and Praiano. Both routes take one–two hours.
Read more: How to plan a day trip from Sorrento to the Amalfi Coast
By public transport via Salerno
To get from Naples to Salerno you can take a direct train from Napoli Central station which takes 40 minutes. Or there is a SITA bus to Salerno which takes 1 hour 50 minutes from Naples airport or 1 hour 20 minutes from the city centre.
Then TraVelMar run ferries from Salerno to Positano, Amalfi, Minori, Maiori, Cetara and Vietri sul Mare. Or you can catch a SITA bus from Salerno to Amalfi (75 minutes), which also stops in Minori, Maiori, Cetara and Vietri sul Mare.
How do I get around the Amalfi Coast?
By car
Exploring the Amalfi Coast by car gives you lots of flexibility and means you can get off the beaten track. The cliffside SS163 highway winds its way down the coast, with panoramic views along the way. But its hairpin bends and sheer drops mean you might want to avoid it if you suffer from travel sickness or aren't a fan of heights.
It's not the easiest place to drive, with busy, narrow roads full of coaches that can almost come to a standstill in summer, especially at weekends. Parking is limited and can be expensive, especially in summer when many of the historic town centres are closed to traffic. And accidents are fairly common so make sure you have decent insurance.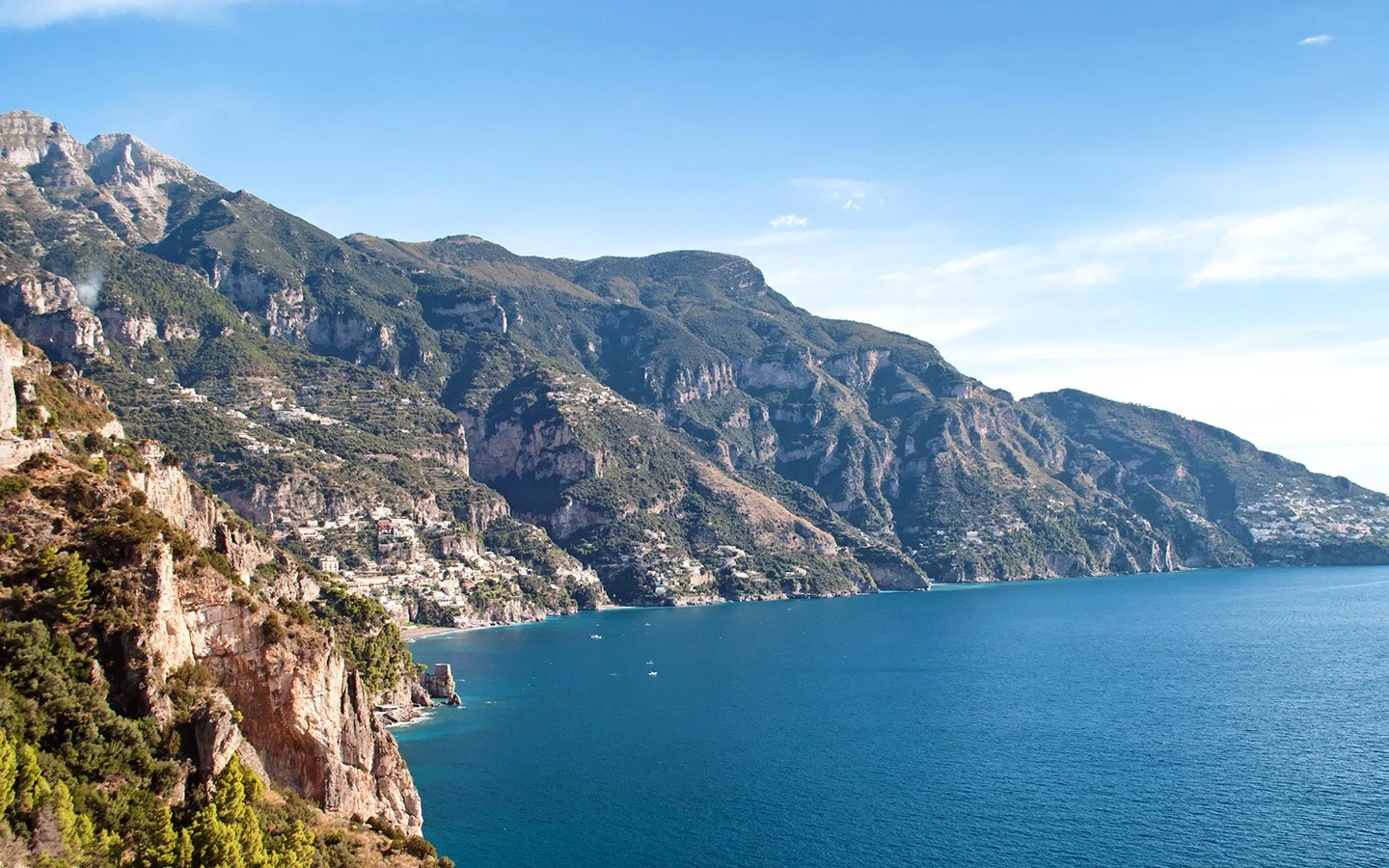 By bus
SITA local buses connect the Amalfi Coast towns and villages, running fairly frequently seven days a week, as well as going further afield to Sorrento and Salerno. Some of the most useful routes for visitors (you can see the full timetables online) are:
Amalfi > Minori > Maiori > Cetara > Vietri sul Mare (and on to Salerno)
Amalfi > Conca dei Marini > Praiano > Positano (and on to Sorrento)
Amalfi > Scala > Ravello
You need to buy tickets in advance – which can be picked up from most bars and tobacconists – then validate them when you get on the bus. Buses can get very crowded in summer, and as with driving expect delays when the roads are busy.
By ferry
Ferries also run along the Amalfi Coast, which are a good way to avoid the traffic and get some lovely views of the coastline. But they normally only run from April to October and if the weather is good, and there are very limited services in winter.
Multiple companies run ferries between Amalfi and Positano, which depart frequently and take around 25 minutes. And if you want to reach Minori, Maiori, Cetara or Vietri sul Mare you can take a TraVelMar ferry from Amalfi, Positano or Salerno.
You can also reach Sorrento, Capri and Ischia by ferry from the Amalfi Coast – it's a good idea to book these services in advance in summer as they get very busy, especially at weekends. You can buy tickets online or from ticket booths in the ports.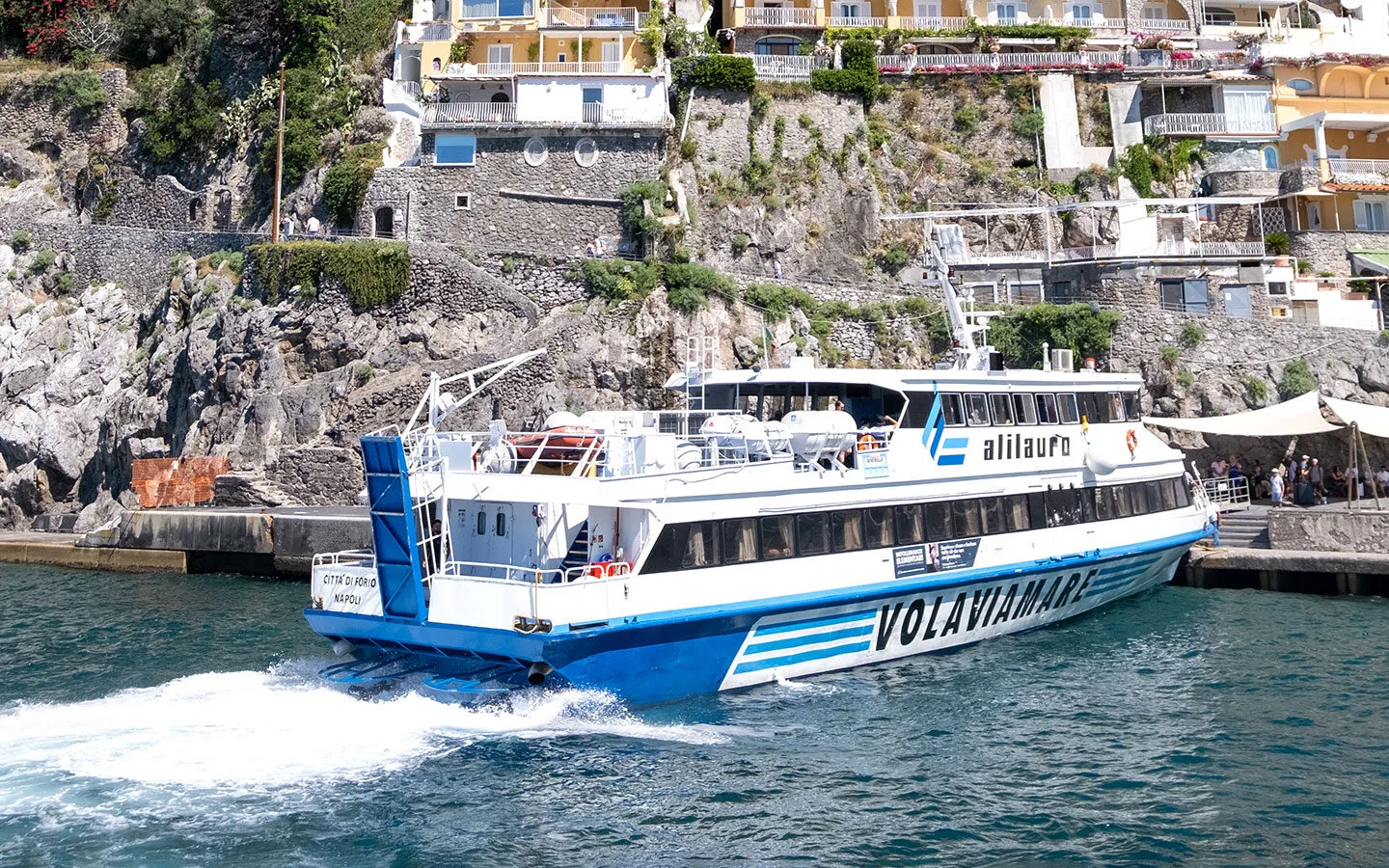 By tour
If you don't want to organise your trip the Amalfi Coast yourself, there are also a selection of package tours available. These full-day trips include transportation to the Amalfi Coast from Sorrento*, Naples* or Rome*, then a tour of the region by bus, boat or a combination of the two. They normally visit Positano and Amalfi, and sometimes add on Ravello.
What should I bring with me?
The Amalfi Coast has plenty of cobbled streets so flat shoes are a good idea, and you might want to bring trainers if you're planning on hiking. A hat or scarf and sunglasses are useful in summer as there's not much shade. And pack a refillable water bottle as there are water fountains in most villages where you can top up. But watch how much you pack if you're staying in Positano as you might have to carry your bags up a lot of steps.
What should I take home with me?
If you want to take a souvenir from visiting the Amalfi Coast home with you, there are plenty of the usual tourist trinket shops – and designer boutiques in Positano. But you can also find hand-crafted souvenirs, with certain towns having their own specialities.
The Amalfi Coast has a long tradition of producing ceramics, and the best come from Vietri sul Mare. It's known for its colourful hand-painted ceramica di Vietri pottery, which is produced in family-run workshops. It's protected by law so look out for the 'Ceramica Artistica e Tradizionale' trademark on the bottom to make sure it's authentic.
You can also find handmade paper in Amalfi, which was once surrounded by medieval paper mills. There are traditional producers in town and a museum in an old mill on the edge of the town where you can find out how it's made. The Amalfi Coast is also famed for its leather sandals, limoncello and lemon biscuits, sweets and soaps.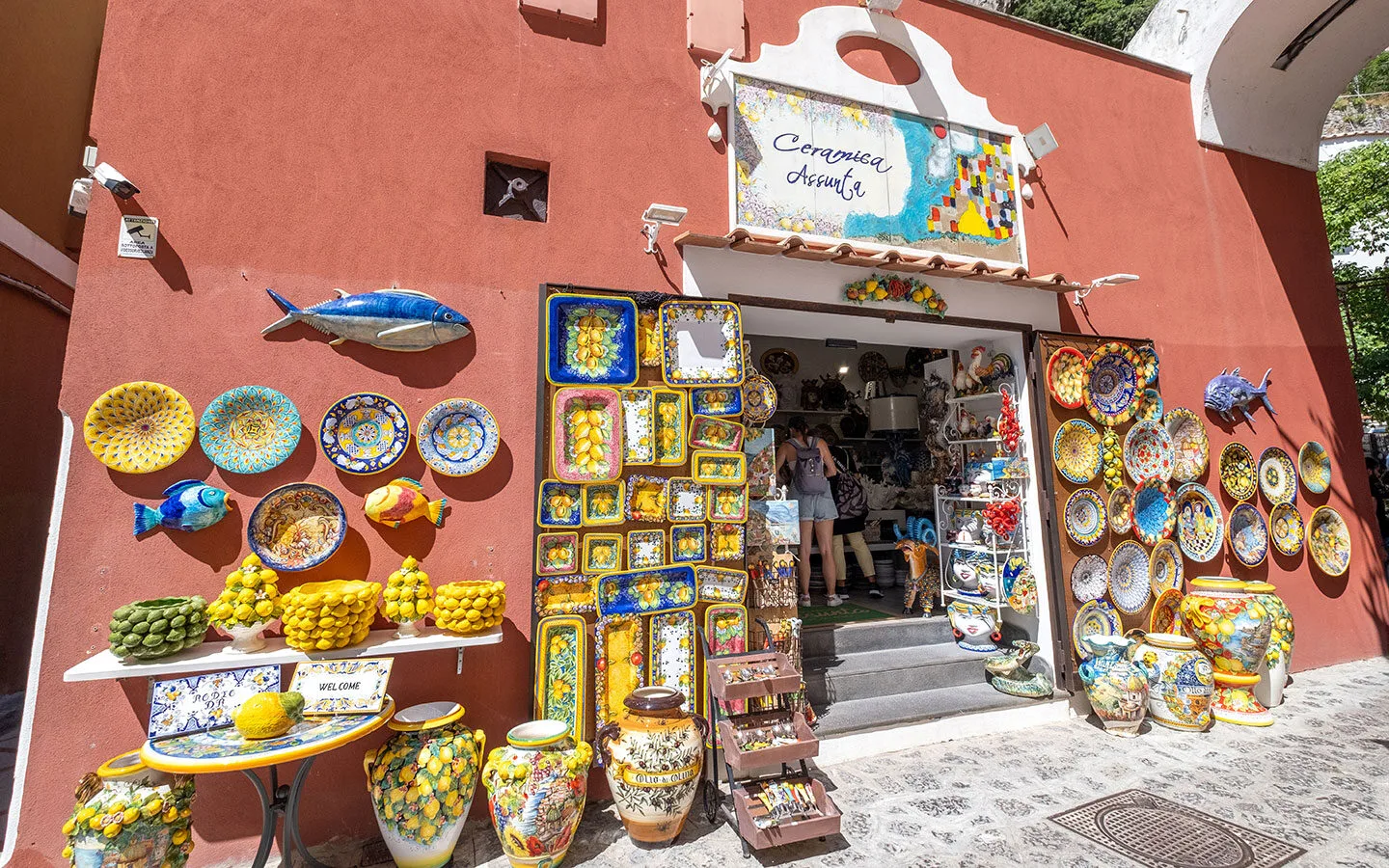 Save for later
You might also like