Discover the best things to do in Sorrento in Southern Italy, from freshly caught local seafood and limoncello tasting to panoramic sunset views and fantastic day trips around the Bay of Naples.
*This article contains affiliate links where I receive a small commission at no extra cost to you.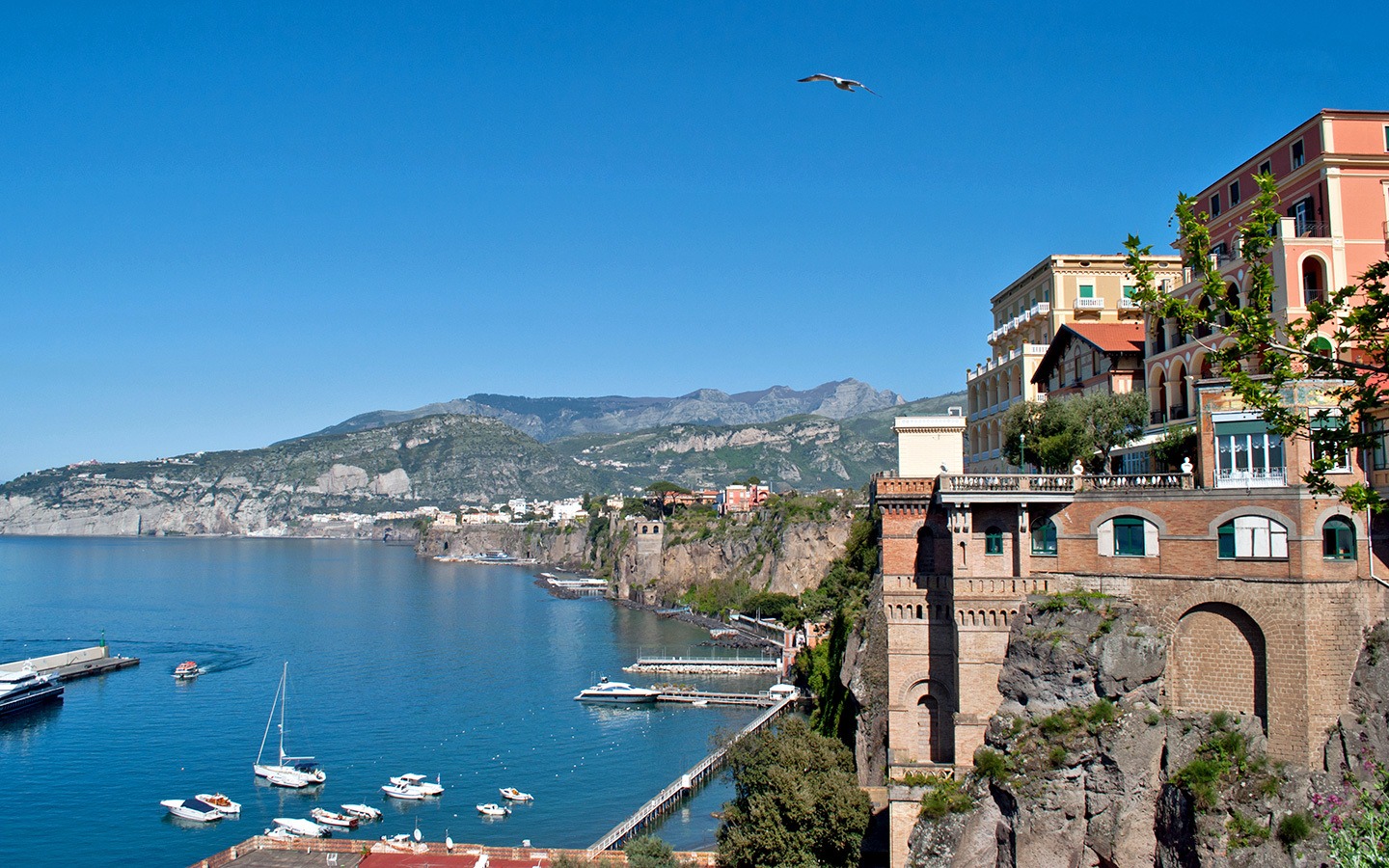 In Greek mythology, Sorrento was home to the sirens, who lured passing sailors onto the rocks with their beautiful songs. And this Southern Italian city still lures visitors in today with its panoramic views, sunshine, fantastic food and laid-back atmosphere.
I fell in love with Sorrento on my first visit and I'm not alone. Sorrento is one of the most popular holiday destinations on the Neapolitan Riviera, and although that can mean it's a bit touristy in spots, you can't help being charmed by this coastal town.
It makes a great short break destination or a convenient base for exploring the Bay of Naples, so whichever you have planned, here's my pick of the best things to do in Sorrento.
The best things to do in Sorrento, Italy
People-watch in Piazza Tasso
Piazza Tasso is the heart of Sorrento, named after Renaissance poet Torquato Tasso who was born in the town. This busy road intersection sees a constant stream of cars, Vespas and the occasional horse and cart taking tourists on a ride around the old town. The square is surrounded by cafés and restaurants perfect for people-watching.
Fauno Bar is one of the square's best-known spots, with a prime location to grab a morning coffee, evening glass of wine or slice of pizza at any time of day and watch the world go by. The bustle goes on well into the night when locals take their evening passeggiata.
Get lost in the old town
Sorrento's centro storico (historic centre) is a maze of narrow streets which run back from the cliffside – they're supposedly pedestrianised but don't be surprised if you see someone trying to squeeze a car down there. These medieval alleyways twist and turn past trattorias, bars and shops, so throw away the map, take a walk and see what you can discover in the backstreets – whether it's churches, hidden gardens or historic buildings.
You might come across the overgrown 13th-century flour mills in the Vallone dei Mulini, the Basilica of San Antonino with its Roman columns or the paintings and porcelain at the Correale di Terranova Museum. You can also find local craft workshops making lace, leather or intarsia – special inlaid wood carvings which you can find out more about in the Museo Bottega della Tarsia Lignea, located inside an 18th-century palazzo.
Or if you'd rather not get too lost, then you can also take a walking tour* of the town's highlight with a local guide to get an insight into Sorrento's history.
See the Church and Cloisters of San Francesco
The Church and Cloisters of San Francesco is a quiet oasis tucked away in the busy heart of Sorrento, close to Villa Comunale Park. In the 7th century a monastery was built on the site, followed by the Baroque church and cloister in the 14th century, both dedicated to St Francis of Assisi. Inside the church you'll find carved wooden doors, frescoes and statues.
The open air cloisters have a fairytale feel, surrounded by arches draped in trailing plants and filled with flowers, ornamental trees and the sound of birdsong. They're one of Sorrento's most romantic spots and unsurprisingly a favourite wedding venue. There are also classical concerts and art exhibitions held in the cloister in the summer months.
Take a dip in the bay
With its steep cliffs, Sorrento doesn't have much in the way of traditional beaches. But what it does have is a string of privately owned piers jutting out into the sea where you can swim or sunbathe in summer. At these beach clubs you can hire a sunbed and umbrella for the day and there's usually a restaurant or snack bar attached. But there are a few small patches of sand in between where you can dip your feet in the Bay of Naples.
Most of the beach clubs are in Marina Piccola, which you can reach by road from Villa Comunale Park – whih has a great view down onto the piers. And if you don't fancy the climb back up then there's a lift cut into the rocks to carry you back up to the top for €1.
Catch a Sorrento sunset
Sorrento's cliffside setting is one of its biggest charms, and catching a sunset over the bay is one of the best things to do in Sorrento. When the sun goes down, the bustle of Sorrentine life stops as people gather to watch the sun dip into the sea. Head to Villa Communale Park for the best views in Sorrento, looking across the Bay of Naples towards Vesuvius. There's often a busker to provide musical accompaniment as well as a small café.
Or if you prefer a slightly more stylish sunset accompanied by a glass of Champagne, head to the posh Bellevue Sirene* hotel. The hotel is built on the remains of a Roman villa and its five-star rooms will set you back €400 a night. But non-guests can stop by for a more affordable taste of luxury with drinks in their bougainvillea-strewn terrace bar.
Visit the harbour at Marina Grande
A short walk around the headland to the west of Sorrento you'll find the harbour village of Marina Grande. Despite being dominated by its larger neighbour, it's still managed to keep plenty of rustic charm and a peaceful, laid back feel, with a picturesque string of pastel-coloured buildings lining the water's edge and a small sandy beach.
Marina Grande – which despite its name isn't the biggest marina – is still a working fishing village and you'll see fishermen unloading their catch each morning, ready to be cooked up in the waterfront restaurants. Which means it's one of the best places to go in Sorrento if you love fish, with each restaurant competing to serve the freshest. Grab a spot on the terrace and tuck into delicious seafood with views across the bay towards Vesuvius.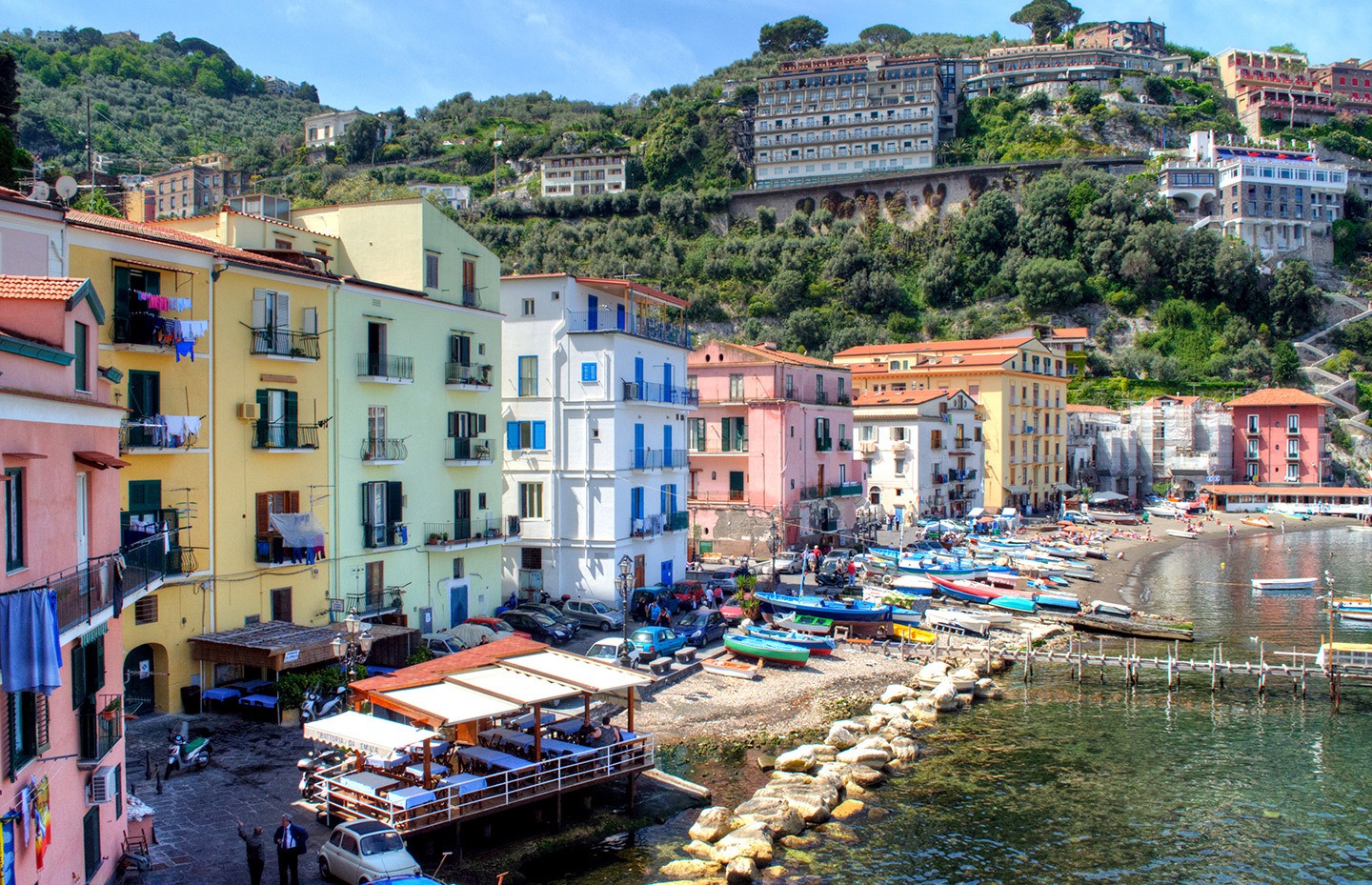 Feast on local produce
Eating and drinking well is a vital part of Italian life, and Sorrento is no exception. The fertile volcanic soil in this part of Italy means delicious local produce like olives, tomatoes, peaches, cherries and oranges. If you want to pick up some of the freshest produce, head to the street market on Via San Renato, which is open on Tuesdays from 8am–2pm.
Sorrento's local ingredients are used to create simple, tasty dishes like caprese salad with ripe tomatoes, basil and buffalo mozzarella, Neapolitan-style wafer-thin pizzas, spaghetti vongole with clams, and Delizia al Limone – cream-covered lemon cakes. And if you want to learn to make your own Sorrentine meal, you can take a local cookery class.*
Our favourite places to eat in Sorrento were L'Antica Trattoria for sophisticated regional dishes, Inn Bufalito for fantastic mozzarella and Cafè Latino for its great wine list and candlelit garden of lemon trees. And don't forget ice cream – Gelateria Davide is the best around, with fresh flavours made every day and classes to make your own.
Sip a limoncello
Lemons are big business in Sorrento, with the town surrounded by lemon groves. There's even a giant local variety the size of a grapefruit. Sorrento's lemons are made into soaps and bath oils, but their most famous use is in limoncello liqueur. Limoncello is made by soaking lemon peel in alcohol and it's usually served chilled as a digestif after dinner.
Sorrento is the limoncello capital of Italy so a tasting is not to be missed. You'll see it for sale all over town, but the best places to pick up a bottle is from a traditional producer, who can tell you about the history and how it's made – try Limonoro or I Giardini di Cataldo. You can also take a guided limoncello, cheese and olive oil tour and tasting.*
And if you don't fancy the liqueur itself, you'll also see limoncello-inspired dishes on menus around the town, from gelatos and sorbets to limoncello cakes.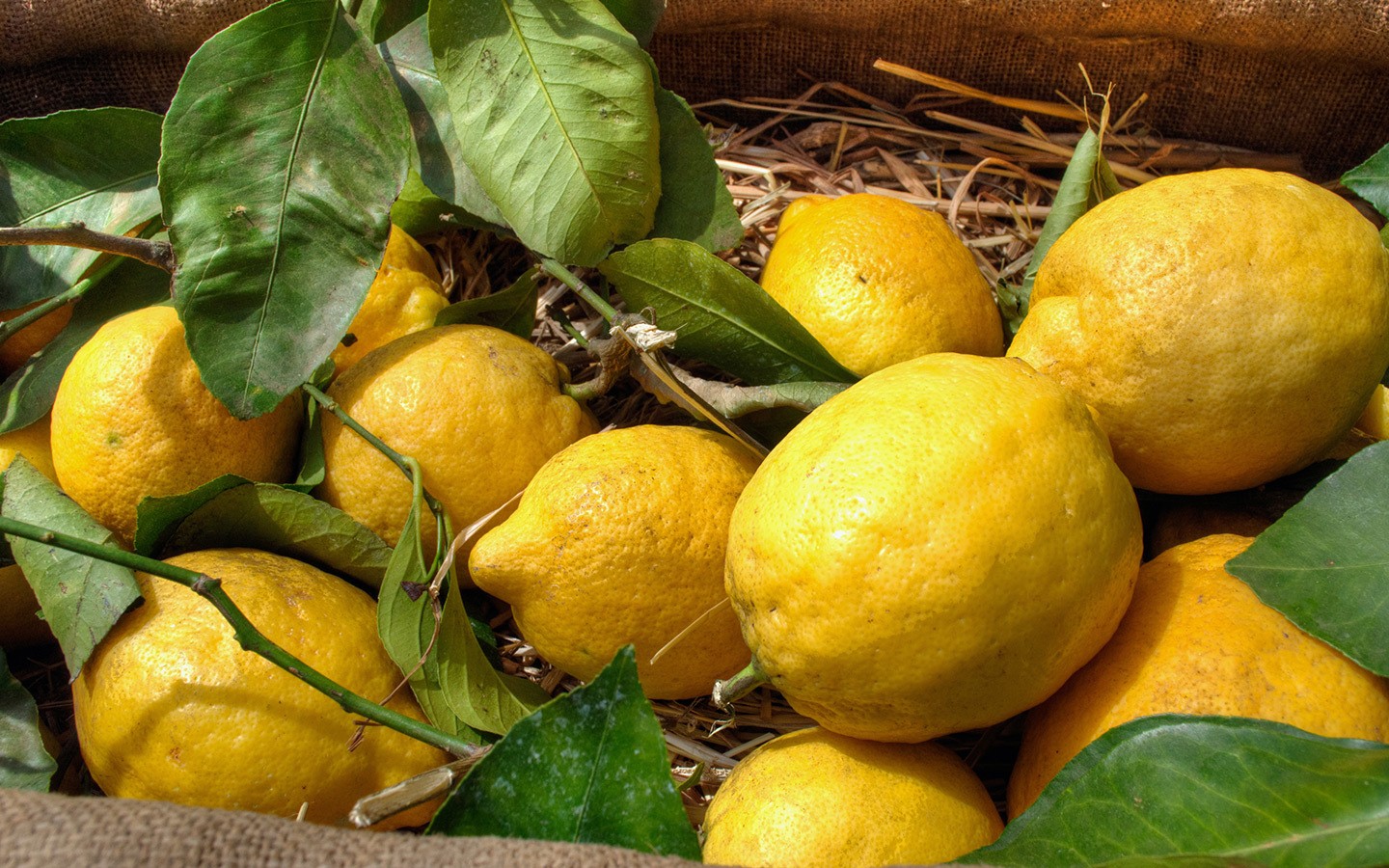 Take a day trip
The Bay of Naples has so much to see, and Sorrento's prime location right in the middle of it all make it a great place to get out and explore the region on day trips. To the north are the archaeological sites at the buried Roman cities of Pompeii* and Herculaneum,* or you can climb up to the crater of Mount Vesuvius – the volcano which destroyed them.
To the east is the spectacular Amalfi Coast, with its dramatic cliff-hugging coast road. Though driving here is pretty nerve-wracking, so it's a good idea to take a tour* or catch the ferry from Sorrento to Amalfi or Positano if you're not totally confident on the roads.
You can also head across the across the bay to the glamorous islands of Capri* and Ischia*. Or even charter a boat to explore the hidden coves nestled beneath Sorrento's cliffs.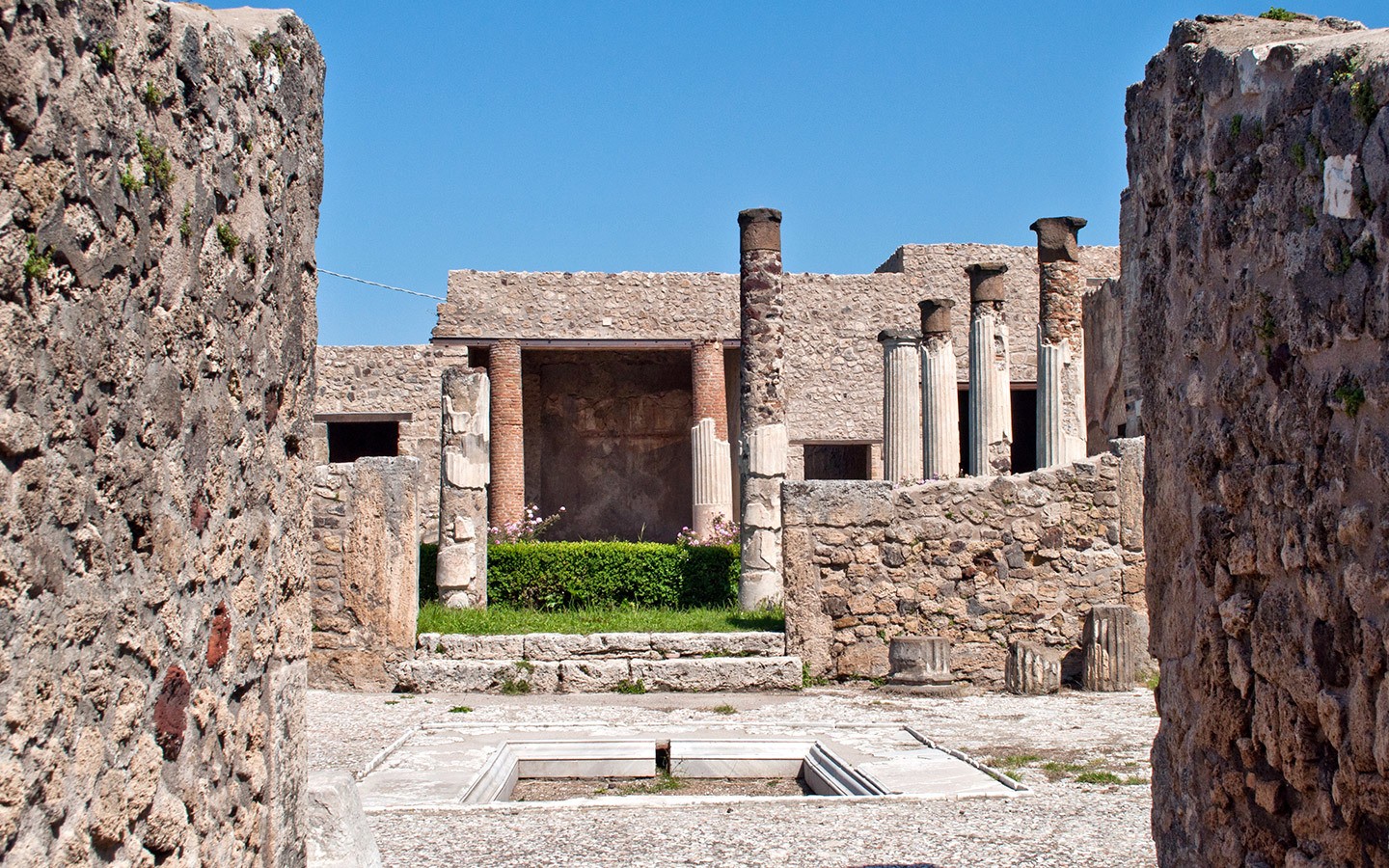 The details
When to visit Sorrento
Sorrento's main tourist season runs from Easter until October, but July and August are the busiest months so book well ahead. Summers in Sorrento are dry and sunny, but with average highs of 29°C/84°F it can get very hot in places like Pompeii without much shade.
Spring is a great time to visit Sorrento, with flowers in bloom, long sunny days and average highs of 18–22°C/64–72°F. Autumn temperatures are similar, and the sea is warm for swimming into October, but it's rainiest in November. Winter in Sorrento is fairly mild, with daytime average highs of 13°C/55°F and lows of 4°C/39°F, but things wind down after Christmas and many shops and restaurants close from January to March.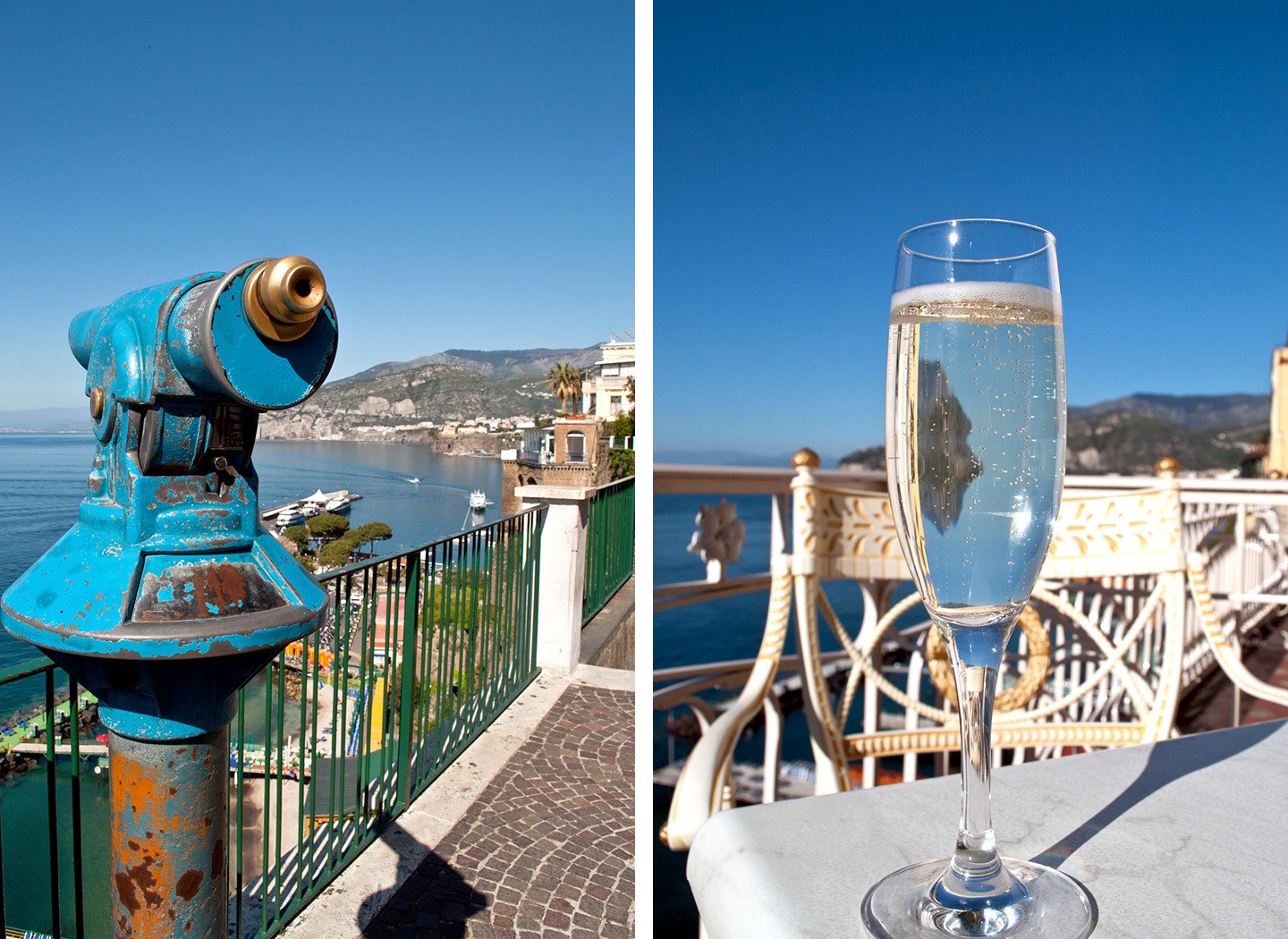 How to get to Sorrento
Sorrento is located around 50km or an hour's drive south of Naples, where you'll find the nearest airport. Though watch out for traffic along the way – especially at weekends and holidays when roads can be gridlocked. There's no free parking in Sorrento and limited paid parking spaces, so if you're bringing a car try to choose a hotel with parking.
If you're travelling from Naples to Sorrento by public transport, Curreri Viaggi buses run from Naples Capodichino airport or SITA local buses run from the city centre. You can also take a Circumvesuviana or Campania Express (April–October only) train from Naples Garibaldi station, under the main Naples Centrale station where high-speed trains from Rome and Milan arrive. Trains from Naples to Sorrento take around 70 minutes.
Or for a more scenic option you can travel along the coast by high-speed ferry* from Naples to Sorrento (between April and October only), which takes around 35 minutes. There are also ferries connecting Sorrento to Capri, Ischia, Salerno and the Amalfi Coast.
Where to stay in Sorrento
The Villa Oriana Relais* is a 20-minute downhill (and slightly longer uphill) walk to Sorrento town centre. It's a friendly, family-run boutique hotel surrounded by gardens, with terraces to relax on, six simply decorated, stylish rooms and homemade breakfasts.
Or splash out on a luxurious stay at the Maison La Minervetta*. Owned by an architect and designer, it's built into the cliffs above Marina Grande with multiple terraces to enjoy the views across the Bay of Naples. Rooms mix whitewashed walls with splashes of colour and nautical details, and there's a whirlpool bath and access to a private beach.
Save for later
You might also like