Sorrento is one of my favourite places in Italy. It has stunning sunsets, clear blue seas, delicious food and views for miles. But as well as being a fantastic place to visit in its own right, it's also surrounded by some of Southern Italy's best sights. You can easily base yourself there and take day trips from Sorrento to places like Pompeii, Capri and the Amalfi Coast. So here are eight of my favourite Sorrento day trips, all of which are possible by public transport so you don't need to hire a car – and which have tour options if you don't want to do-it-yourself.
Read more: Sirens and sunsets: Things to do in Sorrento, Italy
Eight great Sorrento day trips
1. Pompeii
Pompeii is one of the best-known Roman sites in the world and a travel must-see. This seaside city was destroyed when nearby Mount Vesuvius erupted in 79 AD, killing thousands of people and covering the city with a 25-metre layer of volcanic ash. But it was this ash which preserved the city underneath, and 1800 years later Pompeii was rediscovered.
A whole buried city has been uncovered since then, and Pompeii's now one of Southern Italy's biggest tourist attractions. You can wander around its paved streets, bathhouses, temples and amphitheatres, and even spot original Roman graffiti. The ruins cover 160 acres so you're never going to see it all in a day, but it's enough time to see the highlights. It's a good idea to get a guide or audioguide – hearing the stories of life in Pompeii really helps bring the ruins to life.
Go independent: To get to Pompeii, take the Circumvesuviana train to Pompeii Scavi – Villa dei Misteri, which is the closest station to the ruins. The journey takes 30 minutes. You can book tickets for Pompeii online in advance for a specific date for €15 for adults (for EU citizens it's free for under 18 or €9 for 18–24s). You can also get skip-the-line tickets to avoid queuing.
Take a tour: There are lots of different Pompeii tours from Sorrento. You can combine it with visits to Vesuvius or Herculaneum, or if you're short on time there's a half-day Pompeii tour.
2. Herculaneum
Pompeii might be Southern Italy's most famous Roman town, but it's not its only one. Herculaneum – just south of Naples – was destroyed in the same eruption as Pompeii. But instead of being buried by the ash cloud, it was covered by a pyroclastic flow (a super-heated avalanche of gas and rock). Like Pompeii it was hidden away and forgotten, but here a whole new modern town called Ercolano grew up on top.
In the 18th century a local resident discovered the ruins when he dug a well and hit a Roman building. It's about 50 metres below the ground level of Ercolano, so you have people living around the edge, looking down on the ancient city. The Herculaneum archaeological site is a lot smaller than Pompeii, but it was a richer town so its buildings are larger and more ornate, with mosaics, statues and frescoes. Its smaller size means you can really soak up the details rather than having to rush around to see everything.
Go independent: The Circumvesuviana train takes around 45 minutes from Sorrento to Ercolano Scavi station, then it's a 10-minute walk to the ruins. You can book tickets for Herculaneum in advance online for a specific date and it costs €11 for adults (free for EU citizens under 18 or €5.50 for those aged 18–24). As with Pompeii, there are also skip-the-line priority tickets available which are good for busy times.
Take a tour: There are a few different guided tour options to visit Herculaneum from Sorrento, including a half-day group bus tour, a private tour or a combined Pompeii and Herculaneum tour.
Read more: The ghost city of Herculaneum
3. The Amalfi Coast
The Amalfi Coast has to be one of the most stunning stretches of coastline in Europe, with pastel-coloured villages, lemon groves and pine forests perched on the cliff edge. It stretches for just over 30 miles and has 13 villages along the way. The narrow coast road that connects them is spectacular, but a combination of crazy traffic and even crazier driving means the best way to explore the Amalfi Coast is by boat.
Positano is the most famous village with its postcard-perfect good looks. Wander the backstreets, visit the ornate Church of Santa Maria Assunta and try a delizia al limone cake made with local lemons. The other two big-hitters are Amalfi and Ravello, but there are also plenty of tiny villages, forts and beaches to explore. Or head up into the hills on one of the walking paths. The most famous is the Sentiero degli Dei, or the Path of the Gods, which runs for 4.8 miles from hilltop Agerola to Nocelle, just above Positano.
Go independent: Public ferries run from Sorrento harbour to Positano (40 minutes) and Amalfi (1 hour) between April and October, and cost around €20 each way. There are also local SITA buses which connect Sorrento with Positano and Amalfi, then you can change in Amalfi to go on to Ravello.
Take a tour: There are full-day Amalfi Coast boat tours from Sorrento, with stops in Amalfi, Positano and for swimming and snorkeling. Or you can take a minibus tour to Positano, Amalfi and Ravello.
Read more: Peaceful in Praiano: Off-season on the Amalfi Coast
4. Capri
Capri's been a magnet for the rich and famous for centuries, from Roman emperors to film stars. With steep limestone cliffs jutting out of the blue Tyrrhenian Sea, this island is a real beauty. The prices are as A-list as the views, but you can get a taste of the luxury lifestyle on a day trip to the island. Capri's two main centres are Capri Town and Anacapri, both filled with whitewashed buildings, cafés and boutique shops.
From Anacapri you can take the seggiovia – a tiny one-seater chairlift – to the island's highest point on top of Monte Solaro for panoramic views. Another Capri must-do (weather permitting) is the boat trip to the Blue Grotto, or Grotta Azzurra. This sea cave glows blue in the sunshine, with a tiny entrance that's only accessible by rowing boat. And there are also Roman villas, lighthouses and beaches to visit.
Go independent: Ferries run from Sorrento harbour to Capri from April to October. There's a choice of regular (30 minute) and fast (20 minute) ferries for around €20 each way. They get very busy in peak season so it's a good idea to book in advance. When you get to Capri, you can get from the port at Marina Grande to Capri Town on the funicular or by foot, and there are public minibuses around the island.
Take a tour: You can take a full-day boat tour from Sorrento which sails along the coast and around Capri (including a stop at the Blue Grotto if it's open) and includes four–six hours on the island.
Read more: Capri from above: The summit of Monte Solaro
5. Ischia
Where Capri is all about the glitz and glamour, things are a lot more low-key and relaxed on neighbouring island Ischia. This is where the Italians come to recharge, and the island's thermal waters and mud baths have been used since the days of the Etruscans. If you want to soak your aches away, there's a mix of thermal parks and gardens like the Poseidon and Negombo parks, as well as natural hot springs.
Other highlights of the island are medieval Castello Aragonese, a castle town built on a fortified island which is connected to the rest of Ischia by a causeway. And the Mortella Gardens, which were built by the wife of English composer William Walton and are overflowing with colourful plants and flowers, with fantastic views along the coast to Forio. There are also some lovely sandy beaches to soak the sun up on.
Go independent: The ferry from Sorrento to Ischia runs from April to October. It takes around an hour and costs €22 each way. Then there are buses and water taxis to get you around the island.
Take a tour: There is a full day tour to Ischia from Sorrento which includes the ferry, a guided coach tour around the island and three hours at the Mortella Gardens.
6. Vesuvius
Mount Vesuvius has left its mark on this part of Italy – from the giant eruption which destroyed Pompeii and Herculaneum in 79 AD right up to the most recent eruption in 1944. It's classed as one of the world's most dangerous volcanoes as it's so active and over 600,000 people live on the slopes around it. The area around Vesuvius was made a National Park in 1955, with a path taking you right up to the rim.
From the bus stop it's a 20-minute walk up to the edge of the crater, where there are views down into the heart of the volcano and across to Naples and the Bay of Sorrento. You can follow the path along the rim (though you can only go all the way around the crater if you're with a certified guide), where steaming vents and wafts of sulphur show there's still a lot going on below the surface. It's not a tough walk but it's a good idea to wear decent shoes as the path is pretty rocky, and take a jumper as it gets cold up there.
Go independent: To get to Vesuvius from Sorrento, take the Circumvesuviana train to Pompeii then catch the EAVBUS from Pompeii's bus terminal in Anfiteatro Square. The journey to Vesuvius takes around 55 minutes and costs €2.70. There's also a shuttle bus from Herculaneum train station called Vesuvio's Express for €10 return. Entry to the crater is €10 per person, which includes a short talk from a guide.
Take a tour: Most of the tours of Vesuvius are full-day trips which also include a visit to Pompeii. There's also a Vesuvius tour combining the crater and wine tasting at a volcanic vineyard.
7. Naples
Manic and more than a little bit rough around the edges, Southern Italy's capital is bursting with character. The historic heart of Naples is the centro storico, packed with world-class architecture, from the dramatic Duomo to fresco-filled Baroque churches and palazzos. You can also see some of the archaeological treasures unearthed in Pompeii and Herculaneum at the city's Museo Archeologico Nazionale.
As well as the sights above ground, there's a whole network of tunnels 40 metres below Naples' streets. You can the explore catacombs, water cisterns and wartime shelters that lie underneath your feet. And make sure you come hungry as Naples has some of the best food in Italy. It's where pizza was created but also has tasty pasta, seafood and sweet treats, as well as wine grown on the slopes surrounding Mount Vesuvius.
Go independent: The Circumvesuviana train takes around 1 hour 10 minutes from Sorrento to Naples. There's also a SITA bus between the two, which takes around an hour and costs €2.80 one way.
Take a tour: There's a bus tour to Naples from Sorrento which includes transport, a morning guided tour then free time to explore on your own. Otherwise you can make your own way to Naples and take a city tour – there are lots of different ones including a walking tour, underground tour and street food tour.
8. Paestum
Long before the Romans, this part of Southern Italy was home to the Ancient Greeks. And you can still see one of their most impressive monuments at Paestum, south of the Amalfi Coast. This coastal city was founded in the 6th century BC and is home to three of the best-preserved Greek temples in the world. They date back to between 600 and 450 BC and have been made a UNESCO World Heritage Site.
It's an atmospheric place to walk around – and usually a lot quieter than Pompeii or Herculaneum. The biggest of the three temples is the Temple of Neptune, which is almost 60 metres long and has is almost completely intact. Then there are the smaller temples of Hera and Athena. The site's also known for its ancient tomb paintings from 470 BC. The site was eventually taken over by the Romans, and you can see the ruins of their forum and amphitheatre, before being abandoned and overgrown until the 18th century.
Go independent: Paestum's a bit fiddly to get to by public transport but it is possible. You can catch the Circumvesuviana train to Napoli Garibaldi station (1 hour 10 minutes) then it's a five-minute walk to Napoli Centrale station for the train to Paestum (1 hour 15 minutes). The train station in Paestum is 15 minutes from the ruins. Entrance to the site costs €9 (free for EU under 18s and €4.50 for those aged 18–25).
Take a tour: You can take a full-day bus tour from Sorrento to Paestum, which includes a guide to take you around the ruins as well as a stop at the nearby coastal city of Salerno.
Pin it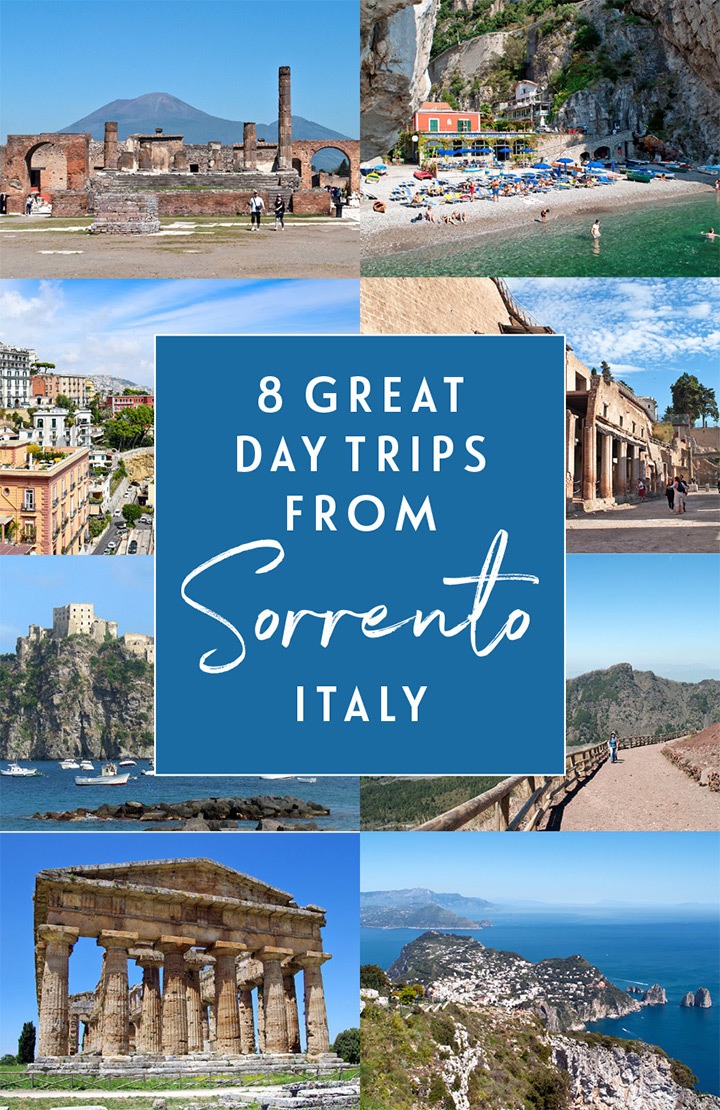 This article contains affiliate links, where I get a small commission at no extra cost to you – thanks.