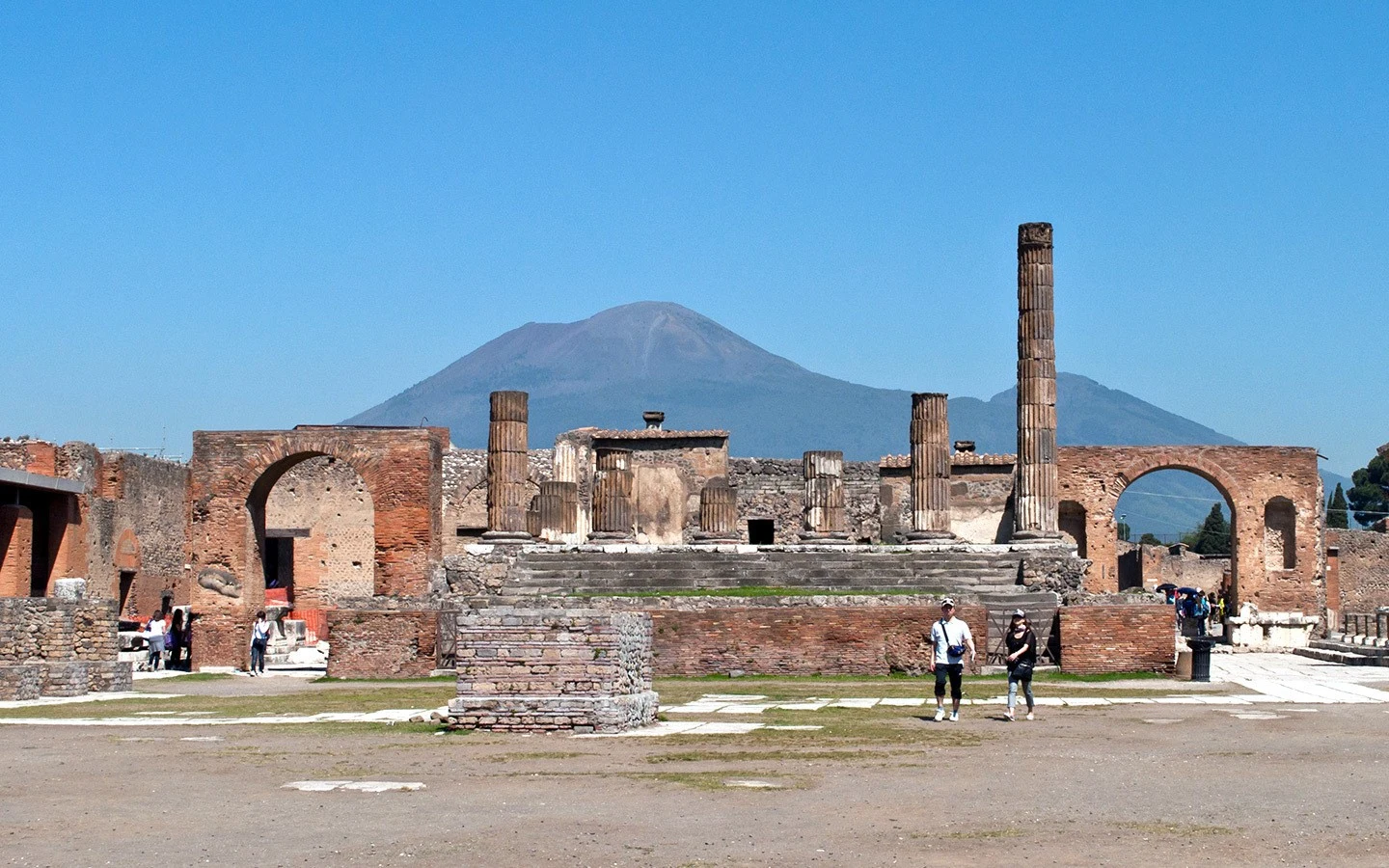 Today it's one the most famous Roman sites in the world, but Pompeii was just another Roman seaside resort until Mount Vesuvius erupted in 79 AD. Just a day later, thousands of people has been killed and the whole city was buried under a blanket of volcanic ash 25 metres deep, forgotten until it was unearthed by explorers 1800 years later.
The first I heard of this buried city, preserved like a snapshot of Roman life frozen in time, was in school Latin classes. I can't remember my verbs, but those books started my fascination with the Romans, and put visiting Pompeii top of my list of things to do in Italy.
Read more: Eight of the best day trips from Sorrento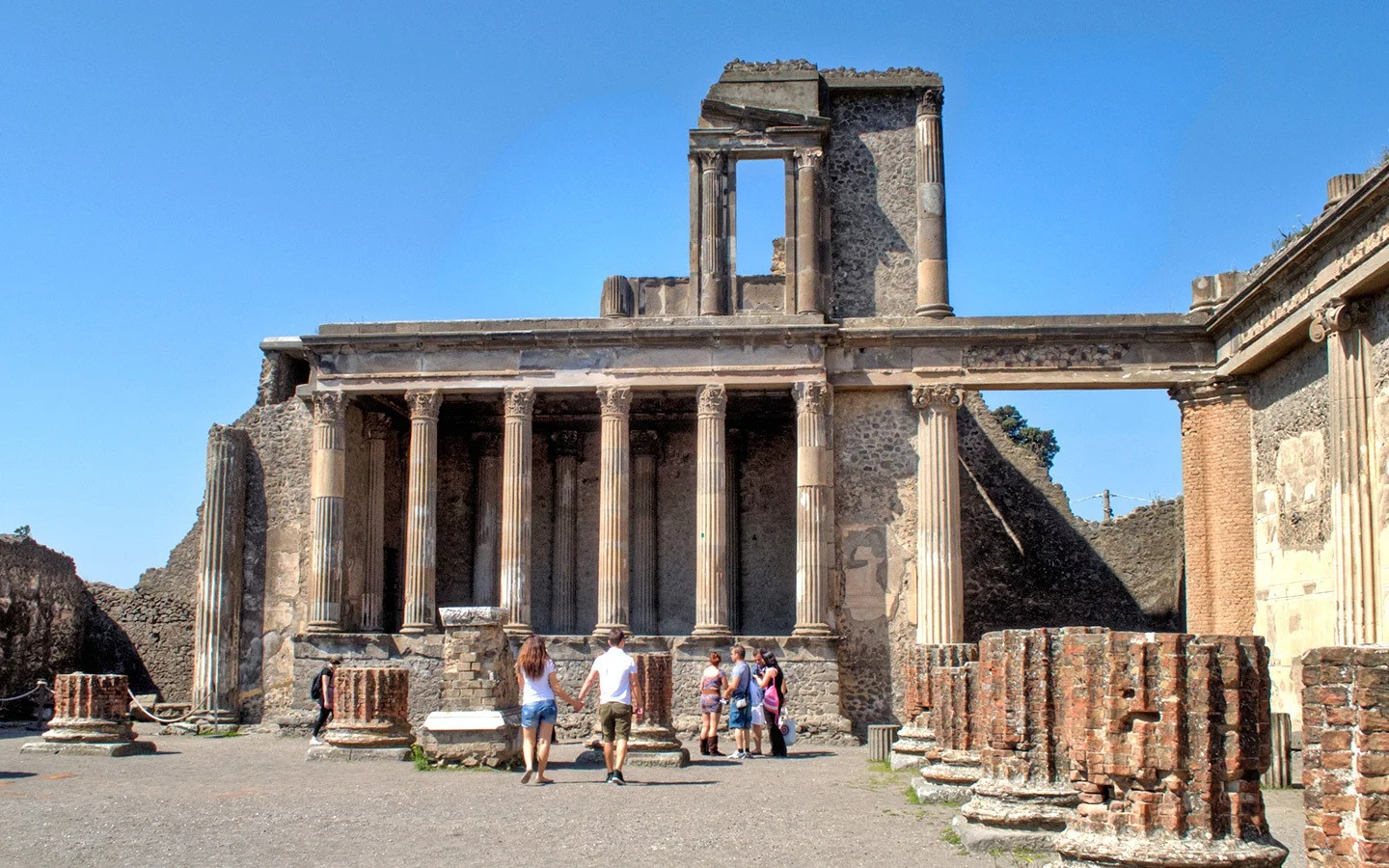 The history of Pompeii
Pompeii was originally settled by the Etruscan and Greeks, but by the first century AD it was a thriving Romans city, with visitors flocking south to spend their holidays relaxing on the Bay of Naples. Pompeii's population swelled, and by 79 AD it's estimated that around 12,000 people lived in the city with as many again living in the surrounding villages.
Pompeii was home to taverns, shops, factories, bathhouses and brothels, as well as an arena seating 20,000 people. And in the background was Mount Vesuvius – Pompeii's menacing next-door neighbour who never let the local residents forget about it for long.
Although there were frequent tremors, and a larger earthquake in 62 AD which sent a tsunami as far as Rome, Vesuvius hadn't erupted for hundreds of years. People didn't see it as a real threat, building houses in the foothills and vineyards and gardens in the fertile soils of its slopes. But in the autumn of 79 AD, Mount Vesuvius finally broke its silence.
It was one of the world's most catastophic eruptions. The force blew the top out of the volcano, sending a plume of ash and rock high up into the sky, visible for hundreds of miles around. Across the Bay of Naples, Pliny the Younger recorded that "Darkness fell, not the dark of a moonless or cloudy night, but as if the lamp had been put out in a dark room."
Many residents escaped, but as the ash column started to cool, it rained down on everything within a 15-mile radius, including Pompeii and the city of Herculaneum to the north. The people that were left behind were smothered by a pyroclastic surge of superheated rock and gas which ran down the slopes of the volcano at over 100 miles an hour.
At the end of the eruruption around 2000 people had been killed and Pompeii had disappeared under metres of ash. The site was looted for valuables but eventually forgotten about, and it stayed undisturbed until 1748 when a group of explorers started digging and came across perfectly preserved Roman artefacts buried underground.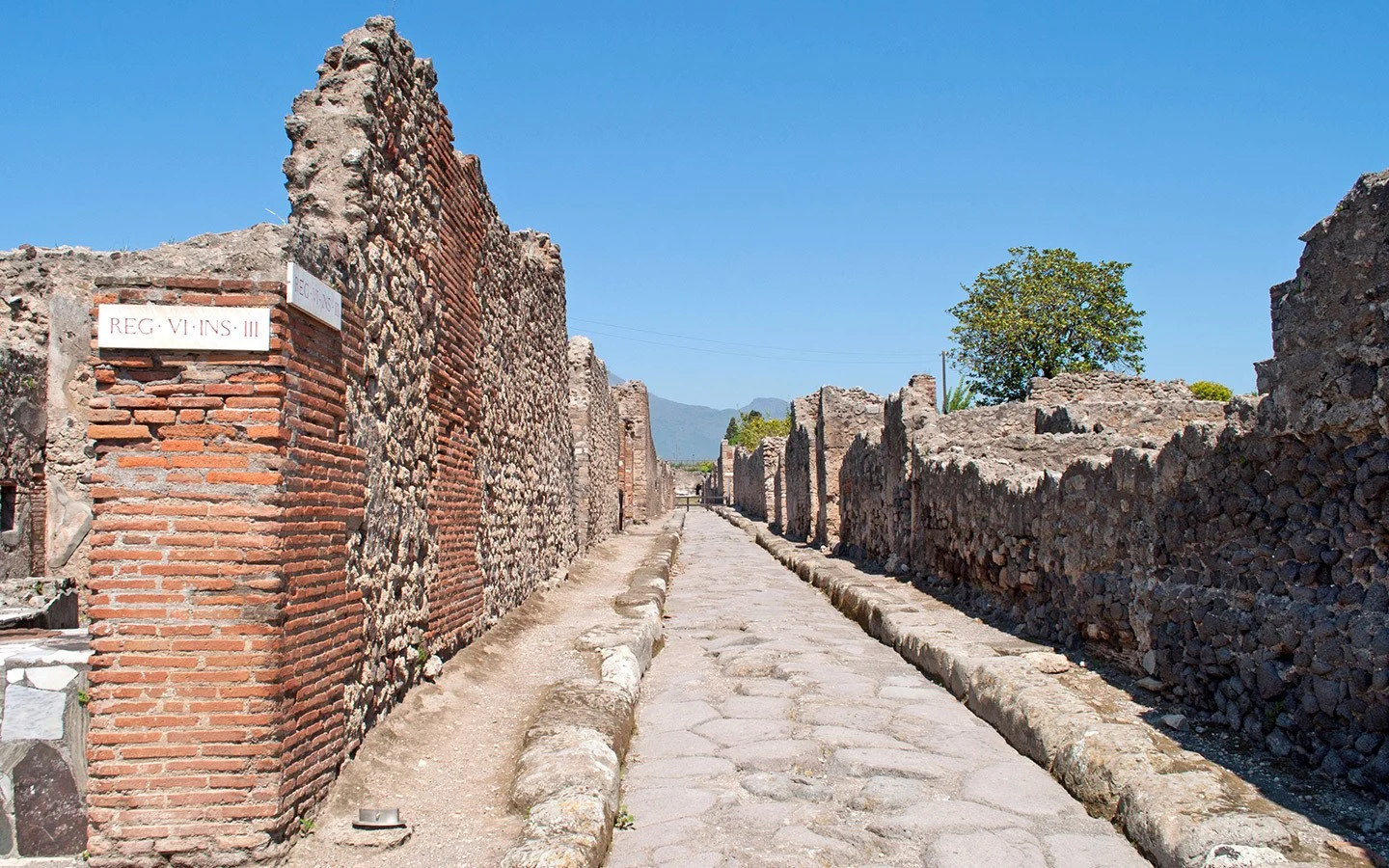 Since then Pompeii has become the longest continually excavated site in the world and made a UNESCO World Heritage site. Protection from air and moisture under the ash helped to preserve Pompeii, but exposure to the light, air and pollution since it was uncovered – plus damage from looters and visitors over the years – have taken their toll.
Just to keep it as it is and stop any further damage costs the Italian government millions a year. Lack of funding has meant that new excavation has been stopped as all money available has been ploughed into conservation, so who knows what else still lies underground?
Visiting Pompeii archaeological site
From Sorrento, I took the train to Pompeii Scavi, one of three entrances to the ruins. The first thing you notice when visiting Pompeii is its size. Although no one knows for sure how big it was originally, the archaeological site is over 160 acres, so you could easily spend a week exploring. But with only a day to spare, I took a guided tour of Pompeii's highlights.
Our first stop was a bath house and brothel not usually open to the public. These were originally located in the port to take care of the sailors' needs when they arrived into port. It's hard to imagine now that there was a harbour full of boats in front of where we stood, as the eruption added so much material that Pompeii's now 2km away from the coast.
Arriving sailors would come into the baths to steam in the caldarium and cool off in the frigidarium before heading upstairs. The ash did an amazing job of preserving Pompeii's details, from colourful frescoes and mosaics to the underground engineering used to heat the baths. You can even still see the paintings in the brothel entrance showing the positions customers could choose from (numbers 1 to 10 anyway, 11 to 20 we have to imagine!).
Inside the main city walls, we walked through paved streets. Pompeii's streets are laid out just as they would have been before the eruption, with private homes mixed in with shops, restaurants, temples, an amphitheatre and even a hotel. And the extent of the preservation gives a unique insight into how Pompeii's Roman residents lived and worked.
Among the highlights are the Temple of Apollo, Pompeii's oldest building which dates back to the 6th century BC in parts. There's also the Forum, surrounded by religious and business centres at the heart of Pompeii life, the oldest Roman amphitheater in Italy and the Temple of Isis. And grand villas owned by Roman merchants, including the House of Vettii, frescoed House of Julia Felix and giant House of the Faun which covers a whole block.
But there are also lots of smaller details which help bring the site to life. You can see graffiti carved into the walls (mostly students complaining about their teachers, with the occasional teacher complaining back), indentations in the road which have been worn down by the wheels of chariots, and an early 'beware of the dog' sign made from mosaic tiles.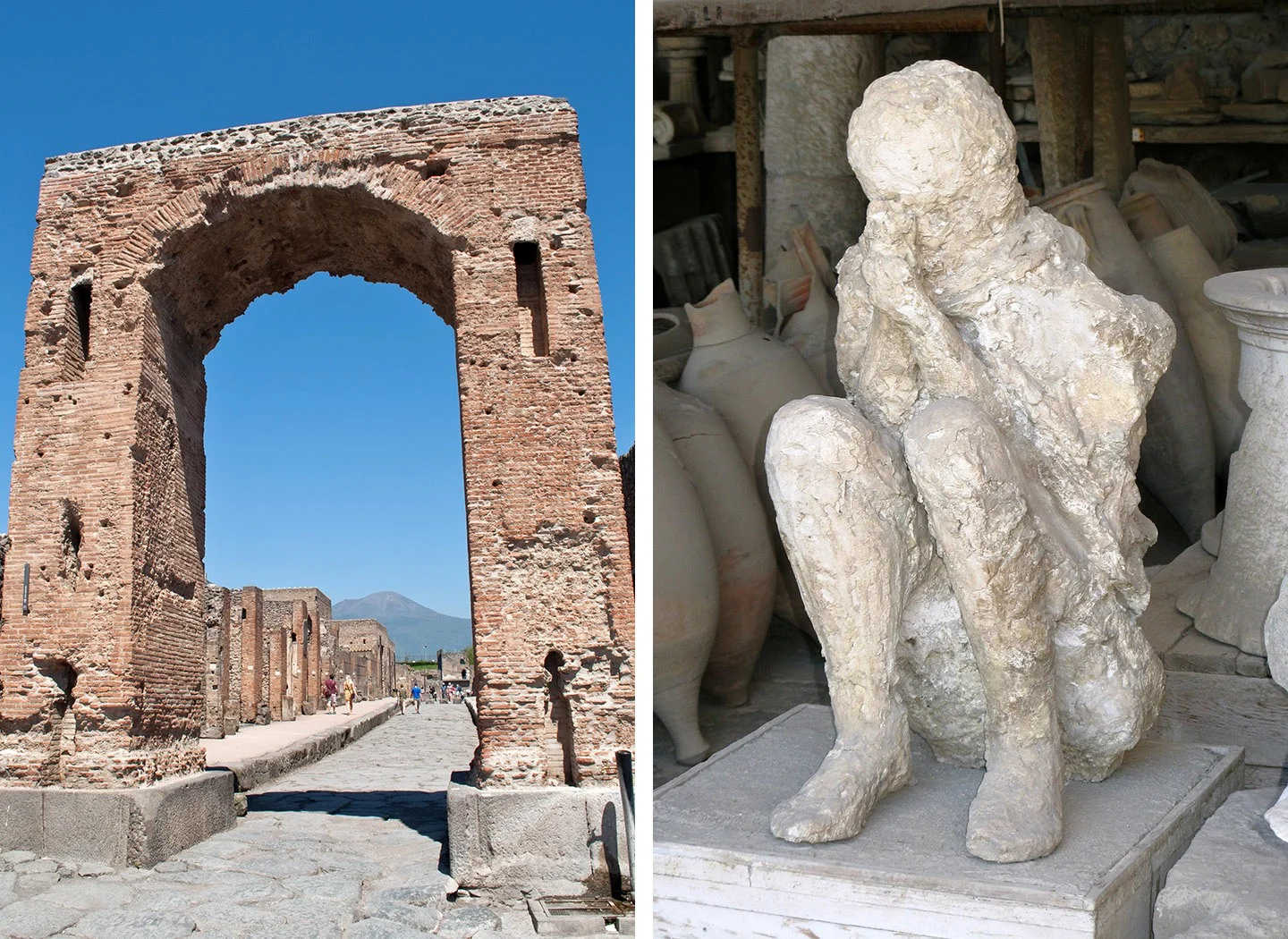 Then there are the eerie body casts. In 1860, archaeologist Guiseppe Fiorelli realised the empty spaces in the ash around the human bones he found were where the bodies had decomposed. By filling them with plaster you could make a cast of the position they were in when they died – hands shielding their faces or curled up in a foetal position.
Apparently temperatures reached 250°C and would have killed anyone long before the ash arrived. But it's impossible to imagine how terrifying it must have been. You can still see some body casts around Pompeii, with a group laid out in the Garden of the Fugitives where people tried to hide in an orchard. But many casts and other relics and artworks from Pompeii were removed from the site and are on display in Naples' Archaeological Museum.
One of our last stops and a highlight of the tour was the Villa dei Misteri – Villa of the Mysteries. The villa is just outside Pompeii's city walls, so it's quieter than the main site (with 2.5 million visitors a year Pompeii can get pretty busy). It was the holiday home of a wealthy merchant, which had a fantastic location on the waterfront.
The villa survived the eruption relatively unscathed and has one of the best preserved frescoes in Pompeii, with amazing vivid colours. They are also the source of the mystery that gave the villa its name, as no one can agree on what the frescoes show.
It is a young woman preparing for marriage, the life story of the god Dionysos, or women being inducted into a mystery cult dedicated to the Greek god Bacchus? Either way it's spectacular to look at, but reminds us that however much we are able to learn about them from the ruins of Pompeii, the Romans still keep a few secrets to themselves.
Tips for visiting Pompeii
How to get to Pompeii
The ruins of Pompeii (not to be confused with the modern town of Pompei next to it) is located 25km south of Naples and 26km north of Sorrento. The easiest way to get there is by train to Pompeii Scavi – Villa dei Misteri. There are two train services: Circumvesuviana local trains which run every half hour year round, and the faster Campania Express tourist service which only runs four times a day in each direction from March to November.
From Sorrento: Trains to Pompeii take around 20 minutes on the Campania Express or 30 minutes on the Circumvesuviana. There are also full day tours tours* available which combine Pompeii and Vesuvius, and include minibus transport and a guide.
From Naples: Trains to Pompeii take 22 minutes on the Campania Express or 35 minutes on the Circumvesuviana. Both stop at Naples Porta Nolana and Garibaldi stations. Garibaldi is handy if you're travelling by train from elsewhere in Italy as it's below Naples Centrale station. But if you don't have heavy bags it's worth the short walk to Porta Nolana – trains can be busy and as it's the first stop on the route you're more likely to get a seat.
If you're in Naples on a cruise and want to visit Pompeii, airport buses connect the Stazione Marittima port with Naples Centrale station, where you catch the train to Pompeii. There are also day tours from Naples port or city centre to Pompeii plus Vesuvius* or Sorrento*.
Read more: One-week Italy by train itinerary
When is Pompeii open?

Pompeii archaeological site is open from 8.30am until 7.30pm from April–October or 5pm from November–March, with the last admission 90 minutes before closing time.
How do I buy tickets for Pompeii?
You can buy Pompeii tickets online, though you need to choose a specific date. Entry costs €15 adults, €9 EU citizens aged 18–24 or free for EU citizens under 18. You can also get a combined ticket including the archaeological sites Oplontis and Boscoreale for €18/€10. Or there's a ticket which also covers Herculaneum for €22, but it's not available online.
Pompeii can get very busy, so if you're visiting at peak times and want to avoid queuing, you can prebook a fast-track entry ticket* which also includes an audio guide and map.
Do I need a guide to visit Pompeii?
There's no requirement to have a guide and you can pick up a basic map when you arrive. But interpretation around the site is limited so it's useful to have some sort of explanation of what you're seeing. Plus with Pompeii covering 160 acres it helps to have some advice on what the most important areas to focus on are, especially if you're limited on time.
Audio guide apps are available for download or you can rent an audio guide. Or there are a variety of guided tours available. Guides gather around the entrance – look for red wooden neck tags which show guides are authorised by the region of Campania. Or you can pre-book a guided tour which includes skip-the-line access to avoid the queues, with small-group tours led by archaeologists available through Get Your Guide* and Walks of Italy.
What to take with you
Visiting Pompeii involves lots of walking, often on cobbled streets with little shade from the sun, so wear comfortable shoes and pack a hat, sunscreen and a water bottle which you can refill at water fountains around the site. There are public toilets and a restaurant on site but it's not very exciting so you can also bring your own food to eat at the picnic areas.
Pin it
* This site contains affiliate links, where I get a small commission from purchases at no extra cost to you.