Explore the beautiful islands of the Bay on Naples in Southern Italy on this five-day island-hopping itinerary to Capri, Ischia and Procida, packed with seaside towns, scenic views, beaches and boat trips.
* This site contains affiliate links, where I get a small commission from purchases at no extra cost to you.
Located in the Bay of Naples off the coast of Southern Italy, the three islands of Capri, Ischia and Procida might be close together but they have very different characters. You've got tiny Procida with its fishing villages and volcanic beaches, mountainous Ischia with its thermal spas, and glitzy Capri with its luxurious hotels and restaurants.
But being so close together means you can easily combine them into one trip. This five-day Capri, Ischia and Procida itinerary gives you a taste of all three islands, and ferry and bus connections mean it can all be done by public transport so you don't need to hire a car.
Capri, Ischia and Procida map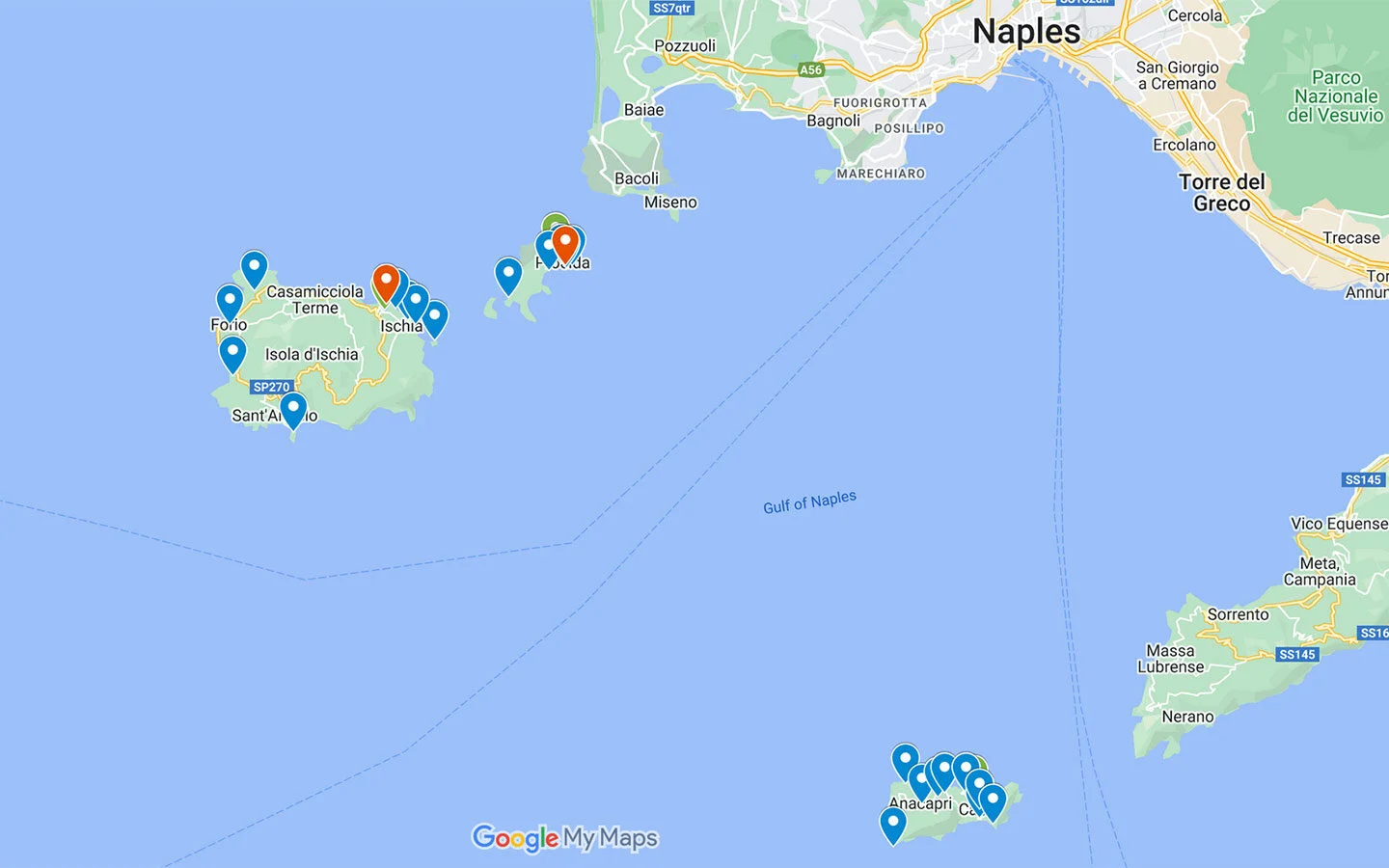 Travelling to Capri, Ischia and Procida
None of the islands has an airport, but ferries connect the three islands to each other and to mainland destinations like Naples and Sorrento. The nearest airport is in Naples, where you can catch the Alibus to Molo Beverello and Porta di Massa ports. Or pre-book a transfer from the airport to the port with an English-speaking driver through Welcome Pickups.*
Ferries to Capri, Ischia and Procida depart from these two ports, which are next to each other. There's a mix of ferries (traghetti in Italian) and hydrofoils (aliscafi).
Hydrofoils are smaller and faster, but you can't go out on deck during the journey. Ferries are bigger, with some carrying vehicles as well as foot passengers. They're slower but you can go outside, and they're more stable so are less likely to be cancelled in bad weather.
The ferries are run by several different companies including Caremar, SNAV and Alilauro. Services run year-round, but are more frequent from March to October.
You can buy tickets online* for most routes. Normally you take your confirmation email to the ferry company ticket desk at the port where they give you a printed ticket. But etickets are now available on some routes. You can also buy tickets at the port, but you need to get there at least 30 minutes in advance and some routes can sell out at busy periods.
Crossings cost between €10 and €24 one way for foot passengers, depending on the length of the journey, with ferries usually a bit cheaper than hydrofoils.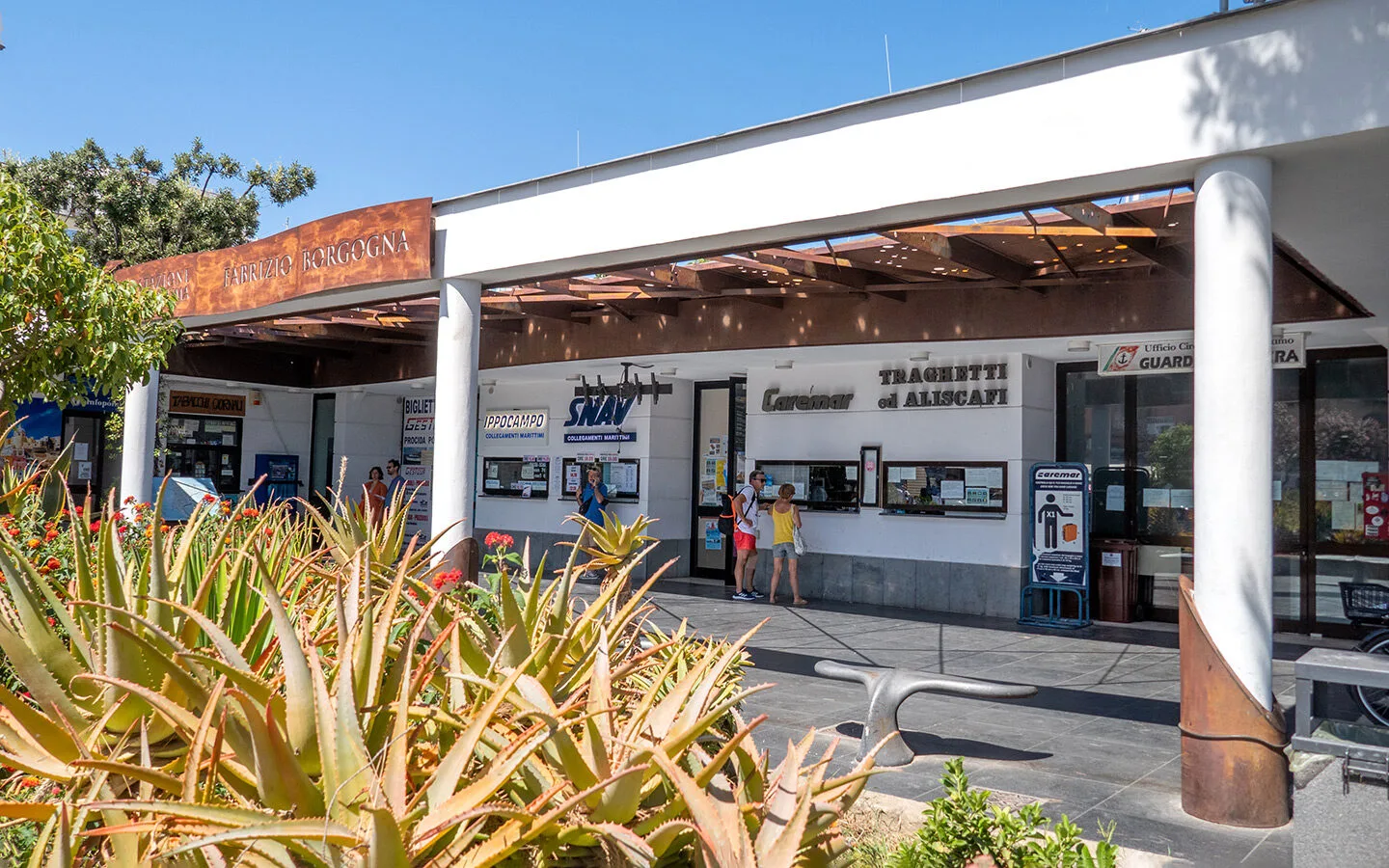 Getting around Capri, Ischia and Procida
Each of the islands has a good bus service so you don't need to have a car for this itinerary. The buses are minibuses rather than big coaches so they can fit through the narrow streets. They run fairly frequently but be prepared for queues at bus stops in peak season.
If you want to explore independently you can hire a car in Ischia (non-resident cars are prohibited for a large part of the year in Procida and Capri), though the roads get very busy and parking is limited so it's only really advised outside of high season. You can also hire scooters on each of the islands, and ebikes are popular in Procida.
Day 1: Procida
Start your five-day Capri, Ischia and Procida itinerary in Procida. It's the least-well-known of the three islands, and gets fewer international tourists than Capri or Ischia, giving it a more authentic Italian feel. At only 4km² it's also the smallest island, but still manages to fit in pretty fishing villages, black-sand beaches and a fortified hilltop town.
Take a morning ferry from Naples to Procida. There are departures from both Molo Beverello and Porta Di Massa ports, with ferries taking an hour and hydrofoils 40 minutes.
The main port in Procida is on the north side of the island. But when you arrive, head across the peninsula to Marina Corricella. It's only a 15-minute walk, but it's quite hilly, so if you have heavy bags you might want to take a taxi or catch the C2 bus.
Marina Corricella is the oldest fishing village on the island, built in the 17th century in the shadow of the imposing Terra Murata fortress. Its colourfully painted houses and waterside setting have made it the island's most popular spot. No cars are allowed, and narrow stepped streets lead down to the harbour with its restaurants and fishing boats.
After leaving your bags and Marina Corricella for now, head out to explore the island – starting with its beaches. You won't find white sandy beaches in Procida, but it does have some lovely black-sand beaches and clear waters. The closest beach to Marina Corricella is Chiaia (15 minutes' walk), a long arcing beach with shallow water backed by cliffs.
You reach Chiaia via a steep staircase, which is enough of a discouragement to stop it getting too busy. Don't miss the panoramic views from Belvedere Elsa Morante at the top of the hill too, looking out across the bay dotted with boats. And if you get hungry, there are a couple of beach restaurants at Chiaia where you can have lunch.
Or further afield, Chiaiolella beach (35 minutes walk or L1/L2 bus from the port) is a longer sandy beach, connected to neighbouring Ciraccio. It gets the sun all day and has a good selection of beach bars and restaurants where you can hire sunbeds and umbrellas.
After lunch, head back to Marina Corricella and climb up to the Terra Murata – a medieval fortress town perched on a rocky crag. Take a walk through its quiet backstreets, where you'll find terrace viewpoints, historic churches and abbeys. You can also see the abandoned Palazzo D'Avalos, a Renaissance turned prison for political prisoners.
The Panoramica sulla Corricella viewpoint just outside the Terra Murata is a great place to watch the sun set over the island, with Marina Corricella's pastel buildings glowing in the evening light. Then head down into the village for dinner – Marina Corricella is known for its fresh seafood, but tables are limited to book in advance in summer and at weekends.
Where to stay in Procida: Hotel La Corricella* has a fantastic hillside location in Marina Corricella, underneath the Terra Murata. Its nine rooms have sea views with either a terrace or balcony, and there's a good seafood restaurant called La Lampara.
Day 2: Ischia
The next morning, take the ferry from Procida to Ischia. It only takes 30 minutes by ferry or 15 minutes by hydrofoil. There are some gorgeous views of both islands along the way though, so our tip would be to choose a ferry over a hydrofoil so you can sit out on deck.
Ischia is the largest of the three islands, with seaside towns and some of the area's best sandy beaches around the coast and rugged mountainous scenery in the centre. It's been a centre for wellness tourism since the Romans, who came to soak in its thermal spas.
Ferries arrive into Ischia Porto on the north of the island. This is the hub for public transport, which makes it a good place to stay if you're only in Ischia for a couple of days. Check into your accommodation then head to Ischia Ponte (30 minutes' walk or bus 7 from the port), one of the island's oldest and best-preserved villages.
Take a walk along Corso Vittoria Colonna, a tree-lined street with boutique shops, hotels and restaurants where you'll find lots of good options for lunch. You can also find out more about Ischia's history and seafaring stories at the Museo del Mare.
Then visit Ischia's most famous site – the Castello Aragonese, a medieval volcanic island castle connected to the mainland by a bridge. The original castle was built in 474 BC and was later fortified to protect it from pirate attacks. By the 1700s it was a whole town with over 2000 families living there, 13 churches, an abbey, convent and bishop.
But in 1809 the Castello was almost completely destroyed by British shelling after a siege and was abandoned. A hundred years later it was sold to a private owner and is now open to visitors so you can explore some of the remaining buildings.
It's a steep climb up to reach the top (though there is a lift if you need it) but the reward is panoramic views over Ischia and across to Capri and Procida. You follow a trail which takes you to chapels, a prison, winery and the slightly creepy cemetery of the Poor Clares, where dead nuns' bodies were propped up on stone chairs to decompose.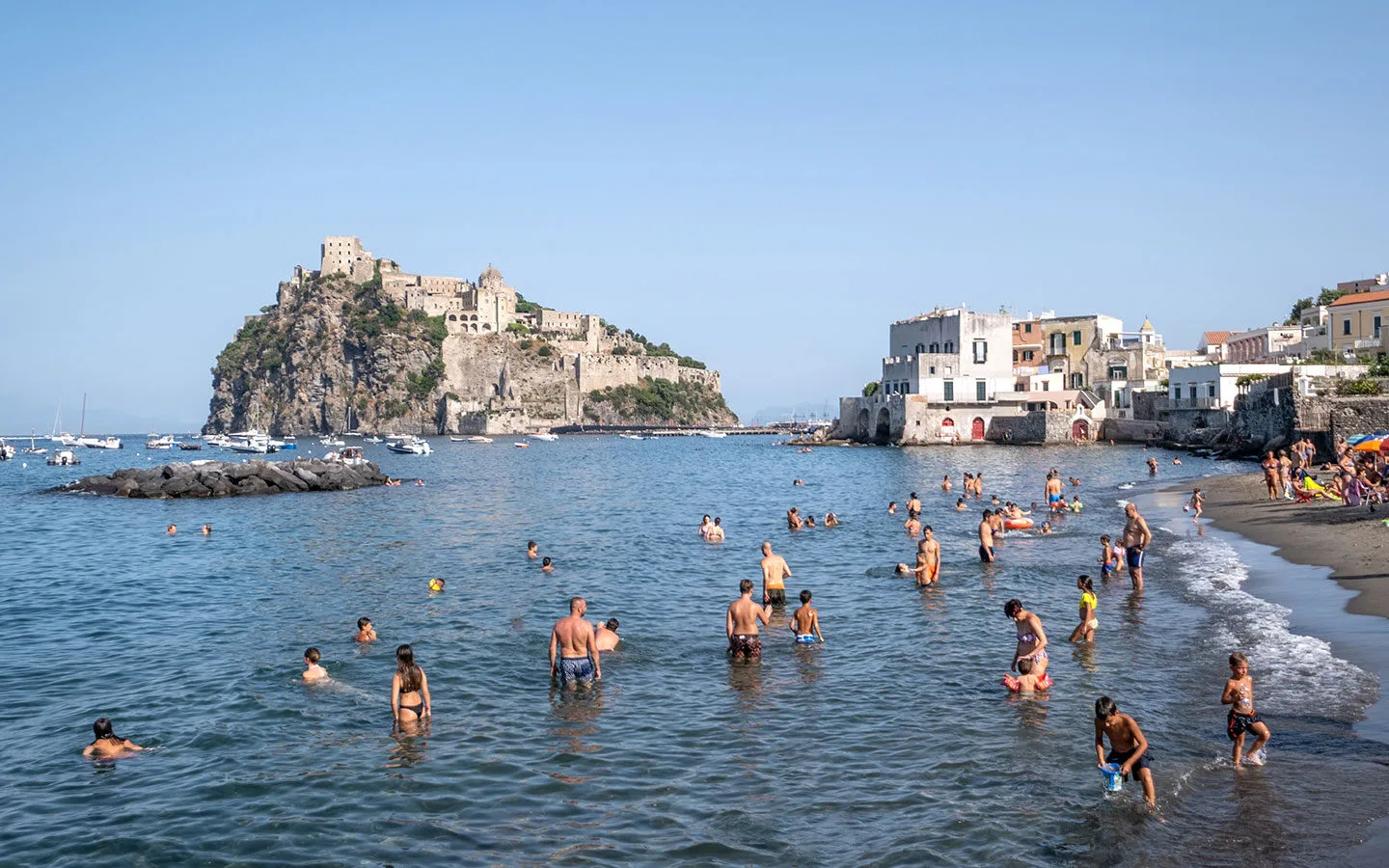 If you're feeling the heat after walking around the castle, you can cool off at one of the nearby beaches. The Spiaggia dei Pescatori or Fisherman's Beach has a great view of the castle. Or the Spiaggia di San Pietro is a larger sandy stretch with sunbeds for hire.
Later that evening, go back to the Castello Aragonese for dinner. The Ristorante Il Monastero is part of a former monastery inside the castle that's now a hotel. The restaurant's terrace is Ischia's most scenic spot for an evening aperitif, and they serve fish and pasta dishes which use produce from the castle's vegetable garden.
Where to stay in Ischia: Villa Lentisco* is a short walk from the port, in a quiet area right on the water's edge in front of a sheltered sandy beach. There are four apartment-style rooms, two with private balconies. There's also a shared terrace with sunbeds and stairs directly down onto the beach, and a daily breakfast hamper is included.
Day 3: Ischia
The following day, take a trip around Ischia to see more of the island. It's a lot bigger than Procida at 45km² so you'll need transport to get around. You can hire a car or scooter and explore independently (though beware that the roads get very busy and parking is limited) or EAV buses do clockwise and anticlockwise circuits around the island.
Buses run every 15–30 minutes, so it's possible to visit a few different places in one day. Heading counterclockwise from the port, the most popular places to visit in Ischia are the Mortella Gardens and the towns of Forio and Sant'Angelo.
The Mortella Gardens were created by Susan Walton, the wife of English composer William Walton, in 1958. Along with garden designer Russell Page she turned an old quarry into a lush green oasis over the next 30 years. There are tropical and Mediterranean gardens, with fountains, a Greek theatre and a Japanese tea house among the blooms.
The town of Forio is the largest on the island, with a historic town centre and sandy beaches. You can visit the Chiesa del Soccorso, a whitewashed church which contrasts with the blue sea behind it, and the Saracan watchtower turned museum Il Torrione. Forio is a good place for a wander, with boutique shops selling local arts and crafts.
You can also soak in the Giardini di Poseidon thermal baths, 3km south of Forio. Ischia has over 100 natural hot springs which are heated by volcanic activity, and their waters are said to have therapeutic benefits. Poseidon is the largest spa on the island, overlooking Citara beach with 22 pools heated to different temperatures and a natural sauna.
And right at the far south of the island, Sant'Angelo is a car-free former fishing village that's one of the island's most charming spots. It's made up of two curving bays, with a giant rock in the centre. There are several beaches nearby, including Le Fumarole Beach which is geothermally heated with jets of steam coming out of the sand.
Then finish the day with dinner back in the port, where there's a line of restaurants along the waterfront on the eastern side of the harbour. You can find a variety of different styles and specialities, but most have a terrace out front where you can watch the sunset.
Day 4: Capri
The following day, take the ferry to the last of the three islands – Capri. Capri is the best-known island in the Bay of Naples, with a glitzy, glamorous reputation as a haunt of the rich and famous. It still attracts the A-list with its stunning scenery and high-end hotels, restaurants and clubs, but anyone can get a taste of Capri's luxury lifestyle.
It takes around 50 minutes by ferry or 65 minutes by hydrofoil from Ischia to Capri. Then you can walk or take the funicular from Marina Grande harbour to Capri town. The funicular runs every 15 minutes and only takes four minutes, but there can be big queues.
At the top of the hill is the Piazzetta, Capri town's pedestrianised main square. This former market square is the heart of the island and is surrounded by bars and cafés perfect for people-watching. Check into your accommodation then head out to explore.
The Pizzolungo walk is a great introduction to Capri, taking you from the bustle of the Piazzetta along a spectacular coast path. It takes around two–three hours, passing the Natural Arch, cave grottoes, lavish villas and viewpoints, ending at the Belvedere di Tragara which looks out at the Faraglioni – three rock stacks at the end of the island.
On your way back into Capri town you can stop off at the Certosa San Giacomo and Gardens of Augustus. The Certosa or Charterhouse was a 14th-century monastery that's been turned into a museum. And the gardens are spread over terraces with views of the Faraglioni and Via Krupp, a winding path which zig-zags down to the port.
Then spend the rest of the afternoon on the beach. Capri's beaches are pebbly and are usually made up of a private area with sunbeds and umbrellas for hire and a smaller free area where you can lay down your towel. Marina Grande beach is the island's largest beach. It's just a short walk from the port and has a couple of beach clubs.
Join the crowds for an aperitif as you watch the evening passeggiata in the Piazzetta before dinner. There's a wide range of restaurants in Capri town, from simple trattorias to celebrity haunts, many with scenic terraces to make the most of the views.
Where to stay in Capri: The Gatto Bianco* is a vintage-style, family-run hotel close to the Piazzetta in Capri town that was a favourite with Jackie Onassis and Audrey Hepburn. The rooms still have a 50s-style décor with whitewashed walls and splashes of colour. There's a lobby bar and a small spa, and a resident white cat called Matisse.
Day 5: Capri
Make an early start so you can take a boat trip to the Blue Grotto before the day-trip crowds arrive in Capri. The Blue Grotto or Grotta Azzurra is a natural sea cave 60 metres long and 25 metres wide which glows a vivid blue colour when the sun is shining. The entrance to the cave is just two metres wide so it's only accessible by rowing boat.
You can take a boat trip* from Marina Grande harbour to the Blue Grotto, some of which also include a tour around the island. It takes around 10 minutes to get to the entrance where you swap onto a rowing boat for a short tour of the cave. Though check the weather as the grotto is closed if it's rough and isn't so impressive when it's cloudy.
Then take the bus to the town of Anacapri. It takes around 15 minutes, with the bus winding steeply uphill – sit on the right to make the most of the views (if you're not scared of heights). Compared to Capri town, Anacapri has a quieter, more relaxed feel with white churches, painted tiles and artisan workshops making leather and ceramics.
Head to the top of Monte Solaro, the highest point on the island at 589 metres. You don't have to climb up though as there's a chairlift – or seggiovia – to the top. Just don't expect a ski-resort-style lift, this has individual seats and stays fairly close to the ground.
It takes 12 minutes to reach the top, travelling over Anacapri's rooftops and up the mountainside. From the top you get a 360º panorama over the island, looking over Capri town and the Faraglioni to the Sorrento Peninsula and Amalfi Coast. There's a café at the summit, and if you want to walk back down it takes around 90 minutes.
Anacapri is also home to the Villa San Michele. This mansion was built by the Swedish physician and author Axel Munthe at the start of the 20th century. It's now a museum with sculptures and artworks on display, including a 3200-year-old sphinx. You can also look around the gardens, which have more great views across the island.
Finish the day with sunset at the Punta Carena lighthouse, a popular spot to watch the sun go down – it's around a 40-minute walk from Anacapri or you can take a bus. Then have dinner in Anacapri before catching the bus back to Capri town.
Onward travel
At the end of your five days in Capri, Ischia and Procida you've got a few different options for onward travel. You can head back to Naples to the airport. Or Sorrento is very close to Capri and makes a good base for visiting Pompeii, Herculaneum and Vesuvius. Also nearby are the picturesque coastal villages of the Amalfi Coast.
Ferries from Capri to Naples take 45 minutes–1 hour 25 minutes and ferries from Capri to Sorrento take 20–25 minutes. You can also take a ferry from Capri to Positano (30–55 minutes) or Amalfi (45 minutes–1 hour 15 minutes) on the Amalfi Coast.
Save for later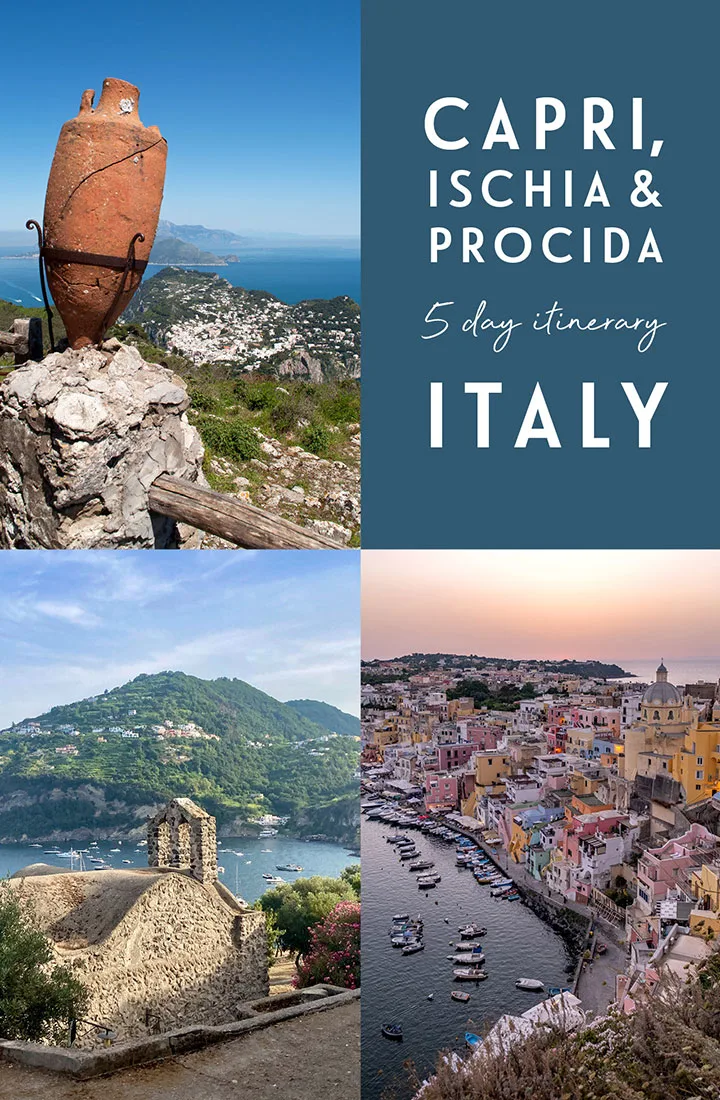 You might also like