Discover the best things to do in Procida, a tiny island in the Bay of Naples that's one of Southern Italy's best-kept secrets with its pastel-painted fishing villages, clear seas and black sand beaches.
* This site contains affiliate links, where I get a small commission from purchases at no extra cost to you.
At less than two miles long, Procida is the smallest inhabited island in the Bay of Naples, overshadowed by its bigger and better-known neighbours Capri and Ischia. Unlike them it's fairly unknown with international tourists, with most visitors coming from nearby Naples.
With its picture-perfect candy-coloured houses and blue seas dotted with boats, Procida's undoubtedly a beauty. But it's also a living and working island with plenty of authentic charm – crumbling buildings and the constant buzz of scooters included. And with fishing still its major industry, the focus is on keeping tourism to a sustainable level.
Procida makes a great day trip from Sorrento or Naples, but it's worth staying a night or two to get under the surface of the island and see its highlights, from fortified hilltop towns to volcanic beaches. So here's our pick of the best things to do in Procida.
The best things to do in Procida, Italy
Visit colourful Marina Corricella
If you only have time for one of our things to do in Procida, make it a visit to Marina Corricella. This beautiful village is Procida's postcard spot, with colourful houses spilling down the hillside to the harbour and the Terre Murata fortress towering above.
Marina Corricella dates back to the 17th century and is the oldest fishing village on the island. Its buildings were painted in shades of pink, yellow, blue and green so fishermen could spot their houses when they were at sea. And it's still a working fishing port, with nets hanging in the harbour and boats unloading their catch in the early mornings.
The streets of Marina Corricella are narrow, and unlike the rest of the island they're car- and scooter-free. The Church of Santa Maria delle Grazie and Piazza di Martiri sit at the top of the hill then a maze of scalatinelli (staircase streets) leads downhill towards the marina, where the waterfront is lined with bars and restaurants.
Unsurprisingly Marina Corricella is a great place for local seafood, which is used in dishes like stuffed squid and spaghetti with clams or sea urchins. Our picks were Caracalè right on the water's edge and La Lampara with its sea view terrace. And grab an ice cream from Chiaro di Luna or a lemon granita from Felice Mare if you need to cool off.
Climb up to Terra Murata
The fortified medieval village of Terra Murata is set on a rocky crag above Marina Corricella at the island's highest point. Its name means 'walled land' and the village's defensive position and thick stone walls were designed to protect it from invaders.
There are several different buildings you can visit in Terra Murata, as well as wandering the backstreets with their traditional houses and panoramic terrace viewpoints which look out towards neighbouring Ischia and across the Bay of Naples.
The Abbazia San Michele Arcangelo was an 11th-century Benedictine abbey which was later remodelled into a church. Now it has works of art on display in a small museum. There's also the Monastery of Santa Margherita Nuova and La Casa di Graziella, a reconstruction of a traditional house which shows how people in Procida lived in the 1800s.
Terra Murata also houses the Palazzo D'Avalos, which started life as a Renaissance palace before its interiors were stripped out and it was converted into a prison for political prisoners in 1830. It was abandoned by 1988 and is now crumbling and overgrown. You can take a tour around the atmospheric ruins, but must book at least two days in advance.
Look out for the resident cats, who were brought over to control mice when it was a prison and have taken over. And if you follow the path around the back of the prison (poetically marked as 'The garden overlooking the charming sea' on maps!) it takes you along the walls to a terrace with views down to a scenic cove, only accessible by boat.
Discover Casale Vascello
Tucked away in the streets below Terra Murata, Casale Vascello is a historic fortified town built in the 16th century. It has two entrances on Via Principe Margherita and Via Salita Castello, which could be closed off to protect the residents from Saracan raiders.
Inside is a tranquil courtyard surrounded by traditional Procidan houses – tall terraced buildings painted in bright colours with their distinctive outside staircases and arched windows. They're still lived in today but you can take a look around the courtyard, which is also used for theatre performances in summer.
Hit the beach
Procida isn't well-known for its beaches and you won't find golden sands, but it does have some lovely black sand bays where you can take a dip in the clear, calm waters. Most beaches have beach clubs where you can rent sunbeds and umbrellas in summer as well as getting food and drinks, though they can get very busy at weekends.
Chiaiolella (also known as Ciracciello) lies on the north coast of the island and is Procida's most popular beach – particularly with families as you don't have to tackle any steps. Along the waterfront there's a series of beach clubs with sunbeds and umbrellas. Waters are shallow and can sometimes get a bit rough, and the beach gets the sun all day.
Ciraccio is divided from Chiaiolella by two rocky sea stacks known as the Faraglioni di Procida. It's less developed and quieter without any beach clubs.
Also on the north coast of the island is Pozzo Vecchio – also known as Il Postino beach. This horseshoe-shaped bay is overlooked by the island's cemetery. It has one beach bar with a few sunbeds for hire but there's also plenty of free space.
Chiaia on the south coast is a long sandy beach backed by steep cliffs, accessible via two steep staircases. It has a couple of beach clubs but there's also plenty of room to throw down your towel. Waters are shallow and calm but only get the sun in the morning. And don't miss the views from Belvedere Elsa Morante above, looking over to Marina Corricella.
Also close to the port are the sandy beach of Silurenza and pebbly Lingua, both of which are good spots to cool off with a dip. There's also a small stretch of sand at the west end of Marina Corricella, though keep an eye out for passing boats.
Watch the sun set
For one of the best sunsets in Procida, head up the hill from Marina Corricella to just before the entrance to the Terra Murata where you'll find a viewpoint called the Panoramica sulla Corricella – where there's often a red truck selling Aperol Spritzes at sunset. From there you can watch the sun go down over Marina Corricella as it glows pink and gold.
Or head across to the other side of the island where you can watch the sun dip into the sea from the beaches at Chiaiolella and Ciraccio, or one of Chiaiolella's bars and restaurants.
Take a boat trip
The waters around Procida are dotted with boats of all sizes, from wooden fishing boats to luxurious yachts. And you can join them on a boat trip to get a different view of the island. There are two-hour shared boat trips around Procida with stops for snorkelling which depart from the marina in Marina Corricella in late afternoon and cost €25.
You can also book fishing trips from Marina Corricella with Pesca Tourismo. Or you can paddle around Procida with ASD Kayak Procida, who do a range of guided kayaking trips, including a four-hour circumnavigation of the island.
Explore unspoilt Vivara island
Just off the south coast of Procida you'll find the wild, uninhabited island of Vivara. This crecent-shaped island was once part of a volcano and was made a protected nature reserve in 1974. The island is surrounded by steep rocky cliffs and covered in dense Mediterranean scrub that's home to rare plants, wild rabbits and over 100 species of birds.
Footpaths run across the island, and pass abandoned 1600s farmhouses and the remains of a former hunting lodge, with views out to Ischia and beyond from its terrace. Vivara is connected to Procida by a footbridge just south of Chiaiolella beach. Though because it's such an ecologically important area, access is limited so check in advance.
Discover Procida's film locations
Procida's vintage good looks have made it a favourite film location, including for 1994 Italian film classic Il Postino, written by and starring Massimo Troisi. In Marina Corricella you can visit La Locanda del Postino where Trosi's character woos barmaid Beatrice.
The Church of Santa Maria delle Grazie and Piazza di Martiri further up the hill also feature in the film – as well as passing as the village of Mongibello in 1999's The Talented Mr Ripley. And in the north of the island, Spiaggia Cala del Pozzo Vecchio is now better known as Il Postino Beach after it was used in the scene where Mario and Beatrice fall in love.
Try a Lingua di Bue
Procida is famous for its lemons, which are extra large and sweet. You'll find them in lemon salads and lemon granita, but one thing not to miss is a Lingua di Bue, or ox's tongue. Also known as a Lingua di Procida, these buttery pastries shaped like a tongue are filled with a mixture of cream and local lemons then topped with crispy sugar.
The best place to pick one up is Pasticceria Bar Roma in the port. And if you're gluten-free in Procida you don't have to miss out either – there's a fantastic gluten-free bakery called Il Piccolo Forno Senza Glutine which sells gluten-free lingua, pizza and bread.
The details
When to visit Procida
The main tourist season in Procida is from Easter until October. Spring and autumn are great times to visit, with average high temperatures a comfortable 19–24°C/66–75°F and plenty of sunshine. September also has some of the warmest sea temperatures.
July and August are peak season when the island is hot and dry, with average highs of 31°C/88°F. It gets very busy though, especially at weekends when a lot of people head over from Naples, so you need to book accommodation and restaurants in advance.
Winter is mild with average daytime highs of 12ºC/54ºF and nighttime lows of 4ºC/39ºC but it can be wet, with rainfall peaking in November. Ferries are less frequent in winter and seas can be rough. The island is also very quiet and many restaurants close.
How to get to Procida
There's no airport in Procida (the nearest is in Naples) but it's connected to the mainland and nearby islands by ferry, which run frequently from March to October and less often in winter. There's a mix of larger car ferries (traghetti) and smaller hydrofoils (aliscafi).
Services are run by several different companies and you can either buy tickets from their offices at the port (though get there at least 30 minutes in advance) or buy tickets online* in advance, which guarantees a space in busy periods as they can sell out.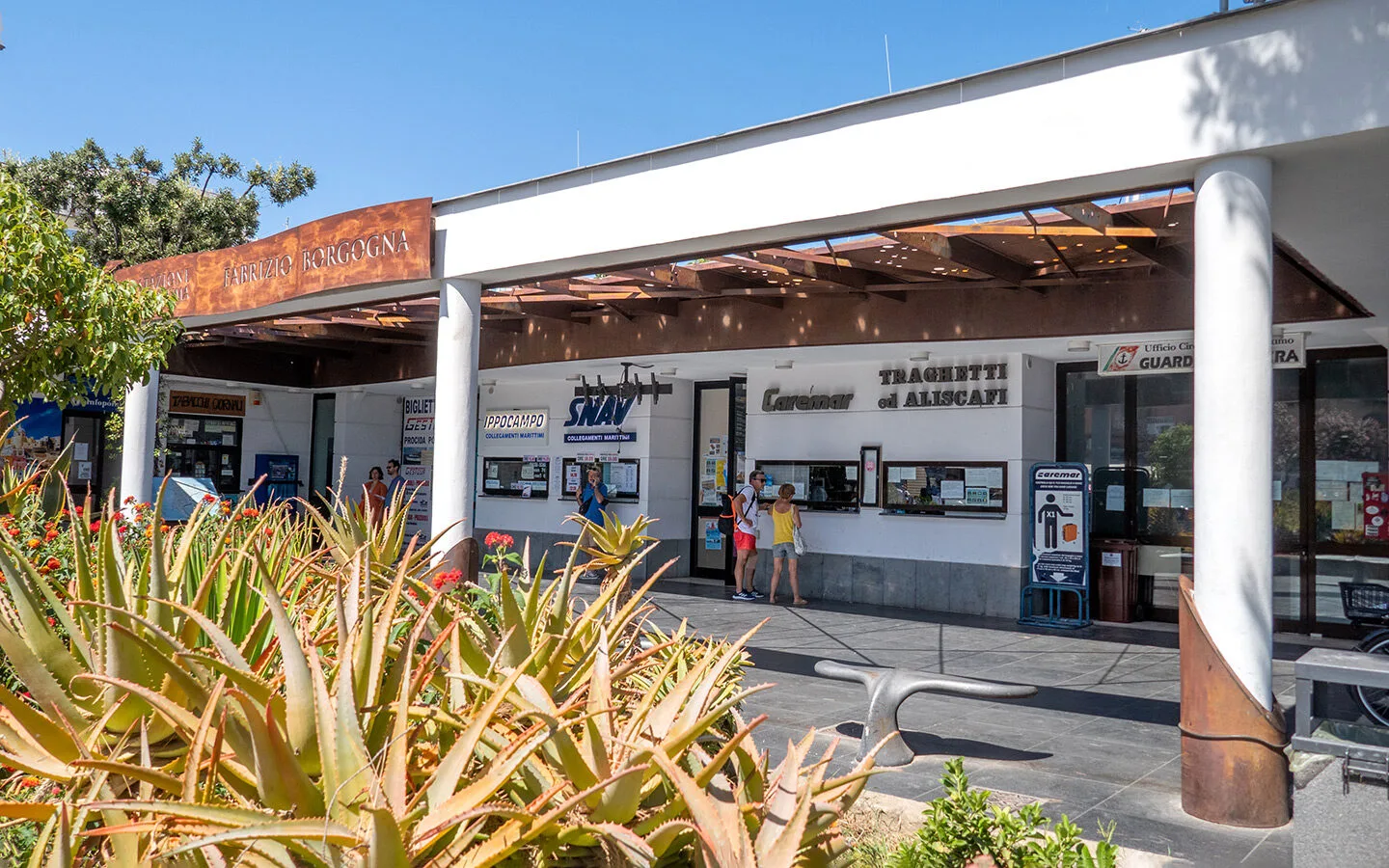 Should you take a ferry or a hydrofoil? Hydrofoils are quicker so are a good option if you're just visiting for the day. But you have to stay inside whereas on a ferry you can sit out on deck. Ferries are usually a bit cheaper and are more stable so are better in rough weather.
From/to Naples: Services to Procida run from both Molo Beverello and Porta Di Massa ports, which are close to each other and connected to the airport by the Alibus. Ferries take around an hour and hydrofoils 40 minutes, and they cost €16–22 each way.
From/to Pozzuoli: Another option if you're flying into Naples and going straight to Procida is to take a taxi to the port of Pozzuoli, 20km to the west, which avoids the city centre's crazy traffic. Ferries take 40 minutes to Procida and hydrofoils 20 minutes.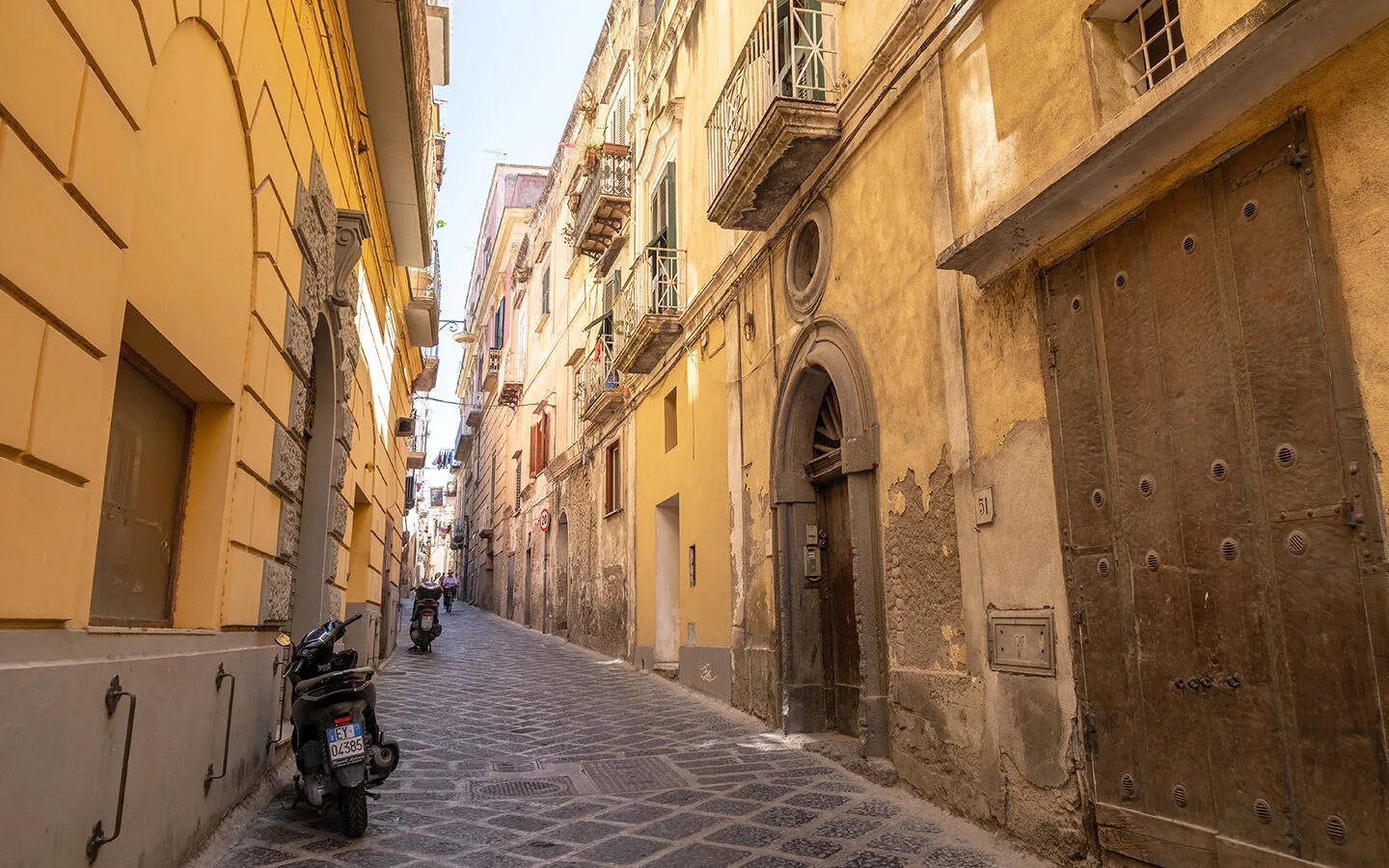 From/to Ischia: The neighbouring island of Ischia is just 30 minutes by ferry or 15 minutes by hydrofoil from Procida, and you get some lovely views of both islands along the way. Tickets cost €13–14 per person each way.
From/to Capri and Sorrento: Alilauro run a daily direct service from Procida to Sorrento which takes 50 minutes and costs €24. They also have another service via Capri which runs once a day between June and October. It takes 40–60 minutes and also costs €24, but it's hard to find info about it online so check at the ticket office.
Or if you don't want to organise travel yourself, you can also take a full-day tour* from Naples to Procida which includes ferry tickets and lunch. Or there's a boat tour* from Sorrento to Ischia and Procida which includes swimming and snorkeling stops.
Getting around Procida
At only 4km², Procida is a pretty small island so it's easy to get around on foot – allow 15 minutes to walk from the port to Marina Corricella or 40 minutes from one end of the island to the other. The roads are narrow and busy though, so be prepared to duck out of the way of passing scooters and cars squeezing their way through.
If you want to cover a larger area in a short time, you can hire a scooter or an ebike, which have a motor to help with the hills and thick tires to tackle the cobbled streets. There are also taxis and tuk tuks, which are useful if you have heavy luggage.
Four bus routes run across the island around once every 30 minutes, connecting the port to Marina Corricella (line C2), Il Postino beach (C1) and Chaioiolella (L1/L2). Tickets are free in 2022 but are normally €1.20 one way and can be bought from bars or tobacconists.
Where to stay in Procida
You won't find big resorts on Procida, with mainly B&Bs, pensions and self-catering rentals. As the island is so small you don't need to worry too much about location, though most places are concentrated around the port, Marina Corricella or Chiaiolella.
Peach-hued Hotel La Corricella* is located just beneath the Terra Murata, with stunning views over Marina Corricella. The nine rooms all have sea views – standard rooms with a shared terrace and superior rooms with their own balconies. A tasty local breakfast is included and there's a good fish restaurant called La Lampara attached to the hotel.
Or we stayed in Casa Claudia*, a one-bedroom apartment right on the waterfront in Marina Corricella. It's small but well-equipped with a full kitchen including washing machine. There's easy access to restaurants just outside and it has its own balcony – we spent hours out there watching the boats come and go in the harbour.
The Insula Boutique Hotel* is one of the more resort-like places to stay in Procida, a four-star hotel in a peaceful hilltop location a short walk from Chiaia beach. Its 10 rooms have a stylish modern design with traditional Procidan touches from mosaics and artworks, and there's a lounge, breakfast room and gardens with a pool, hot tub and pool bar.
Save for later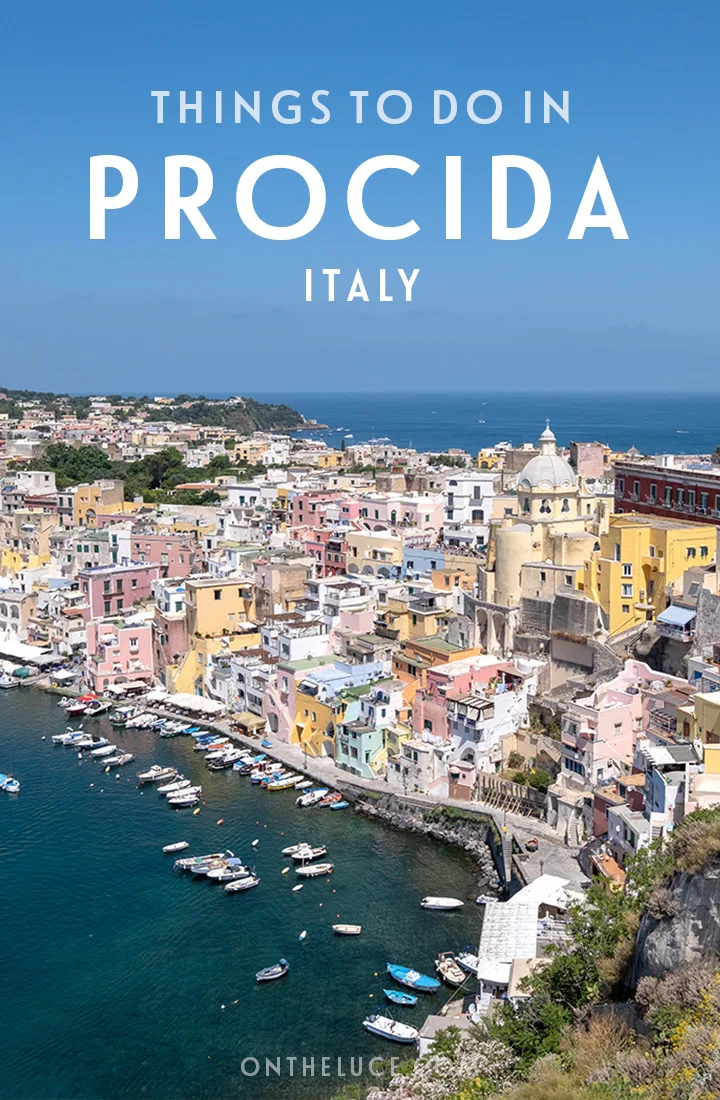 You might also like