How to spend a weekend in Salisbury, Wiltshire: Discover the best things to see, do, eat and drink in Salisbury in a two-day itinerary featuring this historic city's cathedral, museums and monuments.
* This site contains affiliate links, where I get a small commission from purchases at no extra cost to you.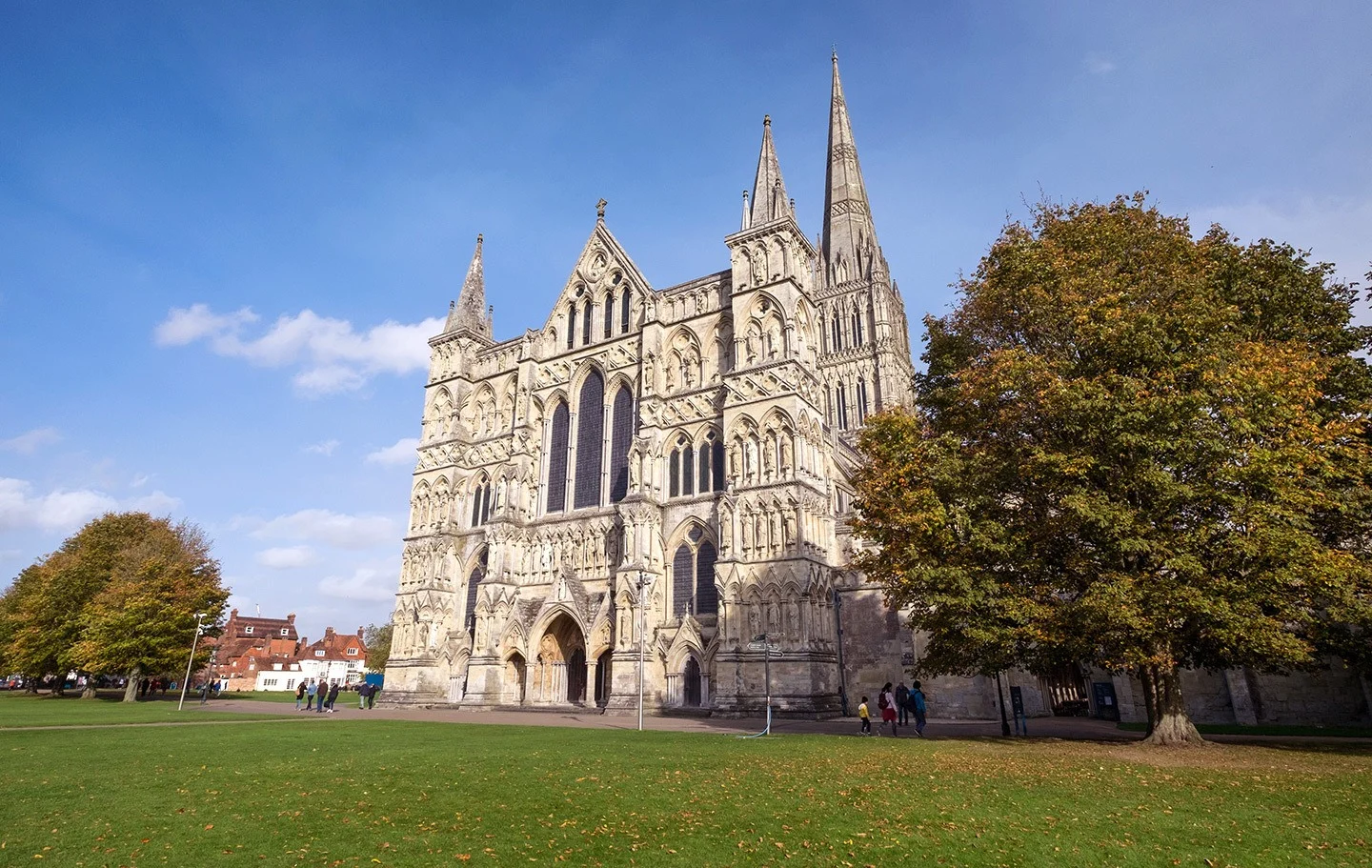 Step back in time in the historic city of Salisbury. Located where four rivers meet the River Avon and surrounded by tranquil water meadows, walking through its medieval streets is like a tour through the ages – with one of Britain's most impressive cathedrals as the city's centrepiece and the prehistoric monuments of Stonehenge within easy reach.
But Salisbury isn't just looking backwards – there's an arty side and plenty of independent shops and restaurants to discover too. So here's my 2-day Salisbury itinerary to help you plan the perfect weekend in Salisbury, with what to see, where to eat, drink and stay.
How to spend a weekend in Salisbury
Friday evening
Check into your accommodation then start your weekend in Salisbury with an early dinner at Allium, overlooking Salisbury's Market Place. This family-run restaurant uses locally sourced ingredients in its modern British dishes, with tasty combinations like soy-glazed duck with roast kohlrabi and grilled lettuce with cashew satay on the menu.
Then discover Salisbury's spooky side with a ghost walk, starting from Salisbury Information Centre at 8pm. A city this old has more than a few secrets, and the tour takes you through its most haunted hotspots and chilling corners, with tales of witches and wizards, ghosts and ghouls, and the Duke of Buckingham's gruesome death.
Saturday morning
Start the day at Salisbury's spectacular cathedral. It was built from 1220 to 1258 in early Gothic style and has the tallest spire in Britain. The spire's immense 6500 ton weight made it a major challenge for medieval builders, and it now leans 75cm to one side – but as it's been like that since Sir Christopher Wren surveyed it in 1668 no one is too worried.
Explore its 800 years of history, with beautiful carved statues, tombs and stained-glass windows. There's also the world's oldest working mechanical clock from 1386. It doesn't look much like a traditional clock, with no clock face, but is an impressive piece of medieval engineering, and you can see it in action at 10.30am on Saturdays.
Don't miss the Magna Carta – one of only four surviving originals of this historic document. This charter records the agreement between King John and his barons in 1215 that guaranteed the rights of the people against the wishes of the King. It's incredibly well preserved, written in an ornate, tiny script as writing materials were so expensive.
Then take a Tower Tour for a different perspective on the cathedral. You need a head for heights as these 90-minute tours take you up 332 spiral stairs to the base of the spire. You'll learn how the cathedral was built, get a close-up view of the West Window, spot medieval graffiti and see panoramic views over Salisbury and Harnham Water Meadows.
Next take a short walk to the Market Place for the Charter Market, which takes place on Saturdays from 8am–3pm. This historic market has been running here since 1227 and has 70 stalls selling fruit and vegetables, cheese, clothes, jewellery and homewares.
Pick up some lunch from one of its street food stalls or call into Henderson's Artisan Bakery overlooking the market for homemade cakes, pastries and sandwiches.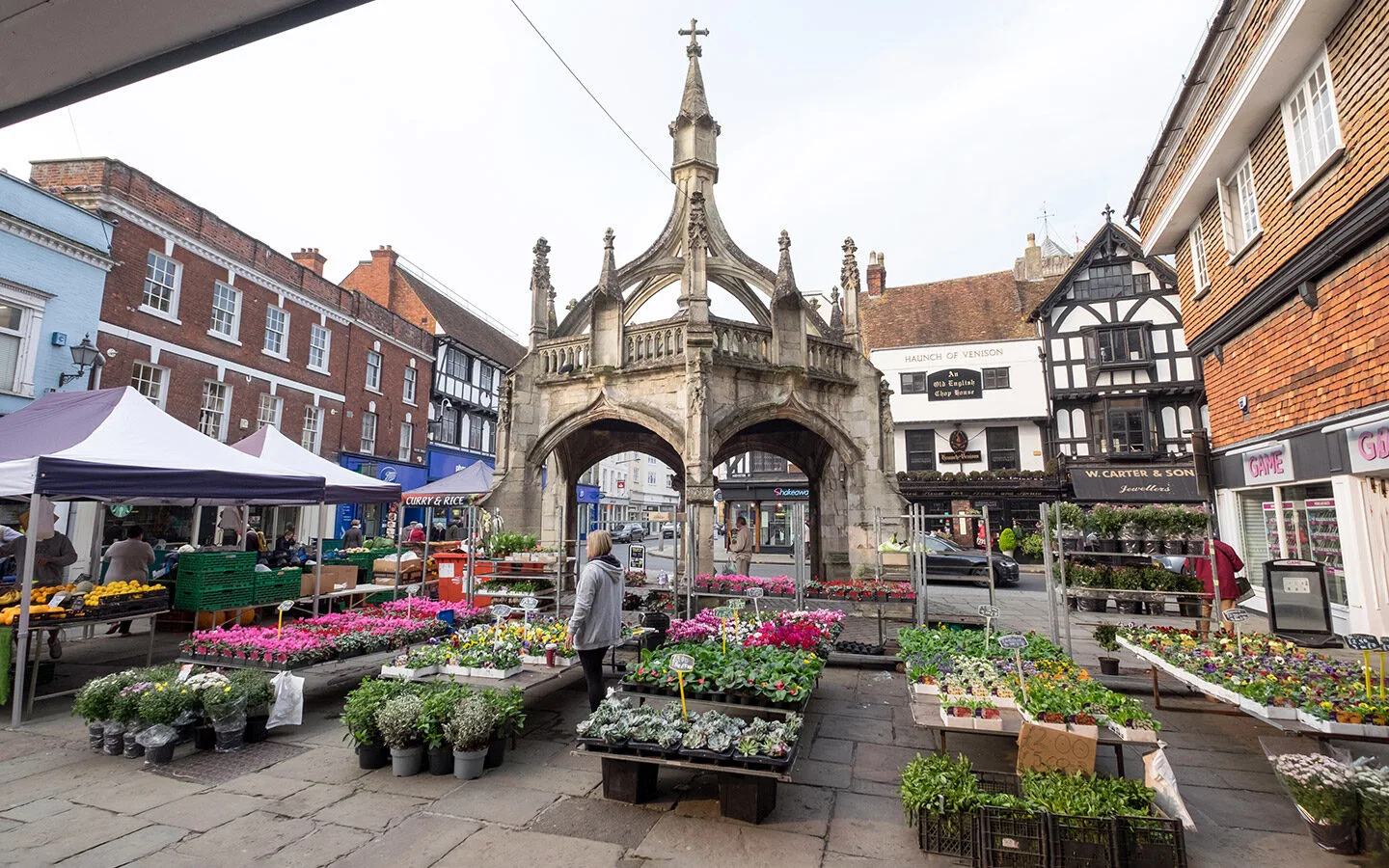 Saturday afternoon
After lunch, explore Salisbury's Cathedral Close. This 80-acre stretch of land adjoining the cathedral is made up of an array of beautiful houses, many dating back to the 13th century, with elegant red-brick frontages and neatly manicured gardens.
There's a choice of places to visit here, including Arundells, a medieval chancery turned home of former prime minister Edward Heath. And the Wardrobe, which got its name from its previous use as the Bishop's storeroom and is now the Rifles military museum.
The Salisbury Museum takes you through 500,000 years of local history and has a particularly good selection of archaeological exhibits – and a lovely café with a terrace overlooking the cathedral where you can refuel with tea and scones.
There's also Mompesson House, a charming Queen Anne townhouse which takes you back to the 18th century and was a location for the 1995 film Sense and Sensibility. It's now run by the National Trust and features ornate interiors, antique glassware and porcelain figures. There's also a pretty walled garden filled with colourful blooms and sculptures.
Then head back to the cathedral for Evensong at 5.30pm. Choral music has a long tradition in Salisbury and has been performed at the cathedral for over 700 years, and haunting choral melodies still fill the air each evening during term time.
Call into the Haunch of Venison pub on Minster Street for a pre-dinner drink. The original 14th century interior has a rare wooden carved arch and pewter bar, crooked ceilings, wood-panelled snugs and spiral staircases. It's an atmospheric place, with a few resident ghosts including a cheating card player whose mummified hand is on display.
Then have dinner at Tinga, an independent Mexican restaurant that's popular with locals, so make sure you book in advance. It's a colourful place decorated with Mexican folk art, painted staircases and ornate mirrors. The menu features Mexican classics like empanadas, tacos, quesadillas and burritos, and they also do a great margarita.
Sunday morning
Being your Sunday with a walk across the River Avon to Fisherton Mill. This old Victorian grain mill has been restored to its former glory and now houses the largest independent arts complex in the south west. Stalls downstairs sell artworks, jewellery, pottery, homewares and gifts from 200 British artists, many based in the local area.
Upstairs there are 12 studios where you can watch the in-house artists working on their latest creations. And when you've finished browsing, visit the Mill's café for brunch – choose from sourdough pancakes, omelettes, granola and smoothies.
Then travel a few miles north of Salisbury to Old Sarum – site of the original city. It started as an Iron Age fort and was later occupied by the Romans, Normans and Saxons. William the Conqueror built a castle here and it was home to the first Salisbury cathedral (and the second after the first burnt down just five days after being consecrated).
After fallings out between the church and castle guards, in 1219 the Bishop decided to build a new castle to the south in what was called New Sarum – present-day Salisbury. Materials from the old cathedral were used to built the new, and the castle was destroyed. So all you see now are the foundations, and the views over the Wiltshire plains.
Sunday afternoon
Finish your weekend in Salisbury with a trip to one of the UK's most iconic monuments – Stonehenge. This ring of prehistoric standing stones has been designated a UNESCO World Heritage Site, and at just 10 miles north of Salisbury it's easy to combine the two.
Stonehenge has long been surrounded by myths and legends. The oldest section dates back to 3000 BC and the stone circle from the late Neolithic period around 2500 BC. But as there are no written records from this time we'll never know for sure how the stones, some of which weigh 30 tons or more, were transported there, and why it was built.
Theories range from Stonehenge being a place of worship or an astronomical observatory, to the more off-the-wall ideas that the stones were brought from Ireland by the wizard Merlin or are a landing area for spaceships. Whatever the truth, it's an impressive site.
Stonehenge is run by English Heritage and is a popular place, so it's a good idea to book tickets* in advance, which are for a specific time slot. It's especially busy on the summer and winter solstices, which are the only times you can go inside the stone circle. The rest of the time you're restricted to walking around the edge to protect them from erosion.
There's a visitor centre with an exhibition telling the story of Stonehenge, artefacts and objects from the site, replicas of Neolithic houses and a café. It's around 1.5 miles away from the stones themselves but there's a shuttle bus between the two.
Map of things to do in Salisbury
The details
How to get to Salisbury
Salisbury is 1 hour 25 minutes by direct train* from London Waterloo. You can also catch a direct train to Salisbury from Bristol (70 minutes) or Southampton (30 minutes).
If you're driving, Salisbury is around 88 miles (2 hours' drive) from London or 50 miles (1.5 hours' drive) from Bristol. Overnight car park in Salisbury is available at the Central Car Park Long Stay (SP1 3SL), Culver Street (SP1 2BQ) and College Street (SP1 3UZ).
The nearest airport is Southampton, around 25 miles or 40 minutes' drive away. Or direct trains connect Southampton Airport Parkway station with Salisbury in 50 minutes.
Getting around Salisbury
Central Salisbury is fairly small and easy to get around on foot. By car, Old Sarum is 3 miles drive north of Salisbury and Stonehenge is 9 miles from there.
Or Stonehenge Tour runs a bus service to Stonehenge and Old Sarum from Salisbury train station and New Canal. It takes 30 minutes and costs £17 return for adults or £11.50 for children aged 5–15 for the bus only, or you can get a combined ticket which also includes entry to Stonehenge and Old Sarum for £35.50 adults/£23.50 children.
Where to stay in Salisbury
The Best Western Red Lion Hotel* is Europe's oldest purpose-built hotel and is full of historic character. Choose a room in the oldest part of the hotel dating from 1220 for antique furniture, medieval fireplaces, original wall paintings and a wooden four-poster bed. There's also a courtyard garden, lounge with log fire, bar and restaurant.
If you like your period properties a bit more contemporary, Caboose* is a 1920s-themed parlour bar which has recently opened a Residence. The eight bedrooms have subtle nods to the 1920s with Art Deco design touches but are light and bright, with rainfall showers and flat-screen TVs, and a tasty locally sourced breakfast is included.
Or three miles outside of Salisbury, The Greyhound Inn* is a 17th-century coaching inn in the small town of Wilton's market square. There are six comfortable rooms, including the two-bedroom Coach House apartment which has a kitchenette and lounge. There's also a bar and restaurant serving home-cooked meals and local ales.
Save for later
You might also like