How to spend a weekend in Bath: Discover the best things to see, do, eat and drink in Bath in a two-day itinerary featuring this historic city's Georgian architecture, thermal spas and literary links.
* This site contains affiliate links, where I get a small commission from purchases at no extra cost to you.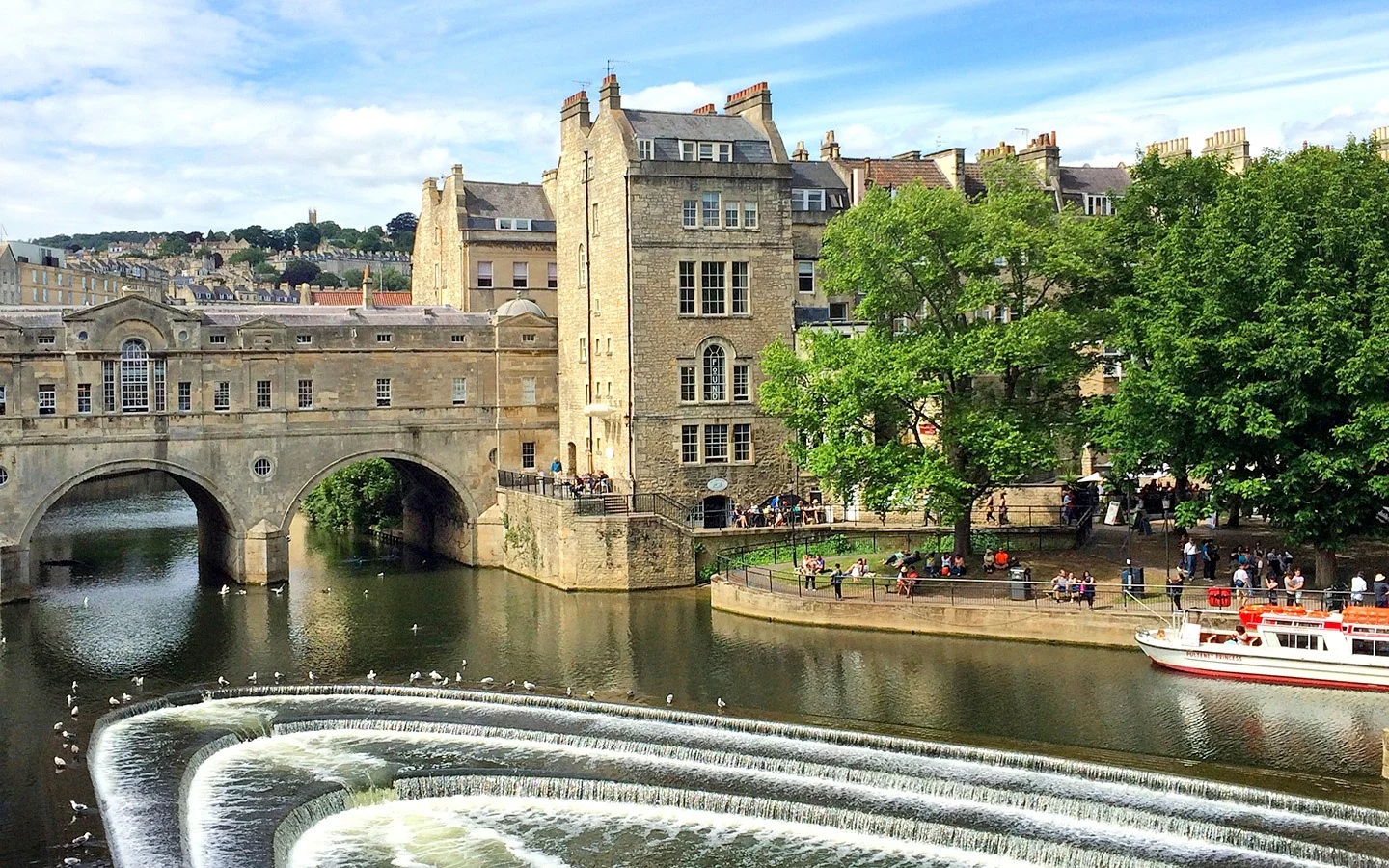 With its famous golden-stone Georgian terraces, steaming spa waters, afternoon teas and Jane Austen links, you can't say Bath isn't on the UK tourist trail. Its quintessentially English charms pull in visitors from around the world and it has so many historic buildings that the entire city centre has been designated a UNESCO World Heritage Site.
But although you might have to dodge a few tour groups, it's more than worth it to explore one of England's most beautiful historic cities. So here's my two-day Bath itinerary to help you plan the perfect weekend in Bath, with what to see, where to eat, drink and stay.
How to spend a weekend in Bath
Friday evening
Check into your accommodation then start your weekend in Bath with a pre-dinner drink at the Canary Gin Bar on Queen Street. The bar is run by the Bath Distillery, who brought distilling back to the city after a 250-year absence. They've created a menu of 'Gin' Austen cocktails using their small-batch gins, as well as serving 230 other gins.
Then head to Green Park Brasserie & Bar on Green Park Road for dinner – a steakhouse and jazz bar located inside a former 1870s railway station booking hall. It's a relaxed place, serving produce sourced from the adjacent Bath Farmers' Market in dishes like steak, cider-glazed ribs and wood-fired pizza. There's also live music on Saturday nights.
Saturday morning
For an insight into Bath's history, start the day with a walking tour with the Mayor of Bath's Corps of Honorary Guides. These two-hour tours are led by knowledgeable local guides who share their love of the city on a relaxed stroll through some of its highlights. Tours are free (with no need to tip) and leave from the courtyard by the Roman Baths at 10.30am.
Or you can take your own tour of Bath's honey-stone highlights. Start at the Royal Crescent, one of Bath's most famous landmarks. This curved terrace of Georgian townhouses arcs around a perfectly manicured lawn. The Royal Crescent was built in the 1770s and its buildings haven't changed much since then, at least on the outside.
Most are private residences – when they're not being used by film crews for period dramas like Bridgerton. But Number 1 Royal Crescent has been converted into a museum. Inside you can go back to the 18th century and see how wealthy Georgians lived, complete with authentic furniture, décor and fascinating details of their everyday lives.
The Royal Crescent is one of many buildings made from the distinctive golden Bath Stone. Quarried out from the hills around the city, it's a type of limestone that was first used by the Romans and later for churches, bridges and houses around Bath.
Another impressive Bath address is The Circus, with three sections of curved buildings forming a circle. And it's just a few minutes walk from there to the Bath Assembly Rooms. These were the hub of the 18th-century social scene, with elegant rooms for tea drinking, cards and dancing. Today they're open to the public when not in use for events.
Follow in the footsteps of Jane Austen, who attended balls at the Assembly Rooms when she lived in Bath in the early 1800s and featured them in her novels Northanger Abbey and Persuasion. You'll also find the Fashion Museum beneath the Assembly Rooms, with clothing from the 18th century to the modern day (and lots of dressing up opportunities).
Then stop for lunch at Sally Lunns, the oldest house in Bath. It's home to a Bath classic – the 'Sally Lunn bun'. This kind of brioche is spread with butter or cream, made to a recipe allegedly brought to the country by a 17th-century French emigrant.
Saturday afternoon
After lunch, cross the Abbey Church Yard to Bath Abbey. The current abbey was built in 1499 but there's been a church on this site since the 8th century. Admire the west front, with carved stone angels climbing Jacob's Ladder to heaven, then head inside to see the fan-vaulted ceilings and stained-glass windows.
Or take a guided tower tour and climb 212 spiral steps to the abbey roof for panoramic views over Bath and down to the Roman Baths below you. Tours take 45–60 minutes and also give you a behind-the-scenes view of the ceilings and bell tower.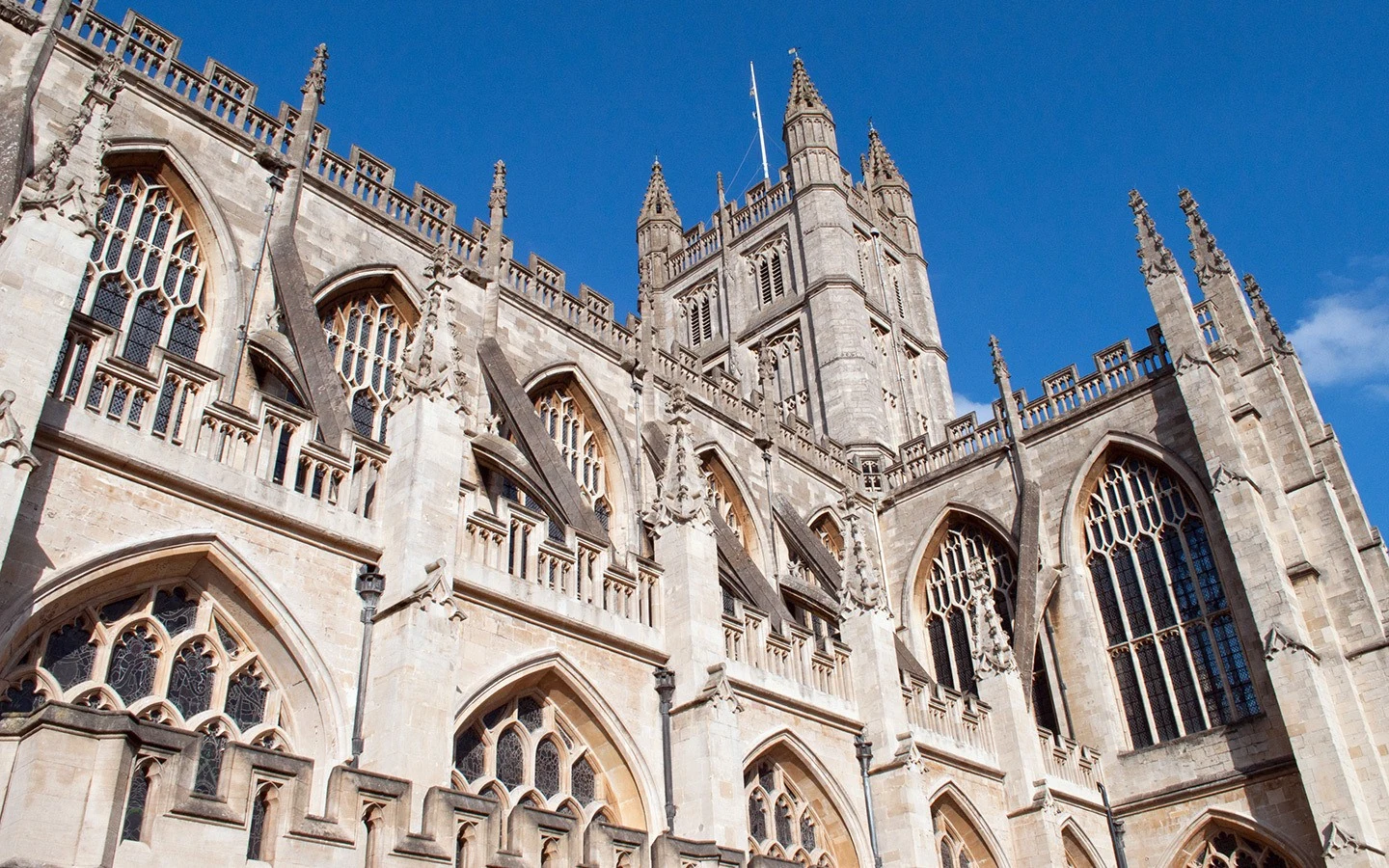 Then head to Pulteney Bridge, passing the Parade Gardens, which was a popular spot for a promenade in Jane Austen's day. The bridge was built in the 18th century for William Pulteney to connect Bath to the other side of the River Avon to help drive up land prices. He wanted his bridge to be eye-catching and elegant and certainly managed it.
Pulteney Bridge is one of only four bridges in the world with shops built into both sides, like Florence's Ponte Vecchio – Les Misérables fans might also recognise it as the spot Javert jumped from in the 2012 film. Today it's home to independent shops and cafés.
For a good view of the bridge, take an open-top boat trip along the River Avon. The tour starts just below Pulteney Bridge and takes around an hour (£11 for adults and £5.50 for children aged 5–15). You travel under Pulteney Bridge and out into the countryside as far as the pretty little village of Bathampton before returning to Bath.
Before dinner, call into Le Vignoble, an independent wine merchant and bar on Milson Street. Their wine selection changes every month, with 64 different wines to taste including small producers and unusual varieties, so it's a good place to try something new.
Then head back towards the Royal Crescent for dinner at The Circus, an award-winning family-run restaurant in a Georgian building which serves modern European food using local and seasonal ingredients, like Wiltshire lamb, Devon scallops and Cornish fish.
Sunday morning
Start your Sunday with a late breakfast at the Green Bird Café near the Royal Crescent. It has won awards for Bath's best breakfast, with tasty French toast with maple syrup and bacon, scrambled egg and chorizo hash or you can 'build your own breakfast'.
Then go back in time at the Roman Baths, built on the site of Britain's only natural hot springs which gave Bath its name. In 70 BC, the Romans built a bathing complex around the steaming waters, with hot and cold pools, steam rooms and an elaborate temple dedicated to the goddess Sulis Minerva – giving the town its Roman name Aquae Sulis.
Over a million litres of water heated to 46°C still flows into the baths every day, but don't be tempted to take a dip. If the bright green colour doesn't put you off, tales of bacteria and radioactive lead pipes might. Instead take a tour of the baths which includes the Sacred Spring of Sulis Minerva, the original foundations and open-air Great Bath.
There's also a museum of Roman artefacts like statues and carvings, as well as some of the 17,000 Roman coins which were thrown into the spring, and prayers or curses written on lead tablets which visitors threw in to ask for the goddess' help.
Sunday afternoon
Then compare the Roman spa experience with the modern version at the Thermae Bath Spa. This huge spa building has taken historic buildings and transformed them with a modern glass and steel extension. There are two separate spa areas – the main New Royal Bath and the smaller circular Cross Bath, which you can hire for small groups.
The New Royal Bath is spread over three floors, with spring waters flowing into the ground floor Minerva thermal baths. There are circular glass steam rooms, a sauna and spa treatment rooms above, where you can book a relaxing massage, facial or body wrap.
But the Thermae Spa's star attraction is the rooftop pool, where you can soak in mineral-rich steaming water with spectacular views across Bath's skyline. Entry to the spa costs £43 for a two-hour session at weekends, and includes towel, robe and flip flop hire.
Then finish your weekend in Bath with afternoon tea at a city institution – the Pump Room. Located next to the Roman Baths, the Pump Room was built in 1776 for visitors coming to take the waters and, like the Assembly Rooms, it was at the heart of the city's social scene for the fashionable 18th-century set, including Jane Austen and Charles Dickens.
Indulge in a traditional Champagne afternoon tea (with gluten-free, vegetarian and vegan options available) with sandwiches, scones and cakes served in opulent splendour under the chandeliers and accompanied by the Pump Room Trio.
And while you're there, don't forget to taste the spa waters from the King's Fountain (free to Pump Room customers). With 43 different minerals it is reputed to be the cure for all sorts of ills, though lukewarm water with a metallic tang is definitely an acquired taste.
Map of things to do in Bath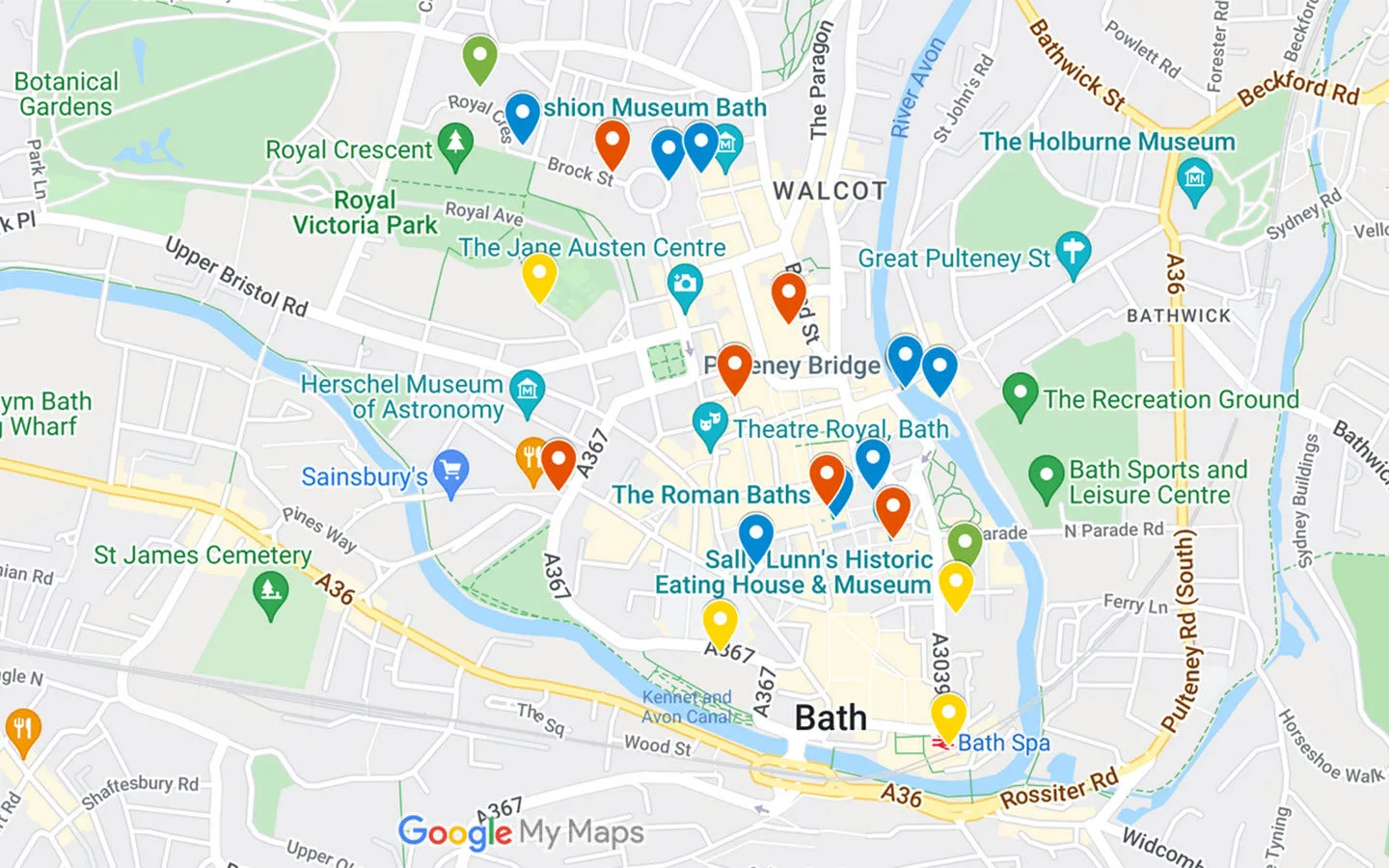 The details
How to get to Bath
Bath Spa train station is around 1 hour 20 minutes by direct train* from London, and there are frequent rail services from around the UK to nearby Bristol Temple Meads station, where you can catch the train on to Bath, which only takes 12 minutes.
If you're driving, Bath is 13 miles from Bristol or 115 miles (around 2.5 hours' drive) from London. Overnight car parking is available in the city centre at Charlotte Street (BA1 2NE), Avon Street (BA1 1UF) and Manvers Street (BA1 1JQ).
Bath's roads are narrow and can get very busy, so if you want to avoid driving in the city you can use the Park and Rides on the edge of the city at Lansdown, Newbridge and Odd Down. Parking is free, you just pay for the bus in and out of the city.
The nearest airport is in Bristol, which is around 45 minutes' drive from Bath. Or you can catch the Bristol Airport Flyer bus to Bristol Temple Meads train station (25 minutes) and then catch the train from there on to Bath (12 minutes).
Getting around Bath
The centre of Bath is fairly compact with the main attractions all within walking distance – though beware that it's pretty hilly so you will get a bit of a workout.
Where to stay in Bath
At the Royal Crescent Hotel*, two 18th-century Georgian townhouses have been merged together to create a five-star hotel and spa. It's full of original features with period artworks, classical statues and chandeliers. There's a luxurious spa with indoor pool, a restaurant, bar and an acre of landscaped gardens tucked away behind the hotel.
The Hotel Indigo* is another Georgian property, stretching the length of South Parade. Inside it mixes historic features with lots of quirky, colourful prints, fabrics and curios. The 166 rooms are more restfully designed, and range from stylish standard rooms to big two-room suites, and there's a restaurant and terrace bar.
Or if you're on the budget, one of the city's best deals is Bath University's student residences. There's a mix of double, twin and single rooms with en-suites in buildings ranging from Georgian terraces to modern residences. Availability is mainly in the Easter and summer holidays, with rooms available to book two–three months in advance.
Save for later
You might also like