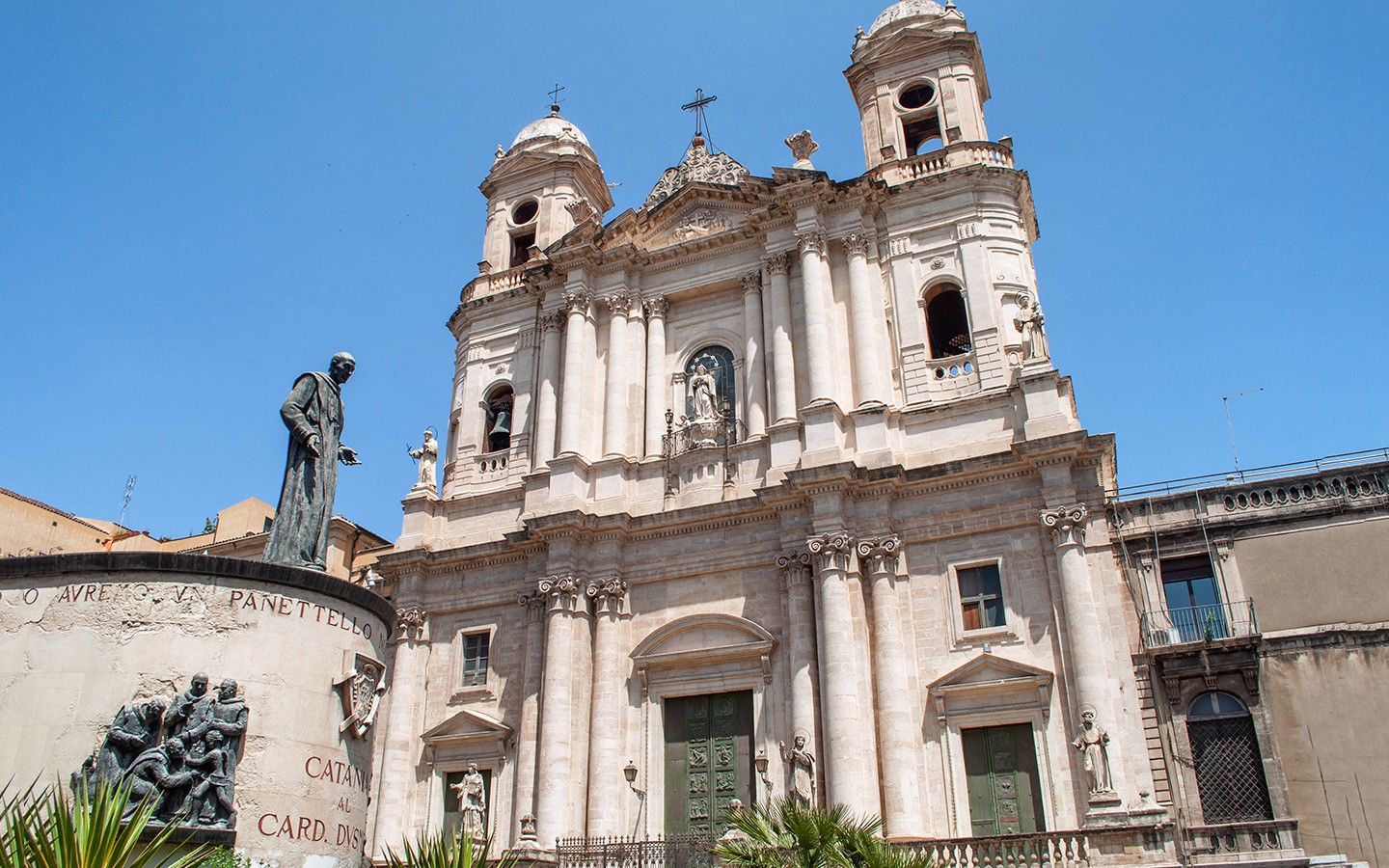 Built in the shadow of Mount Etna, Catania is Sicily's second-largest city. But when it comes to tourism, it's often overshadowed by more famous spots like Taormina or Syracuse. Catania has a reputation for being a bit chaotic and scruffy. But that's all part of its charm, with beautiful buildings around every corner – whether it's a Baroque cathedral or a crumbling palazzo. There's a real buzz to the city too, from the frenzy of the fish market to the bars and restaurants packed with students from the city's university. It makes a great day trip during your stay in Sicily. So here are some of my favourite things to do in Catania.
Read more: Sicilian cooking class and fish market tour in Catania
Explore the beautiful Baroque architecture
Mount Etna has left it's mark on Catania in more ways than one. In the 1660s a huge eruption and earthquake wiped out most of the city and over 30,000 of its inhabitants. It was rebuilt in the decorative Baroque style you can still see today, with wide streets, huge piazzas and endless ornate churches and palaces, all built using Etna's black volcanic rock. The Centro Storico (historic centre) is dotted with Baroque masterpieces, centered around the Piazza del Duomo – a UNESCO World Heritage Site.
The Piazza's main sight is the imposing Cathedral of Sant'Agata. Sant'Agata is the patron saint of Catania and she's honoured with a huge festival and procession on 5 February each year. There's also the quirky Fontana dell'Elefante, with a black lava elephant balancing an Egyptian obelisk on its back. The city's main architectural sights are easily walkable from the Piazza. Head down Via Etnea to the Basilica della Collegiata or past palaces and churches on Via Crociferi. The Centro Storico has lots of interesting little backstreets to explore too, with peeling paint and rusting ironwork giving them a feeling of fading grandeur.
Shop the markets
Sicilians love their food, and part of the reason it tastes so good is because of all the fantastic local produce. Much of it is grown in the fertile soil around Mount Etna. Whether you're self-catering, planning a picnic or just want to soak up the atmosphere, don't miss a trip to Catania's markets. La Pescheria is one of the biggest fish markets in Italy, and is open every day apart from Sundays from 7am to 2pm. Stalls are piled high with weird and wonderful varieties of fish and seafood. It's a hub of chaotic activity as the stallholders haggle with customers over prices and compete with each other to see who can shout the loudest.
At the entrance to the fish market is the Fontana dell'Amenano fountain. This marks the spot where the Amenano river used to run before it was buried underground by Etna's 1669 eruption. As well as the fish market there's also a more general produce market selling local and seasonal fruit and vegetables, as well as meat, cheese, spices and dried fruits. Colourful stalls spread down into the narrow alleyways with boxes piled high with delicious ingredients. It's the market you'll wish you had back home.
Go back to Roman times
Catania has been ruled by the Greeks, Romans, Byzantines and Spanish over the years. And you can still see some of the remains of its Roman occupation. Catania's 2nd century amphitheatre was the second biggest in Italy – only beaten by the Colosseum – but most was buried in the 1693 earthquake. You can still see a section in Piazza Stesicoro though. Better preserved is the lava rock Graeco-Roman Theatre and Odeon, tucked away among the houses on Via Emanuele II. The theatre held 7000 spectators and the Odeon was the rehearsal theatre. Artifacts discovered during excavations are on show in Casa Liberti next door.
Eat, drink and aperitivo
Each part of Sicily has it's own special regional dishes, and one of the most famous in Catania is Pasta alla Norma. This is a pasta dish with a tomato, basil, aubergine and ricotta sauce, which gets it's name from an opera by local composer Vincenzo Bellini. Arancini are another favourite, made from balls of fried rice, stuffed with meat or cheese and coloured with saffron. You'll often find them at aperitivo time – one of my favourite Catanian traditions. Grab an early evening aperitif in a bar or café and your drink comes with plates of delicious free nibbles, like crisps, nuts, olives, dough balls, mini pizzas and arancini.
Make sure to leave plenty of room for dessert though. Sicilians love their sweets, and one of the island's most famous treats is cannoli. A crisp tube of fried pastry dough is filled with ricotta and honey, then decorated with crushed pistachios, glacé cherries or chocolate. Or there are marzipan fruits, icy fruit granitas and Minni di Sant' Agata (St Agatha's breasts, complete with cherry nipple!). Caffè del Duomo and Prestipino Boutique – which are next door to each other on Piazza Duomo – are good spots for a sugar fix.
Get up close to Mount Etna
Mount Etna is the ever-present backdrop to the city and can even be seen from space. It's Europe's largest volcano and one of the most active in the world. It's often shrouded in clouds of vapour and you can see lava flows erupting from the four summit craters. If you want to take a closer look you can explore the craters and 58 acres of lava fields and forests in the Parco dell'Etna. Take a tour or catch the public bus from Catania to Rifugio Sapienza, then the cable car up to to 2590m where it's a 2km walk or 4WD tour to the top. And don't miss the local Etna wine, made from grapes grown on the volcano's high-altitude slopes.
Visit the volcanic coast
Most of the Catania's seafront is filled with its busy harbour, but you don't need to go far to get a taste of sea air. Just north of the city are a string of former fishing villages, where dark volcanic rocks meet the clear turquoise waters of the Ionian Sea. Off the coast at Aci Trezza you can see three tall, rocky outcrops known as the Cyclops Islands. Legend has it they were formed when the king of the Cyclops threw giant rocks at Odysseus. And at Aci Castello there's a towering rocky cliff topped by Norman castle. The castle's carved from lava rock and dates back to 1076, when it had a strategic position guarding the Messina Straits.
Pin it
This post is brought to you in association with Club Med.