Discover the best things to do in Catania in Sicily in Southern Italy, from Baroque architecture and vibrant markets to cooking delicious local dishes and climbing to the top of volcanic Mount Etna.
* This site contains affiliate links, where I get a small commission from purchases at no extra cost to you.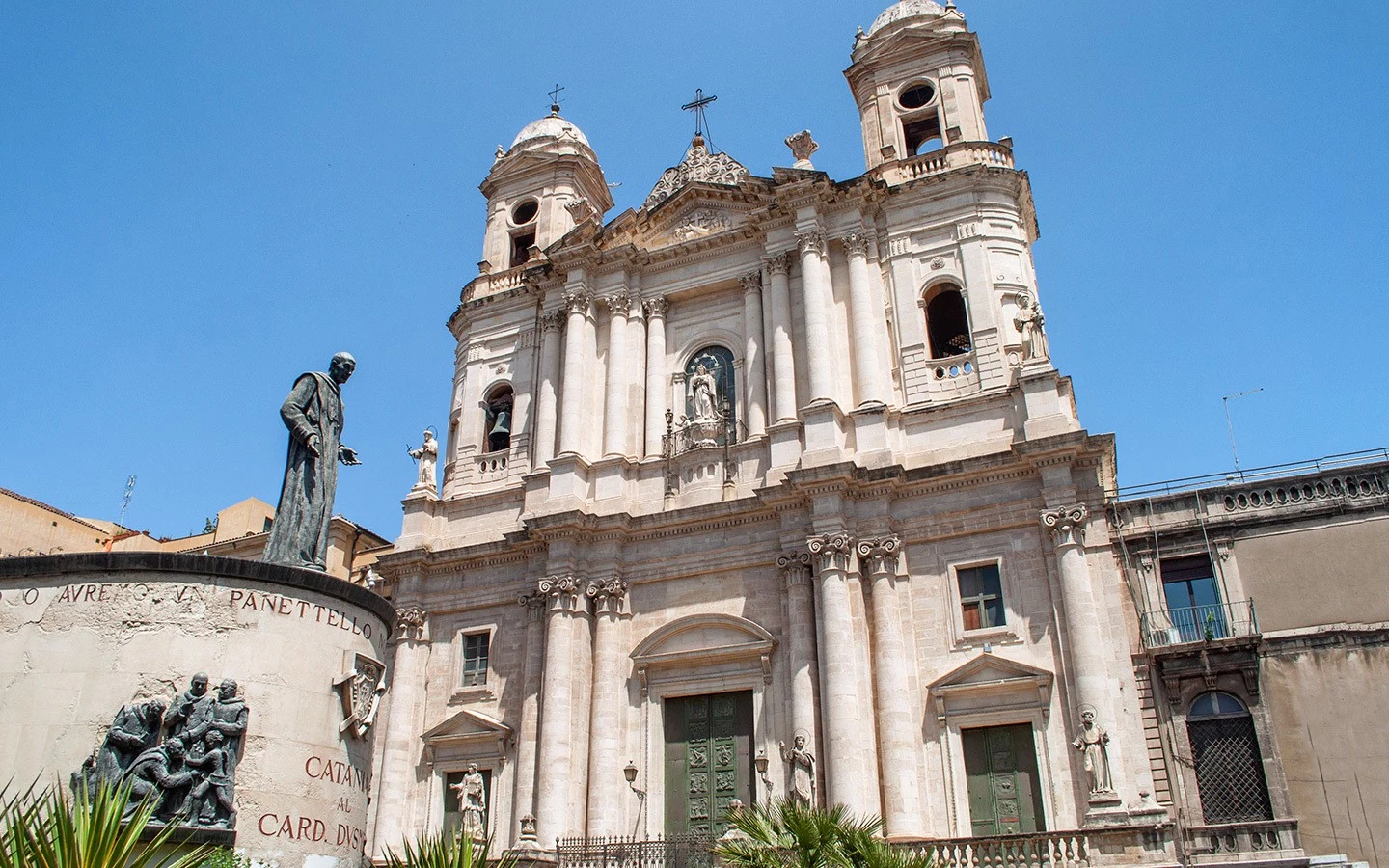 Built into the foothills of Mount Etna, Catania is Sicily's second-largest city. But when it comes to tourism, it's often overshadowed by more famous Sicilian spots like Palermo or Taormina. Catania has a reputation for being a bit chaotic and scruffy, but just like its northerly neighbour Naples, the rough edges are all part of Catania's charm.
Catania has beautiful buildings around every corner – whether that's a Baroque cathedral or a crumbling palazzo. It's heaven for food lovers with local produce and regional dishes packed with flavour. There's a real buzz to Catania too, from the frenzy of the morning fish market to the bars packed with students from the city's university by night.
So here's my pick of the best things to do in Catania, whether you're planning an offbeat Italian city break, visiting on a day trip, or using it as a base to explore Sicily.
The best things to do in Catania, Sicily
Explore the Baroque architecture
Mount Etna has left its mark on Catania in more ways than one. Although it survived Etna's largest volcanic eruption in 1669, a severe earthquake in 1693 wiped out most of the city and killed two-thirds of its inhabitants. Afterwards Catania was rebuilt from the ground up in the decorative Sicilian Baroque architectural style you can still see today.
Catania and other towns in the Val di Noto region were redesigned with wide streets, huge piazzas and endless ornate churches and palaces built using Etna's black volcanic rock. The result is a unique style that's made the area a UNESCO World Heritage Site.
Catania's Centro Storico (historic centre) is dotted with Baroque masterpieces, centered around the Piazza del Duomo. The square is overlooked by the elaborate Cathedral of Sant'Agata, designed by Sicilian architect Gian Battista Vaccarini. Sant'Agata is Catania's patron saint and is honoured with a huge festival and procession on 5th February.
The Piazza del Duomo is also home to the quirky Fontana dell'Elefante, a fountain topped with a black lava statue of an elephant balancing an Egyptian obelisk on its back.
The city's main architectural sights are easily walkable from the Piazza del Duomo. Take a stroll along the Via dei Crociferi to admire its 18th-century palaces and churches. Follow Via Giuseppe Garibaldi towards the Porta Garibaldi gate for views back over the historic centre. Or head down Via Etnea to visit the grand Basilica della Collegiata.
The Centro Storico has lots of interesting little backstreets to explore too. This is definitely not a perfectly preserved, museum piece of a city, but rusting ironwork, peeling paint and graffitied walls add to the character and give it a feeling of fading grandeur.
Experience the fish market
La Pescheria in Catania is one of Italy's biggest fish markets, and the atmosphere has hardly changed in hundreds of years. Makeshift tables are piled high with weird and wonderful fish and seafood. It's a hub of chaotic activity as stallholders haggle with customers over prices and compete to see who can shout the loudest.
Fishmongers wield dangerous looking cleavers, slicing thin steaks from giant tuna on chopping boards marked with blood and knife marks from years of use. Colourful tarpaulins provide shade, and fish heads are lined up to show how fresh they are.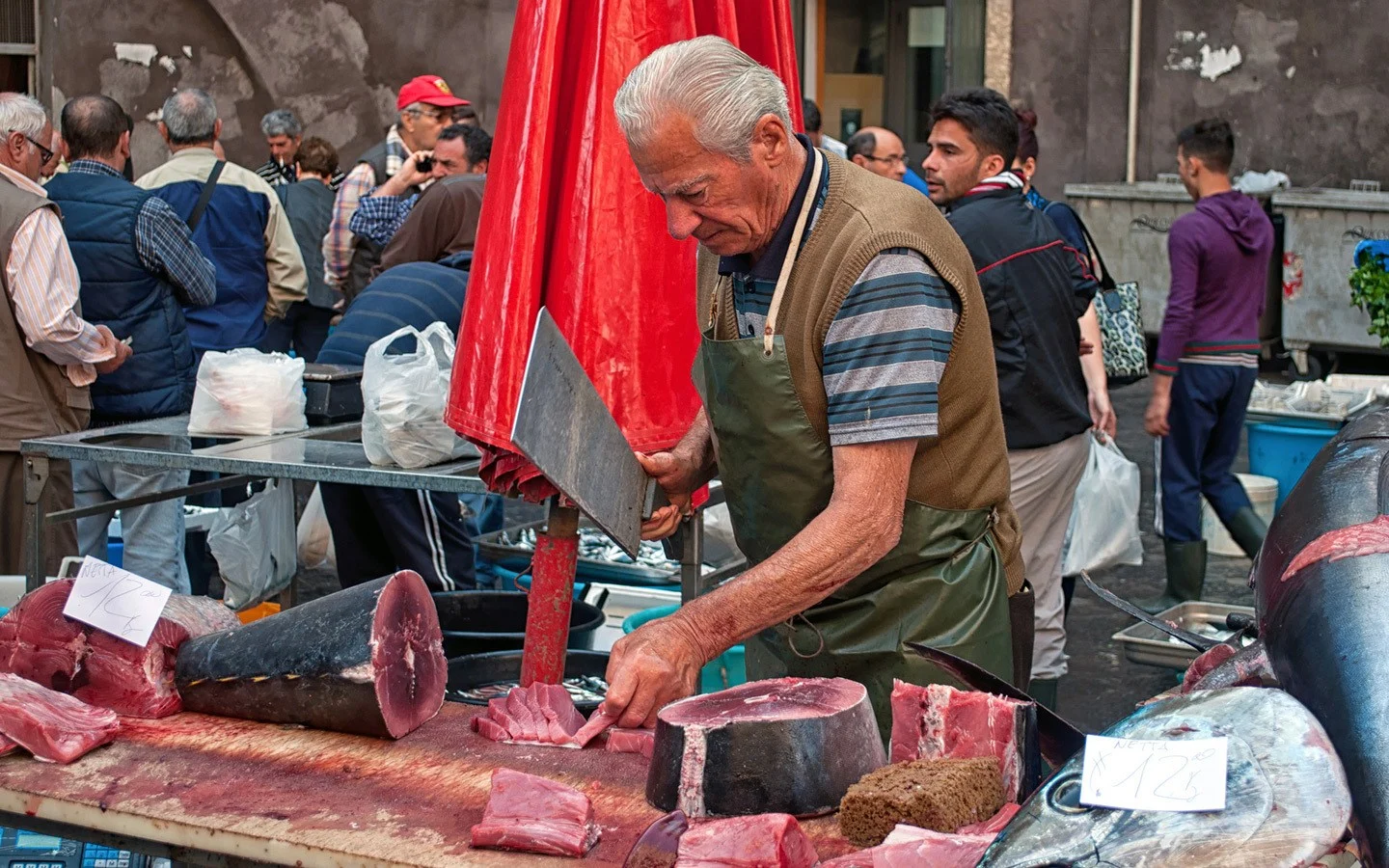 A visit to La Pescheria is one of the most popular things to do in Catania. It runs from 7am–2pm every day except Sundays, but get there early for the full street theatre experience (wear closed-toed shoes and watch where you stand as it can get messy).
You can also try some of the produce at the restaurants around the edge of the market like Scirocco, which serves up cones of freshly fried seafood.
La Pescheria takes place in Piazza Alonzo di Benedetto, under the arches of the Archi della Marina. At the entrance to the market is the Fontana dell'Amenano, which marks where the Amenano river used to run before it was buried by Etna's 1669 eruption.
Shop for local produce
Sicilians love their food, and part of the reason it tastes so good is because of the fantastic fruit and vegetables produced in the region, much of it grown in Mount Etna's fertile soils. Catania's markets are overflowing with local, seasonal produce, full of colour and flavour, from ripe tomatoes and glistening bowls of olives to spiky wild artichokes.
A general produce market in the streets surrounding the fish market sells fruit and vegetables, meat, cheese, spices and dried fruits. Stalls spread down into narrow alleyways, with boxes piled high with delicious ingredients, including cheeses and mushrooms which are brought down from mountain villages around Mount Etna.
It's well worth a visit to soak up the atmosphere as well as pick up some picnic supplies or food for dinner if you're self-catering, with the colours and smells hard to resist.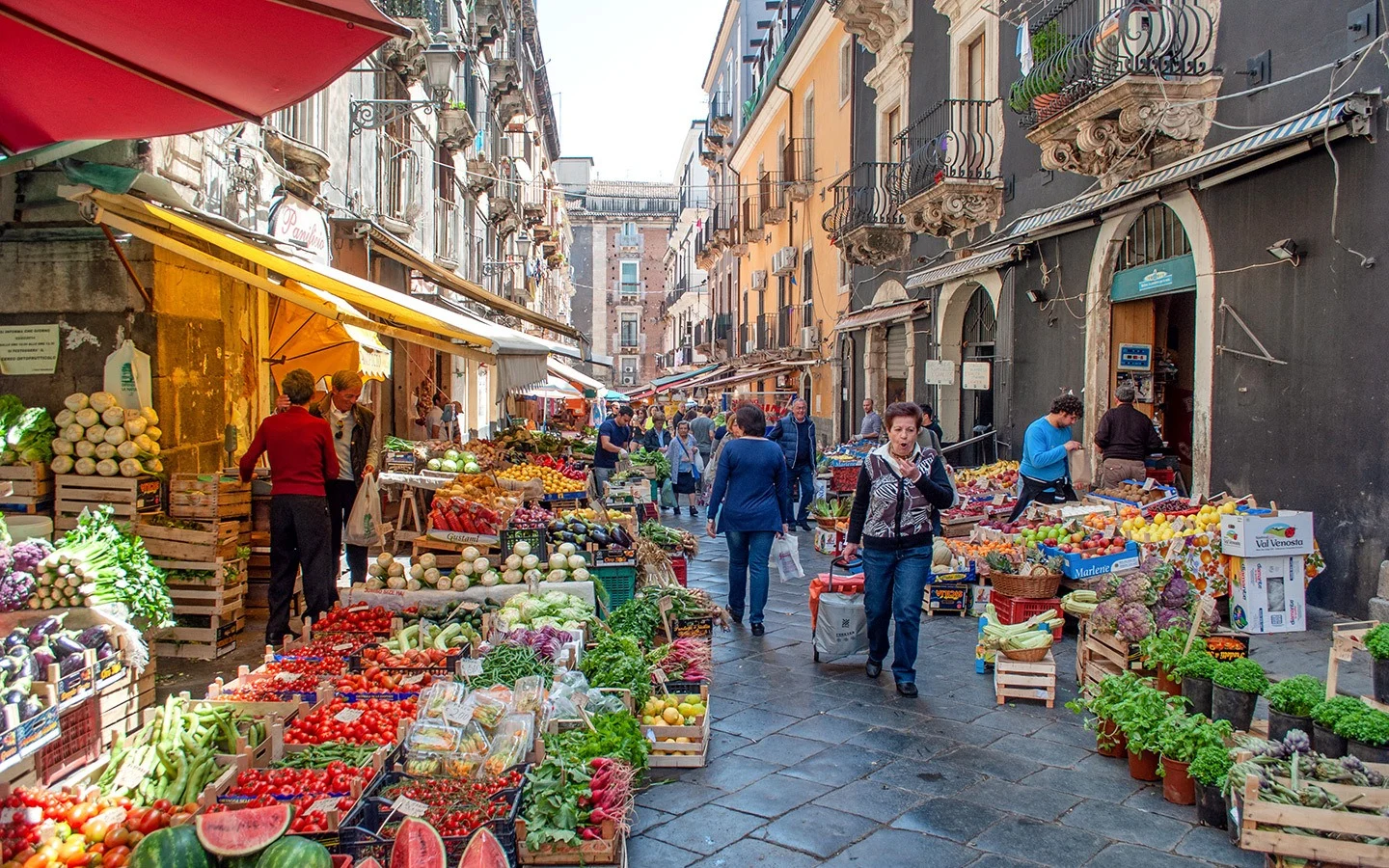 Go back to the Roman era
Catania has been ruled by the Greeks, Romans, Byzantines and Spanish over the years. And you can still see some of the remains of its Roman occupation. Catania's second-century amphitheatre was the second biggest in Italy – only beaten by the Colosseum in Rome.
Much of the amphitheatre was buried in the 1693 earthquake, but you can still see a section in Piazza Stesicoro. Better preserved is Catania's Graeco-Roman Theatre and Odeon, which is tucked away among residential buildings on Via Emanuele II.
It was built in the first century AD using Etna's lava rock, on the site of an older Greek theatre. It would have once held 7000 spectators, with the Odeon used as a rehearsal theatre. You can wander around the ruins and through the tunnels below the seats. And artifacts discovered during excavations are on show in Casa Liberti next door.
Learn to cook like a Catanian
In Sicily, the most revered cooks aren't Michelin-starred chefs but home cooks making recipes passed down through generations. Invaders brought new ingredients and cooking techniques to the island, but the Sicilian identity always stayed strong. And it's a strongly local one too with regional specialities from every part of the island.
Catanian cuisine mixes peasant dishes – cucina povera – with more elaborate dishes brought over by French chefs who worked for Sicilian noblemen. And you can learn how to make them on a cookery class*, which ends with a three-course feast.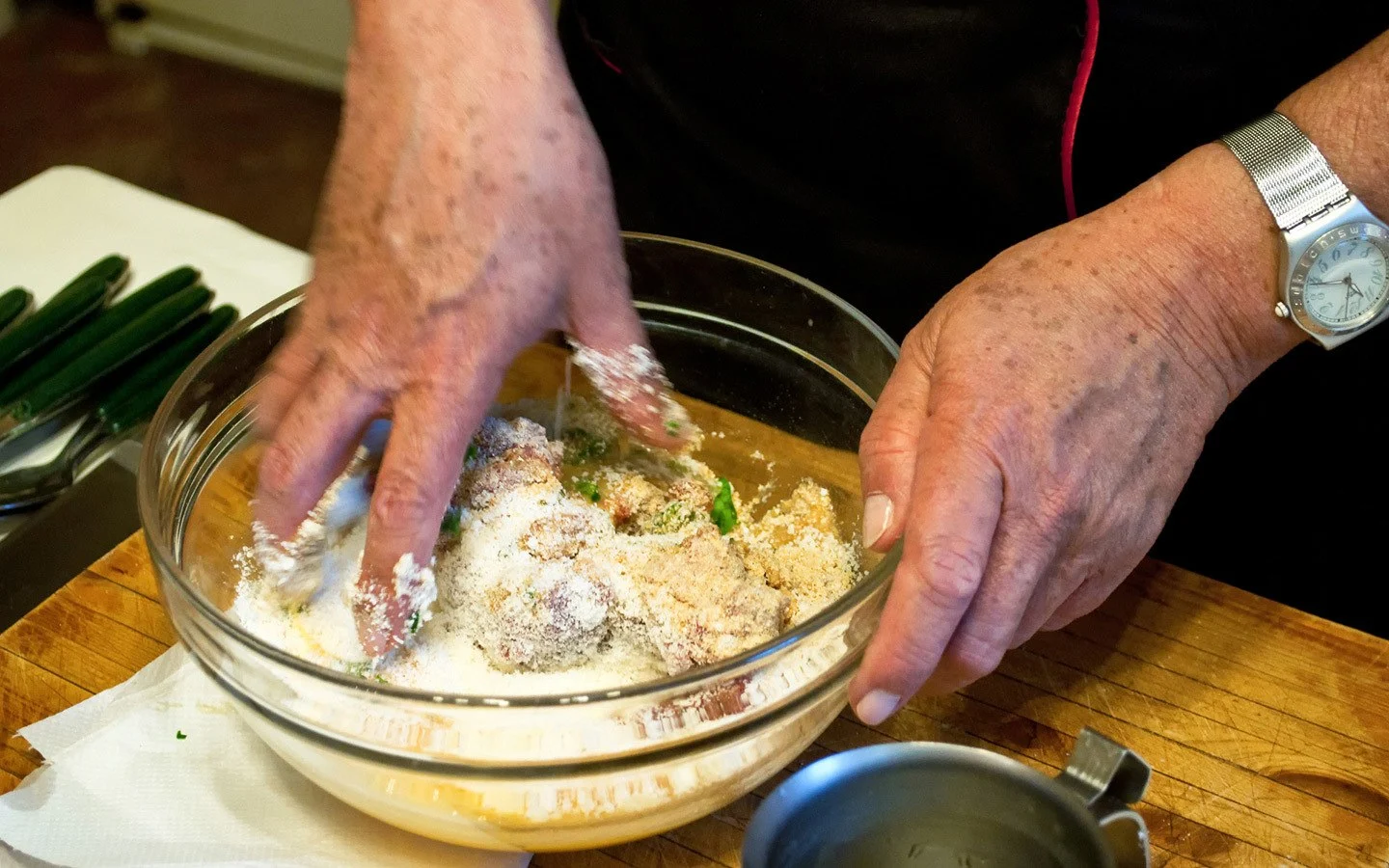 One of Catania's most famous dishes is Pasta alla Norma. This pasta dish is served with a tomato, basil, aubergine and ricotta sauce, and gets it's name from an opera by local composer Vincenzo Bellini. There's also peperonata agrodolce (sweet and sour peppers), polpette di cavallo (meatballs made with horse meat) and arancini (risotto balls).
And don't miss trying a glass of the local Etna wine while you're in Catania, with both red and white versions made using grapes grown on the volcano's high-altitude slopes.
Get to know Vincenzo Bellini
One of Catania's most famous sons is the composer Vincenzo Bellini. He was born in Catania in 1801 to a musical family and started composing as a child. He produced 10 operas, with Norma, La Sonnambula and I Puritani being the best known.
As well as Pasta alla Norma, Bellini also left his mark on the city at the Teatro Massimo Bellini. It was built in Baroque style but is actually much later, opening in 1890 with what else but a performance of Norma. And the Giardino Bellini, a shady green space on Via Etnea that's decorated with ponds, fountains and busts of notable local figures.
Feast on cakes and cannoli
Sicilians have a real sweet tooth, and many of the island's classic desserts were created by convent bakers. They combined ingredients from North Africa like sugar cane, pistachios, spices and candied fruit with cookery techniques from French pastry chefs.
One of the island's most famous treats is cannoli. A crisp tube of fried pastry dough filled with ricotta and honey, then decorated with crushed pistachios, glacé cherries or chocolate. There's also cassata, a sponge cake layered with ricotta and candied fruit.
Or there are marzipan fruits, icy granitas and Minni di Sant' Agata (aka St Agatha's breasts, where the gory story of her being tortured and having her breasts cut off has been turned into a tasty cake complete with cherry nipple). Caffè del Duomo and Prestipino Boutique – next door to each other on Piazza Duomo – are good spots for a sugar fix.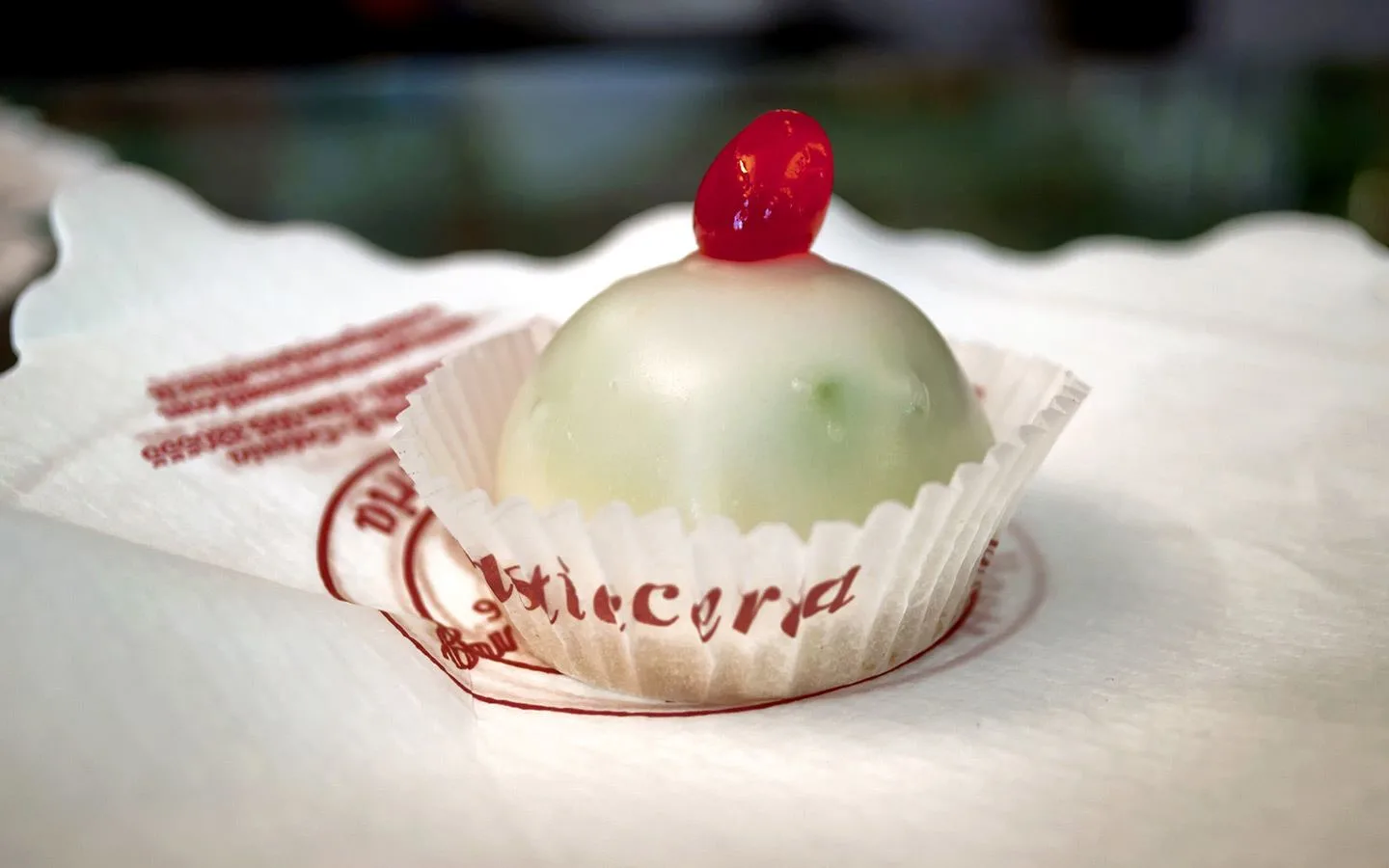 Get up close to Mount Etna
Mount Etna is an ever-present backdrop to Catania. It's Europe's highest and most active volcano, shrouded in vapour clouds with lava flows erupting from the summit. If you want to take a closer look, you can explore the craters and lava fields of the Parco dell'Etna.
You can visit Mount Etna independently by catching the public bus from Catania's Stazione Centrale to Rifugio Sapienza, then taking the cable car up to 2590 metres high, from where it's a 2km walk or a 4WD tour to reach the Torre Del Filosofo.
But if you want to get up onto the crater over 3000 metres up then you need to be on an organised tour* with a qualified guide, which has the option of a pick up from your hotel in Catania. Either way make sure to wear decent hiking shoes (which are supplied on most tours if you don't have any) and warm clothing as it gets cold at the summit.
Visit the volcanic coast
Catania might be a coastal city, but most of the seafront is filled with a busy harbour so it's not somewhere you'd come for a beach break. But you don't need to go far to get a taste of sea air. Just north of the city there are a string of former fishing villages, where dark volcanic rocks meet the clear turquoise waters of the Ionian Sea.
Aci Trezza and Aci Castello are a hugely popular day trip for Catanian locals, and easily reached using the 534 bus, which takes 45–60 minutes. You can also visit on a boat trip* from Catania which explores the coastline and a marine nature reserve.
Off the coast of Aci Trezza are three tall, rocky outcrops known as the Cyclops Islands. Legend has it they were formed when the king of the Cyclops threw giant rocks at Odysseus. And at Aci Castello a towering rocky cliff is topped by Norman castle carved from lava rock, which dates back to 1076 when it had a strategic position guarding the Messina Straits.
The details
When to visit Catania
Sicily has a Mediterranean climate, with long hot summers and short mild winters. Summer in Catania is very hot and dry, with average high temperatures of 32ºC (90ºF) in July/August, so many locals abandon the city and head to cooler climates.
Spring and autumn are the best times to visit Italy – when the weather's perfect for sightseeing and outdoor dining. Temperatures in Catania are much more comfortable, particularly in May and October when average highs lie around 25ºC (77ºF).
Catania doesn't get that cold during the winter either, with average highs of 14°C (57ºF) and lows of 8ºC (46ºF) in January, which is the coldest month. But the days are fairly short and rainfall peaks in November/December, so be prepared for a few wet days.
How to get to Catania
Catania–Fontanarossa Airport is 5km south of the city centre, and the two are connected by the AMT Alibus. The bus runs around every 25 minutes, costs €2.50 and takes 25–30 minutes, depending on traffic. Or you can pre-book a transfer with Welcome Pickups,* whose English-speaking drivers will meet your flight and take you to your hotel.
You can also get to Catania by train from mainland Italy. It's an unusual journey too as the whole train gets on board the ferry for the short trip across the Straits of Messina. There's a sleeper train all the way from Milan to Catania which takes an epic 18 hours. Or daytime trains to Catania take around 7 hours from Naples or 9 hours from Rome.
Trains also connect Catania with many other destinations in Sicily, including Taormina (1 hour), Syracuse (1 hour 15 minutes), Cefalù and Palermo (both around 4 hours).
Where to stay in Catania
The Palace Catania UNA Esperienze* is a stylish, elegantly designed hotel on Via Etnea, a 10-minute walk from the cathedral. There's a Turkish bath and gym. But the biggest plus is the roof terrace bar and restaurant, which has fantastic views of Mount Etna.
Asmundo di Gisira* is an 18th-century palazzo turned luxurious bed and breakfast that's perfect for art lovers. Each room is unique, with a mix of 'art rooms' showcasing contemporary artworks and 'neoclassical rooms' decorated in historic style. The hotel is right next to the Pescheria fish market, an easy walk to all the main sights.
Or if you prefer self-catering, the colourful and bright Scene Suites Apartments* have one or two bedrooms plus sofa beds, so can sleep either four or eight people. Each comes with a small kitchenette and dining area and some have a private balcony or terrace.
Save for later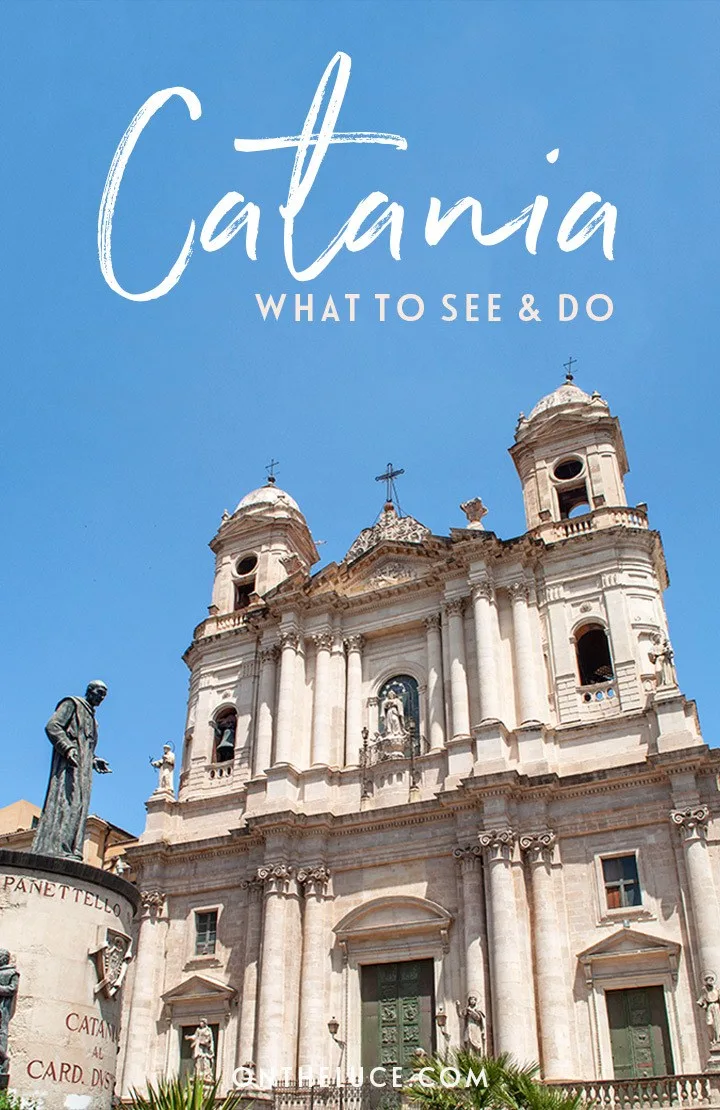 You might also like