Explore Italy by train in just one week on this rail itinerary packed with culture, history, food and wine as you travel across the country from Venice to Sicily via Florence, Rome, Naples and Sorrento.
* This site contains affiliate links, where I get a small commission from purchases at no extra cost to you.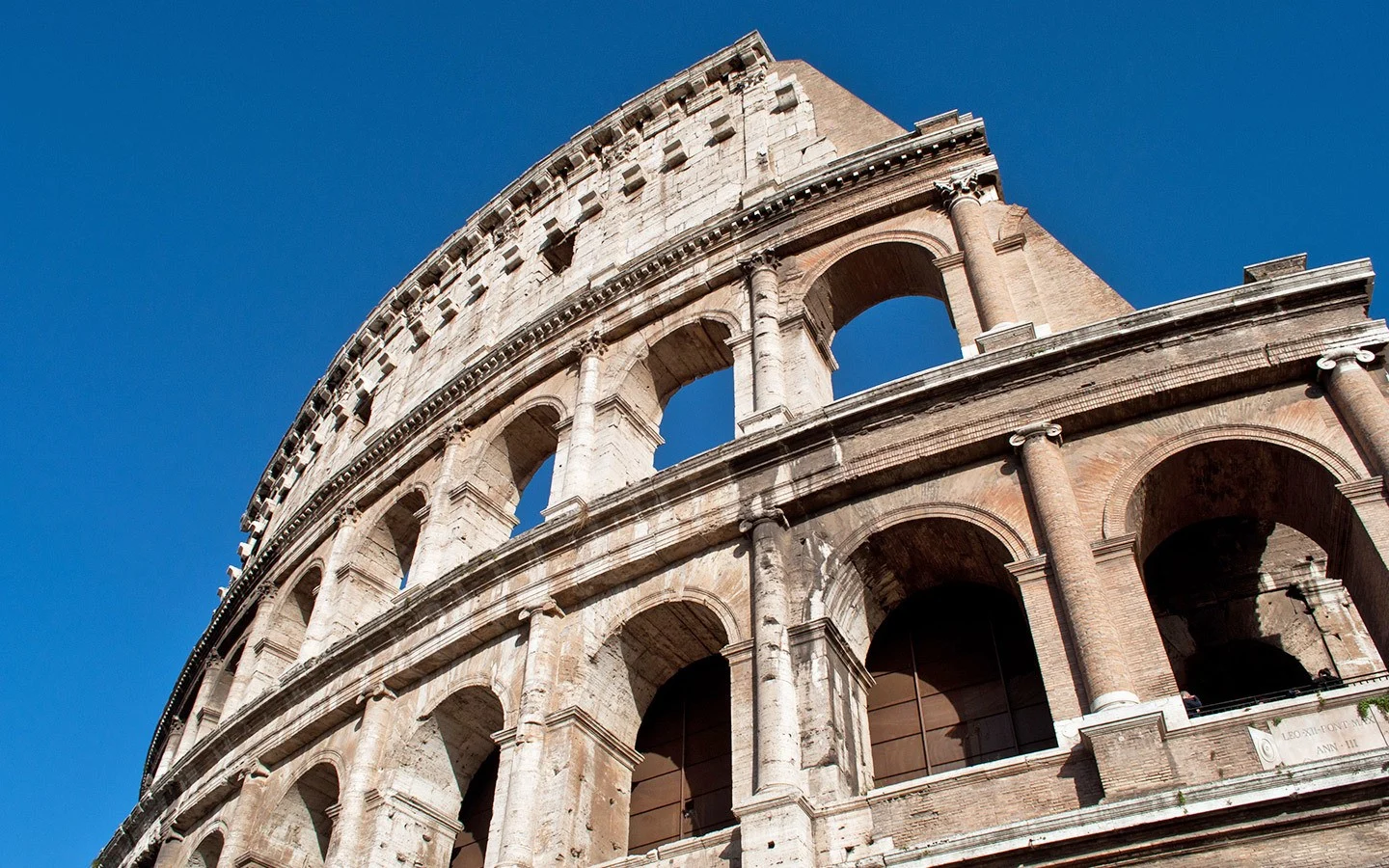 Feast on fabulous Italian culture, history, food and wine on this journey across Italy by train. This rail trip takes you from the top to the toe of Italy in one week, sampling some of the highlights of one of my favourite countries in the world along the way.
Starting among the canals of Venice, you'll head south to experience Renaissance art in Florence, 28 centuries of history in Rome, delicious pizza in Naples, sunset views in Sorrento and temples and beaches in Sicily. This Italian rail itinerary will show you which trains to take, how much they cost, how to book and what to see and do at each stop.
One-week Italy by train itinerary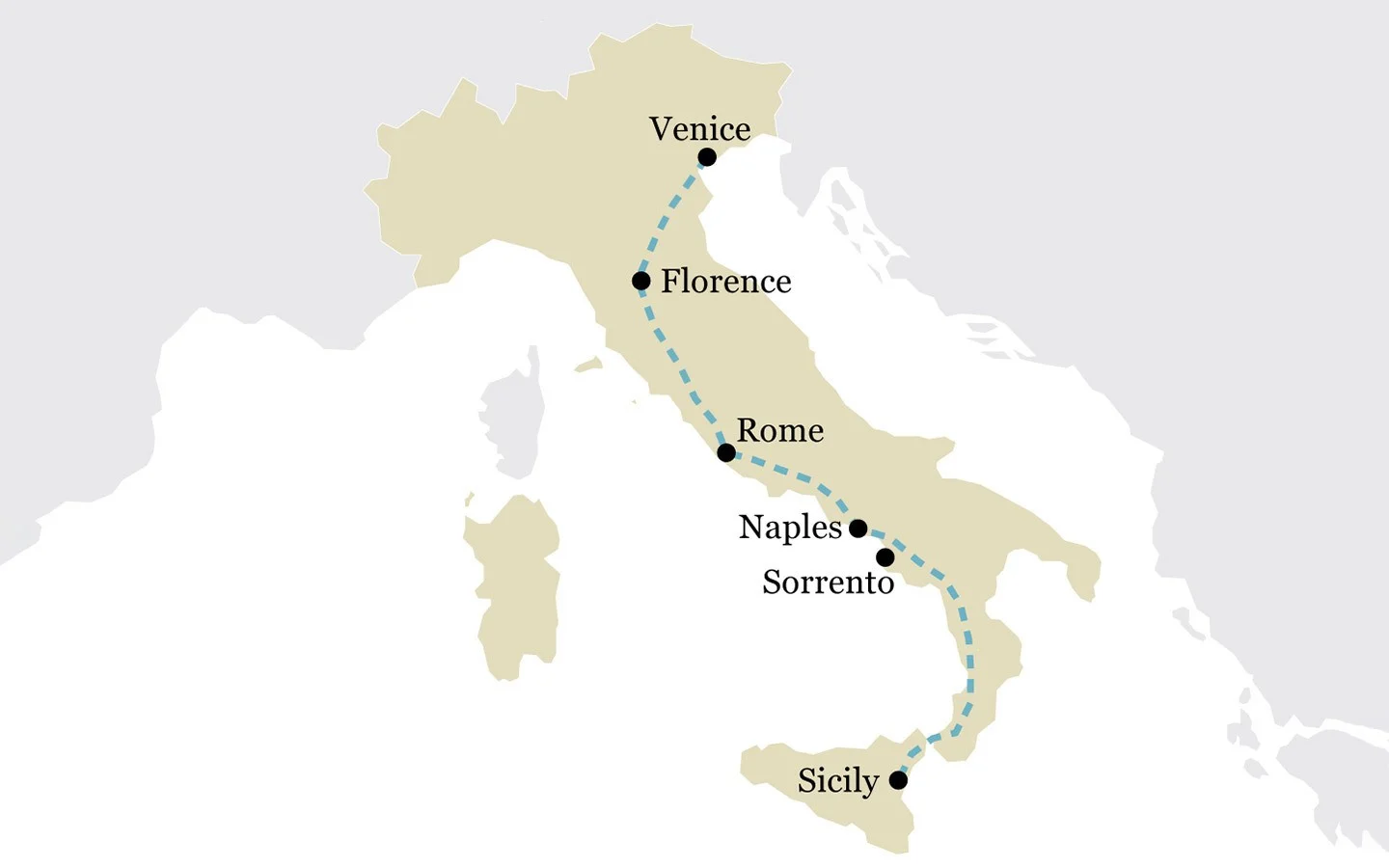 Day 1: Venice
Start your Italy by train adventure with a full day in Venice. You might have to dodge the crowds at St Mark's Square, the Doges Palace and Rialto Bridge, but Venice still has plenty of charm to go around. Climb to the top of the Campanile for a bird's eye view of the city from its tallest point, admire the Bridge of Sighs and watch the gondoliers in action.
You're guaranteed to get lost in Venice's confusing maze of canals and bridges, so embrace it and see what you can discover – a tucked-away chapel, crumbling palazzo or shady square to stop in for an Aperol Spritz and some tasty cicchetti bar snacks.
Venice is built on 118 islands, so take to the water to explore, whether in a traditional gondola or on one of the vaporetto public water buses which shuttle people around the city and out to the islands – choose from Lido with its sandy beach, Murano with its glass-makers, Burano with its brightly painted houses or Torcello with its historic cathedral.
Where to stay in Venice: Live like a Doge for the night in a restored 12th-century palace – without too much of a regal price tag – at the Hotel Antico Doge*, close to the Rialto Bridge. Inside the hotel's lavish interiors feature antique furniture, original paintings, chandeliers, gilt mirrors and jewel-coloured brocade fabrics.
Day 2: Venice > Florence
Early the next morning, take a 2-hour high-speed Frecciarossa train to the Tuscan capital Florence, departing Venezia San Lucia at 07.26 and arriving into Florence Santa Maria Novella at 09.39. Then spend rest of your day in Florence exploring the city (if you need to store your bags, there's a left luggage office near the station at 1a Via Valfonda).
The birthplace of the Renaissance is heaven for art and architecture lovers, with its cobbled streets, grand palazzi, frescoed churches, museums and galleries. Admire artworks by Carvaggio and da Vinci at the Uffizi Gallery (book in advance* if possible as queues are crazy in high season) or visit Michelangelo's David at the Galleria dell'Accademia.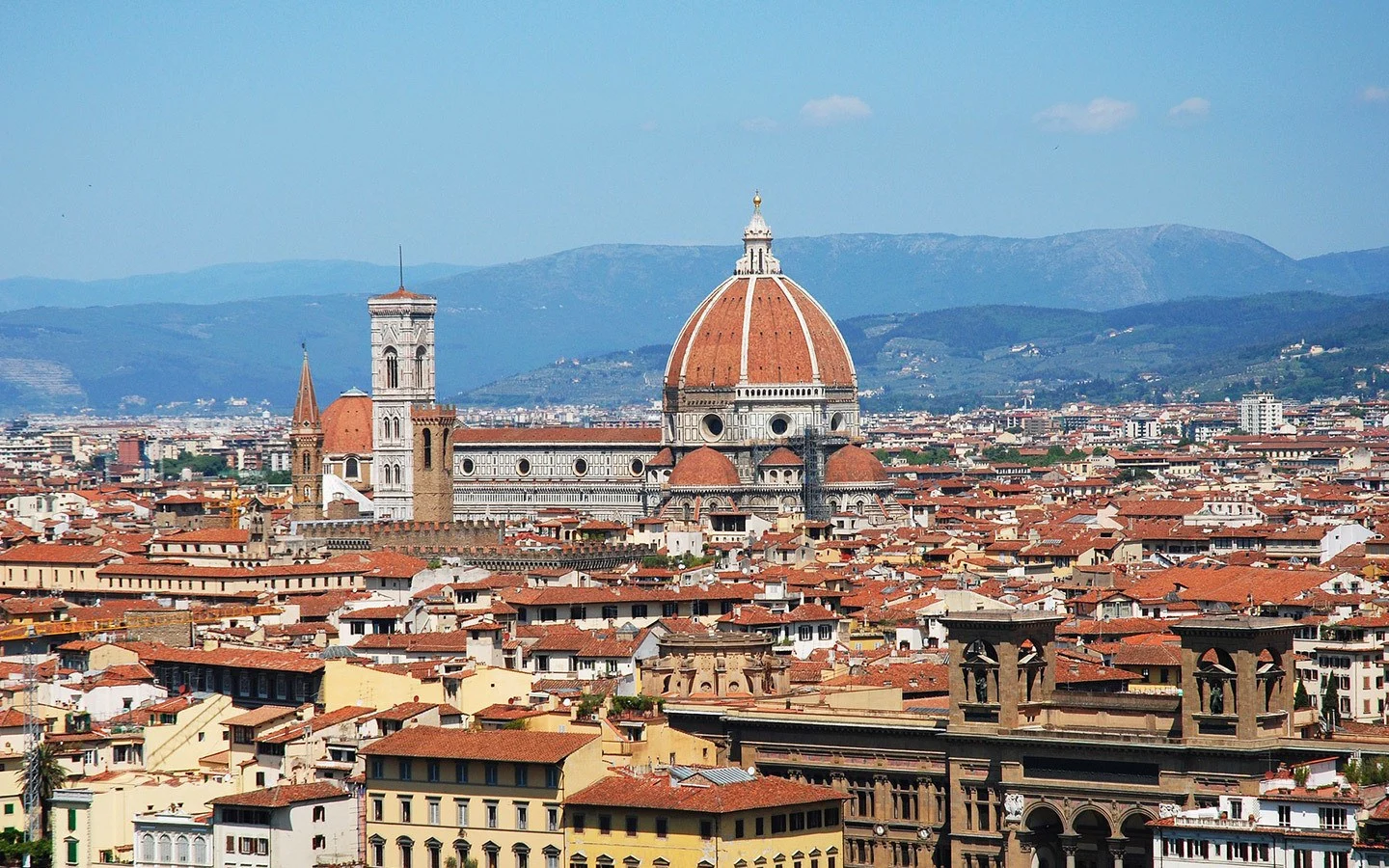 Climb up the 436 steps to the top of the Duomo or check out the views over Florence's rooftops from the Piazzale Michelangelo. Or cross the River Arno on the city's most famous bridge – the Ponte Vecchio, a covered bridge lined with shops dating back to 1350. And try fresh local produce at San Lorenzo Market, the city's oldest and largest food market.
Where to stay in Florence: The 4-star Hotel Santa Maria Novella* is only five minutes' walk from the train station. Its 71 rooms are spread across three townhouses, and come with marble bathrooms and splashes of colour. There's also a sauna and gym, a bar and a rooftop terrace which looks down on the Basilica of Santa Maria Novella.
Day 3: Florence > Rome
The following day, take a short 90-minute train journey to Rome. High-speed trains run from Florence's Santa Maria Novella station to Rome Termini around every 15 minutes, so you can decide how early a start you want to make. There's so much to see in Rome that one day is never going to be enough, so choose a few highlights to focus on.
This audioguide walking tour* takes you through some of the city's iconic landmarks, from Piazza del Popolo to the Colosseum. Explore more Roman sites at the Pantheon and Roman Forum. Or head to a another country with an afternoon in Vatican City, where you can admire artworks at St Peter's Basilica, the Sistine Chapel and Vatican Museums.
Tick off some of the classic Roman experiences – throw a coin in the Trevi Fountain, climb the Spanish Steps, listen to street performers in Piazza Navona and stroll through the gardens of Villa Borghese. Or head across the River Tiber to the bohemian neighbourhood of Trastavere with its boutique shops and terrace bars – perfect for a sunset aperitivo.
Where to stay in Rome: The eco-friendly Beehive is a luxury hostel close to Rome Termini station, with a mix of dorms and private rooms with shared or en-suite bathrooms, a courtyard garden and cosy lounge. The friendly owners also run a bagel business and organise communal dinners, aperitivo evenings and cookery classes.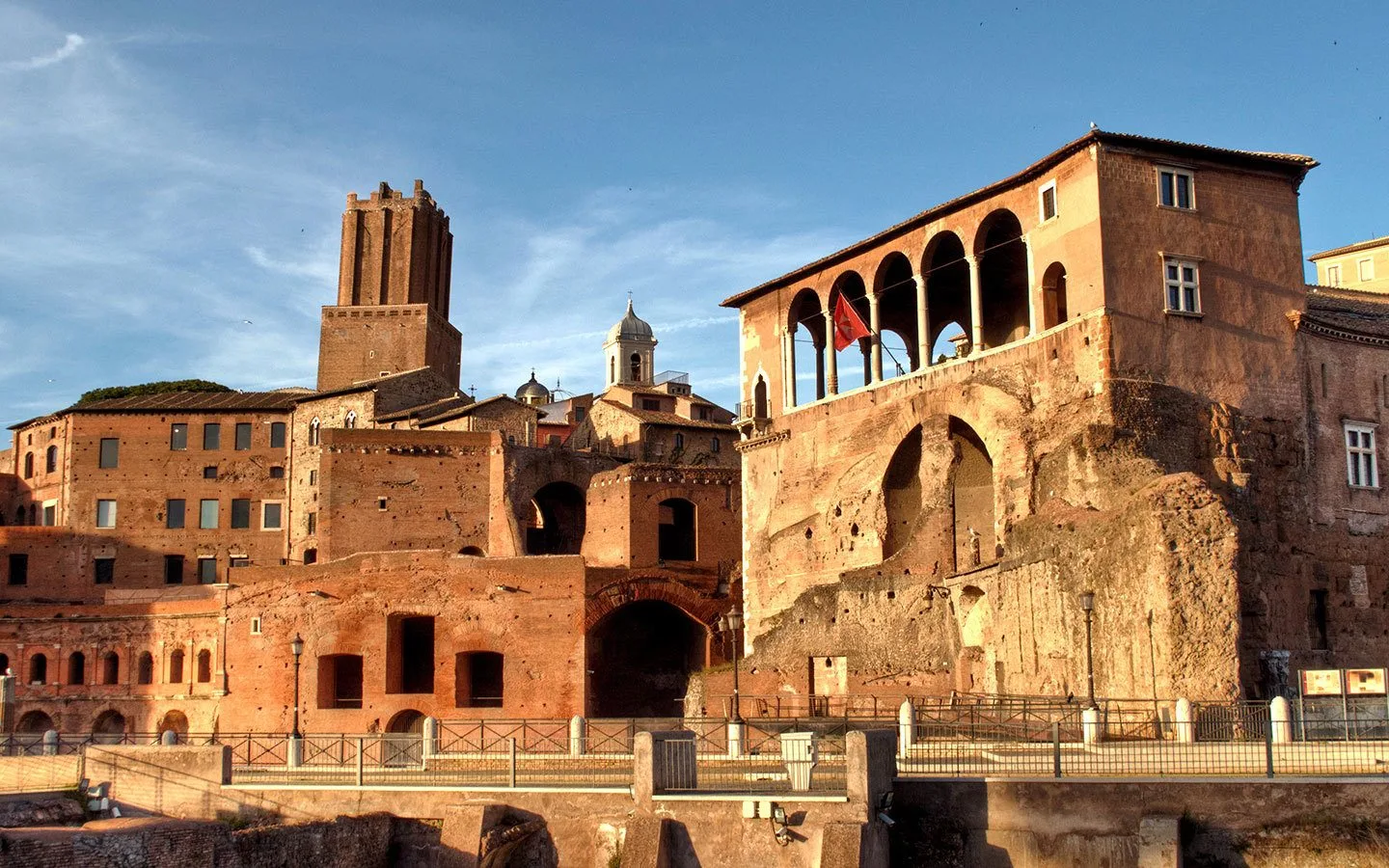 Day 4: Rome > Naples > Sorrento
Follow the coast south on the 70-minute high-speed train journey to the gritty city of Naples, departing Rome Termini at 08.00 and arriving at Naples Centrale at 09.13. Store your bags at the station for the day and explore the historic buildings of the centro storico before lunch – Naples is famous for its food and is where pizza was first created.
Then head underground to explore the network of catacombs and wartime shelters underneath the city streets. Or visit the Museo Archeologico Nazionale to see some of the archaeological treasures unearthed from sites like Pompeii and Herculaneum.
Next catch a train to from Naples Garibaldi station (located beneath Naples Centrale) to Sorrento. It takes around 70 minutes by Circumvesuviana local train or 45 minutes on the Campania Express tourist service (which only runs from April–October).
Circumvesuviana trains are fairly basic and can get pretty busy, but the views of Mount Vesuvius and out across the Bay of Naples make up for it. Campania Express trains come with a few more extra frills like air conditioning and luggage storage.
Aim to arrive into Sorrento in time for sunset and head to the clifftop Villa Communale Park where you can watch the sun dip down into the bay before dinner. And make sure to leave room for the amazing local gelato from Gelateria Davide.
Where to stay in Sorrento: If you feel like splashing out, the uber-stylish Maison La Minervetta* is built into the cliffs above the port of Marina Grande, just outside the centre of Sorrento. Owned by an interior designer, it mixes whitewash and splashes of colour, with multiple terraces to soak up the view – one with a whirlpool bath – and a private beach.
Read more: Sirens and sunsets: The best things to do in Sorrento
Day 5: Day trip from Sorrento
Spend the next day exploring Sorrento or head out into the Bay of Naples, with a good range of day trips to choose from. You can take the Circumvesuviana train north to visit the ruined Roman cities of Herculaneum and Pompeii, which were buried and preserved underneath metres of volcanic ash when Mount Vesuvius erupted in 79 AD.
It takes 25 minutes to reach Pompeii Scavi or 45 minutes to Ercolano Scavi. Or you can catch a bus from either station to Vesuvio National Park. Once you arrive it's a 20-minute walk to the edge of the crater for steaming vents and panoramic views.
Or take a boat from Sorrento and explore some of this beautiful stretch of coastline's islands and cliffside towns. Ferries run along the Amalfi Coast* to the towns of Positano and Amalfi. Or you can visit the islands of Capri, Ischia and Procida and go shopping with the A-list, visit the dazzling Blue Grotto sea cave or soak in thermal baths.
Read more: 9 of the best day trips from Sorrento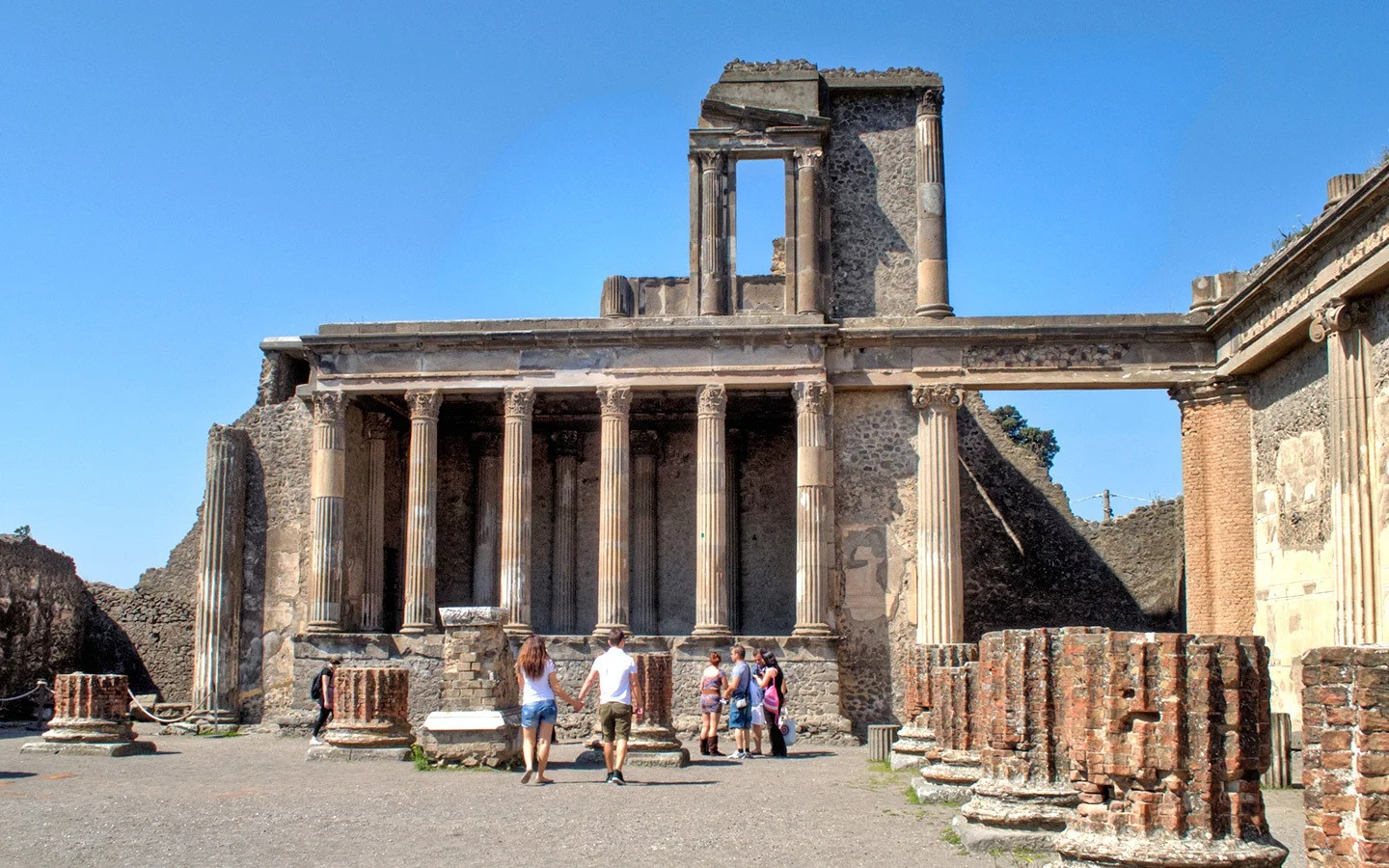 Day 6: Sorrento > Sicily
Make an early start for a long travel day to Sicily. First take the Circumvesuviana train from Sorrento back to Naples, allowing time to change stations before catching the 09.50 InterCity train from Naples Centrale south along the coast to Sicily.
It's one of Europe's most unusual train journeys as the whole train gets on board the ferry for the short journey across the Straits of Messina to Sicily. Once you're back on land, the train carries on through Sicily where you have a choice of final destination.
There's the resort town of Taormina (arrival 16.40) where you can visit the Greek amphitheatre and relax on the beach at Isola Bella with a lemony granita (crushed ice). Or you can carry on to Catania (arrival 17.25) where you can explore the city's spectacular Baroque architecture, shop the street markets and learn to cook like a Catanian.
The train splits into two sections in Sicily, so as well as heading south to Taormina and Catania, you could also head east to the city of Palermo (arrival 19.25). Palermo is Sicily's capital, a buzzing city famous for its imposing cathedral, puppet theatre shows, lavish Teatro Massimo opera house and the creepy catacombs with their mummified bodies.
Where to stay in Sicily: In Taormina, the small but perfectly formed Hotel Taodomus* in the heart of the historic centre comes with a small terrace and honesty bar. In Catania, the historic 4-star Palace Catania* has a knockout view of Mount Etna from its roof terrace and restaurant. Or in Palermo, the Casa Nostra Boutique Hotel* is close to the cathedral with a terrace, outdoor pool and some rooms with balcony spa baths.
Read more: Churches and cannoli: The best things to do in Catania
Day 7: Sicily
Spend the final day of your Italy by train trip seeing more of Sicily – and make sure to eat a few cannoli before you leave. If you're flying back home, both Palermo and Catania have international airports which are connected to each city by bus. Or you can pre-book a transfer to either airport with an English-speaking driver though Welcome Pickups.*
More time?
If you've got more time to spare, there's plenty more to see in Sicily – you can climb Mount Etna, visit the Valley of Temples in Agrigento, take a boat out to the volcanic Aeolian Islands, explore the Greek and Roman ruins in Siracusa and hike through the Riserva Naturale Orientata dello Zingaro nature reserve.
Or if you fancy adding another country onto your trip, ferries run between Sicily and Malta once or twice a day. Take a train or bus to Pozzallo in the south-east of Sicily, where the ferry takes around 90 minutes to reach the harbour in Valletta.
How much does it cost?
When you're planning a European rail trip, you can either book individual tickets or get a railpass, which can be a better deal if you're under 28, want more flexibility or are booking late. Here's how the prices break down for the two different options on this route.
Individual tickets
Ticket prices vary depending on how early you book, with a limited number of cheap tickets available. So book as early as possible (on most routes you can book 3–4 months in advance) but beware these tickets are non-transferable so you're tied to a specific train. Using the cheapest fares, the cost of trains on this route starts at €79 per person.
Venice > Florence: from €19.90
Florence > Rome: from €19.90
Rome > Naples: from €9.90
Naples > Sorrento > Naples: €9 (can't be booked in advance)
Naples > Sicily: from €19.90
The railpass option
There are also various rail passes available through InterRail (for European residents) and Eurail (for non-European residents), which cover individual countries or the whole region and are valid for different periods of time, varying from four days to three months.
The Italy by train itinerary involves four travel days in one country, so the best option is the One Country Italy pass for 4 travel days within 1 month. This pass costs €153 for adults, €126 for youths (aged 12–27) or €138 for seniors (aged 60+) in second class.
As well as the pass, you also need to pay an extra compulsory reservation fee if you're using Italy's high-speed, long-distance trains or sleeper services. For this trip, the extra fees come to €42, broken down as below, meaning the overall railpass cost starts from €168.
Venice > Florence: €10
Florence > Rome: €10
Rome > Naples: €10
Naples > Sorrento > Naples: €9 (Circumvesuviana trains aren't covered by railpass)
Naples > Sicily: €3
Reservations can be made at any train station or online through the InterRail/Eurail reservations service for a fee of €2. I've recommended the quickest and easiest routes. But you can often avoid reservation fees by taking local trains which usually don't require reservations – though they're likely to be slower with more changes along the way.
How to book
There are a variety of websites where you can book European train journeys, but often the best deals are though the official railway company sites for each country, which is Trenitalia for Italy. The site is available in English, but you need to use Italian place names (so that's Venezia instead of Venice, Firenze instead of Florence, Napoli instead of Naples, etc).
You can also book tickets for train travel in Italy with Omio* or The Trainline. The advantage is these sites are in English, you can see prices in €, £ or $, use international credit cards and print or use mobile tickets, but they do both charge a small booking fee.
Don't want to do it yourself? You can also book this One-week Italy by train itinerary* as a package through our partners Byway, the world's first flight-free holiday platform, which includes transport and accommodation.
Save for later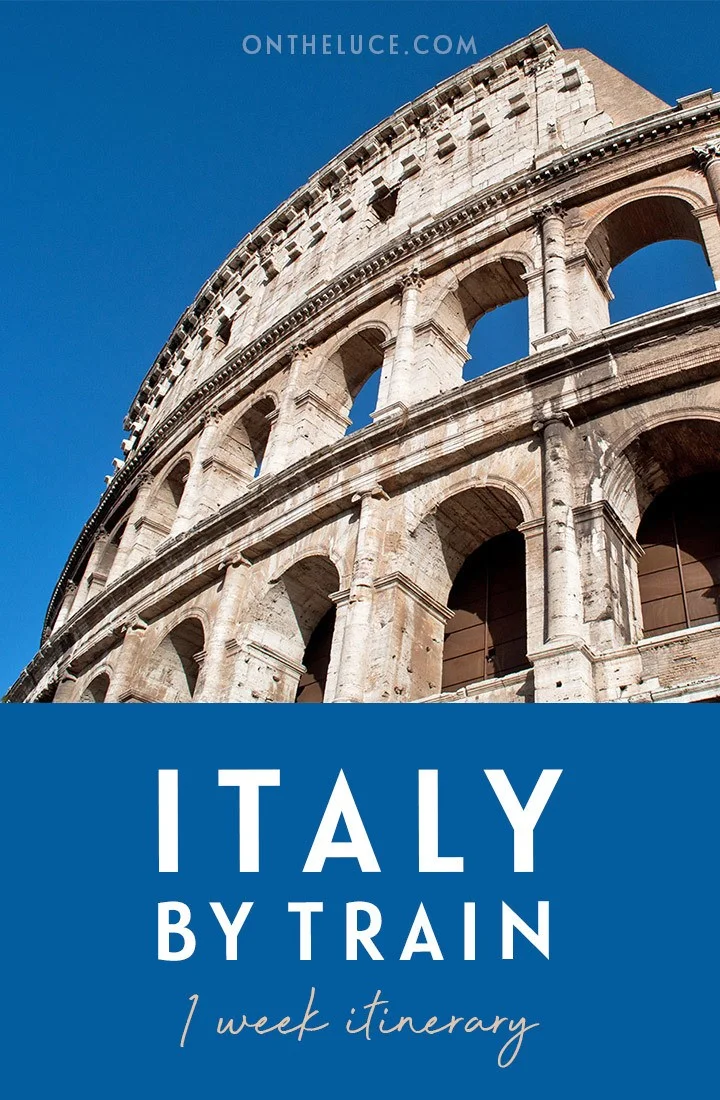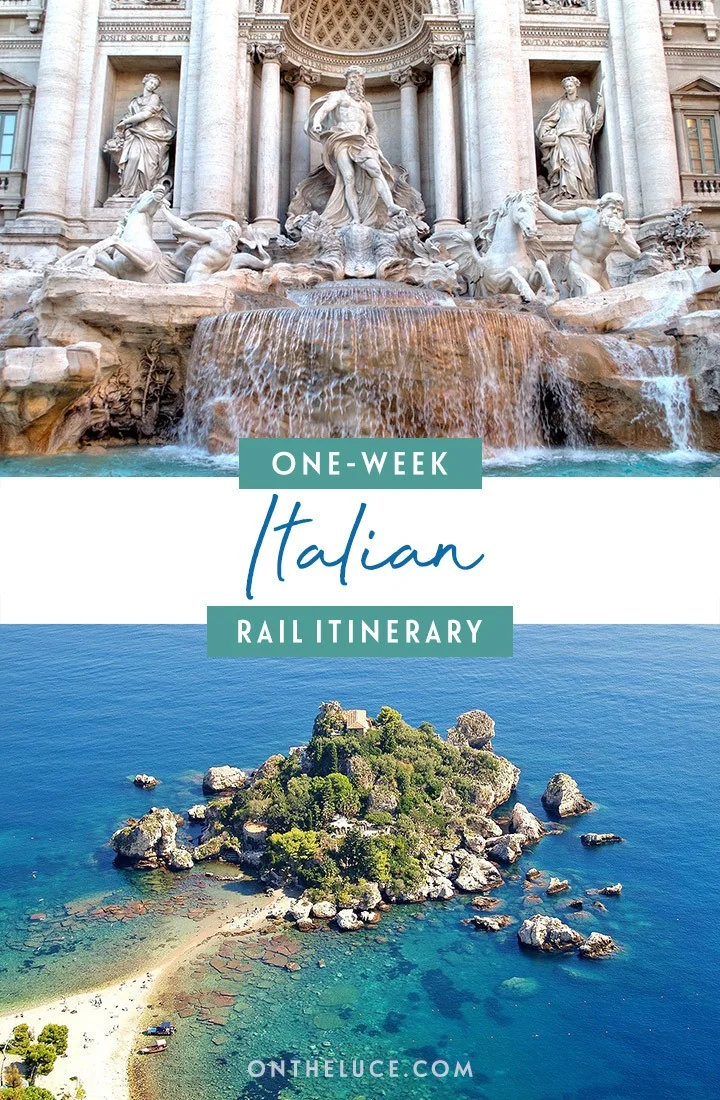 You might also like