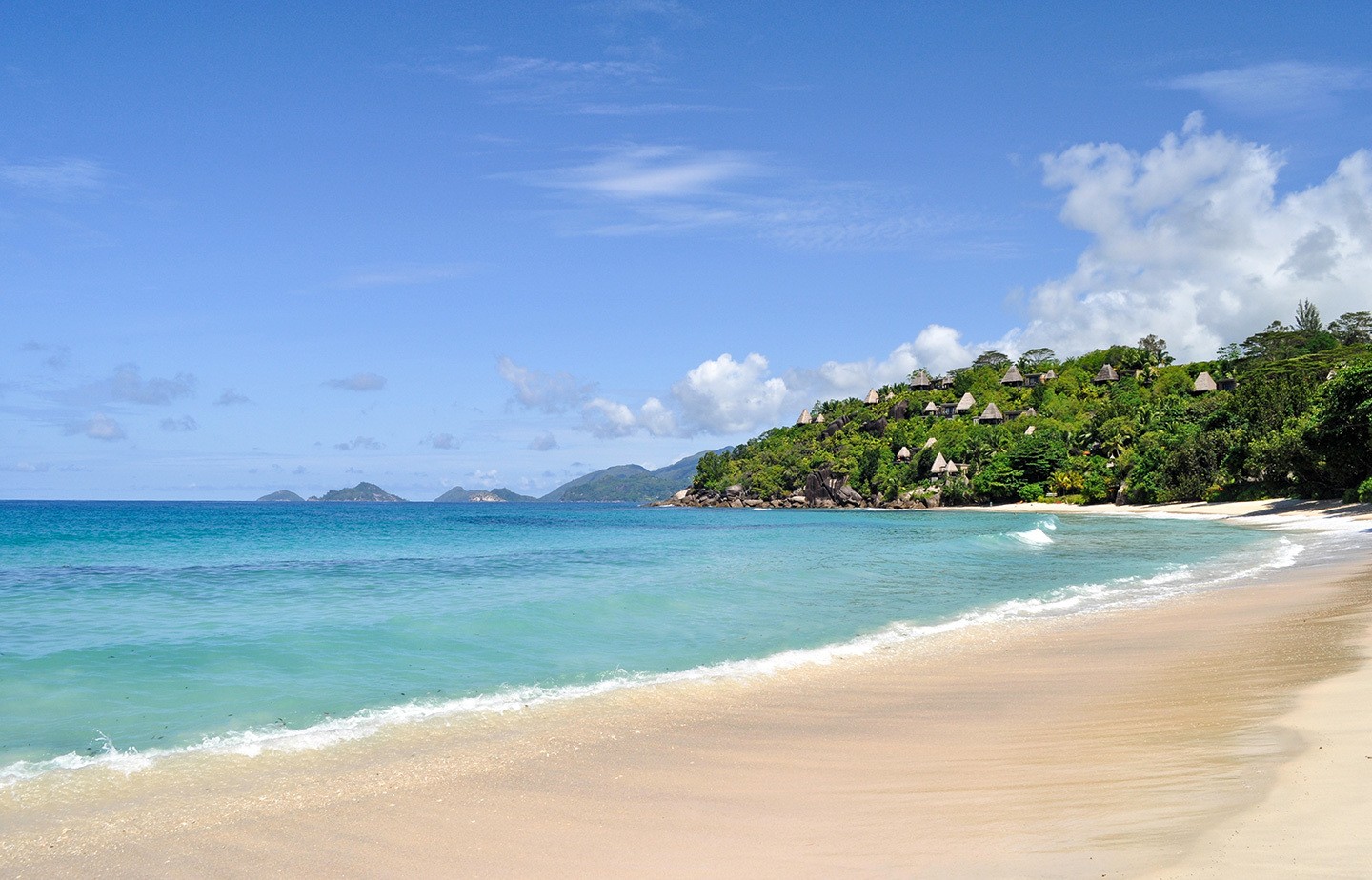 The Seychelles – just the name conjures up images of golden sandy beaches, palm trees, turquoise waters, sunset cocktails and five-star beachside resorts. The islands are a luxurious enclave for honeymooners, celebrities and billionaires. So when I found a flight to South Africa which had a stopover in the Seychelles along the way, I couldn't resist.
The only problem was that my travel style's more budget-luxury than five-star. But I was determined to see if it was possible to visit the Seychelles on a budget. And although it's never going to be an ultra-cheap destination, it turns out that keeping your costs down isn't impossible, even when you're following in the sandy footprints of A-listers and royalty.
Read more: Thing to do in Mahé: A one-day Seychelles road trip itinerary
Visiting the Seychelles on a budget
Planning a trip to the Seychelles
There are 115 different islands in the Seychelles archipelago, but most are uninhabited so it comes down to a choice between the three main islands as to where to stay – Mahé, Praslin and La Digue. Mahé is the largest and is home to the Seychelles' capital Victoria and the international airport. Praslin is smaller and accessible by plane or ferry, and from there you can get the ferry to La Digue – the smallest, quietest and arguably prettiest island.
The islands are fairly close together so it's tempting to try and see them all, but travel time and costs add up, so if you only have a few days it's best to focus on one island. Accommodation prices tend to be lower the longer you stay, so you can save money by not moving around.
Mahé is the cheapest island as it's the easiest to get to and the biggest so there's more competition for accommodation. As we only had a four-day stopover we stuck to Mahé, but if you have a week you can easily hop between islands and try a couple of different locations. From Mahé the fast ferry to Praslin takes about an hour and costs around €100 return, or Mahé to La Digue (via Praslin) takes 90 minutes and costs around €120 return.
Peak season in the Seychelles is from December to January and from June to August, which is when you'll pay higher prices and need to book well in advance. Rainy season is from January to February, but it's still warm and downpours are usually short. So if you don't mind risking a shower you can save money on flights and accommodation costs.
The Seychelles' currency in the rupee (SCR or Seychellois Rupee), with around 18 rupees to the Pound, 15 to the Euro and 14 to the US Dollar. Most things have to be imported, so bring plenty of sunscreen, mosquito repellent and toiletries to avoid high imported prices.
Where to stay in the Seychelles
When you arrive into the airport, you need proof that you have accommodation booked, so it's not the sort of place you can wing it and pick up a last-minute bargain. Where you're looking at where to stay in the Seychelles, luxury options outweigh the budget gems, so if you want to bag the best places try to book as far ahead as you can. Hotels can to be expensive, so also look for family-run guesthouses or self-catering options like chalets, bungalows and villas.
Expect to pay £70–£150 a night, depending on the location and facilities. We stayed in the one of two Fler Payanke apartments on the east coast of Mahé. They're set on a hill overlooking Anse Royale bay, within walking distance of a beach, bus stop and a few shops and places to eat. Our studio apartment with a balcony and kitchen cost £85 a night (including AirBnB fees).
Other good AirBnB options I had on my shortlist were this studio in the far north of Mahé (£80 a night, sleeps two) and this cottage on the west coast (£109 a night, sleeps two). (P.S If you've not used AirBnB before you can get £25 credit towards your first stay by signing up with this link.)
Getting around the Seychelles
La Digue is so small that, other than a few taxis, most people get around by bike or ox cart. Mahé and Praslin are bigger so a hire car is the easiest way to explore. Car hire costs around £35 a day. Most are small automatic cars, which are slow but nimble on the windy mountain roads. Petrol costs fluctuate but we paid around 170 rupees per 10 litres of fuel on Mahé – spending a total of 370 rupees (£20) over four days after covering pretty much every road on the island.
If you don't want to hire a car, then the best option is the public buses (the mountain roads are hard going for cycling and walking can be dangerous as there aren't a lot of pavements around). The buses cover over 40 different routes across Mahé and Praslin – we spotted them even on the smallest beach roads. They use old blue Tata minibuses and the driving can be a bit crazy so hold on tightly around the mountain road hairpin bends! A single fare costs 5 rupees (30p) and it's easy to spot the bus stops as they're painted on the road.
Things to do in the Seychelles on a budget
The Seychelles are all about the beaches – and they're the islands' best bargain. All beaches are free access, so even the ones which have five-star resorts on them are also open to the public. So you can beach-hop your way around the islands and join the jet set at the Banyan Tree resort at Anse Intendance, the MAIA resort at Anse Louis or the Four Seasons Hotel at Petite Anse.
You can usually access the beach from the road so you don't have to walk through hotel grounds. There are some off-road parking areas or otherwise you can just park on the side of the road, and the buses stop at all main beaches. Strong currents mean that some beaches aren't safe for swimming, or are only safe at certain times of the year, so check local signs before taking a dip.
Away from the beaches there are a few other cheap or free things to do in the Seychelles on a budget. There are hikes along the coast or through the mountainous area in the centre of Mahé. Among the most popular walks on Mahé are the coast path from Beau Vallon to the secluded beach at Anse Major (around two hours return) or the steep climb up to Morne Blanc for amazing views out over Morne Seychellois National Park (two hours return).
If the weather's bad you can visit the Botanic Gardens (100 rupees/£5), Natural History museum (15 rupees/80p) and Hindu temple in the capital Victoria. Mahé is also home to the Takamaka rum distillery which runs tours and tastings at 11.30am and 1.30pm, Monday–Friday (250 rupees/£13). And if you want to splash out (excuse the pun), you can take a snorkelling or diving trip, a boat trip to an uninhabited island or spot whale sharks between August and October.
Seychelles food and drink
Apart from fish and a few varieties of local fruit and vegetables, everything else has to be imported into the Seychelles so it comes at a premium price. This means a main course in a standard restaurant will cost you around 250 rupees (£13) and at high-end resorts they can be much higher. Add in a couple of drinks and the service charge and you're looking at at least £50 for a meal for two. One bargain in Mahé though is Beau Vallon's Wednesday market (4pm–8pm), with freshly cooked dishes like satay, grilled fish and coconut curry.
Self-catering helps keep the prices down – even if you eat out in the evenings it's worth grabbing supplies for a lunchtime picnic. Victoria's covered market is open every day except Sunday and sells local fruit and veg, spices and fresh fish – you'll also see fish sold by the roadside.
There are also lots of little Indian-run supermarkets around the islands where you can pick up drinks and basic food items. Or there are a couple of bigger international supermarkets in Mahé – a Co-op in the Eden Island development and a big STC on the outskirts of Victoria. Both sell a lot of imported European products (mainly from France).
If you've got space in your bag it's worth bringing a few food basics like pasta, cereal bars, tea and coffee to get you started, and stock up on alcohol at duty free before you arrive. You can't bring plant or animal products into the country, but you can bring up to two litres of wine and two litres of spirits per person. Seybrew beer and Takamaka rum are both produced on the islands so their prices are lower – you'll pay around 35 rupees (£2) for a 0.5 litre Seybrew in a local shop versus 160 rupees (£9) for a beach bar cocktail.
The verdict
So, can you visit the Seychelles on a budget? Well sort of! If you're on a very tight budget you'll struggle with the food and accommodation prices. But for around £80 a day per person you can stay in an apartment, rent a car, beach-hop and hike, cook most of your own food and have a few local drinks. It's very easy to spend a lot more though, so it's a destination where you need to always keep one eye on the budget – but it's worth it for a taste of Indian Ocean paradise.
Pin it
This article contains affiliate links, where I get a small commission at no extra cost to you, thanks.