A guide to travelling on the Night Riviera Sleeper, the overnight train journey from London to Cornwall, with everything you need to know, from routes and costs to on-board facilities and accommodation.
* This site contains affiliate links, where I get a small commission from purchases at no extra cost to you.
Its sandy beaches, fishing coves and windswept moorland make Cornwall one of the most popular holiday destinations in the UK. But its location in the far southwest of England means that the journey to get there can be hard going, especially in the busy summer months, with narrow roads clogged with traffic or longs days on the train.
There is another option though – the Night Riviera Sleeper train. It's one of just two overnight trains in the UK (the other is the Caledonian Sleeper from London to Scotland), transporting travellers from London Paddington to Penzance via Cornish towns and cities like Truro, St Austell and St Erth, with a choice of seats or one- or two-person cabins.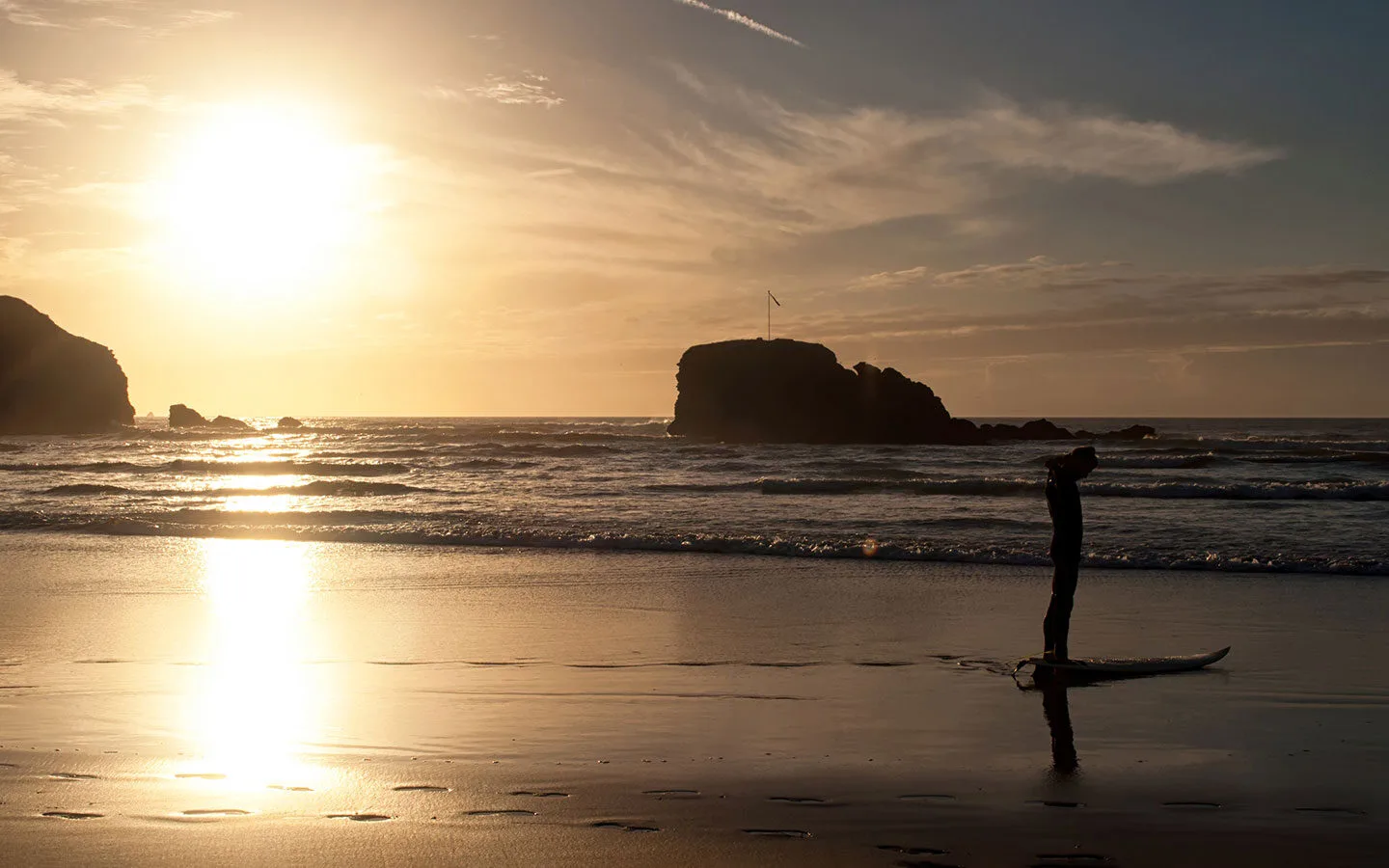 There's been a sleeper train between London and Cornwall since 1877, starting with a route to Plymouth which was later extended to Penzance. It's now run by GWR (Great Western Railway) and had a makeover in 2018 with refurbished cabins, new seating cars and a new lounge bar, alongside improvements like electronic keycards and free wifi.
After several trips on the Caledonian Sleeper I finally got to try out the Night Riviera Sleeper on a trip from St Erth to London. It's a great way to travel while you sleep and produces less carbon emissions than flying so is more environmentally friendly. But what's it like on board? This Night Riviera Sleeper review tells you everything you need to know.
Travelling to Cornwall on board the Night Riviera Sleeper train
Where can you travel to on the Night Riviera Sleeper?
The Night Riviera Sleeper connects London to Cornwall and vice versa, with services running every night of the week except Saturday (excluding 24 and 25 December).
The sleeper runs from London Paddington to Penzance in the far south of Cornwall, and stops in various Cornish towns and cities along the way (it does also call at Reading, Taunton, Exeter and Newton Abbott on the way to Cornwall, but these stops are mainly just used to pick up passengers as they're in the middle of the night).
The Night Riviera Sleeper stops at lots of popular destinations in Cornwall – and you can also use connecting trains and buses to get to other places like St Ives, Newquay and the Eden Project. The full list of stops heading south from Plymouth to Penzance is:
Plymouth
Liskeard (change for connecting trains to Looe)
Bodmin Parkway
Lostwithiel
Par (change for connecting trains to Newquay)
St Austell (change for connecting buses to the Eden Project)
Truro (change for connecting trains to Falmouth)
Redruth
Camborne
Hayle
St Erth (change for connecting trains to St Ives)
Penzance.
How long does the Night Riviera Sleeper take?
A normal daytime train journey from London to Penzance takes around 5 hours, but the sleeper runs a lot slower so you don't end up arriving too early and getting stranded in a station before anything's open. The journey takes 8 hours from London to Penzance, and a slightly quicker 7.5 hours in the other direction from Penzance to London.
The Night Riviera Sleeper departs from London Paddington at 11.45pm (11.50pm on Sundays) and arrives into Penzance at 7.54am the next morning. And you can board from 10.30pm so you don't have to hang around the station at night for too long.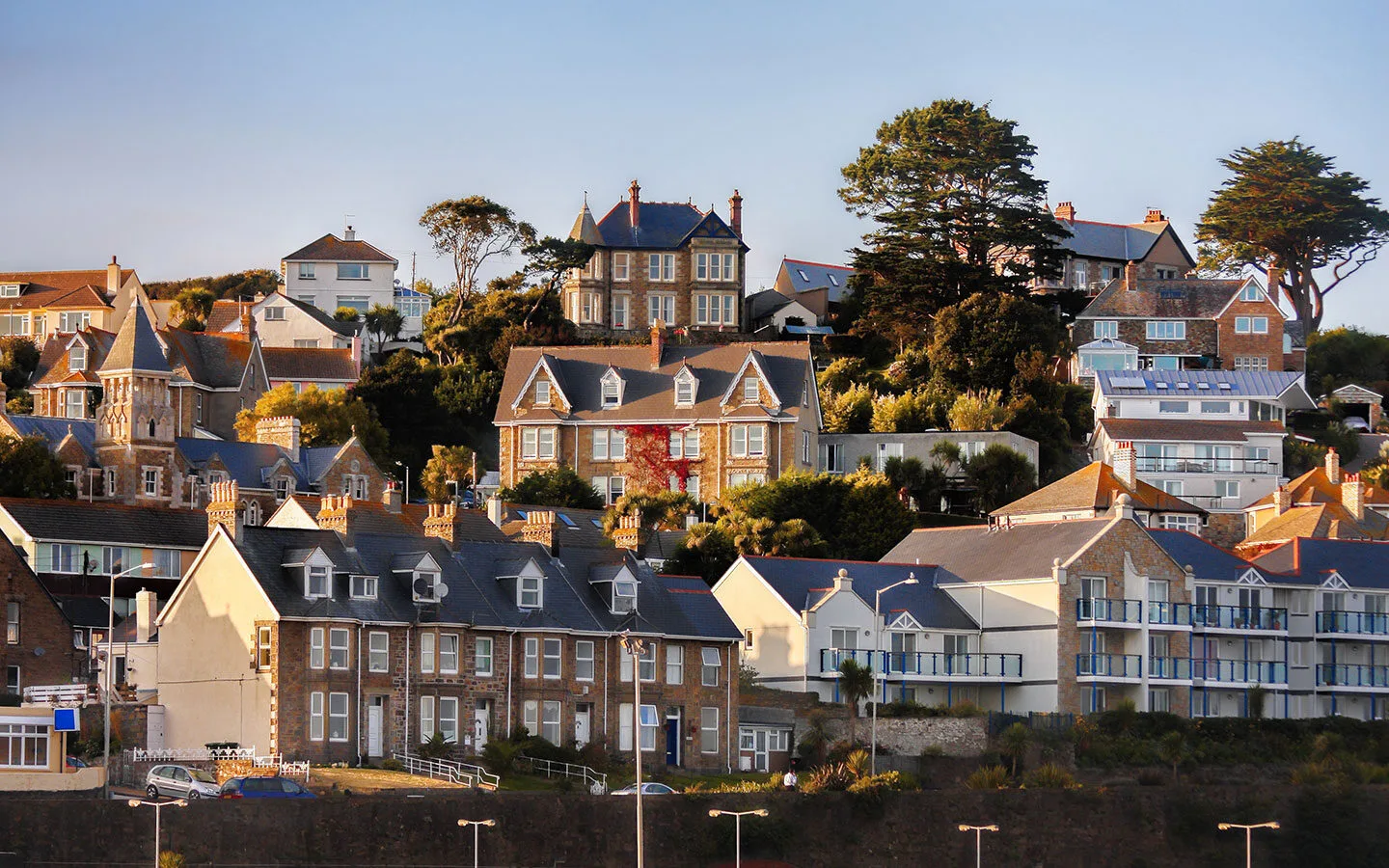 Sleeper berth passengers can also use the GWR First Class Lounge at Paddington from 9pm, where you can get free tea and coffee, soft drinks and snacks. There are some comfy seats and desks to work at – and look out for the original features in one part of the lounge, which date from when it was Queen Victoria's private station waiting room.
If you're getting off at one of the early stops like Plymouth you arrive very early in the morning (around 5am). But other arrival times are more reasonable – getting into St Austell at 6.49am, Truro at 7.07am, Redruth at 7.20am and St Erth at 7.42am.
In the reverse direction, the Night Riviera Sleeper departs Penzance at 9.45pm (9.15pm on Sundays) and arrives into London at 5.04am, but you can stay on board until 6.45am.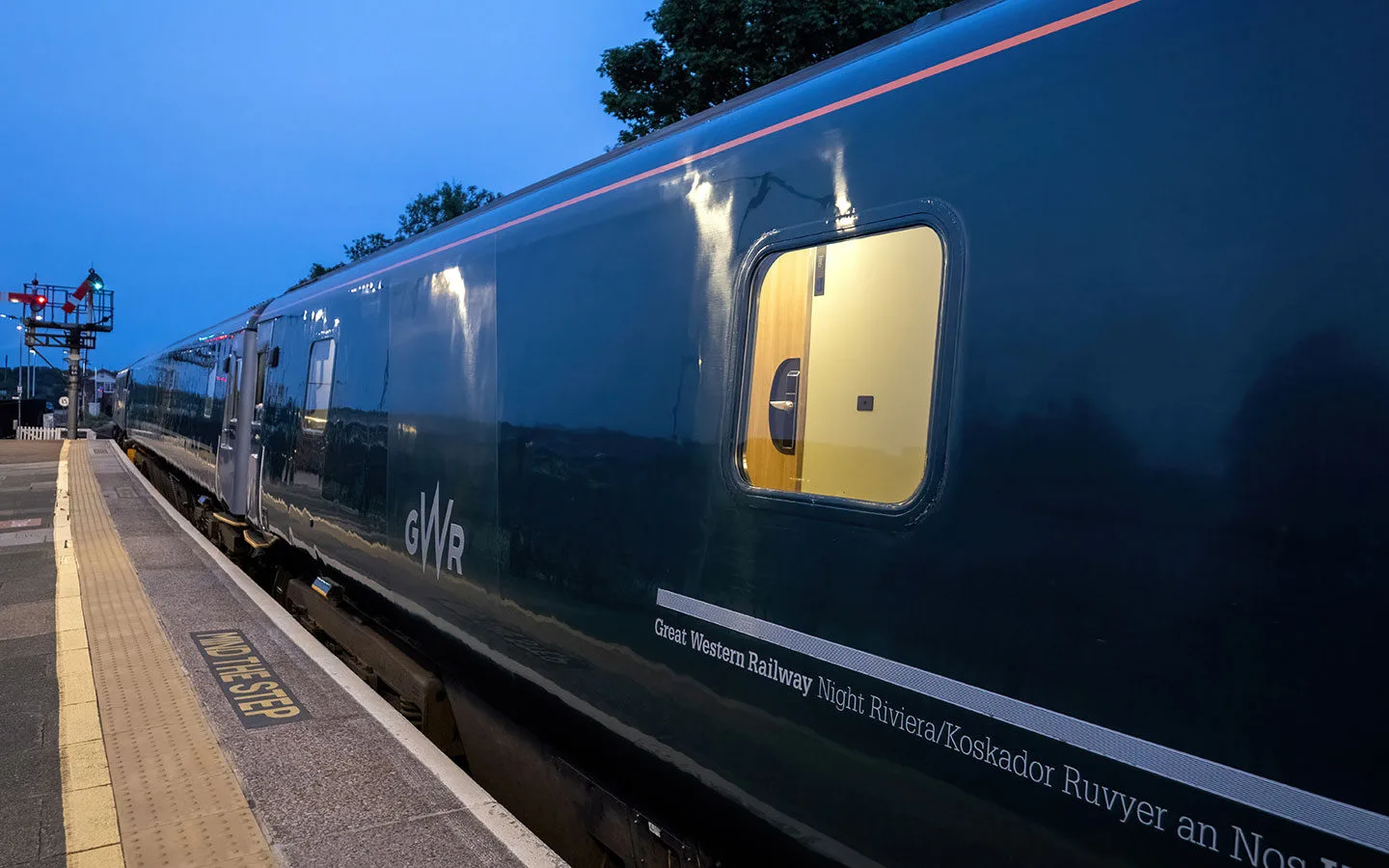 There are also First Class lounges at Penzance and Truro stations which sleeper passengers can use before or after their journey. Like the Paddington lounge they have complimentary drinks, snacks and wifi, and they also have showers (soap and towels are provided).
So which is the best direction to travel in? Going from London to Cornwall means you get scenic views when you wake up, whereas it's dark (or dawn over the London suburbs) in the other direction. But going from Cornwall to London means you board earlier so there's less hanging around and time to relax in the lounge car before going to bed.
What are the classes of travel on the Night Riviera Sleeper?
There are just two classes of travel on the Night Riviera Sleeper – seat and cabins. Seats are the cheapest option, and you get a bit more leg room and recline than you would in a normal daytime train carriage, but it's not easy to get a good night's sleep.
More expensive but more comfortable are the cabins. Unlike the Caledonian Sleeper train to Scotland where there are several different types of cabin (some of which have en-suite bathrooms and one even comes with a double bed) there's only one type of cabin on the Night Riviera Sleeper, which can be set up as either a single or a twin room.
Cabins have upper and lower bunk beds, so if you're on your own the top bunk is folded up against the wall. Beds are compact but cosy (if you're tall, the bottom bunk is slightly longer at 197cm versus 192cm for the top bunk) and come with a duvet and pillows.
Each cabin has a sink below the window – tucked away under a lid which you lift up to access it – which has hot and cold running water, and towels and soap are provided. There are also power sockets, USB charging ports and a reading light over each bed.
There are no en-suite cabins on the Night Riviera Sleeper so everyone has to use the shared toilets, with two at the end of each cabin (you can use them while the train is in the station too). There aren't any showers on board either but sleeper passengers can use the showers at London Paddington or in the lounges at Penzance and Truro stations for free.
If you're travelling in a group, you can book two cabins with interconnecting doors. There's also one wheelchair-accessible sleeper cabin on each train, alongside an accessible toilet.
How much does the Night Riviera Sleeper cost, and how do I book?
Pricing for the Night Riviera Sleeper is slightly confusing to work out as there are two different parts to it – the train ticket and the sleeper supplement. Tickets need to be booked via the GWR website and are normally (but not always) available 12 weeks in advance.
First you book a normal train ticket for your journey – search for the destination you want and select the sleeper train time. Make sure you select a fare with 'Cabin options' written above it if you want to book a cabin. Ticket prices vary according to demand so book as early as you can and avoid busy times like weekends to get the cheapest tickets.
If you have a Railcard* you can save a third on the fare – there are different versions available for 16–25s, 25–30s, Seniors, Disabled People and two adults travelling together.
The train ticket entitles you to a seat, but if you want to book a cabin you also need to pay a sleeper supplement on top. Sleeper supplements range from £42.50 to £100.50 for a single berth cabin or from £32 to £75.50 per person for a twin cabin, depending on the time of year, how busy the train is and how close you are to the departure date.
The cheapest sleeper fare I could find was £43 for a seat, £121 for a single cabin or £111 per person for a twin cabin (on a weekday two months in advance). So when you factor in saving a night's accommodation it can be a good value way to get to Cornwall.
If you're travelling with children, under 5s travel for free, though they don't get their own bed – and space is limited so it'd be hard to fit a cot in. Children under 16 get half-price train fares but they have to pay full price for the sleeper supplement.
And if you're travelling around the UK on an InterRail/Eurail or BritRail pass, the train ticket is included but you need to pay a sleeper supplement – you can't book online though so need to call GWR on +44 (0)345 7000 125. The GWR website also doesn't always accept overseas credit cards so international travellers may also need to book by phone.
Can you get food and drink on board the Night Riviera Sleeper?
There is a lounge car for sleeper berth passengers which is open all night. Tea, coffee, water and snacks like crisps and biscuits are free for sleeper passengers, and you can also buy a few other snacks as well as wine, beer, spirits and soft drinks. There's isn't much in the way of 'proper' food though so eat before you leave or bring your own onboard.
The lounge was revamped in 2018 and has a mix of booths, seats and sofas – it was pretty quiet when we did the trip so there was plenty of space. There's also a room service bell in your cabin where you can call for snacks and drinks to be delivered.
Sleeper passengers get breakfast included in their fare. It's delivered to your cabin by the steward and you can choose what time you'd like it the night before. There's a choice of a bacon roll, porridge, croissant or cereal plus tea, coffee or orange juice.
What do you do with your luggage?
If you're in a seat there's a luggage area at the end of the carriage and overhead racks. And if you're in a sleeper cabin there's a shallow space for luggage under the bottom bed. It wouldn't fit large suitcases (and the corridors are narrow so it'd be a squeeze to get them down there), but bigger suitcases can be left in the guard's van free of charge.
There's also a tiny wardrobe where you can hang up a coat. But there's not a huge amount of space – particularly if two of you are sharing a cabin – so it's a good idea to have a separate bag with essentials for the night or put them somewhere easy to get to.
If you're travelling with a bike you can store it in the guard's van, but you need to reserve a space in advance as there's limited room. You can also bring up to two dogs in your cabin for an extra fee of £30, but they're not allowed on the beds or in the lounge.
Arriving by sleeper means getting to your destination early, so what do you do with your bags? You can often drop luggage off at your hotel, or if you're arriving into London there's baggage storage at Paddington station. Cornwall is a bit more tricky, but the Ride On bike shop in Penzance stores luggage as does the Travel Centre by the station in St Ives.
What's it like travelling on the Night Riviera Sleeper?
We boarded the Night Riviera Sleeper at St Erth for the journey to London. Your cabin steward meets you when you board to check your tickets and ask if you'd like breakfast, a wake up call or to book a shower on arrival. You're also given your key, which is a hotel-style electronic keycard which you tap on the lock to open the cabin door.
Carriages have a narrow corridor down one side and cabins with beds running widthways, which are either made up for single or double occupancy (the beds are already made but you can turn the lower bunk into a sofa if you'd rather sit at any point).
A folding ladder pulls out of the wall to access the top bunk, which has a shelf for phones and water bottles. One thing which would've been useful though was a pocket on the back of the door for the key so you didn't have to search for it in the night.
So how easy is it to sleep on the Night Riviera Sleeper? Not too bad. The beds are comfortable but you can feel the motion of the train, especially on the top bunk (there's a strap connecting the bunk to the ceiling so you don't have to worry about falling out).
There is some noise so earplugs would be useful. It's also worth packing flip flops or slippers you can put on easily if you want to use the bathroom during the night. And I spotted a fellow passenger who'd brought a dressing gown to wear in the corridors.
We arrived into London Paddington on time at 5am, but stayed on board to get another hour's sleep before our wake up call at 6am (you can stay on as late as 6.45am), dropping our key in the box then heading off to catch our onward train.
Is the Night Riviera Sleeper for you?
The Night Riviera Sleeper is definitely a time-effective way to travel between London and Cornwall, and if you can book well in advance it can be good value too, particularly if you have a Railcard or are travelling around the UK using a rail pass.
As the journey is so short you don't get the gorgeous daytime views like you do on the Caledonian Sleeper to the Highlands as you're travelling mostly in the dark. But it's a lower-carbon, eco-friendly way to travel and there's a novelty factor to sleeping on a train (though I'd recommend booking a cabin if you actually want to get much sleep).
Save for later
You might also like