How bad are cruises for the environment? A look at how we can minimise our cruise environmental impact, with tips for choosing the most sustainable cruise line and things we can do to help.
* This site contains affiliate links, where I get a small commission from purchases at no extra cost to you.
Cruise travel is big business. Almost 30 million people took a cruise in 2019 as more routes, bigger ships and better facilities have opened up cruising to a whole new group of people. Taking a cruise is not just for retirees and honeymooners any more.
Passenger numbers dropped hugely during the pandemic, but the cruise industry is starting to bounce back, and as it grows so does the environmental impact of cruising. The cruise industry has been criticised for its contribution to global warming, pollution and heavy use of resources. But is it possible to reduce your cruise environmental impact?
How bad are cruises for the environment?
Look below the surface and you come across all sorts of horror stories. Sewage and rubbish being dumped in the sea, air and water being polluted, whales being hit by cruise ships sailing too close to shore, invasive species being introduced by pumping ballast water. Cruise ships have been accused of being as polluting as a million cars.
When it comes to the environment, cruising has a bad reputation. And it's not unjustified, with a string of fines for violations including $40 million for Carnival Cruises for illegal oil dumping and $2.5 million for MSC Cruises for throwing bags of rubbish overboard.
But the pandemic has been a reset which has given cruise companies the opportunity to stop and look to the future. Could that be a greener one? With limited regulation from governments and regulatory bodies, it's up to the cruise lines to make the change.
Can cruising ever be sustainable?
Technology is helping lower the environmental impact of cruises with new developments like improved water purification systems, more efficient hull and propeller design, energy-efficient engines and less polluting fuels. And cruise lines are partnering with environmental groups to share data and organise sustainable shore excursions.
There's even a zero-waste Japanese Ecoship in development, with a hybrid engine, wind and solar power, and an educational mission. But can a cruise ever be green? If you're looking for a low impact, sustainable holiday, cruising isn't it. That doesn't mean you can't minimise your environmental footprint if you do want to take a cruise though.
When you're on board ship you're totally reliant on your cruise company. So the biggest way you can influence your environmental impact is by choosing your cruise line – and ship – carefully. But how do you know how sustainable your cruise is?
Choosing a cruise
While there's no official rating of cruise lines' environmental standards, there is an unofficial one which was created by the environmental charity Friends of the Earth – the Cruise Ship Report Card. It's pretty controversial though. When it first started, the cruise companies and Cruise Line International Association cooperated and shared their data.
But after a falling out over the results, most refused to take part and say the data's inaccurate. But it still makes interesting reading. Each cruise line and ship is graded from A–F, based on how they deal with four different elements of sustainability:
Sewage treatment: do they have the most up-to-date sewage treatment facilities and avoid dumping minimally treated waste into the ocean?
Air pollution reduction: can their ships be plugged into shore power when they're docked to reduce air pollution, and use low-sulphur fuels?
Water quality compliance: how far did they breach Alaskan water pollution standards, and do they use scrubbers which generate toxic water pollution?
Transparency: did the company respond to requests for information?
The latest edition was published in 2022, and Regent Seven Seas tops the rankings with a C, alongside Norwegian and Oceania Cruises – all of which are owned by the same company. Disney was downgraded from a B to a C due to their plans to build a big new cruise port in the Bahamas on a site home to marine life and endangered coral.
The results vary hugely by ship though. Technology is changing rapidly, so generally the newest ships rank higher as they have been built with the latest tech and it takes longer and is more difficult to go back and retrofit old ships. But that's not always the case.
The highest-rated ships are Disney's Wonder, Fantasy, Dream and Magic ships, Regent Cruises' Seven Seas Mariner, Princess Cruises' Diamond Princess, P&O Cruises Pacific Adventure and Norwegian's Star, all of which are graded B or above.
Cruise line fleets can be very variable though – P&O and Norwegian also have ships right down the other end of the list. Other cruise lines with several F-rated ships at the bottom of the table are Viking, Costa, Carnival, Celebrity and Silversea.
One thing that's worth mentioning is that the Cruise Line Report Card only covers the big cruise lines and not those with smaller ships like Hurtigruten, Havila Voyages and Aurora Expeditions, which often have much better sustainable practices.
As well as checking out your ship's results, it's worth doing your own research as things are always changing. The big cruise lines all have an environment and sustainability section on their websites where you can find out what they are doing to reduce their impact: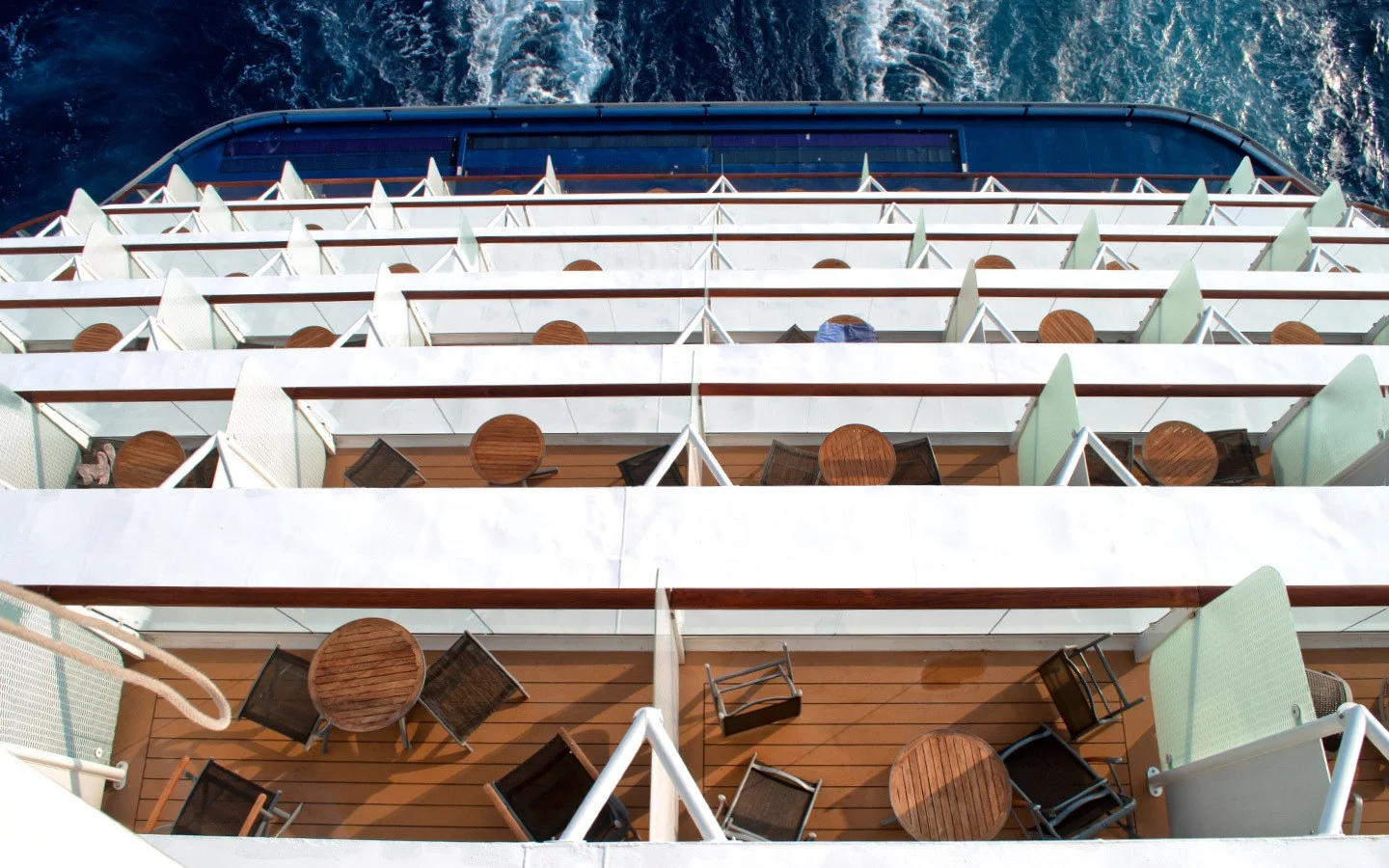 What to look for
When you're looking into a cruise line's record on environment and sustainability, here are the sorts of questions you might want to find out the answers to:
How do they deal with waste water (do they use a purification system, do they release greywater into the ocean, do they treat their ballast and bilge water)?
How do they reduce water usage (are there low-flow showers and efficient appliances)?
Do they use scrubbers, which produce toxic water pollution?
How do they decrease emissions (do they use low-sulphur fuels)?
Do they use shore power where possible ('plugging in' to local power when they're docked so the engines can be turned off to reduce air pollution)?
What do they do with their waste (how much do they recycle, what happens to their recyclable waste, what recycling facilities are there for passengers)?
Do they use single-use plastics?
How do they reduce power usage (is there low-energy lighting, efficient air conditioning and key cards to turn power off when you're not in your room)?
Do they use environmentally friendly cleaning supplies?
Is the fish and seafood onboard sustainably sourced?
Do they enforce speed limits close to shore to avoid damage to marine life?
Do they have an environmental officer and collaborate with environmental organisations (sharing data with environmental groups or running sustainability projects)?
There are a lot of different factors involved and much of the time the relevant information is hidden away on the cruise company websites mixed in with lots of marketing speak. But you should be able to find most of the details in their sustainability reports – and if not you can get in touch with them (Twitter's a good way to find the right contact).
What you can do
Although you're pretty reliant on your cruise line when it comes your cruise environmental impact, there are still some things you can do yourself. A lot are the little changes we're being encouraged to make at home or on other trips too. But even though they might seem small, if enough passengers join in then they can make a difference.
Keep your waste to a minimum: Recycle wherever possible (most ships have recycling bins for paper, plastic, glass and cans), don't bring rubbish onto the ship when you could dispose of it onshore, and definitely don't throw anything overboard.
Reduce plastic usage: Health restrictions mean you're not usually allowed drinking water fountains on board, but you can refill water bottles in your cabin, as well as avoiding straws and packing a reusable shopping bag for on-shore shopping.
Reduce energy consumption: Turn the lights off in your cabin when you don't need them, make sure you unplug your electricals (like phone chargers) when not being used, and open a window or patio door to cool off if you can to avoid using the air con.
Reduce water usage: Take shorter showers, reuse bed linens and towels, especially around the pool. Some cruise lines have piles of towels by the pool which you can help yourself to, so try to keep hold of one all day rather than picking several up.
Bring your own toiletries: In a week's cruise you can easily get through a dozen mini bottles of shampoo, conditioner and shower gel, so instead pack your own soap and shampoo bars. You can also get other solid toiletries like toothpaste tablets, crystal deodorant and solid perfume or moisturiser, which helps cut down on plastic.
Finally, ask questions: If you want to know what a cruise line's doing for the environment before you book, or don't know where you can recycle on board, then ask someone. The more people ask, the more cruise lines will take these things seriously.
The cruise industry is so competitive that companies are fighting to distinguish themselves and attract more customers. So the more pressure they get from customers to improve sustainability and environmental standards, the more these issues will rise up their agendas – and hopefully the cruise industry's environmental record will get better.
Save for later
You might also like