A guide to grizzly bear-watching in British Columbia at the remote but luxurious Great Bear Lodge, a floating lodge set among the unspoilt wilderness of the Great Bear Rainforest in Western Canada.
* This site contains affiliate links, where I get a small commission from purchases at no extra cost to you.
AD: My trip was hosted by Explore Canada, but all views are my own.
Grizzly bears are a Canadian icon – a symbol of the country's wild nature and top of the list of must-sees for many visitors to Canada. More than half of Canada's 26,000 grizzlies live in British Columbia, and one of the best places to see them is the Great Bear Rainforest, a huge area of coastal temperate rainforest off the province's west coast.
This unspoilt wilderness is an important habitat for bears and other wildlife, and is only accessible by air or water. But you don't have to rough it to see a grizzly. The Great Bear Lodge is a luxurious floating lodge in the remote rainforest, set up by naturalists with an eco-friendly ethos and one of the top spots for bear-watching in British Columbia.
Grizzly bear-watching in British Columbia
About the Great Bear Rainforest
Think of a rainforest and you probably picture tropical heat, howling monkeys and colourful birds. But a rainforest doesn't have to be hot – there's also another, lesser-known version, the temperate rainforest. They share high rainfall of 250–450cm a year, but where the tropical version is hot and steamy, the temperate version is cool and damp.
There are only a few areas of coastal temperate rainforest left in the world, and the largest is found on Canada's west coast – the Great Bear Rainforest. It covers 6.4 million hectares, making it just smaller than Ireland, and stretches for 250 miles/400km along the coast from the Alaskan border in the north to Campbell River in the south.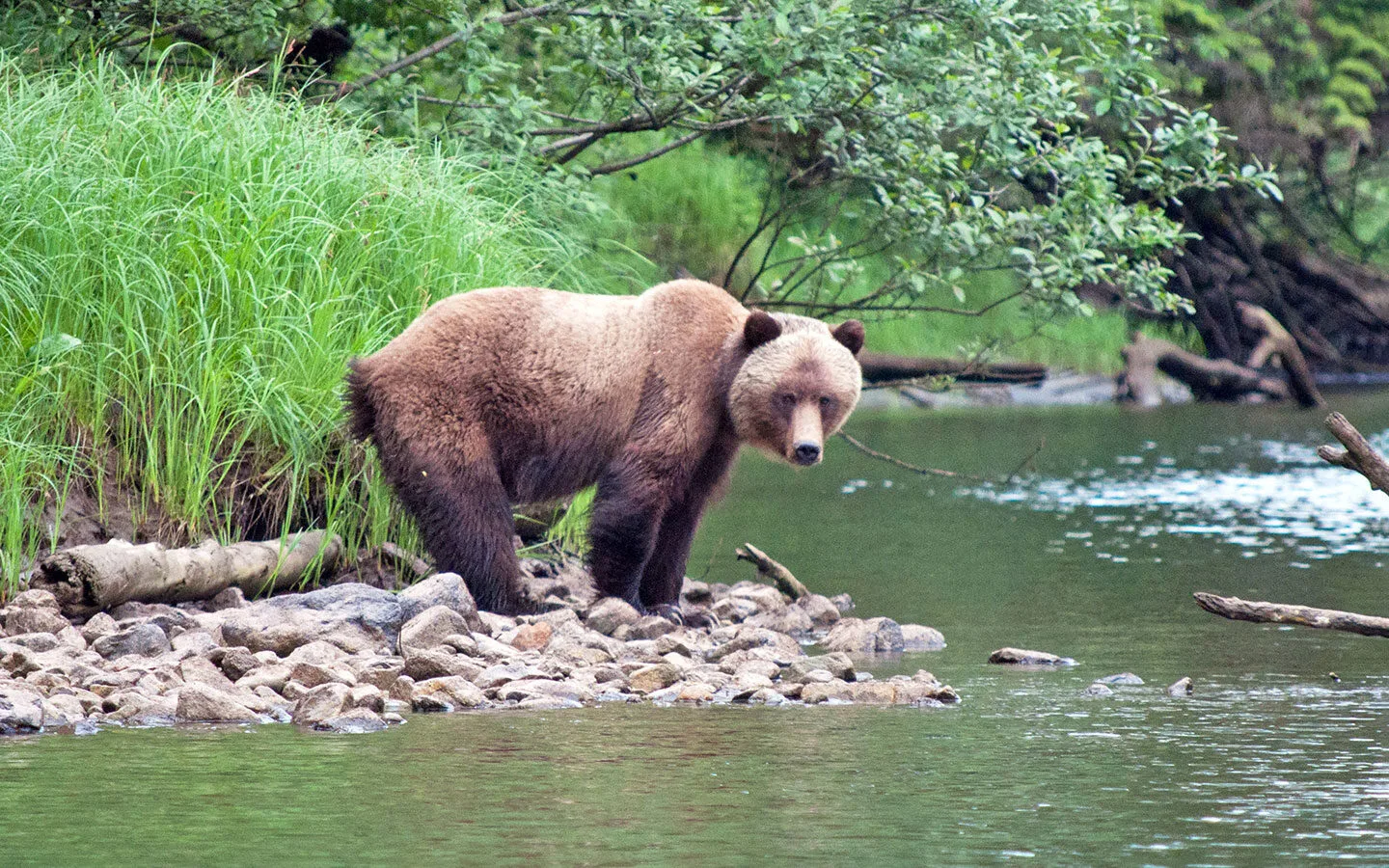 A unique ecosystem where land, sea and rivers come together, its forests are packed with ancient cedar, fir and spruce trees, and home to thousands of plant species and over 350 different birds and mammals. Water is at the heart of it all, as air flows from the sea hit the mountains, forcing it upwards so it condenses and creates clouds and rain.
Even when the rain holds off you can feel and see the moisture all around you. The Great Bear Rainforest is tidal so the water levels are constantly changing. And the landscape changes too, with mud flats and beaches disappearing with rising tides and submerged trees draped in moss emerging from underwater as the tide goes out.
Wildlife in the Great Bear Rainforest
There's a huge variety of wildlife in the Great Bear Rainforest, but the heart of this forest is the bears which give it its name. Grizzly bears are most common, but you can also see black bears and even the rare white Kermode or spirit bear if you're really lucky.
Grizzly bears originally roamed all along the coast of North America, from Alaska to Mexico. But now their territory is ever-shrinking, leaving just patches of them in Alaska, western Canada and the northwestern USA. The Great Bear Rainforest's drowned trees make great homes for salmon, and where you have salmon you have bears.
But it isn't just about the bears, there's a whole interconnected ecosystem of plants and animals. On land the rainforest is home to cougars, wolves and deer. You can also find whales, dolphins, sea lions and seals in the waters. And there are hundreds of bird species in the sky above, including hummingbirds and eagles.
Best time to see bears in British Columbia
May to October is the best time to go bear-watching in British Columbia as they hibernate during the winter. In spring you can see bears from the water as they feed on sedge and other grasses. Sedge is 26% protein, but a bear's a big creature so they spend hours each day eating to fill themselves up, giving you plenty of time to spot them.
Summer is quieter, with bears heading further afield to feed on plants and berries, so sightings are less likely. But it is a good time to see other wildlife including humpback whales, which arrive in the region in July, as well as seals and birdlife.
And autumn (fall) is the most popular time to see bears in British Columbia, as bears gather on the riverbank to catch salmon making their way upstream. The salmon run peaks in September and October, and it's also a good time to see bear cubs.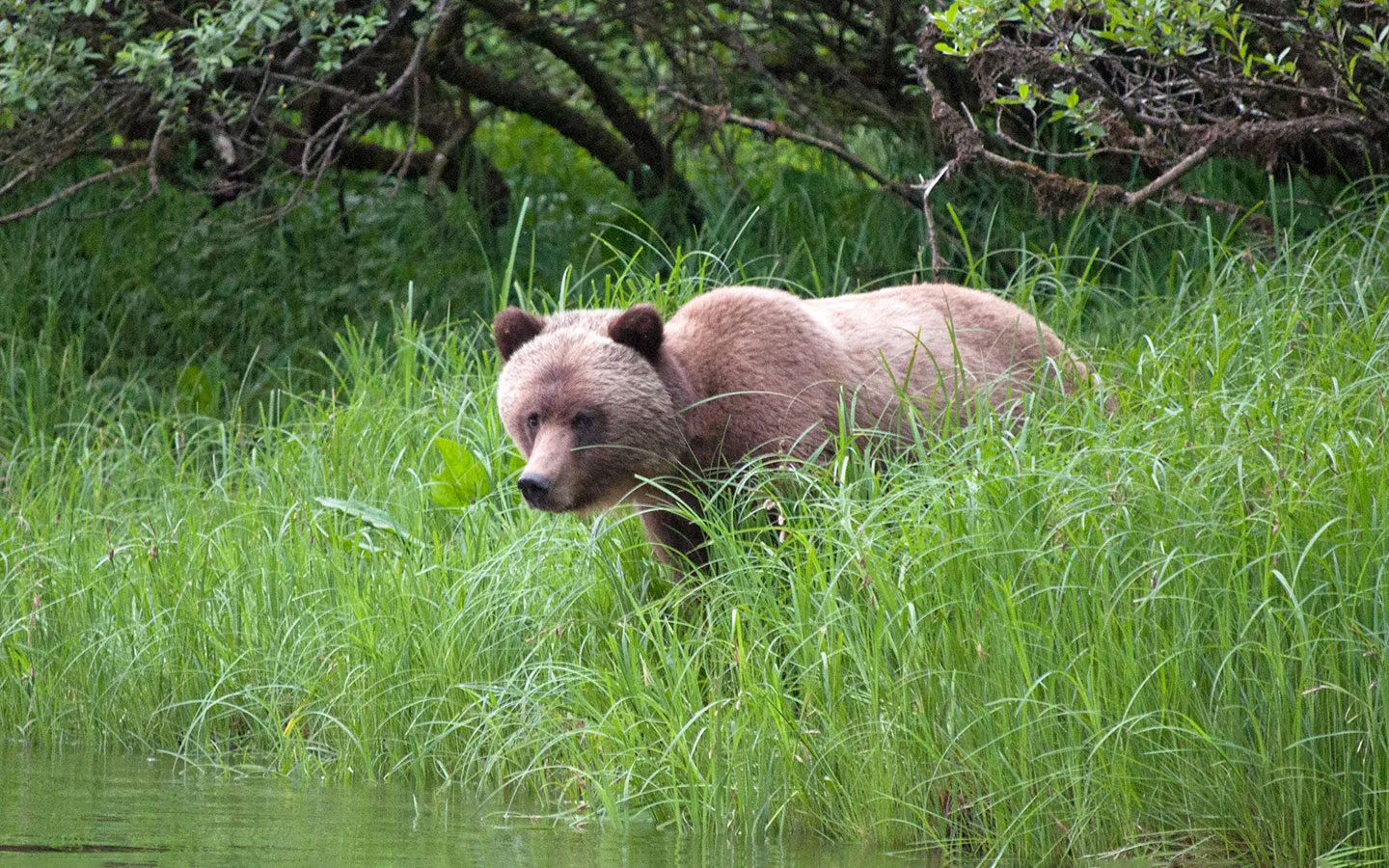 Visiting the Great Bear Rainforest
You're truly out in the wilderness in the Great Bear Rainforest – no tour buses of day-trippers out here. Visitor numbers are limited to minimise the impact on the bears which helps you get a better feel for this beautiful landscape.
Road access to the Great Bear Rainforest is limited, but you can drive or fly to Bella Coola, one of the main gateways to the region. From there you will need to travel on via boat or seaplane. You can base yourself in one of the harbour towns and take day trips out into the rainforest by boat or kayak, or take a cruise in a small expedition ship.
But one of the best ways to see grizzly bears in British Columbia is to stay in a floating lodge right out in the wilderness. Staying overnight at these remote lodges, accessible by boat or seaplane, gives you the best chance of seeing bears as they're right on your doorstep.
Options in the Great Bear Rainforest include Knight Inlet, King Pacific Lodge and the Great Bear Lodge, where we were based for our bear-watching tour.
About the Great Bear Lodge
The Great Bear Lodge is a floating lodge set in a isolated inlet surrounded by forests, 50 miles from Port Hardy by plane. The lodge is open from May to October, and their grizzly bear tours last for four nights (three nights at the lodge and one night at the Kwa'lilas Hotel in Port Hardy). All meals, activities and equipment are included.
The lodge is a real step away from modern life – a true digital detox with no TV, internet or phone signal. You have no choice but to slow down and tune into nature, with the day's rhythm governed by the movement of the tides, rise and set of the sun and daily routines of the wildlife. It's a magical place, unlike anything else I've ever experienced.
It's origins were a bit more basic though – when naturalist Tom Rivest started in 1999 he lived in a tent in the rainforest and visitors came for day trips by water taxi. The business grew and moved to its current location in 2004, starting with a smaller five-bedroom building before an old hunting lodge was renovated in Port Hardy and towed out.
Getting to the Great Bear Lodge
Getting to the Great Bear Lodge is part of the adventure of bear-watching in British Columbia. With no roads reaching into this remote area and the twists and turns of the fjords making boat access slow going, the only other way in is by float plane.
Our journey started in the town of Port Hardy at the northern end of Vancouver Island. You can reach Port Hardy by road from Victoria in around 5.5 hours. Port Hardy also has an airport with flights from Vancouver, or you can take the ferry from Vancouver's Tsawwassen terminal to Nanaimo then drive north to Port Hardy in around 4.5 hours.
At Port Hardy we boarded a tiny five-seater plane for the 40-minute journey into the Great Bear Rainforest. The plane flies over Queen Charlotte Strait, where you can sometimes see orca, grey and humpback whales, passing over dense woodland, fjords and islands before swooping down and coming in to land on the waters next to the lodge.
All supplies for the lodge arrive via float plane, so as well as passengers we were also carrying boxes of food and other necessities. Because of weight restrictions you need to leave heavy bags in the lodge's offices in Port Hardy and just take what you need for a few days (the office has smaller bags to borrow if you don't have your own).
Note: we were lucky enough to get clear skies and a smooth ride, but pack seasickness pills if you're prone to it as the float plane trip can be rough going in bad weather.
Staying at the Great Bear Lodge
The main building at the Great Bear Lodge is a two-storey wooden structure, which floats just offshore and is attached to land with a gangway – though you're warned not to go onto land without a staff member as bears do come very close.
The building floats on a concrete base, with tanks for water, waste and flotation. It's almost completely self-sufficient, using hydroelectric and solar power. The water comes from a waterfall behind the lodge and is UV treated, and waste is treated on site. As well as flying supplies in, the lodge flies their rubbish out to minimise their environmental impact.
Being eco-friendly doesn't mean you have to go without luxuries though. Upstairs there are eight bedrooms, each with an en-suite shower room supplied with special unfragranced toiletries so the bears don't pick up your scent. The best bit was the view though – mine looked out over the inlet where I could watch seals swimming by.
Downstairs there's a big open-plan common area with a dining table and armchairs, and outside there's a wooden deck with seating areas where you can soak up the views. With a maximum of just 16 guests at any time it's a sociable place, with a mix of international visitors and local BC residents, couples and families with older children.
The lodge describe their food as 'wilderness gourmet', and they use as many local and organic ingredients as they can. The chefs whipped up delicious dishes, like slow-cooked lamb shanks and their speciality – salmon cooked on a plank – and they are happy to cater for people with dietary restrictions, making me a tasty gluten-free chocolate cake.
Some of the food was incredibly local, like the seafood paella we had for dinner one night which was made with crab that had just been caught in the estuary. There's also a steady stream of snacks available – freshly baked cookies and sweets, plus you can help yourself to tea, coffee, wine and beer from a fridge in the common room.
Bear-watching at the Great Bear Lodge
Activities at the lodge vary at different times of year. In autumn when the salmon arrive the bear-watching takes place from hides along the riverbank, which are a mix of open-air and covered and either accessible on foot or by boat. But when we visited in spring you go out in small boats instead as the bears are feeding on sedge at the water's edge.
Bears are most likely to be spotted in the mornings and evenings, so there are two sessions a day (except on the first and last days), each around four hours. Sitting still for so long in the damp rainforest gets chilly so you're provided with a padded duvet-style all-in-one, waterproof trousers and jacket, life jacket and wellies, hat and gloves.
Each boat takes a maximum of five people plus a guide and there are only a few boats out at a time to keep the impact on the bears to a minimum. You might not spot one on every session, but there's a lot of other wildlife and stunning landscapes to see if you don't.
If you want to photograph bears you need a good zoom lens (300mm or more), preferably with good low-light capabilities. In autumn when the bear-watching is from hides a tripod is useful, but in spring a monopod or bean bag is better on the boats.
Our first bear-watching session took us out through a watery maze, from wide open stretches to narrow channels just big enough for the boat. All you could hear was the splash of water from the oars or an occasional bird call to break the peace. It's incredibly relaxing, but there's always one eye on the shoreline, scanning the grass and trees for bears.
Our first sighting was a pair of ears popping up from a clump of sedge. A head followed the ears and all at once we were eye to eye with a grizzly bear. We held our breath as she gave us a quick once over, decided we weren't that interesting and went back to eating.
We were so close that we could see her claws gripping the sedge and hear the sound of her munching. She came down even closer to drink from the river, and we sat and watched her until the light started to fade and she ambled back into the undergrowth.
The next day we came across a long-legged adult male sauntering across the beach with that distinctive bear's pigeon-toed walk. And a handsome deep brown male who was almost buried in a field of sedge, oblivious to the falling rain.
Over the years the lodge staff have got to know many of the bears, seeing their personalities develop. And for us it was such a privilege to get close to these amazing creatures even briefly and to get a glimpse into their worlds.
A day at the Great Bear Lodge
Days at the Great Bear Lodge are busy, starting with a cooked breakfast at 7am before you kit up and head out on your first grizzly bear-watching session. Depending on the time of year and where bears have been active recently, your guide will choose a hide or an area to explore that day and you spend around four hours searching for bears.
The guides radio back to the lodge just before you head back so that lunch is waiting for you – normally a homemade soup or salad. Then there's an optional afternoon activity (or you can just relax with a book on the lodge's deck if you'd rather).
The activity might be a boat trip out to see a glacier-carver inset or a nature walk through the rainforest. Great Bear Lodge naturalist Tom took us out for a walk into the rainforest to discover signs of the different species that make the area their home, from rub trees where bears leave messages to the Banana Slug with its anaesthetic mucus.
In the early evening everyone eats dinner together before kitting up and heading out for a second bear-watching session until dusk. Then the day usually ended by comparing notes over a glass of red wine and cheese and biscuits in the common room, sometimes with a talk from a naturalist or other times with star-gazing in the clear skies.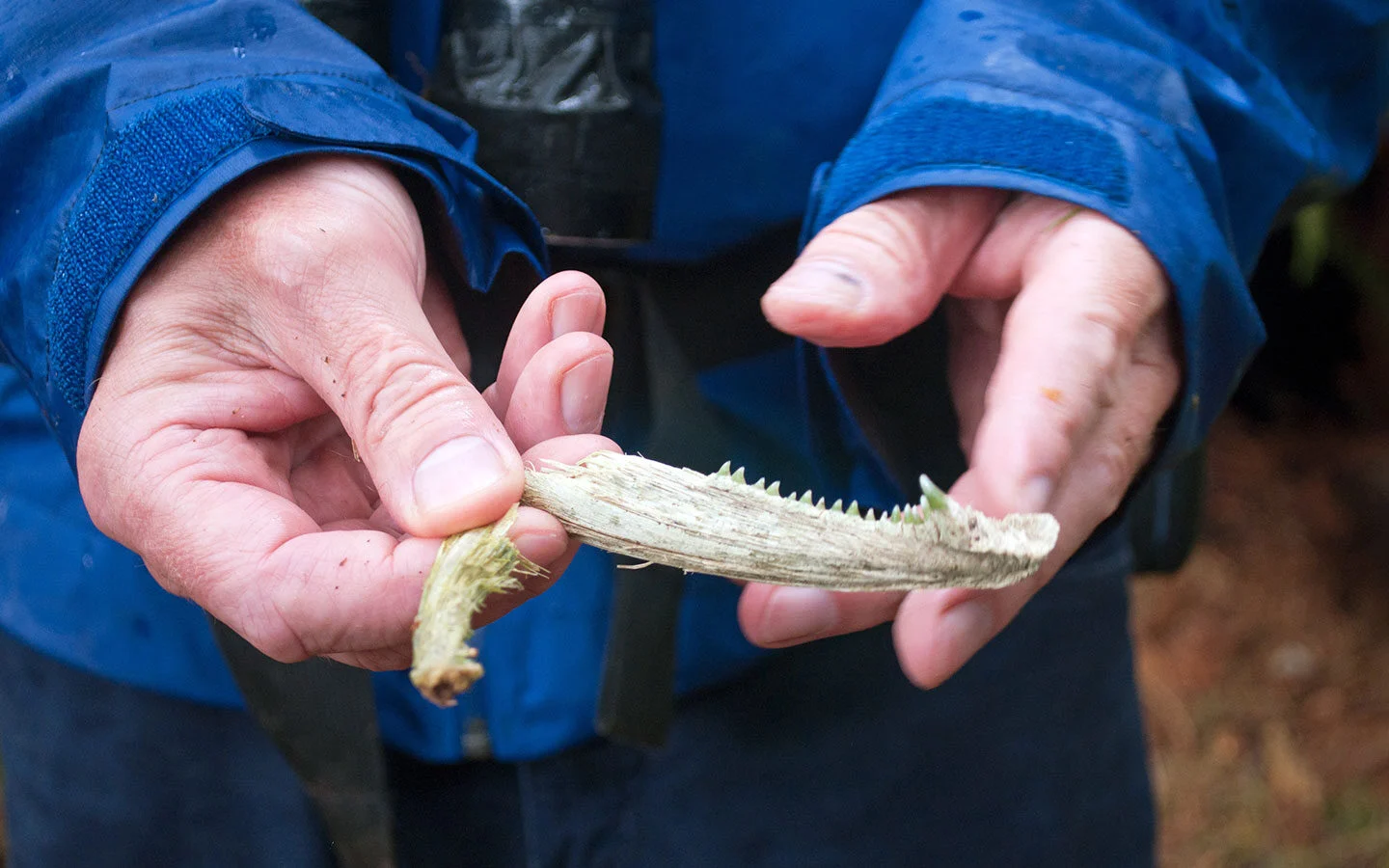 The details
Grizzly bear-watching in British Columbia at the Great Bear Lodge is an unforgettable way to get close to bears and explore the wilderness of the Great Bear Rainforest. It's a real bucket-list trip and doesn't come cheap, but is worth a splurge for wildlife lovers.
Grizzly bear tours at the Great Bear Lodge last four nights and start every three days from early May to mid-October. Prices vary depending on the season but a spring tour like ours costs $3705 CAD per person, based on double occupancy. The price includes accommodation, seaplane transfers, food and drink, activities and gear.
Save for later
You might also like