How to spend a weekend in Victoria, British Columbia: Discover the best things to see, do, eat and drink in Victoria in a two-day itinerary featuring whale-watching, parks, museums and cycle tours.
* This site contains affiliate links, where I get a small commission from purchases at no extra cost to you.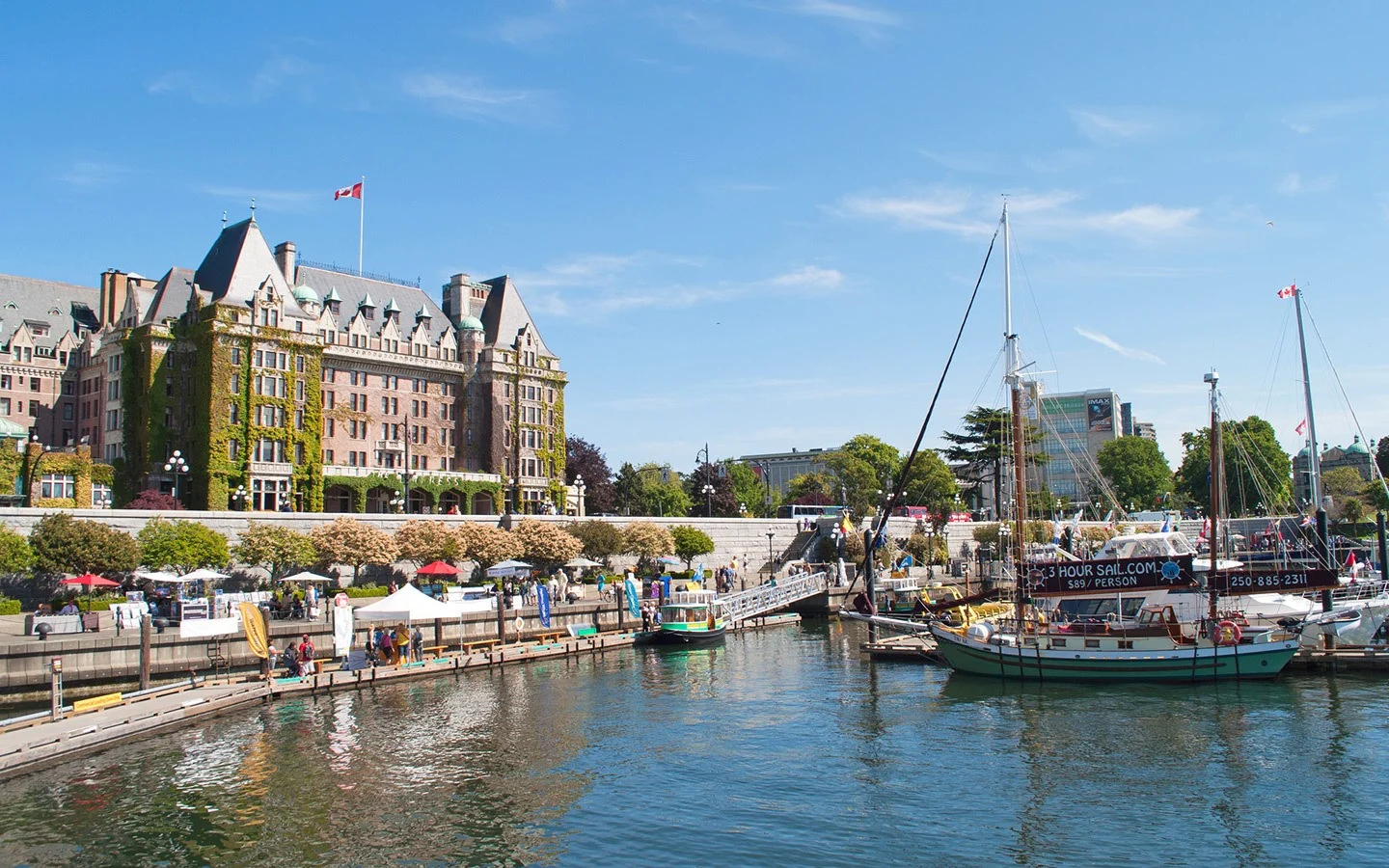 AD: My trip was hosted by Explore Canada, but all views are my own.
Vancouver Island's biggest city and the capital of British Columbia, Victoria is a relaxed, vibrant city on the edge of an island packed with spectacular scenery. It's known for being one of Canada's most English cities, and you can find manicured parks and afternoon teas.
But Victoria has a bit of everything – history and culture, bikes and boats, food and drink. Add in a temperate climate with plenty of sunshine, and a compact and walkable city centre and you've got an ideal city break. So here's my two-day Victoria itinerary to help you plan the perfect weekend in Victoria, with what to see, where to eat, drink and stay.
How to spend a weekend in Victoria, BC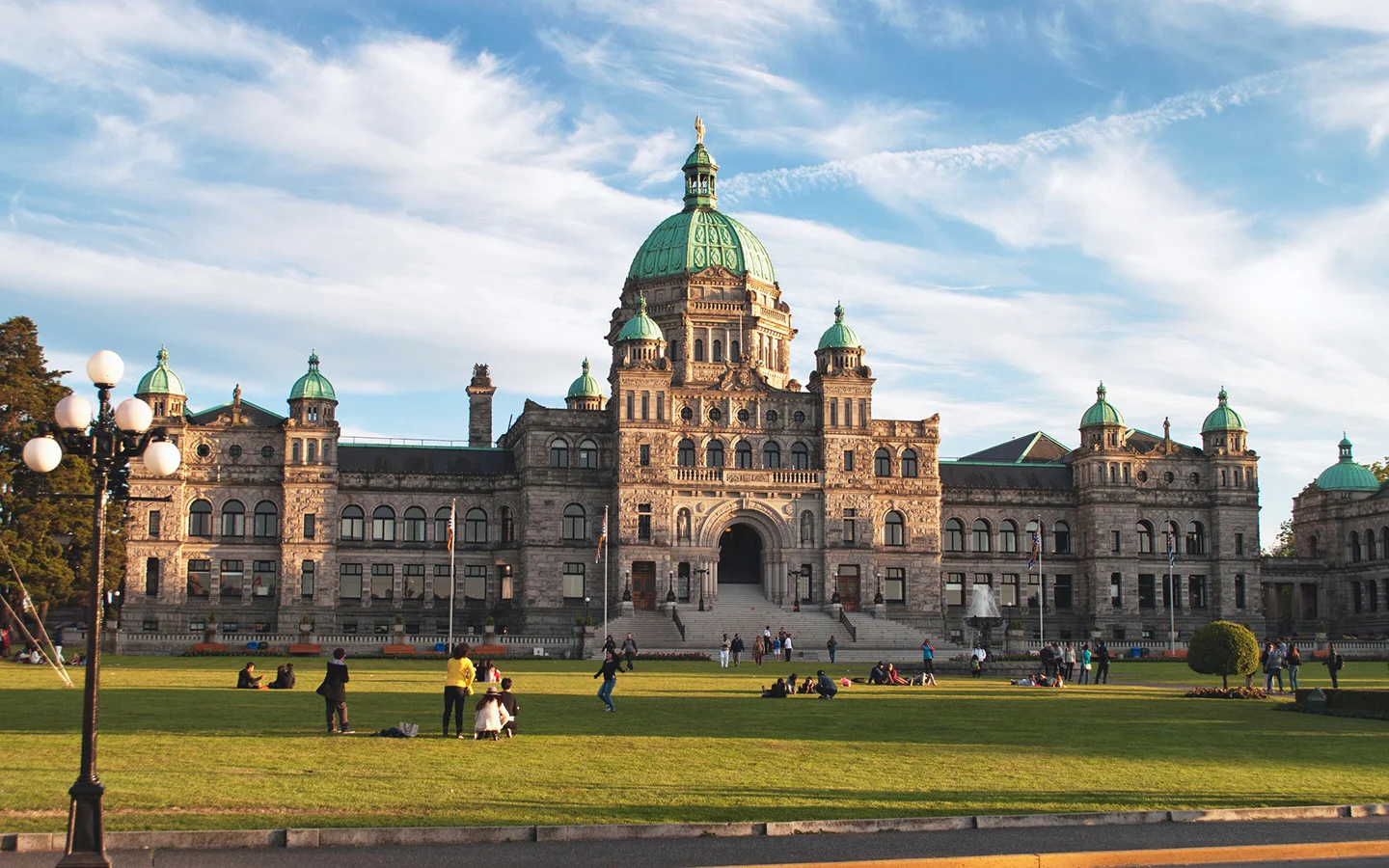 Friday evening
Once you've checked in to your hotel, start your weekend in Victoria at the heart of the city – its harbour. The water is alive with boats, with everything from cruise ships and luxury yachts to water taxis and dinghies. Take a walk along the waterfront to Fisherman's Wharf, past the ferry terminal and around the headland by flower-filled Laurel Point Park.
Fisherman's Wharf is around 15 minutes away. This waterfront district was built after the Second World War to house commercial fishing vessels. Today it's home to a mix of colourful floating homes, food stalls, fishing boats – and the occasional seal.
From Fisherman's Wharf, catch one of the Victoria Harbour Ferries back to the inner harbour. These dinky green and white ferries look like toy boats but will whisk you back to the harbour in 10 minutes, with on-board commentary from your captain.
Once you get to the inner harbour, follow the path in the opposite direction, past the craft and food stalls, buskers and street performers who gather in the evenings. Walk past the seaplane terminal and rows of yachts to Craft Victoria Harbour. This waterfront brew pub has 110 draft beers on tap, and a big waterside patio with harbour views.
Have dinner at at Little Jumbo restaurant, which is tucked away off Fort Street (look out for the neon elephant sign). It's a cosy place which serves inventive cocktails – the name is a homage to two pioneering 19th-century bartenders. The small but perfectly formed menu uses local produce to create dishes like braised lamb shank and wild sablefish.
Then if you wander back to your hotel along the inner harbour after dark, you'll see the Legislative Assembly of British Columbia building sparkling with the light of over 3300 bulbs, which looks extra beautiful when it's reflected in the harbour waters.
Saturday morning
The following morning, explore Victoria on a bike tour with The Pedaler. They run a range of themed bike tours around the city to introduce visitors to their favourite local haunts, which are a good way to discover different neighbourhoods. Their Castles, 'Hoods & Legends* tour takes in Victoria's highlights over two hours and 6.8 miles/11km.
Along the route is Beacon Hill Park – 200 acres of gardens, ponds and trails along with a petting zoo and water park. It was made a protected area in 1858 by Sir James Douglas, governor of Vancouver Island, and is a favourite spot for Victorians to escape to.
It's also home to a 39-metre-high totem pole which was the tallest in the world when it was erected in 1956 (it's since been demoted to number four but is still an impressive sight). The Story Pole was carved from a single cedar tree. Their lifespan is usually no more than 50 years but it's been restored and repainted and is still standing proud.
You visit Victoria's Chinatown, where a gate guarded by stone lions welcomes you into Canada's oldest Chinatown. There's also Craigdarroch Castle, a Scottish-inspired Victorian castle built for a rich coal baron and restored to its 1890s glory. And the cool neighbourhoods of Cook Street and Fernwood with their boutique and vintage shops.
After the exercise, it's time to eat. Nourish Kitchen and Café is just a short walk from The Pedaler's shop. This historic 1888 building has been turned into a community hub, with a café serving nourishing, seasonal wholefoods. They have lots of tasty, healthy options, like oatmeal pancakes, tartines and salads, all of which are beautifully presented.
Saturday afternoon
After getting a taster of Victoria's history on the cycle tour, head back to the harbour to find out more. You can take a tour of British Columbia's Legislative Assembly – the province's parliament – which opened in February 1898 after five years of construction.
Tours of this ornate waterfront building are free, with a mix of 45-minute public tours with a guide (check their website for times which vary through the year) and self-guided tours, covering the province's history and how Canada's political system works.
Then head next door to the Royal BC Museum. It's a fascinating place that splits the story of British Columbia into three strands – the natural history of the landscape and wildlife, the First Nations' history of Canada's indigenous peoples, and the province's modern history. Don't miss the Totem Hall, with its intricately carved totem poles and masks.
Later, take a walk along the harbourside to Finn's Seafood Chops and Cocktails for dinner, in a red-brick former warehouse built for Roderick Finlayson, a businessman and politician known as the 'father of Victoria'. Get an early booking or have a drink there before dinner so you can take advantage of the views over the harbour at sunset.
There's lots of local seafood on the menu, including mussels, clams and Dungeness crab, as well as lobster from Nova Scotia and dishes like pizzas, burgers and salad bowls.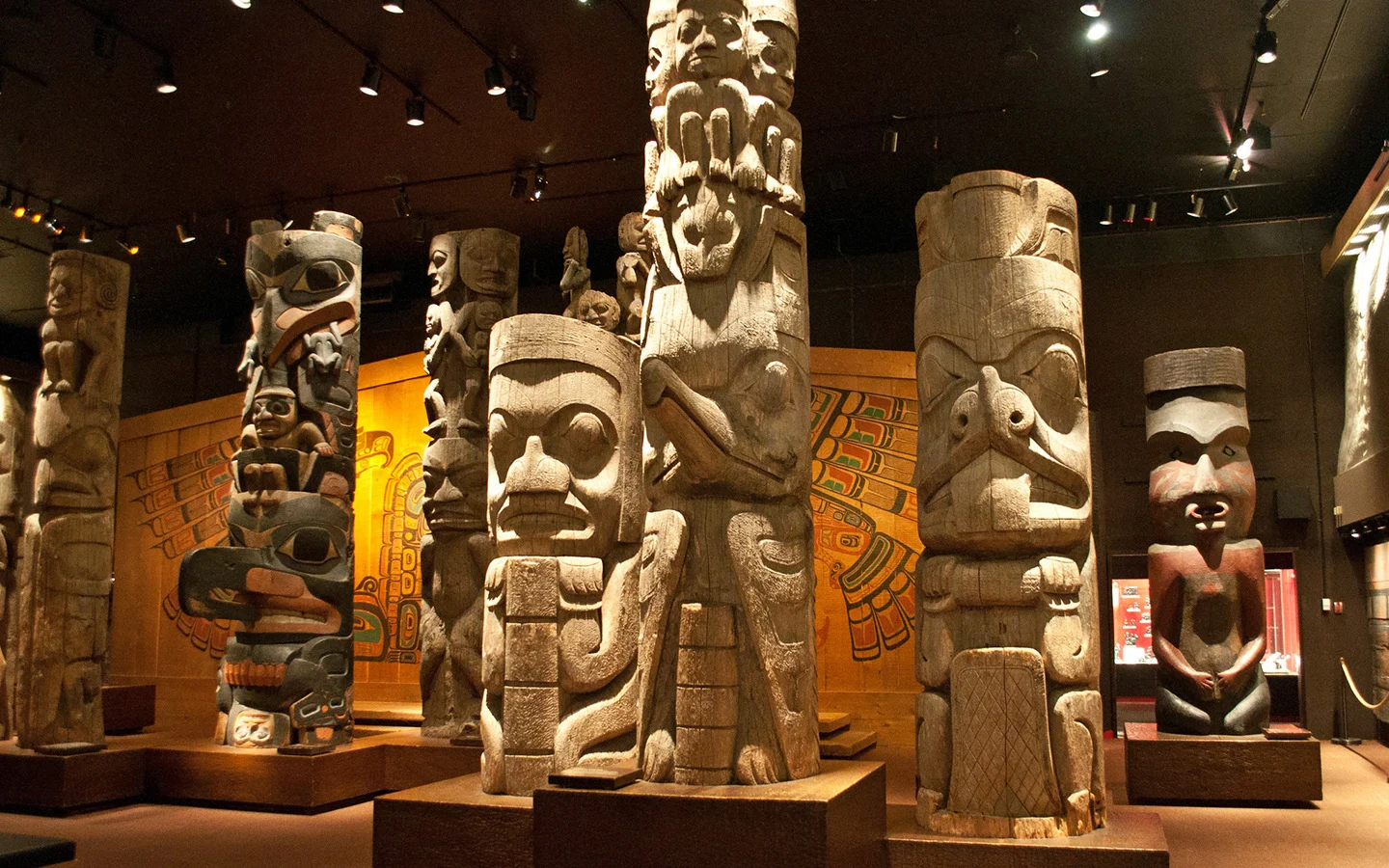 Sunday morning
Start the day with a leisurely breakfast at John's Place. It's the oldest diner in Victoria and opened in 1984. On the menu are classic North American breakfast dishes like pancakes and Eggs Benedict, with a Canadian twist from maple-smoked bacon. And some more unusual options like southwestern-style meatloaf with eggs or Polish frittata.
Walk off all that food with a wander around the Victoria Public Market in the historic Hudson building, which opens at 11am. There are stalls selling locally-produced cheese, bread, pies, meats and groceries, as well as handmade arts and crafts.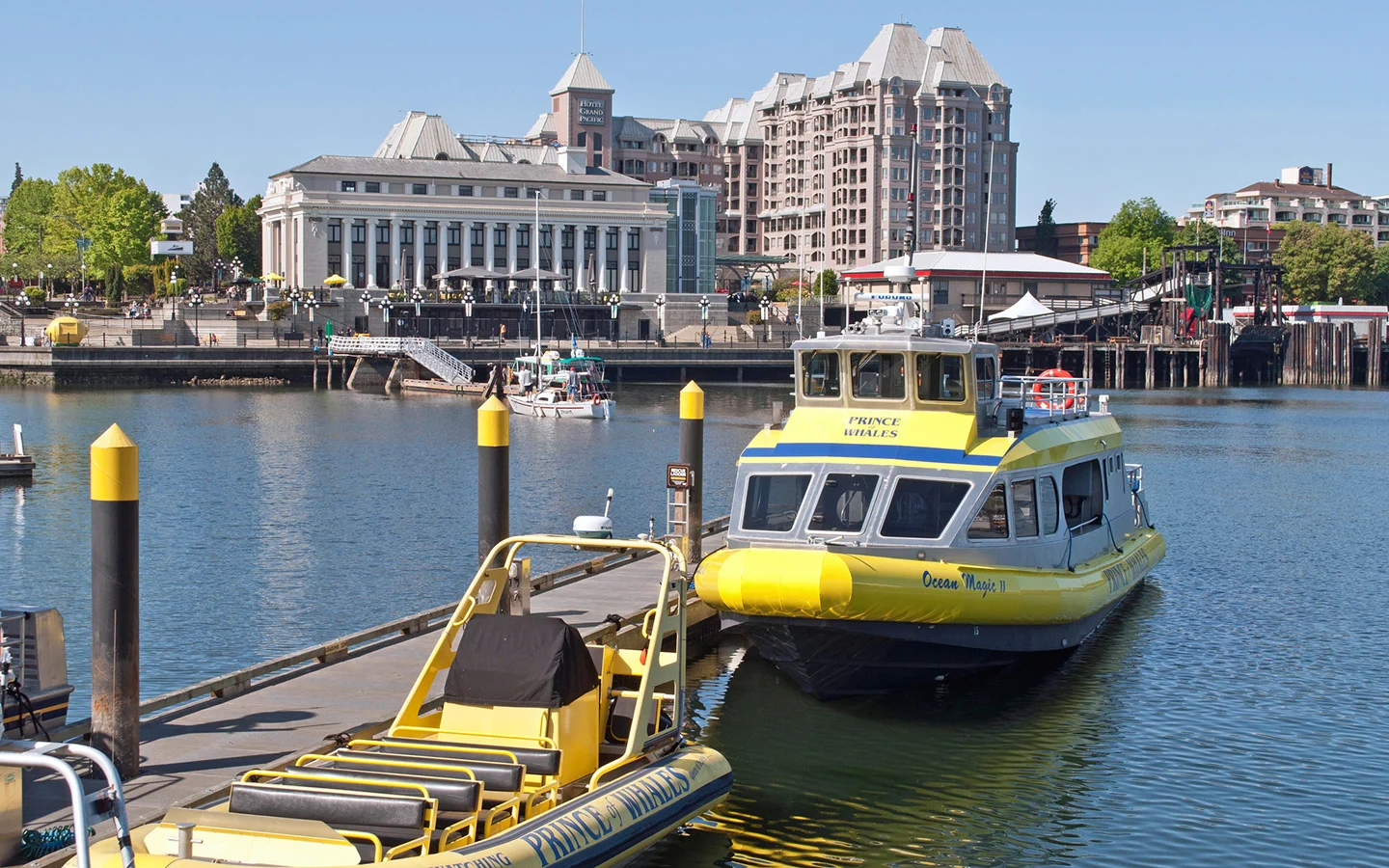 Then go to the harbour for a lunchtime whale-watching trip with Prince of Whales. Vancouver Island is one of the best places to spot these magnificent creatures, especially when the salmon are migrating. Orcas, humpback and minke whales all live in the coastal waters as well as other wildlife like seals, sea lions and porpoises.
Tours take around three-four hours and you can choose between a larger catamaran* (available March–November) or a more adrenaline-fuelled – and wetter – trip on board a smaller zodiac boat* (available year-round). Both have a naturalist on board to look out for whales and tell you about the wildlife living in the waters around Victoria.
The company is carbon neutral and has a focus on sustainability and marine conservation. And if you're not lucky enough to see any whales on your trip, they'll let you take another tour for free – even if you don't go back to Victoria until years later.
Sunday afternoon
Then finish your weekend in Victoria with afternoon tea at a city institution – the Fairmont Empress. This luxury hotel was built in 1908 for Canadian Pacific's steamship passengers and became the city's most famous building. Shockingly it was almost torn down in the 1960s, but was saved and brought back to its former glory to welcome guests again.
They serve a traditional English-style afternoon tea in their grand Lobby Lounge, with a classical pianist to accompany it. On the menu are dainty sandwiches, scones, cakes and macarons. And they cater for a variety of dietary restrictions, including vegan, gluten-free, dairy-free and diabetic diets – though you do need to book in advance.
It comes with a selection of teas, including their own Empress Tea which blends flavours from around the world. Or if you prefer something with more kick, add a glass of Champagne or an Empress 1908 cocktail, made with tea-infused vodka.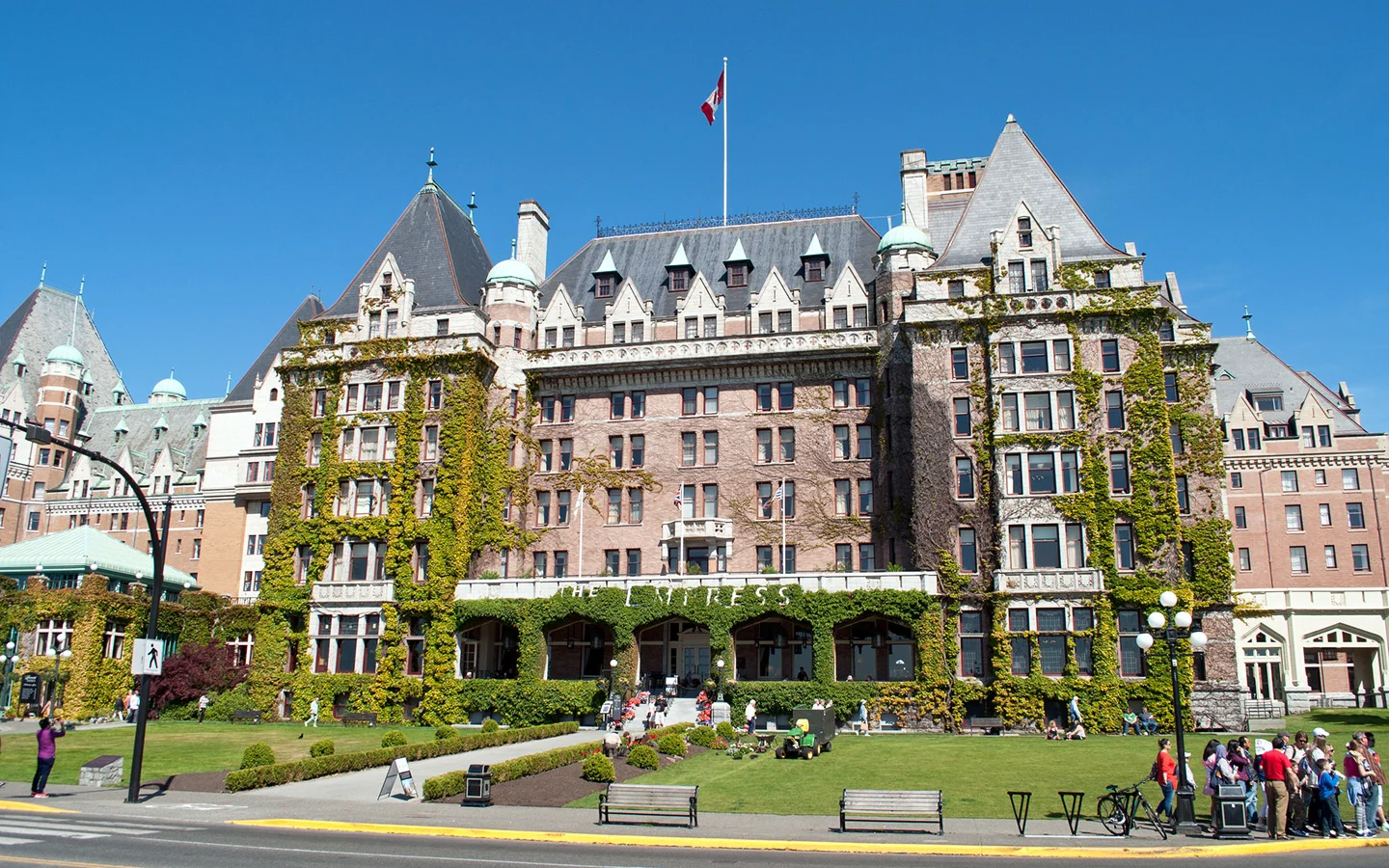 Map of things to do in Victoria, BC
The details
When to visit Victoria
Victoria has some of the mildest weather in Canada, and is sunnier and drier than nearby Vancouver. Summer is peak season on Vancouver Island. Victoria sees average high temperatures around 20ºC (68ºF) in July and August. It's a great time to get outdoors, the city's gardens are in full bloom and there are lots of summer events taking place.
But summer is the busiest and most expensive time for a weekend in Victoria, so book accommodation well in advance. Spring and autumn (fall) are pleasant with average highs of 12–16ºC (54–61ºF). Winters in Victoria are mild with daytime high temperatures around 7ºC (45ºF) and nighttime lows normally staying above freezing. And there are lots of festive events at Christmas in Victoria, from tree festivals to illuminated buildings.
Spring and summer are fairly dry, but rainfall starts to rise in late autumn. November and December are the rainiest months, so pack an umbrella and waterproof. And for the best opportunity to see whales, time your visit between April and October.
How to get to Victoria
Victoria is located at the southern tip of Vancouver Island, British Columbia, and you can get there by air or sea. Victoria has an international airport 15 miles/24km north of the city. It's connected by bus (1.5 hours), shuttle or taxi (25 minutes, approx $60 CAD).
Or if you're travelling from Vancouver and fancy something more adventurous, you can take a Harbour Air floatplane.* The journey takes around 40 minutes with great views of the city, coast and Gulf Islands. And flights depart from Vancouver harbour and arrive into the inner harbour in central Victoria so it's very convenient.
BC Ferries also carry both car and foot passengers from Vancouver to Vancouver Island. It's not a direct route though, with ferries leaving from Tsawwassen, 22 miles/35km south of Vancouver, and arriving into Swartz Bay, 20 miles/32km north of Victoria.
Reservations are recommended, particularly if you're travelling with a car. Foot passengers can book the BC Ferries Connector coach to take you from Vancouver airport/downtown to Tsawwassen and Swartz Bay to Victoria. Otherwise you can do it independently via public transport using a combination of buses and trains, but it's slower and more fiddly.
You can also travel to Victoria by ferry from Washington State across the border in the USA, with services from Port Angeles, Anacortes and Seattle.
Where to stay in Victoria
The Hotel Grand Pacific* is set in a 10-storey building overlooking the inner harbour. Their spacious rooms have balconies looking out towards the Olympic Mountains in one direction or the harbour in the other, and there's a pool, gym, hot tub and restaurants.
From its 250,000-crystal chandelier to its in-house gin, the five-star Fairmont Empress* is overflowing with glamour, but a recent revamp means facilities are right up to date. This huge 464-room hotel has a pool, spa, fitness centre, shops, bars and restaurants. And if you're blowing the budget, stay on the Gold Floor for cocktails, canapés and terrace views.
Or the Oswego Hotel* is a good-value, modern boutique hotel located in a quiet area which has a mix of studio, one- and two-bed apartments with kitchenettes and dining areas – and some of the larger ones also have balconies looking out over the harbour.
Save for later
You might also like