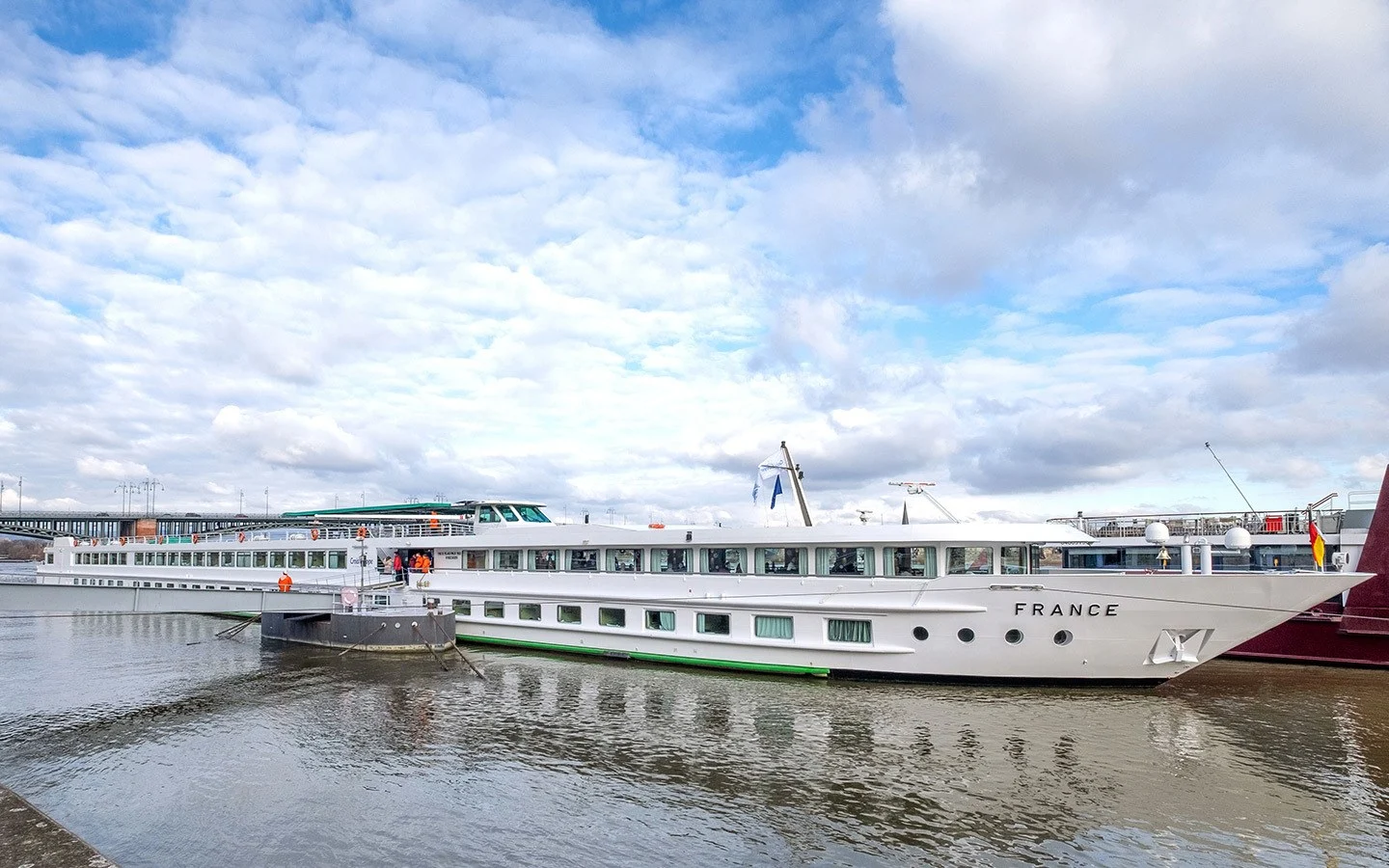 Sailing through the waterways of Europe, letting scenic views and pretty waterside towns come to you – river cruising is on the rise. And after becoming an unexpected ocean cruise convert a few years back, I was keen to try it out for myself. The big names like Viking, Uniworld and Emerald Waterways focus on the luxury (and pricey) end of the market. But then I came across CroisiEurope, whose trips include excursions, food and drink for two-thirds of the price.
This family-run French company was one of the pioneers of river cruising and is now Europe's biggest river cruise operator. But although they're big in France they're not so well known in the rest of the world. We decided to check them out on a mini festive river cruise on the Rhine. So what's a CroisiEurope river cruise really like? Here's everything you need to know.
Read more: A Christmas market river cruise on the Rhine
CroisiEurope river cruise review
Where can you cruise to with CroisiEurope?
CroisiEurope have 170 different river cruise itineraries. The focus is on the major rivers of Europe – the Rhine, Danube, Loire and Duoro. They also have a few more exotic options – like the Mekong in southeast Asia and Lake Kariba in Africa – and small canal boat cruises on rivers throughout France. Our Rhine cruise was four nights, and there are short trips so you can give river cruising a try and see if you like it, as well as longer ones of one–two weeks.
What are CroisiEurope cruise ships like?
CroisiEurope have around 50 ships in their fleet, which are split into two categories – 4 anchors (standard) and 5 anchors (premium ships with fewer, larger cabins, with bigger windows and sometimes balconies). CroisiEurope river cruise ships have either two decks (plus a sun deck up on top – if you're not cruising in winter) or three decks, with an extra piano bar and terrace.
We were due to sail on the MS L'Europe, but low water levels on the Rhine meant we were switched to the MS France instead. Both are 4 anchors, but the MS France has two decks instead of three. Cabins are split between the decks, and it costs a bit extra to be on a higher deck. I thought it was because you get a better view, but turns out the engines are pretty noisy down below when you're sailing overnight, so it's worth upgrading for a better night's sleep.
The cabins are the same on every deck though – compact but comfortable, with sliding beds so you can convert them into a double or twin. Each cabin has an en-suite shower room (with impressively good water pressure) which comes with mini shampoo and body wash. There's a wardrobe and desk, a TV (which has info about the day's itinerary and menu) and a very vintage-style dial radio which played Christmas music all the way on our festive trip.
Ships also have a dining room and lounge – ours were at opposite ends on the second deck. You're allocated a table in the dining room so you eat with the same people each day. And the lounge has a mix of tables and sofas where you can hang out whenever you've got free time. The ships aren't as flashy or modern as some of the other river cruise ships, but they have everything you need (even if the lounge ceilings do have a bit of a 1970s disco feel to them!).
What are the other passengers like?
CroisiEurope's a French company, but because they've got a whole website in English I was expecting a mix of nationalities. Our trip was almost all French passengers though, with just us two English-speakers and a couple of Spanish ladies. Age-wise the passengers were the traditional cruise demographic of 50s–70s, with a couple of younger people on mother-daughter trips. There were a mix of couples and groups of friends, as well as a few tour groups.
Do you need to be able to speak French?
The official languages on CroisiEurope river cruises are French and English, and according to their website all announcements, menus and excursions are in both languages. In practice they were almost all only in French – except our English-speaking tour guide in Mainz. We were asked on check-in if we could speak French and I said I could (kind of) so we were pretty much left to it. Fine for the basics but things like the Rhine commentary were a bit beyond me.
There were also German, Italian and Spanish-speakers on board – our Spanish ladies didn't speak any French so one of the crew came over to our table each evening to give them a printout of the next day's activities and menu in Spanish, and answer any questions. So if you can't speak French make sure to let the crew know and they should provide you with English info.
You can get by without speaking any French, but it helps to be able to so you can chat to other passengers – otherwise make sure you really like who you're travelling with as you'll be talking to them a lot! It would also be a good trip to do with a group of friends as you've got a ready-made social group to hang out with and it's not so important to be able to mingle.
What can you do on and off the ship?
The best bit about being on a river cruise is getting to sit there and relax, watch the scenery float by or read a book. There are different activities on board included too depending on theme of the trip. Ours was all about Christmas in the Alsace, so you could make and ice some traditional Christmas biscuits, there was also a talk about Alsatian festive traditions and a quiz (both in French) and a gala evening with a bit of a disco in the lounge afterwards.
Activities and tours were included on each of our stops – the Mechanical Music museum in Rüdesheim, a city tour and the Gutenberg Museum in Mainz, and the Lalique crystal museum. But we had enough free time to wander around the Christmas markets too. And if you don't want to do the excursions you can always do your own thing instead – unlike on an ocean cruise, most of our moorings were just a short walk into town so it's easy to do-it-yourself.
What's CroisiEurope's food (and drink) like?
I was really impressed with the food on board the ship, with beautifully presented, high-end French food. All meals are included – breakfast is a continental buffet, then lunch and dinner are either three or four courses, with a starter, main, dessert and sometimes a cheese course. Portions aren't enormous though so you don't feel too stuffed at the end of it.
If you like meat you'll be in heaven, but don't expect a whole lot of vegetables on the menu. We had traditional French dishes like Boeuf bourguignon, Confit de canard and Crème brûlée. But there are also local touches based on your location – ours were Black Forest ham, local hake and an Alsace-themed night with Flammkuchen and Baeckeoffe (meat and potato casserole).
If you're a vegetarian or on a special diet (like gluten- or dairy-free) then they can cater for you. Though you might need to chase it up when you get on board – I put that I was gluten-free on my booking form but the message never got through. Wine is included with lunch and dinner, with a choice of three different whites, three reds and two rosés, including local wines.
Drinks at the bar are also included in the trip price – which covers beers, wine (red, white and sparkling), aperitifs and spirits like gin and brandy. There's a cocktail of the day too or one day we had mulled wine as we got on board. The only extra costs are for a few special wines and spirits. The bar opens at 10am and we did spot a few French gents with post-breakfast beers! Soft drinks, juices, bottled water, teas and coffee are all available at the bar too.
How sustainable are CroisiEurope?
Something that's becoming more important to me – and a lot of other travellers – is the impact my travels have on the places and people I visit. You're pretty much at the mercy of the company you're travelling with when you're on a cruise as they organise your accommodation, food and travel. The ocean cruise industry hasn't got the best reputation for sustainability, so I was interested to see how river cruises measure up. So what are CroisiEurope's eco policies?
All ships have water savers to reduce usage and waste, low-emission engines, non-pollutant paint and use eco-friendly cleaning products, so not bad. One thing I spotted which they could do better on was plastics – they still use plastic straws as well as a lot of bottled water and mini toiletries. And there didn't seem to be anywhere for passengers to recycle their waste.
What should you pack for a river cruise?
It's pretty informal on board CroisiEurope ships, so you don't need to pack anything too smart. There's one gala night where you can dress up if you like, though it's more dress or sparkly top and trousers than the full black-tie regalia (and there aren't any irons on board so don't pack anything that creases). Inside the ship it's pretty warm so you don't need loads of layers.
You're provided with basic toiletries (shampoo, body and hand wash) and cabins have a hairdryer (one of those wall mounted ones). Plugs on board are European style, but we only had one in our cabin so if you're travelling with lots of electricals you might want to pack a multi-plug adapter. And if you're a light sleeper and in a cabin near the engine, earplugs are a good idea.
What does a CroisiEurope river cruise cost?
Our four-night Magic of Christmas river cruise on the Rhine cost £662 per person all inclusive, with two of us sharing an en-suite cabin. You can get a short 3-day trip for under £400 (though check the itinerary as some of the cheaper trips don't involve all that much time on the river and have coach trips out instead) or a one-week Rhine trip is around £800–£1200.
So would I cruise with CroisiEurope again? Yes definitely – in fact we're already eyeing up a trip on the Douro later this year. They're a good-value option if you want to try river cruising, and I was impressed with the quality of food, drink and excursions. It does help to be able to speak some French though and there were a few communication issues which could've been better, but overall CroisiEurope are great for a European river cruise at a reasonable price.
Pin it