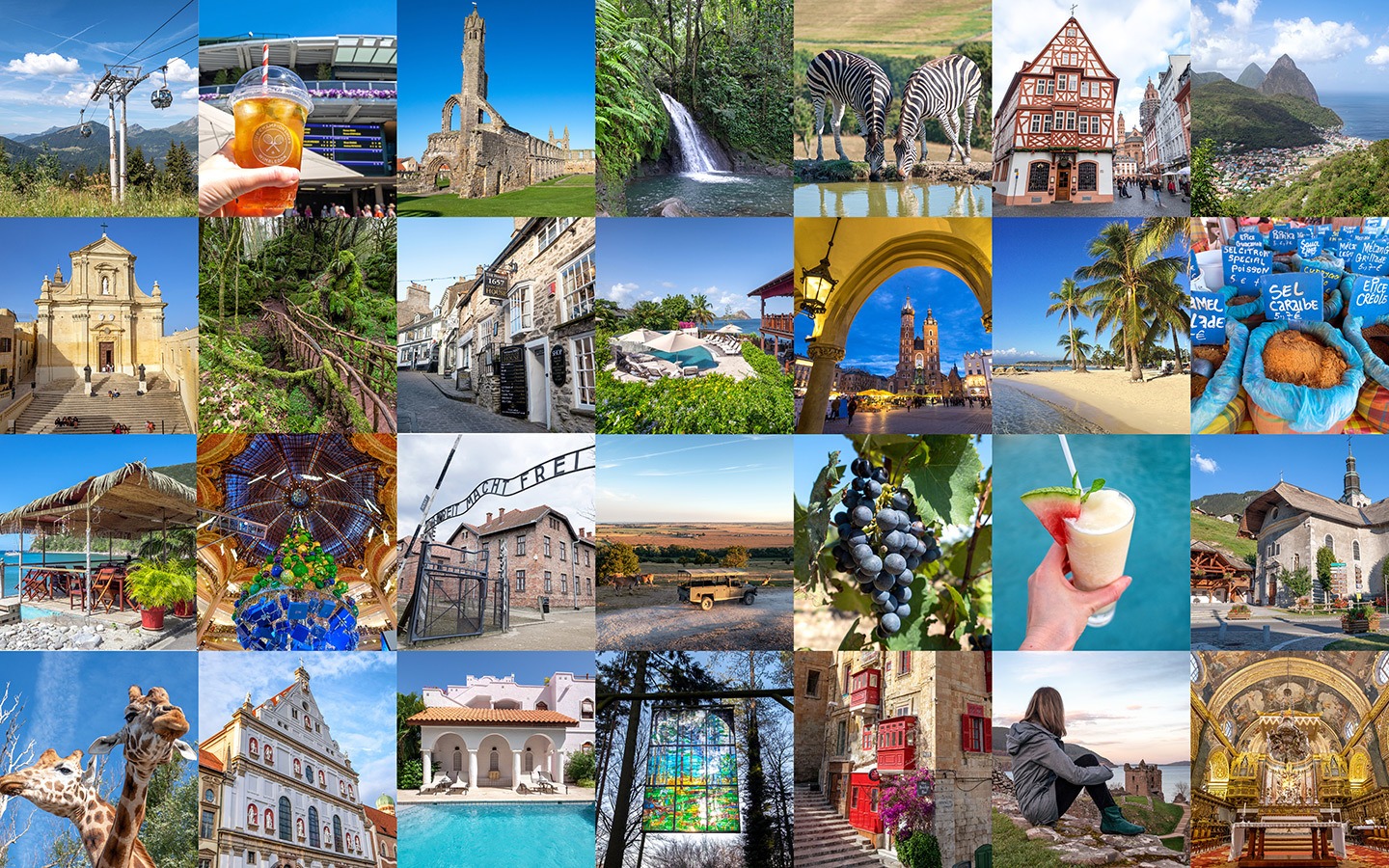 I always love looking back on the last 12 months of travels as we get close to the end of the year – remembering the places, people and experiences along the way (not least as there's usually a few I've managed to forget already). 2018's been a bit different as I spent the last three months of the year as a student. But although it's meant the travel pace has been a bit slower than usual, I've still managed to visit six different countries (including four new ones) and take 24 trips this year. So join me on a whistlestop tour of the travel highs and lows of 2018 On the Luce…
January
My first trip of the year was an escape from the grey British winter to the sunny shores of Guadeloupe in the Caribbean. Well eventually – we didn't get off to the best start as Air France bumped us off our flight so we had an unexpected day in wet and windy Paris first. We finally made it 27 hours late, and that first rum punch on the beach couldn't have tasted better.
Guadeloupe was worth the wait though – it's a unusual mix of France and the Caribbean, with boulangeries selling croissants next to fruit stalls selling pineapples. The island's divided in two, with beachy Grande-Terre on one side and mountainous Basse Terre on the other, and we split our time between the two, with morning swims, rum distillery tours, waterfalls and jungle walks, as well as hunting down filming locations from the TV show Death in Paradise.
Read more: Guadeloupe: Where France meets the Caribbean
February
February was a bit less exotic – and a lot colder. The 'Beast from the East' hit the UK and a wave of snowstorms and ice meant we had to to postpone our trip to Krakow because we couldn't get to the airport. So I spent the first part of the month stranded at home instead, hibernating by the fire with a cat on my knee (always time well spent).
The snow did melt in time for me to make to Edinburgh for a girls weekend with my best friend. We spent 18 months travelling around Southeast Asia and Australia together (far too many years ago now) and a big birthday year was the perfect excuse for us to get away together again. There was a bit of sightseeing and a lot more eating, drinking and gossiping (including an unforgettable Tunnock's Tea Cake cocktail from The Angel's Share – Scottish perfection!).
Read more: Visiting Edinburgh on a budget
March
In March it was second time lucky for my long weekend trip to Kraków. This Polish city is a real gem, and one of my favourite spots of the year. It's got beautiful buildings, great value restaurants and even had enough sunshine to sit out in a pavement café with a drink. We also took a day trip out to Auschwitz-Birkenau. It was one of the toughest and most moving travel experiences I've had, but was something that was so important to see for myself.
I also made a return to one of my happy places – Log House Holidays in the Cotswolds. It's only half an hour from home but feels a million miles away, and looks like somewhere out of Canada or Scandinavia too. I did a blog trip there last year and couldn't wait to go back, so 11 of the family took over their cabin Mayo Landing where we spent a week doing pub walks, lake boating, hot tub soaking, a lot of laughing and a much-needed digital detox.
Read more: Five reasons to visit Kraków, Poland
April
April was all about exploring the UK, starting off in the Forest of Dean. I grew up nearby so I have so many good memories of visiting when I was a kid. A trip to the Tudor Farmhouse gave me an excuse to go back for the night and pay a long overdue visit to the magical Puzzlewood forest. I also headed down to Somerset for a dose of blog inspiration at the Blogger Course weekend with a group of brilliant, inspiring ladies, coming away with tons of new ideas.
Next up was a trip up to Scotland to explore a new city – St Andrews. And what a beauty! Think a smaller, even friendlier version of Oxford and Cambridge set by the sea. We explored the ruins of the castle and cathedral, wandered around the university, ate ice cream on the beach, tasted gin at the Eden Mill distillery and demonstrated just how little we know about golf.
Read more: A weekend in St Andrews, Scotland: A 48-hour itinerary
May
By the time it got to May I was in desperate need of some sunshine, and I found it on the islands of Malta and Gozo. Malta was also my 50th country, which meant I ticked off my '50 countries before turning 40′ goal with a couple of months to spare. My mum and I spent a few days in Valletta first, checking out its golden churches, palaces, balconies and backstreets.
Malta's super-easy to get around if you don't have a car, so we took full advantage and headed out on day trips to Mdina and the fishing village of Marsaxlokk. Next it was on to the even slower-paced and more relaxed island of Gozo. It's so small you can whizz round the main sights in a day, so there was plenty of time for coast walks and soaking up the sun on the balcony.
Read more: Boats and balconies: What to see and do in Valletta, Malta
June
In June I unexpectedly headed back to the Caribbean after an invitation to visit Saint Lucia and the lovely Cap Maison hotel. The trip was a real whirlwind introduction to this diverse island. We toured a drive-in volcano, swam in a waterfall, shopped the markets, learnt how to cook Creole food with a local family and made our own chocolate at Hotel Chocolat's estate.
The hotel was peaceful oasis where we managed to fit in a bit of sunbed time by the pool with a book, a cocktail and a cat (the hotel's resident puss Davidson is a bit of a social media star). It was all going so well until I came down with a terrible stomach bug – perfectly timed just before a three-hour transfer across the island and an eight-hour flight. It has to be one of my worst travel days, and I don't think I will ever be as happy to get home as I was 18 hours later!
Read more: Food in Saint Lucia: From market to plate
July
July was all about the birthday celebrations as I turned 40 and completely milked it with a whole month of festivities! They started off with a fantastic trip to Wimbledon for the first day on centre court. I love tennis and have been watching the championships for decades, so it was perfect timing to get lucky in the ticket ballot. Then it was onto Munich for a quick two-night tour of the city's highlights – museums, parks and plenty of beer gardens included.
I spent my actual birthday at a wedding in Kent, so used that as an excuse to tick off one of my UK wishlist trips – a safari stay at Port Lympne nature reserve. As we watched sunset from a safari tent while giraffes walked past it really felt like we'd been transported to Africa. Even the weather did its bit with non-stop sun. Then finally a big group of family and friends headed out to Morzine in the French Alps for a week in the mountains. We swapped snow for sunshine, hired a bargain catered chalet and did lots of walking in the stunning Alpine scenery.
Read more: On safari in the UK: Glamping at Port Lympne Giraffe Lodge
August
In August I headed across to France with my parents for a wine-inspired long weekend in the Côtes du Rhône. We took the train down to Avignon first, which was one of the stops on my rail trip last year, where we revisited the bridge and city walls, and discovered an amazing night-time sound and light show at the Palace des Papes. We also sweltered our way around the Roman sites of nearby Arles on one of the hottest days of the year.
But this trip was all about the wine, so we spent a day on a tour of the Côtes du Rhône vineyards. First up was famous (and pricey) Châteauneuf-du-Pape. But our favourites were the smaller, better-value and less-well-known villages of Séguret and especially pretty Gigondas – anywhere with 180 winemakers out of 700 inhabitants is going to be my type of place.
September
September was due to start with a trip to Mainz in Germany for their wine festival, but fellow blogger Jai from Savoir There had to step in to cover the trip (and drink all the wine) for me after I was ill – and I ended up visiting Mainz later in the year instead. I managed to recover in time for a spa, cocktail and catch up with old friends on a weekend escape to Bath though.
But the month's big news was a move up to Scotland as I started a Master's degree in Tourism, Heritage and Sustainability at the University of Glasgow. I'd been thinking about doing more study for years and finally thought why not now? (call it a turning 40 mid-life crisis!). The course is based on a smaller campus in Dumfries in south-west Scotland, so I moved into uni accommodation for three nights a week and got to grips with studying after a 20-year gap.
Read more: Germany for wine-lovers: A weekend in Mainz
October
October flew by in a whirl of train journeys, lectures and library visits as I got used to postgraduate life. Learning more about sustainability gave me tons of ideas for the blog too. But commuting back and forth between Cheltenham and Scotland every week was a bit more hard going, as was not having many trips planned after so much travelling in the last few years.
I did spend a week back home for reading week and took advantage of being close to Edinburgh by heading up there for a few days to see my sister, hear the brilliant Simon Reeve speaking about his new series and check out the gorgeous autumn colours at the Botanic Gardens.
Read more: Alternative things to do in Edinburgh
November
November was dominated by university work as the pace really started to pick up, ending with a couple of manic weeks where I had three presentations and two 4000-word essay deadlines. I managed to squeeze a couple of weekend breaks in around the study though, as part of my mission to see as much of the local area as I can while I have a Scottish base.
First up was a trip to Inverness in the Scottish Highlands with my mum. We took a boat trip on Loch Ness (though we didn't manage to spot Nessie), visited ruined Urquhart Castle at sunset and took a gorgeous autumnal walk to the Ness Islands. Then next up was a girls weekend with my mum, sister, aunt and cousin to the Lake District, which we spent exploring the stunning scenery around Kendal, drinking hot chocolate and relaxing by the fire.
Read more: A weekend in Inverness, Scotland: A 48-hour itinerary
December
December was a month of celebrations after I made it through my first semester. My mum and I headed out to Strasbourg for a full-on festive wintery river cruise on the Rhine through France and Germany. We were the only two English people on a ship of 150 French people but embraced French river cruise life (which seemed to involve drinking a lot of wine).
Along the way we called at Rüdesheim and Mainz in Germany, keeping the Glühwein and Lebkuchen levels topped up at their Christmas markets. Our final stop was due to be Strasbourg but a shooting meant the Christmas markets were closed, so instead we headed to fairytale Obernai in the Alsace for our last dose of festive magic before heading home for Christmas.
Read more: A Christmas market river cruise on the Rhine
So that was my 2018 travel year! What were your travel highlights of 2018?
Pin it