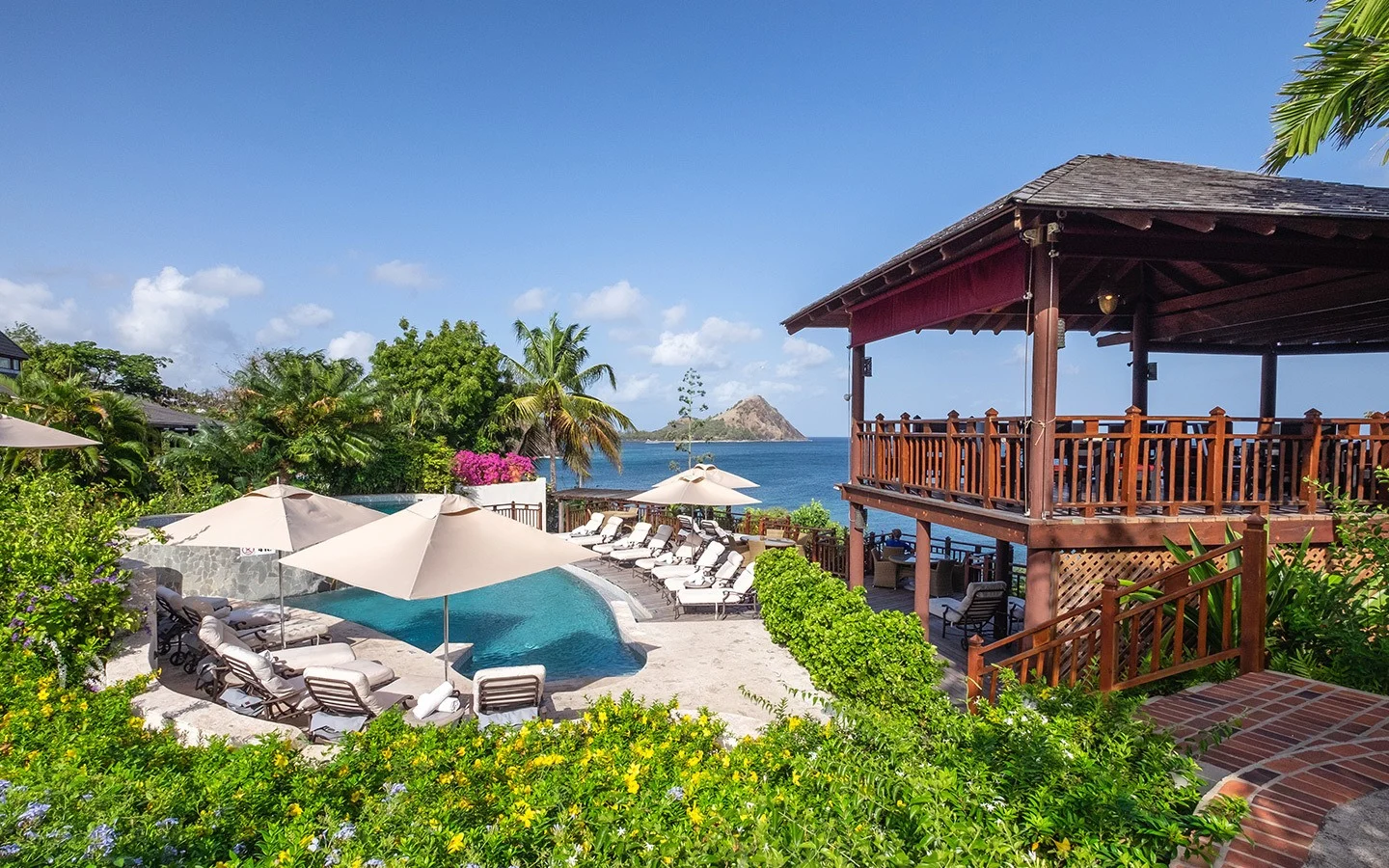 Picture yourself lying on a sunbed, the sun is beating down and you can hear the waves crashing. You've got an icy tropical cocktail and a book by your side and there's nowhere else you have to be. Sounds like my idea of bliss – and it's the type of holiday the Caribbean is famous for. But with 26 countries, 7000 islands and thousands of resorts across the region, where do you start? Do you go for beaches or mountains, diving or hiking, Creole culture or colonial history? Or you can have a little bit of everything in Saint Lucia – one of the Lesser Antilles islands. Saint Lucia is kind of like a Caribbean highlights package, and it's also the home of the Cap Maison Resort and Spa, a patch of Caribbean paradise and my first taste of island life.
Read more: Food in Saint Lucia: From market to plate
The location
Cap Maison is located on the north coast of Saint Lucia – on a clear day you can see right over to the neighbouring island of Martinique. The resort town of Rodney Bay is a few minutes drive away or it's 30 minutes to the island's capital Castries. There's a small airport in Castries, but most international flights come into Hewanorra airport in the south. Which is where we emerged into the heat after our long flight from London, met with much-needed cool towels and bottles of water and shown to our transfer.
It's only 40 miles on the map from the airport to Cap Maison, but although Saint Lucia is small it has some seriously dramatic scenery, so as the roads twist up and down mountains it takes a while to get anywhere (pack travel sickness pills if you're susceptible – or you can avoid the drive altogether and splash out on a helicopter transfer over the peaks). Our transfer took us around two hours as we wound our way up the Atlantic coast then across the centre of the island to Castries, with some jaw-dropping scenery along the way – golden sand beaches, pretty fishing harbours, jagged peaks and banana plantations.
Cap Maison is on the edge of the village of Gros Islet, but it's far enough away from everything that it has that really secluded, peaceful feel like you're in your own private enclave. You can get out and explore the surrounding area – there's a great market in Castries and hiking on nearby Pigeon Island. Or you can head a bit further afield with day trips to the Pitons, chocolate-making classes and visits to volcanoes and waterfalls. But you can also easily do nothing more energetic than alternating between the pool and a sun lounger while someone brings you cocktails. It's the type of place where you can't help relaxing.
The rooms
Where a lot of Caribbean resorts go for a plantation-style design, Cap Maison has more of a Mediterranean feel. As we pulled up into the drive it felt a bit like a group of whitewashed Spanish villas had been transported to a Saint Lucian clifftop and surrounded with beautiful gardens. One of the first things that strikes you about Saint Lucia is how green and lush it is – everywhere you look there are colourful tropical flowers and there's the constant sound of birdsong. Cap Maison's gardens were created by local garden design legend Veronica Shingleton-Smith, who has her own botanic gardens on the east coast.
Most of the accommodation at Cap Maison is in villas, so you have your own space and can be as social or antisocial as you like. Villas range from one to three bedrooms, many with their own pools either in the gardens or on a roof terrace, and there are some smaller garden rooms too. We had a two-bed ground floor villa, with two en-suite bedrooms (one with hand-painted tiles and the other with a giant bath), a lounge, dining area and kitchen. We even had a guest bathroom and laundry room, so you could easily self-cater or mix up eating at the restaurants and cooking (or you can hire a private chef to cook for you).
Inside the villa everything was light and airy – the whole front wall opened up onto a terrace with our own loungers to relax on. Villas are decorated in neutral shades but with a few flashes of colour like the cushions, bathroom tiles and artworks from local artists. There's one eye on the environmental impact too, with solar-heated hot water – though you do get through a lot of bottled water in Saint Lucia so maybe a filter could be an alternative? There's air con in the bedrooms but there are ceiling fans throughout the villa too as well as screens on the windows to let the breeze – and nighttime frog chorus – flow through.
The food (and drink)
Pretty much my only knowledge of Caribbean food before this trip was jerk chicken and rice and peas, but there's so much more to it. What sets Cap Maison apart from other resorts across the Caribbean is their focus on taking the amazing local ingredients you get on the island and creating high-end, gourmet dishes out of them. The kitchen is headed up by chef Craig Jones, a Welsh Rastafarian who worked in big-name restaurants like Le Manoir aux Quat' Saisons before relocating to the Caribbean. He's been living in Saint Lucia for the last 20 years so really knows the local produce and how to get the best from it.
The resort's main restaurant is the Cliff at Cap, perched on the cliff edge with panoramic sea views. This is where we had breakfast every day – with lots of fresh fruit as well as a mix of cooked options that changed every day. It's open daily for lunch and dinner, and has got such a good reputation that people come from all over the island to eat there. It's real fine dining, with three beautifully presented courses that were almost like edible works of art. Freshly caught fish, piri piri chicken, seared scallops – nothing too heavy to suit the tropical heat. And if you want to go ultra-romantic then you can have a private dinner for two at Rock Maison, a terrace over the ocean beneath the Cliff which even has it's own Champagne zipline.
There's also the more casual Naked Fisherman restaurant right on the beach (named after an exhibitionist fisherman who did his fishing au naturel!). It's got more of a 'barefoot in the sand' feel – and is extra beautiful lit up by lanterns at night. We headed down on our first evening to try the BBQ Bites menu with grilled mussels, ceviche and chili crab claws. It's one of the resort's food experiences, with everything from tapas and Creole food nights to market tours and cooking classes. We also joined in the weekly Deli Experience food and wine matching dinner. It was a really social evening with just 12 guests all eating together in the wine cellar, trying out lots of different foods, wines and a few rums to see how they go together.
Wine's a big thing at Cap Maison, they have the best-stocked cellar on the island with something like 2000 different wines. But as it's the Caribbean so there's plenty of rum too – from the welcome bottle of rum punch you get in your room to Cap Maison's own 10-year-aged Solera Cask Rum. I'm more of a G&T girl at home but once I see a beach I can't resist a fruity cocktail, the more umbrellas and slices of fruit the better. So to work on my cocktail skills we got a lesson in how to make Cap Maison's signature cocktails – the favorite was the Cask Elixir, made with their aged rum, mango puree, bitters and fresh mint.
The facilities
The Caribbean is all about the beaches, and Cap Maison's local bay is small but perfectly formed, down a flight of 90 stairs from the resort. It's known as Smugglers' Cove and like all the beaches in Saint Lucia it's open to everyone. But it's fairly tucked away so it feels almost private and never gets too busy. There are sunloungers and towels for hotel guests and you can order a constant supply of cold drinks from the Naked Fisherman's bar. Or you can try out sailing, snorkelling or paddleboarding, with equipment available for guests to borrow. And if you're feeling really flash the hotel has its own yacht you can hire.
The resort has two main pools. One's a split-level pool with waterfall, surrounded by flowers and with views out to sea. The other is a smaller pool in a courtyard along the villas. This was one of my favourite spots – a lot of villas have their own private pools so this one was usually empty and we had it all to ourselves (perfect for an impromptu blogger photo session!). One of the things I loved about Cap Maison was how it never felt crowded. Most of the time we only saw other guests at meals or around the main pool. Inside the reception building there's also a gym, spa, bar and honesty shop – so if you've run out of sun cream or forgotten something you can just pick it up and tell reception. The laid-back Caribbean in action!
My tips
Guests are… mainly couples or groups of couples, it's a favourite for special occasions so there are lot birthday, engagement and anniversary celebrations, as well as plenty of honeymooners.
Staff are… super-friendly, chatty and always ready to help.
Don't forget… to say hello to Davidson, Cap Maison's cat-in-chief who patrols the resort like he owns it and loves a stroke behind the ears (he even has his own Instagram account @catmaison).
Useful to know… the mosquitoes in Saint Lucia can be vicious, but the bedrooms are supplied with natural insect repellent and after-bite spray and the beds have mozzie nets.
The details
Rooms at Cap Maison start from £250/$338 including breakfast for a garden view room (check their website for special offers). They also do an all-inclusive package with breakfasts, three-courses lunches and dinners as well as house wines, beers and cocktails included from £425/$566 per night for two.
Pin it
Big thanks to Cap Maison for hosting me in Saint Lucia. All views and opinions are, as always, my own.