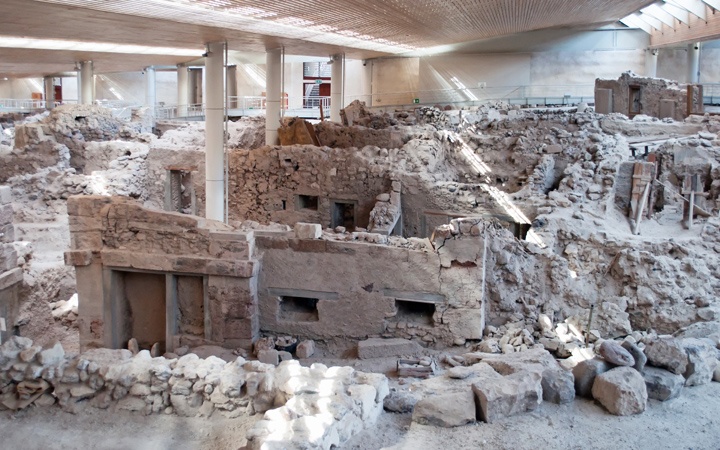 It might seem like the island of Santorini is wall-to-wall with cliffside whitewashed villages, but south of Oia and Fira you'll find a different kind of Greek settlement – the ruined city of Akrotiri. Or at least that's what it's called now. It was christened Akrotiri after the nearby modern town of the same name, but its real identity is just one of its mysteries. Nicknamed Santorini's Pompeii, it's similar in that both were buried in a volcanic eruption, there are a few big differences between them too. The first of which is their age – Pompeii was founded in 600 BC and destroyed in 79 AD, but Akrotiri makes it look young. It was home to the ancient Minoans over 4000 years before Pompeii was set up, and has been preserved just as it would have been in 1500 BC. It's a window into the life of a distant people – and to a different side of Santorini.
Read more: Domes and donkeys: What to see and do in Fira, Santorini
Akrotiri started off as a fishing and farming village, growing olives and grains. But because it was positioned on the trade route between Europe and the east, the money flowed in and it grew into a big, prosperous city. It was a democratic place though, with its own parliament and no palaces. People lived in two- and three-storey houses with balconies, underfloor heating, hot and cold running water and proper toilets. They painted elaborate frescoes, made their own wine and crafted pots and sculptures. Amazing when you think this was during the Bronze Age, when people in Britain were living in huts and building stone circles.
But somewhere around 1500 BC, it all went wrong for Akrotiri when the huge volcano Thera erupted and blew the middle right out of Santorini. It was one of the largest volcanic events recorded on Earth, creating a four-mile-wide caldera and sending up an ash cloud 20 miles high. It also set off a 100-metre tsunami that battered Crete's coastline and reached as far as Egypt. When the eruption finished Akrotiri had been buried in a 200-foot-deep layer of ash and debris and the whole shape of Santorini had been changed for good. Covered with hot lava and piles of ash, the island was abandoned for the next few centuries.
Eventually new settlements grew up on Santorini, but Akrotiri was long forgotten until the 1860s when workers quarrying ash to build the Suez canal dug down and discovered remnants of the old city. They stayed where they were for another hundred years though until excavations finally started on the site in 1967. Since then around 40 buildings have been unearthed but there's a long way still to go – it's estimated only a third of the city has been discovered so far and it'll take another century to excavate it all.
Now it's open to visitors, in a big, light and airy building. The ruins need to be covered up as the houses are made of mud bricks so get damaged by water. But things were put on hold at the site in 2005 after the roof of the previous building collapsed and killed a British tourist. It took seven years to repair and reopen the site in this smart new building, made of steel and wood to let just enough light in but keep things cool. Walkways take you around the edge of the city, but what's ground level for us is roof height in Akrotiri, so it takes a lot of painstakingly digging and removing huge quantities of rock to get down to street level.
The pathway leads down through some of the reconstructed houses, where you can even see an original Minoan toilet and stone bathtub. During the excavations lots of different remnants of people's everyday lives were uncovered among the buildings. There were a hundreds of pots, from drinking cups up to big storage vessels decorated with geometric patterns, some of which still had remains of olive oil or fish inside. You can see some of them at the site but many have been moved to the archaeological museum in Fira, and the best of Akrotiri's frescoes are on display in Athens' National Archaeological Museum.
Furniture like beds, chairs and tables have been recreated by pouring plaster into the casts made by the ash, like they did with people's bodies in Pompeii. But the big difference here is that no human or animal remains were found at Akrotiri. It's thought that there were probably lots of foreshocks before the big eruption so people had time to pack up and leave, unlike in Pompeii where it all happened so quickly. As it was a rich seafaring city, people probably had easy access to boats which made it easy for them to escape. Though where they went next and why they never came back is another of the mysteries of Akrotiri.
The details
Akrotiri is about a 25-minute drive south of Fira. Entrance costs €5 per person. There are a few information boards around the site, but if you want to get more of an insight into the ruins then it's worth booking a tour or hiring a guide (there are usually a group of them at the entrance if you haven't pre-booked).
Pin it