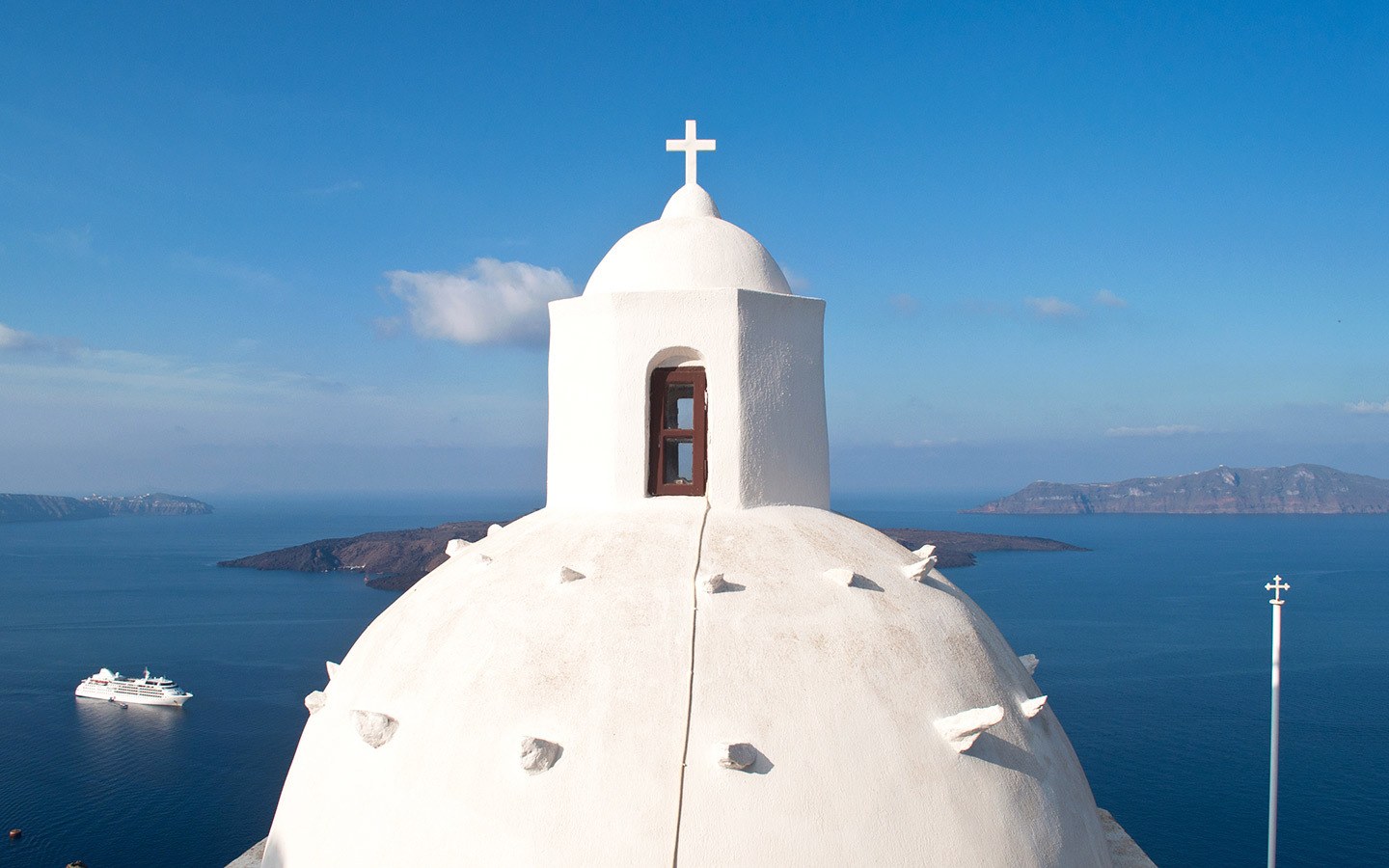 Santorini is Greece's postcard island. The place where photos of bougainvillea-strewn terraces, blue-doored houses and white-domed churches come to life. The island's main town is Fira (or Thira) and if you visit Santorini, you're guaranteed to pass through. It's where cruise ship tenders land and where the majority of the hotels, nightlife and shopping are. The town is perched on top of a 260-metre-high cliff overlooking the blue waters of the Aegean. The views are so spectacular you could probably spend your days sitting on a terrace soaking them up. But views aren't all it has to offer – here are my favourite things to do in Fira, Santorini.
Read more: The ancient city of Akrotiri: Santorini's Pompeii
The best things to do in Fira, Santorini
Escape the crowds in the backstreets
There's no doubt that Fira is one of Santorini's busiest spots, and when three or more cruise ships are docked at once the streets can be packed solid. But if you head away from the main shopping area it doesn't take long to find a quiet spot. There's a maze of winding backstreets to explore, passing hidden chapels, arching doorways and sunbathing cats.
Follow the caldera northwards to the neighbouring village of Imerovigli. Or if you have time, carry on along the 7.5-mile cliff path from Fira to Oia. It takes three and five hours to walk (depending on how many photo/baklava stops you make) and there's not much shade, so late afternoon or early morning are the best times. The route is a mixture of pavements and rough mule paths, with a string of picturesque churches and stunning views along the way.
Learn about Santorini's history
Santorini hasn't always been this picture-perfect slice of Greek whitewashed perfection. The island has a long and dramatic history, and there are a couple of museums in Fira where you can find out more about it. Santorini was originally inhabited by the Minoans until a huge volcanic eruption blew the middle right out of the island and formed the caldera.
The ancient city of Akrotiri, in the south of the island, has only recently been excavated after being buried by ash from the eruption. Some of its artifacts are on display at the Museum of Prehistoric Thera, which also has exhibits about the island's geology. After the eruption Santorini was eventually recolonised and occupied by a whole series of invaders over the years including the Phoenicians, Dorians, Romans and Ottomans. The Santorini Archaeological Museum displays relics like sculptures, ceramics and carvings from different periods of island history.
Watch the sunset
The village of Oia is Santorini's most famous sunset spot, but Fira does a pretty good version too. Oia is the place to go for the classic view of church domes and windmills silhouetted against an orange sky, but it also has the crowds to go with it. So you need to get there well in advance to bag a prime Santorini sunset spot. In contrast it's easy to find a quiet place in Fira and even at the main sunset viewpoints there's normally only a small group of people.
With so many hotels along the caldera in Fira, if you're staying in town you often have a terrace where you can watch sunset with a glass of wine. Otherwise stop by a cliffside bar for a sundowner with a view as the sun sinks into the Aegean. Or if that still sounds too crowded, get up for sunrise instead when the sky glows pink and you have the place almost to yourself.
Head out on the water
For a totally different perspective on Fira, take to the water on a Santorini boat trip. From sea level the cliffs tower high above and you can see the layers of different coloured rocks making up the island's unique geology. And from a distance the mass of white buildings almost looks like a sprinkling of snow on top of the cliffs. There are a range of boat trips available, from luxury yachts perfect for a Santorini honeymoon to traditional sailing boats.
Watch the sunset from the water, sail and swim along the island's coastline or visit the island of Nea Kameni in the centre of the caldera. This is the heart of the volcano and is still active, so you can smell the sulphur and see the steaming vents. There are also hot springs and mud baths on the island of Palea Kameni, and a hot water beach in Agios Nikolaos bay.
Try some local wine (or beer)
Wine's been grown on Santorini back since the time of the Romans. You won't see the traditional rows of vines here though. Instead the vines are grown coiled up in a dip in the black volcanic soil which protects them from the wind and heat. You'll find whites made from local grape varieties like Assyrtiko, Athiri and Aisani, as well as rosés and reds. There's also a special vin santo sweet wine that's made from sun-dried grapes.
Most wineries are in the south of the island, but just outside Fira is Santos Winery where you can do a tour and tasting on their caldera view terrace. Or if beer's more your thing then try a donkey. Local craft brewers Santorini Brewing Company produce three beers – Yellow Donkey, Red Donkey and Crazy Donkey (a 6% IPA). They're surprisingly hard to track down in the shops but you can see the brewers in action and stock up at their brewery just outside Fira.
Feast on Greek food
You'll find all the Greek classics like moussaka, kleftiko, spanakopita and Greek salad at Santorini's restaurants. But there are also local Santorinian specialities to try when you visit the island. One of them is fava – a yellow split pea puree served with olive oil and lemon juice. You'll also find keftedes (meatballs) and the vegetarian version ntomatokeftedes (tomato fritters). These are made with Santorini's local tomatoes, a sweet, bright red fruit the size of a cherry.
There's also saganaki, a fried cheese which is served with honey, and melitzanosalata, a paste made from unusual white aubergines. And leave plenty of room for dessert – you can't go to Greece and not eat baklava, thin filo pastry layers filled with nuts and soaked in sticky syrup. Some of the our favourite places to eat in Fira were Argo and Parea Tavern. Or if you want to learn to cook Santorini-style yourself, you can take a cookery class.
Pin it
This article contains affiliate links, where I get a small commission at no extra cost to you, thanks.