Discover the best things to do in Fira, the main town on the stunning Greek island of Santorini, from sunset views and whitewashed churches to boat trips and delicious local food and drink.
* This site contains affiliate links, where I get a small commission from purchases at no extra cost to you.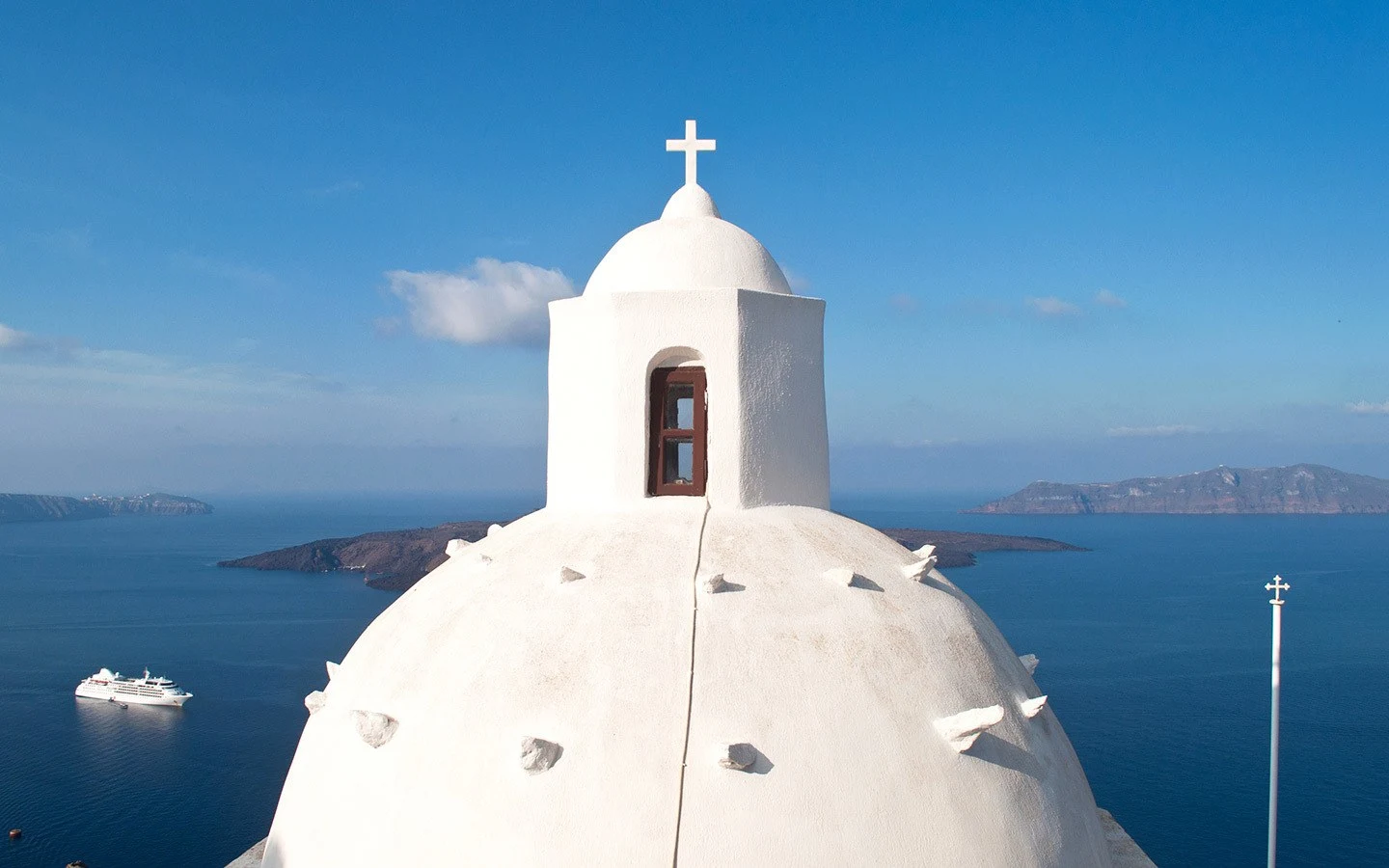 Santorini is Greece's postcard island, with its white-domed churches, blue painted doors, sleeping cats and bougainvillea-strewn terraces, all set against the backdrop of the deep blue Aegean Sea. The island's biggest and busiest town is Fira (also known as Thera), and when you visit Santorini, you're likely to pass through Fira at some point.
Fira is where cruise ship tenders dock and where you'll find the majority of hotels, nightlife, shopping and services. Perched on a 220-metre-high cliff, Fira's views are spectacular, but that's not all it has to offer – here's my pick of the best things to do in Fira, Santorini.
The best things to do in Fira, Santorini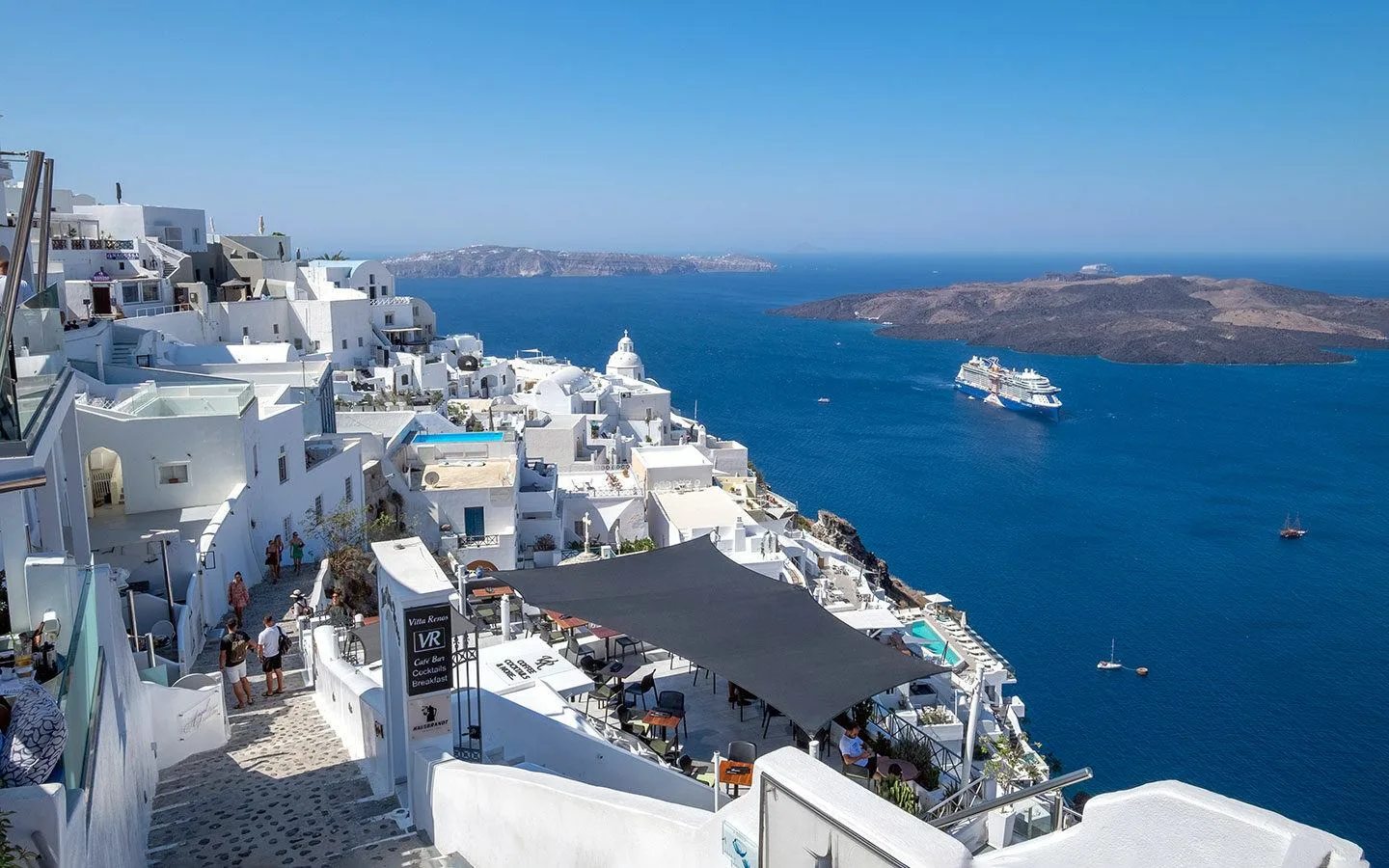 Escape the crowds in the backstreets
There's no doubt that Fira is one of Santorini's busiest spots, and when three or more cruise ships are docked there at once the streets can be packed with people. But if you head away from the busiest spots – the area outside the Orthodox Cathedral, the cable car station and the main shopping area – it doesn't take you long to find a quiet spot.
One of my favourite things to do in Fira is to just choose a direction, follow the path and see what I find. The town is fairly small so you can walk from one end to the other in half an hour. But along the way there's a maze of alleyways to explore, with hidden chapels, arching doorways, tucked away viewpoints, colourful flowers and sunbathing cats.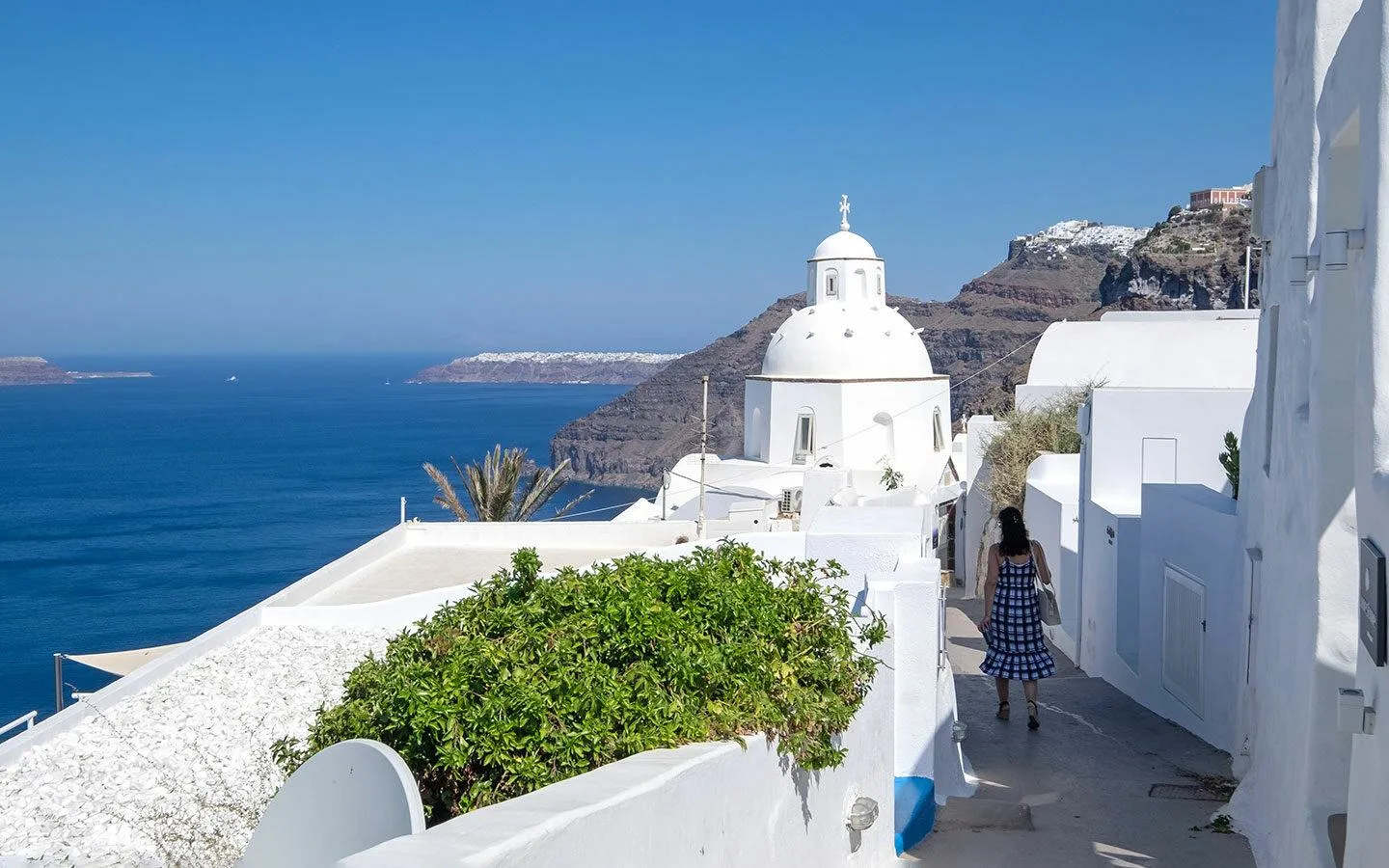 Photograph Fira's churches
Fira's skyline is dotted with church domes, and they make one of the town's best photo opportunities – as well as a peaceful, shady stop on a hot day. The town's biggest church is the 19th-century Orthodox Cathedral, which was rebuilt after it was damaged by an earthquake in 1956 and contains beautiful frescoes inside and mosaics outside.
Plateia Theotokopoulou square in front of the cathedral is where you'll find locals gathered to meet, chat and shop at the small market. There's also a Baroque Catholic cathedral dedicated to St John the Baptist, built in the early 1800s, and a Dominican Convent where you can hear the nuns singing in the evenings at the church of Our Lady of the Rosary.
The town is also dotted with other picturesque churches with panoramic views, including the Three Bells of Fira – also known as the Catholic Church of the Dormition – which is a popular photo spot with its distinctive three bells and blue domed roof.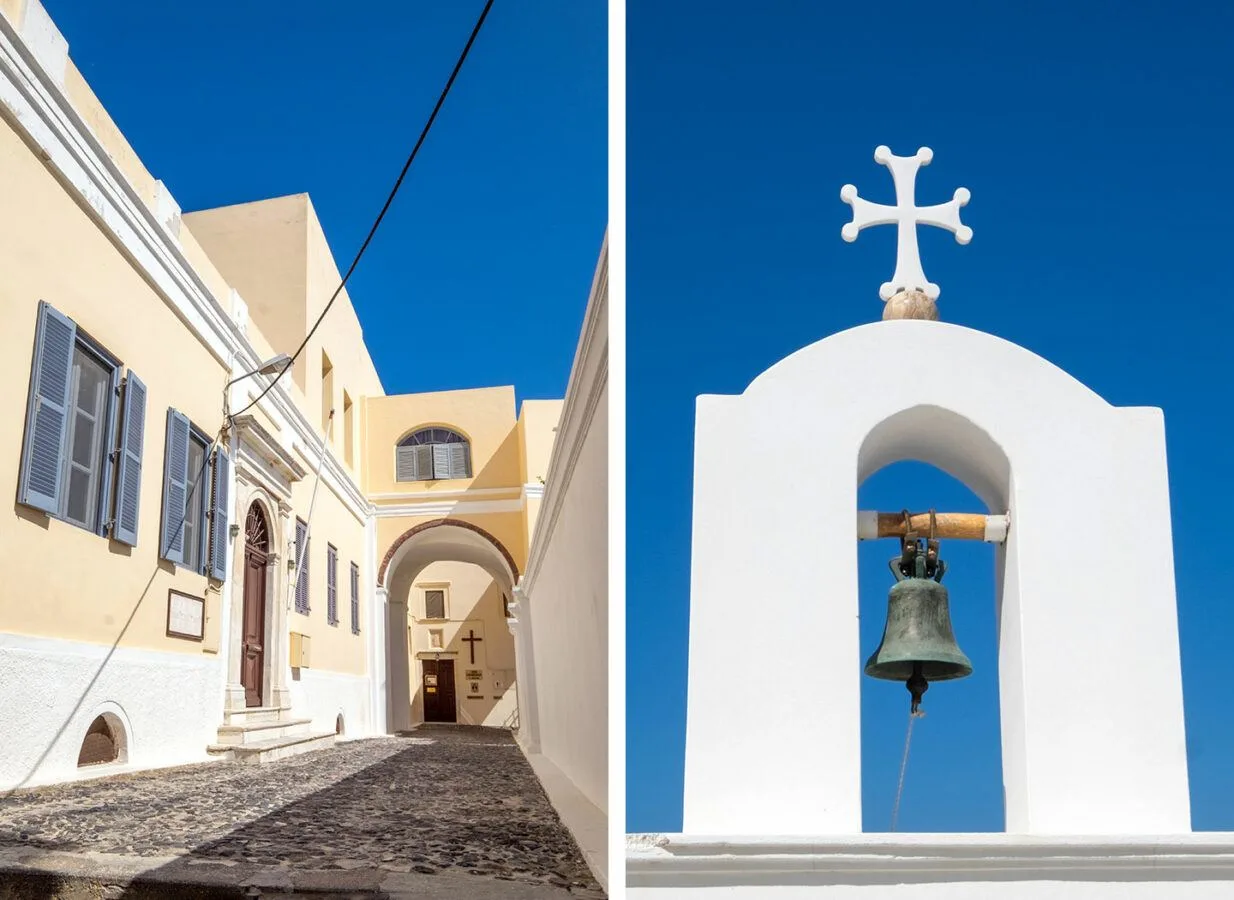 Learn about Santorini's history
Santorini hasn't always been this picture-perfect slice of Greek whitewashed perfection. The island has a long and dramatic history, and there are a few museums in Fira where you can find out more about it. Santorini was originally inhabited by the Minoans until a huge volcanic eruption blew the middle right out of the island and formed the caldera.
The Museum of Prehistoric Thera (closed Tuesday), has exhibits about the island's geology and some of the artifacts uncovered from the ancient city of Akrotiri, in the south of the island, which has only recently been excavated after being buried by ash in the eruption.
After the eruption, Santorini was eventually recolonised and occupied by a whole series of invaders including the Phoenicians, Dorians, Romans and Ottomans.
The Santorini Archaeological Museum (closed Monday) displays relics like sculptures, ceramics and carvings which have come from different periods of Santorini's history. And the Santorini Folklore Museum has exhibits about island life, culture and traditions, including an old winery, furniture, clothing and artworks, in a cave house built in 1861.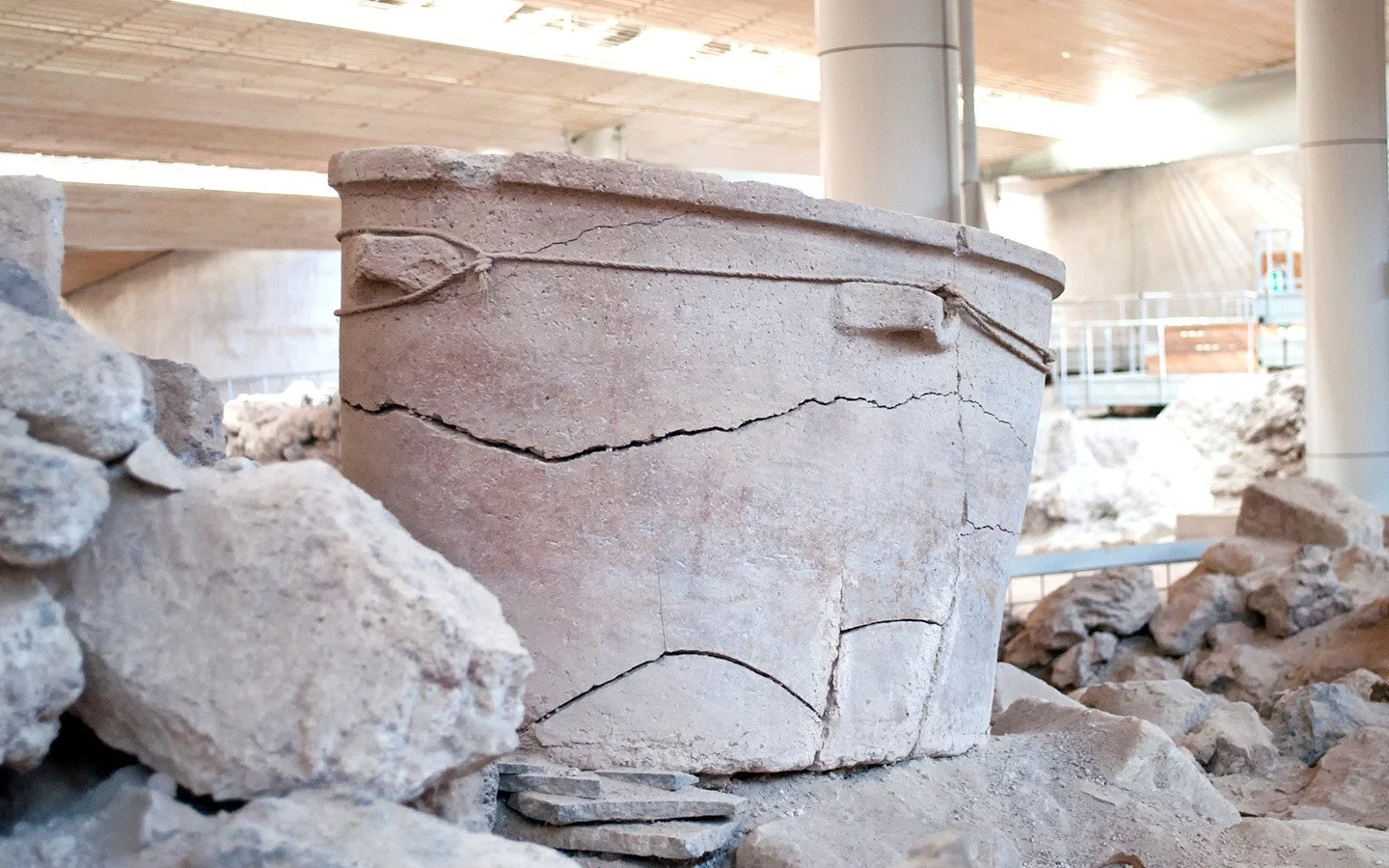 Watch the sunset
The village of Oia is Santorini's most famous sunset spot, with its church domes and windmills silhouetted against an orange sky. But it has the crowds to go with it, so you need to get there well in advance if you want to bag a prime position.
You don't need to go as far as Oia though, as Fira does a pretty good Santorini sunse of its own. It's also easier to find a quiet place – the busiest spot is the area in front of the Orthodox Cathedral but there are plenty of other sunset viewpoints.
With so many hotels along the caldera in Fira, if you're staying in town you'll often have a terrace to watch sunset with a glass of wine. Otherwise visit a cliffside bar for a sundowner with a view as the sun sinks into the Aegean. Or if that sounds too busy, get up for sunrise instead, when the skies glow pink and you have it almost to yourself.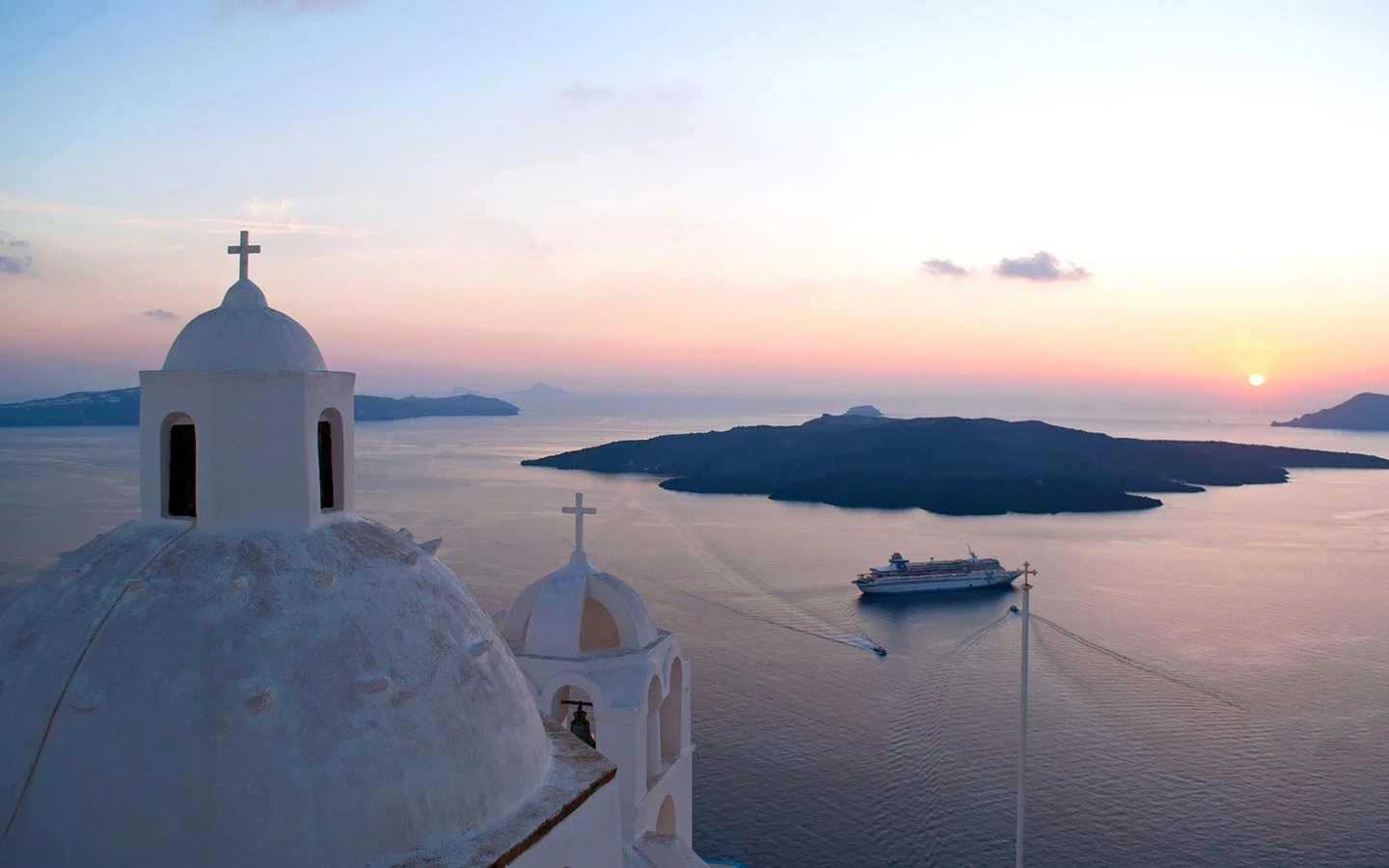 Walk (or cable car) to the old port
Fira's old port – known as Gialos – lies at the bottom of the cliffs below the main town. If you're visiting Santorini by cruise ship, this is where the tender boats dock so you're guaranteed to be passing through. But even if you're not it's worth making the trip down to visit some of the waterside restaurants or dip your feet in the sea.
To get to the old port, if you're feeling fit you can climb the 587 Karavolades stairs which zig-zag their way down the hillside (there's no shade for most of the day so bring a hat and water). Santorini's famous donkeys also carry passengers up the path, but concerns over their welfare and the tough conditions mean we don't recommend using one.
There's also a cable car which was built in 1982 by local ship owner Evangelos Nomikos. It only takes a few minutes to travel up 220 metres to the town of Fira, with great views. One-way tickets cost €6 for adults and €3 for children. Though beware that both the path and the cable car get very busy when multiple cruise ships are docked in Fira.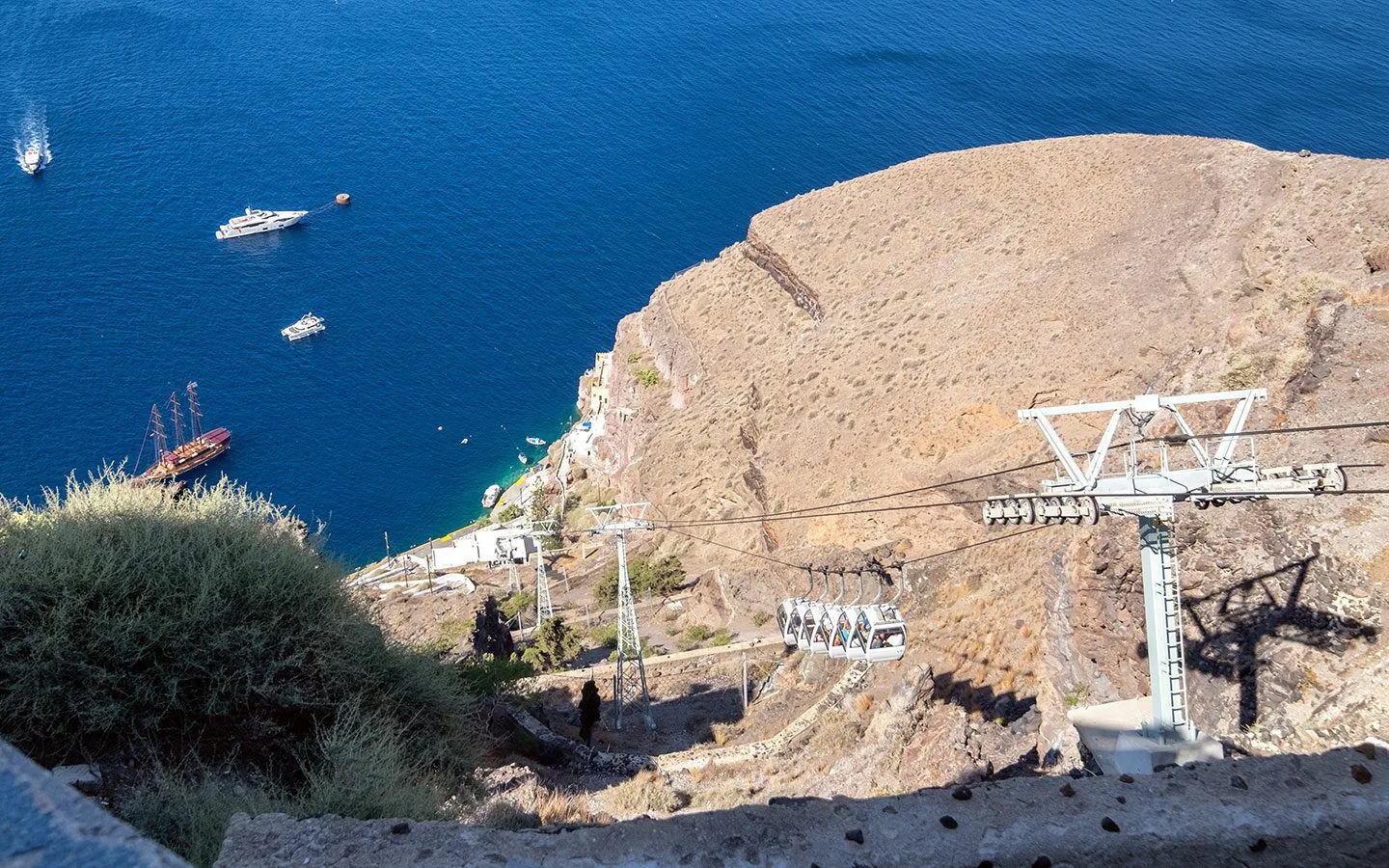 Hike along the caldera
For a string of spectacular views, follow the caldera rim northwards where a cliff path runs through the villages of Firostefani and Imerovigli to Oia. The full route is around 10km/6 miles and takes three to five hours to walk (depending on how many photo stops you make). There's not much shade, so late afternoon or early morning are the best times.
The route is a mixture of pavements and rough mule paths, with churches, hotels, restaurants and viewpoints along the way. You can also add in a diversion to Skaros Rock just after Imerovigli if you have time (allow an extra 45 minutes to an hour). Or if you don't want to walk the full stretch, it's only 3km/2 miles from Fira to Imerovigli.
Head out on the water on a boat trip
For a totally different perspective on Fira, take to the water on a Santorini boat trip*. From sea level the cliffs tower high above you, showing the layers of different coloured rocks which make up the island's unique geology. And from a distance the mass of white buildings almost looks like a sprinkling of snow sitting on top of the cliffs.
There's a range of different boat trips available from Fira. You could also hire your own boat and explore the island independently. SamBoat* is a boat rental platform which has everything from self-drive inflatable dinghies to luxurious sailing boats with a skipper which would be perfect for a romantic Santorini honeymoon cruise.
You can watch sunset from the water, sail and swim along the island's coastline or visit the island of Nea Kameni in the centre of the caldera. This is the heart of the volcano and is still active, so you can smell sulphur and see steaming vents. There are also hot springs and mud baths on the island of Palea Kameni, and a hot water beach in Agios Nikolaos bay.
Admire local art
As well as being he island's capital, Fira is also Santorini's centre for art and culture, with galleries dotted around its streets. Best known is MATI Art Gallery, whose exhibits spill out onto the street near the Orthodox Cathedral. It was founded by artist Yorgos Kypris in 1990 and features his series of fish sculptures as well as works by local artists.
There's also the Tzamia-Krystalla Art Gallery for contemporary Greek art, Gjopalaj Gallery's delicate wood sculptures and the Art of the Loom Gallery for glasswork, paintings, jewellery and ceramics. And if you want to take a memento of your trip home with you, there are many art, craft, jewellery, pottery and clothing shops around Fira.
Feast on Greek food
You'll find all the Greek classics like moussaka, kleftiko, spanakopita and Greek salad at Santorini's restaurants. But there are also local Santorinian specialities to try when you visit the island. They include fava – a yellow split pea puree served with olive oil and lemon juice – keftedes (meatballs) and the vegetarian version ntomatokeftedes (tomato fritters). These are made with Santorini's local tomatoes, a sweet, bright red fruit the size of a cherry.
There's also saganaki, a fried cheese served with honey, and melitzanosalata, a paste made from unusual white aubergines. And leave room for dessert – you can't go to Greece and not eat baklava, thin filo pastry layers filled with nuts and soaked in sticky syrup.
Some of the our favourite places to eat in Fira were Argo, Naoussa and Parea Tavern. Or if you want to learn to cook Santorini-style yourself, you can take a cookery class*.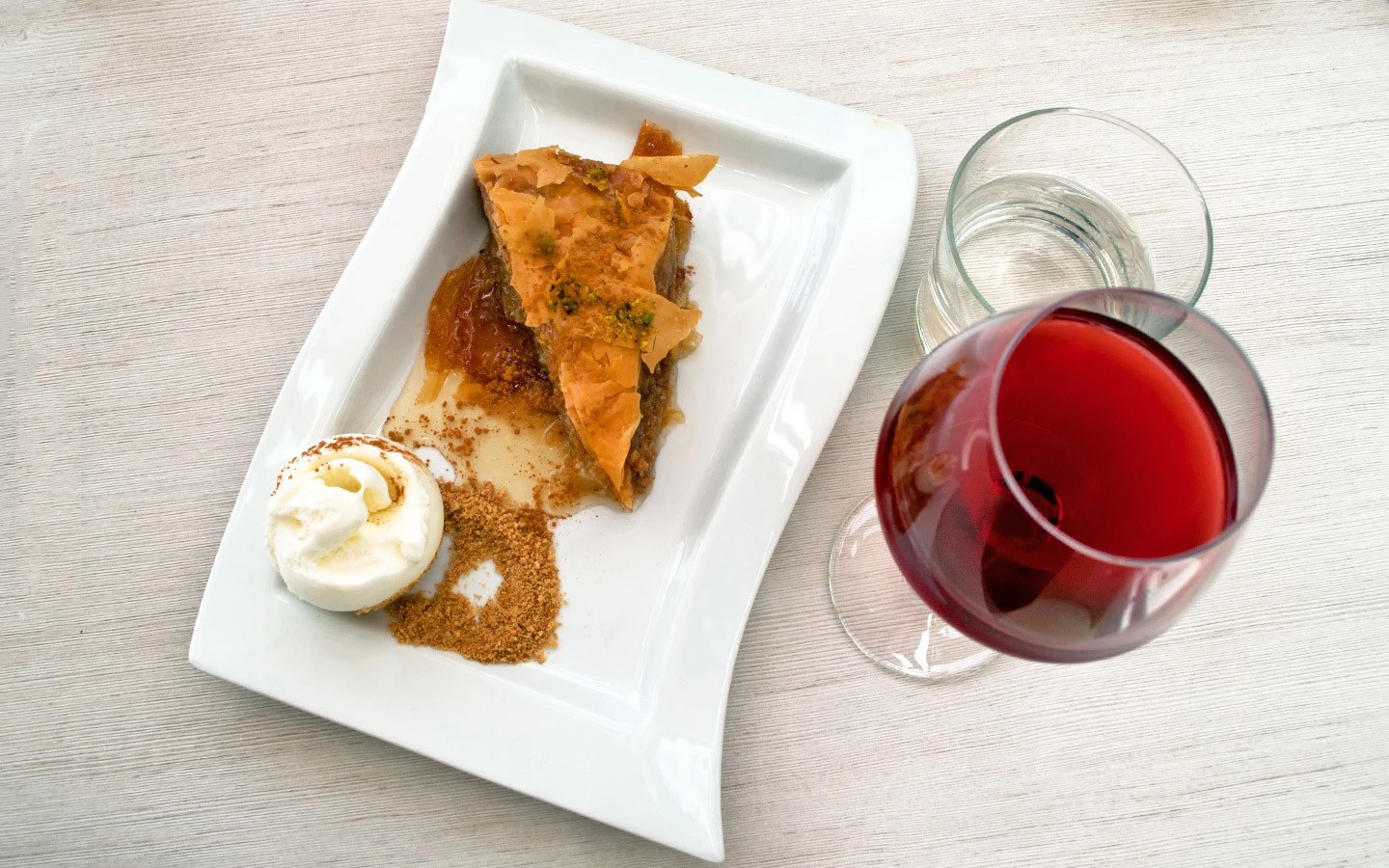 Try some local wine (or beer)
Wine has been grown on Santorini for over 3000 years. You won't see the traditional rows of vines here though. Instead the vines are grown coiled up in a dip in the black volcanic soil to protect them from the wind and heat. You'll find whites made from local grape varieties like Assyrtiko, Athiri and Aisani, as well as rosés and red wines.
Most wineries are in the south of the island, but just outside Fira is Santos Winery where you can do a tour and tasting on their caldera view terrace.
Or if beer's more your thing, local craft brewers Santorini Brewing Company produce a range of beers, including their signature Crazy Donkey (a 6% IPA). You can find it for sale in Fira, or their brewery is three miles out of town where you can see the brewers in action.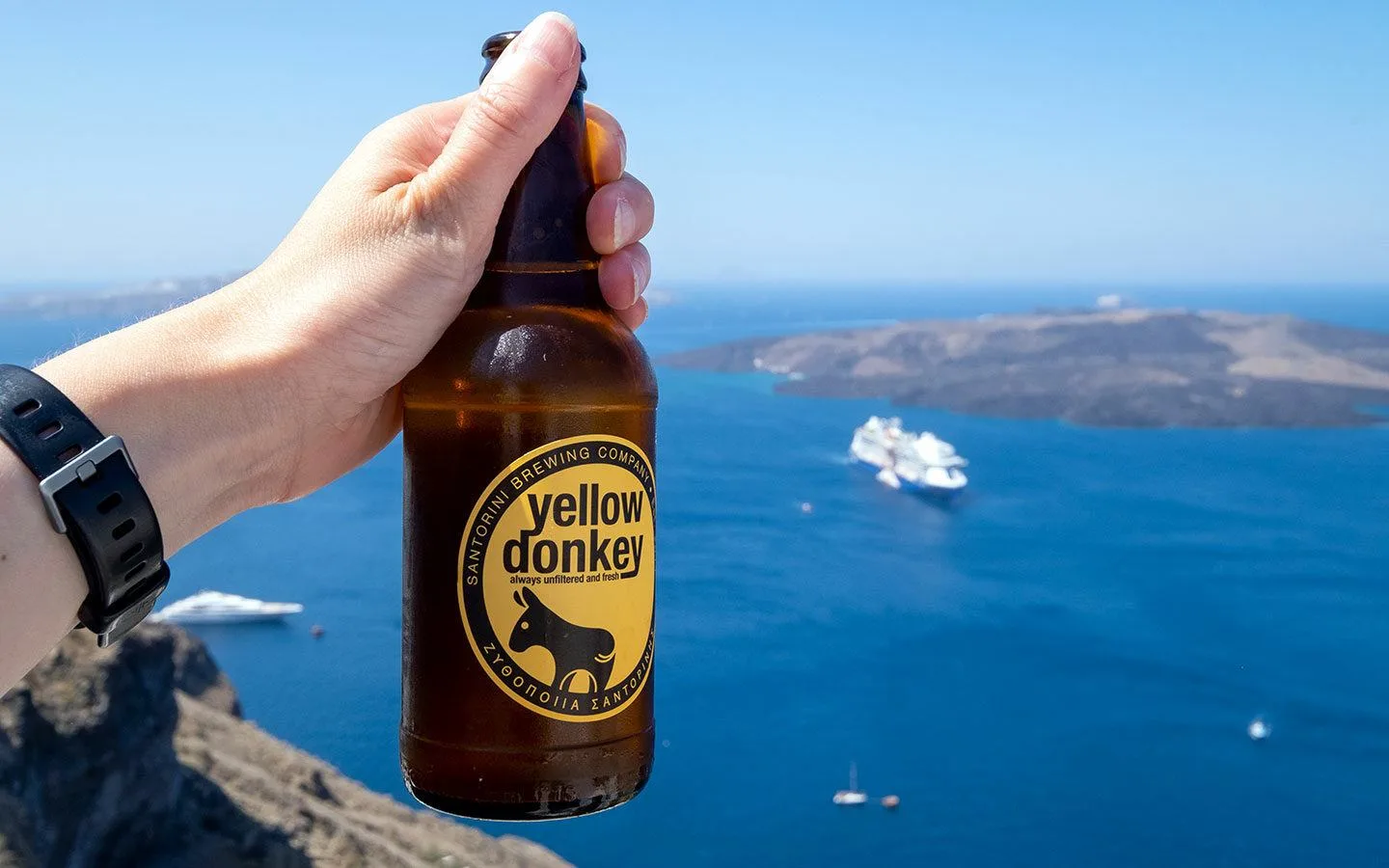 The details
When to visit Fira, Santorini
Santorini sees visitors year-round, but the busiest months are June to September when it's dry, sunny and the sea is at its warmest – average high temperatures range from 26–29°C (79–84°F). Spring and autumn are cooler, quieter and cheaper. April, May, October and November are best for sightseeing, but prepare for the odd grey or rainy day.
Winter is the quietest time to visit Santorini, though there is a still a decent selection of hotels and restaurants open in Fira. It never gets too cold, with daytime average highs of 14°C/57°F and lows of 10°C/50°F. December and January are the rainiest months though – and it's even been known for there to be a few snow showers on Santorini.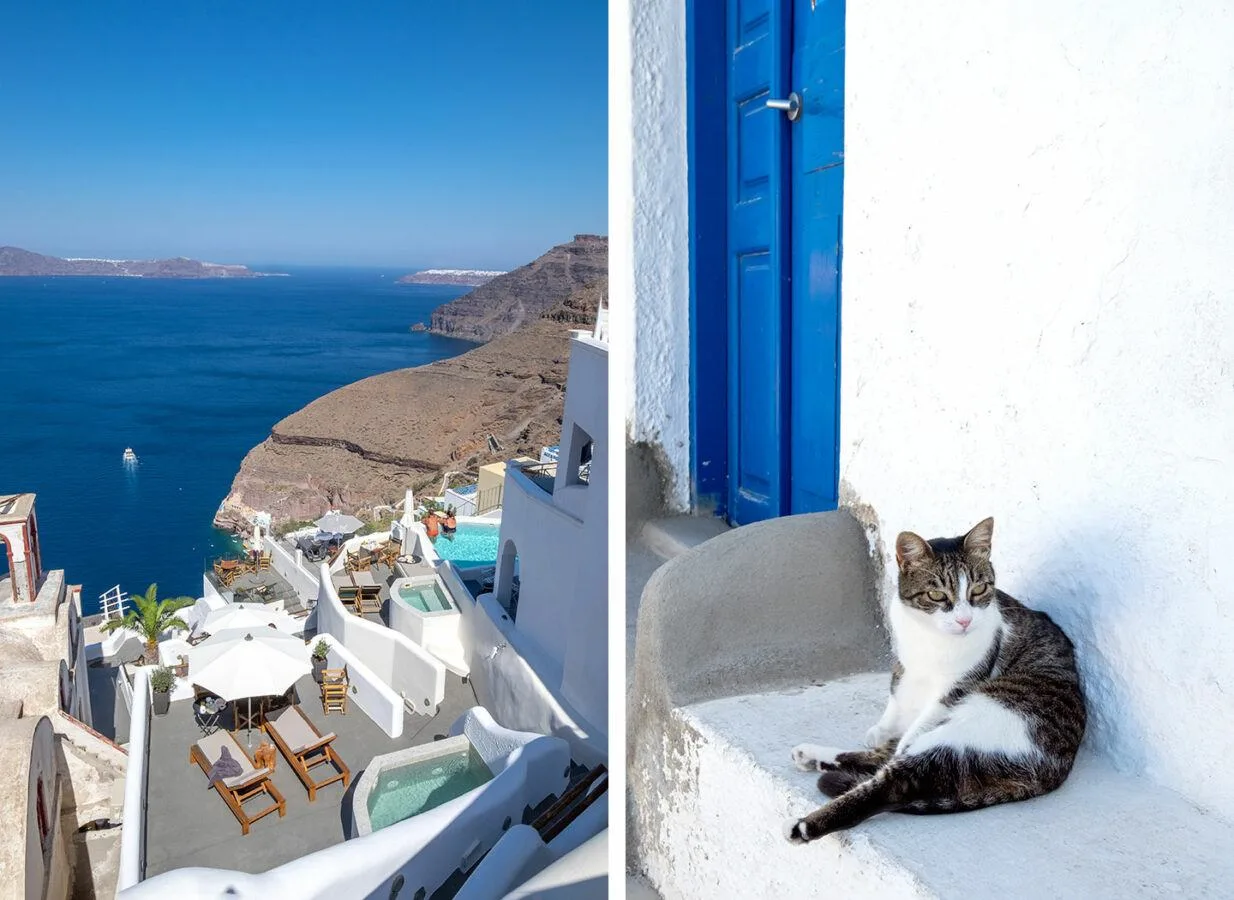 How to get to Fira, Santorini
Santorini is one of the Cyclades islands, located to the southeast of mainland Greece. You can reach the island by plane or by boat. Santorini has an international airport with flights from various destinations around Europe, or you can fly to Athens and connect onto a local flight to Santorini from there, which takes just under an hour.
From the airport you can catch a local bus to Fira, which takes around 20–25 minutes and costs €1.80 one way. Buses run once an hour in summer and less often off-season.
There are also a limited number of taxis which cost around €25 from the airport – agree the fare in advance though as most don't use their meters. Or you can pre-book a transfer from the airport to your hotel with an English-speaking driver through Welcome Pickups.*
You can also reach Santorini by ferry* from Athens' Piraeus Port in around 5 hours on a high-speed catamaran or 8 hours on a regular ferry. Santorini also has ferry links to other Greek islands like Mykonos, Crete, Ios, Paros, Naxos and Rhodes, though frequencies vary.
Santorini's port is at Athinios, 8km from Fira, which you can reach by bus in around 20 minutes for €2.30, or you can take a taxi or pre-book a transfer to your hotel.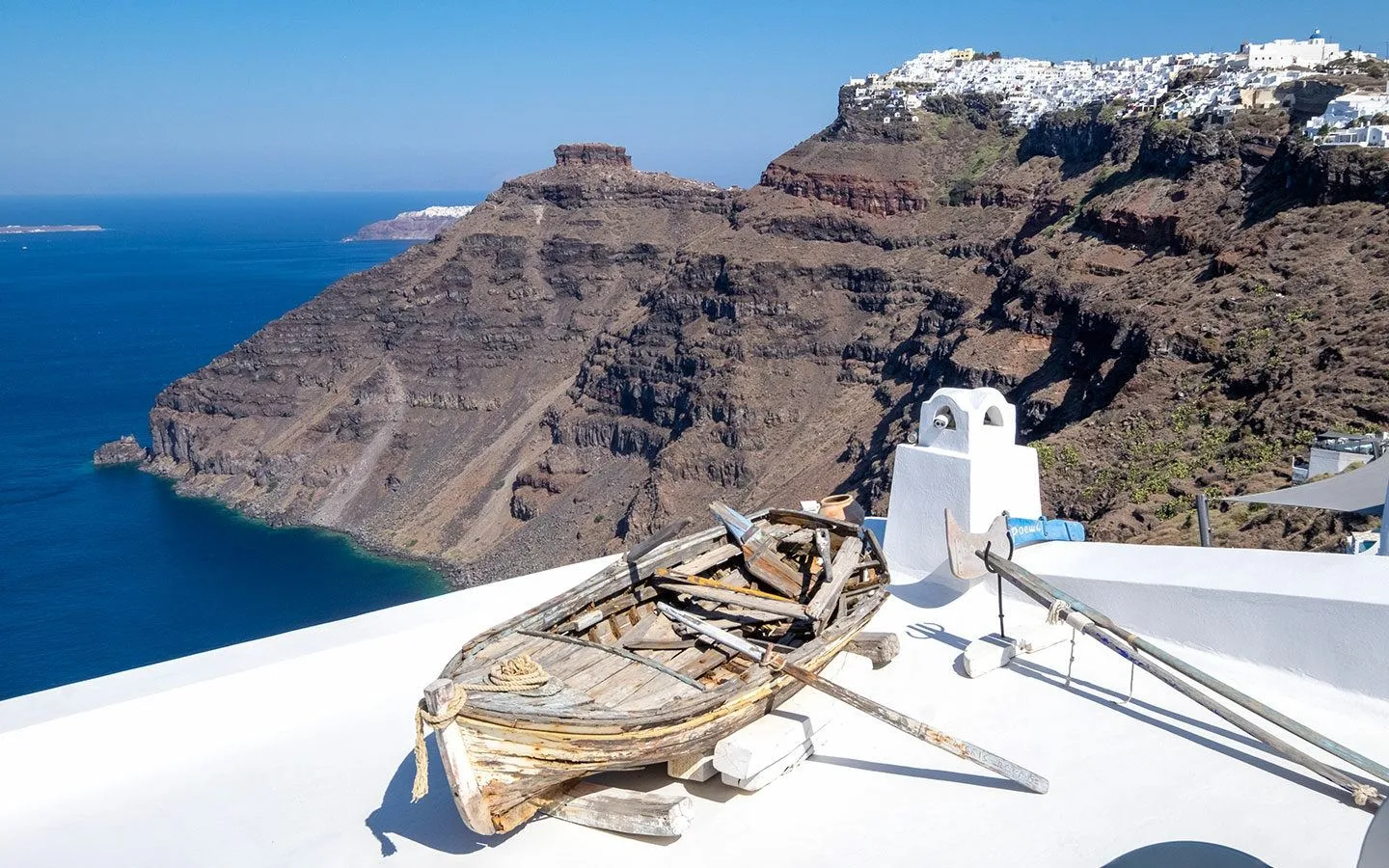 Where to stay in Fira, Santorini
Fira has the best selection of places to stay in Santorini, and if budget allows, it's worth staying somewhere with a caldera view to make the most of those fantastic sunsets.
The Aroma Suites* are just 100 metres from the cathedral along a quiet alleyway, and have a roof terrace overlooking a domed church. There are a mix of standard and sea view rooms, cave suites and two private villas, one of which has its own outdoor jacuzzi.
Or the Cosmopolitan Suites* are a favourite for a romantic break with their wow-factor infinity pool looking out over the caldera. It's one of the Small Luxury Hotels of the World group, with just 10 individually designed rooms, many of which have verandas or balconies, and is just a few minutes' walk from restaurants, bars and the cable car.
Save for later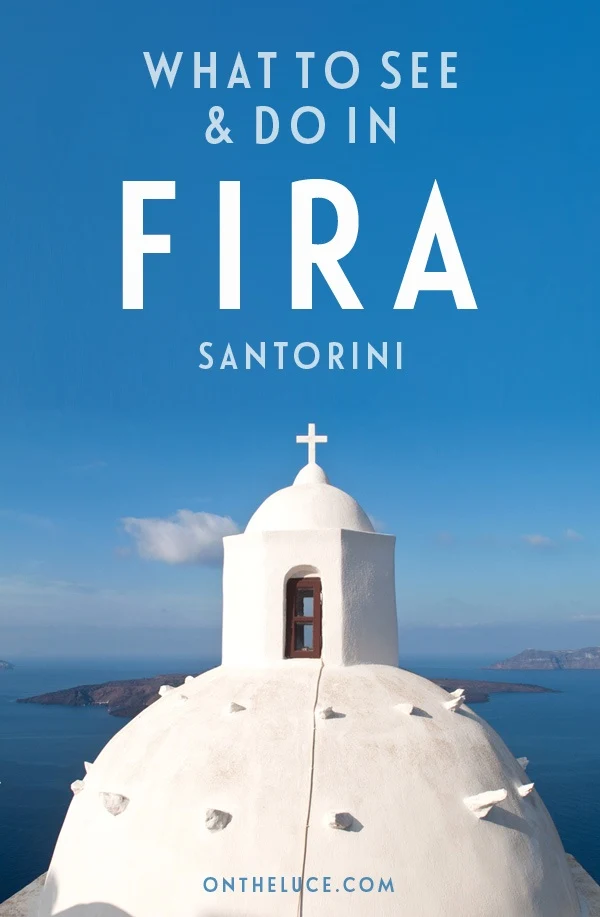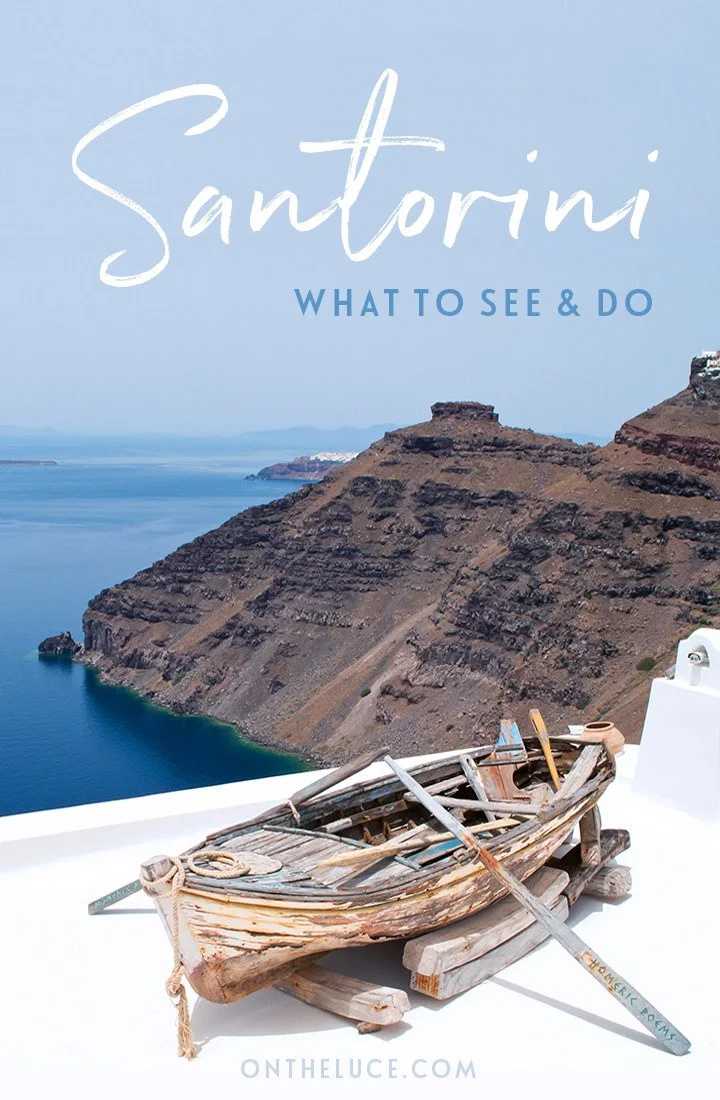 You might also like