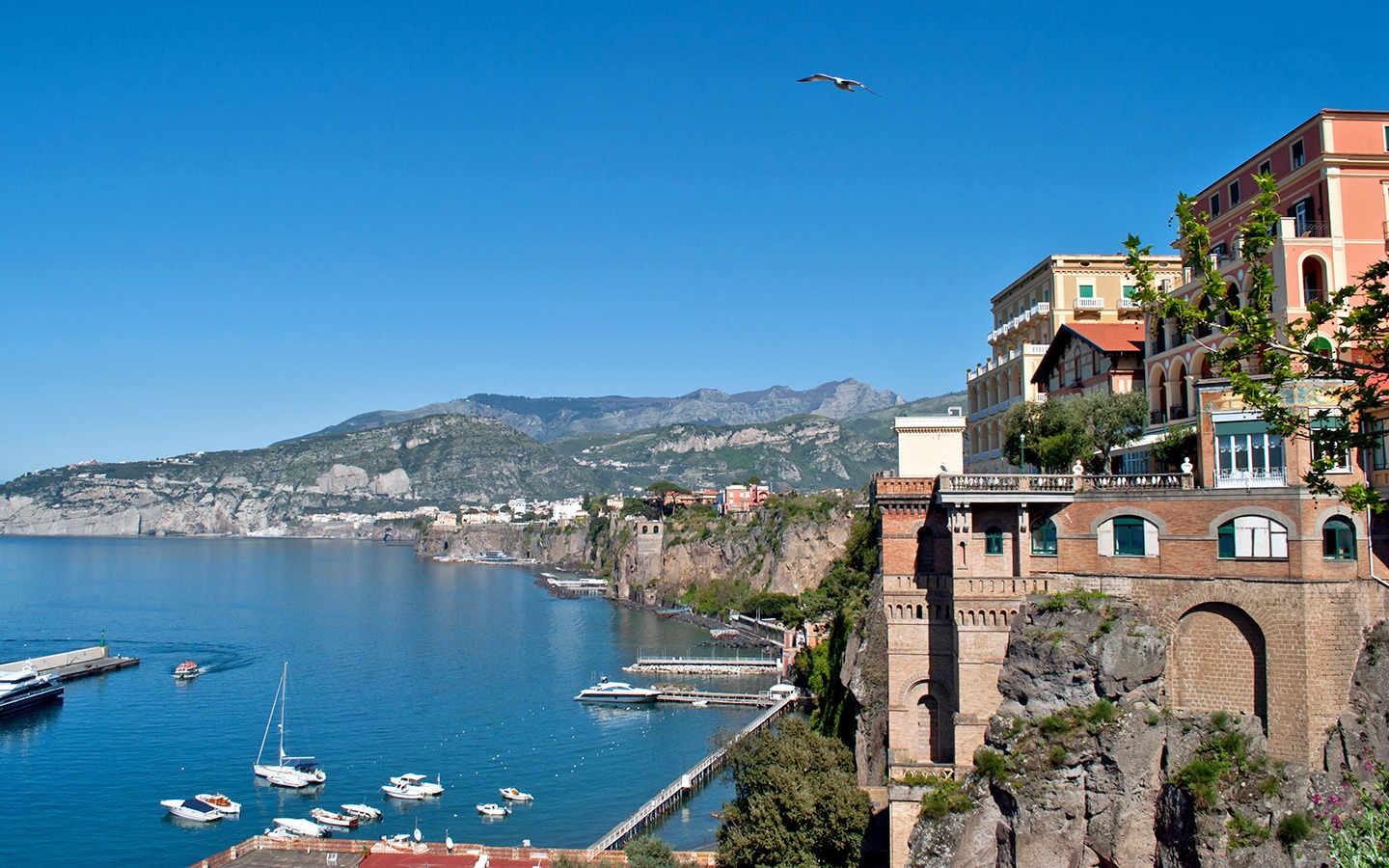 In Greek mythology, Sorrento was home to the sirens, who lured passing sailors onto the rocks with their beautiful songs. And it still pulls in the visitors today – though now it's the panoramic views, sunshine, fantastic food and laid-back atmosphere that do the luring. When I first visited Sorrento a few years back, I fell in love and couldn't wait to go back, and I'm not alone. It's one of the most popular holiday spot on the Neapolitan Riviera, so you can't exactly call it an undiscovered gem. But although Sorrento might be a bit touristy in spots, you can't help being charmed by this coastal town. So here are my favourite things to do in Sorrento.
Read more: Eight of the best day trips from Sorrento
The best things to do in Sorrento, Italy
Wander the backstreets
Sorrento's centro storico (historic centre) is a maze of narrow streets which run back from the cliffside – they're supposedly pedestrianised but don't be surprised if you see someone trying to squeeze a car down there. These medieval alleyways twist and turn past trattorias, bars and shops, so throw away the map, take a walk and see what you can discover in the town's backstreets – whether it's a hidden church, flower-filled garden or fantastic gelateria.
As well as the usual tourist shops there's also an artisan district in Sorrento where you can buy local crafts from workshops which make lace, leather or intarsia – a special type of inlaid wood carvings. To find out more about the wood-carving and see some impressive examples, visit the Museo Bottega della Tarsia Lignea in an 18th century palazzo.
Take a dip in the bay
With its steep cliffs, Sorrento doesn't have a beach as such, but along the waterfront there are piers jutting out into the sea where you can swim or sunbathe in summer. Most are owned by hotels or restaurants so you might have to buy a drink or hire a deckchair to bag a prime spot. But there are a few patches of sand in between where you can dip your feet in the Bay of Naples.
Otherwise if you walk around the headland you'll find a sandier stretch of beach in the quieter bay at pretty  Marina Grande. It's a picturesque spot with a fishing harbour lined with pastel-coloured houses and waterfront restaurants. To get down to Sorrento's seafront there's a road down to the harbour from Piazza Tasso, and if you don't fancy the climb back up then there's a lift cut into the rocks to carry you back up to the top for €1.
Catch a Sorrento sunset
Sorrento's cliffside setting is one of its biggest charms, and watching sunset is one of the best things to do in Sorrento. When the sun goes down, the bustle of Sorrentine life stops as people gather along the cliffs to watch the sky start to turn red and the sun dip into the sea. Head to the Villa Communale Park for the best views in Sorrento, looking across the bay towards Vesuvius. There's often a busker there to provide musical accompaniment as well as a small café.
Or if you prefer sunset with a glass of prosecco, head to the swanky Bellevue Sirene hotel. The hotel is built on the remains of a Roman villa and its five-star rooms will set you back €450. But non-guests can stop by for a taste of luxury on a budget with drinks in their terrace bar.
Feast on local produce
Food and drink are an important part of life in Sorrento. The volcanic soil in this part of Italy produces tasty produce like olives, tomatoes, peaches, cherries and oranges. These are used in delicious simple dishes like caprese salad with ripe tomatoes, basil and buffalo mozzarella, wafer-thin pizzas, spaghetti vongole with clams, and Delizia al Limone – cream-covered lemon cakes.
Some of my favourite places to eat in Sorrento were L'Antica Trattoria for a sophisticated take on local specialities, Inn Bufalito for fantastic mozzarella dishes and Cafè Latino for its great wine list and candlelit garden of lemon and orange trees. And don't forget ice cream – there are gelateria scattered across town or you can learn to make your own gelato at Gelateria Davide.
Sip a limoncello
Lemons are big business in Sorrento. They grow in pots or gardens wherever there's space as well as in huge netted orchards on the outskirts. There's even a local variety of giant lemons which are the size of a grapefruit. Thes lemons are made into soaps and bath oils, but their most famous use is in limoncello liqueur, whose bright yellow bottles fill the shops in Sorrento.
Limoncello is made by soaking lemon peel in alcohol. It's usually served chilled as a digestif after dinner, and at about 32% alcohol it has a bit of a kick. If the real deal is a bit strong for you, you can also find a gentler limoncello-flavoured gelato to give you the taste without the alcohol.
Take a day trip
The Bay of Naples has so much to see, and Sorrento's prime location right in the middle of it all make it a great place to get out and explore the region on day trips. To the north there are the archaeological sites at the buried Roman cities of Pompeii and Herculaneum, or you can climb up to the crater of Mount Vesuvius – the volcano which destroyed them.
To the east is the spectacular Amalfi Coast, with its dramatic cliff-hugging coast road. Though the driving here's pretty scary so it's a good idea to take a tour or catch the ferry from Sorrento to Amalfi or Positano if you're not confident on the roads. You can also head across the across the bay to the glamorous islands of Capri and Ischia. Or you could even charter a boat to explore some of the hidden coves that are nestled beneath Sorrento's cliffs.
Pin it
This article contains affiliate links, where I get a small commission at no extra cost to you, thanks.