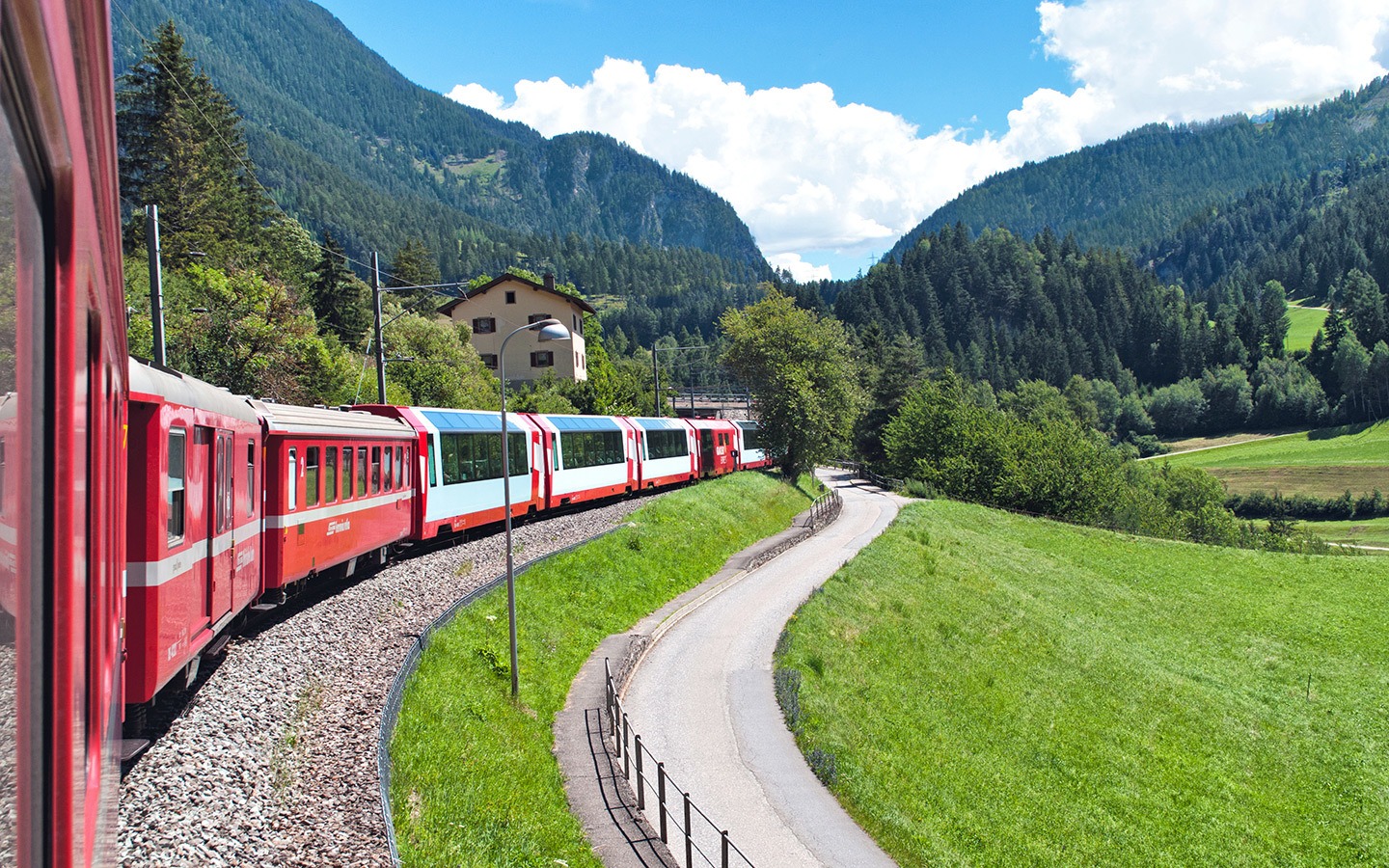 A Swiss scenic train journey means a procession of lakes, snow-capped mountains, dramatic gorges, Alpine meadows and pretty villages, all seen from the comfort of your train carriage seat. But along with its reputation for stunning scenery, Switzerland also has an equally well-deserved reputation for being one of Europe's most expensive countries to visit.
Two of the country's scenic train journeys – the Bernina Express and Glacier Express – travel through Switzerland's finest scenery in special tourist trains with glass-walled observation carriages. But they're also both run by local train companies and travel the same lines as regular services. So when I was planning a European rail trip I looked into whether the special trains were worth the price or could you do it cheaper yourself – and if so was it worth the hassle?
Read more: Jungfrau Railways: Switzerland's scenic mountain trains
The Bernina Express
The real version… The Bernina Express runs between Chur to Tirano, just over the border from Switzerland in northern Italy. The train journey takes around four hours and crosses 196 bridges, goes through 55 tunnels and passes 20 of the most beautiful villages in Switzerland.
The route starts at the historic city of Chur and follows the River Plessur past a series of hilltop castles. It then crosses the spectacular Landwasser Viaduct – which curves around in a semicircle so you get a great view of the train as it travels over – and passes through the Landwasser tunnel into the Engadin valley, home to the St Moritz ski resort.
From St Moritz it changes onto the Bernina Line and climbs up into the Upper Engadin, with views over to the Morteratsch Glacier, right up to the highest point 2253 metres up at Ospizio Bernina. From there it descends 2000 metres back down to Tirano where the route finishes.
If you want to travel on into Italy then there's a connecting bus from Tirano and Lugano or you can catch a regional train to Milan. Tickets for the Bernina Express between Chur and Tirano cost 63 CHF (£49/€58/$65) one way in second class or 111 CHF (£87/€102/$114) in first class, which has bigger windows and wider seats. This is for an open ticket valid on any train.
There's also a compulsory seat reservation fee of 16 CHF in summer or 10 CHF in winter. So a summer ticket will cost a minimum of 69 CHF (£54/€63/$71) in total. Swiss Passes, Interail and Eurail passes are all valid on this route, but you'll need to pay the reservation fee.
The DIY alternative… It's easy to do the Bernina Express route on normal local trains, and although you don't get the panoramic carriages, instead you can open the train windows which is much better for taking photos. It does normally involve a couple of changes along the way though, but Swiss trains are very reliable and the stations are tiny so they aren't too difficult.
The first change is at Samedan, which is near St Moritz and almost two hours from Chur. Then it's a short seven minute journey from Samedan to Pontresina where you change onto the train to Tirano. The whole journey takes about four hours and 20 minutes.
A supersaver ticket from Chur to Tirano costs around 50 CHF (£39/€46/$51). You can book tickets on the Swiss Railways website, though double check the routing as some include a bus and some use the Bernina Express trains (marked PR), so are more expensive and subject to a seat reservation fee. Swiss Passes, Interail and Eurail passes are all valid on this route.
The Glacier Express
The real version… The Glacier Express is known as the 'world's slowest express' and takes almost eight hours to travel the 180 miles between the Swiss ski resorts of Zermatt and St Moritz. The journey starts beneath the Matterhorn in Zermatt, then descends over 1200 metres to the towns of Brig and Visp using a cogwheel railway to work its way down the steep slope.
It then follows the Rhone Valley to Andermatt and then climbs up to the windswept Oberalp Pass, the highest point of the line at 2033 metres up. Next it descends again to Distenis, where you change from the Matterhorn Gotthard Bahn to the Rhätische Bahn. From Distenis the train travels through the steep Rhine Gorge and from Chur it follows the same route as the Bernina Express – crossing the spectacular Landwasser Viaduct on its way to St Moritz.
Tickets for the Glacier Express from Zermatt to St Moritz cost 152 CHF (£119/€140/$156) one way in second class or 268 CHF (£210/€248/$275) one way in first class. Both have panoramic windows and you can order meals and drinks at your seat. There's also a compulsory seat reservation fee of 43 CHF in summer, 33 CHF in spring/autumn or 23 CHF in winter.
So a summer ticket cost a minimum of 195 CHF (£153/€168/$195) in total. Swiss Passes, Interail and Eurail passes are all valid on this route, but you'll need to pay the reservation fee.
The DIY alternative… As with the Bernina Express, there are also local trains running all the way along the route of the Glacier Express. But this one does involve a few more changes – though again small stations and reliable trains stop it being too complicated. The whole journey takes just over eight hours, so is only 20 minutes slower than the Glacier Express.
You need to do four changes along the way though – at Visp, Andermatt, Disentis/Mustér and Reichenau-Tamins (just outside Chur). A saver day pass ticket from Zermatt to St Moritz costs around 70 CHF (£55/€165/$72). You can book tickets on the Swiss Railways website.
Make sure to add 'via Andermatt' when you search as otherwise you'll get taken on the quicker but less scenic route via Zürich instead. Some use Glacier Express trains (marked GEX) so are subject to seat reservation fees. Swiss Passes, Interail and Eurail passes are all valid on this route.
The verdict
As you can see, the DIY versions do save you money – particularly for the Glacier Express where it can be almost a third of the price if you book local trains in advance. Though the changes en route do make it more hassle. But where the local trains really come into their own is if you don't want to take the whole journey in one go. If you want to break up your trip on the Bernina or Glacier Express, you have to pay an additional seat reservation fee for each section.
On the local trains you can break the journey up as much as you like – stop off for a night or do some walking between one station and the next before continuing on the train. Often the train fares aren't much cheaper in advance so you can be flexible and buy them at the station.
If you want to take one of the scenic routes as part of a longer journey and are travelling on to (or coming from) another European country, you may also be able to save money by booking with their train company instead of Swiss Railways (try OBB for Austria, Trenitalia for Italy or Deutsche Bahn for Germany). For example, the Seat61 website has a clever way to save money on the cost of the Bernina Express by booking a train from Singen – which is just across the border in Germany – to Tirano for €19.90, with children under 15 going free.
With limited time in Switzerland, we chose a relatively short section from Chur to St Moritz for our first Swiss scenic train experience. This spectacular stretch is part of both Glacier and Bernina Express routes and is short enough to do a return trip in one day, or to add on as a diversion to longer rail journey. It takes two hours without changes and costs 34 CHF (£27/€31/$35) one way – so you can get a DIY taste of Swiss scenic trains on a budget.
Pin it
This article contains affiliate links, where I get a small commission at no extra cost to you, thanks.