Discover the best things to do in Como, the city at the southern tip of beautiful Lake Como in Italy, from scenic viewpoints and glamorous villas to waterfront walks and boat trips on the lake.
* This site contains affiliate links, where I get a small commission from purchases at no extra cost to you.
Lake Como epitomises La Dolce Vita – conjuring up images of 1950s film stars speeding across its sparkling waters on motorboats or zipping through narrow streets on a Vespa. This famous lake lies to the north of Milan, where Italy meets Switzerland.
In the summer it's overrun by crowds of second-homeowners and day-trippers from Milan, but in spring and autumn things are more peaceful. The city of Como is often used as a stepping stone to luxury hotspots like Bellagio and Varenna, but it's got plenty of charm of its own – as well as lower prices. So here's my pick of the best things to do in Como.
The best things to do in Como, Italy
Ride the funicular railway
For the best views of Lake Como, head into the hills above Como city to the village of Brunate on board the funicular railway, which has been running since 1894. The climb to the top starts from an unassuming wooden building alongside the lake in Piazza Alcide de Gasperi. Trains run every 30 minutes and cost €3.10 one way/€5.70 return, and the journey only takes seven minutes, with the two trains passing halfway.
The funicular's gradient is as steep as you can get at 55°, with the red roofs of Como and the blue of the lake spreading out in front of you as you rise up. If you can tear your eyes away from the lake, look out for muntjac deer among the trees next to the tracks.
Brunate is a holiday resort for well-heeled Milanese who built smart Art Nouveau villas looking out over the lake. It's nicknamed the 'balcony of the Alps' and has a few cafés and restaurants where you can take in the panoramic views as well as churches to explore.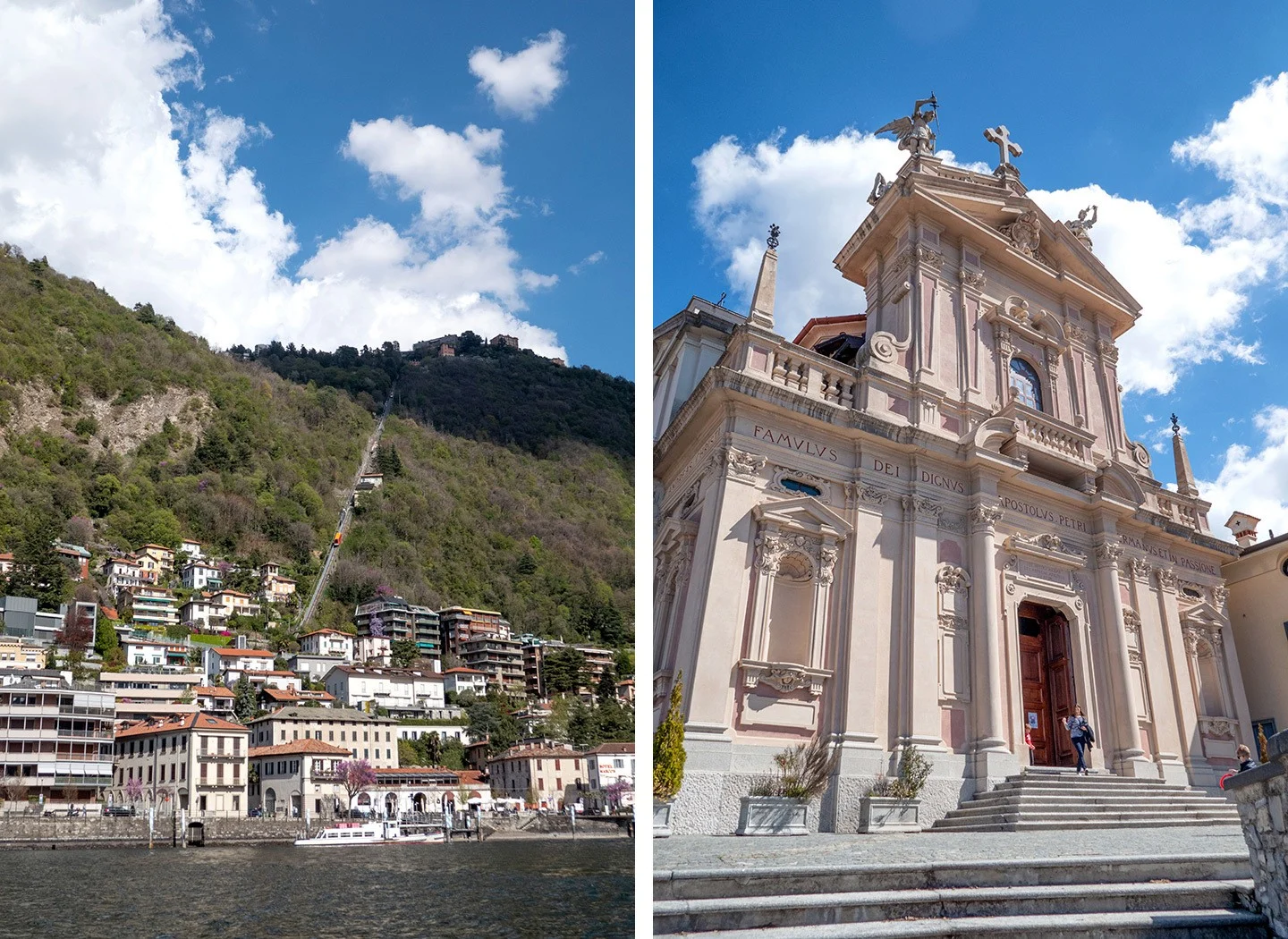 See the views from Volta's lighthouse
There's a network of walking paths from Brunate, including a 6km mule path which takes you down to Torno on the lakeside. But we decided 700 metres wasn't quite high enough, so we headed on up towards the Faro Voltiano – Volta's Lighthouse.
The lighthouse is named after physicist Alessandro Volta who lived in Brunate, and was built in 1927 to mark the centenary of his death. The route to the top took us 30 minutes, running through Brunate's narrow streets and on up a rocky path to the lighthouse.
From the top you get a view over the lake from a different angle, looking down at the towns of Chiasso and Cernobbio, and over the border into neighbouring Switzerland.
Set sail on Lake Como
The lake is the hub of life in Como, with a constant streams of boats – from vintage cruisers to car ferries – and seaplanes. Lake Como is Italy's third largest lake, 50km from one end to the other and shaped like a wishbone, with Como city at the bottom of the left fork, and a string of towns, villages, opulent palazzos and gardens along the lakefront.
A boat trip on the lake is one of the top things to do in Como, with lots of different options to choose from. We took a one-hour trip around the Basin of Como which calls at Cernobbio, Moltrasio and Torno (€7.60 non-stop or €8.90 for a hop-on, hop-off day ticket).
With the sun shining and the breeze fluttering the flag behind us, it was a relaxing way to soak up the views, with villages spilling down from the hills to the water's edge.
Ferries run from Como to Colico at the top of the lake, calling at towns like Bellagio, Varenna and Mennagio. You can also take boat trips to Villa Carlotta's art museum or Piona's Cistercian Abbey, or a day tour* which takes in Lugano in Switzerland.
Or if you want to channel Sophia Loren, hire a classic wooden speedboat and captain for a spin around the lake – headscarf, giant sunglasses and bottle of Prosecco a must. Speedboats, alongside more affordable self-drive motorboats, are available to hire through SamBoat*, a boat rental platform which connects you to local boat owners in Como.
Having your own boat means you can go wherever you like, and take a closer look at villas with famous owners or a film star past, including the grand Villa del Balbianello which has featured in films like Casino Royale and Star Wars: Attack of the Clones.
Explore Como's old town
There's more to Como than just the lake, and the heart of the city's centro storico (historic centre) stretches back from the waterfront. Where a lot of Lake Como's towns and villages look like they come straight from a postcard, Como city feels more like a 'real' place with locals shopping and downing espressos in its pavement cafés.
Most of it is pedestrianised so it's easy to wander through its medieval squares, cobbled passages and churches, with some of the original city walls and gates still standing.
The giant dome of the Duomo di Como dominates the city's skyline. This cathedral, dedicated to the Virgin Mary, took from 1396 to 1740 to build so it mixes different architectural styles. Head inside to take a look at its rose window, paintings and tapestries – and don't forget to look up to where the ceiling is decorated with blue and gold.
Learn more at Como's museums
Find out more about Como's history, archaeology and art at its museums – one of the best things to do in Como on a rainy day. The Como Archaeological Museum has artefacts from Prehistory to the Middle Ages found around the lake. And the Museo Storico Giuseppe Garibaldi focuses on the period of the 19th century reunification of Italy.
There's also the Pinacoteca Civica for paintings and sculptures from the Middle Ages to contemporary, housed in 17th-century Palazzo Volpi. And Como is famous for its silk, with a museum about silk-making called the Museo della Seta where you can learn how it's made, as well as having locally made fabrics for sale to help fund the museum.
Walk the waterfront
Join the locals for a promenade along the lakefront walkway – there's a steady stream from pram-pushing mums in the morning to elderly gents putting the world to rights before their evening aperitivo. Head west from Piazza Cavour past rows of boats to the Tempio Voltiano, a Greek-style temple that's another memorial to Alessandro Volta.
It houses a museum about his life and work, with the instruments he used to create the first electric battery. Just before the temple, a narrow pier juts out into the harbour with a Volta-inspired steel sculpture called Life Electric at the end of it, designed by architect Daniel Libeskind to look like voltage flowing between two poles of a battery.
Back on the waterfront you can watch the seaplanes coming into land at the Como Aero Club before reaching the lavish yellow and white Villa Olmo. This neoclassical beauty was created by a Swiss architect at the end of the eighteenth century.
Now it's owned by the city and is used for exhibitions and events. But you can stroll through its gardens with their sculptures and fountains. From the villa it's about a mile back to central Como. Or if you want to to carry on walking it's another 30 minutes to Cernobbio, where you can catch the boat back to Como if you don't fancy the return walk.
Or head east from Piazza Cavour along the quieter path towards the water jet of the Como fountain. In summer there's a public beach with pool next to Villa Geno. It's just under a mile, and if you fancy a drink with a view on the way back, you can pick up a €4 takeaway Aperol Spritz from the funicular station and grab a bench by the lake.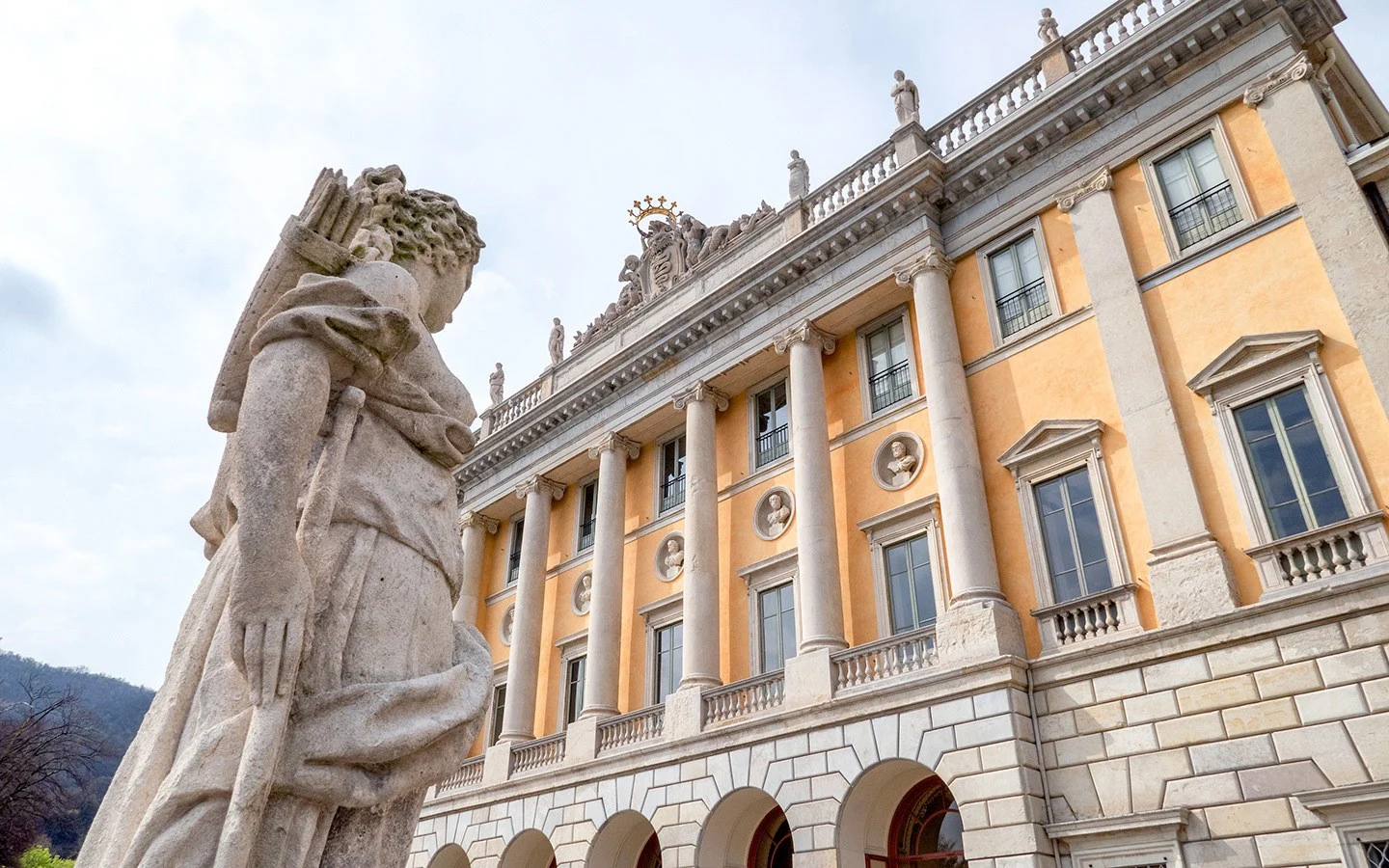 Eat local delicacies
Each region of Italy has its own local specialities, and Como is no exception. There's freshwater fish from the lake, like perch which is served with a creamy white risotto in a risotto con il pesce persico, and sun-dried lake shad (which are a bit like sardines). There are also polenta dishes, cassoela (pork stew) and cheese from the mountains.
If you want to try making them yourself, you can take a cookery class* at a local's home. Or our favourite places to eat in Como were La Vita è Bella on the waterfront for salads and seafood, and La Colombetta for traditional Italian dishes in romantic candlelight. And leave room for ice cream from Gelateria Lariana, where there's always a queue out of the door.
Take a day trip from Como
There are enough things to do in Como to fill a few days, but if you have more time, Milan is under an hour away – take the train from Como Lago station to Milan Cadorna where you can change onto the Metro to reach famous landmarks like the Duomo or Galleria Vittorio Emanuele II. Or just outside the station, Castello Sforzesco is a huge Renaissance citadel with a diverse group of museums, from musical instruments to archaeology.
Switzerland is even closer, and you can catch the train to Lugano in just over half an hour. Part of the Italian-speaking Ticino region, this lakeside city has a beach, boat trips and funicular railways to Monte San Salvatore and Monte Brè. Or you can visit Bellinzona with its hilltop castles. Though beware Swiss prices are a lot higher than in Italy.
The details
When to visit Como, Italy
Summer is peak season in the Italian lakes, with Italians abandoning the heat of the cities for the cooler lakes. High temperatures average 29°C (84°F) in July/August, with plenty of sunshine. Spring and summer have smaller crowds and lower prices and are still pleasantly warm, with highs of 17–23°C (63–73°F), though there can be a few showers.
Winter is quiet with a lot of businesses closing down for the season. But the influence of the lake means it never gets too cold, with midwinter daytime highs of 8°C (46°F), lows around freezing and occasional snowfalls on the hills around Brunate.
How to get to Como
Como is 50km/31 miles north of Milan. The region's roads can be crazy, especially at weekends, but Como is also easy to reach by train if you don't fancy tackling the traffic. It's an hour from Milano Central to Como's main station San Giovanni, or if you're travelling from Switzerland it's 35 minutes from Lugano or just under 3 hours from Zurich.
There's also the smaller Como Lago station which has trains to Milan's Cadorna station. The nearest airport to Como is Milan Malpensa, which has some direct trains to Como and others where you need to change at Milano Porta Garibaldi station.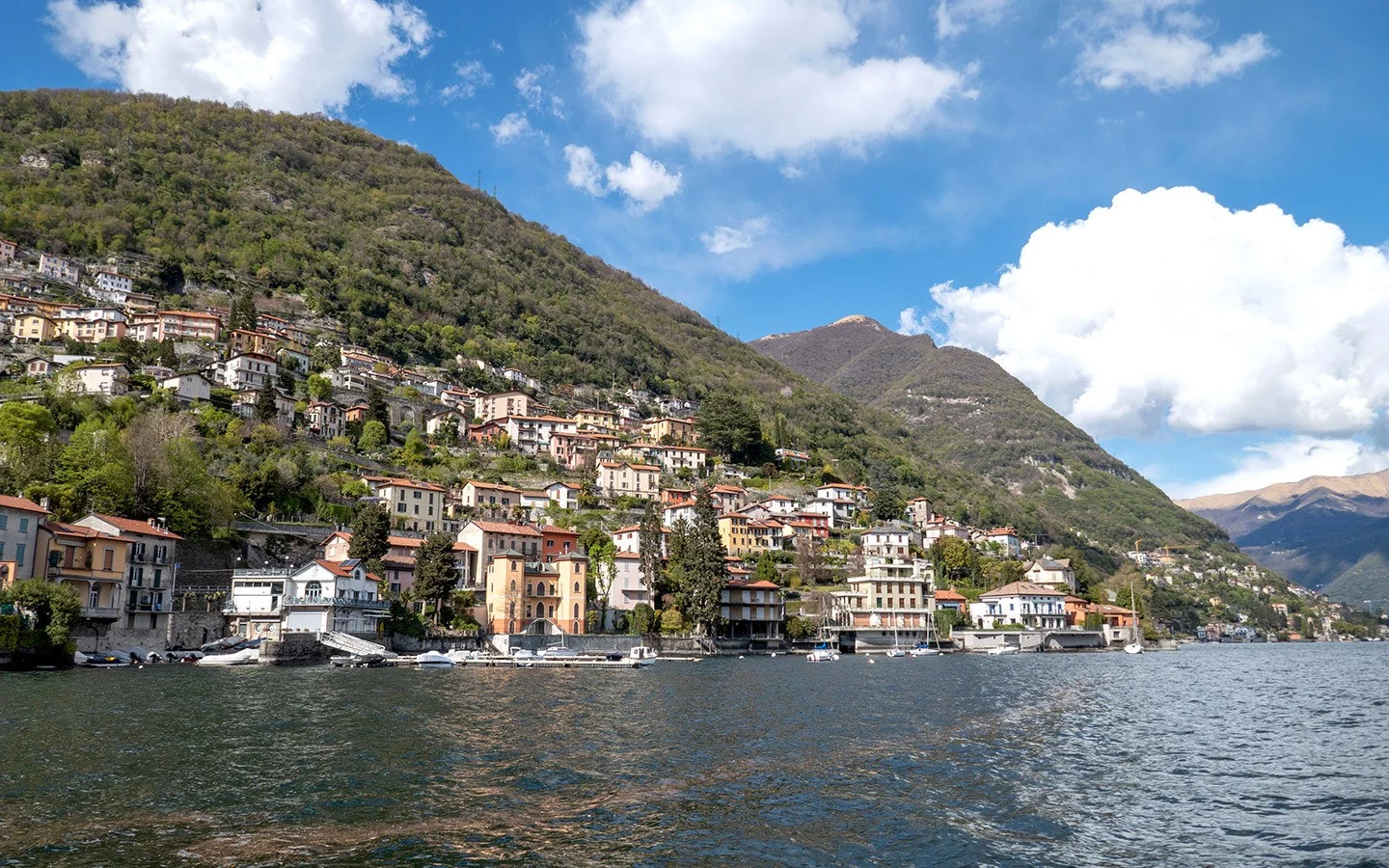 Where to stay in Como
There's a good selection of hotels, villas and apartments in and around Como city. We rented a one-bedroom apartment, a few minutes from the lake and close to Como Lago train station and the funicular. It's a light and spacious space decorated in neutral colours with original stone walls and a terrace perfect for evening drinks.
Or splash out on a stylish stay at the luxurious five-star VISTA Palazzo.* This converted 1800s palazzo-turned-boutique hotel overlooks the lake. Rooms come with marble bathrooms, some have balconies and there's a rooftop bar and restaurant.
Save for later
You might also like