Travel across Europe while you sleep on board these European night trains, a sustainable and good-value way to explore the continent, with seven great routes from the Arctic Circle to the Mediterranean.
* This site contains affiliate links, where I get a small commission from purchases at no extra cost to you.
AD: This post is brought to you in association with Omio
European night trains have seen a resurgence recently, with new routes opening up as an increasing number of people try to reduce their environmental impact and travel more slowly and sustainably by flying less. And they make a great alternative to flying, with no airport queues or sneaky extra fees for checking luggage or reserving a seat.
I've travelled by night train all over the world, and as well as being a good way to save on accommodation costs, sleepers are also an adventure in themselves. You can gaze out of the window watching the scenery go by, read a book and have a picnic. Then go to sleep on a proper flat bed and arrive into the city centre the next morning ready to explore.
So if you fancy trying out an overnight train journey, here are seven great European night trains to inspire you, taking you all the way from Sicily to Lapland. And we also share our tips for planning your trip and choosing accommodation on board.
A guide to sleeper train accommodation
Facilities vary from train to train, but in general there are three main types of accommodation on European night trains: sleeper compartments, couchettes and seats.
Sleeper compartments are the most comfortable – and expensive – option. These small cabins have three fold-down beds, with one above each other, but they're not always all used so can be set up as a single, double or triple room. The lower bed becomes a seat in the daytime and the beds are made up by your sleeper attendant at night.
Compartments have a washbasin, towels and toiletries. Toilets are usually at the end of the carriage, though some routes have en-suite compartments with toilets and showers.
Next up are the couchettes, which sleep either four or six people on more basic bunk beds. By day there are two benches which face each other and at night the bunks fold down from the wall. You're given a sheet, pillow and blanket so you can make your own bed at night, and there are shared bathrooms at the end of each carriage.
And the cheapest option are the seats. They usually recline with a bit more leg room than you would get on a regular train, but you can't lie flat and the lights often stay on all night so you're not likely to get a particularly good night's sleep. So if possible it's usually worth upgrading to a couchette or sleeper compartment for the night.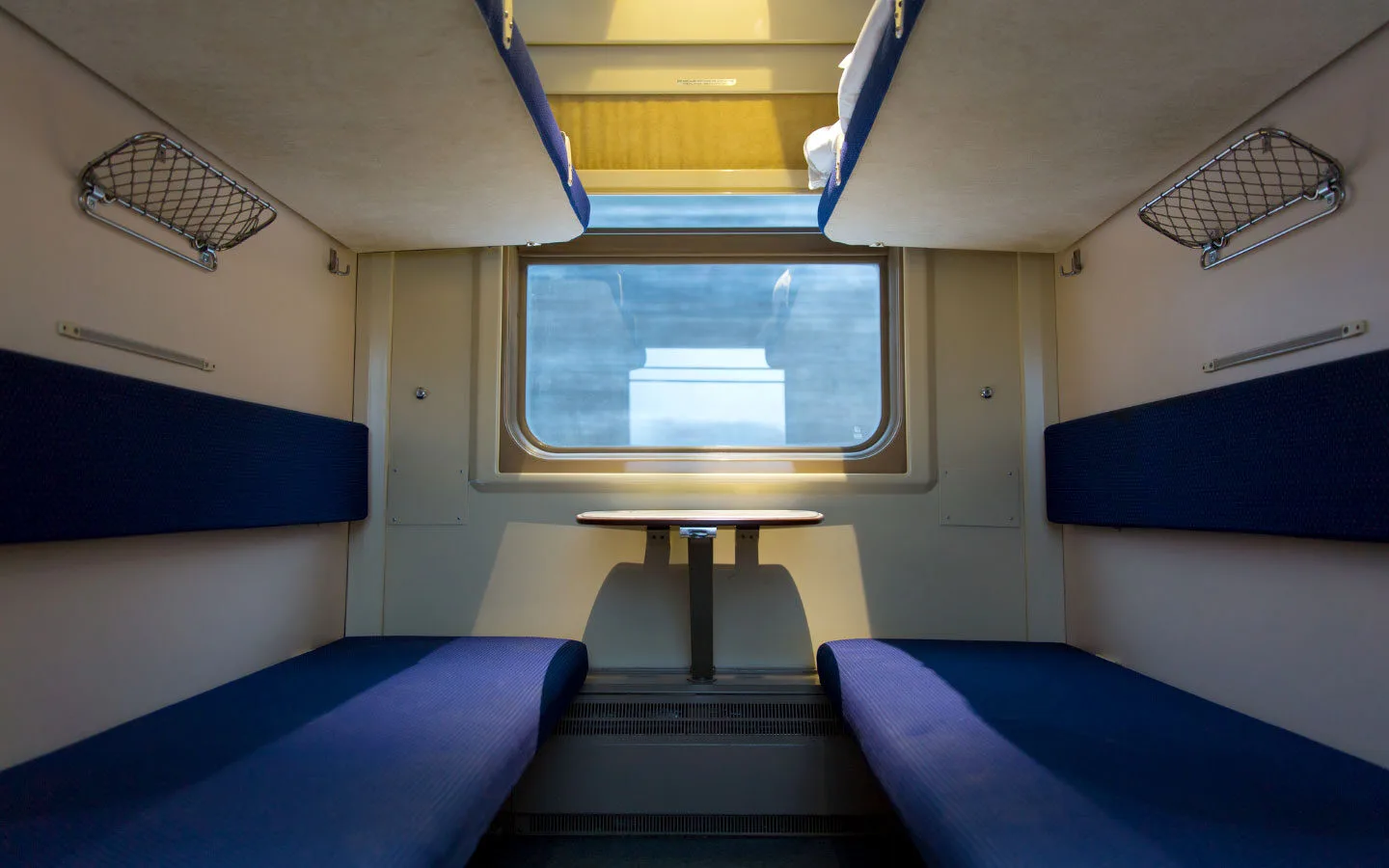 Sleeper train travel tips
Food and drink: Many European sleeper services have a café or dining car on board – but not all, so check in advance what's available and stock up on supplies of water, drinks and snacks before you get on board. Some sleeper fares include breakfast but it's usually something basic like coffee and a pastry so you may want to bring your own.
Sleeping: Sleeper trains can be quite noisy so ear plugs are useful – and an eye mask to block the light if you're in a seat. It's less common to be woken up to have your passport checked at borders now but does happen on some Eastern European routes.
Luggage: There are usually luggage racks in sleeper compartments where you can store your bags. But they're not always easy to get to in the night so it's a good idea to carry a smaller bag with overnight essentials and keep any valuables on you.
Sharing cabins: If you book a single berth in a sleeper compartment you will normally have to share a room with others of the same gender. But couchettes are usually mixed so you may have to share with a mix of men and women.
What to wear: Dress comfortably as you'll be spending a lot of time sitting around. Passengers in sleeper compartments usually change before bed, but those in couchettes don't usually get changed so wear something you can sleep in. And flip flops are useful for midnight trips to the bathroom if you don't have an en-suite.
On arrival: Most sleeper services arrive into their destination early in the morning, so if you want to head out exploring straight away you can often store your bags at your hotel before check in. There are also left luggage services at most most major train stations or you can use a service like Stasher to store bags in hotels or shops.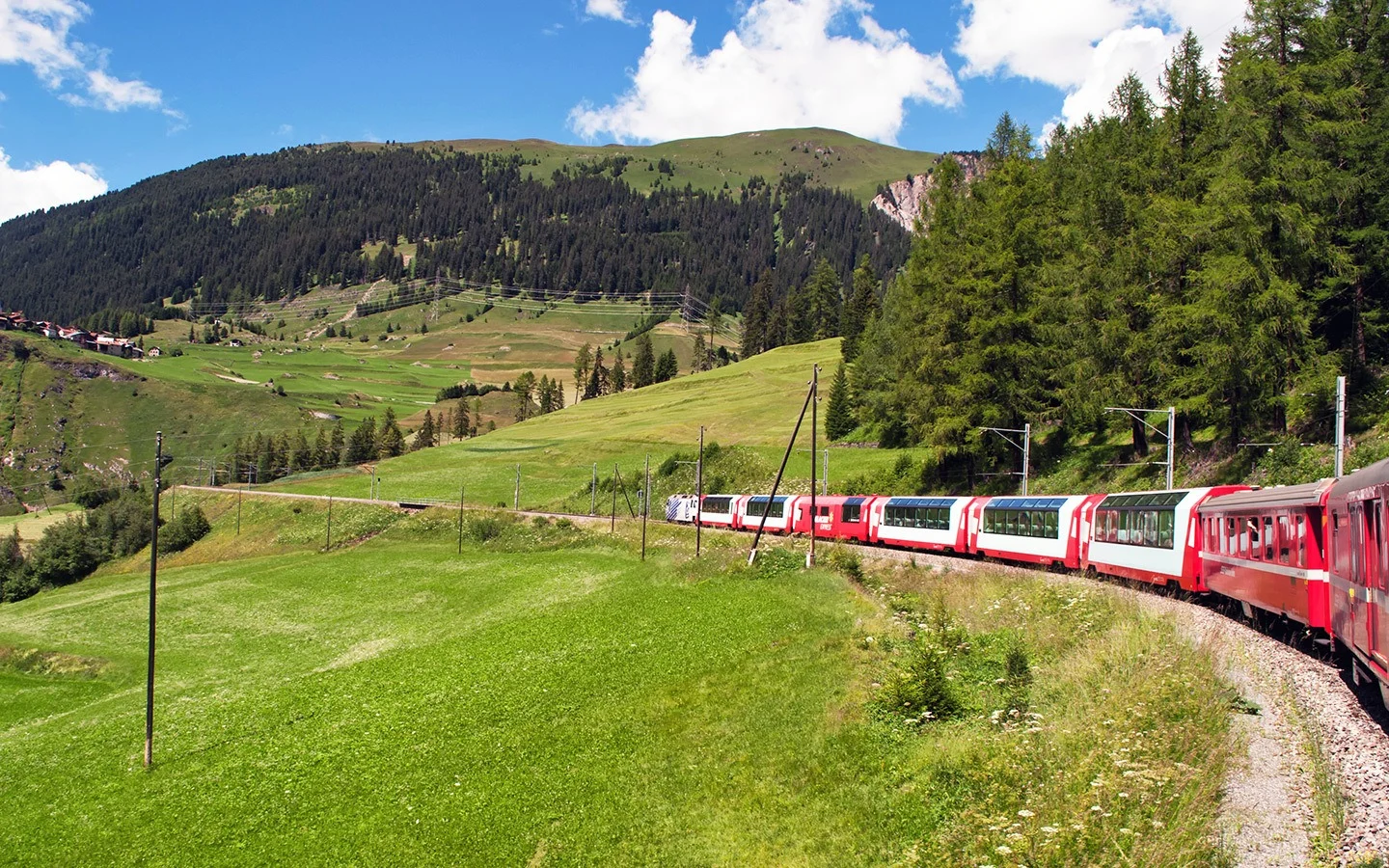 How to book night trains
You can book tickets for European night trains using the Omio app or website. Once you're booked, you can either download an electronic ticket and show it to the ticket inspector on your phone or print out a paper copy of your ticket. Most services go on sale six months in advance with airline-style pricing, so the cheapest tickets sell out first.
Seven great European night trains
1. The Caledonian Sleeper (London > Scotland)
Wake up to see the sun rise over the mountains, moors and lochs of the Scottish Highlands on board the Caledonian Sleeper. It's one of only two sleeper trains in the UK (the country's too small to fit in any more) which runs from London to Scotland every night except Saturdays on two different routes in recently upgraded, luxurious trains.
The Lowland Sleeper takes you to Edinburgh and Glasgow in 7.5 hours, leaving London just before midnight. Or for more chance to enjoy Scotland's spectacular scenery, the Highland Sleeper leaves London around 9.15pm and splits en route into three sections to reach Fort William (12.5 hours), Inverness (11.5 hours) and Aberdeen (10.5 hours).
On board you can choose from reclining seats or three types of cabins. Classic rooms sleep up to two in upper and lower bunks and have a sink with towels and toiletries. Club rooms are similar but with an en-suite shower and toilet and breakfast included.
Or you can splash out on a night in a Caledonian Double, an en-suite room with a double bed. Sleeper passengers can enjoy a traditional Scottish dinner of haggis, neeps and tatties with a whisky nightcap in the sociable lounge car before retiring for the night.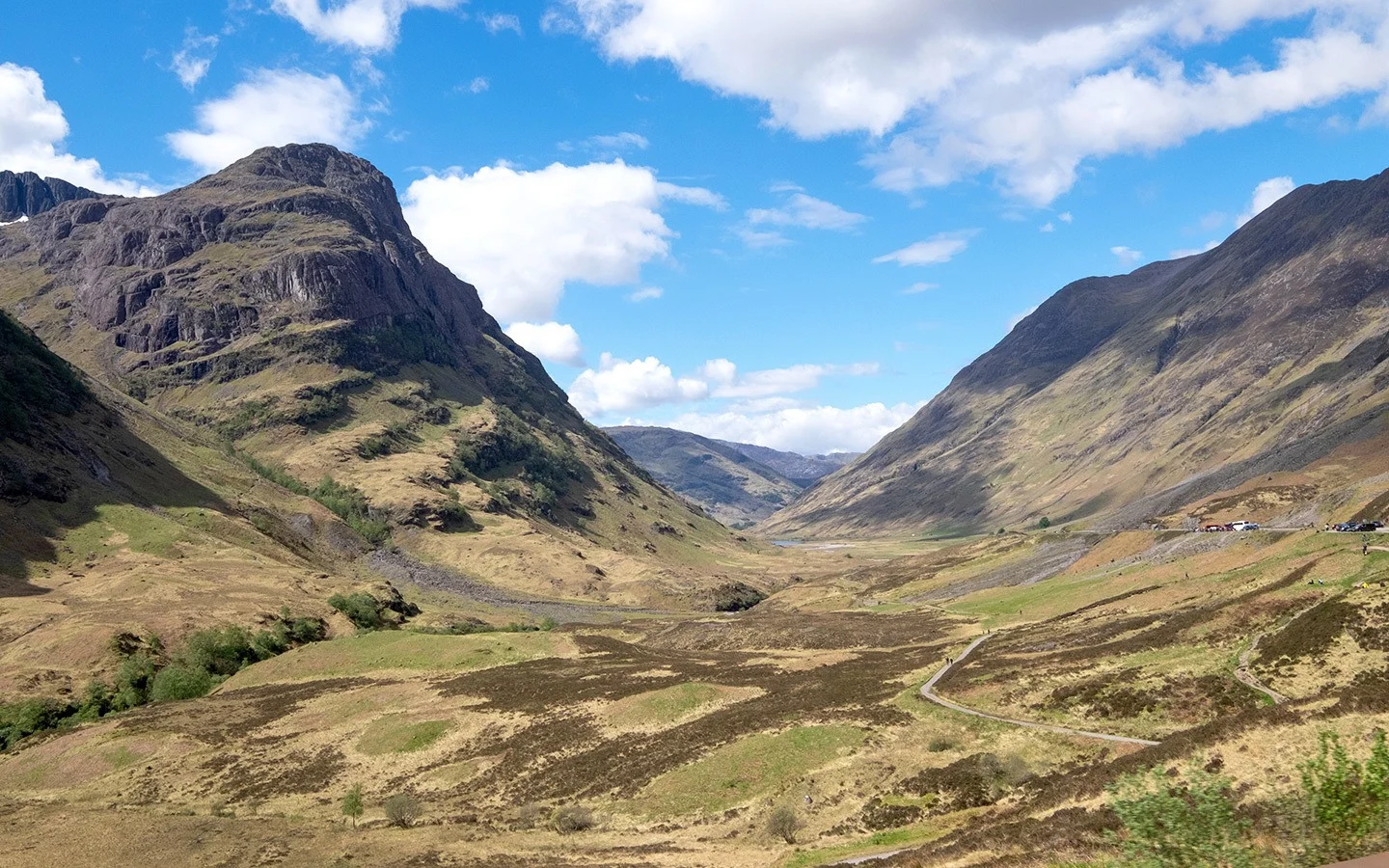 2. The Night Riviera Sleeper (London > Cornwall)
The UK's other overnight train service runs from London to Penzance in Cornwall, with connections that make it easy to reach seaside destinations like Newquay, Falmouth and St Ives. The Night Riviera Sleeper runs every night except Saturdays and takes 8 hours to reach Penzance, so you'll wake up in time to admire the sea views.
These sleeper trains had a makeover in 2018 so you can can spend the night in comfort in a private single or twin sleeper compartment, with a washbasin and towel and toiletries. There are toilets at the end of each carriage, and although there are no showers you have access to showers in the first-class lounges in Paddington, Truro and Penzance.
There's also a comfortable lounge car for sleeper passengers which sells drinks and snacks (with a takeway counter for seat passengers). And an early morning bowl of cereal, a croissant or bacon roll is included in the sleeper fare to start your day.
3. Intercités de Nuit (Paris > South of France)
The recently restarted Intercités de Nuit service whisks passengers from Paris to the South of France, in a time efficient-trip which departs Paris Gare d'Austerlitz at 9.20pm and arrives into the glamorous resorts of the Côte d'Azur around 8 hours later.
One service heads to St Raphael, Cannes, Antibes and Nice, and there's also a summer-only route from Paris to Carcassone and Perpignan and routes to Briançon in the Alps and Latour de Carol on the Spanish border, where you can connect on to Barcelona.
There are reclining seats and 1st and 2nd class couchettes (with four berths in 1st class and six berths in 2nd class). They're usually mixed but some are reserved for women and children – or you can book a whole couchette to yourself. There's no café but you can pre-order food online or pack a French-style picnic of bread, cheese and wine.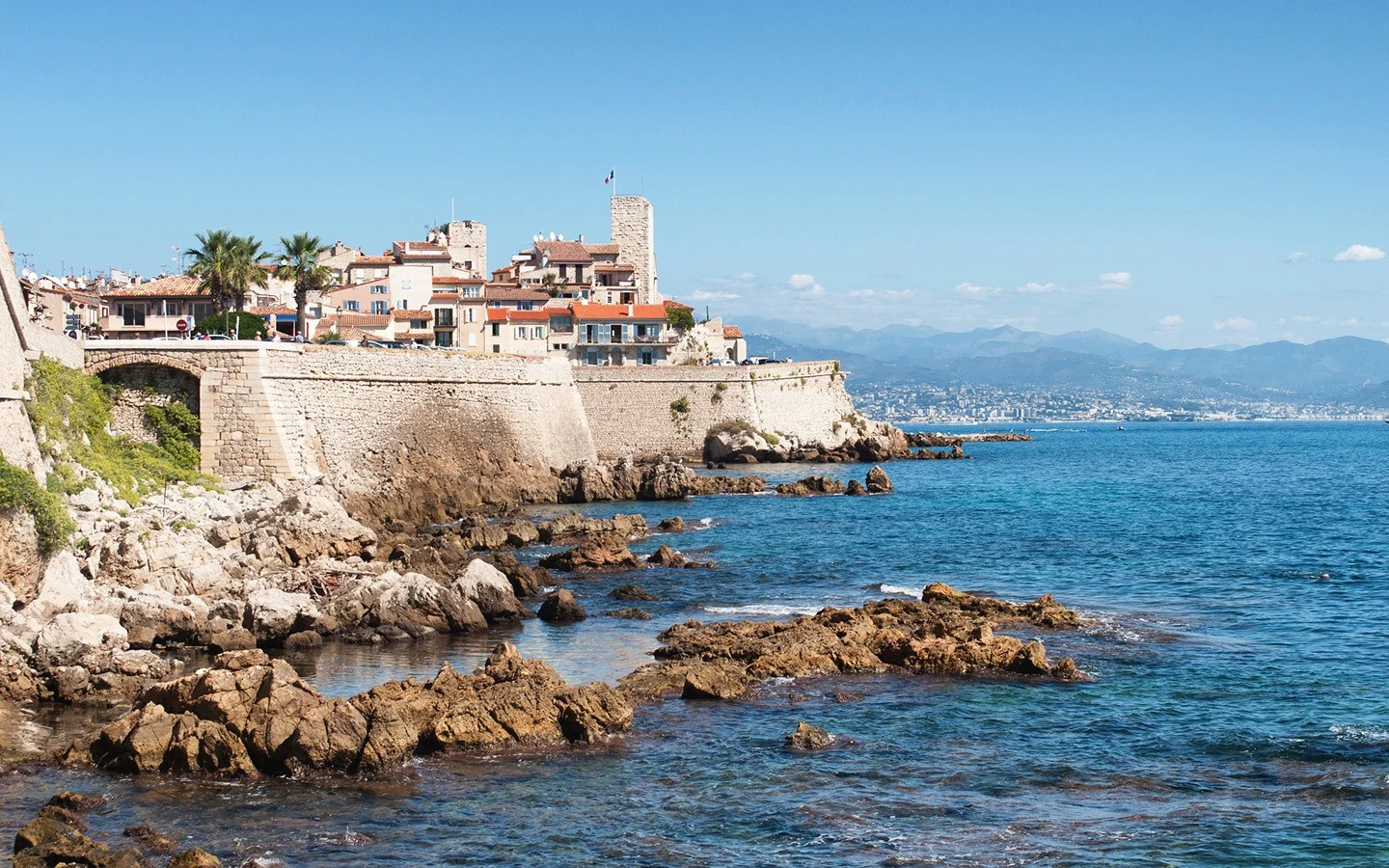 4. InterCityNotte (Milan > Sicily)
Travel all the way to Sicily by train on this quirky sleeper service, where the train travels on board a ferry. The InterCityNotte sleeper service to Sicily runs every day, leaving Milan at 8.10pm and travelling down the west coast of Italy during the night.
You wake up to views of the Calabrian coast on the way to Villa San Giovanni, where the train is split into four and loaded onto a ferry to cross the Straits of Messina. The crossing only takes 20 minutes, but you can get off the train to see the views.
Once in Sicily the train splits into two sections so you can reach Taormina (18 hours), Catania (19.5 hours) and Siracuse (20.5 hours) on one branch or Cefalù (21 hours) and Palermo (22 hours) on the other. It's not the quickest way to reach Sicily but a really relaxing journey where you can soak up the scenery, read and nap.
The trains have sleeping cars and couchettes, but no seats. Standard sleepers have one, two or three beds and a washbasin. Or the four-berth Comfort couchettes are a cheaper option. There are toilets at the end of each carriage but no café so bring supplies.
5. ÖBB Nightjet (Paris > Vienna)
Nightjet trains are comfortable overnight services run by ÖBB (Austrian Railways) on various routes around Europe. And one of their newest services connects Paris with Vienna, and travels along part of the route of the legendary Orient Express.
The train leaves Paris Gare de L'Est station at 8pm on Tuesday, Friday and Sunday nights. It speeds across Northern France to Strasbourg then travels on through Munich, Salzburg and Linz, before finally arriving into Vienna 14 hours later.
On board there are single, double or triple sleeper compartments (standard versions with a washbasin or deluxe versions with toilets). There are also four- or six-berth couchettes and seats. There's no restaurant, but sleeper passengers get an Austrian breakfast (rolls with jam and coffee) and you can get food and drink delivered to your room.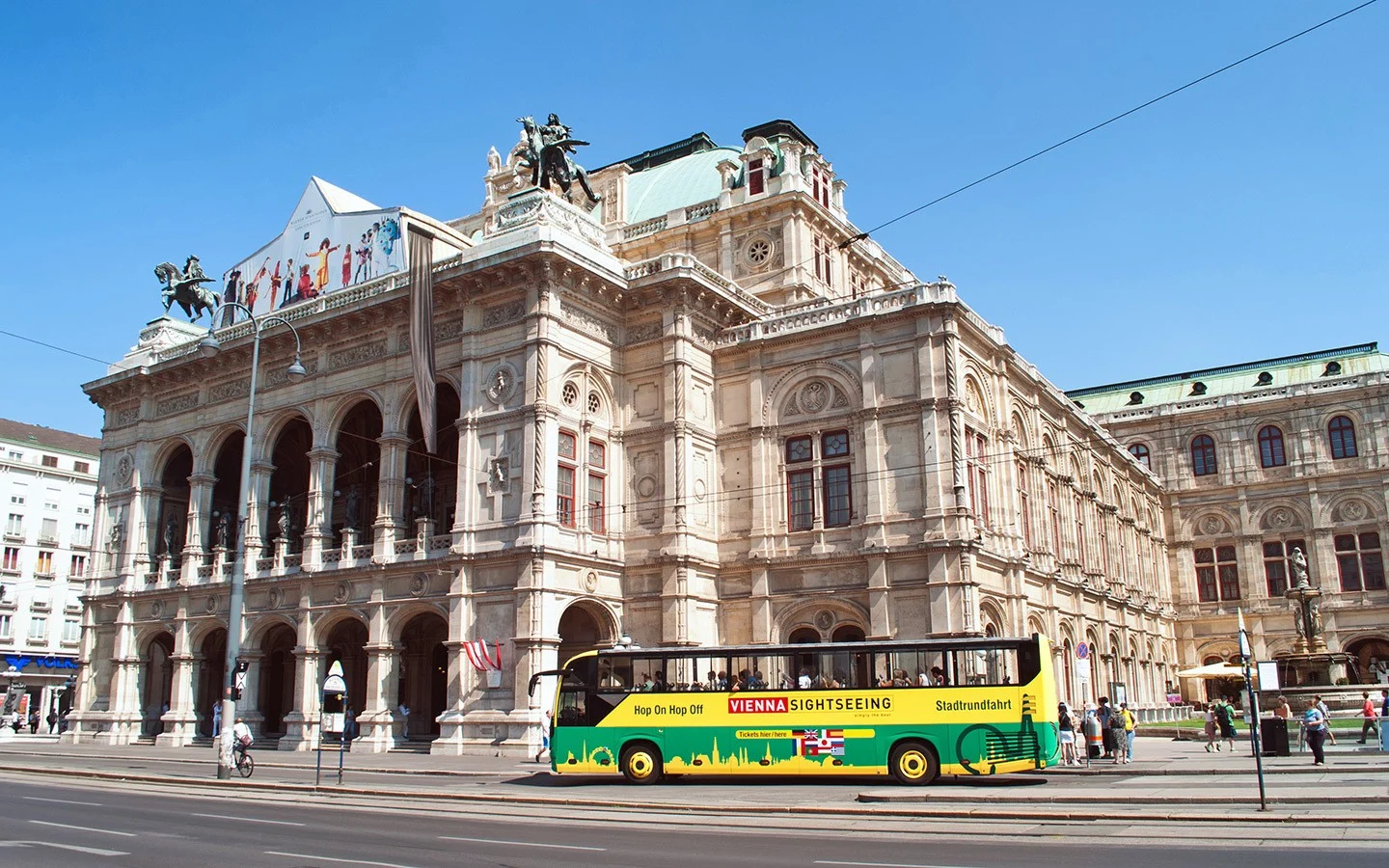 6. Snälltåget (Berlin > Stockholm)
After the Berlin to Malmö train service was cancelled during the pandemic, Swedish train operator Snälltåget took it on and launched a new route, which runs from April to September and also connects Berlin to the Swedish capital Stockholm.
The train leaves Berlin around 9pm and calls in Hamburg before travelling overnight across Germany and Denmark, crossing the Great Belt Bridge and Øresund Bridge on the way to Malmö (10.5 hours) and Stockholm (17 hours). It's one of the greenest European night trains too, with all power coming from renewable energy sources.
There's a choice of six-berth couchettes (which can be booked as private compartments for groups) and seats, with bathrooms at the end of the carriage. There's a restaurant on board known as Krogen ('The Pub') which is open between Malmö and Stockholm, and vice versa, plus a counter for drinks and snacks the rest of the time.
7. The Santa Claus Express (Helsinki > Rovaniemi)
Head to the Arctic Circle in Finnish Lapland on board the wonderfully named Santa Claus Express. The train departs from Helsinki and travels north to Rovaniemi – official home of Santa Claus – and on to Kemijärvi, just above the Arctic Circle, in around 12 hours.
Scandinavia's high prices make the Santa Claus Express a bargain, especially if you book in advance. It has double-decker carriages with seats and sleeper compartments for one/two people – with washbasins and shared bathrooms downstairs or en-suite toilets and showers upstairs. There's also a café-bar where you can get food and drink.
There are departures around 7pm and 11pm every day. In summer you can watch the snowy scenery from the window all night as it never gets dark under the midnight sun. Or in winter you might get lucky and see the Northern Lights as you travel.
Save for later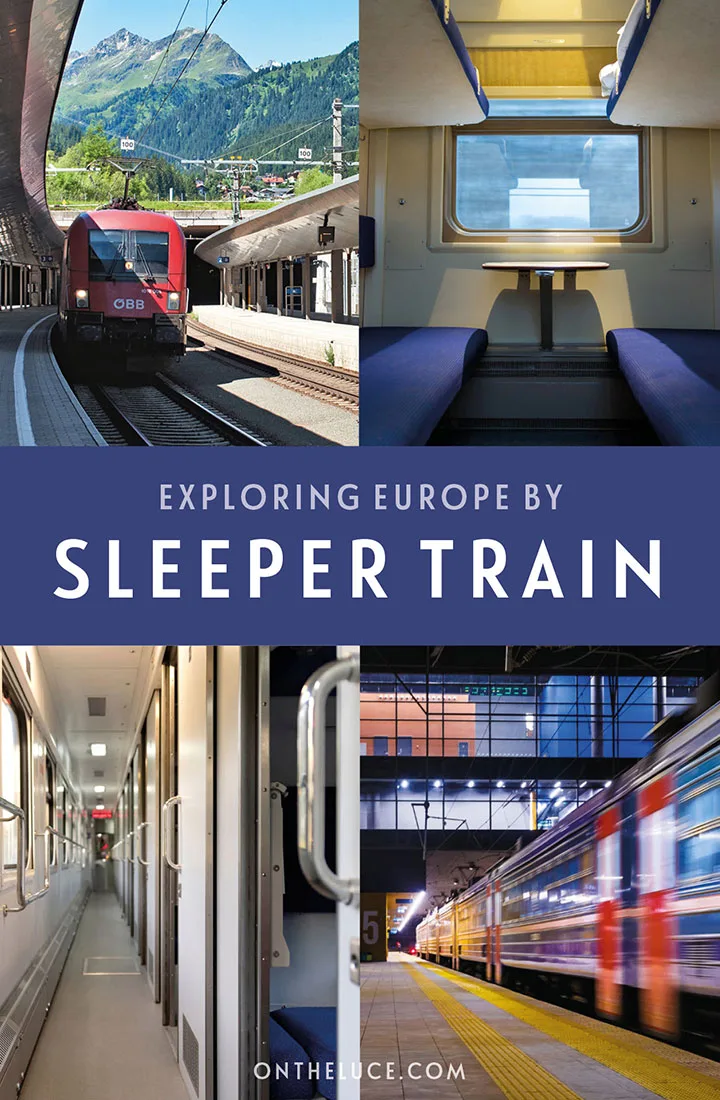 You might also like