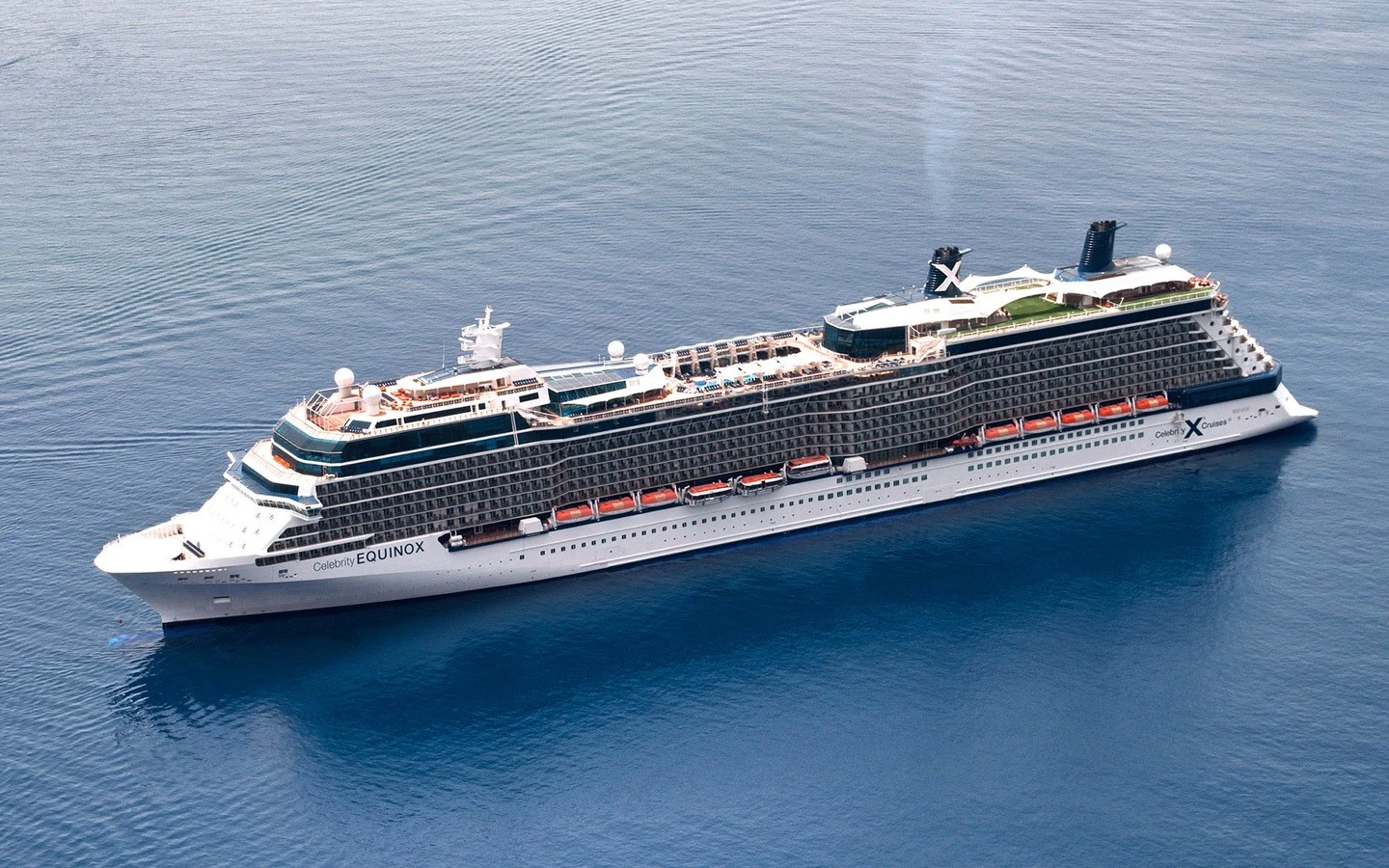 This is a bit different from my usual reviews, being as that it's a cruise ship rather than a hotel. But when you think about it, what is a ship really other than a massive floating all-inclusive hotel? Albeit more like a mega-resort with 1400 rooms, 10 restaurants, eight bars and its own theatre. But it's still a place to stay and picking the right one is even more important, as when you're miles out to sea you can't really change your mind and go stay somewhere else.
Lucky I picked a good one on my first cruise – Celebrity Equinox. She's one of Celebrity Cruises Solstice Class ships and has been sailing across the world since 2009. I had no idea what to expect, but was impressed by the facilities on board, which were more luxurious than most hotels I've stayed in. But what's it like on board? Here's my Celebrity Equinox review.
This trip was hosted by Celebrity Cruises, but all views are my own.
Celebrity Equinox review
Where can you visit on a Celebrity Equinox cruise?
Our cruise on board Celebrity Equinox was a seven-night trip around the Eastern Mediterranean from Venice to Istanbul, calling at Dubrovnik, Corfu, Olympia, Santorini and Ephesus. But Celebrity Equinox sails on lots of different routes around the world, including the Mediterranean, Norwegian fjords and Alaska, but she's currently based in the Caribbean.
Celebrity Equinox cruises generally last 7–12 days, but there are some short, two-night taster trips if you want to try it out. Staying in one place while the destinations come to you is definitely one of the best parts about cruising – something a normal hotel can't compete with.
It's so nice to be able to unpack everything once and as you travel by night so you can make the most of your holiday days. Our cruise had no sea days so we arrived into a new port each morning around 9am and sailed around 6pm. So you get most of the day to see each place.
Disembarking can be a bit hectic and any passengers who are going on official cruise line excursions get priority, so we usually held off a bit until the rush had passed. Most of our port stops were outside the city, so you needed to get a taxi or bus if you weren't not doing an excursion. Celebrity provided some basic information on transport and a shuttle in some places but it's worth doing some research in advance if you want to explore independently.
What are Celebrity Equinox cabins like?
There are a range of different cabins (sorry staterooms) on Celebrity Equinox. They start from interior (without a window), through ocean view (with a window), balcony (with a private balcony), Concierge Class (with extra perks like priority check in) and Aqua Class (with spa extras and a special restaurant), right up to luxury suites with a butler and VIP lounge.
Within each category there are a range of subcategories, and when you book you have the option of choosing a specific stateroom, which is useful if you want to be in a certain area (mid-ship on one of the lower decks is best if you're worried about seasickness like me). Otherwise you just choose a category and are allocated the best available cabin.
We had a balcony stateroom on deck six at the back of the ship, so had great views as we sailed out of port. It was bigger than I imagined and never felt cramped, with lots of storage space hidden away. All cabins have a separate sofa seating area and desk as well as a big comfortable bed and en-suite shower room. You have an interactive flatscreen TV (where you can book excursions and check your account balance), toiletries, a hairdryer and mini bar.
What facilities does Celebrity Equinox have?
Although Celebrity Equinox looks enormous, with 2800 passengers I did wonder if it'd feel crowded. But the public areas stretch over 12 floors and are divided into lots of smaller sections so it never felt too busy. Starting at the top there's a real grass lawn, where there's a weekly evening concert. There's also a glass-blowing studio where they do nightly demonstrations.
Below is the pool deck with two pools, lots of sunloungers and day beds, and below that is an adults-only indoor solarium with jacuzzis and a pool with a waterfall wall of ferns. This is also where you'll find the gym and the Canyon Ranch spa. The library stretches over two floors with books you can borrow and some relaxing spots to curl up and read.
Then underneath are various rooms like the art gallery, casino and shops, all set around a central atrium with glass lifts which connect the floor. Right on the lowest floors is a nightclub and the full-size Equinox Theatre. There's a different show each night, with early and late showings featuring magicians, singers and a Cirque du Soleil-style acrobatic show.
What's Celebrity Equinox's food like?
You've got no chance of being hungry on a cruise – there's always something to eat somewhere. There's a range of eating options on board Celebrity Equinox, with formal dining in the Silhouette dining room, the Oceanview Café buffet and a few snack cafés included in the price. Speciality dining at Murano (French), Silk Harvest (Asian), Tuscan Grille (Italian), the sushi bar and gelateria cost extra. There's also Luminae for Suite Class and Blu for Aqua Class guests only.
Most mornings we ate in the buffet, with a mix of cooked and continental options plus loads of fresh fruit. You can also have breakfast delivered to your room, you just fill in a form the night before saying what you want and when. If you're on board in the daytime you can eat in the buffet, which has a wide variety of hot and cold options, which were themed around each of our destinations, so there was a Greek day as well as a daily afternoon tea.
We ate dinner at Murano one night, which costs an extra $50 per person. It has a smart, continental feel with lots of dark wood and moody lighting, and the food was a step up from the normal onboard menu. But we generally ate dinner in the Silhouette dining room on a flexible package, so we could go at any time and choose to either share a table or eat on our own. You can also opt for the more traditional timed dining where you sit at the same table every day.
Dinner is four courses: a starter, a salad or soup, a main course (or rather an entree as it's an American ship) and dessert. Portion sizes are manageable so you don't feel overstuffed by the end of it, and there's a standard menu and one that changes each day, marked in case of gluten and dairy, and they're happy to adapt dishes in case of intolerances if you give notice.
How about drinks?
There's a selection of different bars on board Celebrity Equinox – our favourites were the Sunset Bar on deck at the back of the ship and the smart Sky Bar up front which is quiet in the early evenings. There's also the Gastrobar for craft beers, the ice-topped Martini Bar and World-Class Bar for cocktail aficionados. We didn't have any full days at sea so most of the time people were getting on and off or relaxing after a busy day, so sometimes it almost felt deserted, and was easy to find somewhere peaceful watch the sun go down with a G&T.
You can pay as you go for drinks on board or buy a package. The Classic Drinks package covers beer, wine (up to $9 a glass), spirits, cocktails and frozen drinks, as well as soft drinks, juices, teas and premium coffee. Or there's a Premium Package covering fancy waters and more expensive wines. They were quite pricey at $49 a day though, and you have to buy them for the whole cruise, so we went for pay as you go and bought drinks separately.
What are the other passengers like?
Celebrity is an American company, but the guests on board were a real international mix. Our fellow passengers were mostly from the US, Australia and Europe, and there was a surprisingly broad age range. There was a mixture of couples and groups of friends as well as families, mainly with older children. Celebrity doesn't have as much of a family-friendly reputation as some of the other cruise lines, but there are kids' clubs and activities on board.
What's the service like on board Celebrity Equinox?
There's almost one staff member for every two guests. All were incredibly friendly and helpful, from the bartenders to the woman on the dining room reception desk who remembered our room number every night after we told her once. Cabin service went beyond what I expected, with a dedicated stateroom attendant who serviced the room twice a day (and created some impressive towel animals) and 24-hour room service. After feeling slightly awkward ringing up on the first day to have a cup of tea delivered, it didn't take long to get used to it.
The only negative was that there can be some quite persistent upselling, especially on the speciality restaurants, spa and drinks packages. Tips aren't included in the cruise price but are charged at a standard rate of $14.50 per person per day ($15 for Concierge/Aqua Class or $18 for suite passengers) – you can pay them upfront or at the end of the trip.
What else do I need to know?
You don't need any cash on board as everything is charged to your 'Sea Pass'. This acts as an all-in-one ID, room key and charge card so you need if for anything from buying a drink to getting back on board, so take good care of it. If you want to check your email (or upload those holiday selfies), there is wifi on board but it's pricey and slow. But there were cheap internet cafes near the port in all our stops. See more tips in my guide for first-time cruisers.
Pin it