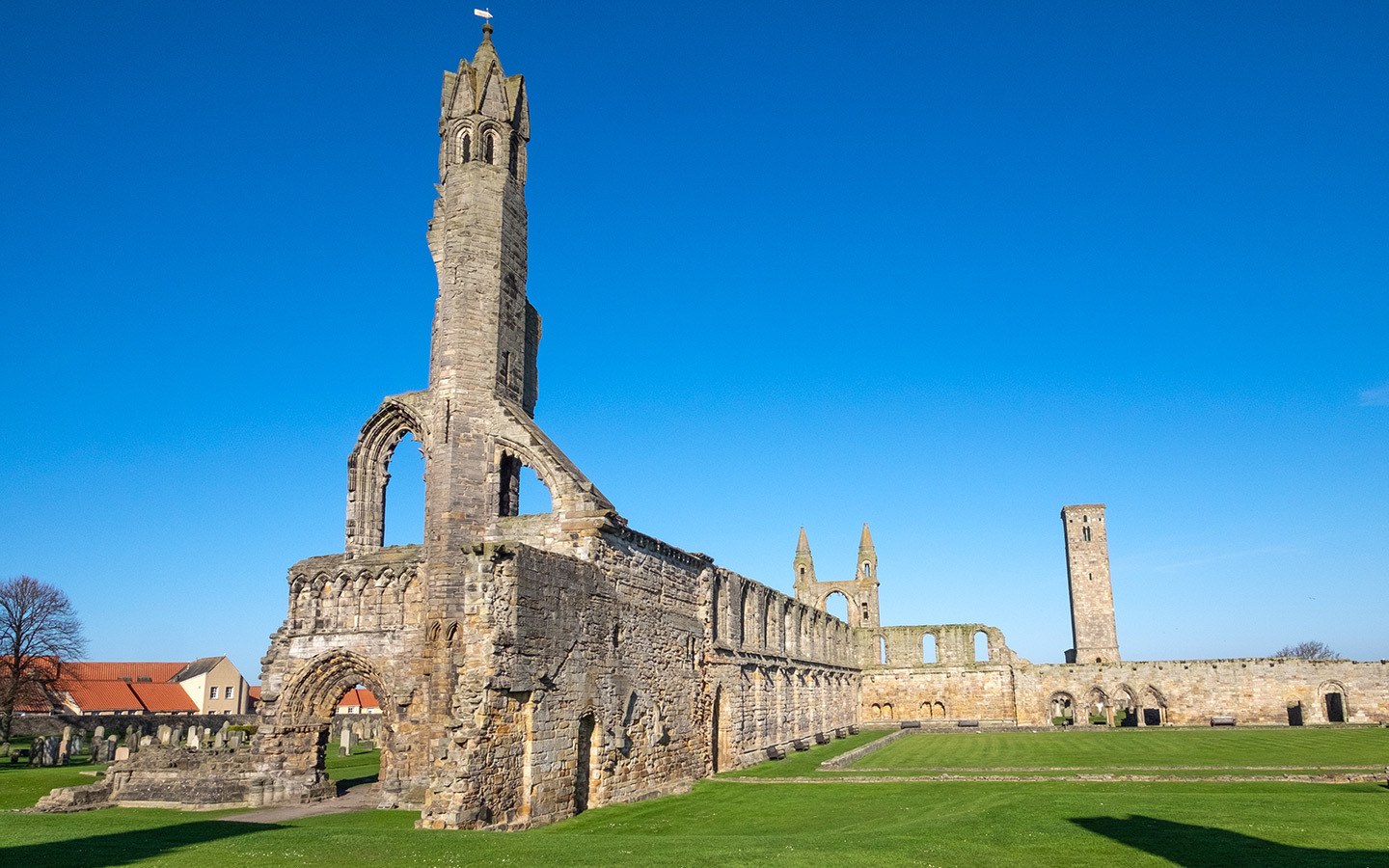 Packed with history, tradition and scenic views – St Andrews is a real Scottish gem. This small city is set on the coast of Fife to the northeast of Edinburgh. It's been pulling in the visitors since its days on an ancient religious pilgrimage route and is still a magnet for students and golf-lovers. St Andrews' picturesque streets are overflowing with charm, from the castle ruins to the university quads. And the student population means plenty of places to eat and drink too. It's only an hour away from Edinburgh so you could easily take a day trip, but it's worth taking your time. So here's my 48-hour itinerary for a fantastic weekend in St Andrews.
Read more: 10 Great British weekend break ideas
How to spend a weekend in St Andrews
Friday evening
If you're travelling by train, there's no railway station right in St Andrews, but there is one in nearby Leuchars. From there it's a 10-minute taxi ride into St Andrews or you can catch the number 99 bus which runs every 15 minutes. Check into the Old Course Hotel for classic high-end style with views over the golf course and beach. Inside it's smart and modern, with a recently refurbished spa and rooftop hot tub. Rooms start from £195 a night.
Or if you're on a budget, we stayed in a lovely AirBnB apartment right in the centre of the city. It sleeps four (with one bedroom and a sofa bed) from £80 a night – and you can get £25 off your first AirBnB stay with this link. Once you've settled in, start your weekend in St Andrews Brewing Company for drinks and dinner. They serve their own brews as well as a selection of Scottish beers, ciders and gins, with gastropub dishes like mac and cheese or sharing platters.
Saturday morning
Start the day with brunch at Mitchells, a restaurant and deli specialising in local produce. You can go for a full Scottish breakfast (tattie scones and haggis included naturally) or there are vegan and veggie versions, as well as lighter dishes like pancakes or smashed avocado on sourdough. And brunch is served until 12pm so you don't have to get out of bed too early.
Next take a walk around the ruins of St Andrews Castle, perched on a clifftop overlooking the sea. Since the 13th century when the original castle housed the bishops of St Andrews, it's been destroyed, rebuilt and used as a fortress and prison. It's a bit worse for wear now but is still an atmospheric place to wander around – check out the infamous bottle dungeon where prisoners were kept and the explore the underground tunnels dug by 16th-century invaders.
Cross over to St Andrews' other famous ruin next – its medieval cathedral. It was Scotland's largest church and the headquarters of the Church of Scotland until 1560. You can walk through the ruins and the graveyard, and check out original sculptures in the museum. Don't miss the climb to the top of St Rules Tower for views over the city from 33 metres high too. A joint entry ticket for the castle and cathedral costs £9 adults (£7.20 concessions/£5.40 children 5–15).
Then stop off at Janettas Gelateria. This place is a St Andrews institution that's been making creamy homemade Italian-style ice cream for over 100 years, and there's regularly a queue stretching right out of the door. They serve over 50 different flavours of ice creams, sorbets and frozen yogurt, including Cranachan and Scottish Tablet if you want to go local.
Saturday afternoon
St Andrews has three beaches which wrap around the city, so stretch your legs with a walk along West Sands Beach, about 15 minutes' walk from the city centre. This wide, flat, two-mile stretch of sand is where the opening scenes of Chariots of Fire were filmed. It's backed with sand dunes and behind them you'll find the neatly kept greens of the Old Course.
St Andrews' golf course is the oldest and most famous in the world, and everyone from Open winners to US presidents have played here in its 600-year history. But if you want to join them you'll need a good handicap – a maximum 24 for men and 36 for women, with a certificate from your golf course to prove it. Even if you qualify you still have to either book about a year before your trip or otherwise you can enter the ballot 48 hours in advance.
If you want to say you've played golf in St Andrews but your swing's not quite up to scratch, you can play a round at the Himalayas instead. This putting green next to the course is open to the public from April to September and has a choice of nine or 18 holes. You don't need to be any good and it will only set you back £3 (£1 for children and seniors). You can also pose for a photo on the famous Swilcan Bridge, as long as you keep out of the way of any golfers.
Then head to the Jigger Inn for a pre-dinner drink. This used to be a 1850s stationmaster's cottage but it's now the Old Course's course's unofficial 19th hole – full of golfers and golfing memorabilia, with a cosy log fire for winter evenings. Finally walk back to the waterfront for dinner at the Seafood Ristorante. This modern glass building has panoramic views of West Sands and serves local seafood with an Italian twist – I loved the risotto with clams and scallops.
Sunday morning
St Andrews' university is the heart of the city – the population almost doubles during term time, and alumni include politicians, Nobel Prize winners and royalty. It's Scotland's oldest university and its beautiful buildings give southern rivals Oxford and Cambridge a run for their money.
Stop Northpoint Cafe for one of their tasty pancake stacks – this is also where Prince William met Kate when they were both students here. Then take a walk through St Mary's and St Salvator's quads, where you'll find a 15th-century chapel that's the oldest part of the university.
The university has picked up a few quirky traditions in its 600 years. Students wear distinctive red gowns, but how you wear them depends on which year you're in. First years start with it on both shoulders and it slips down until it's around the elbows by the fourth year. Head to St Andrews pier just before noon and you can watch a procession of gowned students make their weekly Pier Walk – out along the lower level, up the ladder and back along the top.
Leave the pier behind and head back through the city centre, stopping on the way to give Hamish McHamish a stroke. Hamish was a much-loved ginger cat who became a bit of a celebrity. He hung out at local businesses, posed for photos with visitors and even inspired a book. So when he died at the age of 15, the residents of St Andrews banded together to raise £5000 to erect a bronze statue in his honour, which you can find in Church Square.
Carry on along the edge of the Old Course to Balgove Larder for lunch – a 30-minute walk or short taxi ride away. This farm shop sells their own fresh produce or cooks it up for visitors. You can choose between the Steak Barn for 28-day aged steaks, burgers and sausages cooked over a wood-fired BBQ. Or the Café for soups, sandwiches, salads, stews and homemade cakes.
Sunday afternoon
Then finish off your weekend in St Andrews with a gin tour and tasting at the Eden Mill distillery, set just outside the city on the Eden Estuary. The distillery was the first to make spirits in the area for over 150 years. Now they make a range of gins using botanicals harvested from the nearby fields, forests and coastline, as well as whisky and beer. There's a selection of core gins, including a Golf Gin and my favourite pink-tinged Love Gin, plus seasonal specials.
The distillery tour takes you through the gin-making process, which uses traditional copper stills, before a tasting of their top gins. The distillery is being redeveloped at the moment so tours are temporarily on hold, but Eden Mill are offering a 'make your own gin' experience called Blendworks where you can create your own concoction at the Rusacks Hotel in St Andrews.
Have you visited St Andrews? Do you have any tips to add on what to see, do and eat?
Pin it
This article contains affiliate links, where I get a small commission at no extra cost to you, thanks.