How to spend a weekend in St Andrews: Discover the best things to see, do, eat and drink in a two-day itinerary for this historic Scottish university city, featuring castles, cathedrals, golf and gelato.
* This site contains affiliate links, where I get a small commission from purchases at no extra cost to you.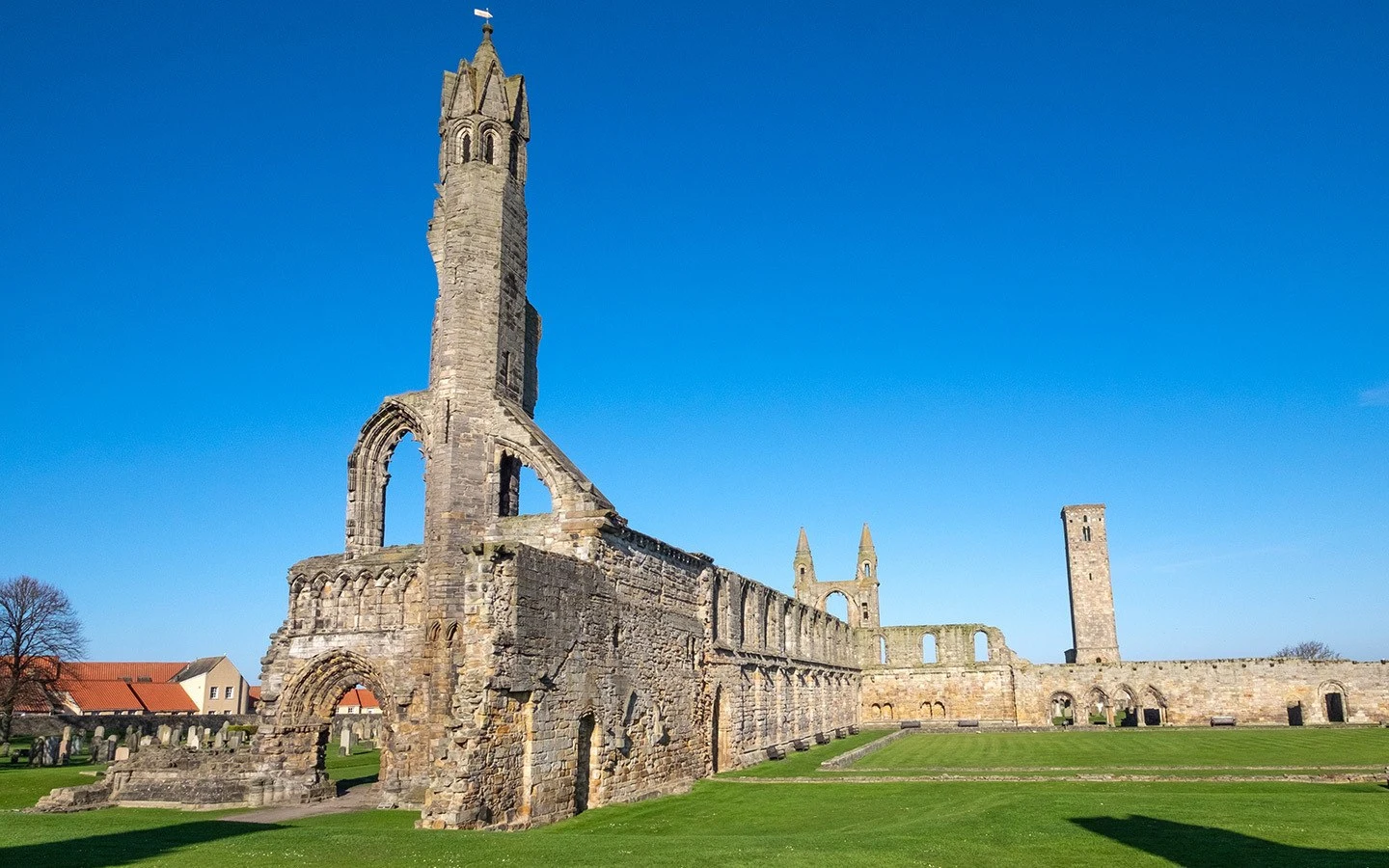 Packed with history, tradition and scenic views – St Andrews is a real Scottish gem. This small city on the coast of Fife northeast of Edinburgh has been pulling in the visitors since its days on an ancient religious pilgrimage route and is still a magnet for students, golf-lovers and anyone looking for a beautiful spot to spend a few relaxing days in.
St Andrews' picturesque streets are overflowing with charm, from the castle ruins to the university quads. It's only an hour away from Edinburgh so you could easily take a day trip, but it's worth taking your time. So here's my two-day St Andrews itinerary to help you plan the perfect weekend in St Andrews, with what to see, where to eat, drink and stay.
How to spend a weekend in St Andrews
Friday evening
Check into your accommodation then start your weekend in St Andrews at the St Andrews Brewing Company on South Street. This microbrewery has 18 beers and ciders on tap, including their own award-winning brews. It's a casual place to spend the evening, with a menu of brewpub dishes like burgers, pizza and snack-sized mac and cheese bites.
Or if you're looking for something a bit more upscale, head to Rogue, just a few minutes away further along South Street. This speakeasy-style bar and restaurant specialises in seafood and dry-aged beef. They also also have a great range of cocktails, some made with their Felons Gin which is distilled out the back of the restaurant.
Saturday morning
Start the day with brunch at Mitchells, a restaurant and deli serving local, seasonal produce. You can go for a full Scottish breakfast (tattie scones and haggis included naturally) or there are vegan and veggie versions, as well as lighter dishes like baked eggs or churros waffles. And brunch is served until 4pm so you don't have to get up early.
Next take a walk around the ruins of St Andrews Castle, perched on a clifftop overlooking the sea. The original castle was built in the 13th century to house the Bishops of St Andrews. It's been destroyed and rebuilt several times since then, including after an 18-month siege between Catholics and Protestants during the Scottish Reformation.
The castle lies in ruins today but is still an atmospheric place to wander around. Check out the infamous bottle dungeon, a dark airless pit where prisoners were kept, and explore the underground tunnels dug by 16th-century invaders during the siege.
Next cross over to St Andrews' other famous ruin – its medieval cathedral (you can get a joint entry ticket which covers both the castle and cathedral). St Andrews Cathedral was built in 1158 and was Scotland's largest church at almost 120 metres long.
It was the headquarters of the Catholic Church in Scotland until the 1559 when it was ransacked by a Protestant mob and the interior was destroyed. After than it fell into ruin, with stone reused as building materials around the town. But you can still walk through the remain the graveyard, and check out original sculptures in the museum.
And don't miss the climb to the top of St Rule's Tower for views over the city. The tower is actually about 40 years older than the cathedral but it's aged a lot better. Originally you'd have had to climb to the top using ladders but there's now a (slightly claustrophobic) spiral staircase which takes you up 156 stairs to rooftop at 33 metres high.
Then call in to Janettas Gelateria. This place is a St Andrews institution that's been making creamy homemade Italian-style ice cream for over 100 years, and there's regularly a queue stretching out of the door. They serve over 50 different flavours of ice creams, sorbets and frozen yogurt, including Cranachan and Scottish Tablet if you want to go local.
Saturday afternoon
St Andrews has three beaches which wrap around the city, so stretch your legs with a walk along West Sands Beach, about 15 minutes' walk from the city centre. This wide, flat, two-mile stretch of sand is where the opening scenes of Chariots of Fire were filmed.
The beach is backed with sand dunes and behind them are the neatly kept greens of the Old Course. St Andrews' golf course is the oldest and most famous in the world, and everyone from Open winners to US presidents have played here in its 600-year history.
But if you want to join them you'll need a good handicap – a maximum 24 for men and 36 for women, with a certificate from your home golf course to prove it. And even if you do qualify you still have to either book around a year before your trip or otherwise you can enter the ballot, where a few limited tickets are released two days in advance.
If you want to say you've played golf in St Andrews but your swing's not quite up to scratch, you can play a round at the Himalayas instead. This putting green next to the Old Course is open to the public from April to October and has a choice of nine or 18 holes.
You don't need any golfing skills and a game only costs £4 (or £2 for seniors and under 16s). It does get busy so book in advance in summer. You can also pose for a photo on the course's iconic Swilcan Bridge, as long as you keep out of the way of golfers.
Then head to the Jigger Inn for a pre-dinner drink. This was originally the 1850s stationmaster's cottage from the days when St Andrews had a train station. It's now converted into a pub run by the Old Course Hotel, and is full of golfers and golfing memorabilia, with a cosy log fire for winter evenings and their own Jigger Ale.
Finally walk back to the waterfront for dinner at the Seafood Ristorante. This modern glass building has panoramic views of West Sands and St Andrews Bay. They serve sustainably sourced Scottish seafood like Islay oysters and Shetland monkfish, and there's an Italian twist to the menu with dishes like squid ink risotto with clams and scallops.
Sunday morning
The University of St Andrews is the heart of the city – its population almost doubles during term time, and alumni include an array of politicians, Nobel Prize winners and royalty. St Andrews is Scotland's oldest university and its grand buildings more than give its slightly older southern rivals Oxford and Cambridge a run for their money.
Call in to the Northpoint Cafe for one of their tasty stacks of buttermilk pancakes with maple syrup. This student haunt is famous for sparking a royal love story when Prince William met Kate Middleton for coffee when they were both students in St Andrews.
Then take a walk through St Mary's and St Salvator's quads, where you'll find the 15th-century St Salvator's Chapel which is the oldest part of the university.
The university has picked up a few quirky traditions over its 600 years, from a sunrise dip in the sea on May Day to the Raisin Monday foam fight. Undergraduate students wear distinctive red gowns, but how you wear them depends on which year you're in. First years start with it on both shoulders and it slips down until it's around the elbows by year four.
If you head to St Andrews pier just before noon on a Sunday during term time you can watch a procession of gowned students make their weekly Pier Walk – they walk along the lower level, climb up the ladder and walk back along the top.
Leave the pier behind and head back through the city centre, stopping to give Hamish McHamish's a stroke. Hamish was a much-loved ginger cat who became a bit of a celebrity.
He hung out at local businesses, posed for photos with visitors and even inspired a book.* So when he died at age of 15, the residents of St Andrews banded together to raise £5000 to erect a bronze statue in his honour, which you can find in Church Square.
Sunday afternoon
Carry on to Market Street for lunch at The Tailend Restaurant. This seafood restaurant serves freshly cooked fish caught in nearby Arbroath. Eat in or grab a portion of their classic fish, chips, mushy peas and tartare sauce to take away and eat on the beach.
Then finish your weekend in St Andrews with a wander around the Botanic Garden, 15 minutes' walk away (or you can catch the 99 bus from the bus station). This peaceful garden stretches over 18 acres, with different habitats including a rock garden, rhododendron glade and winter garden – as well as seven greenhouses if the weather's not so good.
The garden was originally founded by the university and is still used as a research centre which examines how plants evolve and adapt. Look out for colourful blooms in spring and summer and lots of red, orange and gold leaves in the autumn.
Map of things to do in St Andrews
The details
How to get to St Andrews
If you're travelling by train*, there's no railway station in St Andrews itself, but there is one in nearby Leuchars. It takes around an hour to get from Edinburgh Waverley to Leuchars, an hour from Perth (with a change at Ladybank) or 12 minutes from Dundee.
To get from Leuchers into the centre of St Andrews it's a 10-minute taxi ride, or you can catch the number 99 bus which runs every 10 minutes (or every 20 minutes on Sundays). The bus also connects St Andrews to Dundee in around 30 minutes.
If you're driving, St Andrews is 52 miles from Edinburgh, 73 miles from Glasgow, 34 miles from Perth and 14 miles from Dundee. There's overnight car parking in St Andrews at Argyle Street (KY16 9BP) and Bruce Embankment (KY16 9AB).
The nearest airport is in Dundee, which has direct flights to London, Belfast and Shetland. The airport is a short taxi ride or 20-minute walk into the city where you can catch the bus to St Andrews. Or there are flights from more destinations to Edinburgh Airport, which is 30 minutes by tram from the city centre and Waverley train station.
Where to stay in St Andrews
The Old Course Hotel* is a lavish five-star resort hotel right on the edge of the Old Course, making it a favourite with golfers. It was built on the site of St Andrews' old railway station and has a kept few original features, but has been smartly refurbished with 175 rooms (including a decadent penthouse suite), a luxury spa and 3 AA Rosette restaurant.
Also close to the Old Course is the Hotel du Vin St Andrews*. A traditional stone and slate terrace has been converted into a boutique hotel with 36 rooms and suites, some with views over St Andrews Bay. There's also a French-style bistro and wine bar.
Or if you prefer self-catering, No 1 Apartments* have one- and two-bed serviced apartments in two city-centre buildings. They're light and bright, with contemporary furniture and added extras like welcome hampers, Arran Aromatics toiletries and Netflix.
Save for later
You might also like