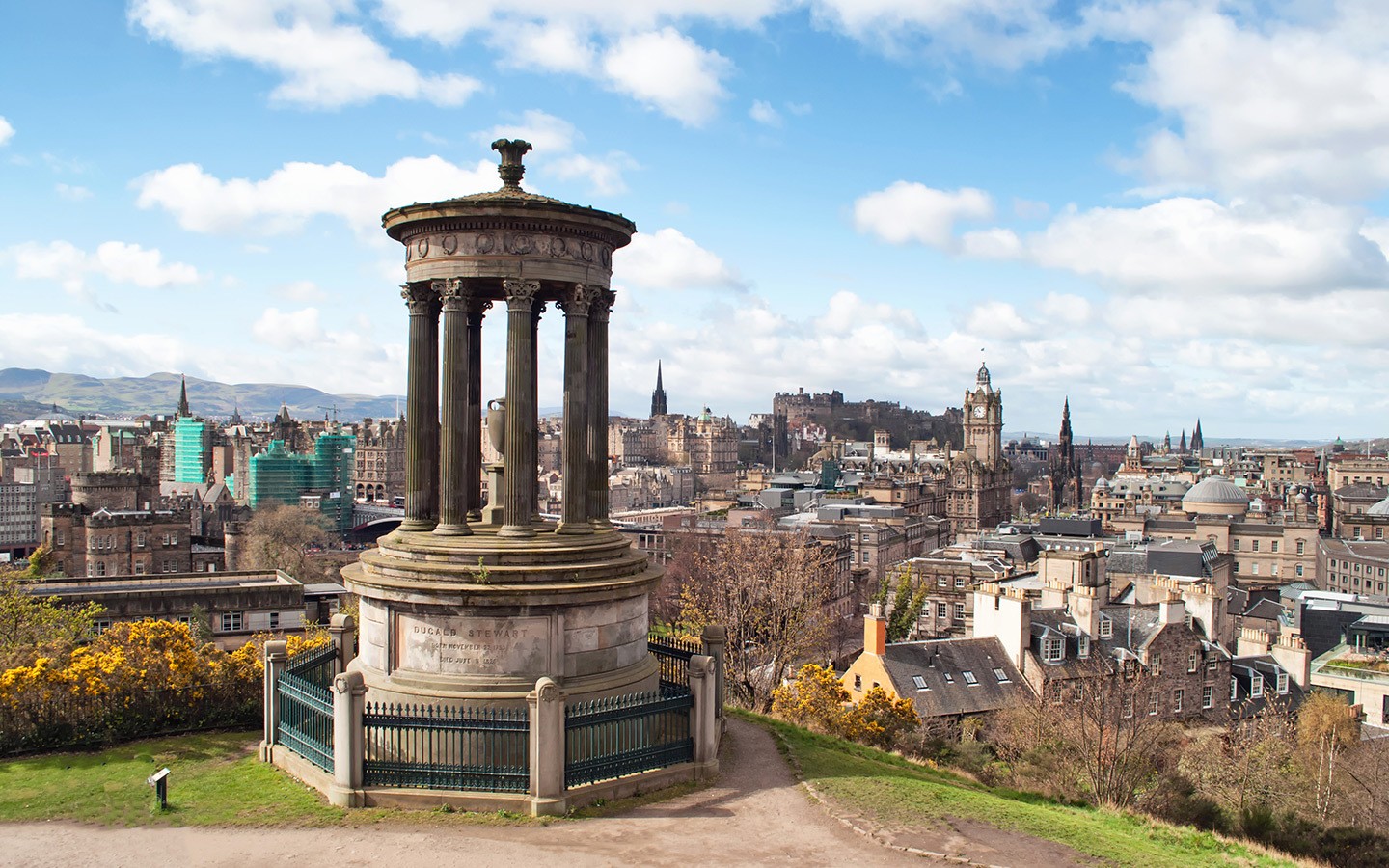 It might be best known for its summer festivals and Hogmanay parties, but Edinburgh's got a lot to offer at any time of the year. There's the UNESCO World Heritage Old Town with its cobbled streets and Gothic buildings. Or the wide streets and Georgian mansions of the New Town. And not to forget its great food and drink, ton of historic sights and even a few ghosts. It doesn't have to be expensive either – so here are my tips for making the most of Edinburgh on a budget.
Read more: Alternative things to do in Edinburgh
Things to do in Edinburgh on a budget
If you're looking for an introduction to Edinburgh, Sandeman's New Europe Tours run a 2.5-hour city highlights walking tour including the Castle, Greyfriars Kirkyard, the Royal Mile and Grassmarket. It starts outside Frankie & Benny's by the Tron Kirk at 10am, 11am, 12pm, 1pm and 2pm every day, and is free but you just tip your guide. Edinburgh Free Tour run a similar 2-hour tour at 10am, 11am and 1pm from outside The Royal McGregor bar at 154 High Street.
There are also several free themed tours available. You can take a 1.5-hour ghost tour at 5pm and 7pm every day, or a 2-hour New Town tour on Thursdays and Sundays at 2pm. Or there's a 1.5-hour free Harry Potter-themed city tour which departs from the statue of Greyfriars Bobby at 12pm and 4pm daily from April to August and 2pm daily during the rest of the year.
When the sun's shining, Edinburgh has plenty of parks and outside spaces to explore. Lying in the shadow of the castle the manicured lawns and flower beds of Princes Street Gardens, which make a good spot for a picnic. There's also Inverleith Park, one of Scotland's largest urban parks which is around a mile out of the city centre, or the 650 acres of Holyrood Park to explore.
Close to Inverleith Park, the Royal Botanic Garden Edinburgh has 70 acres of flowers, shrubs and trees. Entry's free, but it costs £7 for adults (£6 concessions or free for under 15s) to visit the 10 glasshouses which recreate everything from the tropics to the desert. Or try the lovely the 12-mile riverside Water of Leith walk which passes through Dean Village and Stockbridge.
The castle is one of Edinburgh's most popular sights, but entry will set you back £19.50 per adult (£16 over 60s or £11.50 for children 5–15). You can save £2 for adults/over 60s or £1 for children by booking online in advance, and the ticket includes entry to the National War Museum too.
If you're going to be spending a while in Scotland, you can join Historic Scotland which gives you access to Edinburgh Castle as well as over 70 other castles, abbeys and towers for 12 months. Membership costs £52.20 a year for one adult, with various family passes available.
Edinburgh's churches are free to visit. There's Greyfriars Kirk, with its spooky graveyard and monument to loyal canine companion Greyfriars Bobby. Or St Giles' Cathedral, which runs free lunchtime concerts (check website for dates) and organ recitals at 6pm on Sundays.
And if you're planning on visiting a lot of Edinburgh attractions, it might be worth investing in a city pass. The Edinburgh City Pass gives entry to 23 attractions and tours including the Edinburgh Dungeon, Zoo and Scott Monument, as well as an airport transfer, hop-on hop-off bus tour and a Forth boat tour. There are versions available for one day (£45 adults/£20 children), two days (£55 adults/£26 children) or three days (£65 adults/£30 children).
Money-saving museums and galleries
Many of Edinburgh's museums and galleries have free entry to their permanent collections, including the National Museum of Scotland, Scottish National Gallery, Scottish National Portrait Gallery, Scottish National Gallery of Modern Art and Writers' Museum.
There are also lesser-known museums like the Museum of Childhood, People's Story (about Edinburgh life from the 18th century) and Queensferry Museum (about the Forth rail and road bridges). And if your feet get tired along the way, a gallery shuttle bus connects the National Gallery, National Gallery of Modern Art and National Portrait Gallery for a £1 donation.
The striking Scottish Parliament building is open to visitors and they offer four different one-hour free tours – focusing on parliamentary history, art, architecture or photography (dates and times vary so check their website), as well as 10-minute mini tours. When parliament is in session you can also attend a debate or committee, or sit in on First Minister's Questions.
If you're in Edinburgh during September, some of the city's architectural gems open their doors to the public at weekends as part of the Doors Open Days event. Admission is free and for many buildings this is the only time you're able to take a look inside. Over 1000 sites across Scotland took part last year, including Edinburgh's Advocate's Library, City Chambers and university.
Top Edinburgh views
Edinburgh is surrounded by seven hills, so you don't need to go too far to find a great view out over the city. At the end of Princes Street is Calton Hill. This hilltop park is covered with monuments and statues, including the Greek-inspired National Monument and Dugald Stewart Monument (pictured in the top image), with views across the city rooftops towards the castle.
Or if you want to stretch your legs a bit more, head to the top of Arthur's Seat. This dormant volcano is part of Holyrood Park and the peak sits at 250 metres above sea level. There are a few different routes to reach the top, but the most scenic is via the Salisbury Crags. It takes about 45 minutes and starts from the car park behind the Holyrood Palace.
Back in the city centre, you can climb the 287 steps to the top of the Gothic Scott Monument in the Princes Street Gardens. It's dedicated to Sir Walter Scott and is the largest monument to a writer anywhere in the world. Admission costs £8 and the monument is open daily 10am–9pm in summer (until 7pm in May/September and 4pm from October to April).
You can also take a rooftop tour of St Giles' Cathedral for great views down the Royal Mile as well as a peek behind the scenes in its clock tower. Tours cost £6 per person and run from 10.30am–4pm on Saturdays and 1.30pm–4pm on Sundays. And both the Camera Obscura museum of illusions and National Museum of Scotland have roof terraces with great city views.
Budget food and drink
There's a good selection of places to eat and drink in Edinburgh on a budget. Good-value spots with meals under £10 include Oink for roast pork rolls (Canongate and Grassmarket), Piemaker for pies and pasties (South Bridge), Ting Thai Caravan for rice and noodle boxes (Teviot Place), Union of Genius for soup (Forrest Road) or Mosque Kitchen for curry (Nicholson Square). The area around Nicholson Square is popular student haunt with lots of affordable restaurants.
You can pick up homemade cakes and other local delicacies at Edinburgh's markets. There's a market in Grassmarket on Saturdays from 10am–5pm, one by St Mary's Metropolitan Cathedral from 11am–5pm on Saturdays, and one in Stockbridge from 10am–5pm on Sundays. There is also the Street Food Fridays market that takes place from 11am to 7pm at the Union Canal in Fountainbridge with different stalls each week (currently on hiatus due to building work).
Low-cost Edinburgh transport
Edinburgh's a very walkable city – despite its hills – and easy to navigate with the Old Town on one side of the railway line and the New Town on the other. Buses and trams run through the city and are useful to get to attractions like the Zoo or the Royal Yacht Britannia in the docks in Leith. You can get a day ticket for unlimited bus and tram travel for £4.50 for adults or £2.20 children – tickets are available on board or you can buy them online with their mobile app.
If you're arriving by air, the cheapest way from the airport to the city is the Airlink bus to Waverley Bridge. It costs £4.50 single or £7.50 return, takes 20 minutes and runs up to every 10 minutes, 24 hours a day. Or if you're planning to travel around the city a lot you can get a one-week Ridacard covering trams, buses and the Airlink for £20 per adult (£10 for children 5–15).
So those are my tips for seeing Edinburgh on a budget – do you know of any more Edinburgh bargains or have any money-saving tips?
Pin it
This article contains affiliate links, where I get a small commission at no extra cost to you, thanks.