Ten great day trips from Edinburgh without a car – from historic castles and legendary chapels to beaches, lochs and islands full of seabirds – all of which you can visit by public transport or on a tour.
* This site contains affiliate links, where I get a small commission from purchases at no extra cost to you.
Edinburgh is a fantastic city, packed with history, culture and beautiful scenery. But if you fancy a change, it's also within easy reach of some great day trip destinations. Within a few hours you could be spotting street art in Glasgow, watching seabirds on Inchcolm Island, exploring mysterious Rosslyn Chapel or taking a boat trip on Loch Lomond.
Train and bus connections mean you don't need a car either. So here's our pick of 10 of the top day trips from Edinburgh, with details of how to visit each place independently by public transport as well as tour options if you don't want to do-it-yourself.
Map of day trips from Edinburgh
1. Rosslyn Chapel
The ornate Collegiate Church of St Matthew – better known as Rosslyn Chapel – was the brainchild of 15th-century nobleman William St Clair of Orkney. Inspired by his travels in France, he created his own take on a Gothic chapel, employing an army of expert craftsmen who spent 40 years covering every surface with intricate stone carvings.
Look out for carved flowers, stars, angels, Biblical figures and Green Men. But do they have a hidden meaning? Myths and legends surround Rosslyn Chapel, from possible links to the Knights Templar or Masons to it being the site of the Holy Grail.
No one knows for sure, but author Dan Brown stirred up more speculation when he set his book The Da Vinci Code in the chapel – Tom Hanks and Audrey Tatou also filmed in its crypt for the movie version. Grail or not, Rosslyn Chapel is well worth a visit, and make sure to take a walk through the leafy woodland of Roslin Glen with its ruined castle.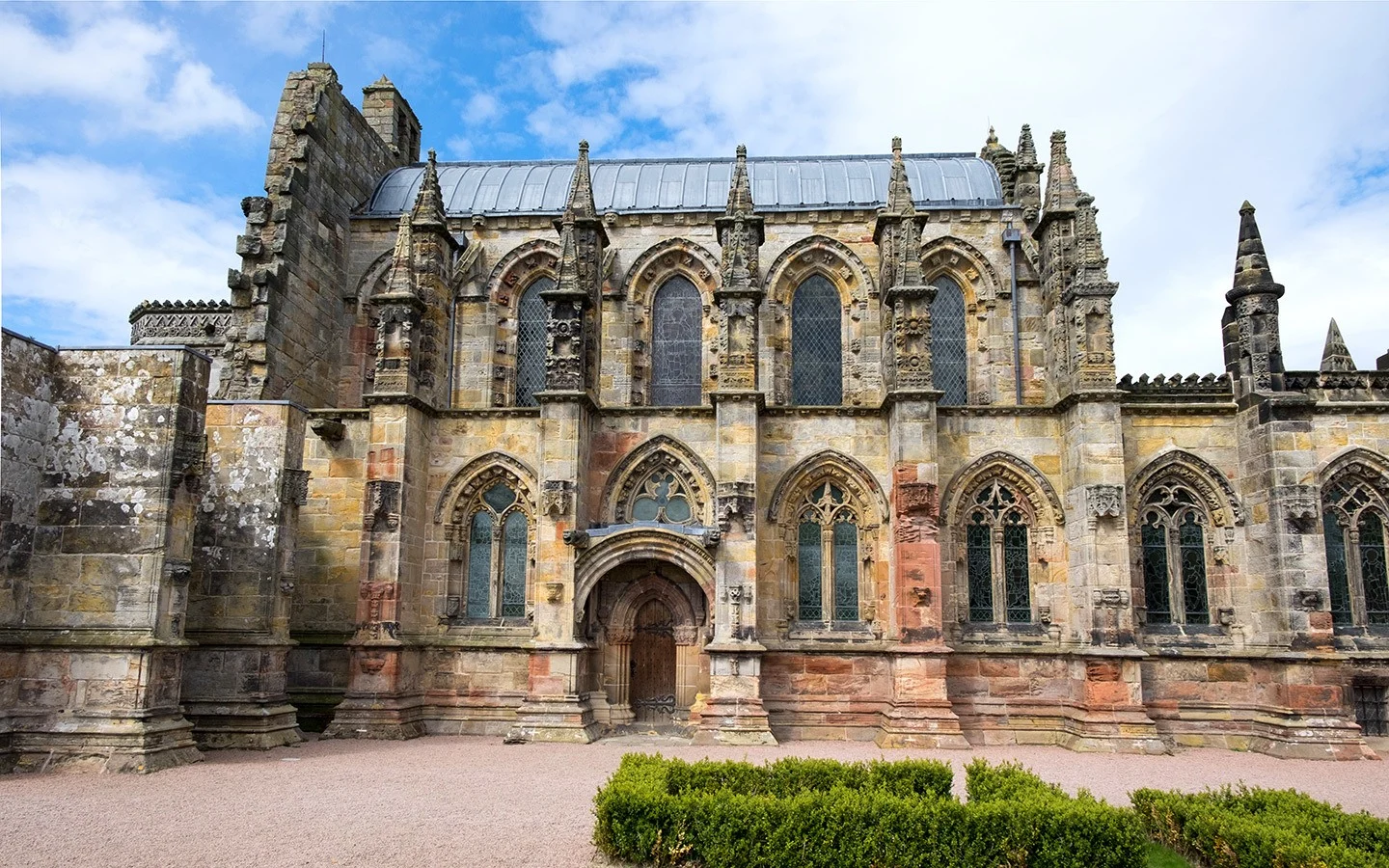 Go independent
Rosslyn Chapel is around seven miles south of Edinburgh. The two are connected by the Lothian Buses number 37 bus, which takes around 45 minutes from Princes Street to Roslin village (the nearest stop to the chapel is at the Original Rosslyn Hotel). The chapel gets busy so it's recommended to pre-book a timed 90-minute time slot in advance.
Take a tour
There are also several day tours which combine a visit to Rosslyn Chapel with other attractions in the area – one also visits the Scottish Borders and Melrose Abbey* and another has stops at Stirling Castle and Dunfermline Abbey.*
2. South Queensferry and Inchcolm Island
South Queensferry sits on the shore of the Forth of Firth, looking out over the Forth Bridges – including the iconic red railway bridge which was built by over 4500 men between 1883 and 1890 (and legend has it it's been painted constantly ever since).
You can take a boat trip from South Queensferry which sails underneath the three Forth bridges and out to the tiny island of Inchcolm. Some trips just sail by the island but it's worth choosing one which stops off at this peaceful wildlife haven. It's a habitat for seabirds like puffins and fulmars and you often see seals and porpoises offshore.
The well-preserved ruins of medieval Inchcolm Abbey have 13th-century frescoes and a bell tower you can climb for views across the island. There's also a hermit's cell where King Alexander I is said to have sheltered after getting shipwrecked, and the remains of fortifications and ammunition tunnels from Inchcolm's days as a wartime garrison.
Take a tour
Unless you've got your own boat, the only way to get to Inchcolm is on a tour. Both Maid of the Forth* and Forth Tours run 3-hour tours to the island which give you 1.5 hours ashore. Services run April–October and depart from Hawes Pier in South Queensferry.
To get to South Queensferry you can take the train from Edinburgh Waverley to Dalmeny station in about 15 minutes, then it's a short walk to the pier. Or it's around 40 minutes on the Lothian Country 43 bus from Princes Street to South Queensferry.
3. North Berwick
The pretty seaside town of North Berwick is just half an hour from Edinburgh, and when the sun's shining on its golden sand and blue sea it's easy to forget you're in Scotland. There are art galleries and quirky gift shops to browse. Take a walk along the beach or head to the harbour to pick up a fresh half lobster and chips from the Lobster Shack.
This area is an important breeding area for bird species like razorbills, terns and guillemots – especially Bass Rock which has the largest gannet colony in the world. The Scottish Seabird Centre charity in North Berwick has a Discovery Centre where you can find out about local species, watch them live on bird cams and take guided boat trips.
You can also visit Tantallon Castle, a vast 14th-century castle perched on a cliff edge looking out over Bass Rock. It's surrounded by an imposing 50-foot-high curtain wall which helped it survive three sieges until it was finally left in ruins by Oliver Cromwell.
Go independent
You can take a direct train from Edinburgh Waverley to North Berwick. Trains normally run around once every hour and the journey takes 30 minutes. Tantallon Castle is around 10 minutes outside of North Berwick on the Eves Coaches 120 bus.
Take a tour
There aren't any day tours from Edinburgh to North Berwick but it's easy to get there by train. Then if you want to get a closer look at the birds or spot other wildlife like seals, dolphins and whales, the Seabird Centre runs several boat trips to Bass Rock and the Isle of May on board either a RIB or a catamaran (normally from April–September).
4. Stirling
Stirling was once the capital of Scotland, sharing the job with Edinburgh until the early 1600s. Today it's best known for its castle, which like Edinburgh's towers over the city from the top of a volcanic rock. Stirling Castle is one of the largest castles in Scotland, a fortress palace built to control the point where the Highlands met the Lowlands.
It was a favourite of Stuart monarchs, and the Royal Palace has been restored to its 16th-century glory with reproductions of the carved oak Stirling Heads and hand-woven tapestries. There's also James IV's Great Hall, the castle kitchens and Queen Anne Gardens.
Beyond the castle you can also visit Stirling Old Bridge, a medieval stone bridge built on the site of an older wooden one where William Wallace's forces trapped the English army during 1297's Battle of Stirling Bridge, killing thousands when the bridge collapsed. And the 67-metre-tall National Wallace Monument is only a couple of miles out of the city.
Go independent
Direct trains from Edinburgh Waverley station to Stirling normally run around every 30 minutes and take just under an hour.
Take a tour
You can visit Stirling Castle as part of a day tour which also includes the Falkirk Kelpies, Loch Lomond and the Trossachs*, or with Rosslyn Chapel and Dunfermline Abbey.*
5. Falkirk
Set between Glasgow and Edinburgh, the town of Falkirk is home to two popular day trip attractions. First is the Kelpies at Helix Park, the world's largest horse sculptures at 30 metres high, surrounded by parkland alongside the Forth and Clyde Canal.
These giant stainless steel sculptures weigh more than 300 tons and are inspired by the working Clydesdale horses who helped build Scotland, taking their name from malevolent shape-shifting water spirits with the strength of 10 horses. You can get up close to them or book a guided tour if you want to go inside and see how they were built.
Or further along the canal to the west is the Falkirk Wheel. This strange-looking 35-metre high metal structure is the only rotating boat lift in the world, an impressive almost sculptural piece of engineering built to connect the Union and Forth and Clyde canals. You can try it out on a boat trip or watch it in action from the visitor centre.
Go independent
It's around 30 minutes by train from Edinburgh Waverley to Falkirk High/Grahamston stations. Falkirk is connected to the Kelpies and the Wheel by bus – but unfortunately they're in different directions so you'll need to backtrack to Falkirk to do both.
To get to the Wheel it's a 15-minute journey on the First 6 or 7 buses (which stop near both Falkirk High and Grahamston stations). Or for the Kelpies, take the First 2 bus (which stops near Grahamston station) for 10 minutes to Grangemouth then it's a 13-minute walk.
You can also walk to either along a stretch of the Forth and Clyde Canal towpath – it's 2.5 miles from the centre of Falkirk to the Wheel or just over 2 miles to the Kelpies.
Take a tour
There is a private day trip* from Edinburgh to Falkirk which visits the Wheel, Kelpies and Callendar House, and also includes a stop at Stirling Castle. Or you can visit the Kelpies (but not the Wheel) as part of a day tour* to Loch Lomond and Stirling.
6. Glasgow
There's a longstanding rivalry between nearby neighbours Edinburgh and Glasgow, with Glasgow seen as cooler, more creative and less touristy. But why pick one when you can visit both, as Glasgow makes an easy day trip from Edinburgh.
There's a lot to see in Glasgow so choose a few highlights. For museum lovers there's the grand red sandstone Kelvingrove Art Gallery and Museum or modern Riverside transport museum. Art lovers can follow the Mural Trail for some of Glasgow's best street art or see Charles Rennie Mackintosh's work at the Lighthouse and Willow Tea Rooms.
You can also admire the beautiful Gothic-style University of Glasgow buildings, relax in Kelvingrove Park or take a walk through the atmospheric hilltop Necropolis. Then head to Finnieston or Merchant City for great places to eat and drink.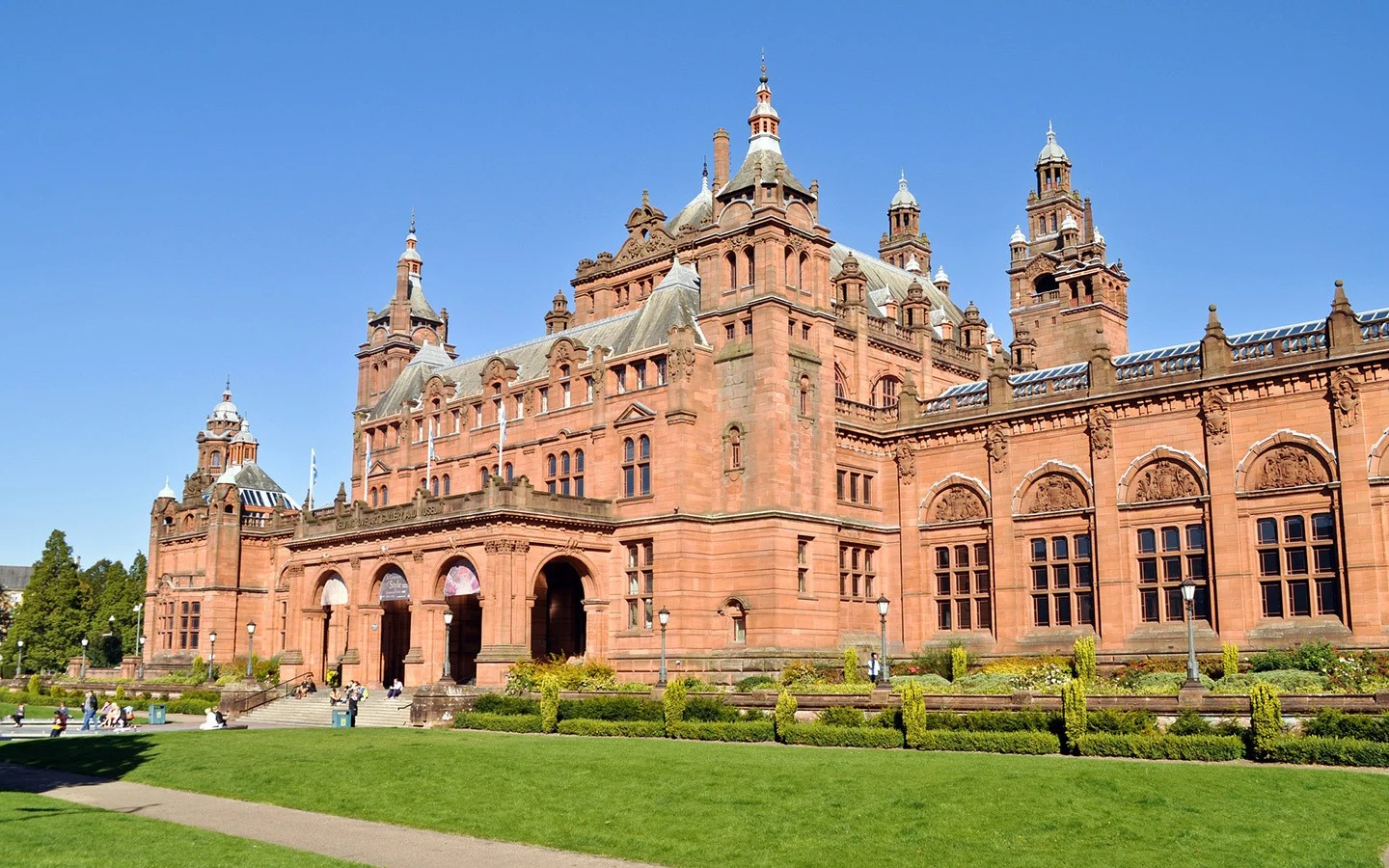 Go independent
Trains run several times an hour between Edinburgh and Glasgow's Central and Queen Street stations, taking 50–90 minutes depending on how many stops they make. There's also the CityLink 900 bus between the two which takes 1 hour 25 minutes.
Take a tour
Glasgow is so easy to get to from Edinburgh that there's no need to take a tour. But when you get there you can learn more about the city with a guided walking tour, either covering Glasgow city centre's history and culture* or its street art.*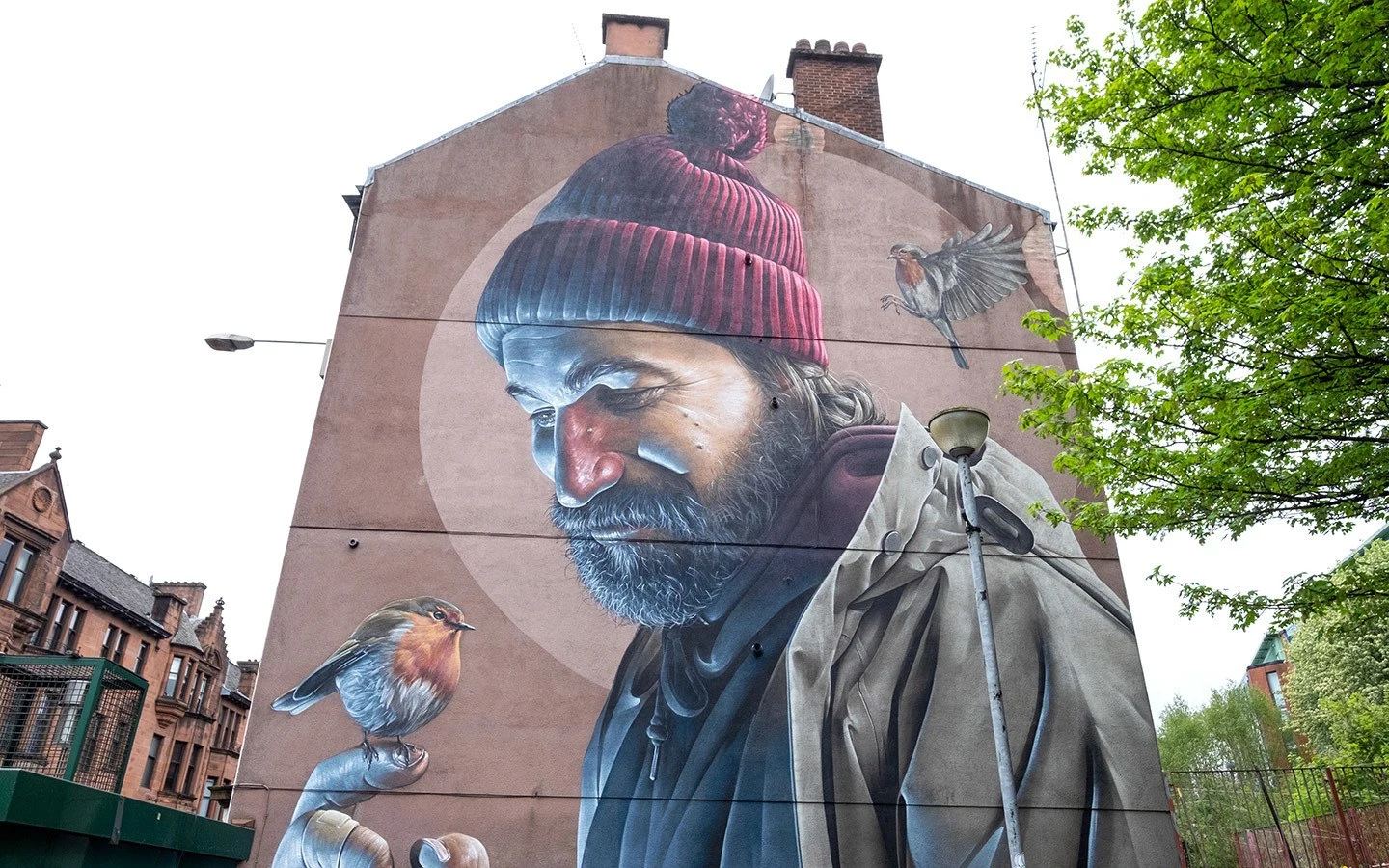 7. St Andrews
Picturesque St Andrews lies on the coast of Fife north of Edinburgh. The university is at the heart of the city – take a walk around St Mary's and St Salvator's Quads to soak up the atmosphere, and if you're visiting on a Sunday you can experience one of its quirky traditions as a procession of red-gowned students walk along the pier at noon.
Explore the ruins of the castle, set on a clifftop with a network of underground tunnels. Climb to the top of the St Rules tower at St Andrews' medieval cathedral for a bird's eye view over the city. Or take a walk along its miles of sandy beaches.
St Andrews is also the home of golf, and if you've got the right handicap (and book well in advance) you can play a round on the Old Course – otherwise you can pose for a photo on the Swilcan Bridge and have a drink at the Jigger Inn, the course's unofficial 19th hole.
Read more: A weekend in St Andrews: 2-day St Andrews itinerary
Go independent
There's no train station in St Andrews itself, but you can take the train from Edinburgh Waverley to nearby Leuchars which takes around an hour. From Leuchars there are frequent Stagecoach 99 buses into St Andrews which only take 10 minutes.
Take a tour
You can also take a full-day tour* to St Andrews, which also includes stops in the Fife fishing village of Anstruther and historic Falkland with its Stuart palace.
8. Pitlochry
The Victorian town of Pitlochry has a beautiful setting alongside the River Tummel and surrounded by the Perthshire Hills. It's been a popular place to visit since Queen Victoria's doctor proclaimed that the air in Pitlochry was good for her health.
Today people come to hike in the surrounding countryside, with a wide selection of walks nearby including the 6-mile hike to the top of Ben Vrackie and the easier 3-mile Craigower climb. There are also river walks past the town's hydroelectric dam, where you can watch fish on the salmon ladder built to help them climb upstream past the dam.
You can also watch a play at Pitlochry Festival Theatre. Or do a whisky tour and tasting at the Blair Athol Distillery on the edge of the town. It's one of the oldest distilleries in Scotland and has been making whisky in Pitlochry since 1798.
Go independent
Pitlochry is around two hours by train from Edinburgh Waverley.
Take a tour
Several tours of the Highlands include a brief stop in Pitlochry, or this Highland Lochs, Glens and Whisky* tour includes around an hour in Pitlochry as well as stopping in Dunkeld, The Hermitage and for a tasting at Dewar's Aberfeldy Distillery.
9. Loch Lomond
Loch Lomond is the largest lake in mainland Britain, and along with the woodland glens of the Trossachs it forms Scotland's first National Park. The loch lies on the fault line which divides the Highlands from the Lowlands, and its landscapes change from rolling hills and woodland in the south to dramatic narrow gorges and mountains in the north.
Take a cruise around the loch from either of the main centres on the lake – Balloch and Tarbet. Or use the waterbus to visit the charming lochside village of Luss, made famous as a filming location for Scottish TV show Take the High Road.
You can also explore the loch's 'bonny banks' on foot or by bike. There are plenty of walking routes, from the short 2-mile walk to Balloch Castle to the West Highland Way long-distance hiking path. And the West Loch Lomond Cycle Path is a flat 17-mile route running between Balloch and Tarbet (or it's 8 miles if you only want to go as far as Luss).
Go independent
You can take the train from Edinburgh Waverley to either Balloch or Arrochar and Tarbet. There are frequent trains to Balloch which take around 2 hours (changing in Glasgow). Or it's 2.5 hours to Arrochar and Tarbet, and although trains run a lot less often it's a really scenic journey along a stretch of the West Highland Line from Glasgow.
Take a tour
You can visit Loch Lomond and the Trossachs on a day tour* which also includes stops at the Kelpies in Falkirk and Stirling Castle.
10. Loch Ness
The last of our day trips from Edinburgh is a long one, but if you don't mind spending a lot of time travelling it is possible to visit Loch Ness in a day, though I'd advise staying at least one night if you can. Loch Ness is a Scottish icon, and where Loch Lomond is the largest lake by area, Loch Ness is the largest by volume at up to 240 metres deep.
The main gateways to Loch Ness are Inverness at the north and Fort Augustus at the south. Once you get there you can take a boat trip to explore the loch and look for its resident monster. A 1933 sighting started the hunt for the Loch Ness Monster, but despite over 1000 sightings and a series of underwater expeditions nothing has ever been found.
You can find out more about Loch Ness and the monster at the Loch Ness Centre and Exhibition in Drumnadrochit, as well as visiting the lochside ruins of 13th-century Urquhart Castle and the Caledonian Canal Heritage Centre in Fort Augustus.
Read more: 12 great things to do in Loch Ness
Go independent
To reach Loch Ness by public transport from Edinburgh you'd need to take a train to Inverness (3.5 hours), then the Citylink 919 bus runs to Drumnadrochit, Urquhart Castle and Fort Augustus. There are only a few buses a day though so you'd need to plan your schedule carefully – staying overnight in Inverness makes things a lot easier.
Take a tour
There's also a day trip* to Loch Ness available which takes 12.5 hours and includes Urquhart Castle, an optional boat trip and stops in Glencoe and Pitlochry.
Save for later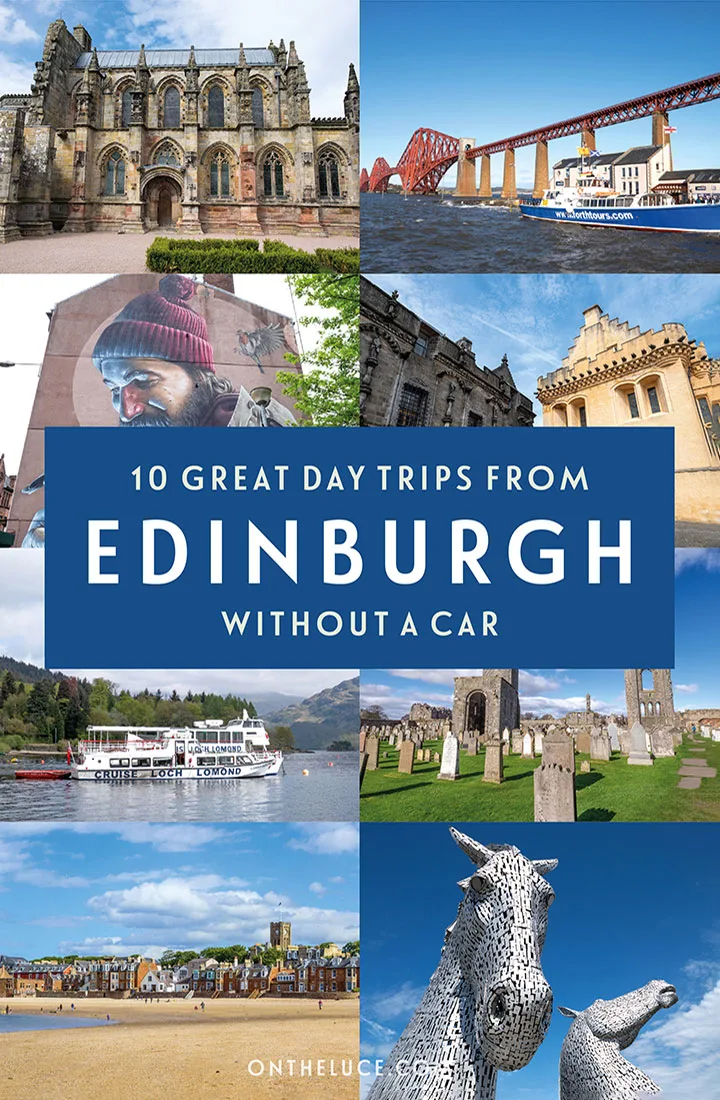 You might also like