Discover the best things to do in Niagara on the Lake in Ontario, Canada – a charming historic lakeside town that's also perfectly located for exploring Niagara Falls and the Niagara wine region.
* This site contains affiliate links, where I get a small commission from purchases at no extra cost to you.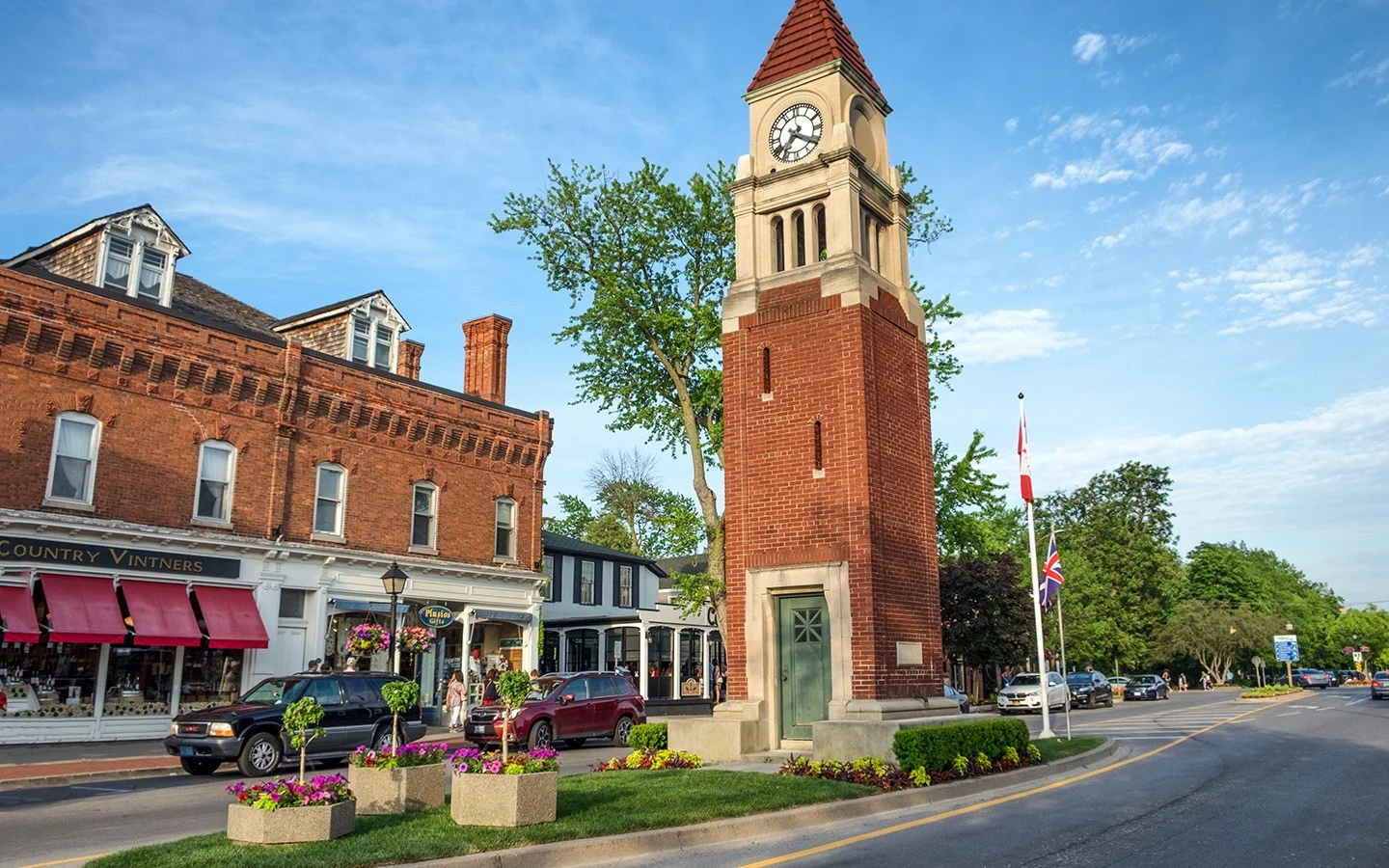 With its flower-decked Victorian buildings and horse-drawn carts, the town of Niagara on the Lake in Ontario is bursting with small-town charm – making it the perfect base to experience the area's wine and waterfalls. You have the Niagara wine region and world-famous Niagara Falls within easy reach, as well as the historic town to explore.
Where Niagara Falls is big and brash, Niagara on the Lake is the complete opposite – exchanging high-rise hotels for cute B&Bs and casinos for boutique shops and restaurants. The town is set on the edge of Lake Ontario directly opposite Toronto, but as you arrive you'll feel like you've travelled back in time as well as 130km across the province.
So if you're planning a trip to Niagara – whether as a romantic getaway, a girls' weekend or a day trip from Toronto – here's our guide to the best things to do in Niagara on the Lake itself, as well as how to visit Niagara Falls and the area's wineries.
The town
Niagara on the Lake was the first capital of Upper Canada – present-day Ontario. And its heritage district is one of the best preserved 19th-century towns in North America. Its gorgeous red-brick buildings, perfectly manicured lawns, tree-lined streets and window boxes overflowing with flowers are so perfectly pretty it could almost be a film set.
It's a favourite for Torontonians on a weekend break, and sitting on a patio drinking a glass of local wine while watching a horse-drawn carriage trot by, I could definitely see why. It sounds like it could be a bit twee, but somehow it skates just the right side of the line. It's a place where time slows down – where you can relax, unwind and explore.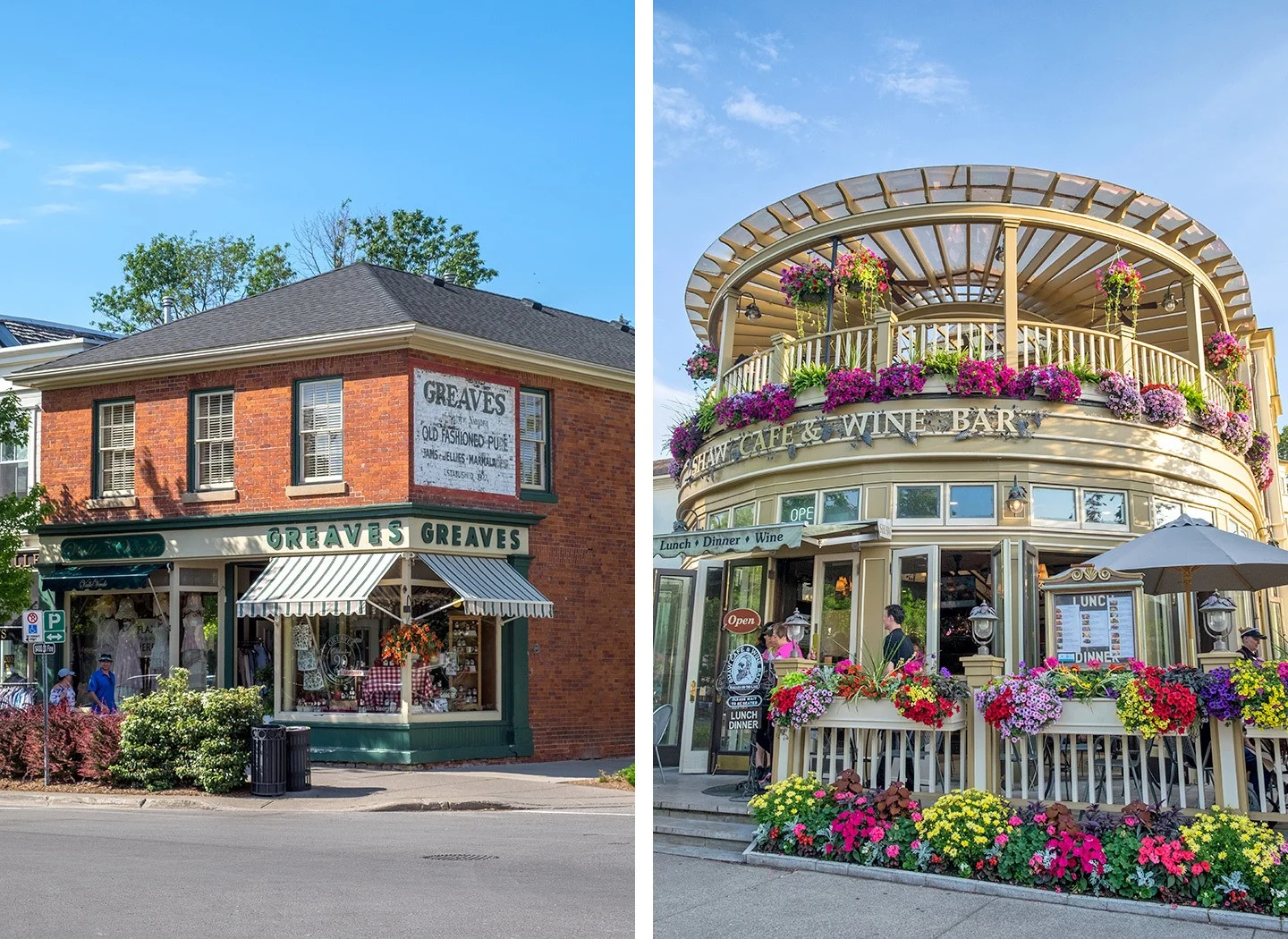 Things to do in Niagara on the Lake
Take a walk downtown: The historic Queen Street District is easy to get around on foot. Many of its Victorian-era buildings are now home to independent boutiques, antique shops, galleries and restaurants. An afternoon of window-shopping and photographing the views is one of the most popular things to do in Niagara on the Lake. Top photo spots include the Memorial Clock Tower, Old Court House and Prince of Wales Hotel.
Grab an ice cream: If the sun's shining, make sure to pick up an ice cream from Cows on Queen Street. They have over 30 flavours (including my favourite Wowie Cowie with vanilla ice cream, toffee, chocolate flakes and moo crunch) made to a secret recipe with creamy milk from Prince Edward Island and served in homemade waffle cones.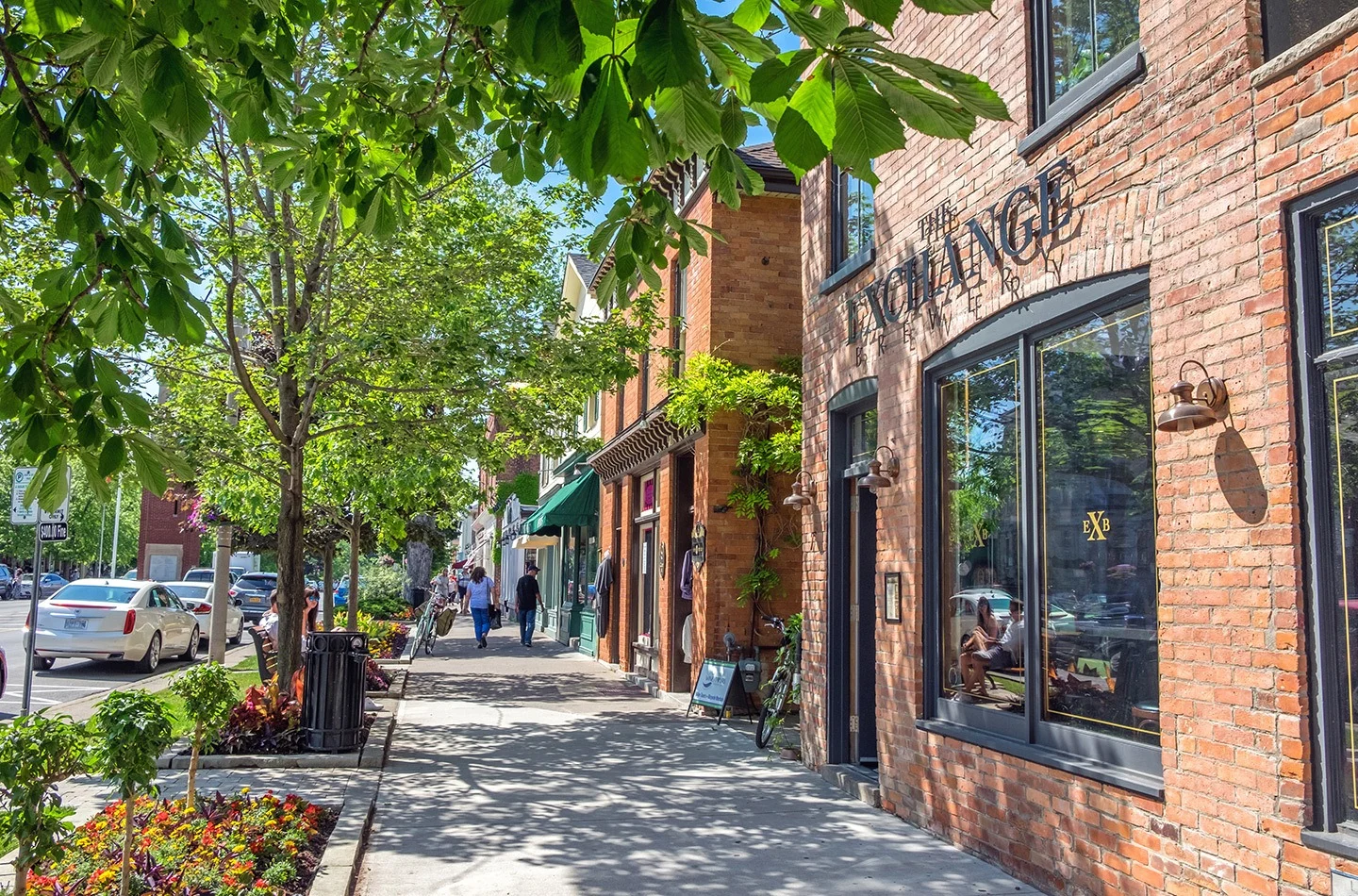 Visit the Niagara Apothecary: Get a glimpse back in time to shopping 1869-style at the Niagara Apothecary. One of the oldest pharmacies in Canada has been restored and converted into a tiny museum with many of the original goods on display.
Look around the Niagara on the Lake Museum: If you want to learn more about the area's history and culture, the Niagara on the Lake Museum has over 8000 artefacts in its collection, telling the town's story from indigenous settlement to the present day.
Catch a show: Dedicated to Irish playwright George Bernard Shaw, the annual Shaw Festival has been bringing world-class theatre to Niagara on the Lake since 1962. Today there are 13 plays at three theatres around town from May to December.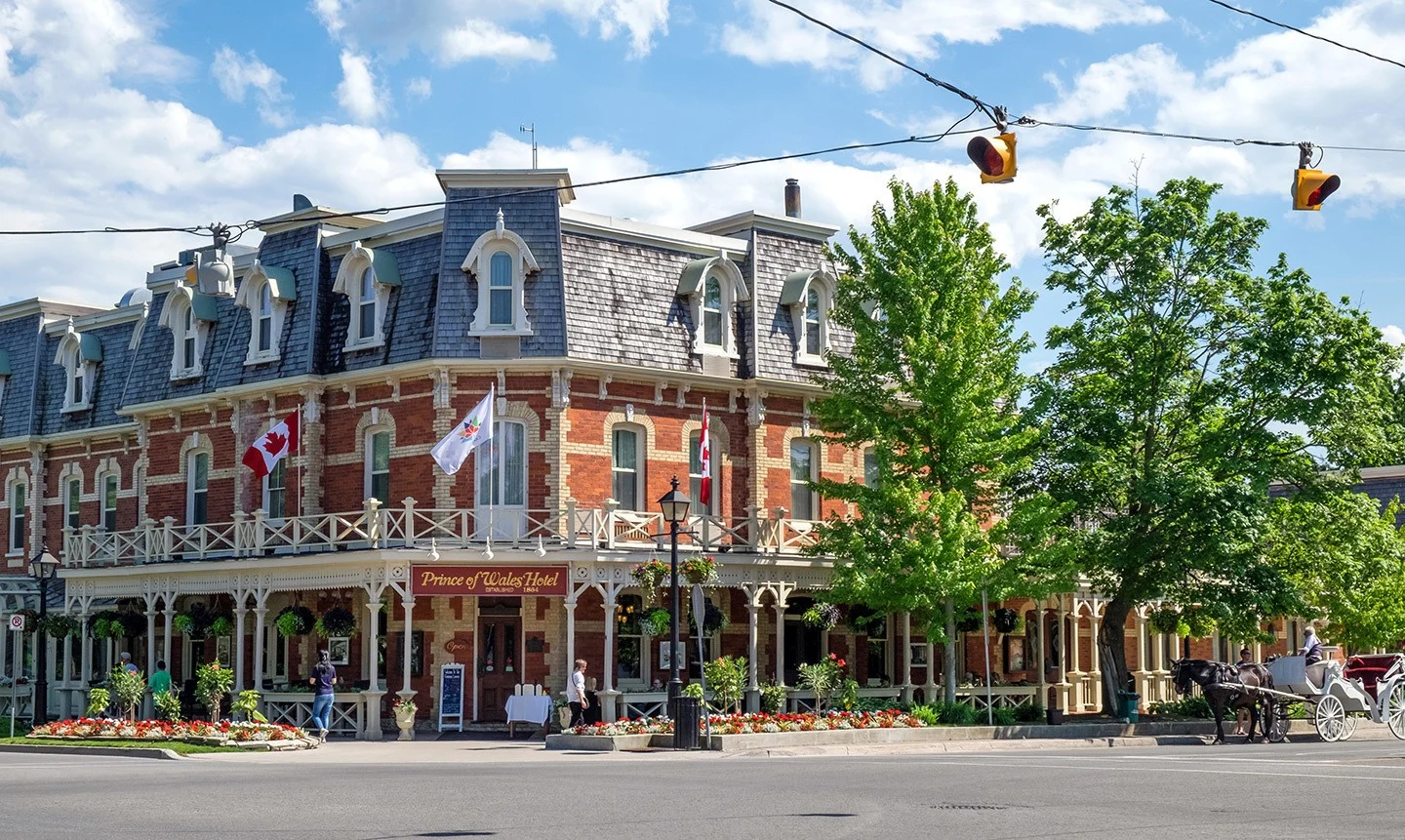 Walk the ramparts of Fort George: This fort on the outskirts of Niagara on the Lake was built as a base for the British Army, and played a major role in the War of 1812. Much of it was destroyed by invading American forces. But it was reconstructed in the 1930s and now is a living history museum, with costumed guides and battle reenactments.
If you're interested in Canada's military history, Niagara on the Lake is also home to two other military sites – the Butler's Barracks National Historic Site where British troops were based, and the defensive tower at Fort Mississauga National Historic Site.
Take a ghost walk: Niagara on the Lake is allegedly 'Canada's most haunted town', and you can find out about some of its best-known ghostly residents on a spooky walking tour of locations including the Royal George Theatre and Olde Angel Inn.
Explore the lakeshore: Take a walk down to the waterfront to enjoy the views from Queens Royal Park. The park is a popular spot for a stroll, especially around sunset, with views over to Fort Niagara across the border in New York and a scenic waterside gazebo – it was actually built as a prop for a film but locals liked it so much they kept it.
Visit the Exchange Brewery: The Niagara region might be best known for its wine, but there are also a couple of local breweries if you fancy a change. The Exchange Brewery is right in the centre of town and has a tasting room with a mix of their main and seasonal brews on tap, and a roof terrace which is a great spot for sunny afternoons.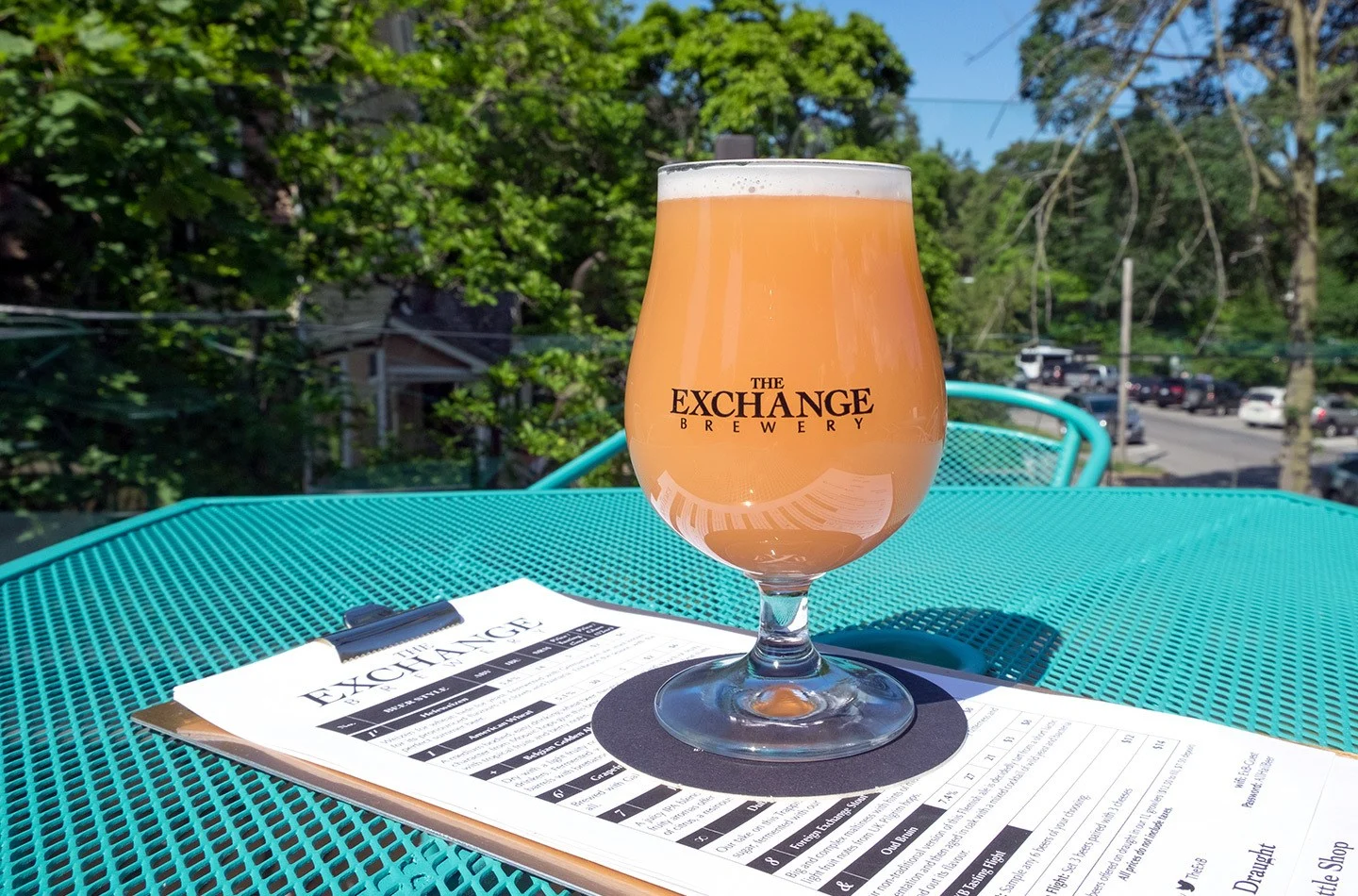 The waterfall
It might be hard to drag yourself away from Niagara on the Lake, but you can't visit Niagara without seeing the Falls. They're just 15 miles south of the town – with bus connections (see details below) if you don't have a car. Niagara Falls are a group of three waterfalls which span the border between Ontario in Canada and New York state in the USA.
Canada's Horseshoe Falls are the biggest, stretching 790 metres wide by 57 metres high, with an immense six million cubic feet of water flowing over every minute. The path runs right along the edge of the Falls from Table Rock so you can hear the roar and feel the spray on your face – the feeling of getting up close to such a force of nature is incredible.
As well as the Falls themselves, there are a variety of different things to do in Niagara Falls, including the famous boat trips through clouds of spray. The Maid of the Mist boats run from the US side, and Hornblower cruises run from the Canadian side.
The 20-minute Voyage to the Falls boat tour gets you up close, but bring a good waterproof camera case and prepare to get wet. There's also a host of other tourist attractions, including the Journey Behind the Falls* walk around the back of the falls, a zipline* across the Niagara River Gorge, jet boat trips*, the sky wheel, aero car and Skylon Tower.
If you fancy trying several of them out, there are passes available bundling them together to save money. Niagara Falls' adrenaline-fuelled rides and casinos are a real contrast to Niagara on the Lake, but however touristy it gets, nature is still very much the star.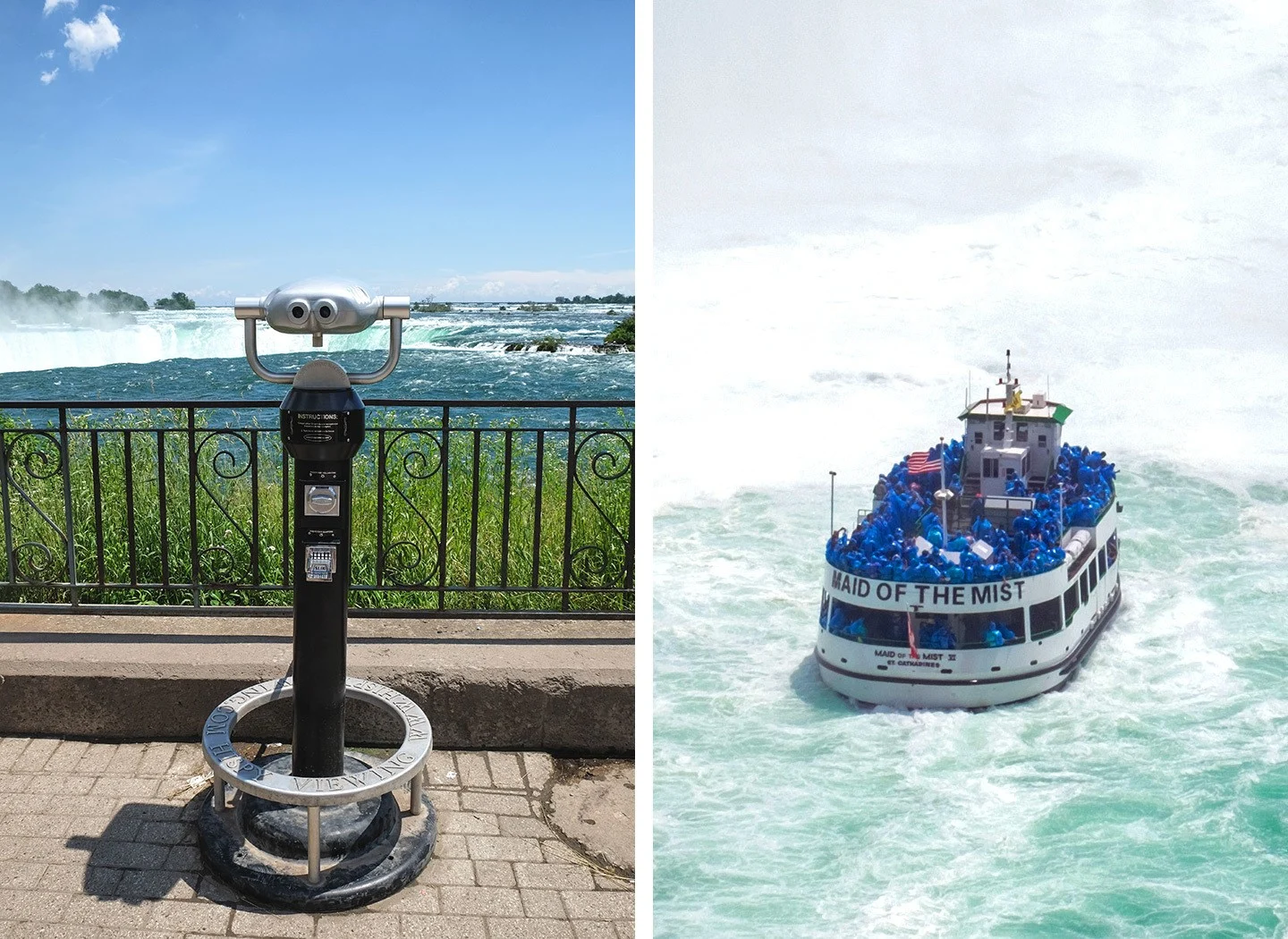 The wine
The Niagara region's other big claim to fame is its wine. The Niagara Peninsula is the largest wine region in Ontario, and the only place in the world that's warm enough in summer to make red wine and cold enough in winter to make ice wine.
Ice wine is a Canadian speciality, made using frozen grapes which are picked by hand in December when temperatures get down to -10°C/14°F. When the grapes are crushed a lot of the water is left behind as ice, concentrating the flavour and the sugar that's left behind. The end result is full of sticky, tropical fruit flavours, like pudding in a glass.
Ontario is one of the best places for ice wine, but there are other local white and red wines like Pinot Noir, Gamay Noir, Chardonnay and Riesling. Visiting the wineries is one of the top things to do in Niagara on the Lake, but with over 30 they're fairly spread out.
If you don't want to drive, you can take a guided tour.* Or you can hire a bike for a day or half-day, pick up a winery map and head out to explore independently.
One of the easiest cycle routes is south along the Niagara River Parkway. Starting from Fort George Historical Park, the route runs along the edge of the Niagara River. There's a separate cycle path and it's fairly flat so it's an easy ride, and there are a string of wineries on or just off the Niagara River Parkway (listed below), all within 8km of town.
Many wineries offer tours and guided tastings. Some require reservations for these and others work on a first-come, first-served basis, so check in advance. And if you want to buy wine, you can arrange to collect it later so you don't have to carry it on the bike.
Wineries along the Niagara Parkway
Peller Estates (3km): This grand winery has a French château meets Southern ranch atmosphere, and is home to Niagara's only underground ice bar. They run tours and have a fine-dining restaurant plus an outdoor patio in summer. Don't miss their Ice Cuvée, a Champagne-style sparkling wine topped with a drop of ice wine to add sweetness.
Lailey Winery (3.5km): Tucked away down a tree-lined driveway, this small winery has been producing wine for over 40 years. They have some of the oldest Pinot Noir and Chardonnay vines in Ontario, which give the wines lots of flavour.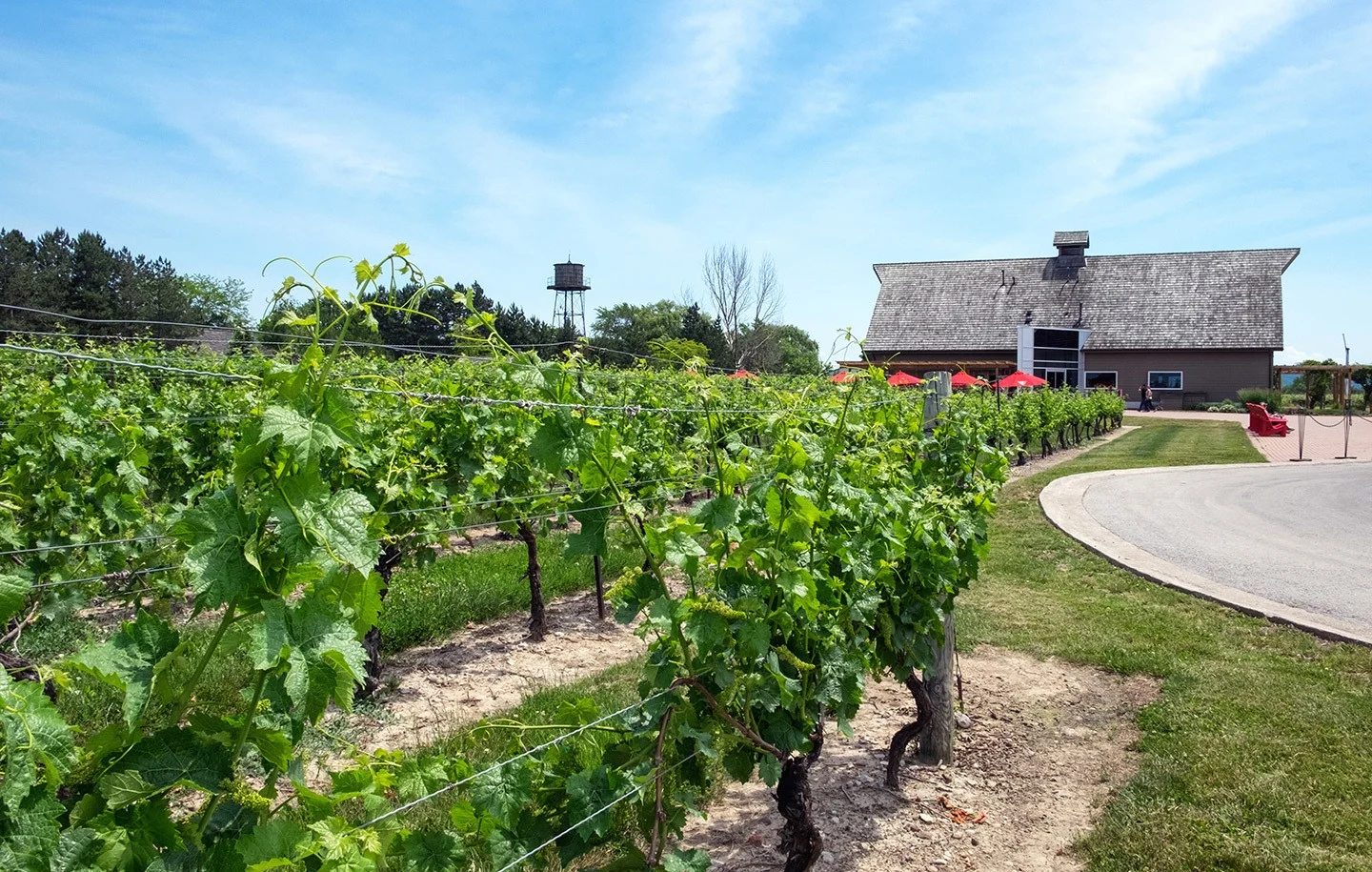 Reif Estate Winery (5km): This vineyard was set up by a wine-making family from Germany who have 13 generations of wine-making experience. They offer tastings and estate tours and are particularly well-known for their Cabernet Sauvignon.
Inniskillin (6km): Inniskillin is one of the oldest of the Niagara on the Lake wineries. They're the experts when it comes to ice wine, winning a string of international prizes. Their estate is spread over several historic buildings, including the 1920s Brae Burn Barn – a former barrel store turned shop and restaurant – and there's a garden for picnics.
Riverview Cellars (7km): Family-owned Riverview produce small-batch wines. The estate started off producing fruit but turned to grapes in the 1990s, expanding their wine-producing space in the 2000s. You can find out more with three different tastings.
The details
When to visit Niagara on the Lake
Being surrounded by water means Niagara on the Lake has a moderate climate, without the big winter freeze you get in much of Canada. Rainfall is evenly spread through the year and snow isn't that common. July and August see average high temperatures of 26–27ºC (79–81ºF) but the town is busy, especially at weekends, so book well in advance.
Spring and autumn (fall) are some of the best times to visit Niagara, with average highs of 12–20°C (54–68ºF). There are colourful blooms in spring and the grape harvest in October. Winter is chilly, with average highs of 1ºC (34ºF) and lows of -5ºC (23ºF). The shuttle bus doesn't run in winter and some attractions at Niagara Falls are closed.
How to get to Niagara on the Lake
There are two small airports with regional flights close to Niagara on the Lake – Niagara Falls and St Catharines/ Niagara District. But the nearest international airport is Toronto Pearson, 77 miles/124km (1 hour 20 minutes' drive) from Niagara on the Lake.
You can also reach Niagara on the Lake by public transport. The easiest option is the Niagara Airbus which runs from Toronto Pearson airport to Niagara on the Lake in around 2.5 hours. But you can also catch a train from Toronto's Union Station to St Catharines (1 hour 35 minutes), then take a taxi to Niagara on the Lake (around $45 CAD).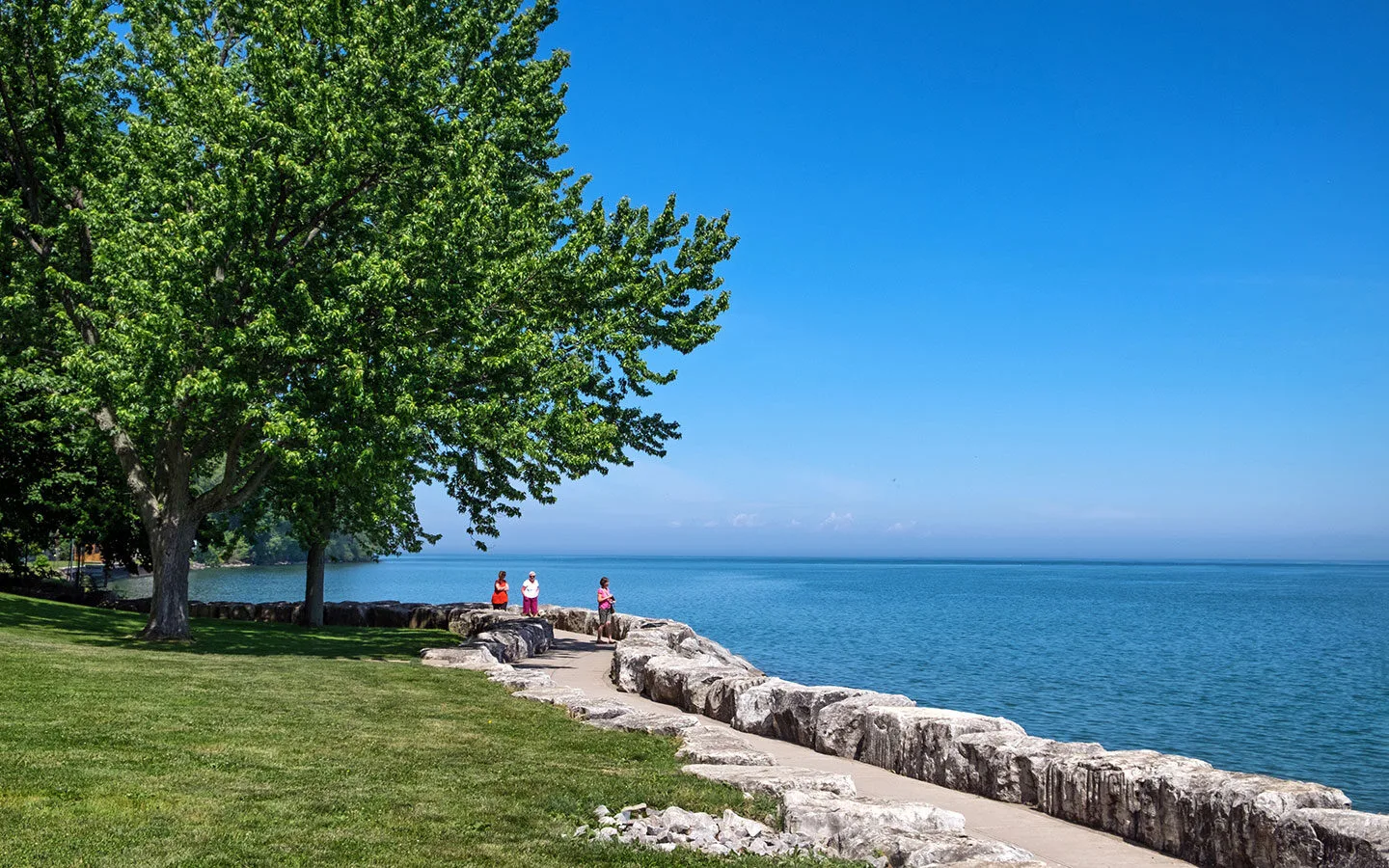 There is no train station in Niagara on the Lake, but there is one at Niagara Falls, which is on the route of the Amtrak Maple Leaf train between New York and Toronto.
It takes 2 hours by train from Toronto or 9.5 hours from New York, with views of the Hudson River Valley and Finger Lakes. But the train is often delayed, so allow plenty of time. (See below for details of how to get from Niagara Falls to Niagara on the Lake.)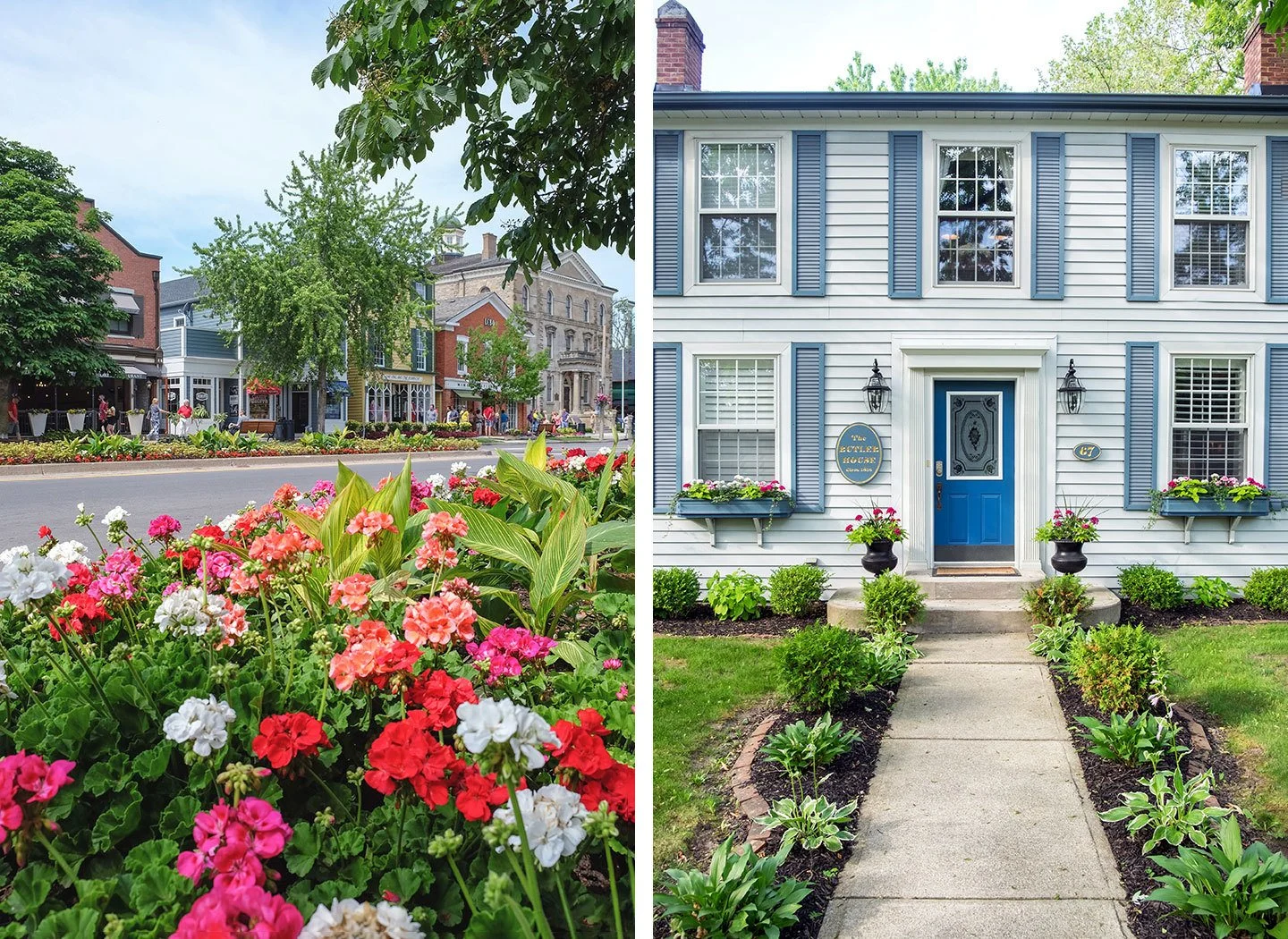 Getting around Niagara on the Lake
The town of Niagara on the Lake is small and easy to get around on foot. But you will need transport to explore the region. The easiest option is to hire a car – you can pick one up at the airport or there are car hire offices near Niagara Falls train station.
To reach Niagara Falls from Niagara on the Lake without a car, the shuttle connect Fort George in Niagara on the Lake with Niagara Falls. It takes around 45–60 minutes each way and runs hourly on Fridays, Saturdays and Sundays from the end of June until early September. Otherwise a taxi between the two costs around $45 CAD.
To reach the wineries you can take a half-day guided tour* or hire a bike. There are several bike hire shops in Niagara on the Lake with half-day hire costing $25 CAD (or around double that if you want to hire an ebike which lets you cover more ground).
Where to stay in Niagara on the Lake
Right in the heart of town, the Prince of Wales* hotel is one of Niagara on the Lake's most recognisable buildings. This luxurious red-brick Victorian hotel is decorated with antiques and tapestries. Rooms are spread over five connecting buildings and there's a spa with indoor pool and a French-inspired restaurant and library lounge.
The Riverbend Inn* is a Georgian mansion by the river on the outskirts of Niagara on the Lake. It has 21 rooms which come with fireplaces and sitting areas. There's also a restaurant, and the hotel is set in 17 acres of grounds, including its own vineyard.
Or Cape House B&B is a traditional (but non-chintzy) B&B a 25-minute walk from the town centre. Recognised for its eco credentials, it has three recently refurbished en-suite bedrooms. There's a friendly atmosphere, with guests eating breakfast together and a lounge and deck where you can sit out with a glass of wine in the evenings.
Save for later
You might also like