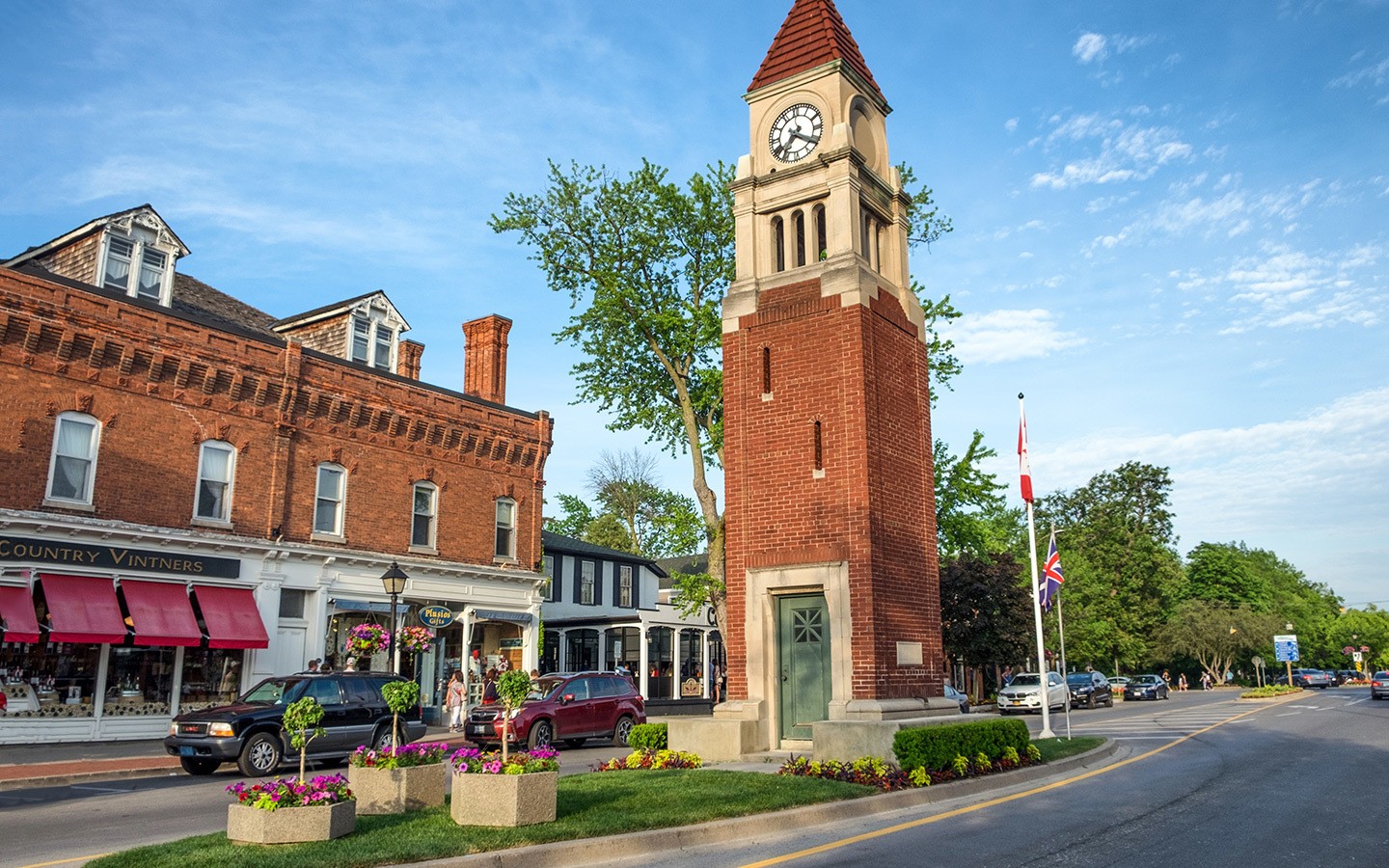 When I found out my summer travels Stateside would take me from New York to Toronto with a couple of days to spare along the way, there was only one place I could really stop off at – Niagara Falls. It's one of those places that although you know it's going to be really touristy, it's such an iconic sight that you really have to see it for yourself at least once.
Though after hearing about the high-rises and casinos I was having second thoughts, until I found out there was another Niagara we could base ourselves in. Bursting with small-town charm, Niagara on the Lake is the perfect place to experience the area's wine and waterfalls.
Read more: A weekend in Toronto, Ontario: A 48-hour itineraryy
Things to do in Niagara on the Lake
The town
Where Niagara Falls is big and brash, Niagara on the Lake is the complete opposite – exchanging high-rise hotels for cute B&Bs and giant casinos for boutique shops and restaurants. The town is set on the edge of Lake Ontario and is directly opposite Toronto, but as you arrive you'll feel like you've travelled back in time as well as 130km across the province.
Niagara on the Lake's heritage district is one of the best preserved 19th-century towns in North America. It's all gorgeous Victorian red-brick buildings, perfectly manicured lawns, tree-lined streets and window boxes overflowing with flowers. So perfectly pretty it could be a film set.
It's a bit of a favourite for a Torontonians on a romantic weekend break, and as I sat on a patio drinking a glass of local wine at sunset and watching a horse-drawn carriage trot by, I could see why. It sounds like it could be a bit twee, but somehow it skates just the right side of the line.
It's a place where time slows down – where all you have to do is relax and unwind, maybe do a bit of window shopping, stop off for an ice cream (they have a branch of my favourite Prince Edward Island producer Cows), take a walk along the lakefront and do a a bit of fantasy house-buying to pick which multi-million mansion you'd choose to live in in another life.
The waterfall
As hard as it was to drag ourselves away from Niagara on the Lake, you can't go to Niagara without seeing the Falls. We didn't have a hire car but had no problem getting around using the buses. To get from Niagara on the Lake to Niagara Falls you can catch the hourly shuttle bus from Fort George to the Floral Clock ($14 CAD return), where it meets up with the WEGO bus which runs past all the main Niagara Falls attractions ($9 CAD for a 24-hour pass).
There plenty of different things to do in Niagara Falls – a zipline, 4D cinema, whitewater walk, aero car, sky wheel, viewing towers, walk behind the falls and various boat trips. If you fancy trying them out then there are various passes that bundle them together to save money.
But the main attraction for us was always going to be the Falls themselves. As a former geography student and environment geek, the feeling of getting up close to such a force of nature was incredible. Canada's Horseshoe Falls are the biggest, stretching 790 metres wide by 57 metres high, with an immense six million cubic feet of water flowing over every minute.
The path runs right along the edge of the Falls so you can hear the roar, feel the spray on your face and look right down to the blue Maid of the Mist boats getting buffeted by the waves (bring a good waterproof camera case and prepare to get wet if you want to get up close). Yes it was pretty much as touristy as I imagined, but nature is still very much the star at the Falls.
The wine
Away from that waterfall, the other thing the Niagara area is famous for is its wine. It's the only place in the world warm enough in the summer to make red wine and cold enough in the winter to make ice wine. If you've not tried ice wine you're missing out – it's full of sticky, tropical fruit flavours, like pudding in a glass. It's made using frozen grapes, which are picked by hand in December when temperatures are down around -10 (there's a job I wouldn't fancy doing).
When the grapes are crushed a lot of the water is left behind as ice, concentrating the flavour and the sugar that's left behind. Ontario's one of the best places for ice wine, but there are other local white and red wines like Pinot Noir, Gamay Noir, Chardonnay and Riesling.
There are about 28 Niagara on the Lake wineries, but they're pretty spread out. If you don't want to drive, you can take a guided winery bus tour or explore on your own by bike. We decided to hire bikes, so picked up a map and chose a few wineries which weren't too far apart. One of the easiest cycle routes is along the Niagara River Parkway. You start at Fort George Historical Park, cycle through the park and then just follow the path along the edge of the Niagara River.
There's a separate cycle path and it's fairly flat so it's an easy ride – though there isn't a lot of room in your saddlebag (and the extra weight combined with a few tastings can make things a bit wobbly!), so if you want to buy wine you can arrange to collect it later.
Our first stop was Peller Estates, just a couple of kilometres south of town. It's a grand-looking place with a bit of a French château meets Southern ranch atmosphere going on. They even have an ice bar if you want the full ice wine experience and on a sunny day the gardens were full of people having a BBQ. But we headed straight into the tasting room.
In a weird coincidence, there was an Ice Cuvée wine my mum and I loved when we did a cruise with P&O – a Champagne-style sparkling wine topped up with a drop of ice wine to add sweetness. I'd never seen it anywhere else but it turns out Peller Estates make it, so I had to do a thorough tasting to make sure I still liked it (the answer was a definite yes).
From Peller it was another 3km along the Parkway to Reif Estate, a family-owned vineyard set up by a wine-making family from Germany. It has some of the area's oldest vines which give the wines lots of flavour. Next up was Inniskillin, a short hop away, where we chatted to a guy on the tasting desk who'd emigrated to Canada from South Wales 30 years ago and now spent his retirement teaching people about wine – not a bad way to spend your days.
Then our final stop was 4.5km away at ice wine specialists The Ice House, whose ice wine slushies were just what we needed to set us up for the ride back to town. Four wineries were just a taste of what Niagara's wine region has to offer, but a pretty perfect way to spend a stopover.
The details
How to get to Niagara on the Lake
We took the train to Niagara Falls from New York Penn Station for US$88 (£68) per person. It took about 9.5 hours, but the seats were really comfy with tons of leg room. You go through Canadian immigration when you get off at Niagara which was pretty quick and easy. We did plan to hire a car but the train was late and the car hire shop had closed. So we gave up on that idea and took a taxi to Niagara on the Lake ($40 CAD/£23) then used the bus.
There's a shuttle between Niagara on the Lake and Niagara Falls from April to September which runs once an hour and costs $14 CAD (£8) return. To get to Toronto, we took the bus to Burlington then the GO commuter train to Union Station (two hours and $19 CAD/£11 in total).
Where to stay in Niagara on the Lake
Cape House B&B is a traditional – but not too chintzy – B&B 30 minutes' walk from the centre of town (Niagara on the Lake is bigger than it looks). There are only three bedrooms and everyone eats breakfast together so it's got a communal atmosphere – with a lounge and deck so you can sit out with a glass of wine in the evenings. Owners John and Phyllis were lovely – Phyllis whipped up homemade granola and smoothies for breakfast and John drove us to the bus station on our way to Toronto. Rooms from $165–$185 CAD (£96–£107) a night in high season.
Where to eat in Niagara on the Lake
Because we were out of town we thought we'd have to take taxis for dinner but it turned out there were a couple of good restaurants nearby. The star was Backhouse, tucked away in an unassuming shopping centre. From outside it looks like an office but inside is this dark, moody restaurant. We went for their Signature nine-course tasting menu ($79 CAD/£46) and sat in front of the open kitchen to watch the chefs at work. It was one of the best meals I've had in years, with beautiful presentation and inventive flavours (and no problem making it gluten-free).
We also liked The Old Winery, just down the road from our B&B, for Italian woodfired pizzas, pastas and grills – and a good local wine list. Also recommended is Grill On King in the centre of town, especially if you can grab a table on their pretty flower-lined terrace out the front. They (unsurprisingly) specialise in grilled meat, and do burgers and sandwiches at lunchtime too.
And if you fancy a change from wine, the Exchange Brewery is right in the centre of town and has a tasting room where you can try their beers. There's usually a mix of their main and seasonal brews on tap, and their roof terrace is perfect for sunny afternoons.
Pin it
This article contains affiliate links, where I get a small commission at no extra cost to you, thanks.