A guide to travelling on the Caledonian Sleeper, the overnight train journey from London to Scotland, with everything you need to know, from routes and costs to on-board facilities and accommodation.
* This site contains affiliate links, where I get a small commission from purchases at no extra cost to you.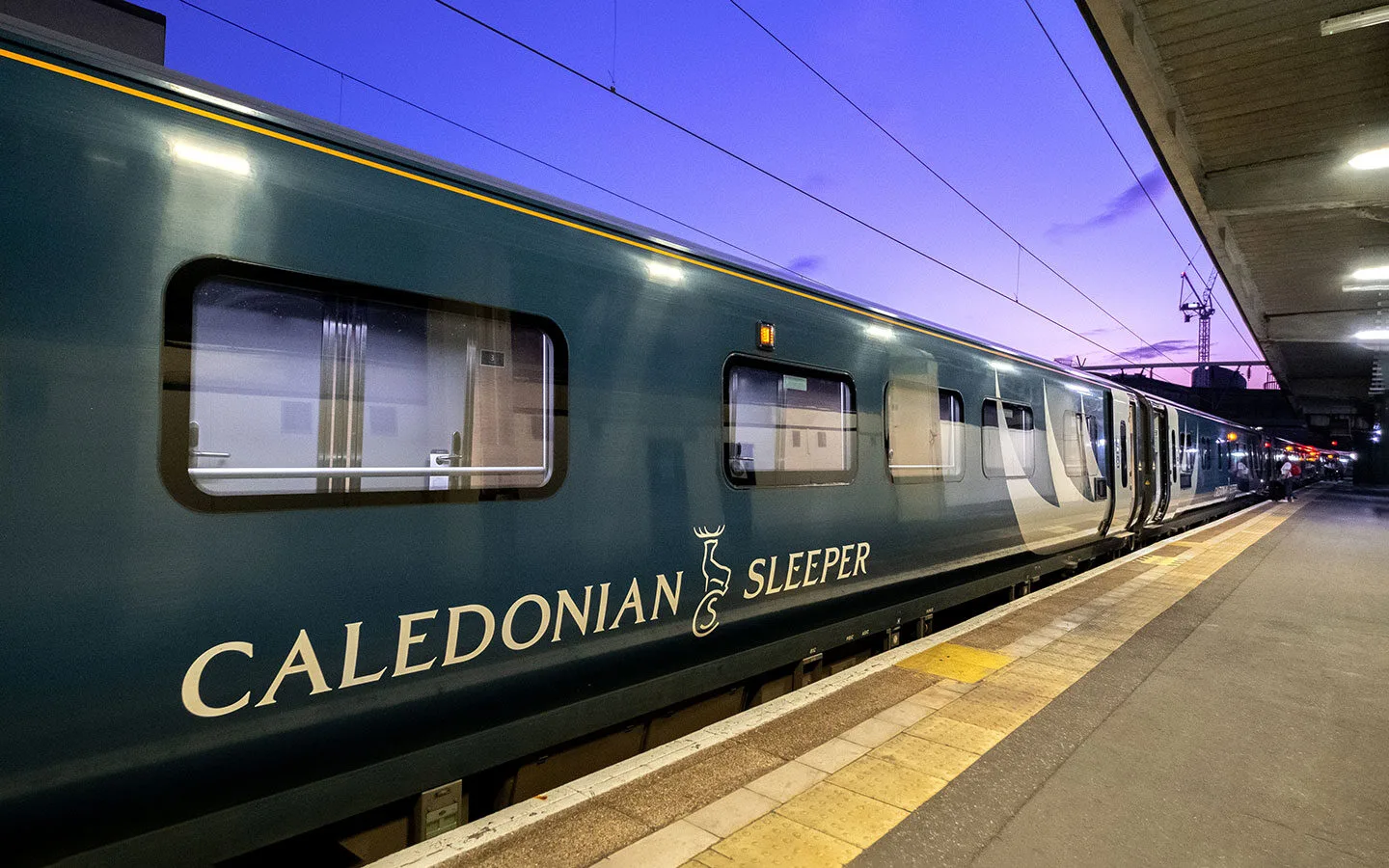 There's something romantic about a sleeper train. Being rocked to sleep then woken by your butler knocking on the door with a steaming cup of tea… or there was on the 1930s Orient Express anyway, but is there still any romance to a night on the rails today?
The Caledonian Sleeper is one of just two overnight trains in the UK (the other is the Night Riviera Sleeper from London to Cornwall), whisking travellers from London Euston to Edinburgh, Glasgow, Fort William and other Scottish destinations.
There's been a sleeper service from London to Scotland since 1873. But the current service has been running since 1996, with smart new upgraded carriages brought into service in 2019. I've tried out the Caledonian Sleeper at two ends of the spectrum – a shared bunk room on the old trains and an en-suite room with double bed on the new trains.
It's a great way to travel while you sleep, waking up in time to see the sun rise over the Scottish Highlands. And it also produces less carbon emissions than flying so is more environmentally friendly. So if you fancy an overnight train trip from London to Scotland, this Caledonian Sleeper review tells you everything you need to know.
Travelling to Scotland on board the Caledonian Sleeper train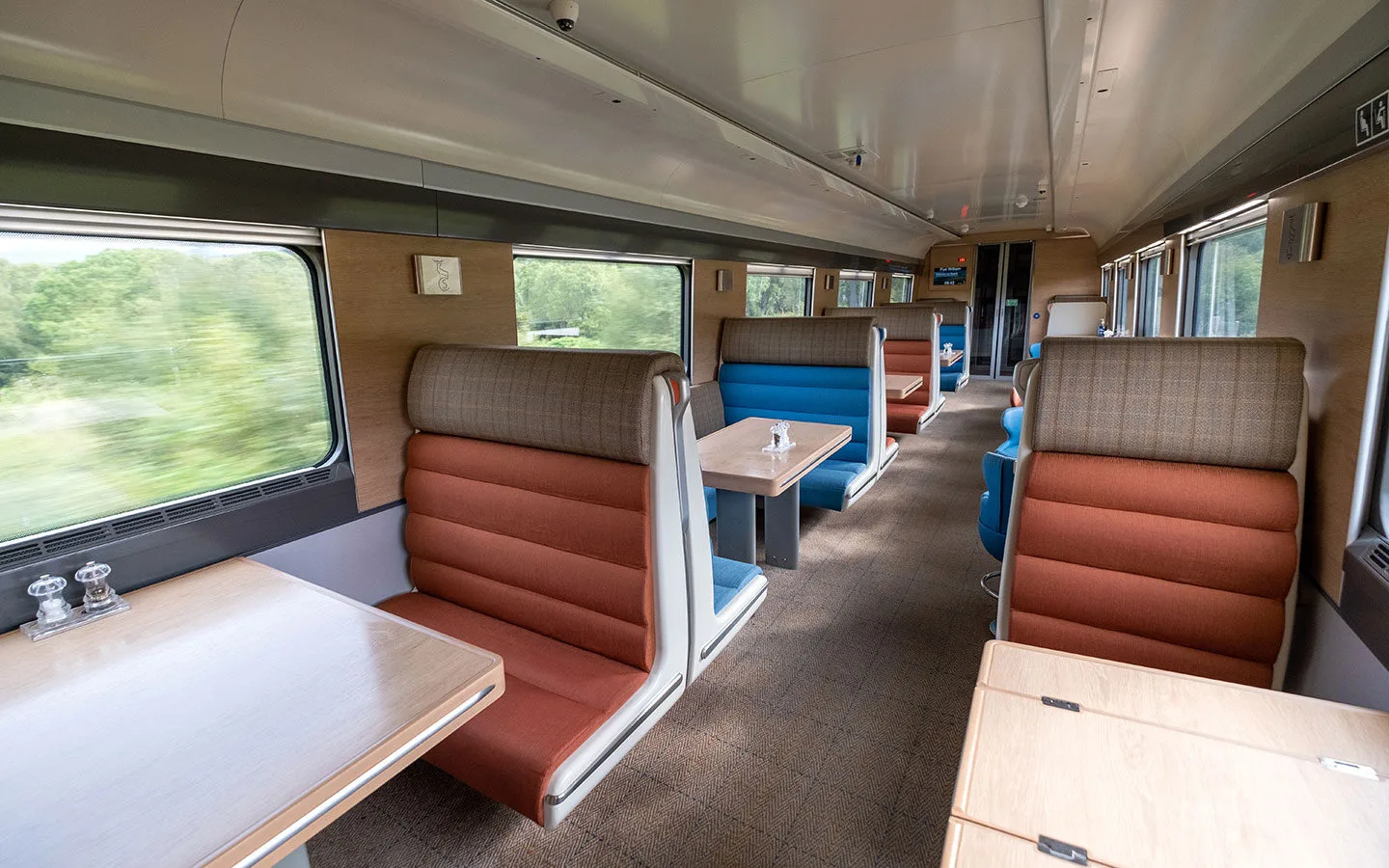 Where can you travel to on the Caledonian Sleeper?
The Caledonian Sleeper connects London to Scotland and vice versa, running every night of the week apart from Saturdays (except the nights of 24, 25 and 31 December). Although the Caledonian Sleeper sounds like it's one train, there are actually a few different options so you can reach various destinations around Scotland while you sleep.
The first thing to know is that there are two different sleeper routes – Lowland and Highland. The Lowland Caledonian Sleeper runs from London Euston and splits en route at Carstairs, with one half travelling to Edinburgh and the other to Glasgow.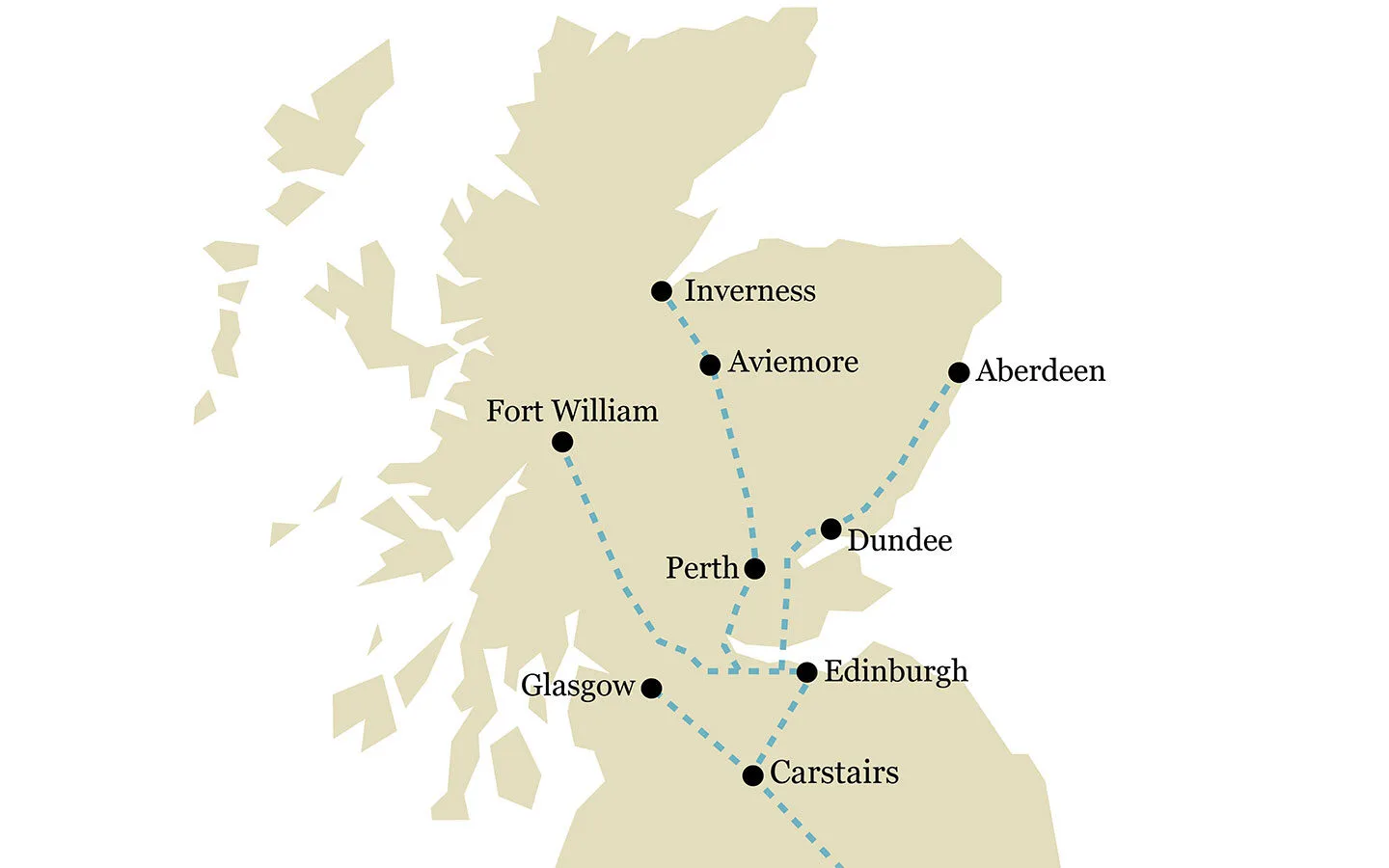 The Highland Caledonian Sleeper also runs from London Euston but leaves earlier as it heads further north. The train is divided into three sections and splits when it gets to Edinburgh – one section goes north to Stirling, Perth, Aviemore and Inverness, another goes east to Dundee and Aberdeen, and the third goes west to Fort William.
So which should you choose? I've travelled on both the Lowland and Highland routes and the Lowland is a good way to make the most of your time by travelling overnight, but as you leave late at night and arrive early the next day you don't see much on the way.
The Highland gives you chance to see more of Scotland's beautiful landscapes, either in the morning if you're travelling to Scotland or in the evening if you're going to London. The route to Fort William in particular – known as The Deerstalker – is stunning, running along the scenic West Highland Line past lochs, moors and mountains.
How long does the Caledonian Sleeper take?
The Lowland Sleeper takes 7.5 hours to reach Glasgow and Edinburgh. It leaves London Euston at 11.50pm (11.28pm on Sundays) and arrives into Glasgow and Edinburgh around 7.20am. Euston at midnight isn't the most glamorous place (I was kept company by a mouse feasting on café crumbs!) but you can board the train from 10.30pm.
The Highland Sleeper leaves London Euston at 9.15pm (8.59pm on Sundays), though you can start boarding around 45 minutes before departure – and Club/Caledonian Double passengers can also use Euston's Avanti First Class lounge for up to two hours before then. The journey takes 8–12 hours depending on your destination.
If you're heading to Stirling, Perth or Dundee you get in very early in the morning (5am–6am). But other arrival times are more reasonable – getting into Aberdeen at 7.40am, Aviemore at 7.45am, Inverness at 8.42am and Fort William at 9.57am. And in reverse, trains leave Scotland between 7pm–midnight and arrive into London at 7.49am.
One thing to be aware of when you're planning your trip is that the Caledonian Sleeper (particularly the Highland route) is prone to delays. So allow extra time if you're booking activities or onward travel on the day you arrive. (And if you are delayed you can reclaim 50% of your fare if it's 30–59 minutes late or 100% if it's over 60 minutes late).
What are the classes of travel on the Caledonian Sleeper?
Instead of the usual First Class/Standard Class carriages you find on most trains in the UK, there are four different classes of travel on board the Caledonian Sleeper. The most basic are the seats and the next three are various different sleeper cabins.
Seats are the cheapest option. They come with lockable storage, drop-down tables, wifi, a light and charging point, and there are toilets at the end of the carriage. The seats do recline slightly (though not a lot) and there are shutters on the windows. The lights stay on all night, but you're given a sleep kit with eye mask and ear plugs.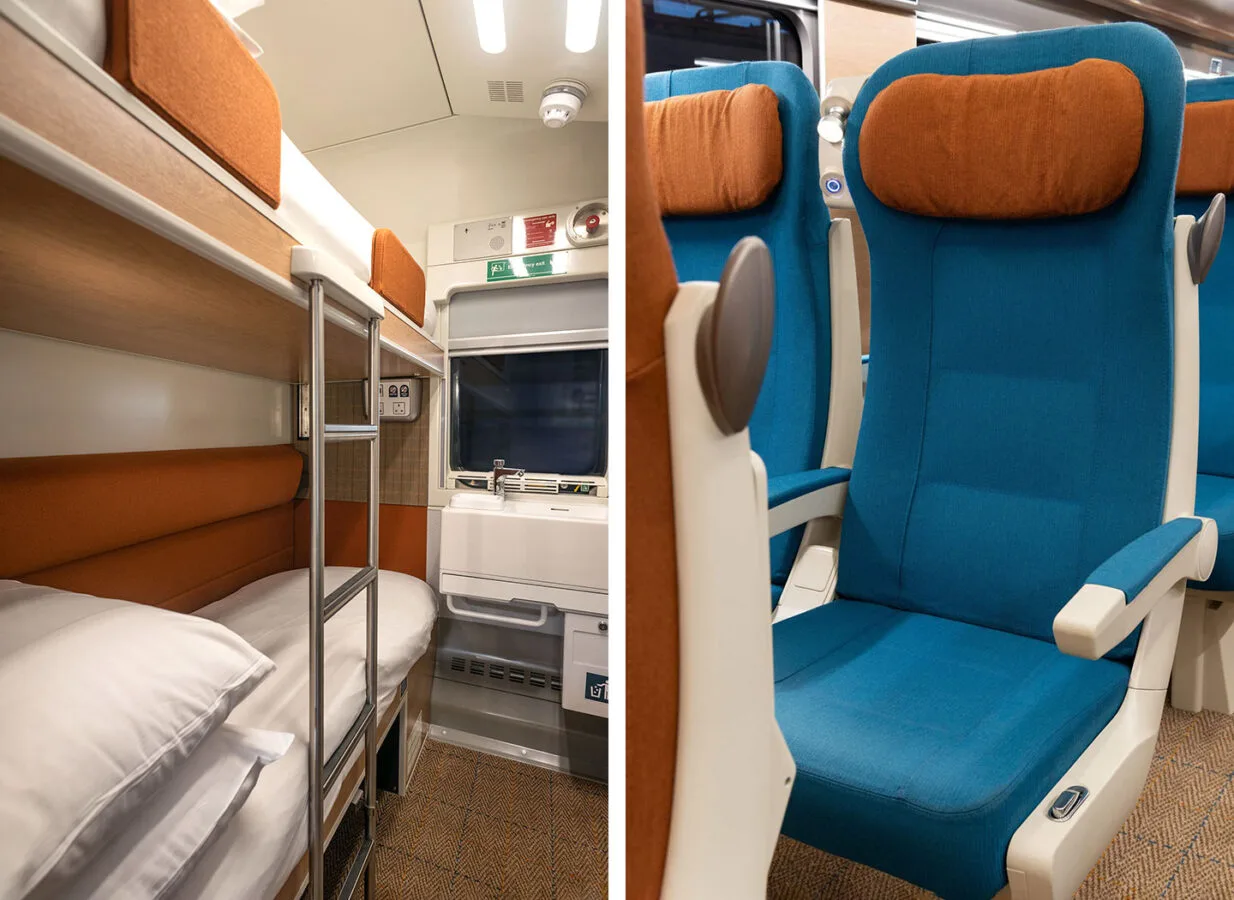 Next up are the Classic rooms. These compact cabins are available for double or single occupancy. They have upper and lower bunk beds (if you're on your own the top bunk is folded up against the wall), which are 190cm long and 63cm wide. And if you're travelling with a group you can book two Classic rooms with interconnecting doors.
Each cabin has a sink and towels and soap are provided. There are also power sockets, USB ports and dimmable lights. And the door locks with an electronic hotel-style keycard. Shared toilets are available at the end of the corridor. Breakfast isn't included in Classic rooms but you can order it to be delivered to your room at an extra cost.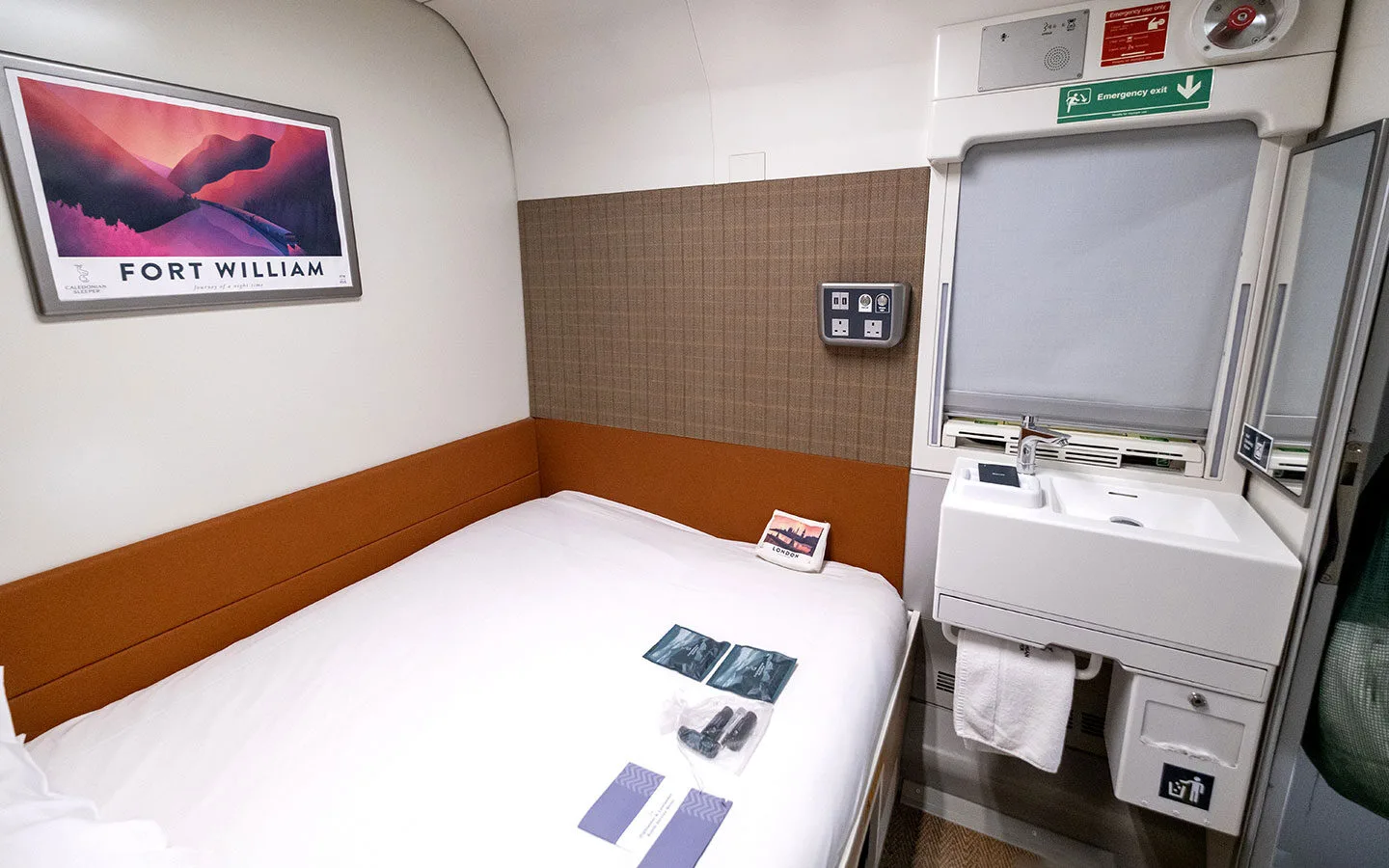 Then the Club rooms have a similar layout, again with upper and lower berths. But these also have a tiny en-suite bathroom with a private toilet and shower and complimentary toiletry kits. Breakfast is included, which you can have either in your room or in the lounge bar, and you get room service and priority seating in the lounge bar.
Finally the most expensive option is the Caledonian Double rooms. These have a 190cm-long double bed – a bit of a novelty on a train! – and an en-suite bathroom with toilet and shower. And they come with the same extra perks as the Club rooms.
There are also accessible double and twin rooms with wheelchair-accessible en-suite toilets.
How much does the Caledonian Sleeper cost, and how do I book?
Prices for the Caledonian Sleeper vary depending on demand, similar to airlines. If you want to bag the cheapest prices, book well in advance, travel off season and avoid Friday and Sunday nights. The Lowland sleeper tends to be cheaper than the Highland, and the Fort William route is usually the most expensive as it only has two sleeper cars.
Sleeper cabins are priced per room and can be booked for either single or double occupancy. So they're better value if there are two of you sharing (when I travelled in a bunk room before the upgrade you could share with someone of the same gender if you were travelling solo, but that option's no longer available unfortunately).
A basic seat starts from £35/$41 on the Lowland Sleeper or £40/$47 on the Highland. And a Classic room from £140/$165 for single occupancy or £170/$200 for two people.
A Club room starts from £205/$241 for single occupancy or £250/$294 for two. And the Caledonian Double starts from £335/$393 single or £395/$464 for two on the Lowland route and £395/$464 single or £470/$552 for two on the Highland route.
So it's not exactly a cheap way to travel, but when you factor in saving a night's accommodation it's not so bad. It's also a unique experience to leave London, have dinner and drinks on board, fall asleep and wake up surrounded by Highland scenery.
You can book directly* on the Caledonian Sleeper website, and either print out your ticket or show it on your phone. Unlike most UK train tickets which go on sale three months in advance, Caledonian Sleeper tickets can be booked up to a year in advance.
There's a choice of Fixed Advance tickets, which cover a specific service and can't be changed or refunded. Or Flexible tickets, which cost more but mean you can change the date for free up to two days before you travel.
There are discounts for children under 16 and under 5s go free (though they don't get their own bed). If you have a 16-25, Senior or Forces Railcard* you can save a third on seats and single occupancy Classic rooms only, not twin or en-suite rooms.
And if you're travelling around the UK on an InterRail/Eurail or BritRail pass, you just pay a sleeper supplement on top of the pass – bookable on the Caledonian Sleeper website.
What do you do with your luggage?
Officially you can bring two bags no bigger than 30cm x 70cm x 90cm plus hand luggage. But there's not a huge amount of space on board so pack as lightly as possible. If you're in a seat there's a luggage area at the end of the carriage and overhead racks.
If you're in a sleeper cabin there's space for luggage under the bottom bed. It's around 31cm high x 122cm wide x 54cm deep, so won't fit large suitcases (and the corridors are narrow so it'd be a squeeze to get them down there), but any bigger suitcases can be left in the guard's van – you need to contact Guest Services in advance though.
And if you're travelling with a bike there's an area to store them in the seats section. It's free to bring bikes but you do need to reserve a space in advance as there's limited room.
The sleeper cabins are quite compact – particularly if there are two of you – so it's a good idea to have a separate bag with essentials for the night or put them somewhere easy to get to. Cabins have soap and towels (plus shampoo and body wash in Club/Caledonian Double rooms). You're also given bottled water as the tap water isn't drinkable.
Arriving by sleeper means getting to your destination early, so what do you do with your bags? You can often drop luggage off at your hotel, or there are luggage lockers at bigger stations like Edinburgh Waverley, Glasgow and Inverness. You can also use a service like Stasher to find somewhere you can pay to leave your bags for a few hours.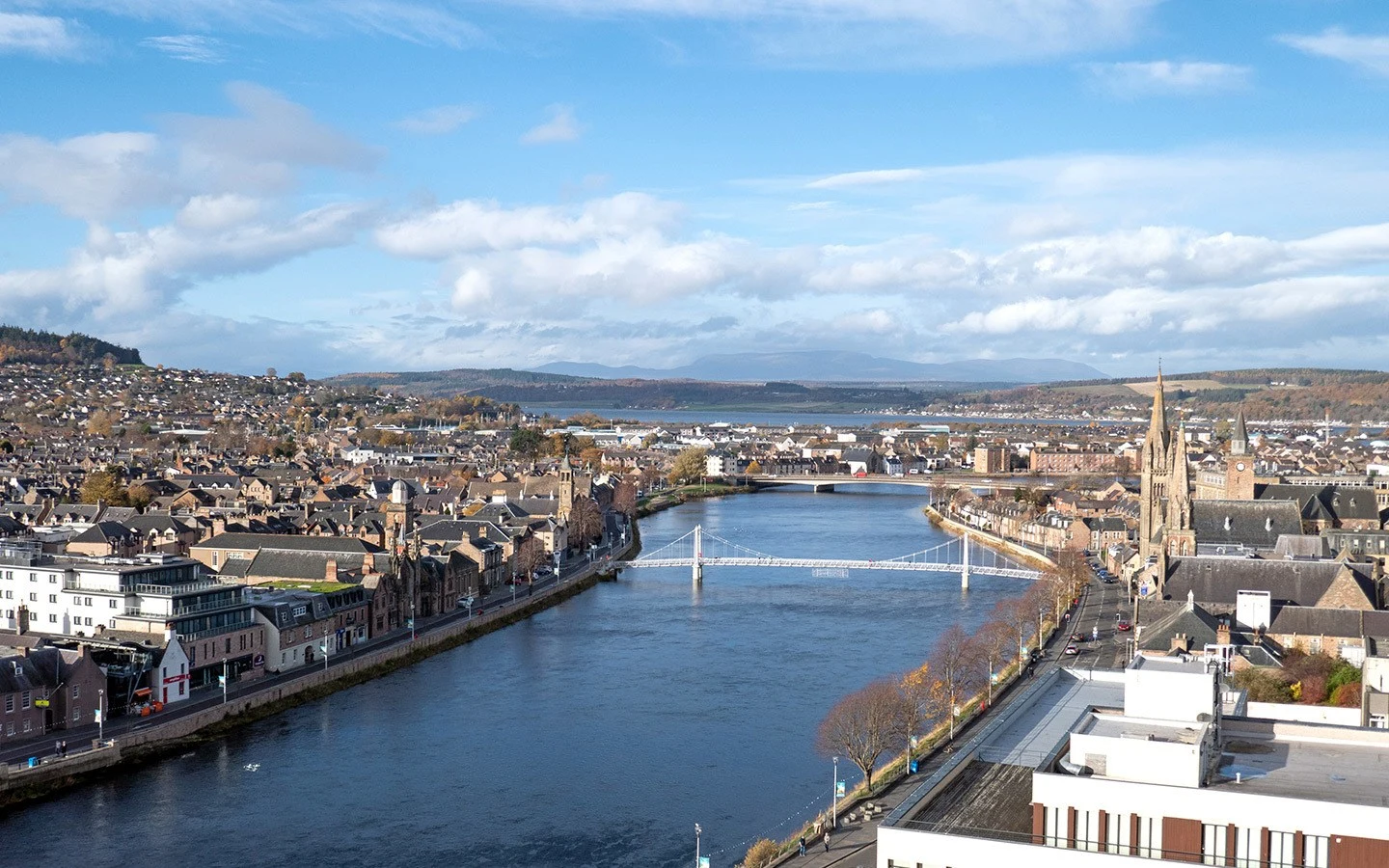 Can you get food and drink on board the Caledonian Sleeper?
There's usually a lounge for each section of the train. Though if you're in the middle of the train it's not obvious which way you should go to get to the correct one (we ended up spending half an hour waiting in the wrong one as they're not labelled!).
Sleeper cabins passengers can use the lounge car on both Lowland and Highland services, though those in Club/Caledonian Double rooms get priority at busy times. And seat passengers can get food delivered. Lounges can get very busy when the train is full so it's advisable to drop your bags in your cabin and head straight there to bag a table.
The revamped dining cars are light and bright, with bays of seats around tables on one side and individual stools along a bar on the other side. Each lounge has a steward who takes food and drink orders and a galley kitchen. You can take drinks back to your cabin and there's usually room service so you can have drinks and snacks delivered.
The menu focuses on Scottish produce, with a good selection of local whisky and gin as well as beers, wines (by 187ml, half or full bottles) and spirits. You can get snacks and sandwiches plus main meals – with a bigger menu on the Highland route. Ours included haggis, neeps and tatties, braised beef and butternut squash risotto.
Well that's the theory… things were a bit more chaotic on my last trip. Staff shortages and lack of information meant once we finally got a seat we were told there was no food. Eventually our steward found someone to help and we managed to get a cheeseboard and bottle of wine at 10.30pm, but it wasn't quite the leisurely dinner we'd hoped for.
Breakfast is also served in the lounge or you can have it in your room. In Club/Caledonian Double rooms breakfast is included – with options from a full Scottish to porridge. And other passengers can buy breakfast. If you're heading to Scotland you get the best views around breakfast so it's worth heading to the lounge with its bigger windows.
What's it like travelling on the Caledonian Sleeper?
Each section of the train usually consists of carriage of seats, six sleeper carriage (one of which is accessible) and a lounge car, though the Fort William section only has two sleeper cars. Once the train is ready to board you can check into your cabin. The carriages have a narrow corridor down one side and cabins with beds running widthways.
In the past I've stayed in bunk rooms, but for my last trip we splashed out on a stay in the Caledonian Double. The room is compact but the bed is a good size and it's well-designed with storage below the bed, charging points above the bed with a shelf for phones and water bottles, and hooks for clothes. Just don't both try to move around at the same time!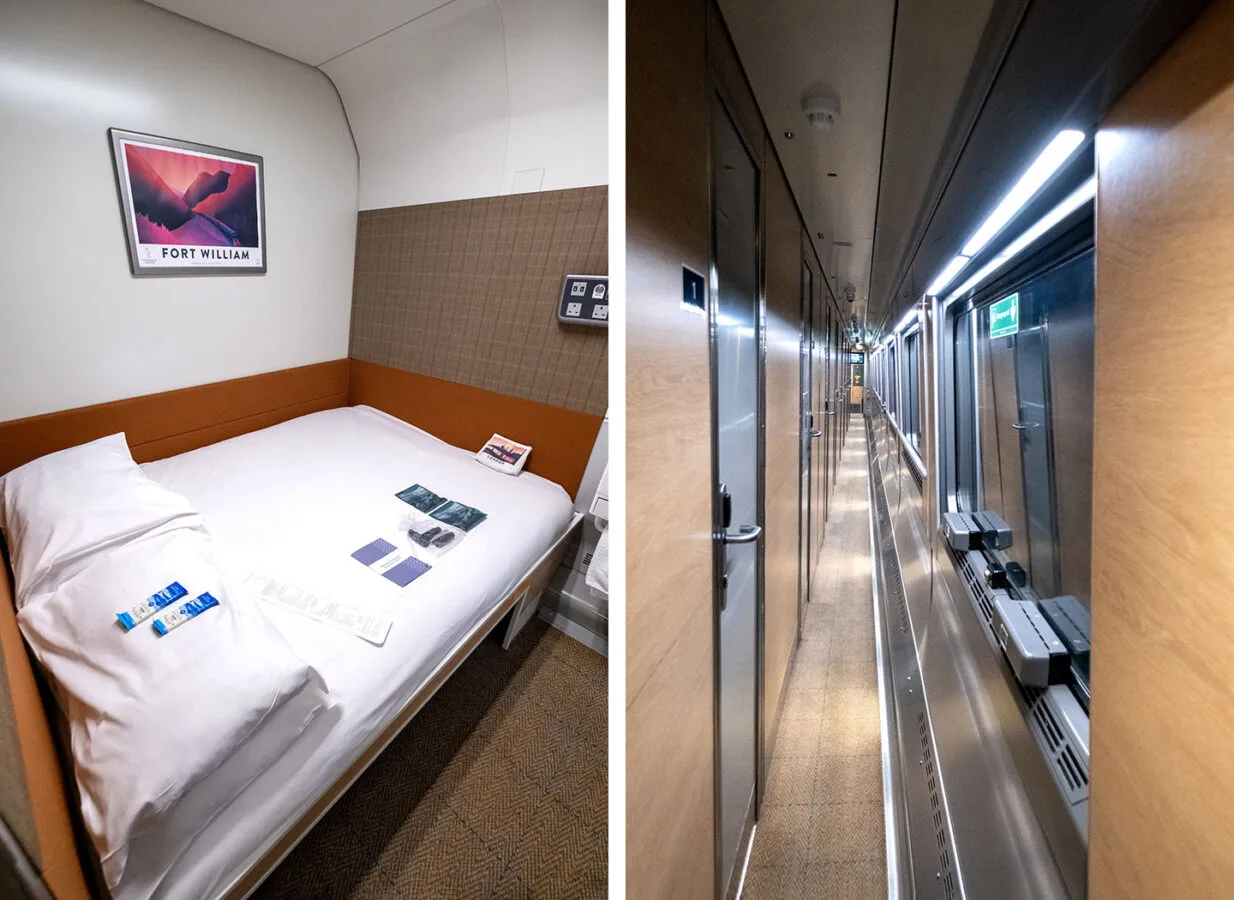 There's a sink in the bedroom area and a separate en-suite. It comes with a toilet with a fold-up seat which you can put down if you want to use the shower (which is wet-room style so don't leave anything out if you don't it to get wet). You're given a bag of towels and a washbag of toiletries (shampoo, body wash and pillow spray), plus water and chocolates.
But how easy is it to sleep on the Caledonian Sleeper? Well not too bad. The beds are comfortable but ear plugs (which are provided) are useful as it can be noisy and you do feel the motion of the train. Once we reached the Highlands and it slowed down we slept better, waking up around 7.30am to watch the scenery out of the window.
The breakfast views were the best part of the journey – travelling along the banks of Loch Lomond, past the UK's most remote station at Corrour and across the wilds of Rannoch Moor. Our lounge steward gave us a 10-minute warning before we were due to arrive so we could collect up our belongings and we arrived into Fort William right on time.
Is the Caledonian Sleeper for you?
If you want the journey to be part of the experience, then I'd definitely recommend the Caledonian Sleeper. Sleeping on a train is a bit of novelty and it does feel like a mini travel adventure. It makes the most of your travel time and is also a lower-carbon, eco-friendly way to travel – plus you get some gorgeous views on the Highland route.
It can be quite expensive though, so if you're on a budget it might not be the best option. If you do want to save money then you can book a seat using a Railcard, and bring your own food and drink. But it's a much more comfortable trip if you can book a cabin.
Save for later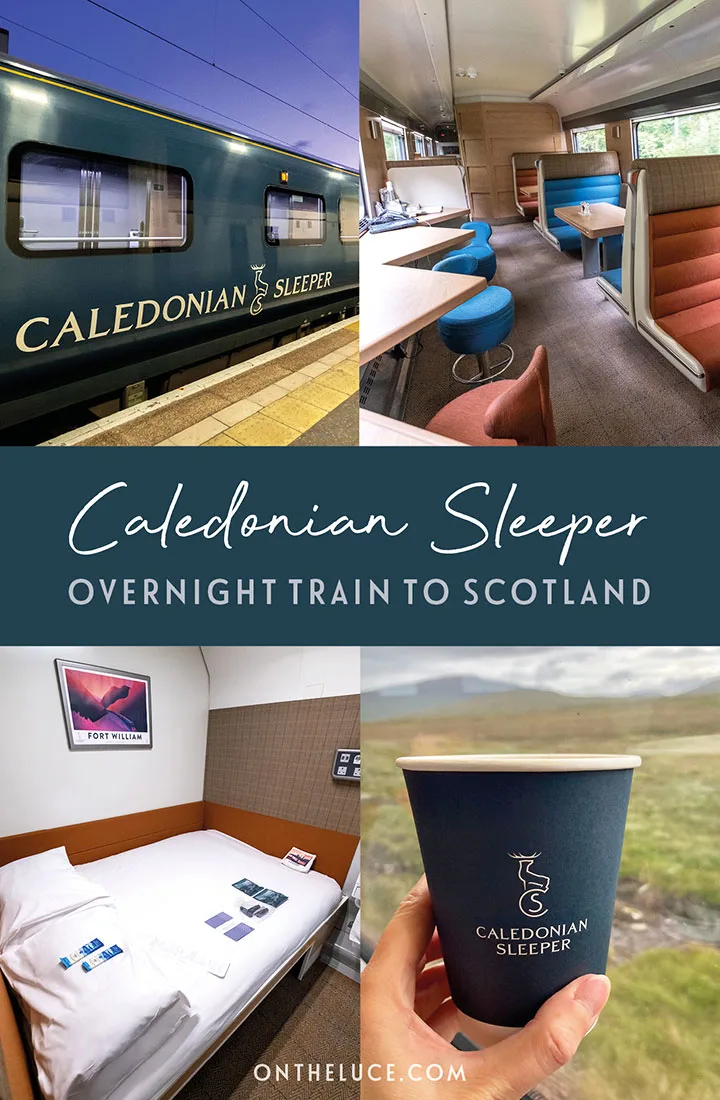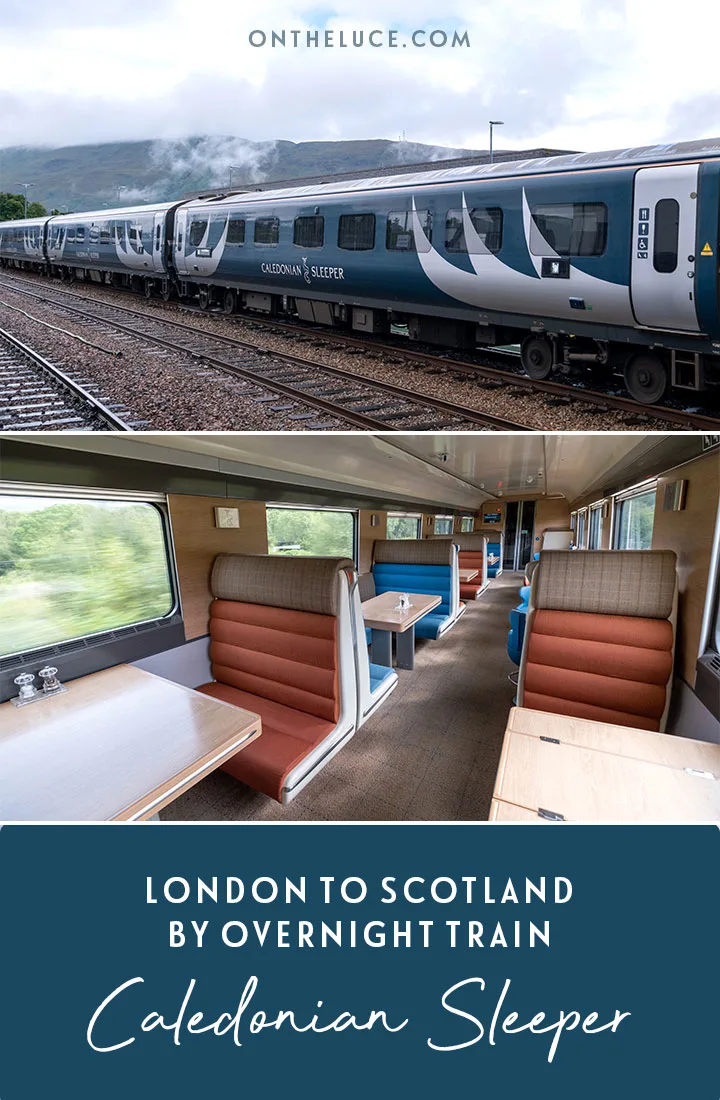 You might also like