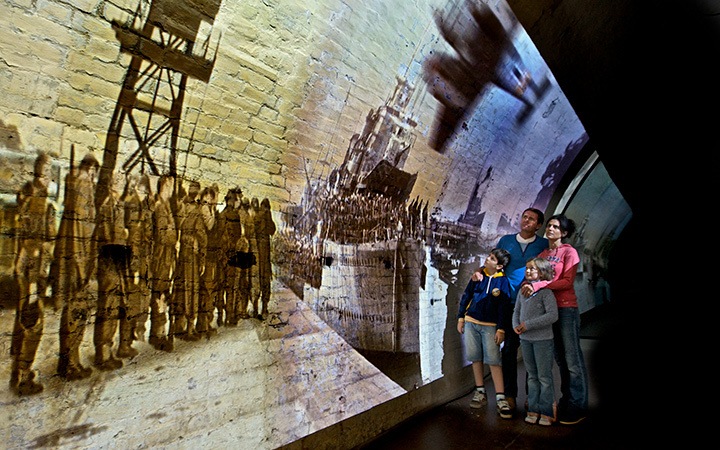 On the surface it's England's largest castle. Dover Castle has been defending the Kent coastline from centuries of invaders since 1066. But below ground it has another hidden side. Deep inside the chalk rocks that make up the White Cliffs of Dover are three miles of underground tunnels that have played their own – more mysterious – part in defending the country. As part of my road trip through White Cliffs Country I called in at the castle and took a look around the medieval Great Tower and Anglo-Saxon church. But it was the sign pointing to the 'Secret Wartime Tunnels' that caught my eye (even more than what's probably the best selection of gluten-free cakes I've ever seen in their tea room, but that's another story).
Read more: Sandwich, Deal & Dover: A White Cliffs Country road trip
Dover Castle's tunnels started life as a shelter for troops during the Napoleonic Wars. Being so close to France made Dover a major target for Napoleon, so the castle was strengthened with new artillery in 1803. But there was nowhere to put the 2000 men they needed to man the guns, so they built the tunnels to house them. Napoleon never invaded so the tunnels were abandoned until 1938, when they were used first as an air raid shelter before becoming a military command centre. And it's there the exhibition begins.
With five levels of tunnels there are still some sections that haven't been uncovered yet. So to make sure you don't disappear underground never to be seen again, you need to join one of the group tours if you want to explore the tunnels. The main tour takes you through a tunnel known as Casemate, which was the HQ for Dover Naval Command. Led by Vice Admiral Bertram Ramsay, they were tasked with protecting the Channel from enemy action. But on the 26 May 1940, they found themselves at the centre of one of the Second World War's most memorable operations – Operation Dynamo, or the evacuation of Dunkirk.
British forces had been backed into a corner by the Germans in Dunkirk, so Ramsay's team had to find a way to get as many as possible back home. The initial plan was to evacuate 45,000 men, but over nine days they well exceeded that and rescued 338,000. First came the Navy ships and later anyone with a boat who could help out sailed over to collect them in a flotilla of 'little ships'. The exhibition takes you through the rescue day-by-day, with film footage and stories from people who were there at the time. The command rooms and telephone exchanges have been recreated too from old photos. It was cramped, dark and hot, and the pressure was intense. Staff worked 24- or 36-hour shifts and barely saw daylight, working, eating and sleeping underground. But the result was what Churchill called a 'miracle of deliverance'.
As well as Casemate there are four other tunnels. At the top is Annex, which was dug out in 1941 to use as a military dressing station, where casualties were assessed and treated. Another tour takes you through the old wards and operating theatre. With flickering lights and the booming sound of bombs dropping it feels spookily like you've been transported back in time. Below that is Dumpy, which was built in 1943 and would've been one of the regional government centres if there had ever been a nuclear attack on the UK. It's not usually open to the public but there are sometimes tours for English Heritage members. The other two closed tunnels are Esplanade, which was another bomb shelter, and the 'lost tunnel' Bastion.
But the castle tunnels aren't Dover's only underground secret. Not far away is the strangely named Western Heights Drop Redoubt. It's one of two forts built on a hill overlooking Dover during the Napoleonic wars. It was abandoned after WWII, and for a while the council wanted to knock it down and fill the tunnels with rubbish. But it got a reprieve and is now looked after by the Western Heights Preservation Society. It's usually closed to the public, but our trip coincided with one of their annual open weekends so we took a peek inside. To get into the fort we ducked down through a low tunnel to reach the ruined chambers and climbed down underground staircases to the old casemates where the guns were housed.
There's also a giant triple spiral staircase called the Grand Shaft on the site. When the fort was built the location had one flaw – the troops were only 300 feet above sea level but they had to walk a mile and a half to get down there. So a clever triple staircase was built to move three times the troops at once. Later on the Victorians split it up so there was no fraternisation between the ranks – one staircase was for 'Officers and their Ladies', one for 'Sergeants and their Wives' and the other for 'Soldiers and their Women'.
And just when you think you've found all of Dover's underground secrets, another turns up. A few years back the National Trust bought some land near the cliff path and uncovered more wartime tunnels. Over 100 tonnes of earth were removed to reveal the Fan Bay Deep Shelter, which has recently been opened for tours. So who knows what else might be hiding under the surface of those famous White Cliffs?
The details
Dover Castle is open from 10am–6pm from March to September and until 5pm in October. The rest of the year it's open 10am–4pm on Saturday and Sunday only, except during February half-term. Entry costs £19.40 for adults, £17.50 for students/over 60s and £11.60 for children aged 5–15. Or it's free for English Heritage members – annual membership gets you entry to 400 sites across the country and costs £54 per adult or £96 for joint membership, and you can get three months free if you sign up by Direct Debit. The Western Heights are only open to the public on certain dates – see their website for details.
Pin it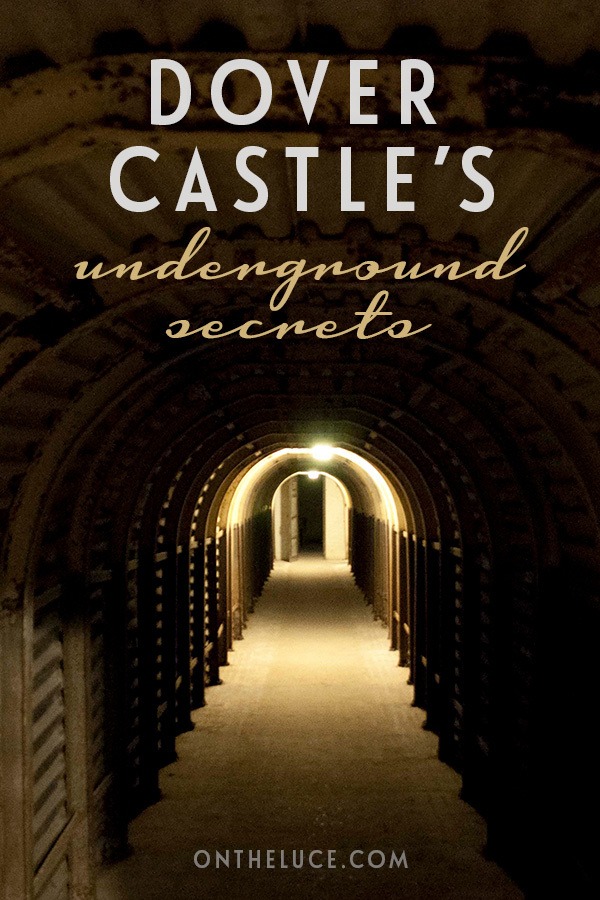 Photography isn't permitted in the castle tunnels so all underground photos © English Heritage. Thanks to White Cliffs Country for hosting me. All views and opinions are, as always, my own. This article contains affiliate links, where I get a small commission at no extra cost to you – thanks.