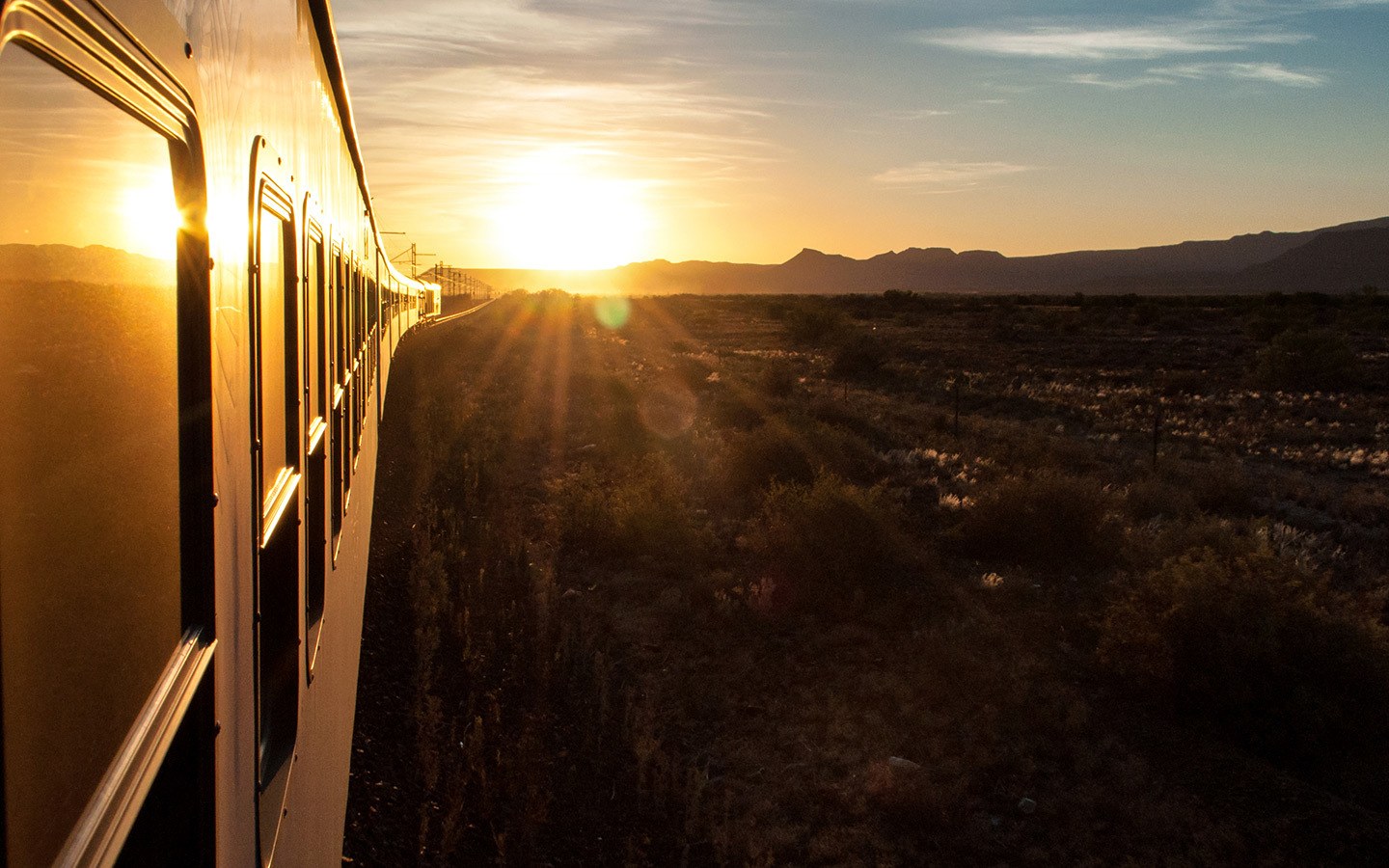 South Africa is home to one of the world's most famous and luxurious train journeys. The Blue Train is the five-star way to cross the country, but will set you back an epic £800 per person one-way. If that's a bit steep there's a normal, no-frills overnight passenger train along the same route – the Shosholoza Meyl. But what not many people know is that there's a third option, the budget-luxury Premier Classe train. It comes with some of the same perks as the Blue Train – private cabins, three-course meals and a Champagne send-off – but for a more budget-friendly £170 per person. It runs once a week each way between Johannesburg and Cape Town, and there's also a route to Durban. So, never one to miss the opportunity to swap a plane for a train, we gave the Premier Classe a try on our way back to Johannesburg.
The train takes about 26 hours to make the trip from Cape Town to Johannesburg, so we arrived at the train station just before 8am and were shown to the Premier Classe lounge. After checking in, our bags were taken off us and tagged with our cabin number ready to be delivered to our room, and we were given tea and scones (the first of many opportunities to eat on this trip). About 8.45am we got on board and went to check out our cabin. The train's a mirror image, with a kitchen in the middle then a dining car and lounge bar on each side, followed by the cabins with toilets and showers at the end of each carriage.
The trains aren't hugely modern but they're clean and well maintained. The cabins have been converted so what was originally a four-person cabin now sleeps two, and two-person cabins are now singles. So there isn't an expensive single supplement if you're travelling on your own, and nobody has to climb up into a bunk bed. Inside we had two seats/beds, a table which lifted up to reveal a sink and a storage area above the door for bags (the doors don't lock from the outside but it all felt safe, though we did keep our valuables with us). You're also given towels, dressing gowns and slippers, as well as toiletries and bottled water.
As we pulled out of Cape Town everyone gathered in the bar for snacks and glasses of bubbly as we watched Table Mountain disappear into the distance. The other passengers were mainly South Africans plus a few tourists, and a mostly older crowd of couples and small groups of friends. Back in the cabin I planned to spend the morning reading or working but ended up transfixed by the view out of the window. The train's slow pace and rocking motion had me too relaxed to do much else. We went from farmland and fields of ostriches through the vineyards around Paarl, then on through the Nuwelkoof Pass into the mountains. The landscape got rockier and drier as we went along, changing from green to gold and red.
Our cabin steward called in to give us the menu and allocate us a table for meals – you can have a table for two or share a larger table like we did. There's an immense amount of food included, with a three-course lunch followed by afternoon tea and a four-course dinner, then breakfast and morning tea the next day. The lounge also does a good selection of drinks (though was suffering from a major tonic shortage so no G&Ts!). The menu had local wines for 80–90 ZAR (around £5) which we thought was a bit pricey until we realised that was for the whole bottle not a glass. You can buy a bottle and the bar steward will look after it for you so you can just go and get a top up when you want or take it with you to lunch or dinner.
At 12pm it was time for lunch so we headed to the dining car. We sat next to a South African couple in their 60s on their third Premier Classe trip. Over lunch (vegetable terrine, Chicken Kiev and strawberry cheesecake) we talked to them about all sorts of things to do with life in South Africa and how things have changed over the last 10 years. By the time we finished lunch the train was out in the Karoo – the semi-desert landscape that covers the middle of South Africa. For a while we followed the road past huge transporter trucks before leaving them behind in a vast expanse of empty land. But there are towns out here – we stopped in one, Beaufort West, to stretch our legs, and made another unscheduled stop that had the engineers out checking the train. But 20 minutes of tinkering later we were on the move again.
The sky started to glow as the sun set behind us, disappearing below the horizon as we headed back to the dining car for dinner (afternoon tea too would've been a step too far!). The kitchen staff do an amazing job cooking up multi-course meals in a tiny space for so many people. Dinner was another feast of tomato soup, fish, lamb with peaches, chocolate mousse and cheese. Pretty much stuffed by this point we finished our wine in the lounge before heading back to our cabin. Our beds had already been made up for us so we crashed out for the night. The beds were really comfy but the train stops and starts a few times in the night and lurches around a bit, so we did wake up a few times (ear plugs are a good idea for light sleepers).
Just before 7am I woke up, opened the curtains and sat watching the scenery go by. The landscape had changed again, this time it was back to green with farms, roads and more signs of life. There's a shower at the end of each carriage, and it's a bit of a weird feeling washing while you're moving around but it was warm and had decent water pressure. Then breakfast is served between 7am and 9am so you can wander down when you're ready. We carried on the whole 'eat until you burst' theme of the trip with juice, yogurt and cereal followed by eggs, bacon, sausages and toast. The train is scheduled to arrive into Johannesburg at 11am so we packed up our cabin – which had been turned back into seats – ready to go.
The last stretch into Johannesburg seemed to take the longest, but we arrived into Park station spot on at 11.05am. From there you can catch the Gautrain out to the airport or around the city. Although we were on time the Premier Classe is known to have a few delays, so I wouldn't rely on it arriving on time if you have a flight to catch. But if you have time to spare and want to relax, see South Africa's landscapes, chat to a mix of locals and travellers, and eat practically non-stop, then the train definitely beats the plane.
The details
The Premier Classe train leaves Cape Town at 9.05am on Tuesdays and arrives into Johannesburg at 11.03 on Wednesday. Or in reverse it leaves Johannesburg at 10.30am on Thursdays and arrives into Cape Town at 12.40pm on Fridays. Tickets cost 3120 ZAR (£170) per person, or 3590 ZAR (£195) in peak periods from December–January and during school holidays. You can tickets book online through their website.
Pin it