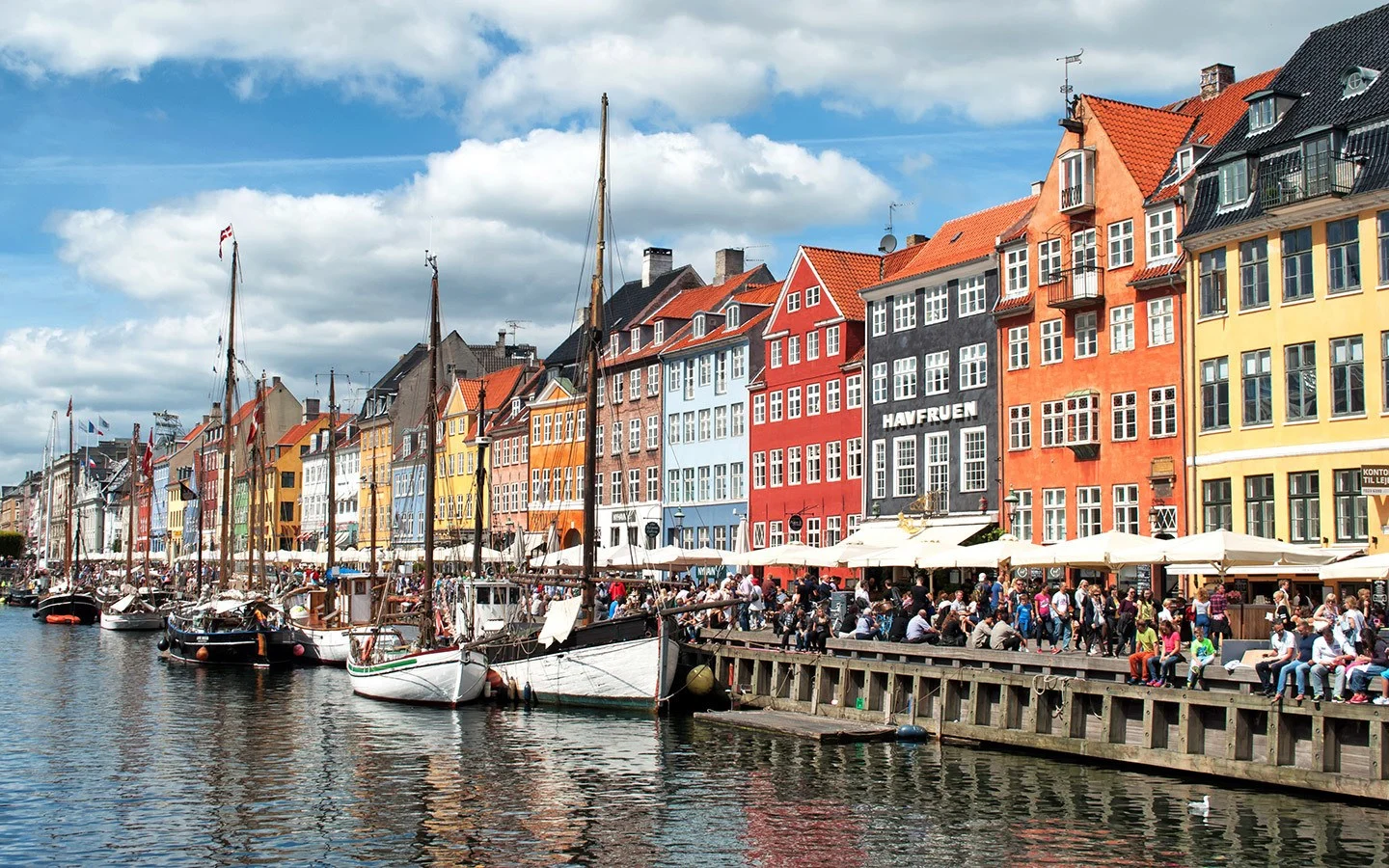 Colourful waterside townhouses, boats on the canals, Michelin-starred restaurants and little mermaids – Copenhagen is famous for a lot of things, but being a budget destination is not one of them. Scandinavia has some of the world's highest prices, but Denmark's not as pricey as Norway or Sweden. This pretty, laid-back city is worth the splurge – and it's possible to get a taste of Copenhagen's high quality of life and designer style without spending big. Here are my top tips for making the most of Copenhagen on a budget (NB. 100 DKK = £11/€13/US$15).
Things to do in Copenhagen on a budget
For a great introduction to Copenhagen, take a free city walking tour, where you just tip your guide. Sandeman's New Copenhagen Tours have a 2.5-hour tour through 6000 years of Copenhagen's history leaving from City Hall Square at 10am, 11am and 2pm. Or Copenhagen Free Walking Tours have a 3-hour Grand Tour departing from the City Hall Steps at 11am and 90-minute tours of Christianshavn (3pm daily) and Classical Copenhagen (12.30pm on Friday, Saturday and Sunday), both leaving from Bishop Absalon's Statue on Højbro Plads Square.
If you're in the city in summer, the harbour baths at Islands Brygge Harbour Bath and Sluseholmen Harbour Bath have pontoons for open-air sunbathing and swimming. There's also a free city beach at Amager Strandpark, with two kilometres of sandy lagoons. There are plenty of free parks and gardens too, like the Frederiksberg Gardens, King's Gardens at the Rosenberg Castle and Botanical Gardens, with 10 hectares of gardens and 1870s glasshouses.
As an alternative to the Tivoli Gardens (which starts from 120 DKK entry plus rides), head to Bakkan, the world's oldest amusement park. It's a 10 minute-drive north of Copenhagen and has three rollercoasters as well as ferris wheels, drop towers and other rides. There's no entrance fee and you can bring your own food and drinks. A multi-ride ticket costs 269 DKK or 189 DKK for kids, and there's a 50% discount on Wednesdays if you pay in cash.
For culture on a budget, get a standing ticket at the Royal Danish Opera House for 100 DKK (you can sometimes bag a seat if one's free after the first act). There are also free music concerts by students from the Royal Danish Academy of Music on Wednesdays at 5pm in churches and concert halls, plus various free performances during the city's jazz and opera festivals.
Money-saving museums and galleries
Some of Copenhagen's museums have free entry on certain days of the week. The Ny Carlsberg Glyptotek gallery is free on Sundays, the Museum of Copenhagen on Fridays and the Hirschsprung Collection, Royal Danish Naval Museum, Royal Arsenal Museum and Thorvaldsen Museum are all free on Wednesdays. Other museums like the Post and Telegraph Museum, and the David Collection of Islamic art are free all the time.
If you're planning on visiting a lot of museums, there are a couple of different discount cards. The Parkmuseerne ticket gives entry to six museums, including the Statens Museum for Kunst and Rosenborg Castle, for 245 DKK and is valid for a year. You can buy it online or in museums.
Or there's the Copenhagen Card which covers 86 attractions, including the Tivoli Gardens, Rundetårn, Rosenborg Castle, Zoo, Blue Planet aquarium, Carlsberg brewery and Christiansborg Palace, as well as a canal tour. You also get free transport by train, bus, habour bus and Metro, including to and from the airport. The cards cost €54 for 24 hours, €80 for 48 hours, €99 for 72 hours or €133 for 120 hours – and you can bring along two children under 10 for free. You can buy the cards online, at the airport or the Copenhagen visitor's centre.
Top city views
On a clear day, you can see all the way to Sweden from Copenhagen's highest viewpoints. The tallest of them is the Tårnet tower at the Christiansborg Palace – it has a 40cm over the tower at City Hall, which is the second tallest. It's is free to visit and is open every day except Mondays.
If walking up all those steps sound a bit hard on the legs, head to the top of the Rundetårn or Round Tower instead. It's got a spiral ramp to the top instead of stairs, which was originally designed for horses to ride up, and twists its way up 42 metres to the top. Entry costs 25 DKK (5 DKK for children aged 5–15), or it's free if you have a Copenhagen Card.
For something a bit different, visit the Green Roofs at Rigsarkivet. Over 2700 square metres of cycle and skateboard space have been built on top of the National Archives building.
Budget food and drink
If you're self-catering, look out for Netto, Fakta or Aldi supermarkets for discount groceries. Head to a bakery for a takeaway breakfast of Wienerbrød (aka Danish pastries). There are lots of different varieties available, including Spandauer (circular flaky pastry with custard or jam in the middle) and Ondagssnegle (cinnamon 'snails'). For a quick snack there are plenty of stalls selling hotdogs topped with crunchy onions, or for something a bit more traditionally Danish grab a Smørrebrød, an open sandwich piled high with fillings. Steer clear of touristy Nyhavn and head to studenty areas like Nørrebro or Vesterbro for lower-priced restaurants and cafés.
On Refshaleøen island, Reffen has lots of international street food stalls – from Mexican blue corn tacos to Gambian stews – as well as bars and coffee stalls. The food stalls are open from 11am to 9pm and the bars from 10am to 10pm (closed December–March) and you can get there by boat or bike from Nyhavn. There's also the weekly Kødbyens Mad & Marked food market in the city's Meatpacking District which is open from 10am–6pm on Saturdays and Sundays.
If you want a drink by the canals in Nyhavn, the bars can be expensive but you can buy takeaway drinks from a supermarket and sit along the water's edge with the same views. Or check out this list of Copenhagen bars which have two-for-one happy hours on cocktails.
Low-cost Copenhagen transport
Central Copenhagen is fairly compact so it's easy to walk around. You can get a free city map at the Visitor Service on Vesterbrogade 4, near Central Station and the entrance to Tivoli Gardens.
One of the best ways to see the city is from the water. You get a free boat trip if you have a Copenhagen Card, but otherwise the cheapest canal trip is on the Movia Harbour Bus. These public barges run between the Royal Library at one end of the harbour to the Little Mermaid statue at the other, passing Christianshavn, Nyhavn and the Royal Opera House. A single ticket costs 24 DKK for adults or 12 DKK for children, or a 24-hour ticket costs 150 DKK – you can get on and off as many times as you like and it also includes bus travel.
Or make like a local and get on your bike. Copenhagen has a city bike scheme called Bycyklen, with bike hire for 12 DKK per 20 minutes. You just pick them up from one of the docking stations and drop them off at another. Each bike has a touchscreen tablet with built-in GPS marking places of interest. You can create an account in advance on their website or using the tablet.
So those are my tips for seeing Copenhagen on a budget – do you know of any more Copenhagen bargains or have any money-saving tips?
Pin it
This article contains affiliate links, where I get a small commission at no extra cost to you, thanks.