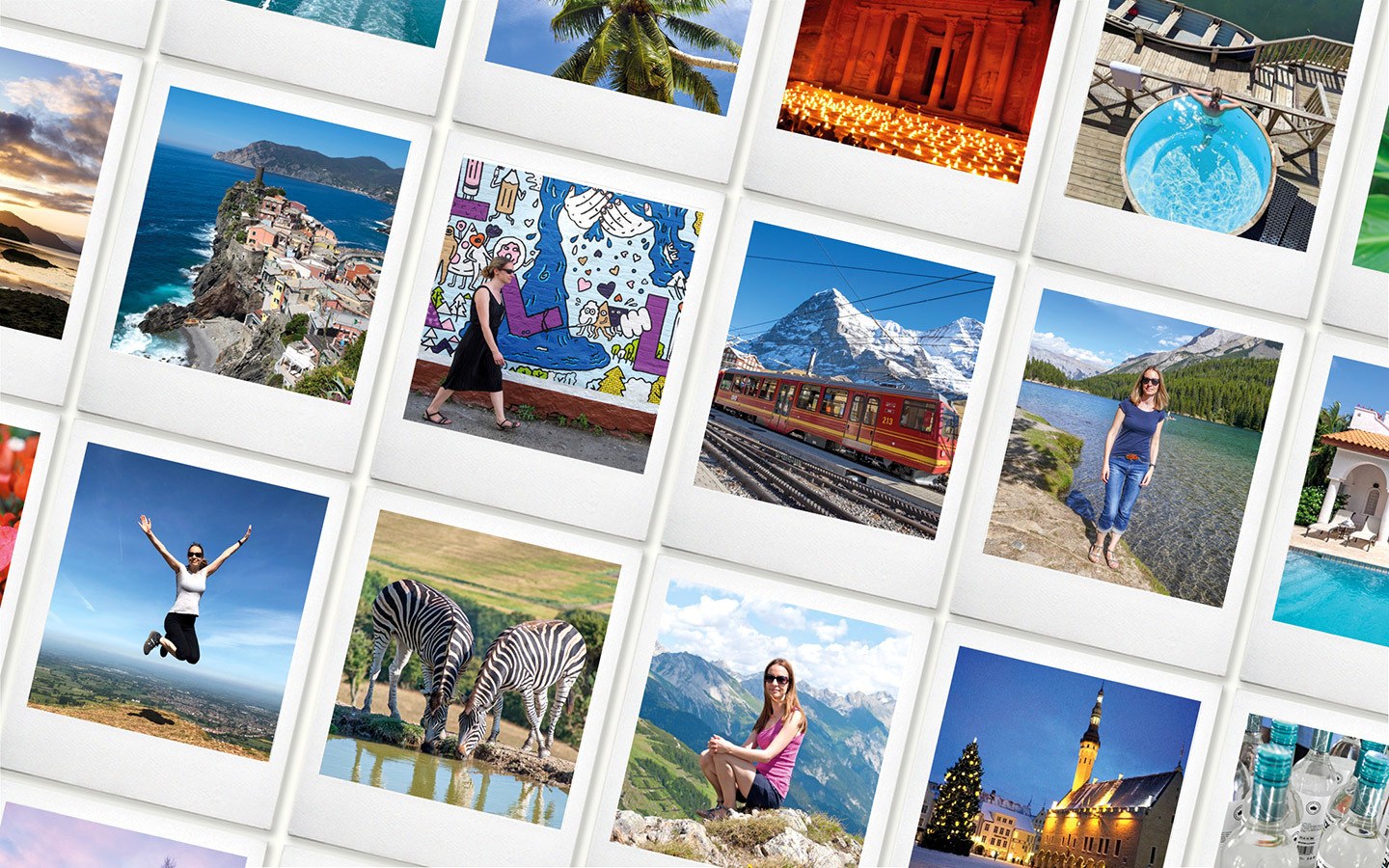 Not long after I started blogging back in 2011, I put together a post looking at how travel had changed in the 10 years since I did a round-the-world trip to Southeast Asia and Australia – back when people still sent postcards, you had to go to an internet café to send an email and book a flight with a travel agent. It seems like the 2000s were a period of huge change in travel, but the 2010s saw their share of technology, trends, social and societal changes too.
So at a time when the 2020 pandemic is throwing the future of travel into chaos, it's interesting to look back at some of the changes we've already seen – because although it's hard to predict what the long-term effects are going to be, one thing that's guaranteed is that the travel industry will adapt. So how has travel has changed in the last 10 years? Here are 10 ways.
Read more: My travel confessions
1. Travel planning
Ten years ago, I planned most of my travels using a Lonely Planet guidebook. I started this site in 2011 when blogging was pretty new and there weren't many travel blogs – or readers – around. Blogging then was more about sharing random stories from your travels with maybe a couple of (quite possibly out of focus) photos, and less about including useful information.
Since then blogging has become an industry, with hundreds of thousands of travel blogs covering every type of travel and destination you can think of. Bloggers have gone professional, working with travel companies and destinations and competing with brands like Tripadvisor for that all-important number one spot on Google and the ad revenue that goes with it.
Web design, social media and marketing skills have become as important as writing ability as the simple travel stories have been traded for in-depth, well-researched and SEO-optimised travel guides with professional-standard photos. And bloggers aren't the only source of travel inspiration – there's been an explosion of Instagram and YouTube influencers who've helped turn destinations like Cappadocia in Turkey and Trolltunga in Norway into must-sees.
For travellers it's meant a huge rise in the amount of easy-to-access information in the last 10 years. Want to know how to travel from Johannesburg to Cape Town by train or what to pack for a winter city break? Well there's a post for that – and anything else you want to know. And with online content being instantly updateable it's hard for guidebooks to compete.
My verdict: The growth of online travel content means it's easier than ever to find the information you need to plan your travels – and mostly for free. But how reliable and impartial are influencers? That's something the industry's still working on. And with travel bloggers now having to focus on SEO if they want to be competitive, it does mean there's less of a place for storytelling.

2. Booking your trip
Ten years ago people were already booking trips online, but now it's the norm, with over 80% of people using the internet to book their holidays. Online travel agencies like Opodo, Expedia and Lastminute.com started the online booking revolution, but it spread to airlines, hotels, transport and tour companies, and you can now easily book a whole trip from your phone.
But if you're a travel company you need to make sure you get it right. Twitter and TripAdvisor have given customers an instant – and very public – way to complain if they're not happy with the service they're getting (whether that's justified or not…), meaning companies have had to up their customer service game, with people expecting an instant response to problems.
And what about travel agents? When I did my RTW trip it involved spending hours in a travel agency trying to combine my travel wishlist and my budget. The traditional high street travel agency has definitely seen a big decline, and the end of famous names like Thomas Cook. But there's been a rise in specialist online agencies focusing on a particular region or type of trip, with the local knowledge and contacts to pull together more complicated itineraries.
My verdict: Online booking has given us access to the tools we used to have to use travel agents for, but it's also passed on the organisational burden – I don't want to add up the hours I've spent comparing flights and trying to get itineraries to work, so does it really save time and money?
3. Low-cost airlines
The first low-cost airlines date back to the 1970s, but it's in the last 10 years that the budget airline industry has really taken off (so to speak). The number of planes flown by low-cost carriers has doubled since 2009, with new airlines and routes sprunging up across the world, spreading from the traditional European and North American markets into Asia and Africa.
With major airlines setting up budget offshoots and trimming away extras like seat selection and in-flight meals to compete, it's getting hard to tell the difference between a low-cost and standard carrier now. And those £9.99 Ryanair flights often cost more than a standard flight once you add up the baffling array of hidden charges. But all this competition has helped push prices down – the average price of a flight has decreased over the last 40 years.
The airline industry has become polarised, focusing on opposite ends of the market. Pushing fares down at the no-frills end of the spectrum by squeezing more people into smaller seats with less services. And trying to win over business fliers and the super-rich at the other, with uber-luxurious, eye-wateringly expensive First Class cabins like Etihad's The Residence with its double bed, en-suite shower and Savoy-trained butler (sadly not one I've tried out).
Although the budget airline industry started off with short-haul flights, it's now expanded to long-haul with low-cost carriers like AirAsia and Norwegian. And new technology is pushing the barriers – planes are getting bigger and their ranges are increasing. You can now fly non-stop from the UK to Australia, something that would've seemed impossible 10 years ago.
My verdict: Expanded airline networks and cheaper flight prices mean it's easier than ever to get around the world. But the downsides are the cramped seats, no-frills service, fights for overhead locker space and airports in the middle of nowhere. Not to mention the growing impact on the environment of having more planes in the air, so I'll always swap planes for trains if I can.

Read more: The travellers' guide to carbon offsetting your flights
4. Places to stay
In 2008, a niche website called Air Bed & Breakfast launched with a few hundred B&B rooms listed. Two years later it'd been rebranded to AirBnB and the listings were in the thousands, and it's not stopped growing since. Ten years ago your holiday accommodation choices were pretty much limited to hotels, hostels, camping or holiday rentals. And the rentals usually came with a minimum one-week booking and were booked as part of a package holiday.
AirBnB has changed the world of travel accommodation for good. Now it has over seven million listings, including treehouses, penthouses, Airstream trailers and shepherds huts. I've stayed in AirBnBs around the world over the last 10 years, from a family home in Lapland to a cabin in Guadeloupe. And its dominance has forced traditional hotels and resorts to up their game, with a huge influx of other accommodation sites featuring quirky places to stay.
Hostels have gone boutique, with en-suite bedrooms and smart new facilities to attract older, more affluent flashpackers as well as the usual gap year crowd. You can rent a spare room in someone's home in the Maldives, where before the only way you could visit was by staying in an all-inclusive resort. And almost every town however remote probably has an AirBnB listing.
My verdict: AirBnB has a lot of critics, not least for its lack of regulation, and it's undeniably had serious negative impacts on the housing market in popular destinations like Amsterdam and Barcelona where investors have priced locals out of the rental market. But it has opened up new areas to tourism and has helped broaden the range of accommodation that's available.

5. Keeping in touch
When I first started travelling, keeping in touch with home involved finding an internet café and paying for a couple of hours of painfully slow dial-up internet access to send a weekly email to my parents. That or sending a postcard, which may or may not make it back to the UK before I did. But now wifi, smartphones and social media mean you can be as connected on the road as you are at home and make it easy to arrange meet ups and keep in touch with people.
And although by 2010 many of us had smartphones, there's been a big change in how we use them to keep in touch over the last 10 years. Back then you might have been one of the 150 million Facebook users who'd share 'What are you thinking?' or upload a few photos.
Since then social media has gone stratospheric. Facebook has over 2.6 billion active users and a string of new sites have been launched (and sometimes lost) in the last 10 years: Instagram, Snapchat, Vine, Google Plus, TikTok. And how people use social media has changed too.
People's social media channels are less used to share unedited snapshots of their life now, instead they're often a curated feed, creating a certain image they want to portray to their friends, families and followers. And instant and time-limited photo and video content like Snapchat and Instagram or Facebook Stories is used to show what's going on behind-the-scenes.
All this means it's super-easy to update people back home on your travels. No need to send postcards or write emails when you can show them the places you've been and the people you've met. Wifi is almost ubiquitous and Facetime, WhatsApp and Skype mean you can easily catch up with old and new friends. But on the flipside some of us now feel like we're too connected, and there's been a rise in 'digital detox' holidays where being wifi-free is the attraction.
My verdict: Social media has definitely made it easier to keep in touch. But there's also the argument that focusing on what you're going to share with people back home distances you from what you're actually experiencing. Hostel common rooms are full of people plugged into Skype calls to friends rather than engaging with new people – and isn't that part of the reason for travel?

6. Photography
When I started travelling, I used a compact film camera, alternated taking photos with my friend in case we lost our cameras (we got through two each), got two copies of each film printed, sent them home and kept the negatives separately. Film processing was pricey so we only took a couple of shots in each place and you never knew how they'd come out until weeks later.
The first digital camera came onto the market in the 1990s, and by 2010 most of us had made the switch from film to digital. Being able to take as many photos as you liked and instantly being able to see if they were any good has helped up our photography skills. I take almost as many photos in a week now as I did in my whole 16-month RTW trip back in the film days.
But the biggest change to travel photography over the last 10 years is the rise of the camera phone. Phone cameras have gone from tiny screens and two megapixels and to multiple lenses, portrait mode, low-light capability and video – outclassing many cameras and all in something you carry in your pocket. It's no surprise that compact camera sales have slumped.
Even high-end cameras have become smaller and lighter, with improvements in technology meaning DSLR cameras have gone mirrorless, swapping heavy glass for lightweight digital sensors. The rise of the camera phone has also changed the type of photos we take. The 2010s were the decade of the 'selfie' – it was even designated the 'Word of the Year' in 2013.
The focus turned from the place to the photographer, becoming more about sharing photos of yourself with the location just as a backdrop. It became all about creating the perfect shot for social media, which you can upload and share straight from your phone in real time. But with the rise in the use of filters, apps and Photoshop, how real are the photos we see online?
My verdict: Having a professional standard camera which you can fit into your pocket has made travel photography so much easier (my back doesn't miss the days of carrying around heavy bags of camera kit). But Instagram fame has turned some destinations into tourist hot spots – with crowds causing damage to the site, not to mention people literally dying to get the best shot.
7. Travel technology
Cameras might have gotten smaller and lighter, but there's a whole lots of new gear just waiting to fill that extra space in your bag. Travelling solo and want to get a good selfie? Better pack a tripod. Want to get some underwater videos? Don't forget your GoPro. How about a drone for some aerial shots? And then you'll probably need a laptop to edit them or back them up.
Ten years ago travel technology was a bit more basic – I'd just got my first Kindle and listened to music on an iPod. Now with noise-cancelling headphones and Bluetooth speakers, fitness trackers and portable hard drives, travel tech packing lists have got longer and longer. You can even get suitcases with a built in USB charger and GPS tracker. And each one needs a charger, along with the adapter plugs and power strips you need to keep them all running.
There's now an app for almost anything – you can translate road signs, convert currencies and work out what to tip. Google Maps and GPS means no more getting lost or wrestling with paper maps, and mobile boarding passes mean you don't have to hunt down a printer. But the downside of having everything in one place on your phone is that the battery going flat is a mini disaster – who hasn't desperately searched for an plug socket in an airport?
My verdict: Technology has made our travel lives so much easier in the last 10 years. Though you could argue that it makes things a bit more boring by missing out on those random misunderstandings and discoveries – plus carting around thousands of pounds worth of gadgets does come with security worries, higher travel insurance premiums and heavier bags.
8. Sustainability
Whether it's climate change, plastic pollution or overtourism, the negative effects our travels can have on places we visit is something many of us have become more aware of in the last 10 years. For a long time the travel industry focused on expansion, getting more visitors to make more money. But that's starting to shift as the downsides of tourism start to show and attention on sustainability grows – minimising the negative impacts of tourism on people and places.
International tourist arrivals grew from 950 million in 2008 to 1.4 billion in 2018 and overtourism became a press buzzword. Destinations as varied as the Isle of Skye and Barcelona struggled to cope with rising numbers of visitors. Local people were priced out of their neighbourhoods, land and water were polluted, and there were protests against tourists in the streets.
Blue Planet woke people up to the problems being caused by plastic in the oceans. We started switching from single-use plastics to refillable water bottles and coffee cups, bamboo toothbrushes and shampoo bars. Greta Thunberg's climate change protests helped spur campaigns like Flight Free 2020, and flygskam (flight shame) had people switch planes for trains.
My verdict: Growing awareness of sustainability has helped put pressure on companies to reduce their impact. But the 2020 pandemic caused a huge upheaval in the travel industry, and we don't know how that's going to play out in the long term. It would be great if sustainability could be built in as tourism rebuilds – making sure local communities get as much positive benefit as possible – but financial pressures might mean sustainability gets relegated to low priority.
Read more: Sustainable travel swaps: 9 ways to reduce your impact
9. Travel trends
Another of the ways travel has changed over the last 10 years is the types of trip we take. When I did a New Zealand sabbatical in 2010, my itinerary was all about classic experiences – a boat trip to Milford Sound, visiting the glowworm caves, soaking in a thermal pool, climbing the Sky Tower in Auckland, visiting a Māori village and eating a Fergburger in Queenstown. I was a complete tourist and unashamed of it, but that's become a bit of a dirty word since then.
Now travel is less about ticking things off the bucket list and more about 'living like a local' (probably the most overused phrase in tourism over the last few years!). Authenticity has become a mantra and people are looking to get off the beaten path to find something 'real'.
So instead of climbing the Eiffel Tower you can take a Parisian market tour or learn to make macarons with a pastry chef through companies like AirBnB Experiences and With Locals. There's been an increasing desire for 'transformational travel', with people looking for their trips to help further their personal development rather than just wanting to relax on the beach.
Cruising boomed, going from something for the 'newly wed and the nearly dead' to a giant industry. Passenger numbers grew from 19 to 30 million a year over the last 10 years. And ships got bigger and bigger to cater for them – up to the 5500-capacity Symphony of the Seas – adding a host of new facilities to compete and attract families and a younger crowd.
Back in 2010, Eat, Pray, Love help kick off a rise in the number of women travelling solo, women-only tours and wellness holidays like yoga holidays, juice detoxes and meditation retreats. And marketers repackaged old concepts by giving them new (and sometimes ridiculous) names to promote everything from staycations and glamping to babymoons and voluntourism.
My verdict: The focus on experiental travel has made it much easier to get off the tourist trail and find out more about a destination and its people, with tons of different activities to choose from. But as local culture gets packaged up for tourist consumption, 'authentic' has started to lose its meaning. And the search for the latest concept's pushing it with buddymoons and spafaris!
10. Where to go… and where not to
From natural disasters to terrorist attacks, health scares to wars and political unrest, the list of which destinations are no-goes for travellers is constantly changing. Ten years ago planes were grounded in Iceland as the Eyjafjallajökull volcano erupted, Chile and Haiti had been ravaged by earthquakes and the world was reaching the end of the H1N1 swine flu epidemic.
In the last 10 years, unrest in places like Venezuela, Syria, Libya, Yemen and parts of Turkey and Egypt has put them on the Foreign Office's warning list and stopped travellers from visiting. Terrorist attacks made others nervous about visiting Paris, Manchester and Nice. And there was an increasing stream of natural disasters, with wildfires, floods, earthquakes, hurricanes and typhoons battering destinations around the world and damaging the local travel industry.
But in reverse there are countries like Zimbabwe, Myanmar and Pakistan which have opened up to tourists after past troubles. And there are even a few new countries in the last 10 years – South Sudan was created in 2011 (though the civil war means there isn't a lot of tourism), Swaziland became eSwatini and the Czech Republic changed its name to the catchier Czechia.
Visa changes have made it easier to visit other places – the US lifted the ban on commercial travel to Cuba in 2016 (temporarily at least) and e-visas were introduced in countries like India and Uzbekistan, meaning no more epic queues at embassies. And Saudi Arabia introduced a new tourist visa in 2019, allowing non-religious tourists to visit for the first time.
My verdict: The world's an unpredictable place. And although coronavirus isn't the first travel health crisis – MERS in the Middle East, Ebola in West Africa and the Zika virus all caused problems during the last 10 years – health issues are likely to join the risk from terrorism and natural disasters as major factors in people's choice of where they visit in the future.

How has travel changed over the last 10 years for you?
Pin it