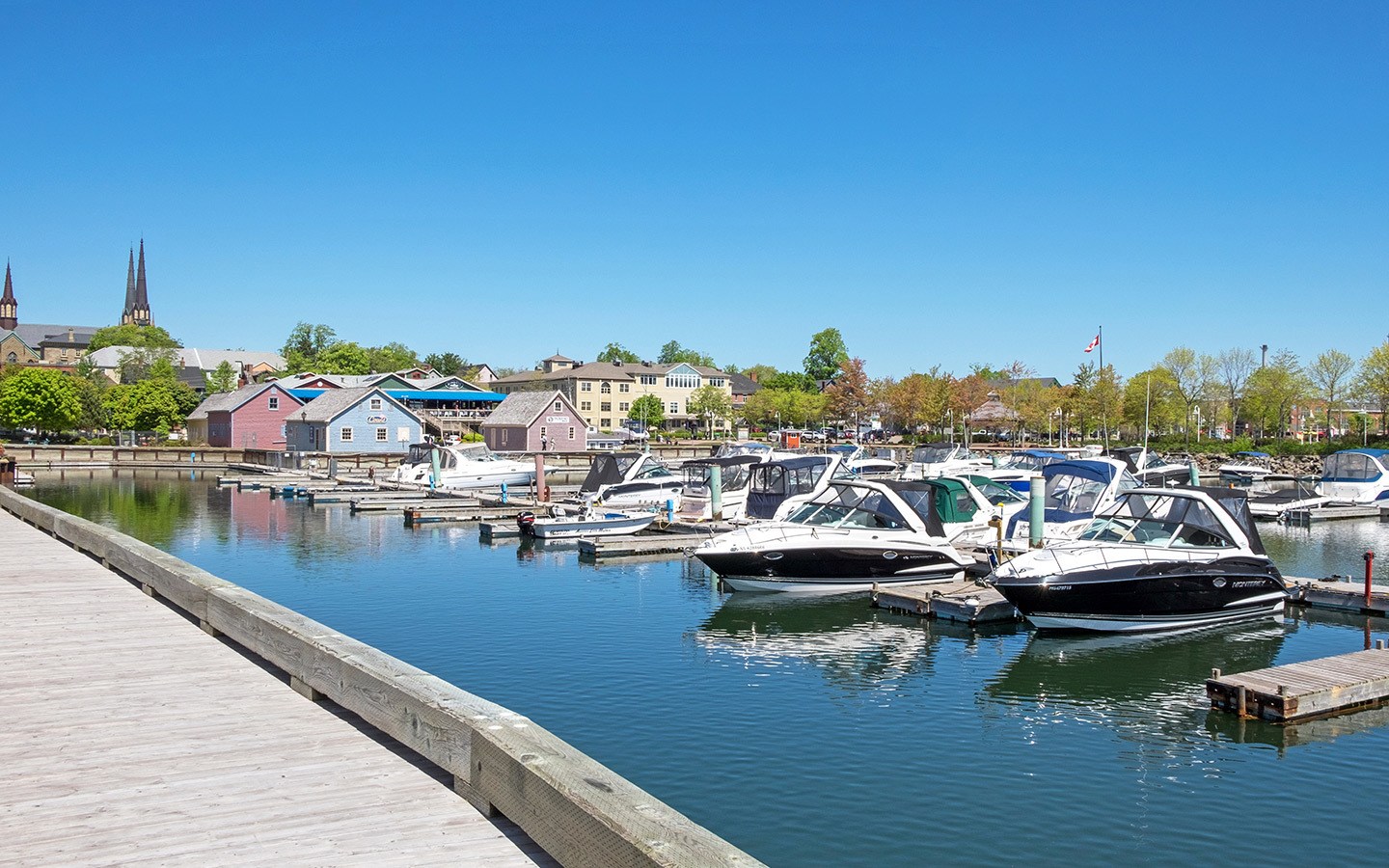 An unspoilt island of rolling farmland, red cliffs, dazzling white lighthouses, golden sand dunes and shining lakes – Prince Edward Island is a different type of Canadian adventure. PEI, as it's known, is one of the three Maritime provinces on Canada's east coast, and at just 139 miles long and 40 miles wide it's the country's smallest and only island province.
Generations of people know Prince Edward Island as the home of Anne of Green Gables. But although Anne is the star of the book, PEI is her gorgeous co-star, with luscious descriptions that make you want to walk through the woods or sit on the sparkling lakeshore yourself. But there's more to Prince Edward Island than just Green Gables, with a beautiful coastline, delicious food and a fascinating history to discover. So here are my 12 essential things to do in PEI.
This post has been produced in collaboration with Canada Keep Exploring.
12 things to do in Prince Edward Island
1. Go lighthouse spotting
You can't get a more classic Maritime Canada view than a white and red lighthouse set among the sand dunes, and PEI has 63 lighthouses to choose from. Whether round or square, plain or striped, tall or short, wood or brick, they were all built around the island's coastline from the mid-19th century to protect passing ships from the treacherous seas. Not many of them are used for navigation now, but they're still looked after by local conservation groups.
Each lighthouse has its own story to tell. Point Prim is PEI's first and oldest lighthouse, and is one of only a few round brick lighthouses on the island. Cape Bear had a Marconi wireless station where the first distress signal from the Titanic was heard. East Point has been moved twice after the coast eroded. And you can stay the night in the West Point lighthouse.
2. Find Anne at Green Gables
For over 100 years, children around the world have grown with stories of red-haired Anne of Green Gables, the 11-year-old orphan girl who's sent to live with a middle-aged brother and sister by accident when they'd asked for a boy to come and help on their farm. Visiting the Green Gables Heritage Place on PEI's north shore is like walking right into a chapter of the book, with its white clapboard house, green shutters and an old carriage parked outside.
In real life the house belonged to author Lucy Maud Montgomery's cousins, a brother and sister who inspired the characters of Matthew and Marilla. But the interiors have been recreated from the stories, right down to Anne's bedroom in the east gable with her beloved puff-sleeved dress hanging up. You almost expect to see her come walking in from the Haunted Wood.
Read more: On the trail of Anne of Green Gables in Prince Edward Island
3. Discover the story of Confederation
Prince Edward Island might be small, but it played a major role in the history of Canada. It was in the island's capital Charlottetown that the Fathers of Confederation – representatives from the British colonies of Nova Scotia, New Brunswick, Quebec and Ontario – met in Province House in September 1864 for the Charlottetown Conference, which led to the formation of Canada.
You can find out more in a replica of the original Confederation Chamber (which is currently temporarily relocated to the Confederation Arts Center while Province House is being renovated) and you'll also see the Confederation Players out and about in Charlottetown during the summer, costumed guides who can tell you all about what life was like in 1860s PEI.
4. See red sandstone cliffs
As you travel around Prince Edward Island you'll see flashes of its unusual bright red soil. It gets its colour from the high amounts of iron in the island's sandstone which oxidises and rusts when it comes in contact with the air. As well as being great for farming the sandstone makes for some gorgeous views, especially when it contrasts with the island's green fields or blue waters.
Along the north shore of the island you can see red sandstone cliffs in Prince Edward Island National Park, with weird and wonderful rock formations which glow at sunset. You'll also find more stunning sandstone scenery in Argyle Shore Provincial Park and at Cape Tryon.
5. Eat all the seafood
Prince Edward Island is famous across Canada and beyond for its seafood, with some of the juiciest oysters, silkiest lobster and tastiest clams and mussels around. Sit on the waterfront with a buttery lobster roll piled high with fresh meat and just a dash of lemon and you'll see why. Seafood's available all over the island – from high-end restaurants to simple waterfront stalls.
Some of PEI's top seafood spots include New Glasgow Lobster Supper, Richard's Fresh Seafood and The Lobster Barn Pub and Eatery. If you really love your seafood, then autumn's the best time to visit for September's PEI International Shellfish Festival, with tastings, music, cooking demos and a record attempt for the world's longest lobster roll. And if you want to catch your own, you can try digging for clams and shucking oysters or join a fishing expedition.
6. Walk the boardwalks
An evening walk along the boardwalk, breathing in the smell of the sea, was one of my favourite things to do in Prince Edward Island. At Greenwich in Prince Edward Island National Park there's a 2.5km-long boardwalk with a floating section that takes you over marshland, passing grasslands and the area's protected parabolic sand dunes on its way to the ocean.
Or you can join the parade of joggers, walkers and cyclists in Charlottetown's Victoria Park, where there's a boardwalk which runs along the edge of the park and on past the remains of a historic fort, alongside lines of boats to Peake's Wharf and the harbour.
7. Ice cream heaven at Cows Creamery
Whatever the time of year, eating a cone of Cows is a Prince Edward Island must-do – ice cream so tasty it's been voted the best in Canada. Cows Creamery started in PEI and opened their first store in Cavendish in 1983. Since then they've expanded across the country as well as now having six stores around the island, including their main HQ just outside Charlottetown where you can take a tour to see how it's made and pick up one of their trademark cow pun t-shirts.
Cows ice cream is extra creamy, made using a secret recipe with milk from PEI cows and fresh local ingredients and served in handmade waffle cones. There are over 30 different flavours, including seasonal specials – my favourites were Wowie Cowie (vanilla ice cream with toffee, chocolate flakes and moo crunch) and PEI Apple Crisp (apple ice cream with apple crumble).
8. Cycle (or snowmobile) the Confederation Trail
Prince Edward Island's Confederation Trail is a 270-mile-long former railway line that makes up the island's portion of Canada's Great Trail – the world's longest recreational trail. It stretches from Tignish at one tip of the island to Elmira at the other, with branches connecting it to Charlottetown, the Confederation Bridge and some of the island's beachside towns.
The route's gentle gradients make it perfect for walking or cycling, however fit you are, and there are lots of beautiful views along the way. The Confederation Trail runs though a mixture of farms, wetlands, forests, meadows and lakes, with plenty of little villages to stop off in. You can hire a bike (or ebike) in Charlottetown in summer and try out geocaching, with over 1600 geocache sites along the trail. Or in winter the trail is transformed into a snowmobile route.
Read more: 3 reasons to visit Prince Edward Island
9. Have a drink on Victoria Row
Victoria Row – aka The Row – is one of Charlottetown's prettiest streets with its Victorian red brick buildings, cobbled streets and shady trees. The street is lined with a mix of bars and restaurants, coffee shops, galleries and independent shops selling art, antiques and gifts – and of course there are few Anne of Green Gables goodies in there too.
From May to October Victoria Row is pedestrianised, so you can grab a table outside for a sunset drink on a summer's evening while you listen to street musicians, or head up to the rooftop patio bar at Fishies on the Roof for views out over the city's rooftops.
Read more: Things to do in Charlottetown: A weekend itinerary
10. Hit the beach
If you fancy a day at the beach, Prince Edward Island has 500 miles worth of beaches to choose from, ranging from white sand to red, and with some of the warmest waters north of Florida. One of the island's most famous is the Singing Sands in Basin Head Provincial Park, which gets its name from the high-silica-content sand which squeaks when you walk on it.
Head to Prince Edward Island National Park for Cavendish Beach with its 37-mile stretch of red sand or quieter Greenwich Beach with its golden sand dunes. Or Brackley Beach is only a 25-minute drive outside of Charlottetown and is home to the quirky Dunes Gallery. There are so many beaches on the island though that it's easy to pack a picnic and find your own stretch of beach away from everyone else – you can camp by the beach in some Provincial Parks too.
11. Go mouse spotting in Charlottetown
When you're walking around the streets of Charlottetown, keep yours eyes out for the mini bronze mouse statues hidden around the city. They're based on Eckhart the Mouse – a curious mouse with a long tail – who's a character from local PEI author David Weale's book The True Meaning of Crumbfest. It's a great game if you're visiting with kids, and you can download a PDF with clues on where to find them along with some historical details about the places along the route (I only managed to find six so you'll probably do better than me!).
12. Feast your way around the island
There's more to PEI's food than just seafood – it's been nicknamed Canada's Food Island for all its amazing local produce. You can do a taster of some of the delicious local flavours at the weekly Charlottetown Farmers' Market, which takes place every Saturday plus on Wednesdays in the summer. As well as food and drink there are also art, craft and gift stalls.
Or you can tour some of Prince Edward Island's food and drink producers as you travel around the island. There's the Prince Edward Island Preserve Company for jam and chutney (their raspberry and Champagne jam is amazing), Rossignol Winery for fruit and maple wines, the PEI Brewing Company for craft beer and Island Chocolates for amazing handmade chocolates. And don't miss the bizarre-sounding chocolate-covered potato chips – a local speciality.
Pin it
This article contains affiliate links, where I get a small commission at no extra cost to you, thanks.